Research article

Open Access
Ancient DNA reveals genetic connections between early Di-Qiang and Han Chinese
BMC Evolutionary Biology
BMC series – open, inclusive and trusted
2017
17:239
Received: 25 March 2017
Accepted: 17 November 2017
Published: 4 December 2017
Abstract
Background
Ancient Di-Qiang people once resided in the Ganqing region of China, adjacent to the Central Plain area from where Han Chinese originated. While gene flow between the Di-Qiang and Han Chinese has been proposed, there is no evidence to support this view. Here we analyzed the human remains from an early Di-Qiang site (Mogou site dated ~4000 years old) and compared them to other ancient DNA across China, including an early Han-related site (Hengbei site dated ~3000 years old) to establish the underlying genetic relationship between the Di-Qiang and ancestors of Han Chinese.
Results
We found Mogou mtDNA haplogroups were highly diverse, comprising 14 haplogroups: A, B, C, D (D*, D4, D5), F, G, M7, M8, M10, M13, M25, N*, N9a, and Z. In contrast, Mogou males were all Y-DNA haplogroup O3a2/P201; specifically one male was further assigned to O3a2c1a/M117 using targeted unique regions on the non-recombining region of the Y-chromosome. We compared Mogou to 7 other ancient and 38 modern Chinese groups, in a total of 1793 individuals, and found that Mogou shared close genetic distances with Taojiazhai (a more recent Di-Qiang population), Hengbei, and Northern Han. We modeled their interactions using Approximate Bayesian Computation, and support was given to a potential admixture of ~13-18% between the Mogou and Northern Han around 3300–3800 years ago.
Conclusions
Mogou harbors the earliest genetically identifiable Di-Qiang, ancestral to the Taojiazhai, and up to ~33% paternal and ~70% of its maternal haplogroups could be found in present-day Northern Han Chinese.
Keywords
Di-Qiang population
Ancient DNA
Mitochondrial DNA
Non-recombining region of the Y-chromosome
Han Chinese population
Background
The Huaxia is the earliest Chinese dynasty to emerge ~2000 BC along the Yellow River. This population grew from the Central Plain area and later became established as the Han Chinese during the Han Dynasty (206 BC to 220 AD). Throughout history, the Han Chinese continued to have complex interactions with surrounding ethnic minority groups in their vicinity [1, 2], whose details are being studied and debated by historians, archaeologists, anthropologists and geneticists.
One important pastoral agriculturist group that interacted with the Han Chinese from the west near the upper reaches of the Yellow River in the Gansu-Qinghai (or Ganqing) region is a historical group called the Di-Qiang. Around the middle Neolithic, as people (including ancestors of the Han) expanded away from the Central Plain due to improved agricultural practices [3], they encountered the Di-Qiang people, and both groups have occupied the Ganqing [4, 5]. A recent ancient DNA study goes further to suggest that a once Ganqing population, the Taojiazhai people, is related to the Di-Qiang, and even contributed genetically to the Han Chinese [6]. However, an issue with the Taojiazhai was that the archeological site dated to ~1700-1900 yr. BP, which occurred well within the time period of the Han dynasty, raising the possibility that some Taojiazhai individuals might have been admixed in Han Chinese.
In this study, we overcome this problem by investigation of the Mogou cemetery (Fig.
1
), a considerably older Di-Qiang site in the Ganqing region that is enclosed by the Qinghai-Tibetan Plateau to the west and the Tengger Desert to the north [
7
]. The accelerator mass spectrometry (AMS) radiocarbon dating of the Tomb M633 human bone samples (slightly more recent than specimens collected for this study) yielded 3145 ± 45
14
C yr. BP and 3526–3336 cal. yr. BP after correction with Damon's table [
8
]. Cultural artifacts, such as funerary pottery constructed of red clay with features found prominently in the Qijia culture, place this site in the late Neolithic to early Bronze Age (~3600 to 4200 yr. BP) [
9
] and associated with the Di-Qiang [
10
]. So the Mogou represents an early Di-Qiang predating the Han dynasty.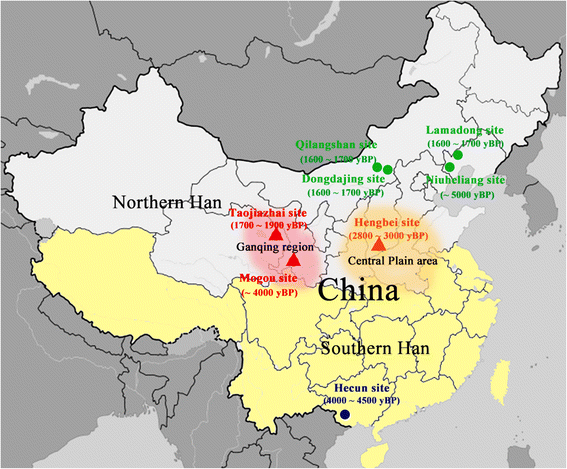 To clarify the genetic relationship between the ancient Di-Qiang and early Han Chinese, we analyzed the new Di-Qiang from Mogou, using hyper variable sequence I (HVS-I) and coding region of mtDNA and non-recombining region of Y-chromosome (NRY), and compared them to other ancient DNA and contemporary groups across China.
Results
A total of 55 of 60 samples from the Mogou site (Additional file 1) were successfully replicated, and verified to be different from the mtDNA of laboratory personnel (see Additional file 5). All sequences were submitted to GenBank under the accession numbers KX085423-KX085477.
Discussion
In this study, we found that Mogou, being situated at the geographic center of China, also lay at intersection of Northern and Southern Chinese and Tibetans in terms of haplogroup frequencies, suggesting it plays an important role in the formation of early cultures along the Yellow River. We argue that it possibly has a northern origin, since more than 90% of its maternal haplogroups (A, B, C, D, F, G, M7, M8, M10, N9a, and Z) matches with those typically found among ancient groups across Northern China. In particular, the most frequent haplogroup D in Mogou (34.78%) is consistent with other ancient northern groups (Qilangshan 43.75%; Dondajing 41.17%; Niuheliang 28.57%; Taojiazhai 27.59%; Hengbei 23.44%; Lamadong 17.6%) and less frequent in ancient southern group (Hecun 9.09%, unpublished). Genetic distance also shows that Mogou is closely related to two northern ancient groups (Hengbei and Taojiazhai). AMOVA further supports the grouping of these ancient DNAs alongside Tibetans and Northern Han and Northern minorities in explaining the highest variance among groups (1.64%; P-value <0.01).
The closest ancient relative to Mogou in our dataset was the Hengbei people (genetic distance Fst = 0.003), a ~3000 yr. BP population from the Central Plain region. Mogou and Hengbei shared about 33% Y-DNA haplogroup O3a/M324, as well as several maternal haplogroups (D, A, F, M10) and haplotypes (No. ht7, ht8, ht14, ht15, ht16, ht37, ht38, ht45). Because the temporal network showed a continuity of haplotypes across Mogou, Hengbei, and Northern Han, we investigated this further by constructing 4 model scenarios on how their relationship might have occurred. A higher model probability was assigned to a history where the Northern Han received ~13-18% maternal genes from Mogou around 3300–3800 years ago (Table 5) predating the formation of the Han.
The second closest ancient relative to Mogou was the Taojiazhai (genetic distance Fst = 0.005). All Mogou and Taojiazhai males shared 100% Y-DNA haplogroup O3a/M324, and many maternal haplogroups (D4, M10, F, Z) and haplotypes (No.ht14, ht15, ht16, ht28, ht29, ht37, ht38, and ht45). Few haplotypes were carried across to the Northern Han on the temporal network. However, the Taojiazhai appeared to differ from the Mogou in its increased association with the modern Southern Chinese in terms of haplogroup frequencies and Fst genetic distance.
The closest modern relative to Mogou was the Northern Han (genetic distance Fst = 0.002) and the Northern minorities (Fst = 0.005), and then more distantly by the Southern Han (Fst = 0.03) and Southern minorities (Fst = 0.03-0.05). Generally, the Y-DNA haplogroup O3a2/P201 from Mogou males is a common subtype of the O3a/M324 branch, which occurs at a high frequency in extant Han Chinese (43.37%) [43]. One Mogou male (MG48) was further identified as O3a2c1a/M117, which is a subclade of O3a2c1-M134 that is commonly found in Sino-Tibetan speakers and neighboring countries (e.g. Nepal, Bhutan, and Korea), but varies greatly in frequency among Miaoyao speakers. Furthermore, MG48 clustered with Han and Tibeto-Burman (e.g. Naxi, Yi, and Tujia) as opposed to southern groups (e.g. Dai, Miao) on the HGDP Y-DNA haplogroup O lineage (Fig. 2).
Finally, the present-day Tibeto-Burman speakers were also close to Mogou (genetic distance Fst = 0.01) than the Southern Han or Southern minorities. This was in agreement with historical records about the migration of ancient Di-Qiang people in the past. Some spread eastward, scattering in the middle reaches of the Yellow River, while others migrated southwest to form the Tubo, who are the ancestors of modern Tibetans, as well as contributing to the Southwestern minorities through integrating with the local population [5, 10].
Conclusion
We identified Mogou to be the earliest ~4000 yr. BP Di-Qiang population, and genetically related to Taojiazhai in sharing up to 100% paternal (O3a) and ~60% maternal (D4, M10, F, Z) haplogroups. Among the alternative models considered, simulations demonstrated that Mogou and Hengbei once contributed genes into the early Northern Han. Thus, Mogou is also similar with the Northern Han in sharing up to ~33% paternal (O3a) and ~70% maternal (D, A, F, M10) haplogroups. We deduced that some Di-Qiang people had merged into the ancestral Han population. As societies developed, the communication and blending of different regions and cultures continued to be strengthened.
Abbreviations
3-D:

Three dimensions
ABC:

Approximate Bayesian Computation
AMG-PCR:

PCR analysis of the X-Y Amelogenin Gene
APLP:

Amplified product-length polymorphisms
AR:

Acceptance-rejection
HVS-I:

Hyper variable sequence I
LR:

Weighted-multinomial logistic regression
mtDNA:

Mitochondrial DNA
NRY:

Non-recombining region of Y-chromosome
PCA:

Principal Component Analysis
PCR:

Polymerase chain reaction
SNP:

Single nucleotide polymorphism
Declarations
Acknowledgements
We thank the Institute of Cultural and Historical Relics and Archaeology in Gansu Province, China, for providing the samples and Yongsheng Zhao from Shandong University for anthropological work.
Funding
This work was supported by the National Natural Science Foundation of China, grant numbers 31,371,266 (Grant Recipient: Hui Zhou), 31,200,935 (Grant Recipient: Chunxiang Li), and 41,672,021 (Grant Recipient: Qiaomei Fu), National Social Science Foundation of China; Grant number: 11&ZD182 (Grant Recipient: Hong Zhu) and the Key Research Program of Frontier Sciences of CAS (QYZDB-SS W-DQC003; Grant Recipient: Qiaomei Fu).
Availability of data and materials
The data supporting the results of this article were submitted to GenBank under accession numbers: KX085423-KX085477.
Authors' contributions
JL, WZ, and YZ conceived and designed the study. JL, AMSK, and QF performed the analysis and wrote the manuscript. CL, Hong Zhu, and Hui Zhou helped in interpreting results and improving the manuscript. All authors read and approved the final manuscript.
Ethics approval and consent to participate
No Ethics committee approval was required to conduct this research project.
Consent for publication
No living human subjects were part of the study, thus no consent to participate or to publish the data was required.
Competing interests
The authors declare that they have no competing interests.
Publisher's Note
Springer Nature remains neutral with regard to jurisdictional claims in published maps and institutional affiliations.
Open AccessThis article is distributed under the terms of the Creative Commons Attribution 4.0 International License (http://creativecommons.org/licenses/by/4.0/), which permits unrestricted use, distribution, and reproduction in any medium, provided you give appropriate credit to the original author(s) and the source, provide a link to the Creative Commons license, and indicate if changes were made. The Creative Commons Public Domain Dedication waiver (http://creativecommons.org/publicdomain/zero/1.0/) applies to the data made available in this article, unless otherwise stated.
Authors' Affiliations
(1)
College of Life Science, Jilin University, Changchun, People's Republic of China
(2)
Ancient DNA Laboratory, Research Center for Chinese Frontier Archaeology, Jilin University, Changchun, People's Republic of China
(3)
Key Laboratory of Vertebrate Evolution and Human Origins of Chinese Academy of Sciences, IVPP, CAS, Beijing, People's Republic of China