Research article

Open Access
Historical isolation and contemporary gene flow drive population diversity of the brown alga Sargassum thunbergii along the coast of China
BMC Evolutionary Biology
BMC series – open, inclusive and trusted
2017
17:246
Received: 15 August 2017
Accepted: 21 November 2017
Published: 7 December 2017
Abstract
Background
Long-term survival in isolated marginal seas of the China coast during the late Pleistocene ice ages is widely believed to be an important historical factor contributing to population genetic structure in coastal marine species. Whether or not contemporary factors (e.g. long-distance dispersal via coastal currents) continue to shape diversity gradients in marine organisms with high dispersal capability remains poorly understood. Our aim was to explore how historical and contemporary factors influenced the genetic diversity and distribution of the brown alga Sargassum thunbergii, which can drift on surface water, leading to long-distance dispersal.
Results
We used 11 microsatellites and the plastid RuBisCo spacer to evaluate the genetic diversity of 22 Sargassum thunbergii populations sampled along the China coast. Population structure and differentiation was inferred based on genotype clustering and pairwise F ST and allele-frequency analyses. Integrated genetic analyses revealed two genetic clusters in S. thunbergii that dominated in the Yellow-Bohai Sea (YBS) and East China Sea (ECS) respectively. Higher levels of genetic diversity and variation were detected among populations in the YBS than in the ECS. Bayesian coalescent theory was used to estimate contemporary and historical gene flow. High levels of contemporary gene flow were detected from the YBS (north) to the ECS (south), whereas low levels of historical gene flow occurred between the two regions.
Conclusions
Our results suggest that the deep genetic divergence in S. thunbergii along the China coast may result from long-term geographic isolation during glacial periods. The dispersal of S. thunbergii driven by coastal currents may facilitate the admixture between southern and northern regimes. Our findings exemplify how both historical and contemporary forces are needed to understand phylogeographical patterns in coastal marine species with long-distance dispersal.
Keywords
Gene flow
Historical isolation
Long-distance dispersal
Microsatellite
Plastid RuBisCo spacer
Population genetic diversity
Sargassum thunbergii
Background
The past decade has witnessed extensive research regarding genetic diversity and the evolutionary history of marine species on the coast of China [
1
–
5
]. This is due, in part, to the fact that the coast of China is characterized by distinct tectonic and geological processes, with a series of marginal seas separating the eastern Asian continent from the Pacific Ocean [
6
]. During the Last Glacial Maximum (LGM, 0.026–0.019 Ma), the drastic decline of sea levels (
c
. 135 m lower than today) restructured the marginal seas in the Northwest Pacific; the beds of the Yellow-Bohai Sea (YBS) were entirely exposed and the East China Sea (ECS) was reduced to an elongated trough (the Okinawa Trough). The ECS and South China Sea (SCS) were thus isolated due to a land bridge extending from eastern China to Taiwan Island. The Sea of Japan (SOJ) also became an enclosed inland sea [
6
–
8
] (Fig.
1
). Such restructuring of the marginal seas isolated populations of coastal marine species along the coast of China, resulting in dynamic phylogeographical signatures in present populations [
5
,
9
,
10
]. Worldwide, in marine environments, historical glaciation is proved to be the most effective force in generating intraspecific genetic splits [
11
], such as in Indo-West Pacific [
12
], South East Pacific [
13
] as well as North East Atlantic [
14
]. Two biogeographic scenarios have been proposed for species isolated in the YBS/ECS basin (Fig.
1
): I) species possessed a homogeneous population structure as reported in the barnacle
Chthamalus challengeri
[
3
] and the alga
Sargassum horneri
[
4
] (Fig.
1a
); and II) species comprised two genetic clusters (YBS vs. ECS) which were separated by the line of Changjiang estuary, as illustrated in the gastropod
Cellana toreuma
[
15
] and the brown alga
Sargassum fusiforme
[
16
] (Fig.
1b
). These contrasting biogeographic patterns indicate that coastal species co-distributed along the coast of China might exhibit different ecological responses to climatic shifts.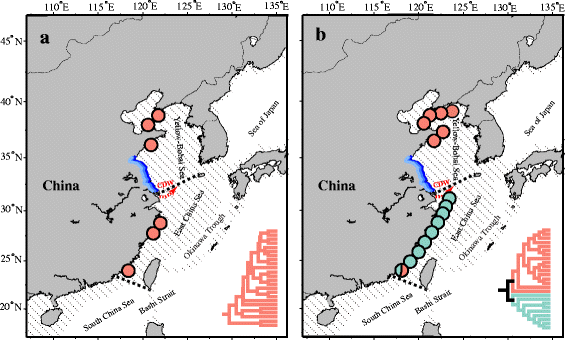 Gene flow is another important factor driving biogeographic patterns in coastal marine species [17], including macroalgae [18–21]. When the marginal seas in the Northwest Pacific reunited due to postglacial sea-level rise, populations that survived glaciation started to expand outward, with coastal currents (e.g. China Coastal Current and South China Sea Warm Current) possibly helping to accelerate genetic exchange between marine basins [4, 22]. At the same time, the intertidal substrate and/or diluted water may have acted as physical barriers that maintained genetic divergence between isolated populations. For example, the long stretches of salt marshes along Jiangsu Province (Fig. 1), China, likely acted as a geographic barrier to genetic introgression between the YBS and ECS populations in the limpet Cellana toreuma [15]. Similar patterns have also been confirmed in rocky intertidal seaweeds along European coasts [23, 24]. As such, empirical surveys concerning population genetic structure of marine species along the coast of China must account for historical elements (e.g. vicariance events) as well as contemporary environmental variables (e.g. oceanic currents, barriers to dispersal).
Sargassum is an ecologically dominant alga in much of the Asia-Northwest Pacific (ANP) coastlines, especially in tropics [25]. It is often characterized with high dispersal ability via rafting, as the thalli are easy to break up by waves or grazers to form floating materials, making it a perfected material to discuss how paleoclimatic oscillations and present ocean currents affected the genetic diversity and distribution pattern. For example, S. muticum is one of the most well-known invasive species [26, 27], and two clades were detected among the native populations using the trnW–I marker: one is widely spread in both native (e.g. Seto Inland Sea) and introduced area (e.g. Canada, UK and France), and the other is restricted along the east coast of Honshu, Japan [2]. The separation of the clades in Pacific-Japan sides may be resulted from the ancient isolation and present restricted gene flow [2]. Similarly, S. horneri and S. hemiphyllum in the ANP also showed deep genetic split corresponding to the biogeographic basins, and homogeneous populations along the China coasts which ascribe to the founder effects and recent expansion [4]. In contrast, S. aquifolium and S. polycystum in Southeast Asia demonstrated shallow genetic structure with genetic diversity decline from south to north, implying surviving in a single refugium during glacial period.
Sargassum thunbergii Kuntze is a perennial brown macroalga occurring in the intertidal and sublittoral habitats of the ANP, ranging from Sakhalin, Russia, to Hainan Island, China [28]. This species grows abundantly and can form seaweed forests together with other species of Sargassum that serve as spawning, nursery, and feeding grounds for marine animals [29]. S. thunbergii is well adapted to diverse temperatures and salinities and thus has been proposed as a promising candidate for restoring the structure and function of impacted intertidal zones [30, 31]. In China, however, S. thunbergii is one of the most heavily used natural feed for aquaculture animals (e.g. holothurian and abalone), which has led to its near eradication in the past decade. Effective conservation of S. thunbergii will depend on detailed biogeographic knowledge of evolutionarily significant units [31–33]. We recently explored population dynamics of S. thunbergii across its entire range, and found that the Kuroshio Current played a significant role in shaping population genetic connectivity [22]. Similar diversity patterns were found in the congeneric S. horneri [4] but not in S. fusiforme in the ANP [16]. Hypervariable genetic markers and genome-scale genotyping have recently shown promise in revealing population genetic differentiation in seaweeds at a micro-geographic scale [18, 34–36], facilitating the exploration of cryptic population structure and biogeographic processes occurring in S. thunbergii along the coast of China.
In this study, we integrated microsatellite genotyping and a plastid marker to analyse the diversity and distribution of S. thunbergii along the coast of China. Our main goals were to (i) explore fine-scale population genetic connectivity in S. thunbergii along the China coast; (ii) determine if the genetic subdivision was influenced by long-distance dispersal at different time scales, and (iii) test which biogeographic scenario summarized above matches the genetic diversity patterns observed in S. thunbergii along the China coast.
Discussion
In this study, microsatellites and plastid DNA consistently revealed two genetically diverged clusters in Sargassum thunbergii along the coast of China, and their geographical distributions are in accordance with two marginal seas: the Yellow-Bohai Sea (YBS) and East China Sea (ECS). In addition, contemporary gene flow driven by coastal currents could cause a low yet significant connectivity between populations in two marine regimes.
Genetic divergence in Sargassum thunbergii
Sargassum thunbergii populations were divided into two genetic clusters that correspond to the YBS and ECS (Fig. 2). This biogeographic pattern matches scenario II proposed earlier (see Introduction) along the coast of China, as exemplified in the newly reported congeneric species S. fusiforme [16]. Historical vicariance might account for this observed pattern in S. thunbergii along the coast of China. Shifting sea levels during the Quaternary ice ages likely caused ancestral populations of S. thunbergii to be isolated in multiple refugia [4, 5]. In the ECS, the southern populations (POP19–22) harboured a higher number of private alleles (A p = 0.182–0.455) than the northern populations (POP15–18) (A p = 0.091–0.182), suggesting that S. thunbergii populations in the ECS may have survived in the southern Okinawa Trough or the SCS during glacial periods. Populations in the YBS, on the other hand, were possibly recolonized from the northern Okinawa Trough or the Sea of Japan. In addition, our simulations of gene flow revealed limited historical gene flow between populations from the YBS and ECS (Fig. 5b), strengthening confidence in the putative vicariance event. Comparable postglacial dispersal patterns were also reported in the congeneric species, S. hemiphyllum [2] and S. fusiforme [16].
Hydrographic factors, such as the Changjiang diluted water (CDW, Fig. 1), have been documented as a major barrier to gene flow in intertidal marine species [15, 59]. Huge freshwater outflow and influx profoundly reduce seawater salinities, pH, and dissolved inorganic nutrients of the ECS, influencing species' growth and survival [29, 60, 61]. However, recent phylogeographical studies indicated that the hydrological barrier was not insurmountable for some intertidal species with broad temperature and salinity tolerances, such as in Eriocheir sensu stricto [1], Cyclina sinensis [59], and S. horneri [4]. Sargassum thunbergii has a broad tolerance to salinity (12–34 psu; [29]) which exceeds the sea surface water salinity range of the Changjiang River Estuary during summer (15–31 psu; [62]), thus enabling it to cross the physical barrier. More importantly, research cruises reported that Sargassum beds (including S. thunbergii) could be transported to fringe areas of the continental shelf and waters influenced by the Kuroshio Current after they become detached off Zhejiang Province, China [63, 64]. We thus infer that the CDW did not impede gene flow between S. thunbergii populations in the YBS and ECS respectively, an assumption that was further supported by shared haplotypes (Fig. 2) and contemporary gene flow between the two regions (Fig. 5a). Similarly, a marine biogeographic break at 30°S was detected in most intertidal species along the coast of the temperate South East Pacific (SEP) [65, 66], and the upwelling seems to be the dominant factor influencing coastal communities. While some coastal species, such as Stichaster striatus and Tegula atra, showed low yet significant northward migration across the 30°S break, which have been able to achieve significant connectivity between biogeographic regions, slightly eroding the historic signature [66]. Thus dispersal potential and the levels of tolerance was the variable that always best explained the contrasting genetic structure of co-distributed species.
Ocean currents, coastal barriers and population connectivity
Patterns in genetic diversity inferred from Quaternary glaciation events may be obscured by environmental factors. In this study, the two genetic lineages of S. thunbergii along the coast of China may indicate different evolutionary processes. We detected substantial population subdivision in the YBS, but no clear genetic divergence among populations in the ECS (Figs 4 and 5), a scenario resembling the phylogeographical structure observed in S. fusiforme [16]. The two contrasting patterns may be ascribed to different environmental variables and coastal topographies. The coastline of the YBS includes the Bohai Bay and Shandong peninsula, which may act as geographic barriers for genetic exchange between populations [67, 68], leading to the formation of substructure. In contrast, the coastline of the ECS lacks geographical or physical barriers. Thus, the population structuring of S. thunbergii along the ECS was mainly dictated by coastal currents, particularly during the monsoon seasons [69]. Under the southwest monsoon, the water in the Taiwan Strait originates mainly from the South China Sea Warm Current (summer) and the Taiwan Warm Current (spring) [70]. These monsoon-driven coastal currents can facilitate long-distance dispersal of floating S. thunbergii, leading to population homogenization in the ECS (Fig. 5a; [18]). Oceanographic circulations have also caused the contrasting phylogeographic patterns between coastal species in the Japan-Pacific and the Sea of Japan. Greater dispersal potential exists in the Sea of Japan because of the Tsushima Warm Current, whereas there is comparatively limited dispersal potential by drifting along the Japan-Pacific coasts owing to the complex oceanographic circulations (e.g. southward-flowing Tsugaru Current and northward-flowing Kuroshio Current) and multiple presenting hydrographic barriers to dispersal [16, 22].
Interestingly, our results indicated that S. thunbergii populations in the YBS (northern area) had higher genetic diversity than in the ECS (southern area) (Table 1). Similar results were detected in the limpet Cellana toreuma in this region [15]. This pattern is clearly different from that reported in most intertidal species along European coastlines which show a characteristic reduction in genetic diversity with increasing latitude as major refugial areas occurred at low latitudes [24]. High genetic diversity and significantly large pairwise genetic distance support the conclusion that the YBS group was largely isolated from the ECS and the potential refugia located at marginal area other than southern area. Alternatively, the Yellow Sea Warm Current may have bring individuals of S. thunbergii into the YBS from the west coast of the Korean Peninsula (e.g. the Jeju Island), leading to high levels of genetic admixture as reported in the red alga Gelidium elegans [71].
Conclusions
The genetic divergence of S. thunbergii in the YBS and the ECS suggest long-term isolation. Besides, the comparison of contemporary and historical gene flow indicate that the Changjiang diluted water could not restrict the gene flow of S. thunbegii populations along the Chinese coasts. These findings contrast with some previous studies on invertebrates with similar phylogeographic structure [10, 15]. Future phylogeoghic studies in this region should not only focus on establishing patterns of genetic divergence in intertidal species, but also consider fine-scale patterns of gene flow using multilocus markers. The interpretation of patterns of phylogeographic structure and genetic exchange could provide a framework for marine biodiversity conservation.
Abbreviations
ANP:

Asia-Northwest Pacific
CDW:

Changjiang diluted water
ECS:

East China Sea
HWE:

Hardy-Weinberg Equilibrium
LGM:

Last Glacial Maximum
SCS:

South China Sea
SEP:

South East Pacific
SOJ:

Sea of Japan
YBS:

Yellow-Bohai Sea
Declarations
Acknowledgements
We thank Ying-Jie Xu, Jie Zhang and Ruo-Yu Liu (IOCAS), and Wan-Dong Chen (Nanji Islands National Natural Reserve Administration) for assisting in seaweed collections. Special thanks go to Dr. Trevor T. Bringloe (University of New Brunswick, Canada) for editing and commenting on the manuscript. We particularly thank two anonymous reviewers for providing valuable and constructive comments to improve the manuscript.
Funding
This work was supported by the National Natural Science Foundation of China (31370264, 41761144057) granted to Z.M. Hu, the Scientific and Technological Innovation Project from Qingdao National Laboratory for Marine Science and Technology (No. 2015ASKJ02), and the Fundamental Research Funds for the Central Universities (2017B04014) granted to J.J. Li.
Availability of data and materials
Sequences are deposited in Genbank (MF767271-MF767277) and included in Additional file 2. All other data are included in this published article.
Authors' contributions
ZMH conceived the project; JJL performed molecular experiments, analysed and interpreted the data; ZMH, ZMS, JTY and PF designed sampling and conducted important collections; FLL helped analyse the microsatellite data, JJL, ZMH and DLD wrote the paper; PF, FLL, ZMS and JTY helped revise the manuscript. All authors have read and approved the final manuscript.
Ethics approval and consent to participate
The manuscript does not report on or involve the use of any vertebrate or human data or tissue, therefore this section is not applicable.
Consent for publication
Not applicable.
Competing interests
The authors declare that they have no competing interests.
Publisher's Note
Springer Nature remains neutral with regard to jurisdictional claims in published maps and institutional affiliations.
Open AccessThis article is distributed under the terms of the Creative Commons Attribution 4.0 International License (http://creativecommons.org/licenses/by/4.0/), which permits unrestricted use, distribution, and reproduction in any medium, provided you give appropriate credit to the original author(s) and the source, provide a link to the Creative Commons license, and indicate if changes were made. The Creative Commons Public Domain Dedication waiver (http://creativecommons.org/publicdomain/zero/1.0/) applies to the data made available in this article, unless otherwise stated.
Authors' Affiliations
(1)
Key Laboratory of Experimental Marine Biology, Institute of Oceanology, Chinese Academy of Sciences, Qingdao, China
(2)
Laboratory for Marine Biology and Biotechnology, Qingdao National Laboratory for Marine Science and Technology, Qingdao, China
(3)
Institute of Marine Biology, College of Oceanography, Hohai University, Nanjing, China
(4)
Laboratory of Marine Organism Taxonomy & Phylogeny, Institute of Oceanology, Chinese Academy of Sciences, Qingdao, China
(5)
Key Laboratory of Sustainable Development of Marine Fisheries, Ministry of Agriculture, Yellow Sea Fisheries Research Institute, Chinese Academy of Fishery Sciences, Qingdao, China
(6)
Unidad de Bioinform atica, Institut Pasteur de Montevideo, Montevideo, Uruguay