Research Article

Open Access
Diversification of defensins and NLRs in Arabidopsis species by different evolutionary mechanisms
BMC Evolutionary Biology
BMC series – open, inclusive and trusted
2017
17:255
Received: 30 May 2017
Accepted: 24 November 2017
Published: 15 December 2017
Abstract
Background
Genes encoding proteins underlying host-pathogen co-evolution and which are selected for new resistance specificities frequently are under positive selection, a process that maintains diversity. Here, we tested the contribution of natural selection, recombination and transcriptional divergence to the evolutionary diversification of the plant defensins superfamily in three Arabidopsis species. The intracellular NOD-like receptor (NLR) family was used for comparison because positive selection has been well documented in its members. Similar to defensins, NLRs are encoded by a large and polymorphic gene family and many of their members are involved in the immune response.
Results
Gene trees of Arabidopsis defensins (DEFLs) show a high prevalence of clades containing orthologs. This indicates that their diversity dates back to a common ancestor and species-specific duplications did not significantly contribute to gene family expansion. DEFLs are characterized by a pervasive pattern of neutral evolution with infrequent positive and negative selection as well as recombination. In comparison, most NLR alignment groups are characterized by frequent occurrence of positive selection and recombination in their leucine-rich repeat (LRR) domain as well negative selection in their nucleotide-binding (NB-ARC) domain. While major NLR subgroups are expressed in pistils and leaves both in presence or absence of pathogen infection, the members of DEFL alignment groups are predominantly transcribed in pistils. Furthermore, conserved groups of NLRs and DEFLs are differentially expressed in response to Fusarium graminearum regardless of whether these genes are under positive selection or not.
Conclusions
The present analyses of NLRs expands previous studies in Arabidopsis thaliana and highlights contrasting patterns of purifying and diversifying selection affecting different gene regions. DEFL genes show a different evolutionary trend, with fewer recombination events and significantly fewer instances of natural selection. Their heterogeneous expression pattern suggests that transcriptional divergence probably made the major contribution to functional diversification. In comparison to smaller families encoding pathogenesis-related (PR) proteins under positive selection, DEFLs are involved in a wide variety of processes that altogether might pose structural and functional trade-offs to their family-wide pattern of evolution.
Keywords
NLR
NBS-LRR
Cysteine-rich peptide
Defensin
Natural selection
Gene recombination
Molecular evolution
Arabidopsis
Fusarium
RNA-seq
Background
Disease resistance in plants results from antagonistic cycles of selection involving pathogen effectors and host targets. Therefore, determining how this co-evolutionary interplay may affect large gene families involved in defense responses is essential to understand their role in the evolution or abrogation of resistance. This insight might then be used to guide the development of resistant crop varieties and strategies to counteract pathogen infection.
Molecular evolution analyses of genes involved in pattern triggered immunity (PTI) and effector triggered immunity (ETI) have shown that those encoding proteins involved in host-pathogen interactions frequently have a higher proportion of non-synonymous to synonymous substitutions. This pattern is known as positive selection and is indicative of host-pathogen co-evolution and selection for new resistance specificities [
1
]. PTI is based on recognition of conserved molecular patterns like flagellin or chitin from the pathogen by receptor-like kinases (RLKs) from the host. Upon infection, pathogens suppress PTI by secreting effectors to modulate the plant defenses and establish infection. ETI is based on intracellular detection of these effector molecules by NOD-like receptors (NLRs) (Fig.
1
). Signatures of positive selection identified in NLRs and RLKs, suggest that the frequent amino acid replacements favor detection of a changing variety of pathogen molecules [
2
,
3
]. In comparison, molecules mediating the signaling pathways triggered by these receptors show little evidence of diversifying evolution, indicating that pathogen effectors generally do not target them or their evolution is functionally constrained [
4
], for exceptions see [
5
,
6
]. Subsequent immune responses involves among other processes, the transcription of pathogenesis-related (PR) genes encoding a diverse group of inhibitors of pathogen growth and fitness (Fig.
1
). Among them, there are several families where positive selection has been consistently detected, namely chitinases [
7
,
8
], β-1,3-endoglucanases [
9
], polygalacturonase inhibitor proteins (PGIPs) [
10
] and thaumatin-like proteins [
11
]. Defensins and defensin-like genes (collectively named DEFLs) are one of the largest and most diverse PR-gene family [
12
]. The prevalence of positive selection in animal defensins and initial studies of some groups of plant DEFLs [
13
] implied a high level of polymorphism of plant DEFLs, which is also driven by co-evolution with diverse pathogen targets. However more recent studies in monocots did not find evidences of diversifying evolution [
14
,
15
].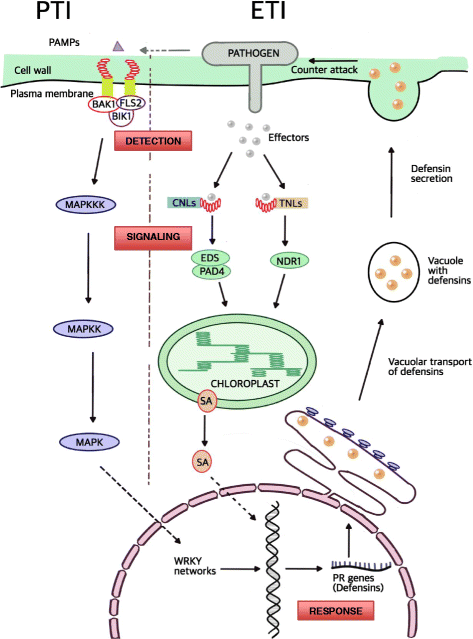 DEFLs are particularly intriguing because in addition to their involvement in the innate immune responses, many members of this family play key roles in reproduction, response to stress and heavy metal tolerance (reviewed in [16]). However the evolutionary mechanisms leading to this so-called functional promiscuity are not yet clear [17]. For example, DEFL SCRs are involved in self-incompatibility [18], while LUREs, another DEFL subgroup, are secreted by ovules to attract competent pollen tubes of their own species during pollination [19]. Many DEFLs of these and other subgroups are differentially expressed also in the immune responses to Fusarium graminearum [20]. Similarly, the Capsicum annum defensin CADEF1 is expressed in response to both biotic and abiotic stresses [21] while antimicrobial PDF1s form Arabidopsis thaliana more closely related to DEFLs that confer heavy metal tolerance in Arabidopsis halleri [22].
In this study, we compare the evolutionary dynamics of DEFLs with those of NLRs with the aim of determining the relative contribution of positive natural selection, recombination and transcriptional divergence to the evolution of both families. The rationale underlying this comparison is that diversifying evolution is well documented in NLRs in Arabidopsis [2, 23], thus making this family an informative control and point of reference for investigating the molecular evolution of DEFLs. Both families comprise between 100 to more than 300 highly polymorphic members, many of which form clusters of tandemly duplicated genes [24, 25]. Moreover, the recently improved annotation methods for NLRs and DEFLs as well as the availability of completely sequenced genomes of several Arabidopsis species facilitates the comparative analyses of their molecular evolution and transcriptional divergence [12, 26, 27]. The latter process is particularly relevant to understand the diversification of both families because their members frequently transposed (moved from one position in the genome to another) frequently in the aftermath of two whole genome duplication events [28]. After transposition paralogs lost some of their cis-regulatory elements, which eventually might facilitate gene sub- or neofunctionalzation by transcriptional divergence.
Apart from the fact that NLRs and DEFLs are encoded by large polymorphic gene families and play key role in immune responses, they are otherwise very different. NLRs encode cytoplasmic proteins with a molecular weight over 100 kDa, they contain a nucleotide-binding domain, one or more leucine-rich repeats (LRRs) and are divided in two subclasses according to their N-terminal domain: CNLs have a coil-coil domain and TNLs possess a TIR domain. In contrast, DEFLs are small, secreted peptides with an N-terminal signal peptide and a charged or polar mature cysteine-rich domain of about 5 kDa. Three to four conserved disulfide bridges are essential to stabilize a tertiary structure comprised of an α-helix and several antiparallel β-sheets. Given the significant sequence variation of DEFLs, they have been divided in several subgroups based on their pattern of cysteines as well as other motifs [12].
Our approach to investigate the molecular evolution of DEFLs differs from previous studies in that the members of the family are further divided in subgroups of reliably aligned sequences with an identity of at least 50%. These alignment groups were tested to exclude third codon position saturation and recombination because they interfere with the detection of positive selection. We tested the contribution of transcriptional divergence to the evolution of both families by characterizing their expression in pistils and leaves infected with Fusarium graminearum, a heterotrophic flower-infecting fungus responsible for cereal head blight. This approach was based on the finding that DEFLs are predominantly expressed in reproductive tissues [29] as well as in response to pathogens and pollination [20].
Discussion
Re-evaluating positive and negative selection in NLRs
We re-annotated NLR genes in three Arabidopsis spp. and detected significantly more NLR candidate genes compared to a previous study (265 and 247 against 159 and 185 in A thaliana and A. lyrata, respectively) [38]. This study applied the same annotation method on all three species and thus allowed better comparisons. We found slightly lower numbers of NLR in A. halleri compared to the other two species. However, this could be the outcome of the more recent annotation of this genome. In addition, the repetitiveness of regions encoding LRRs are more difficult to assemble than other, more regular genetic loci. Similarly as [38] observed in their A. thaliana / A. lyrata phylogenies, our sequence groups contain in most cases, members from all three species. This allowed us to reexamine codon-based selective pressure as well as recombination events and thus expanding on previously performed evolutionary analyses [2, 38]. The gene trees obtained with the re-annotated sequences do not significantly differ from the first studies of A. thaliana, suggesting that despite major differences in genome size, habitat and life cycle of these three species, major taxon-specific clades have not evolved.
When comparing all members of the NLR family within A. thaliana, positive selection has been shown to be a major force shaping their diversity. About 50% of the analyzed NLRs, divided over 10 sequence groups, showed sites under positive selection. 70% of these sites occur in the LRR region of the genes [2]. Expansion of these analyses by including A. lyrata showed that still about 50% of R genes showed positive selection. In addition, presence/absence polymorphisms of a large number of gene orthologs are evident between both species [23]. Such findings backed up the consensus that NLR genes are likely to evolve rapidly and show a clear "birth and death" pattern where alleles rapidly appear and disappear [51].
We extended these analyses to other well-known members of the genus and included additional quality controls of the alignments employed. Highly divergent gene families are prone to codon saturation, which can mislead the detection of positive selection. Specifically, we checked for third codon position saturation, levels of sequence divergence as well as more detailed analysis of possible recombination events. For this purpose, we employed the phylogenies for all partitions detected by GARD to investigate the occurrence of selection with FUBAR. Interestingly, comparing the results of FUBAR with those yielded by the combined GARD-FUBAR approach, shows that considering possible recombination events did not greatly change the outcome of the selection analyses.
Overall the analysis of NLRs showed that recombination and negative selection preserve the sequence and integrity of the NB-ARC domain, while recombination in the presence of prevailing positive selection re-assorts variation in the LRR domain and post LRR region. These distinct patterns of evolution reflect recent findings on the structural basis of NLR function. A model based on the properties of the different domains proposes that in absence of pathogen effectors the interaction of the NB-ARC domain with the N-terminal part of the LRR maintains the closed conformation of the protein [52]. Thus the prevalence of purifying selection and recombination or gene conversion in the NB-ARC domain, but also in part of the LRR domain reflect the role of these regions in preserving the stability of NLR protein folding and autoinhibition. In contrast, the C-terminal end of the LRR domain, encoded by the region were positive selection prevails, is exposed, senses charge changes in its environment and releases autoinhibition upon pathogen perception. The conformational changes triggered by the LRR allow the NB-ARC domain to exchange ADP for ATP necessary for downstream signaling [52].
Evolution of DEFLs
Early studies on mammalian α-defensin evolution showed evidences of positive selection in the sequence regions encoding mature peptides [53]. These observations suggested that gene duplications in the defensin family were often followed by a rapid burst of positively selected amino acid changes leading to functional differentiation of paralogs [53]. This scenario received further support from comprehensive studies based on ML models that demonstrated the occurrence of positive selection in specific residues of the mature peptide of α-defensin [54–56]. Although many plant DEFLs are also involved in pathogen inhibition and killing they are not evolutionarily related to animal α-defensins [57]. Plant DEFL families have more members compared with vertebrates and these are on average longer and more diverse. Although both groups have similar amino acid biases they generate different tertiary structures and pattern of conserved disulfide bridges [57].
Although ratios of the counts of non-synonymous to synonymous substitutions in Arabidopsis DEFLs suggested that positive selection diversifies specific regions encoding the mature peptide [13], a more recent analysis of grass DEFLs suggests otherwise. Specifically, analysis of the ratio of synonymous to nonsynonymous substitution Ka/Ks between genes residing in duplicated grass genomic regions showed that the family is subject to purifying selection, while a sliding window analyses detected some regions evolve under positive selection [15]. However, the latter approach has been shown to produce artifactual trends of synonymous and nonsynonymous rate variation and is invalid because it does not correct for multiple testing [58]. More recently, a study on the evolution of CRPs in six closely related Oryza genomes reported a dN/dS ratio < 1 for all pairwise combinations of concatenated defensin coding sequences concluding that positive selection did not occur within CRPs [14]. In comparison, the approach we employed was based on reliable alignments of moderately divergent coding sequences, thus avoiding third codon position saturation, one of the major caveats preventing reliable evolutionary analysis of this family. Moreover, in contrast to previous work, both codeml and FUBAR yield detailed information regarding the occurrence of positive and negative selection as well as the codon sites affected by such trends. The fact that our results were corrected for multiple comparisons and consistent between methods adds further support to our analysis strategy. In the present analysis, a series of codon-based ML tests showed that although eight DEFL groups reported statistically significant evidences of positive and negative selection, a substantial proportion of the family in the genus Arabidopsis is subject to neutral evolution. While these results do not exclude that diversifying evolution takes place in some gene lineages for a short period of time, it is obvious that in terms of their molecular evolution, plant defensins are not under a prevalent regime of diversifying selection like animal α-defensins. This observation further supports the notion that they are not evolutionarily related and their roles in the immune response are different although their overall structures converged during evolution [57].
In plants and animals high immune gene diversity can confer a selective advantage to hosts facing rapidly evolving and diverse pathogens. In the case of plant defensins gene and genome duplication generated a large and polymorphic reservoir of antimicrobial factors that undergo rapid turnover in number and structure [12, 14, 24]. Arabidopsis DEFLs are characterized by a high proportion of gene family variation in length and pattern of conserved cysteines [12]. This information in conjunction with our results suggests that ancient events of gene duplication in their common ancestor as well as insertions and deletions played a more important role in their diversification as a family, compared to diversifying selection.
A major aspect playing a role in the evolution of DEFLs is their diversification of expression pattern. RNA-seq analyses revealed that even closely related genes show different levels and patterns of expression during fungal infection. The collective downregulation of DEFL genes observed in pistils might be a conserved mechanism employed by Fusarium to inhibit the immune responses.
Species-specific divergence of DEFLs and emergence of novel functions
Our analyses further showed that Arabidopsis DEFLs form a very large and divergent gene family formed by small groups of similar sequences detected in all three Arabidopsis species and thus possibly existed already in their common ancestor. This large number of very different ortholog groups has been retained at least since the divergence of the Arabidopsis species occurred some 7–10 MYA [28] and contains few species-specific duplications and singletons. Assuming pathogen growth inhibition and killing is the ancestral role of DEFLs, we hypothesize that this large number of diverse DEFL genes was initially preserved because they provided a selective advantage to counteract pathogens. Subsequently, the functional divergence of this family has been facilitated by ancient and recent transposition events following WGD events that possibly diversified the regulatory properties of DEFLs and led to their preservation [28].
Two examples that illustrate the widely different ways in which DEFLs diverge functionally are LUREs and PDFs. LUREs are rather exceptional DEFLs, because they consistently formed groups of highly similar, species-specific duplicates (Additional file 6: Figure S2A). LURE genes encode peptides that are essential in the species-preferential attraction of pollen tubes towards ovules during double fertilization [19]. While their interspecific divergence might have involved episodic diversifying evolution, their current role as messengers between gametophytes acting at multiple redundant RLKs [59, 60] probably constrains their inter-specific divergence as suggested by their short branch lengths (Additional file 6: Figure S2A). However, functional divergence in DEFLs might evolve without the occurrence of species-specific duplications and/or positive selection. Specifically, while closely related PDF1s of A. thaliana are important for pathogen killing, their A. halleri orthologs AhDEF1.3 (S119), AhPDF1.4 (S120) and AhPDF1.5 are involved in heavy metal tolerance and have antifungal in vitro activity against Fusarium oxysporum [22]. Their high level of similarity and the fact that both A. thaliana and A. halleri PDF1 genes are also differentially expressed during Fusarium pistil infection (Fig. 7b) supports the notion that these peptides adopted different and sometimes even simultaneous multiple roles during evolution [22]. The hypothesis that during evolution transcriptional divergence in location and levels of expression has been more important in the functional diversification of DEFLs compared to natural selection is well exemplified by A. thaliana and A. halleri PDFs. The fundamental difference between these groups of DEFLs is that there is a higher constitutive accumulation of PDF1s in A. halleri in both shoots and roots in comparison with A. thaliana, where these genes are not expressed in roots [22, 61]. The high degree of conservation and the significant occurrence of purifying selection in group S119 suggest the evolution of PDF1s and AhDEF1s might be constrained by their multiple roles. Further functional characterization of the DEFL family will elucidate the extent of functional promiscuity.
Conclusions
The analysis of NLRs and DEFLs allowed comparing the selective pressure of genes with different functional properties in detection and response to ETI and PTI (Fig. 1). The present analyses of NLRs confirms previous studies in Arabidopsis thaliana and highlights contrasting patterns of purifying and diversifying selection affecting the NB-ARC and LRR/post-LRR regions, which might be explained by the different structural properties of these domains. Although positive selection has been detected in gene families encoding inhibitors of pathogen growth and fitness, like chitinases [7, 8], β-1,3-endoglucanases [9], polygalacturonase inhibitor proteins (PGIPs) [10] and thaumatin-like proteins [11], we detected significant evidences of positive selection only in a relatively small fraction of Arabidopsis DEFLs. Their expression pattern, however, suggests that, compared with positive selection, transcriptional divergence probably made a more important contribution to DEFL diversification. This regulatory divergence was possibly the outcome of frequent genomic transposition [28]. In comparison with smaller families of pathogenesis-related genes under positive selection, DEFLs and other CRPs appear to be involved in diverse biological processes besides defense and act, for example, as signaling ligands during fertilization processes, development of reproductive structures, heavy metal resistance. These heterogeneous functions and interactions with cell surface receptors and channels might altogether pose different structural and functional constraints to frequent substitutions, thus resulting in a family-wide pattern of neutral evolution.
Abbreviations
AIC:

Akaike information criterion
aLRT:

Approximate likelihood ratio test
BEB:

Bayes empirical Bayes analysis
CC:

Coil-coil domain
CNL:

Coil-coil-type NLR
CRP:

Cysteine-rich peptide
DEFL:

Defensin-like
DEGs:

Differentially expressed genes
FUBAR:

Fast unconstrained Bayesian approximation
GARD:

Genetic algorithm for recombination detection
LCRs:

Low-molecular weight, cysteine-rich
LRR:

Leucine-rich repeat
LRT:

Likelihood ratio test
ML:

Maximum likelihood
NB-ARC:

Nucleotide-binding adaptor shared by Apaf1, R genes and CED4
NLR:

Nucleotide-binding domain and leucine-rich repeat containing protein also named as nucleotide-binding and oligomerization domain (NOD)-like receptor
PGIP:

Polygalacturonase inhibitor proteins
PR:

Pathogenesis-related gene or protein
RPKM :

Reads per kilobase of transcript per million mapped reads
SCRLs:

S-locus cysteine-rich-like
SPR:

Subtree-prunning-regrafting
TIR:

TOLL/interleukin1-receptor
TNL:

TIR-type NLR
Declarations
Acknowledgments
We thank Nina Lantzouni and Claus Schwechheimer for support and access to the CLC Genomics Workbench at Technical University of Munich. Andrea Linkmeyer and Ralph Hückelhoven are acknowledged for F. graminearum strain SG005 and Carolin Delker for seeds of A. lyrata. We thank Vimal Rawat and Korbinian Schneeberger for pre-publication access to their re-annotation of the A. lyrata genome as well as Niveditha Katyayini, Anna Teresa Dandekar and Maximilian Hauck for their contributions to initial analyses of the molecular evolution of defensins.
Funding
This project was funded by the German Research Council DFG through the collaborative research project EVOREP (grant DR334/8–1) to T.D. The Bavarian Program for realization of equal opportunities for women in research and teaching is acknowledged to fund M.M.P. R.S. has been in part supported by the Alexander von Humboldt Foundation.
Availability of data and materials
Raw RNA-seq data is available from NCBI Sequence Read Archive (SRA) is available under Bioproject PRJNA408031 for A. lyrata and for A. thaliana and A. halleri under PRJNA384934, as previously indicated in [20]. All other materials are provided as supplements to this publication or are available from the authors upon reasonable request.
Authors' contributions
MMP set the concept and design of the study; MMP and RS performed bioinformatic analyses; AJA performed experimental work; MMP and TD supervised experimental work; MMP and RS wrote the manuscript; TD edited the manuscript. All authors have read and approved the manuscript.
Ethics approval and consent to participate
Not applicable
Consent for publication
Not applicable.
Competing interests
The authors declare that they have no competing interests.
Publisher's Note
Springer Nature remains neutral with regard to jurisdictional claims in published maps and institutional affiliations.
Open AccessThis article is distributed under the terms of the Creative Commons Attribution 4.0 International License (http://creativecommons.org/licenses/by/4.0/), which permits unrestricted use, distribution, and reproduction in any medium, provided you give appropriate credit to the original author(s) and the source, provide a link to the Creative Commons license, and indicate if changes were made. The Creative Commons Public Domain Dedication waiver (http://creativecommons.org/publicdomain/zero/1.0/) applies to the data made available in this article, unless otherwise stated.
Authors' Affiliations
(1)
Cell Biology and Plant Biochemistry, Biochemie-Zentrum Regensburg, University of Regensburg, Regensburg, Germany
(2)
Chair of Phytopathology, Technical University of Munich, School of Life Sciences Weihenstephan, Freising, Germany