Research article

Open Access
Macroevolutionary diversification with limited niche disparity in a species-rich lineage of cold-climate lizards
BMC Evolutionary Biology
BMC series – open, inclusive and trusted
2018
18:16
Received: 16 June 2017
Accepted: 31 January 2018
Published: 6 February 2018
Abstract
Background
Life diversifies via adaptive radiation when natural selection drives the evolution of ecologically distinct species mediated by their access to novel niche space, or via non-adaptive radiation when new species diversify while retaining ancestral niches. However, while cases of adaptive radiation are widely documented, examples of non-adaptively radiating lineages remain rarely observed. A prolific cold-climate lizard radiation from South America (Phymaturus), sister to a hyper-diverse adaptive radiation (Liolaemus), has extensively diversified phylogenetically and geographically, but with exceptionally minimal ecological and life-history diversification. This lineage, therefore, may offer unique opportunities to investigate the non-adaptive basis of diversification, and in combination with Liolaemus, to cover the whole spectrum of modes of diversification predicted by theory, from adaptive to non-adaptive. Using phylogenetic macroevolutionary modelling performed on a newly created 58-species molecular tree, we establish the tempo and mode of diversification in the Phymaturus radiation.
Results
Lineage accumulation in Phymaturus opposes a density-dependent (or 'niche-filling') process of diversification. Concurrently, we found that body size diversification is better described by an Ornstein-Uhlenbeck evolutionary model, suggesting stabilizing selection as the mechanism underlying niche conservatism (i.e., maintaining two fundamental size peaks), and which has predominantly evolved around two major adaptive peaks on a 'Simpsonian' adaptive landscape.
Conclusions
Lineage diversification of the Phymaturus genus does not conform to an adaptive radiation, as it is characterised by a constant rate of species accumulation during the clade's history. Their strict habitat requirements (rocky outcrops), predominantly invariant herbivory, and especially the constant viviparous reproduction across species have likely limited their opportunities for adaptive diversifications throughout novel environments. This mode of diversification contrasts dramatically with its sister lineage Liolaemus, which geographically overlaps with Phymaturus, but exploits all possible microhabitats in these and other bioclimatic areas. Our study contributes importantly to consolidate these lizards (liolaemids) as promising model systems to investigate the entire spectrum of modes of species formations, from the adaptive to the non-adaptive extremes of the continuum.
Keywords
Natural selection
Non-adaptive radiation
Diversification
Niche conservatism
Macroevolution
Lizards
Phymaturus
Background
The diversification of life via evolutionary radiations is mediated by multiple modes of lineage proliferation that range from the adaptive to the non-adaptive extremes of the speciation continuum [1, 2]. On one extreme, adaptive radiations occur when a lineage diversifies into ecologically different species through divergent natural selection [1, 2] – a process that leads to clades displaying exceptional ecological and morphological diversity [3]. Ecological opportunity is a fundamental requirement underlying this process [1, 4], which offers clades an array of available resources that promote the proliferation of new species via divergent adaptation to alternative regions of the niche spectrum via ecological specialization [1, 5, 6]. The predominant role of adaptive radiation theory has been reinforced by the emergence of multiple empirical examples from across multiple lineages, including Anolis lizards [7, 8], Darwin's finches [9], African cichlids [10], and more recently, Liolaemus lizards [11, 12]. On the other extreme, lineages have been observed to proliferate displaying minimal or no ecological diversification, and hence, under a process that does not involve divergent natural selection driving new species to specialize in alternative areas of the niche spectrum (i.e., no niche-filling is involved) [2, 13]. This process, known as non-adaptive radiation, predicts that spatial isolation among newly evolving species can facilitate the evolution of reproductive isolation with niche conservatism, thus resulting in diversifying lineages whereby species occupy similar niches in non-overlapping areas [2]. Examples of taxa having undergone non-adaptive diversifications include the salamander genera Batrachoseps [14] and Plethodon [15], and invertebrate lineages such as Albinaria [13] and Achatinella [16] snails. In contrast with clades diversifying via adaptive radiation, empirical cases of non-adaptive radiations are considerably more infrequent and have received less attention. How widespread non-adaptive radiations are in nature and whether factors such as proliferation in archipelago or mainland backgrounds plays an effect on their likelihood of expressing remain open questions.
An peculiar evolutionary scenario is observed in South America within the family Liolaemidae, where two species-rich sister genera of geographically overlapping lizards have radiated across a range of climates that cover some of the planet's coldest environments occupied by reptiles. These clades, Liolaemus and Phymaturus, display highly contrasting patterns of biodiversity distribution. At one extreme, Liolaemus is one of the most prolific genera among living vertebrates, numbering 270+ species [17] and inhabiting one the widest ranges of environmental/climatic conditions recorded among reptiles [12, 18–20]. These unique features have contributed to consolidate Liolaemus as a highly promising vertebrate model system to investigate diversification, adaptation and extinction theories [21–24]. For example, while the overwhelming majority of research on adaptive radiation has concentrated on clades distributed on 'island' systems (e.g. archipelagos, lakes), leading to the idea that such phenomenon is unlikely to take place in mainland settings [25], recent studies suggest that the Liolaemus prolific diversification is consistent with an adaptive radiation [11, 12]. In striking contrast, its sister clade Phymaturus has actively diversified into 60+ species that exhibit minimal or no phenotypic and ecological differentiation. All known Phymaturus are specialized in the use of rocky microhabitats, have (almost entirely) herbivorous diets, viviparous (live-bearing) reproduction, and are characterized by a robust and flattened body shape and predominantly distinctive sexual dimorphism both in size and colouration [26–35]. Phymaturus has diversified into two major clades, one Patagonian (patagonicus clade) and one Andean (palluma clade), yet, both subgroups have been suggested to have undergone the same mode of lineage diversification [33, 34, 36]. This propensity to conserve major components of their ancestral niche [30] is associated with a highly structured spatial pattern characterized by a tendency for species to occupy small geographic ranges isolated from each other [30, 33, 35]. Therefore, coexistence among Phymaturus species is extremely unusual [37, 38]. Collectively, the combination of these ecological, evolutionary and geographic patterns has promoted the view that Phymaturus lizards have diversified via non-adaptive radiation [33]. Therefore, this prolific lizard family has been predicted to hide an immense component of non-adaptive diversification (in Phymaturus) that has remained eclipsed by the exceptional evolutionary history of Liolaemus.
Here, we employ a model-selection approach to investigate the tempo and mode of evolutionary diversification of the Phymaturus non-adaptive radiation. Our study aims to address the hypothesis that the diversification of the Phymaturus genus deviates from a density-dependent mode of evolution and therefore, we do not expect to find evidence that a 'niche-filling' mode of species accumulation has led to the consistently observed conservatism of niche occupation in this clade. That is, we expect an early evolutionary history characterized by slow diversification that accelerates over time arithmetically as the accumulation of more ancestors (nodes in the phylogeny) circumstantially allows the origins of more new species. Examination into the evolutionary mode of Phymaturus will ascertain whether this clade exemplifies a non-adaptive radiation providing i) a unique insight into the phenomenon and enhancing our understanding of the full spectrum of evolutionary radiations, from adaptive (i.e. niche-filling mediated) to non-adaptive (no niche-filling) and ii) how disparate modes may be expressed within one single lineage (Liolaemidae family). We will employ a range of phylogenetically based modelling analyses to quantitatively establish the most likely model describing the diversification history that has given origin to this intriguing genus of cold-climate lizards.
Results
Diversification rates and evolutionary models
The MCCR analysis reveals a lineage diversification curve characterized by a rather constant rate of species accumulation over time (
γ
statistics = − 1.86), as shown by the lineage through time plot (Fig.
1
). The accumulation of lineages during
Phymaturus
history shows some episodes of significantly steep declines (where the lineage-diversification line falls outside the 95% confidence interval). These events took place soon after the Miocene-Pliocene boundary and reach the Pleistocene (Fig.
1
). The model-selection analyses (based on an actual ~ 90% of known species sampled) identified the constant rate birth-death model (crBD) as the best approximation describing the macroevolutionary dynamics of lineage accumulation within
Phymaturus
(Table
1
). Subsequent simulations of scenarios assuming
Phymaturus
'actual' diversities of 70 (and thus, assuming that 83% of the species were sampled) and 80 species (and thus, assuming that 73% of the species were sampled), ranked the same model as the best alternative, which reinforces that model-identification is not an artefact of proportions of missing species from the phylogeny. However, although the crBD model was consistently ranked as the best alternative, the ∆AICc values are also consistently < 1 relative to the Yule model, while the differences with both density-dependent models (DDL + E and DDE + E) are consistently above the 2 threshold in ∆AICc values between models (Table
1
).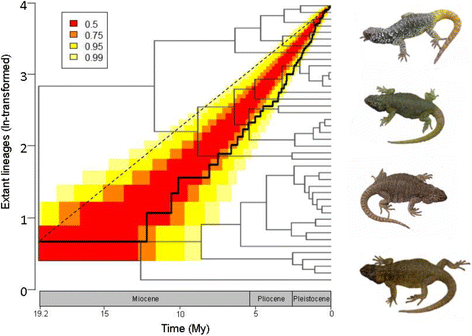 Table 1
Rates of species accumulation during Phymaturus diversification history based on multiple evolutionary models
Model

λ

μ

LogL

AICc

∆AICc

58/65 Known

 Yule

5.765772

0

38.69399

−75.31655

0.51701

 crBD

8.021884

4.389454

40.02587

−75.83356

0

 DDL + E

6.834053

0.083624

39.81339

−73.18234

2.65122

 DDE + E

6.928767

0.3788968

39.8202

−73.19596

2.6376

58/70 known

 Yule

5.954685

0

38.40051

−74.72959

1.00081

 crBD

8.524321

4.890441

39.97429

−75.7304

0

 DDL + E

7.121737

0.083370

39.8481

−73.25176

2.47864

 DDE + E

7.237836

0.390419

39.85628

−73.26812

2.46228

58/80 known

 Yule

6.223624

0

37.94997

−73.82851

1.75693

 crBD

9.278077

5.642338

39.90181

−75.58544

0

 DDL + E

7.955254

1.167757

39.92335

−73.40226

2.18318

 DDE + E

7.64201

0.404501

39.9097

−73.37496

2.21048
Tempo and mode of body size evolution
The results of the disparity through time (DTT) analysis, revealed a predominantly limited degree of relative body size disparity throughout the evolutionary history of the clade (MDI = 0.089), with a strong change in the diversification dynamics in this trait that was estimated to have taken place around 10Mya (Fig.
2
). This analysis shows a curve characterized by a lower relative disparity than expected by chance during the first half of the
Phymaturus
history, when limited body size variation remained constrained within clades with no overlap in morphospace (Fig.
2
). This period of limited diversification is found to have been followed by a steep increase in relative body size disparity that reveals a substantial increase accentuated over the last ~ 2.6My which substantially exceed the 95% confidence interval calculated by our 10,000 simulations (Fig.
2
). A first diversification pulse occurred around the Pliocene-Pleistocene boundary, while a second pulse expressed prominently over the last million years of the clade history. The results of the contMap (Fig.
2
) illustrate this finding further by depicting the most likely path that body size evolution has taken. The two subclades of
Phymaturus
are shown with species of the
patagonicus
clade (top subclade) having relatively smaller body sizes (tree tips are primarily blue/green) compared to species of the
palluma
clade (bottom subclade) which typically have larger body sizes, and importantly, show a considerably higher degree of evolutionary lability in this trait as evidenced by dynamic transitions along the tree branches. These changes strongly contrast with the degrees of change observed among species of the
patagonicus
clade (Fig.
2
).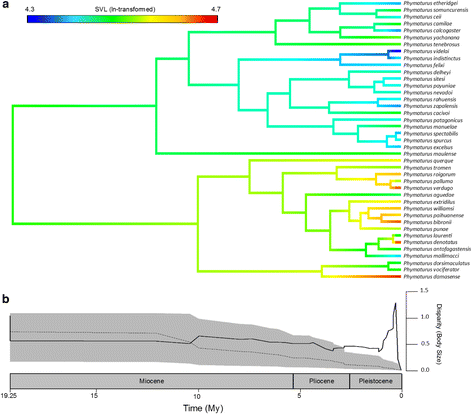 The model-based analysis identifies the
Ornstein-Uhlenbeck
(OU) model as the best approximation describing the evolutionary diversification of body size in
Phymaturus
(Table
2
). This analysis indicates that body size has diversified subject to stabilising selection forcing its evolution around two adaptive peaks revealed by our surface-based analyses on a Simpsonian landscape (Fig.
3
; Additional files
5
and
6
). The first of these peaks encompasses the majority of the
patagonicus
clade at around 86.4 mm in SVL, while the second includes the majority of the
palluma
clade, characterized by larger species, at approximately 96.5 mm (Fig.
3
; Additional Files
5
and
6
). The remaining models were highly differentiated from the OU model by ∆AICc ranging from 11.3–20 (Table
2
).
Table 2
Rates and modes of evolutionary diversification in Phymaturus body size based on comparisons of four evolutionary models
| Model | Model Parameters | β | LogL | AICc | ∆AICc |
| --- | --- | --- | --- | --- | --- |
| BM | – | 0.001999 | 43.587975 | −82.86016 | 17.7023 |
| OU | α = 0.437549 | 0.004391 | 53.605606 | −100.5625 | 0 |
| EB | α = −0.000001 | 0.001999 | 43.587940 | −80.5272 | 20.0353 |
| Delta | δ = 2.999999 | 0.000727 | 47.942350 | −89.236 | 11.3265 |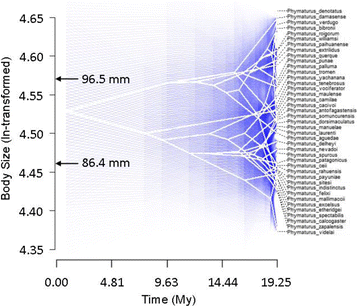 Discussion
Non-adaptive radiations are characterised by species formations associated with minimal ecological and phenotypic divergence [2, 13]. Our replicated analyses consistently rejected density-dependent models of lineage diversification across known and simulated species richness for the strictly cold-climate Phymaturus genus (Table 1). Therefore, our findings support the expectation that this lizard radiation has not diversified via formation of species mediated by niche-filling (Fig. 1), in strong contrast with its sister lineage Liolaemus, recognized as one of the world's most prominent adaptive radiations [11]. These findings are paralleled by further analyses showing limited diversification of body size across species, characterised by only one major shift in body size plan (which led to the two major clades known within Phymaturus), and a more recent tendency for body size overlap in morphospace associated with allopatric distribution, which is thus likely to be facilitated by the lack of ecological interference among species of similar size. Collectively, therefore, our macroevolutionary findings identify the Phymaturus clade as an emerging example of a non-adaptive continental radiation, with the potential to open multiple unique and novel opportunities to (i) investigate the factors underlying the differing dynamics of evolutionary diversification seen in nature, but with the benefit of focusing on a scenario consisting of two contrasting, yet spatially overlapping and closely related lineages, (ii) consolidate the emerging view that the evolution of viviparous reproduction in reptiles can operate as a 'double-edge sword' trait by making radiations of lineages within extreme cold-climates possible [12], while imposing adaptive barriers to their radiation across warmer climates, where oviparous species predominate, and thus (iii) to highlight the role that such key adaptations can play in influencing the extent to which a clade diversifies as a result of their potential to expand across (or remain restricted to) certain climatic regions. Although Liolaemus and Phymaturus are sister lineages, the current diversity of the former is roughly four times greater than the latter, which could be a consequence of the 'unbounded' potential for Liolaemus to expand across environments, in contrast to Phymaturus which inhabit cold climates [27].
Diversification of lineages
Lineage diversification within Phymaturus is described by a rather constant accumulation of species following a period of early slow diversification, a pattern consistent with a mode of non-adaptive radiation (Fig.1). This is contrasted with the opposing evolutionary trajectory recently shown in its sister clade Liolaemus, which follows a density-dependent (i.e., 'niche-filling') curve of lineage accumulation showing episodic pulses of diversification throughout their evolutionary history [11] combined with extraordinary ecological and morphological diversity [12, 18].
Recent studies have suggested an important role for viviparous reproduction (live-bearing parity mode, which acts as a maternal incubator for embryos) as a 'key innovation' triggering species diversification in lizards by facilitating their access to the ecological opportunity offered by otherwise inaccessible cold environments [12], such as high-elevation areas emerging following the uplift of mountain systems. The functional dependence of viviparous species on such cold and highly fluctuating thermal environments [78–80] has been suggested to operate as a limitation for cold-climate adapted species to expand from cold to warm environments in lineages in which reverse transitions from viviparity to oviparity are unlikely to happen [12, 80]. Recent phylogenetic analyses suggest that this is the case for the Liolaemus genus (but see [81] for cases of squamates where reversals have been suggested to occur), which has been shown to have an oviparous ancestor and where the predominant tendency is for oviparity-viviparity transitions in multiple independent events, while only one weakly supported case may have experienced a reversal to oviparity from viviparity [12]. Phymaturus is a cold climate lineage where, as indicated above, only viviparous parity mode is known. This strong contrast in the degree of both ecological and spatial diversification between Phymaturus and Liolaemus is consistent with the hypothesis that viviparous parity mode is likely to be predominantly irreversible (at least within this lizard family). The major potential implication for the diversification of Phymaturus species is that this lineage is likely to have remained 'trapped' within the cold-climates they originated in as a viviparous radiation. Given that Phymaturus seem to have been unable to adaptively deviate from the ancestral niche, their adaptive restrictions are likely to explain their extreme contrast in terms of species-richness with the hyper-diversity found in Liolaemus, which have extensively radiated across all possible environments [18, 82–84]. These findings relate to the question whether some forms of speciation (e.g., sympatric versus allopatric) are likely to differ in rates as a function of the opportunities for divergence of species into new lineages. For example, while the adaptive potential of Liolaemus has allowed them to invade a great range of climates and of microhabitats within each of them, which is reflected by their exceptional species richness, the phylogenetic inertia pulling ecological or life history diversification of Phymaturus around the very basal ancestor of the genus has probably been responsible for their comparatively much lower diversity, given the reduced opportunities to proliferate following the ancestral niche.
In addition, their predominant preference for rocky microhabitats [85] further compounds their dispersal by limiting the amount of viable habitats available. Therefore, this combination of factors restricts their opportunities to geographically radiate in environments other than rocky areas in the Andes and Patagonia, where both climate and habitat structures offer the conditions demanded by their strong tendency to retain their ancestral niche. What intrinsic (e.g., genomic) factors have precluded the potential for Phymaturus to exploit a wider range of microhabitats (even within Andean-Patagonian regions, in contrast with their sister Liolaemus, which have extensively radiated both geographically and ecologically) remains an open question with intriguing implications.
Niche lability and the potential for assemblage evolution
A consequence of the lack of niche differentiation within the Phymaturus genus is that species of this clade are unlikely to efficiently coexist in sympatry [13], as predicted by the competitive exclusion principle [7, 86, 87]. This principle suggests that natural selection emerges when species of a lineage directly engage in conflict as a result of their occupation of overlapping areas of the niche space, which promotes ecological character displacement and thus reciprocal adaptive departures in ecologically relevant traits to reduce the intensity of competition between them. The prevalent adaptive constraints observed in Phymaturus are therefore likely to explain their restricted and reciprocally isolated geographic ranges, resulting in a clade of predominantly allopatric species (see Additional File 7) [13]. In fact, some exceptions to this tendency have been found. For example, the species P. roigorum and P. payuniae, whose coexistence is facilitated through some incipient differences in their use of the same habitat [37, 38]. While P. payuniae is typically found on two rock types and actively avoids basaltic rocks when basking, P. roigorum is found on many types of rocks and has a wider thermal tolerance [38]. Also, P. payuniae has been observed to be the better thermoregulator of the two species [38] and avoids overheating through shorter basking periods and utilising shade more frequently than P. roigorum [37]. This case illustrates minor niche differentiation potentially occurring when two Phymaturus species come into contact, supporting the prediction that ecological interference among ecologically similar species promotes natural selection for character displacement in traits that engage in direct ecological conflict [2, 88]. While variation in preferred body temperatures have also been observed among a number Phymaturus species, their thermal biology is nevertheless thought to be evolutionary constrained [89]. In fact, temperature is known to significantly impact the physiology, micro-habitat availability and spatial distribution of species of the Liolaemus genus [90] and of ectotherms in general [91–93].
The evolution of body size disparity
Our analyses revealed lower relative body size disparity than expected by chance during the first half of the Phymaturus history (until ~10Mya), and thus, the limited variation in this trait remained restricted within clades independently with no overlap in morphospace. The surface-based analyses reinforce this finding by showing that only two major transitions in body size are likely to have taken place, one leading to the palluma (Andean; with one species that did not undergo this shift) clade, and the other to the patagonicus (Patagonian; with one species that recently shifted significantly; see Additional Files 5 and 6) clade. After this period, body size disparity increased substantially, which can be interpreted by higher accumulation of species exposed to a broader range of environmental conditions across the Andes and Patagonia. These climatic gradients are likely to have driven some degree of local adaptation in body size, without having an effect on the main dimensions of the ancestral niche that remained consistently unchanged among newly evolving species (i.e., parity mode, herbivory, use of rocky microhabitats, extremely low fecundity, among others). This transition from extremely low body size disparity recovered for the first half of the Phymaturus history, to higher relative disparity resulted in increased overlap of body size plans in the morphospace which, however, is not associated with spatial overlap among species with similar body size plans. In fact, the predominantly allopatric distribution of Phymaturus species (see Additional File 7) [33, 35] is likely to have operated as the fundamental factor facilitating the retention of ancestral body size plans given the lack of ecological interference among species, and thus, contributes to the evolutionary stability of body size disparity among species within both major clades.
Conclusions
Our study reveals a striking case of non-adaptive radiation in the cold-climate lizard genus Phymaturus. The genus has experienced a slow accumulation of species early on in their evolutionary history followed by accelerated diversification in the later part. It is likely that the strict habitat requirements of the genus, coupled with the suggested constraints for dispersal across climatic zones imposed by a strictly viviparous reproduction, have limited opportunities for radiations of these reptiles into novel environments, which could also explain their considerably lower diversity of species compared to Liolaemus. Body size diversification conforms to a two-peak only model of stabilising selection operating as a strong influence on the maintenance of body sizes within the genus. These two adaptive peaks show minor divergence between certain species supporting conventional theory that species adapt to local differences in climate and habitat during non-adaptive radiations. Species of the Andean dwelling palluma group, inhabiting colder climatic conditions at higher altitudes, have evolved larger body sizes as shown by the larger 96.5 mm adaptive peak. The pattern of larger bodied species occupying colder environmental temperatures is the fundamental prediction of Bergmann's rule, which, despite being consistently rejected in the sister genus Liolaemus [20, 64, 94], is a question yet to be statistically analysed in Phymaturus. The explicit testing of niche-overlap within the genus, in conjunction with the findings presented here, is needed before Phymaturus can be established as an example of a non-adaptive radiation as is often hypothesised. The contrasts between the macroevolutionary dynamics observed in Phymaturus, compared to its sister clade Liolaemus, open unique opportunities to investigate the factors underlying the extraordinary asymmetries that evolve in nature.
Abbreviations
AIC:

Akaike Information Criterion
BM:

Brownian motion model
crBD:

constant rate birth-death model
DDE + E:

density-dependent exponential model
DDL + E:

density-dependent logistic model
DTT:

disparity through time
EB:

early burst
HMM:

hidden Markov model
LTT:

lineage through time plot
MCCR:

Monte Carlo Constant Rate
MDI:

morphological disparity index
Mya:

million years ago
OU:

Ornstein Uhlenbeck model
PNC:

phylogenetic niche conservatism
SVL:

snout-vent length
Declarations
Acknowledgements
We thank Alejandro Scolaro for his invaluable contribution of important part of the body size data used in this study. To the members of the Laboratory of Evolutionary Ecology of Adaptations, Alba Frías de Diego, Lilly Harvey, Manuel Jara and Iker Vaquero-Alba, for valuable discussions and comments. Two anonymous referees and the Editor made extremely insightful and constructively challenging comments that contributed substantially to improve earlier versions of our manuscript.
Funding
This project was partially funded by the University of Lincoln through a Research Investment Fund Grant (RIF). AMR is fully funded by a NERC PhD scholarship at Imperial College of London. Funding bodies had no role in the design of the study and collection, analysis, and interpretation of data, or in writing the manuscript.
Availability of data and materials
The datasets supporting the conclusions of this article are included within the article and its additional supporting files.
Authors' contributions
Original idea: DP-D; design of the study: AMR, DP-D; data collection: AMR, DP-D, MS-C; data analyses and interpretation: AMR, DP-D, MS-C; wrote the manuscript: AMR, DP-D. All authors read and approved the final manuscript.
Ethics approval
Not applicable.
Consent for publication
Not applicable.
Competing interests
The authors declare that they have no competing interests.
Publisher's Note
Springer Nature remains neutral with regard to jurisdictional claims in published maps and institutional affiliations.
Open AccessThis article is distributed under the terms of the Creative Commons Attribution 4.0 International License (http://creativecommons.org/licenses/by/4.0/), which permits unrestricted use, distribution, and reproduction in any medium, provided you give appropriate credit to the original author(s) and the source, provide a link to the Creative Commons license, and indicate if changes were made. The Creative Commons Public Domain Dedication waiver (http://creativecommons.org/publicdomain/zero/1.0/) applies to the data made available in this article, unless otherwise stated.
Authors' Affiliations
(1)
Laboratory of Evolutionary Ecology of Adaptations, School of Life Sciences, University of Lincoln, Brayford Campus, Lincoln, UK
(2)
Centro de Investigación en Recursos Naturales y Sustentabilidad, Universidad Bernardo O'Higgins, Santiago, Chile
(3)
Department of Life Sciences, Imperial College London, Silwood Park Campus, Berkshire, UK