Research article
Open Access
Phylogeny with introgression in Habronattus jumping spiders (Araneae: Salticidae)
BMC Evolutionary Biology
BMC series – open, inclusive and trusted
2018
18:24
Received: 5 April 2017
Accepted: 15 February 2018
Published: 22 February 2018
Abstract
Background
Habronattus is a diverse clade of jumping spiders with complex courtship displays and repeated evolution of Y chromosomes. A well-resolved species phylogeny would provide an important framework to study these traits, but has not yet been achieved, in part because the few genes available in past studies gave conflicting signals. Such discordant gene trees could be the result of incomplete lineage sorting (ILS) in recently diverged parts of the phylogeny, but there are indications that introgression could be a source of conflict.
Results
To infer Habronattus phylogeny and investigate the cause of gene tree discordance, we assembled transcriptomes for 34 Habronattus species and 2 outgroups. The concatenated 2.41 Mb of nuclear data (1877 loci) resolved phylogeny by Maximum Likelihood (ML) with high bootstrap support (95-100%) at most nodes, with some uncertainty surrounding the relationships of H. icenoglei, H. cambridgei, H. oregonensis, and Pellenes canadensis. Species tree analyses by ASTRAL and SVDQuartets gave almost completely congruent results. Several nodes in the ML phylogeny from 12.33 kb of mitochondrial data are incongruent with the nuclear phylogeny and indicate possible mitochondrial introgression: the internal relationships of the americanus and the coecatus groups, the relationship between the altanus, decorus, banksi, and americanus group, and between H. clypeatus and the coecatus group. To determine the relative contributions of ILS and introgression, we analyzed gene tree discordance for nuclear loci longer than 1 kb using Bayesian Concordance Analysis (BCA) for the americanus group (679 loci) and the VCCR clade (viridipes/clypeatus/coecatus/roberti groups) (517 loci) and found signals of introgression in both. Finally, we tested specifically for introgression in the concatenated nuclear matrix with Patterson's D statistics and DFOIL. We found nuclear introgression resulting in substantial admixture between americanus group species, between H. roberti and the clypeatus group, and between the clypeatus and coecatus groups.
Conclusions
Our results indicate that the phylogenetic history of Habronattus is predominantly a diverging tree, but that hybridization may have been common between phylogenetically distant species, especially in subgroups with complex courtship displays.
Keywords
PhylogenyIntrogressionHybridizationTranscriptomeJumping spidersSalticidaeSalticinaePlexippiniHarmochirina Habronattus
Background
The visually-acute jumping spiders include Habronattus, a clade of about 100 described species whose colourful and diverse courtship displays are among the most complex found in arthropods [1–6]. The group is emerging as a model to study the role of sexual selection in divergence [4, 7–11], the evolution of sex chromosomes [12, 13], and arthropod visual systems [14–16].
Although these studies of characters and diversification in Habronattus have been guided by our knowledge of the group's phylogeny, their ability to clearly trace evolutionary processes in this densely diverse group has been limited by poor phylogenetic resolution. Several subclades were recognized by distinctive structures and behaviours by Griswold [3] and confirmed by molecular data from two gene regions (nuclear Ef1-α and mitochondrial 16S-ND1, [5]). These include a large clade of 42 species whose males have fringed first legs and modified third legs (here called the VCCR clade, subdivided into the viridipes, coecatus, clypeatus, and roberti groups), the americanus group, the dorotheae group, and several groups of robust-bodied, often shrub-dwelling species (agilis, amicus, tranquillus groups, collectively named here the AAT clade). Other well-supported groups, such as the decorus group, emerged only with molecular data [5]. However, relationships within and among these species groups are, for the most part, little resolved (see, e.g., the conservative tree of Figure 4 in [12]).
Difficulties in resolving Habronattus phylogeny may stem from the recency of its diversification — possibly less than 5 million years (Figure 8 in [17]) — yielding insufficient sequence divergence or high rates of incomplete lineage sorting (ILS, [18]). Maddison and Hedin's [5] gene trees show several cases of distinct morphospecies intermingling when represented by multiple specimens (e.g., H. pyrrithrix, H. virgulatus, and other coecatus group members). In addition, the recency of their divergence may leave Habronattus species susceptible to hybridization [19, 20], leading to introgression and thus discordant phylogenetic signals.
Indeed, signals of introgression have been noted in mitochondrial data between sympatric and closely related species [21] and even between distant species whose courtship ornaments and genitalia differ markedly [5]. Hints are also seen in sexually selected ornaments in males from divergent H. pugillis populations, whose patterns of convergence could be explained by introgression [4]. Hybrid zones are known among several pairs of closely-related species ([36], unpublished observations). The possibility of introgression is supported by behavioural studies, which have found that females from different populations of H. pugillis have preferences for foreign males with divergent courtship displays, a possible result of antagonistic coevolution between the sexes [7]. If this has happened throughout Habronattus, then we may be faced with an unfortunate irony: the very processes of sexual selection that make this group so tempting to study may at the same time obscure the phylogenetic history we depend on for comparative analyses.
To whatever extent a divergent phylogeny exists in the group, our goal here is to use genomic data to resolve it. We also seek to determine whether the previously-inferred mitochondrial introgression in Habronattus stands alone as in other taxa (e.g., [23]) or is accompanied by nuclear introgression. Such introgression could do more than confuse phylogeneticists; it could have introduced new genetic variation at a rate faster than possible by mutation alone, leading to the sharing of adaptive loci across lineages and facilitating diversification [24–26]. Although introgression of courtship traits into established systems of mate choice with such elaborate signals might seem difficult, sensory bias, Fisherian runaway, and antagonistic coevolution models could all promote this dynamic [7, 9, 27, 28]. Determining how much genetic discordance in Habronattus can be attributed to introgression may provide crucial insights into whether hybridization may have had any substantial creative role in the group's diversification.
The importance of introgression in animal evolution is uncertain [29], in part because distinguishing discordant signals resulting from ILS and introgression is difficult without phylogenomic datasets [30–33]. We collected transcriptome data for 34 Habronattus species and two outgroups, the first genomic dataset assembled for salticid spiders. With a well-resolved phylogenetic tree, we were then able to use a phylogenetic approach to characterize nuclear and mitochondrial introgression in the group. We focused on the americanus group and the VCCR clade, two of the most diverse clades within Habronattus. To investigate nuclear introgression, we first conducted a Bayesian Concordance Analysis [33, 34] to investigate discordance (caused by either ILS and/or introgression) in gene trees, and we then applied Patterson's D statistic [32] and DFOIL [22] tests to explicitly test allele patterns for introgression. We were able to resolve most nodes of the phylogeny with high support and identified several instances of hybridization in the group.
Results
Transcriptome assemblies and data filtering
The unfiltered H. ophrys reference transcriptome included 117,859 transcripts (total 53,927,457 bases assembled), with an N50 (analogous to median contig length; [60]) of 516, and an average sequencing depth of 103×. Following filtering for redundancy, selection of a single variant per gene, removal of possible paralogs, and the separation of connected transcripts, there were 92,343 transcripts left.
Additional file 1: Table S1 gives a summary of transcriptome assemblies, excluding unused sequences with low (< 5×) sequencing depth. After reads were remapped, 51,143 H.ophrys transcripts had sufficient (5×) sequencing depth (average sequencing depth 111×). For all other species, reference-based transcriptome assemblies mapped on average 77% of trimmed reads to either the nuclear reference transcriptome (average nuclear sequencing depth = 67×) or mitochondrial reference genome (average mitochondrial sequencing depth = 13,640×). There was an average of 10,164 transcripts assembled per species, although numbers ranged widely (depending on the number of reads) from 3746 for H. roberti to 28,846 for H. festus. Aligned matrices for each of the partitions (Primary, Missing Species, Noncoding Loci, and mitochondrial) are available in Additional file 2.
Substitution model selection
For the primary concatenated nuclear matrix, PartitionFinder was unable to analyze the approximately 7500 partitions (codon positions for each of 1877 genes) because of computational limits. Thus, we applied it to the mitochondrial genes and on a sample of 20 nuclear genes, using it to assess models rather than choose partitions. GTR + G + I or GTR + G was chosen as the optimal substitution model using AIC for all mitochondrial partitions. For the 20 nuclear genes tested, 33 partitions had a GTR model selected, 22 had TVM, 10 had K81uf, 5 had TIM, 4 had HKY, and 3 had TrN (these number include model variations like +G or +I). We were unable to set a different model for each partition in concatenated matrices due to computational limitations. Instead, we set GTR + G + I as the substitution model in all maximum likelihood (ML) and Bayesian analyses (nst = 6 rates = invgamma) because it was the most commonly chosen and most widely applicable mode. We used 4 partitions based on codon position (position 1, position 2, position 3, and noncoding) for all figured analyses. To test whether partitioning played a major role, we also ran an unpartitioned likelihood analysis on the 1877 locus concatenated nuclear matrix, as well as one partitioned by locus.
Nuclear phylogeny
The nuclear phylogenetic results are summarized in Figs.
1
and
2a
; trees are available in NEXUS format in Additional file
3
. Most species relationships are resolved with strong support, and concordantly among the concatenated nuclear and species tree analyses. The independent "low quality" remnant matrices also support many of the clades. As suggested by Maddison and Hedin's [
5
] results from a few genes,
Habronattus
is divided into the AAT clade (
amicus
,
agilis
, and
tranquillus
groups) and a large clade of the remaining species, within which
H. geronimoi
is sister to the rest. The
americanus
group and the VCCR clade are also resolved, and within the latter the
viridipes
,
clypeatus
and
coecatus
groups are each monophyletic.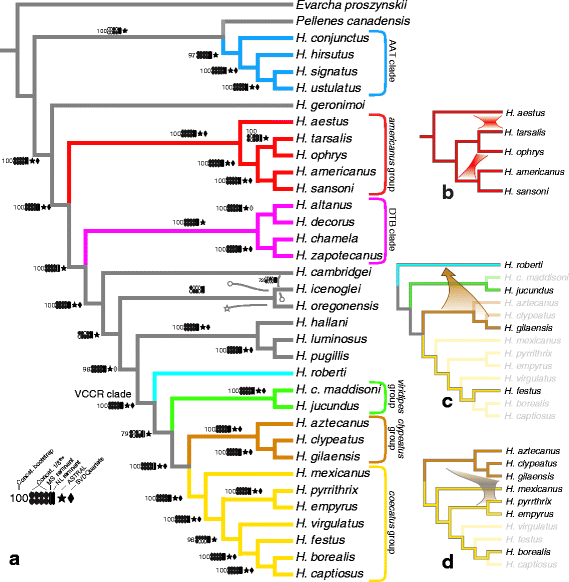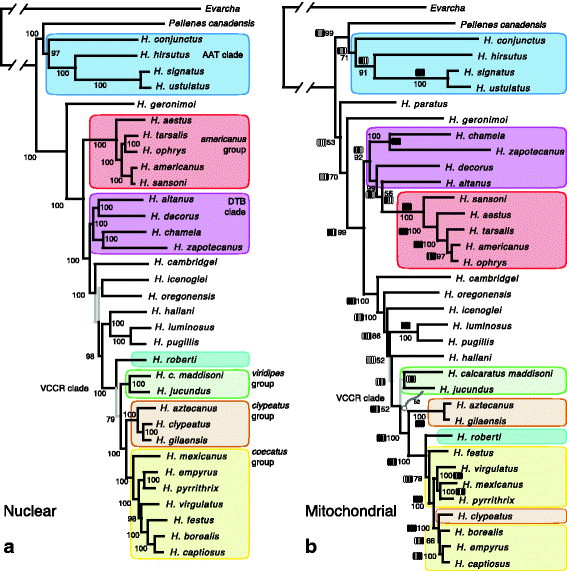 The phylogeny has a few notable regions of uncertainty, which are also points of disagreement among the analyses. Although the previous morphological data (discussed below) provides good support for the monophyly of Habronattus, only one of the 1/8th nuclear partitions supports it here. The concatenated nuclear ML tree, the concatenated bootstrap consensus, three of the 1/8th partitions, and the ASTRAL tree all place Pellenes canadensis as sister to the AAT clade; the remnant matrices place P. canadensis as sister to the major Habronattus clade that excludes the AAT clade, while the SVDQuartets tree weakly places P. canadensis as sister to H. conjunctus. The clade including the VCCR clade plus H. hallani, H. pugillis and H. luminosus ("VCCR+" clade) is well supported, as is the larger clade that adds H. cambridgei, H. icenoglei, and H. oregonensis. However, the relationships among the latter three are unstable: the concatenated nuclear ML tree chooses (cambridgei, ((icenoglei, oregonensis), VCCR+)), the concatenated bootstrap consensus (i, ((c, o),V)), ASTRAL (c,(i,(o,V))), and SVDQuartets ((c,i),(o,V)), though the last with low bootstrap support. A few discordant placements show up in some analyses (e.g., the SVDQuartets analysis strongly places H. tarsalis sister to H. americanus and H. sansoni, and weakly places H. roberti as sister to the viridipes group). The unpartitioned ML analysis of the concatenated nuclear matrix yielded the same topology as in Fig. 1a, but partitioning by locus yielded the close alternative resolution (icenoglei, ((oregonensis, cambridgei), VCCR+). The primary concordance trees from the BCA analysis in the americanus group and the VCCR clade match those portions of the concatenated nuclear ML tree except for the placement of H. virgulatus.
Mitochondrial phylogeny
The mitochondrial transcriptome tree (Fig. 2b; Additional file 3) is broadly concordant with the nuclear tree, concurring on the VCCR clade, the next larger clade adding H. hallani, H. pugillis and H. luminosus, and the next larger clade adding H. cambridgei, H. oregonensis, and H. icenoglei. The americanus group is monophyletic, as is the AAT clade. Bootstrap support values are generally high, and some key results are consistent across rRNA and four protein-coding mitochondrial subsets (Fig. 2b). The strongly supported results, however, include several notable differences with the nuclear phylogeny (Fig. 2a), including the placement of the H. clypeatus specimen and the relationship of the DTB clade and the americanus group. These will be discussed in the context of introgression.
The 16SND1 phylogeny (Fig.
3a
; Additional file
3
) of the VCCR clade, based on a combination of Sanger sequencing data and transcriptome data, generally resolves the groups but not the species. Of the eight species of the
coecatus
group represented by more than one specimen, only two appear as monophyletic on the tree (
H. ammophilus
,
H. festus
). The
clypeatus
group is not monophyletic, with three specimens (
H.
cf.
arcalorus
"CHIH
"
[HA292];
H. velivolus
[HA659];
H. clypeatus
[GLR227, transcriptome]) appearing within the
coecatus
group.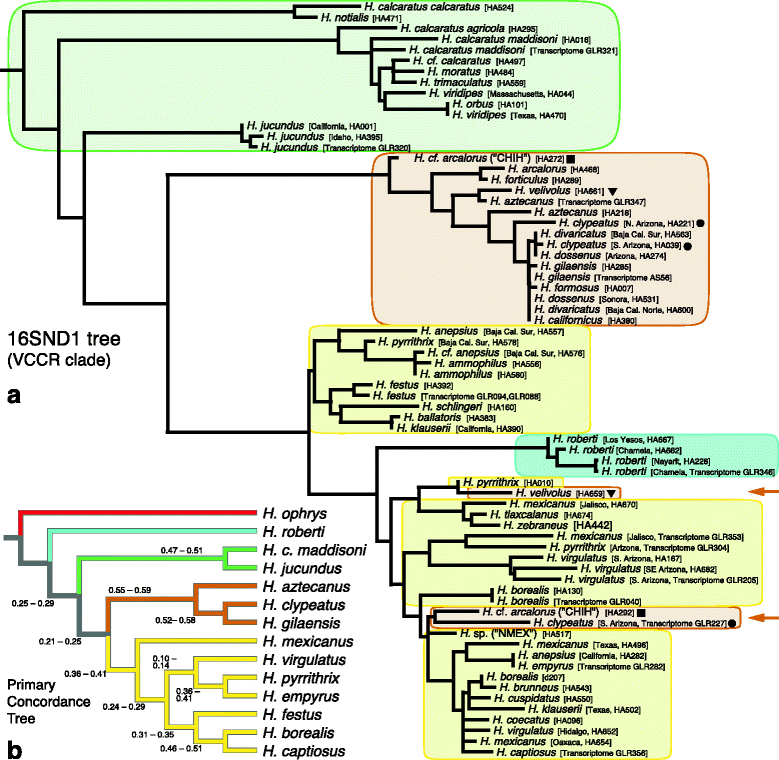 Bayesian concordance analyses
Key findings from the BCA are summarized in Fig.
4a
for the
americanus
group and Fig.
5a
for the VCCR clade. All additional concordance factors > 0.05 are listed in Additional file
4
.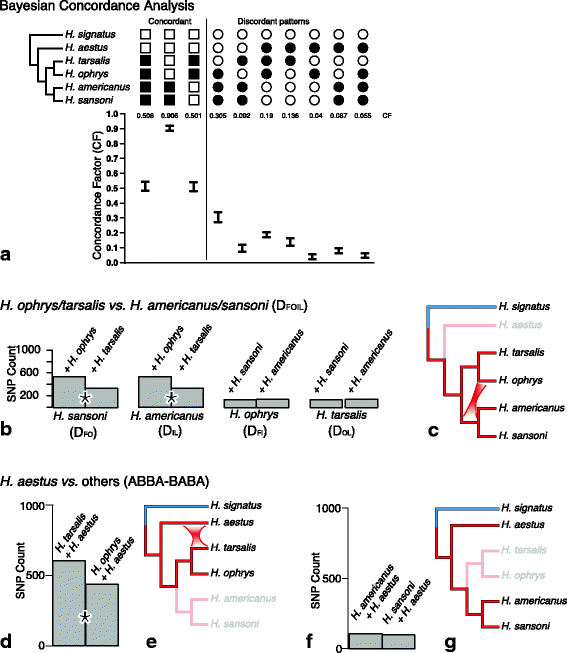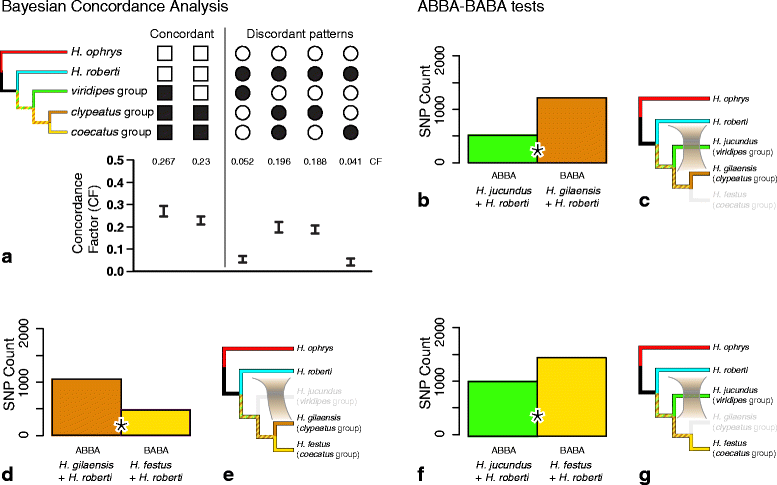 The BUCKy analysis of 679 americanus group loci (Fig. 4a; Additional file 4) converged with an average SD of mean sample-wide CF of 3.24 × 10− 5 (all 105 topologies represented among the 15 M trees sampled). The analysis supports the same americanus group phylogeny as the concatenated nuclear phylogeny seen in Fig. 1a. H. ophrys is linked to H. americanus and H. sansoni via a CF (CF = 0.305, CI = 0.272 - 0.339) that is more than twice the CF shared for the equivalent pairing H. tarsalis and H. sansoni/H. americanus (CF = 0.136, CI = 0.112 - 0.162). The BCA also found significant asymmetric support linking H. aestus with H. tarsalis (CF = 0.136, CI = 0.112 - 0.162) compared to the conflicting clade H. aestus and H. ophrys (CF = 0.39, CI = 0.023 - 0.055).
The BUCKy analysis with 517 loci for the VCCR clade (Fig. 5a; Additional file 5) converged with an average SD of mean sample-wide CF of 0.003 (4,795,750 topologies and 8177 distinct splits represented among the 15 M trees sampled). The primary concordance tree (Fig. 3b) from the VCCR-clade analysis is in agreement with the concatenated nuclear phylogeny except for the position of H. virgulatus, though this placement is accompanied by a very low concordance value (CF = 0.1-0.14). Two substantial conflicting (secondary) CFs place H. roberti with the clypeatus/coecatus clade (CF = 0.196, CI = 0.174 – 0.222) and with the clypeatus group (CF = 0.188, CI = 0.17 – 0.205). Both of these CF credibility intervals are significantly higher than those for alternative conflicting clades: H. roberti with the viridipes group (CF = 0.052, CI = 0.039 – 0.06) and H. roberti with the coecatus group (CF = 0.041, CI = 0.027 - 0.058). There are 35 very small but significant (not overlapping 0) CFs averaging 0.01 linking H. clypeatus with particular coecatus group species (see Additional file 5).
DFOIL and D-statistics tests of introgression
Asymmetries of gene-lineage sharing in the americanus group and the VCCR clade are seen also in the DFOIL and D statistics (ABBA-BABA) results. Allele counts for these tests are listed in Additional file 6: Table S2 and Additional file 7: Table S4. Results (D values and p values) are reported in Additional file 7: Table S4 and Additional file 8: Table S3.
DFOIL tests support introgression between H. ophrys and the common ancestor of H. sansoni and H. americanus (Fig. 4b, DFO = 0.232 p < 10− 11, DIL = 0.230 p = 10− 11, DFI = − 0.036 p = 0.549, DOL = − 0.043 p = 0.05). ABBA-BABA tests detect an introgression signal between H. aestus and H. tarsalis, whether the fourth species is H. ophrys (Fig. 4d, D= 0.160, p < 10− 6), H. americanus (D = 0.192, p < 10− 10), or H. sansoni (D = 0.165, p < 10− 8).
Introgression is detected using ABBA-BABA tests between H. roberti and H. gilaensis (clypeatus group) when the third species used for comparison is H. jucundus (viridipes group) (Fig. 5b, D= − 0.405, p < 10− 12; interpretation in Fig. 5c) or H. festus (coecatus group) (Fig. 5d D = 0.377, p < 10− 12; interpretation in Fig. 5e). Introgression is also detected between H. festus (coecatus group) and H. roberti when H. gilaensis (clypeatus) group is excluded (Fig. 5f, D= − 0.177, p < 10− 12; interpretation in Fig. 5g).
In D
FOIL
analyses of the
clypeatus
and
coecatus
groups (Fig.
6
, Additional file 8: Table S3), introgression is detected between
H. clypeatus
and
H. pyrrithrix
when species 1 is the closely related
H. gilaensis,
and species 4 is either
H. mexicanus
(Fig.
6g, h
) or
H. borealis
(Fig.
6i, j
). The neutral rather than negative D
FO
and D
FI
values of these D
FOIL
signatures indicate introgression with uncertain or reciprocal direction (signatures are D
FO
= 0, D
IL
= −, D
FI
= 0, D
OL
= −).
Introgression is also detected between the common ancestor of H. aztecanus and H. clypeatus and H. pyrrithrix when the fourth species included is the distant coecatus group member H. mexicanus (Fig. 6e, f) and the less distant H. borealis (Fig. 6k. l) because the signature shifts from DFO = +, DIL = -DFI = 0, DOL = 0 to DFO = +, DIL = −, DFI = 0, DOL = 0. With a neutral rather than positive DFO value, the signature is no longer indicative of any single introgression event. However, it does hint at introgression between H. clypeatus and H. pyrrithrix. Support for introgression between H. pyrrithrix and the clypeatus group disappears when H. empyrus is the fourth species (Figs. 6a, c), ruling out H. pyrrithrix-specific introgression.
D
FOIL
and D-statistics results are presented in Fig.
7
and Additional file
6
: Table S2, Additional file
7
: Table S4, Additional file
8
: Table S3 for the study of deeper introgression among the
americanus
group, DTB clade, and others. Several signals of introgression were detected among parts of
Habronattus
phylogeny that are now highly divergent.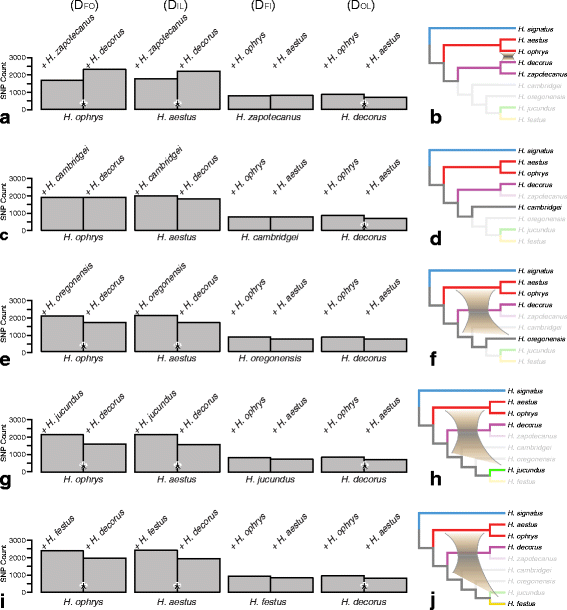 Discussion
Using transcriptome sequence data from 1877 nuclear loci, we were able to reconstruct a phylogeny for 34 species of Habronattus with high confidence at most nodes. Far better resolved than previous results based on just two loci [5], this robust phylogenetic framework will enable more refined interpretations of character evolution, sexual selection, and hybridization. Differences in the mitochondrial and nuclear phylogenies indicate several possible instances of mitochondrial introgression, while nuclear introgression in several regions of the phylogeny is suggested by Bayesian Concordance Analysis and D-statistics and DFOIL.
Habronattus phylogeny
The consistency of clade support from different partitions and methods suggests that the genetic history of Habronattus is predominantly divergent, despite clear signs of introgression. Except for the placement of Pellenes canadensis, the relationships of H. cambridgei, H. oregonensis and H. icenoglei, and the placement of H. virgulatus, the phylogenetic tree shown in Fig. 1a is solidly supported as the dominant genetic history of Habronattus species.
We are doubtful of the placement of P. canadensis within Habronattus because of morphological support for the monophyly of Habronattus. Against its little-ornamented relatives Pellenes and Havaika, Habronattus appears well delimited by shorter first legs and a long and thin terminal apophysis (part of the male genitalia) that has a distinctive elbow on it, though the elbow is secondarily lost in the coecatus group [3, 5]. Despite the apparently clear synapomorphy of the elbowed terminal apophysis, the genus does not hold together as monophyletic in many of our analyses, with Pellenes canadensis falling inside, near H. conjunctus or the AAT clade. We are therefore faced with three possibilities: that the elbowed terminal apophysis arose twice, that the non-elbowed terminal apophysis of Pellenes canadensis represents a reversal to the ancestral state, or that Pellenes canadensis and other members of its subgenus Pellenattus form a close sister group to Habronattus, with extremely short branches separating their early divergence, leading to difficulties in resolving the deeper relationships, especially given that the outgroup Evarcha is phylogenetically distant, in a separate subtribe (the Plexippina [37]). The choice may be resolved by having better sampling of outgroups among the Harmochirina. Because Pellenes species are also distributed in Asia [61] and Europe [62], a broader global sample of Pellenes specimens and other closely related groups (e.g., Harmochirus) should be included to better tease apart relationships at the base of the Habronattus tree and determine if the genus is monophyletic. We expect, however, that addition of outgroups would not change the well-supported relationships within the major clade from H. paratus and geronimoi to the VCCR clade. The mtDNA tree (Fig. 3a), which included the additional outgroups Havaika, Harmochirus, Bianor, and others, is largely consistent with Fig. 1.
The reconstructed phylogeny is generally consistent with morphology [3] and the previous results from two genes [5]. The major clade whose males have fringed first legs and modified third legs (the VCCR clade) is intact as monophyletic, as are the three contained groups first recognized by morphology (viridipes, clypeatus, and coecatus groups). In this regard, the phylogeny is more concordant with morphology than that of Maddison and Hedin [5], whose analyses gave unexpected placements for H. jucundus (viridipes group) and split the VCCR clade. The americanus group, with distinctive genitalia and relatively long first legs, is monophyletic in the transcriptome phylogeny. The agilis, amicus and tranquillus groups hold together as the AAT clade, distinguished by compact bodies, a relatively far-rotated bulb of the male palp, and a tendency for dwelling above the ground in shrubs. As expected from the results of [5] the AAT clade is sister to the remainder of the genus, within which H. paratus (in the mitochondrial tree) is most basal with respect to the bulk of species, and H. geronimoi next.
The nuclear phylogeny provides new resolution of mid-level relationships in Habronattus. The strong support for the clade of H. decorus, H. altanus, H. zapotecanus and H. chamela indicates that their species groups (decorus, texanus, and banksi groups) form a clade, here called the DTB clade. The previously intractable H. hallani is strongly supported as sister to H. luminosus and H. pugillis. The placement of these three species as sister to the VCCR clade is novel, as is their collective relationship with H. icenoglei, H. oregonensis, and H. cambridgei. For the first time there are well-supported clades within the coecatus group: H. festus, H. captiosus and H. borealis together (100% bootstrap support) will be referred to as the Northern clade (all specimens in this clade were collected in Canada), while H. empyrus and H. pyrrithrix are sisters (100% bootstrap support), forming the Southern clade (they are both found in the southern USA neighboring Mexico). H. virgulatus is sister to the Northern coecatus clade with high support (97% bootstrap support). The relationships among the subgroups of the VCCR clade are resolved with good bootstrap support: the viridipes, clypeatus, and coecatus groups form a clade (nuclear bootstrap = 83%), with H. roberti as sister to them; the clypeatus and coecatus group are sisters (100%); and each of the viridipes, clypeatus and coecatus groups is monophyletic. H. jucundus groups with H. calcaratus rather than with the oregonensis group (a poorly supported relationship found in [5]), confirming that the viridipes group is in fact monophyletic. The internal relationships of the americanus group also have high bootstrap support.
Most of these highly supported relationships are also replicated in different nuclear subsets (see subset support summaries at the nodes in Fig. 1a), suggesting that the phylogenetic signal for most branches is robust even with less data. However, there are a few nodes with high bootstrap support that are unstable across nuclear subsets. H. roberti, while well supported overall as sister to the rest of the VCCR clade, also groups with the clypeatus group in some nuclear subsets. H. virgulatus departs from its dominant concatenated nuclear position (bootstrap support = 97%) to group with either the Southern coecatus clade or as a basal branch of the coecatus group in some nuclear subsets. H. ophrys is positioned as the sister to H. sansoni and H. americanus in half of all data subsets, despite being sister to H. tarsalis (bootstrap support = 100%) in the concatenated nuclear phylogeny.
Even if Habronattus has a predominantly divergent history with a clear modal gene tree, there could still be a broad scatter of discordant gene trees through incomplete lineage sorting or hybridization. Such discordance is expected from the group's youth (perhaps less than 5 million years, [17]), and is seen in our data. For instance, the VCCR clade has very low dominant CFs from the Bayesian Concordance Analysis (Fig. 3b), potentially indicating that the group is still in the early stages of divergence with widespread incomplete lineage sorting and possibly also ongoing hybridization. The indications of incomplete divergence are strongest in the coecatus group, where there are 196 secondary (conflicting) CFs that are significant (greater than 0), though most are very small and not clearly indicating ILS vs. introgression. The americanus group, on the other hand, has stronger genetic concordance (high dominant CF values) even though it is equally recently diverged ([12], fig. 4a). However, such differences in concordance could reflect differences between the groups in the density and locations of sampling, and not necessarily a difference in their evolutionary dynamics.
Introgression in Habronattus
Maddison & Hedin [5]'s evidence for introgression was the presence in two clypeatus group specimens of mitochondrial 16SND1 more closely related to that of the coecatus group, close enough to argue against ILS as the source of discord. Our data from full mitochondrial transcriptomes indicate another case of a clypeatus-group specimen with mitochondria falling with the coecatus group, and hint of possible introgression elsewhere in the phylogeny (in the americanus group, in the VCCR clade, and deeper in the tree).
Our tests using BCA, DFOIL, and D-statistics indicate that introgression extends to the nuclear genome as well. We detected nuclear introgression among closely related species, as also found by [21], ([4, 11]; pugillis group), and ([63]: H. americanus). However, our analyses also find clear signals of more distant nuclear introgression, among species groups: between H. roberti and the clypeatus group, between the clypeatus and coecatus groups, and apparently among even more distantly related species. We will consider the evidence for introgression separately for different regions of the phylogeny.
Conclusions
We produced a highly resolved phylogeny of Habronattus and determined the contributions of hybridization and incomplete lineage sorting to genetic discordance in the group. We found that hybridization has been common in Habronattus phylogeny, and has resulted in considerable nuclear introgression in some instances (e.g., the americanus group, H. roberti) and lesser nuclear introgression accompanied by strong mitochondrial introgression in others (i.e., among the coecatus and clypeatus groups). However, we were unable to detect specific lineages and direction of introgression in many cases, for which a denser sample of species will be important. Widespread introgression between both distant and closely related species indicates that only partial reproductive isolation has evolved across much of the Habronattus phylogeny. Introgression has occurred between Habronattus species groups with divergent male ornaments and courtship behaviours. Further research should focus on determining the extent of introgression's contribution to adaptation and diversification. In particular, widespread introgression in the highly diverse VCCR clade could be indicative of a correlation between introgression and diversification.
Abbreviations
AAT:

The clade of species including the agilis, amicus, tranquillus groups.
BCA:

Bayesian Concordance Analysis.
bp:

Base pair (1 nucleotide).
CF:

Concordance factor.
CI:

Credibility interval.
DTB:

The clade of species including the decorus, texanus, and banksi groups.
ILS:

Incomplete lineage sorting.
kb:

Kilobase (1 thousand nucleotides).
Mb:

Megabase (1 million nucleotides).
ML:

Maximum likelihood.
MS:

"Missing Species", a subset of the data.
NL:

"Noncoding Loci", a subset of the data.
VCCR:

the clade of species including the viridipes, coecatus, clypeatus, and roberti groups.
Declarations
Acknowledgments
We thank Heather Proctor, Sam Evans, Abraham Meza López, and Tila María Perez for help collecting specimens for this project in 2013 and 2014. Marshal Hedin and Megan Porter graciously contributed sequencing data for three of the species. Allyson MisCampbell and Carol Ritland from the Genomic Data Centre at UBC, and Jeff Richards and his students, generously assisted with laboratory resources and advice. Anastasia Kuzmin facilitated the sequencing process and gave valuable advice. Saemundur Sveinsson gave helpful bioinformatics assistance. Westgrid (CanadaComputes) supplied access to their computer clusters. Marshal Hedin gave helpful comments on an earlier version of the manuscript. We thank also Sally Otto, Loren Rieseberg, Darren Irwin, Edy Piascik, Junxia Zhang, Gwylim Blackburn, Sam Evans, Hervé Philippe, and three anonymous reviewers for their helpful feedback and ideas.
Funding
This work was supported by an NSERC Discovery grant to WPM. The funders had no role in study design, data collection and analysis, decision to publish, or preparation of the manuscript.
Availability of data and materials
The sequencing reads of transcriptomes are archived in the Sequence Read Archive [79]. Accession numbers are indicated in Additional file 1: Table S1. NEXUS files containing the aligned matrices of the 1877 loci in the primary dataset, and files detailing the results of analyses supporting the conclusions of this article are included within its Additional files. The NEXUS files are also available in the Dryad repository [38].
Authors' contributions
WPM and GLR co-designed the study. WPM led the collecting of specimens, with contributions from GLR and collaborators (listed in Acknowledgments). GLR performed the lab work and analyses of data, including writing of scripts for processing data. WPM wrote custom modules in Mesquite for data processing. GLR wrote the first draft of the manuscript, which was subsequently co-written by GLR and WPM. Both authors have read and approved the manuscript.
Ethics approval and consent to participate
Not applicable.
Consent for publication
Not applicable.
Competing interests
The authors declare that they have no competing interests.
Publisher's Note
Springer Nature remains neutral with regard to jurisdictional claims in published maps and institutional affiliations.
Open Access This article is distributed under the terms of the Creative Commons Attribution 4.0 International License (http://creativecommons.org/licenses/by/4.0/), which permits unrestricted use, distribution, and reproduction in any medium, provided you give appropriate credit to the original author(s) and the source, provide a link to the Creative Commons license, and indicate if changes were made. The Creative Commons Public Domain Dedication waiver (http://creativecommons.org/publicdomain/zero/1.0/) applies to the data made available in this article, unless otherwise stated.
Authors' Affiliations
(1)
Department of Zoology, University of British Columbia, Vancouver, Canada
(2)
Department of Botany and Beaty Biodiversity Museum, University of British Columbia, Vancouver, Canada