Research article

Open Access
Evidence for late Pleistocene origin of Astyanax mexicanus cavefish
BMC Evolutionary Biology
BMC series – open, inclusive and trusted
2018
18:43
Received: 5 December 2017
Accepted: 19 March 2018
Published: 18 April 2018
Abstract
Background
Cavefish populations belonging to the Mexican tetra species Astyanax mexicanus are outstanding models to study the tempo and mode of adaptation to a radical environmental change. They are currently assigned to two main groups, the so-called "old" and "new" lineages, which would have populated several caves independently and at different times. However, we do not have yet accurate estimations of the time frames of evolution of these populations.
Results
We reanalyzed the geographic distribution of mitochondrial and nuclear DNA polymorphisms and we found that these data do not support the existence of two cavefish lineages. Using IMa2, a program that allows dating population divergence in addition to demographic parameters, we found that microsatellite polymorphism strongly supports a very recent origin of cave populations (< 20,000 years). We identified a large number of single-nucleotide polymorphisms (SNPs) in transcript sequences of pools of embryos (Pool-seq) belonging to Pachón cave population and a surface population from Texas. Based on summary statistics that can be computed with this SNP data set together with simulations of evolution of SNP polymorphisms in two recently isolated populations, we looked for sets of demographic parameters that allow the computation of summary statistics with simulated populations that are similar to the ones with the sampled populations. In most simulations for which we could find a good fit between the summary statistics of observed and simulated data, the best fit occurred when the divergence between simulated populations was less than 30,000 years.
Conclusions
Although it is often assumed that some cave populations have a very ancient origin, a recent origin of these populations is strongly supported by our analyses of independent sets of nuclear DNA polymorphism. Moreover, the observation of two divergent haplogroups of mitochondrial and nuclear genes with different geographic distributions support a recent admixture of two divergent surface populations, before the isolation of cave populations. If cave populations are indeed only several thousand years old, many phenotypic changes observed in cavefish would thus have mainly involved the fixation of genetic variants present in surface fish populations and within a very short period of time.
Keywords
Cavefish
Adaptation
High-throughput sequencing
Microsatellites
SNPs
Molecular dating
Background
Two well-differentiated morphotypes, surface fish and cavefish, are found in the species
Astyanax mexicanus
. Twenty-nine cavefish populations have been discovered so far in limestone caves in the Sierra de El Abra region of northeastern Mexico [
1
,
2
] (Fig.
1
). Cavefish differ from their surface counterparts in numerous morphological, physiological and behavioral traits, the most striking being that most cavefish lack functional eyes and are depigmented [
3
]. Most caves inhabited by cavefish share a number of abiotic and biotic characteristics such as constant darkness and absence of predators, and most cavefish show evolution of a number of characters [
4
], either because they are dispensable - regressive traits - such as loss of eyes and pigmentation [
5
], or because they are involved in the adaptation - constructive traits - to this environment which is inhospitable for most fishes. For example, cavefish have a lower metabolic rate [
6
–
8
], produce larger eggs [
9
], have more and larger superficial neuromasts involved in vibration attraction behavior [
10
–
12
], sleep very little [
13
,
14
], have shifted from fighting to foraging behavior [
15
], have larger numbers of taste buds [
16
,
17
], have enhanced chemosensory capabilities [
18
] and have enhanced prey capture skill at both the larval and adult stages [
11
,
19
,
20
].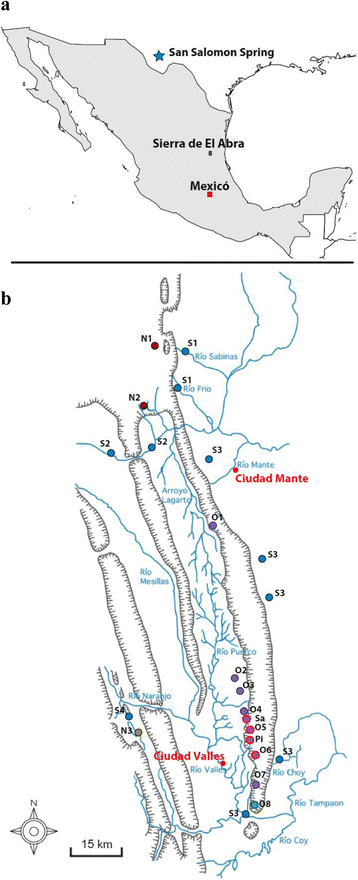 Very significant advances have been made in identifying proximal mechanisms [21], that is mutations that have changed physiological, developmental, and behavior traits of cavefish and new molecular tools available today will allow us to identify such mutations at an ever increasing pace [22–26]. However it is much more tricky to disentangle distal mechanisms [21], i.e. evolutionary mechanisms. Were these mutations already present at low frequency in surface fish standing variation or did they appear after settlements? Are pleiotropic effects and epistatic interactions important in these evolutionary processes? What is the impact of recombination, genetic drift, selection and migration in cavefish evolution? These questions have fueled discussions on the relative importance of these different evolutionary mechanisms [12, 17, 27–31].
In order to analyze several of these issues such as the relative weight of selection, migration and genetic drift, it would be very useful to have accurate estimations of some demographic and population genetic parameters to describe the dynamic of cavefish evolution. Gene flow from the surface populations has been estimated to be from very low, if any, to very high, depending on the cave population examined. Some studies have also found significant and higher gene flow from cave to surface populations than in the opposite direction [32–37]. Moreover, as some caves are very close to each other, fish migrations within cave clusters are likely.
Among model parameters particularly important to describe the evolution of a cavefish population are: 1) the time at which settlement occurred and 2) how long it took for surface fish to adapt to the cave environment. As shown below, no reliable ages were available but Astyanax mexicanus cave populations have nevertheless been assigned to two groups, the so-called "old" and "new" lineages, which would have populated several caves independently and at different times [37–39], reviewed in [2]. However, the age of cavefish settlement has been estimated for two populations only, those inhabiting the Pachón and Los Sabinos caves, which both belong to the "old" lineage. On the basis of allozyme polymorphism [32] and a population genetic method specifically designed to estimate the time after divergence between incompletely isolated populations of unequal sizes (such as cave and surface populations), these populations were estimated to be 710,000 and 525,000 years old, respectively, suggesting that they could be ancient [40]. However, the small number of loci studied at that time (17 allozyme loci scored), the absence of polymorphism in Pachón and very low polymorphism in Los Sabinos did not allow accurate estimations. The standard error (SE) was very large, 460,000 and 330,000 years, respectively. Assuming a normal distribution [41], the 95% confidence interval is ±1.96 x SE. It implies that these populations could be either very recent (a couple of thousand years and even less) or very ancient (about 1.5 million years). Based on this analysis, the only safe conclusion is that these cave populations are not millions of years old. The large uncertainty associated to these estimations is probably the reason why they are rarely cited by investigators working on these cavefish.
The hypothesis of a very ancient origin of the "old" cavefish lineage, i.e. millions of years ago, relies only on discussions of mitochondrial DNA (mtDNA) phylogenies of surface fish and cavefish, showing two highly divergent mitochondrial haplogroups [37, 39, 42]. However, ancient coalescence of mtDNA haplogroups does not necessarily imply an ancient isolation of some cave populations, i.e. the time of separation of the populations is not necessarily equal, not even close, to the time of coalescence of the mtDNA sequences. An alternative hypothesis that would lead to the same observation is a recent admixture of two divergent surface populations followed by one or several fish settlements in caves.
More recently a phylogenetic analysis was performed using a large SNP data set in order to estimate the number of independent cave settlements at the origin of five cavefish populations from three distinct regions [43]. This analysis did not support the two lineages hypothesis but indicated at least four independent origins for these cavefish populations.
Nevertheless, assuming an ancient origin of cave populations and thus that surface and cave populations are at mutation/migration/drift equilibrium, estimation of differentiation [32–34, 38] and migration rates among populations [33, 35] were performed using microsatellite polymorphism.
In summary, and except an attempt using an allozymes data set unfortunately too small to give accurate estimations, no dating has ever been performed using nuclear markers to directly test the assumption that some cavefish populations are millions of years old.
Several observations led us to doubt about its accuracy. In particular, looking at sequences of Pachón cavefish, we did not find many obvious loss-of-function mutations, such as frameshifts and stop codons, in eye-specific crystallin genes [26] and opsin genes [44–46] (unpublished results), an unexpected observation if this population was established for several hundred thousand years, and which becomes very unlikely if it was established more than one million years ago [47]. Indeed, other fish that could be confined into caves for millions of years have fixed loss-of-function mutations in several opsins and crystallins genes [48–50].
Here, we analyzed published sequence data sets and we found that different nuclear loci have different phylogenies that are not congruent with the mtDNA phylogeny. Moreover, using a published microsatellite data set and an approach that allow dating the isolation of closely related populations when there is gene flow, we obtained good evidence of a recent origin of all cavefish populations analyzed, e.g. likely less than 20,000 years ago, notwithstanding their "old" or "young" classification. In these analyses, estimations of effective population sizes and migration rates were more coherent with expectations than in previous analyses: effective population sizes for cavefish were at least one order of magnitude smaller than those for surface fish; gene flows were from the surface to caves and not the other way around.
In order to corroborate these novel estimations with an independent data set and using a very different method, we identified and analyzed a large number of single-nucleotide polymorphisms (SNPs) in transcript sequences of two pools of embryos (Pool-seq) belonging to the Pachón cave population and a surface population from Texas. The comparison of these data with simulations suggests that the Pachón cave population has probably been underground less than 30,000 years.
Both dating methods gave congruent estimations of the age of the Pachón cave population, and they pointed to a very recent origin.
The new time frame we propose for the evolution of A. mexicanus cavefish suggests that the many phenotypic changes observed in these cavefish may have mainly involved the fixation of genetic variants present in surface fish populations, and within a very short period of time.
Conclusion
Although we estimated that all cavefish populations are probably recent, less than 20,000 years old, the number of independent and approximatively simultaneous adaptations to cave and evolution of cave phenotype is still an open question. The evolution in a short period of time of the phenotype of individuals belonging to a population adapting to a new environment, is actually not that unexpected and has already been observed in other fish species such as the stickleback [74], dwarf whitefishes [75] and African cichlids [76, 77]. Recently, the first European cavefish, with a well differentiated cave phenotype, has been described. The phylogenetic analysis of mtDNA haplotypes, the analysis of genetic differentiation using microsatellite loci and the recent glacial history of the region suggests that these fish population is highly isolated but for less than 20,000 years [78].
Mexican cavefish could thus be another and striking illustration that many phenotypic changes can accumulate in parallel and in a short period of time thanks to standing genetic variation [79]. The relative roles of selection and drift in allelic frequency changes is not yet understood, but if the recent origin of cavefish populations is confirmed, they would be an excellent model to analyze this issue using population genomics tools such as the quantification of selective sweep around candidate loci most likely involved in the adaptation to a cave environment.
Abbreviation
bp:

base pair
BWA:

Burrow-Wheeler Algorithm
CF:

Cavefish
Cpd photolyase:

Cyclobutane pyrimidine dimer photolyase
Cry1a:

cryptochrome 1A
GATK:

Genome Analysis ToolKit
HSP90:

Heat Shock Protein 90
i.e.:

id est.
IM:

Isolation with migration
Lepb:

signal peptidase I
Lepr:

Leptin Receptor
MAF:

minor allele frequency
Mc1r:

MelanoCortin 1 Receptor
Mc3r:

MelanoCortin 3 Receptor
Mc4r:

MelanoCortin 4 Receptor
MCMC:

Metropolis Coupled Markov Chain
mtDNA:

mitochondrial desoxyribonucleic acid
Nc:

Census population size
Ne:

Effective population size
nuDNA:

nuclear desoxyribonucleic acid
Oca2:

Oculocutaneous albinism II
Per1:

period circadian protein homolog 1
Per2:

period circadian protein homolog 2
Pomcb:

proopiomelanocortin b
Rag1:

Recombination activating gene 1
RNA:

Ribonucleic acid
SE:

Standard Error
SF:

Surface fish
SNP:

Single Nucleotide Polymorphism
Spp.:

species pluralis
Tef1:

translation elongation factor EF-1 alpha
USA:

United States of America
Declarations
Acknowledgments
This work has benefited from the facilities and expertise of the high throughput sequencing platform of I2BC.
Consent for publications
Not applicable
Funding
This work was supported by a collaborative grant from ANR (Agence Nationale de la Recherche) BLINDTEST (to SR and DC) and from IDEEV (to DC). The funding bodies had no role in the design of the study and collection, analysis, and interpretation of data and in writing the manuscript.
Authors' contributions
DC and SR designed the study. JF wrote the program of simulation. DC and JF analyzed the data. DC, CT, SR, HH collected the data. CN and JF generated the databases. DC drafted the manuscript. All authors contributed to the writing of the manuscript. All authors read and approved the final manuscript.
Ethics approval and consent to participate
SR's authorization for use of animals in research is number 91–116, and includes a "Certificat de capacité pour l'élevage de faune sauvage". Experiments were performed according to Paris Centre-Sud Ethic Committee authorization numbers 2012–0053 and 2012–0056. Fin-clips from wild-caught animals were collected under the auspices of Mexican permit 02241/13 delivered to SR by Secretaria de Medio Ambiente y Recursos Naturales.
Competing interests
The authors declare that they have no competing interest.
Publisher's Note
Springer Nature remains neutral with regard to jurisdictional claims in published maps and institutional affiliations.
Open AccessThis article is distributed under the terms of the Creative Commons Attribution 4.0 International License (http://creativecommons.org/licenses/by/4.0/), which permits unrestricted use, distribution, and reproduction in any medium, provided you give appropriate credit to the original author(s) and the source, provide a link to the Creative Commons license, and indicate if changes were made. The Creative Commons Public Domain Dedication waiver (http://creativecommons.org/publicdomain/zero/1.0/) applies to the data made available in this article, unless otherwise stated.
Authors' Affiliations
(1)
Évolution, Génomes, Comportement, Écologie, CNRS, IRD, Univ Paris-Sud. Université Paris-Saclay, Gif-sur-Yvette, France
(2)
Institute for Integrative Biology of the Cell (I2BC), CEA, CNRS, Université Paris-Sud, UMR 9198, Paris, France
(3)
DECA group, Paris-Saclay Institute of Neuroscience, UMR 9197, CNRS, Gif sur Yvette, France
(4)
Plateforme Bioinformatique Toulouse, Midi-Pyrénées, UBIA, INRA, Auzeville Castanet-Tolosan, France
(5)
Université Paris Diderot, Sorbonne Paris Cité, Paris, France