Research article

Open Access
Fine-scale genetic structure of the European bitterling at the intersection of three major European watersheds
BMC Evolutionary Biology
2018
18:105
Received: 17 July 2017
Accepted: 20 June 2018
Published: 4 July 2018
Abstract
Background
Anthropogenic factors can have a major impact on the contemporary distribution of intraspecific genetic diversity. Many freshwater fishes have finely structured and locally adapted populations, but their natural genetic structure can be affected by river engineering schemes across river basins, fish transfers in aquaculture industry and conservation management. The European bitterling (Rhodeus amarus) is a small fish that is a brood parasite of freshwater mussels and is widespread across continental Europe. Its range recently expanded, following sharp declines in the 1970s and 1980s. We investigated its genetic variability and spatial structure at the centre of its distribution at the boundary of three watersheds, testing the role of natural and anthropogenic factors in its genetic structure.
Results
Sequences of mitochondrial cytochrome B (CYTB) revealed that bitterling colonised central Europe from two Ponto-Caspian refugia, which partly defines its contemporary genetic structure. Twelve polymorphic microsatellite loci revealed pronounced interpopulation differentiation, with significant small-scale differentiation within the same river basins. At a large scale, populations from the Baltic Sea watershed (middle Oder and Vistula basins) were distinct from those from the Black Sea watershed (Danube basin), while populations from rivers of the North Sea watershed (Rhine, Elbe) originated from the admixture of both original sources. Notable exceptions demonstrated the potential role of human translocations across watersheds, with the upper River Oder (Baltic watershed) inhabited by fish from the Danube basin (Black Sea watershed) and a population in the southern part of the River Elbe (North Sea watershed) basin possessing a signal of admixture from the Danube basin.
Conclusions
Hydrography and physical barriers to dispersal are only partly reflected in the genetic structure of the European bitterling at the intersection of three major watersheds in central Europe. Drainage boundaries have been obscured by human-mediated translocations, likely related to common carp, Cyprinus carpio, cultivation and game-fish management. Despite these translocations, populations of bitterling are significantly structured by genetic drift, possibly reinforced by its low dispersal ability. Overall, the impact of anthropogenic factors on the genetic structure of the bitterling populations in central Europe is limited.
Keywords
Cryptic invasionsFreshwater conservationGame fish stockingGene flowHuman-mediated translocationPhylogeographyPopulation genetics
Background
Quaternary climatic changes have significantly affected the genetic diversity and structure of populations. The current interspecific and intraspecific diversity of the European biota has been substantially shaped by cycles of expansion and contraction of species ranges (e.g. [1]). Thermophilic species repeatedly retreated from much of their continental ranges during cold glacial periods, followed by range expansions and recolonisations during warmer periods [2–4]. Similar periodic range expansions and contractions due to climatic fluctuations occurred over much shorter timespans within the Holocene [5]. Such dynamics frequently generated temporarily isolated populations in local refugia. Such isolated populations tended to differentiate due to genetic drift and local adaptation. Consequent (re)colonization processes are associated with reduced genetic diversity due to sequential founder effects and population bottlenecks [6]. When contemporary ranges were recolonized from multiple refugia, distinct genetic lineages sometimes met in contact zones and hybridized (e.g. [7, 8]), thereby increasing genetic diversity in these secondary contact zones.
The geographic patterns and genetic diversity hotspots of freshwater taxa often differ from those of terrestrial taxa. The historical dynamics of range contractions, expansions and shifts in freshwater species are less well understood than those of terrestrial taxa [9]. Freshwater systems support species and populations that are often more isolated than terrestrial taxa, depending on their ability to overcome natural barriers to dispersal. For example, salt-tolerant and migratory species [10, 11] display shallow genetic divergence and high levels of gene flow that are not reflected in terrestrial species. In contrast, freshwater organisms often display a high level of genetic differentiation among populations [12, 13]. In these taxa, natural dispersal and colonisations may be limited to relatively rare events, such as extensive pluvial periods, river captures, large-scale flooding and historical connections of currently separated rivers during periods of reduced sea level (reviewed in [14]).
Human-mediated translocations are an important recent influence on species distributions and population connectivity [15–17], particularly for freshwater ecosystems where connections were previously rare. For example, artificial canals can connect previously separated river basins [18], species are unintentionally transferred across drainages [19], and angling-related fish transfers [20] distribute both game and bait species outside their former geographic ranges [15] and thereby mix previously isolated populations [21]. Other human activities, such as aquaculture, release of non-native species, river regulation and channelization, all may affect the population genetics of native species [22–24].
Here, we investigate fine-scale population genetic structure of a small freshwater fish, the European bitterling, Rhodeus amarus Bloch (Cyprinidae) in the central part of its current distribution. The bitterling is a thermophilic species currently distributed across much of continental Europe, excluding Fennoscandia, the Iberian peninsula, and northern parts of European Russia [25–29]. This species has a limited dispersal capacity [30] and no commercial value [31], limiting its potential for human-assisted dispersal. However, the bitterling benefits from river regulation and channelization [32] and uses newly constructed waterways and connections between drainages to colonise new areas [25]. Human-assisted translocations were also reported, and the European bitterling has been successfully introduced to England [33], Italy [34] and Denmark [35]. The European bitterling was formerly kept as an ornamental fish, but its current popularity is negligible [26]. Bitterling lay their eggs into the gill chambers of living mussels [36], making the extent of its distribution contingent upon the presence of freshwater mussels (families Unionidae and Margaritiferidae).
The current wide distribution of the bitterling across Europe contrasts with a marked decline in its abundance in the 1970s and 1980s that led to its designation as an endangered species in several European countries [26, 37]. While a decrease in water quality and declines in populations of unionid mussels were originally considered the primary reasons for the reduction in its abundance, a relatively cold climatic period also may have contributed to its decline. Using historical bibliographic records, Van Damme et al. [26] argued that the bitterling colonised much of Europe during the Medieval Warm period, disappeared from most of continental Europe during the Little Ice Age (approximately 1600–1850 AD) and expanded again from isolated populations following a subsequent warming of European climate.
Previous phylogeographic studies demonstrated that the European bitterling persisted during colder Quaternary conditions in southern refugia and colonised the continent from two main regions [27–29]. First, the lower part of the Danube was the refuge for the "Western lineage" that colonised the entire Danube basin and western Europe (the Rhine and Elbe basins) [27]. Second, a region north of the Black Sea was the refuge for the "Eastern lineage" that colonized north-eastern Europe, including areas east of the River Vistula in central Poland (including the Rivers Dnieper and Dniester in the Ukraine and European part of Russia) [27]. Using nuclear microsatellite markers, Bryja et al. [29] demonstrated admixture between the two main lineages in their contact zones in central and western Europe. Natural contact and admixture between the lineages was possible during dynamic changes to river drainage systems [38, 39], although unintentional introductions related to the onset of common carp (Cyprinus carpio L.) aquaculture in western Europe 5–10 centuries ago also are possible [26, 29]. Approximate Bayesian Computation based on microsatellite markers suggested that bitterling populations from western Europe (the Rhine, the Rhône) are of Holocene origin (median estimate of their origin 8000 years ago), with secondary contact in the Elbe basin approximately 1500 (range: 212–3729) years ago [29]. Other refugial populations did not contribute to current bitterling repopulation of Europe and remained confined to the eastern Mediterranean region [28, 29, 31, 40, 41].
In the present study, we focused on fine-scale patterns of genetic structure in the central region of the current distribution of the European bitterling that encompasses the main European watershed divides between three major basins. We tested the roles of hydrography and human activities on the present genetic diversity of bitterling, which is a legally protected but widely distributed species [
31
]. Specifically, we tested the roles of natural and human-assisted dispersal by spatial analysis of detailed genetic structure using a mitochondrial marker (the gene for cytochrome
b
;
CYTB
) and a set of 12 nuclear microsatellite markers. We concentrated sampling in the Czech Republic, where the main divides among three major European watersheds exist (Fig.
1
), using data from a combination of three previously genotyped populations [
29
] and 13 new populations genotyped for this study. The Black Sea basin includes the River Morava (a northern tributary of the Danube) and its tributaries in the south-eastern part of the country. The North Sea basin includes the Elbe basin in the western Czech Republic. The Baltic Sea basin includes the River Oder basin in the north-eastern part of the country. We expanded the study area to genotype populations in neighbouring countries that were not included in our previous range-wide population genetic study [
29
] and were potentially informative for our aims.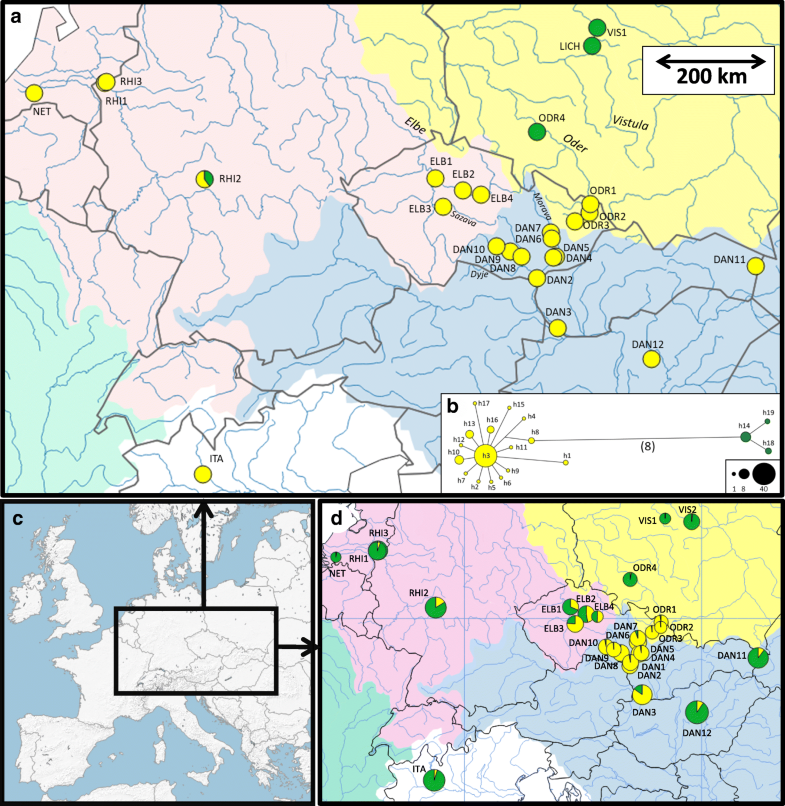 The specific aims of the study were: (1) to test whether the genetic structure of the bitterling in central Europe is contingent upon the boundary of three major watersheds, and (2) to compare the roles of natural and anthropogenic processes in formation of the contemporary genetic structure in the study area. In broader terms, our aim was to contribute to understanding of the impacts of artificial translocations, historical events and demographic processes in shaping present genetic diversity of freshwater organisms using a non-commercial fish in a hydrographically diverse area.
Results
Genotyping success for microsatellites was high (96.1%), and multilocus genotypes were obtained for 688 individuals from 27 populations. Most missing genotypes were at loci Rser04 (7.8%) and Rser09 (7.3%), possibly representing homozygotes for null alleles. The same loci had relatively high frequencies of null alleles estimated in FreeNA (6.9% and 7.9%, respectively, Additional file 1: Table S1), despite no apparent evidence of null alleles, allele dropout or scoring errors due to stuttering in results assessed by MICRO-CHECKER. Further, the Rser04 and Rser13 loci possessed a high level of polymorphism (94 and 95 alleles) (Additional file 1: Table S1) with large differences among populations (1–31 and 7–35 alleles per population for Rser04 and Rser13, respectively). To avoid potential bias caused by these loci, population-level genetic variability was additionally analysed using a reduced dataset of 9 loci (i.e., excluding loci Rser04, Rser09 and Rser13). All analyses of genetic structure among populations are based on the complete dataset across all 12 loci because high allelic polymorphism and presence of null alleles had a negligible effect on the analyses of population structure. The analysis of mitochondrial variability is based on 83 CYTB sequences from 26 populations.
Intra-population genetic diversity
Departure from HWE was demonstrated in 41% of populations (11 of 27) when calculated over all 12 loci, although only a single population deviated from the HWE in the reduced dataset with 9 loci (i.e., after removing loci with null alleles). This population (ITA) arose from a recent introduction [65], and deviation from HWE (deficit of heterozygotes) may be due to inbreeding or to HWE not yet having been achieved. The range of allelic richness (AR) for 9 loci was 2.33–5.05 (rarefaction estimate for 9 individuals, Additional file 2: Figure S2). All measures of intrapopulation genetic variation (Ho, He, and AR for 9 and 12 loci) were strongly correlated (p < 0.05; Additional file 2: Table S1).
The lowest genetic diversities were in populations at the north-western periphery of the distribution of R. amarus (NET, VIS1), one Czech population in the River Elbe (ELB4), and two populations in the Czech part of the River Oder (ODR2, ODR3). The highest genetic diversities were detected in the middle part of the Danube basin (DAN3, DAN11, DAN12; all outside the Czech Republic), an apparently admixed population from the River Rhine basin (RHI2; see below) and, surprisingly, an introduced Italian population (ITA) (Additional file 2: Table S1, Additional file 2: Figure S2). The highest genetic diversities within the Czech Republic were detected in two populations in the Morava basin (DAN4, DAN6), one population in the Dyje basin (DAN8) and in two Elbe populations (ELB2, ELB3).
Spatial genetic structure
The mitochondrial CYTB haplotype network revealed two main lineages corresponding with the western and eastern lineages sensu Bohlen et al. [27] (Fig. 1). The western lineage exclusively dominated all three watersheds in the Czech Republic. The eastern mitochondrial lineage was detected in the River Vistula and middle River Oder in Poland (Baltic watershed). The two lineages co-occurred in the River Nida (RHI2), the River Rhine tributary (North Sea watershed); two individuals from the RHI2 population possessed eastern lineage haplotypes (h14), while three individuals had western-lineage haplotypes (h3, h17). The western haplogroup demonstrated a star-like haplotype network (Fig. 1b), indicating a recent demographic expansion in central Europe.
A model for K = 2 showed that three populations from the River Oder (ODR1-ODR3) located in the Czech Republic clustered with geographically proximate populations from the Danube watershed. The ELB3 population (River Sázava) was more similar to the Danube watershed populations, but was apparently admixed with population from the Elbe (North Sea watershed) and Danube watersheds (Fig. 1d).
Populations from the Danube basin (Black Sea watershed) in central Europe demonstrated additional fine-scale substructuring. They were split into three clusters in models for K > 7 (Figs. 3 and 4). The first (green colour in Fig. 3 for K > 7 and in Fig. 4) is composed of populations from the Slovak stretch of the River Danube and two geographically adjacent tributaries of the Danube at the south-eastern edge of the Czech Republic (the Kyjovka and the lower Morava; DAN1-DAN3). The second cluster (purple) is composed of populations from the middle reaches of the River Morava and its tributaries (DAN4–7). The third cluster (blue) is formed by streams in the River Dyje basin, a major western tributary of the River Morava (DAN8–10).
The fine-scale contemporary genetic structure among three watersheds
Watersheds were important factors in the genetic structuring of bitterling populations in central Europe. Grouping populations according to watersheds explained a significant proportion (5.7%) of genetic variability (AMOVA: FCT = 0.057, p < 0.001). After removal of the mismatched populations ELB3 and ODR1-ODR3 (see above), the explained component of variation increased to 14% (AMOVA: FCT = 0.140, p < 0.001). This finding indicates that the origin of these mismatched populations was not primarily driven by vicariance among watersheds.
The global RST value over all loci was not significantly higher than the mean pRST, and only 31 of the 351 pairwise comparisons demonstrated significant differences. Focusing on ELB3, none of the three pairwise comparisons between the ELB3 and the remaining Elbe populations (ELB1, ELB2, ELB4) showed significant differences, suggesting that genetic differences within this lineage were caused primarily by genetic drift. On the contrary, one of three pairwise comparisons between the ELB3 population and three geographically proximate Danube populations (DAN8-DAN10) was significant, suggesting some role for stepwise mutations besides genetic drift in population differentiation. The pairwise comparisons among the Czech Oder populations (ODR1-ODR3) did not show any significant differences between FST and RST, and the same was found for the comparison between Czech Oder populations (Baltic Sea) with geographically proximate populations from the River Morava and its tributaries (DAN4-DAN7; Black Sea). On the contrary, 3 out of 9 pairwise RST comparisons (33%) between Czech Oder and Polish (ODR4, VIS1, VIS2) populations were significantly higher than FST (Table 2), suggesting an important role for mutations in their differentiation and hence an older divergence.
Approximate Bayesian Computation (Additional file 3: Table S1a) suggested that the most likely scenario for the origin of the River Sázava population (SAZAVA) was an admixture between the Elbe (CZELBE, North Sea) and western Morava (WMORAV, Black Sea) groups (posterior probability with a 95% credibility interval: 0.4178, 0.4088–0.4267). The distribution of posterior parameters estimated from this scenario is presented in Additional file 3: Table S3. The WMORAV populations contributed a larger portion of individuals (median: 61.3, 95% CI: 0.129–0.954). The admixture event is dated to approximately 229 years ago (median, 95% CI: 34.4–1020 years ago), followed by a pronounced bottleneck of the effective population size composed of an estimated 69 (median, 95% CI: 13.7–98.7) individuals and lasting approximately 6 years (median, 95% CI: 0–26.2).
The populations from the Czech part of the River Oder (CZODER, Baltic watershed) most likely originated exclusively from the River Danube populations (NMORAV, Black Sea watershed) (posterior probability 0.7451, 95% CI: 0.7387–0.7515) (Additional file 3: Table S1b). Posterior distributions of parameters for this scenario are shown in Additional file 3: Tables S4. The origin of CZODER from NMORAV group (t3z1) is estimated to be 130 years ago (median, 95% CI: 25.9–493 years ago), following a bottleneck of an estimated 50 (6.84–97.4) individuals.
Discussion
Genetic diversity
The present study supports previous inferences [27, 29] that much of continental Europe was colonised by the bitterling dispersing from two distinct glacial refugia. An eastern clade colonized north-eastern Europe from the Black Sea refugium near the estuaries of the Rivers Dnieper and Dniester. A western clade colonised the rest of Europe from the lower Danube refugium, an important Pleistocene refugium for several other freshwater fish species (e.g. [2, 67, 68]). A secondary contact between these lineages was detected in central Germany (RHI2) in the middle Rhine basin, in accordance with findings for other European freshwater fishes with wide contemporary distributions (e.g. [2, 67, 69]). Low haplotype diversity and a star-like haplotype network for mitochondrial DNA in central and western European bitterling populations supports the interpretation that they expanded into this region within recent centuries, and/or that their population sizes strongly fluctuated during the last 500 years [26].
Genetic diversity was greatest in the Danube basin populations (Black Sea watershed), especially in the Slovakian parts of the Rivers Danube and Tisza. These populations likely retained relatively high genetic variability during recent range contractions and may have served as refugia for subsequent smaller-scale recolonisations. Two other populations were genetically diverse. The bitterling population of the River Po basin in Italy is known to be of recent origin [65]. Its high genetic variability and significant deviation from Hardy-Weinberg equilibrium can be explained by a recent introduction from a genetically highly variable population from the Tisza basin (or repeated introductions from various sources within the Tisza Basin) followed by inbreeding effects or other population genetic processes not yet at equilibrium (Fig. 2, Additional file 2: Figure S2). The River Nida (in the Rhine basin in central Germany) population's genetic diversity arises from a secondary contact between the two main continental bitterling lineages, with a consequent increase in allelic richness [6].
The lowest genetic diversity in R. amarus was typically found in populations at the periphery of the current range (Fig. 3, Additional file 2: Table S1 and Figure S2), with the population from the lower Rhine (NET, Netherlands) being especially depauperate. This finding agrees with the isolation-by-distance scenario whereby variability decreases from a range centre to its periphery, with a significant effect of genetic drift [70]. Two other populations with low genetic diversity were from relatively small standing waters; one from the Czech Oder basin (Pilíky Ponds; ODR2) and one from the River Vistula basin (Lake Kociolek; VIS1) (Table 1).
Gene flow across the watershed barriers: The role of anthropogenic processes
Bitterling may colonise new habitats via natural dispersal [27, 29] or as a consequence of anthropogenic processes, such as unintentional stocking as a by-product of trade in live fish for cultivation from the 12th to 16th centuries [26] or man-made connections between adjacent drainages [25]. There are good records that the range of European bitterling was extended to many European countries due to intentional introductions over recent decades (e.g., Denmark, Croatia, Italy, Great Britain and the Crimea) [26, 33–35]. It also has been introduced to the Hudson River (New York) in North America in the early twentieth century, where populations persisted despite no evidence of range expansion [71].
In this study, we established that genetic structuring of bitterling in central Europe corresponded well with predictions based on natural dispersal, with a well-defined fine-scale genetic structure within and across river basins. However, there were two notable exceptions. First, the population from the River Sázava (ELB3, Elbe basin, North Sea watershed) was genetically more similar to bitterling populations from the western part of the Black Sea drainage. Second, bitterling populations from the River Oder (Baltic Sea watershed) in the Czech Republic were closely similar to populations from the geographically proximate, but hydrographically disconnected, River Morava basin (Black Sea watershed).
The River Elbe has been recently colonized from the Danube basin by other freshwater fishes, such as Cottus gobio [72], Barbus barbus [67] and Cobitis elongatoides [73], probably as a consequence of human-assisted introductions. Other Black Sea watershed fishes colonized the River Elbe following their escape from aquaculture, such as Carassius gibelio [74], or colonising via ballast water, such as Neogobius melanostomus [75]. In a previous study [29], we showed that the bitterling population of the River Elbe likely originated from the late-Holocene admixture (dated approximately 1500 years ago) from two main sources - the northeastern (represented here by the Vistula basin and middle Oder population) and upper Danube populations. Here we show that the bitterling population in the River Sázava (tributary of the Elbe) possess a strong signal of much more recent admixture between the Elbe populations (North Sea) and the geographically adjacent populations from the Danube tributaries in western Moravia (Black Sea). The lack of any current physical (natural or artificial) connection between the two neighbouring drainages suggests human activities as the most probable explanation for the observed genetic structure, although small-scale headwater capture events cannot be completely ruled out. Common carp aquaculture has been common in the region since the twelfth century, with potentially frequent transfers of fish (including bitterling) between important aquaculture regions in Moravia and southern Bohemia [26]. The contemporary legal requirement for angling associations to stock commercially available hatchery-reared fish into natural water bodies under their management may also have contributed to repeated recent translocations of freshwater fish populations across drainage boundaries. Such translocations are more relevant for introductions of game fishes, although the bitterling, while of no commercial or angling interest, may be transferred inadvertently with other cyprinids.
The second case of discordance between hydrography and genetic structure includes all three Czech bitterling populations sampled from the River Oder (Baltic Sea drainage). All three populations possessed nuclear and mitochondrial genotypes suggesting their non-admixed origin from the geographically proximate River Morava basin (Black Sea drainage), followed by genetic differentiation by random drift in bottlenecked populations. In contrast, the Polish population from the River Oder clustered with an adjacent population from the River Vistula basin belonging to the same watershed. The large genetic distance between Czech and Polish Oder basin populations pertains at least in part to the inference that mutations, in addition to simple genetic drift, were implicated in the microsatellite marker differences detected between Czech and Polish Oder populations of the bitterling. It is possible that the Czech part of the River Oder basin was not naturally colonised by the bitterling prior to its introduction from the Danube basin, although more than three populations must be examined to test this hypothesis.
Fragmented and genetically differentiated populations within river basins
The microsatellite analysis revealed profound genetic structuring of bitterling populations on a relatively small geographical scale. Such a high level of genetic differentiation contrasts with the diversity of mitochondrial DNA, with only two lineages evident across continental Europe ([27, 29], this study). Other freshwater fishes with limited dispersal abilities also display strong genetic subdivisions, especially among populations from separate drainages [11, 12]. In general, small cyprinid fishes have a relatively limited capacity for dispersal, resulting in a drainage-restricted intraspecific genetic structure [76] and high species endemism in isolated drainages [31].
Bitterling populations within the Danube basin (Black Sea watershed) demonstrated fine-scale genetic differentiation. The populations were divided into three groups (Fig. 3b), with a clear effect of genetic isolation by geographic distance (isolation-by-distance), with the number of populations studied in this watershed being sufficient for a robust test. The fine structure of the bitterling populations is unlikely a result of river fragmentation by dams. There is a system of three large reservoirs on the River Dyje, isolating western tributaries of the Morava for the last 40–50 years, although no dams are present on the main River Morava or its other tributaries [32]. It is likely that the fine-scale population structure results from events older than the last few decades. Bitterling are recognised as having a limited dispersal capability [77], with downstream drift of the offspring over short distances but limited upstream migration of adult fish prior to spawning [78]. A comparable level of intra-basin differentiation has been recorded in other freshwater fishes [79–81], indicating that fine-scale genetic structuring may be common even in geographically widespread freshwater fishes.
Conclusions
The genetic structure of the European bitterling in central Europe is affected primarily by the interplay of Quaternary climatic fluctuations and barriers between watersheds. In addition, we detected anthropogenic effects on the genetic variability of some bitterling populations, with one population admixed from two different watersheds and a group of geographically proximate populations misclassified from expectation on the basis of hydrography. Given the lack of natural or artificial connections between adjacent drainages, dispersal across watersheds likely involved intentional or unintentional stocking in the course of fish cultivation or as an effect consequent of angling. Local translocations within a species' range can cause spread of non-native lineages outside their former range. It becomes apparent that such cryptic invasions are more widespread than commonly recognized [17], with apparent consequences for conservation management of local communities [82]. Despite introductions in the specific cases, contemporary bitterling populations are principally structured by their respective drainage, including fine-scale differentiation through isolation by distance. As such, genetic structure of bitterling populations in central Europe is predominantly natural, despite introductions of the species in peripheral regions of Europe. Finally, our study demonstrated that studies of species with no commercial value may reveal how historical range dynamics are mirrored by contemporary genetic diversity within and among populations, and exhibit patterns indicating human-assisted colonisation.
Abbreviations
AMOVA:

Analysis of Molecular Variance
AR :

Allelic richness
CYTB :

The gene for cytochrome b
FCA:

Factorial correspondence analysis
GSM:

Generalized stepwise model
HWE :

Hardy-Weinberg equilibrium
Declarations
Acknowledgment
We would like to thank to Z. Jurajdová, M. Ondračková, K. Schindehuette, J. Bohlen, M. Przybylski, M. Soes, T. Eros and P. Horký for providing samples, H. Konvičková for the help in the laboratory, A. Konečný for advice on ABC modelling, and C. Smith and four anonymous referees for comments on the manuscript. We appreciate access to computing and storage of MetaCentrum provided under the programme CESNET LM2015042.
Funding
The study was funded by the Czech Science Foundation (13-05872S, P505/12/G112). The funding body had no role in the design of the study and collection, analysis, and interpretation of data and in writing the manuscript.
Availability of data and materials
The datasets supporting the conclusions of this article are available in the Additional files 1, 2, 3, GenBank (Acc. nos. MF464185 - MF464267) for CYTB sequences and in the Figshare repository (https://doi.org/10.6084/m9.figshare.5216050) for microsatellite dataset.
Authors' contributions
Initiated the project and assembled samples: MR; performed genetic analysis and interpretation: VB supervised by JB; drafted the paper: VB, JB, MR. All authors revised the manuscript for critical intellectual content, read and approved the final manuscript.
Ethics approval and consent to participate
Collection of samples adhered to the legal requirements of the Czech Republic, Poland, Germany and Italy. Samples from the Czech Republic were collected under permit No. 59/2007, issued by Ministry of Agriculture, and was approved by Ethical Committee of the Institute of Vertebrate Biology (ref. 163–12). Sampling in Germany, Italy and Poland was performed under collection permits and ethics approval issued to our collaborators. In Poland, approval was issued by the Ethic Committee of University of Łódź no. Ł/BD/309/2006 and collection permit (10/2002) granted M. Przybylski (University of Łódź). In Germany, sampling was approved by the ethical commission of the University of Cologne and by Rheinfischereigenossenschaft NRW, Deichverband Bislich-Landesgrenze (J. Borcherding). In Italy, ethical and sampling approval was issued by University of Milano (P. Galli). No fish was killed for the purpose of this study - sampling was performed by clipping a small piece of caudal fin that has rapid regenerating capability.
Consent for publication
Not applicable.
Competing interests
The authors declare that they have no competing interests.
Publisher's Note
Springer Nature remains neutral with regard to jurisdictional claims in published maps and institutional affiliations.
Open AccessThis article is distributed under the terms of the Creative Commons Attribution 4.0 International License (http://creativecommons.org/licenses/by/4.0/), which permits unrestricted use, distribution, and reproduction in any medium, provided you give appropriate credit to the original author(s) and the source, provide a link to the Creative Commons license, and indicate if changes were made. The Creative Commons Public Domain Dedication waiver (http://creativecommons.org/publicdomain/zero/1.0/) applies to the data made available in this article, unless otherwise stated.
Authors' Affiliations
(1)
The Czech Academy of Sciences, Institute of Vertebrate Biology, Brno, Czech Republic
(2)
Department of Botany and Zoology, Faculty of Science, Masaryk University, Brno, Czech Republic