Research article

Open Access
Community impacts of anthropogenic disturbance: natural enemies exploit multiple routes in pursuit of invading herbivore hosts
BMC Evolutionary Biology
2010
10:322
Received: 15 July 2010
Accepted: 23 October 2010
Published: 23 October 2010
Abstract
Background
Biological invasions provide a window on the process of community assembly. In particular, tracking natural enemy recruitment to invading hosts can reveal the relative roles of co-evolution (including local adaptation) and ecological sorting. We use molecular data to examine colonisation of northern Europe by the parasitoid Megastigmus stigmatizans following invasions of its herbivorous oak gallwasp hosts from the Balkans. Local host adaptation predicts that invading gallwasp populations will have been tracked primarily by sympatric Balkan populations of M. stigmatizans (Host Pursuit Hypothesis). Alternatively, ecological sorting allows parasitoid recruitment from geographically distinct populations with no recent experience of the invading hosts (Host Shift Hypothesis). Finally, we test for long-term persistence of parasitoids introduced via human trade of their hosts' galls (Introduction Hypothesis).
Results
Polymorphism diagnostic of different southern refugial regions was present in both mitochondrial and nuclear microsatellite markers, allowing us to identify the origins of northern European invaded range M. stigmatizans populations. As with their hosts, some invaded range populations showed genetic variation diagnostic of Balkan sources, supporting the Host Pursuit Hypothesis. In contrast, other invading populations had an Iberian origin, unlike their hosts in northern Europe, supporting the Host Shift Hypothesis. Finally, both British and Italian M. stigmatizans populations show signatures compatible with the Introduction Hypothesis from eastern Mediterranean sources.
Conclusions
These data reveal the continental scale of multi-trophic impacts of anthropogenic disturbance and highlight the fact that herbivores and their natural enemies may face very different constraints on range expansion. The ability of natural enemies to exploit ecologically-similar hosts with which they have had no historical association supports a major role for ecological sorting processes in the recent assembly of these communities. The multitude of origins of invading natural enemy populations in this study emphasises the diversity of mechanisms requiring consideration when predicting consequences of other biological invasions or biological control introductions.
Keywords
Natural EnemyCodon PositionRange ExpansionMicrosatellite DataMicrosatellite Genotype
Background
Growing numbers of natural communities are being disrupted by biological invasions resulting from human activity. The ecological impacts of these invasions depend in part on whether they facilitate knock-on invasions by other taxa, such as natural enemies, and the prevalence of interactions between these secondary invaders and native taxa. The scale and speed of natural enemy range expansion and the likelihood of shifts to non-target hosts are particularly crucial when predicting community impacts of intentionally released biological control agents [1]. Given the complexity of most ecological systems [2], predicting such impacts is extremely challenging. More generally, monitoring how communities develop around invading species can allow testing of alternative models of community assembly and evolution [3]. Here we use human-facilitated range expansion affecting three trophic levels in a plant-herbivore-natural enemy system to assess the relative importance of long-term historical associations versus ecological sorting [4–6].
Our tri-trophic study system comprises gall-inducing herbivorous wasps (Hymenoptera: Cynipidae), whose distributions within the Western Palaearctic are tightly coupled to those of their host oak trees, genus
Quercus
[
7
], and parasitoid natural enemies [
8
]. Species in one major clade of
Andricus
gallwasps have lifecycles involving host alternation between two oak lineages - the black oaks of
Quercus
section Cerris (e.g.
Q. cerris
and
Q. suber
) and the white oaks of
Quercus
section Quercus (e.g.
Q. robur
and
Q. petraea
). In the Western Palaearctic natural co-existence of these two oak sections (and hence host-alternating gallwasps) is restricted to southern Europe, Asia Minor and the Middle East; only section Quercus oaks are native to Europe north of the Pyrenees, Alps and Carpathians [
9
,
10
]. However, over the last 400 years the region in which both oak sections grow together has been dramatically expanded by widespread human planting in northern and western Europe of Turkey oak
Q. cerris
(Figure
1
), a section Cerris species native to central and eastern Europe and Asia Minor. This introduction has triggered multiple invasions by a suite of host-alternating gallwasps, reaching northwards to Scotland and westwards to the northern slopes of the Pyrenees [
8
,
9
,
11
]. Genetic data show that all invading gallwasp populations have originated from within the native Balkan range of
Q. cerris
, with no range expansion by Iberian peninsula populations [
9
,
10
,
12
]. In Iberia, cork oak (
Q. suber
) replaces
Q. cerris
, and Iberian gallwasp populations have proven unable to make the host switch from
Q. suber
to
Q. cerris
that is necessary for northwards range expansion.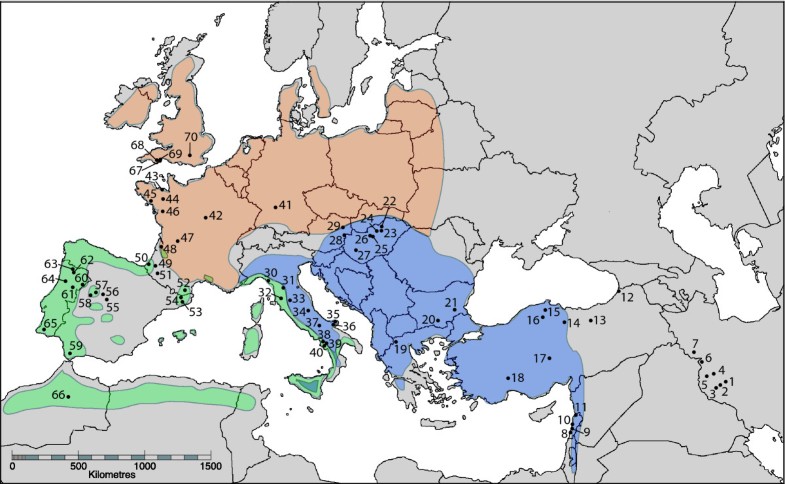 This study concerns the response of the third trophic level to gallwasp range expansion. Oak gallwasps support rich communities of parasitoid natural enemies [8, 13], and gallwasp range expansions triggered by planting of Q. cerris represent continental-scale experiments in the assembly of such communities. Parasitoids have recruited onto range-expanding gallwasps in invaded regions [11, 13, 14], but their origins remain unclear. However, determining where these parasitoids come from can reveal underlying mechanisms in gallwasp community assembly. If shared spatial histories and co-evolution (including local adaptation) underpin species interactions [5, 15], we expect invading gallwasps to be pursued by enemies from the same Balkan origin (the Host Pursuit Hypothesis); this hypothesis predicts no parasitoid recruitment from alternative populations (for example in Iberia) that have had no shared spatial or co-refugial history with the invading hosts. An alternative model emphasises community assembly by ecological sorting, with a reduced impact of co-evolution or local adaptation [4, 6]. This model allows exploitation of invading hosts by parasitoid populations that have no recent history of exposure to invaders but that attack ecologically similar hosts (the Host Shift Hypothesis). More specifically, whilst this hypothesis does not preclude some degree of host pursuit from the Balkans, it additionally predicts that expanding parasitoid populations could escape from Iberia even though their gallwasp hosts have not.
A third scenario potentially applies to this gallwasp system, involving co-introduction of both gallwasps and their parasitoid enemies (the Introduction Hypothesis). Accidental co-introduction is a feature of community development around invading hosts [16] and is possible because galls (and unintentionally their occupants) have long been traded as a source of tannins for the manufacture of inks and dyes [[9] and references therein]. The source for such galls was the eastern Mediterranean (particularly Lebanon and south-eastern Turkey), with Roman Italy as the major historical destination. More recently, vast numbers of galls of the host-alternator Andricus kollari were imported into south-western Britain from the eastern Mediterranean during the 1840s [9]. Andricus kollari rapidly colonised Britain, and genetic data show these introduced populations were derived from at least two eastern Mediterranean sources [9]. It is likely that parasitoids also escaped from these imported galls, but it remains unknown whether any populations successfully established. However, if they did establish we would expect British and Italian populations (but not other European populations) to exhibit genetic variation diagnostic of the eastern Mediterranean.
These three hypotheses can be discriminated using population genetic data for parasitoids specialising on host-alternating gallwasps, whose populations in northern Europe therefore must also be invading or introduced. Our approach is to use a combination of mitochondrial sequence and nuclear microsatellite data to identify genetic variation diagnostic of southern and eastern regions relevant to our hypotheses. Screening of invaded range populations then allows assessment of the support for the Host Pursuit, Host Shift and Introduction Hypotheses (genetic variation shared with the Balkans, Iberia or eastern Mediterranean, respectively). The use of multiple nuclear markers plus the independently evolving mitochondrial genome also allows further examination of the histories of range expanding populations, such as the extent to which invading populations from different origins maintain their genetic distinctiveness, or the role of sex-biased dispersal [17, 18].
Here we apply this approach to the parasitoid
Megastigmus stigmatizans
(Chalcidoidea, Torymidae). This species is native to southern Europe (including Iberia), Asia Minor and the Middle East where it attacks predominantly both widespread and refuge-specific host-alternating gallwasp species, and also now attacks invading gallwasp populations throughout northern Europe (see Table
1
) [
14
,
19
]. Additionally, we target this species as information from it is relevant to ongoing work on a related Asian torymid parasitoid,
Torymus sinensis
, recently released in Italy in an attempt to control an introduced and invading gallwasp pest of chestnuts [
20
,
21
]. Native oak gall parasitoids have been reared from this invading gallwasp, indicating that oak and chestnut gallwasp communities are trophically linked [
20
]. We know of no study to date of the potential impacts of this release on native Western Palaearctic gallwasp communities, so patterns shown by
M. stigmatizans
may reveal possible outcomes.
Table 1
Occurrence of Andricus and Cynips gallwasp hosts for Megastigmus stigmatizan s within the Western Palaearctic.
| host code | host species | Iberia | central Europe | eastern Mediterranean | northern Europe |
| --- | --- | --- | --- | --- | --- |
| 1 | A. caputmedusae | | yes | yes | |
| 2 | A. coriarius | yes | yes | yes | |
| 3 | A. coronatus | | yes | yes | |
| 4 | A. curtisii | | yes | yes | |
| 5 | A. dentimitratus | yes | yes | yes | |
| 6 | A. grossulariae | yes | yes | yes | invader |
| 7 | A. hungaricus | | yes | | |
| 8 | A. infectorius | | yes | yes | |
| 9 | A. kollari | yes | yes | yes | invader |
| 10 | A. lucidus | | yes | | invader |
| 11 | A. megalucidus | | | yes | |
| 12 | A. pictus | yes | | | |
| 13 | A. quercuscalicis | | yes | | invader |
| 14 | A. quercustozae | yes | yes | | invader |
| 15 | A. sadeghii | | | yes | |
| 16 | A. sternlichti | | yes | yes | |
| 17 | C. longiventris | | yes | yes | native |
| 18 | C. quercusfolii | | yes | yes | native |
Results
Regionally diagnostic genetic structure in M. stigmatizans'native range
Genetic variation in both mitochondrial and microsatellite datasets was diagnostic of major regions across the native range of
M
.
stigmatizans
, with strong concordance between an individual's mtDNA lineage and the cluster to which the majority of its microsatellite genotype was assigned (χ
2
= 449.8, d.f. = 21,
P
≈ 0). Three well-supported regional clades were resolved in the cyt
b
(Figure
2
; named the European, Iberian and Lebanese lineages) and combined mitochondrial (Figure
3
) datasets, with multiple Turkish and Iranian haplotypes distinct from the major lineages. The microsatellite data provided greater resolution, with strongest support for eight population clusters (posterior probability of ~1 for
K
= 8) showing similar geographic structuring to the mitochondrial data (Figure
4
). Few individuals showed significant evidence of admixture (microsatellite alleles originating from different clusters; see Additional file
2
), suggesting limited migration between these spatially separated populations. Balkan populations were characterised by cyt
b
haplotypes in the European lineage and microsatellite genotypes in cluster 3. Iberian populations were characterised by cyt
b
haplotypes in the Iberian lineage and microsatellite genotypes in clusters 1 or 2. Eastern populations were the most genetically diverse for both marker types, and were characterised by cyt
b
haplotypes either in the Lebanese lineage (Lebanon, Iran) or in a distinct central polytomy (Turkey, Iran), with microsatellite genotypes in clusters 4-8. This regionally-diagnostic variation allowed unequivocal inference of the origin of invading
M. stigmatizans
populations across their non-native range.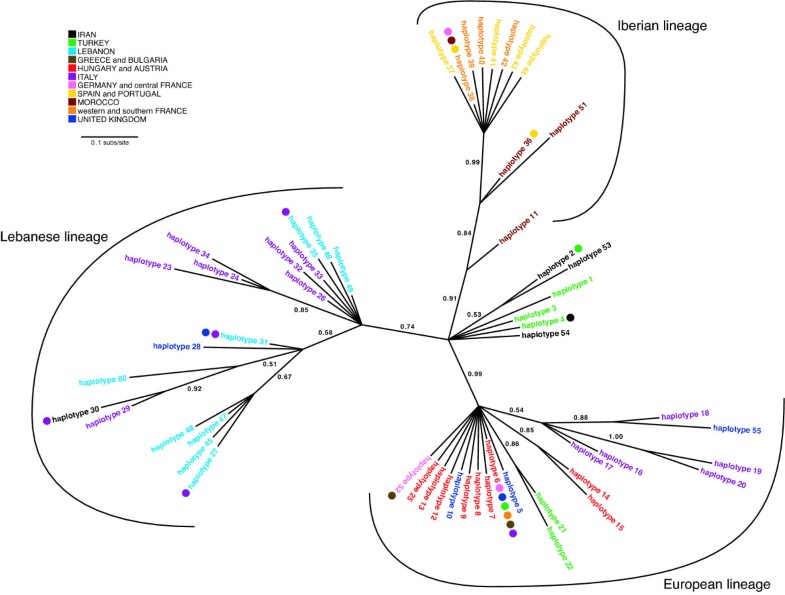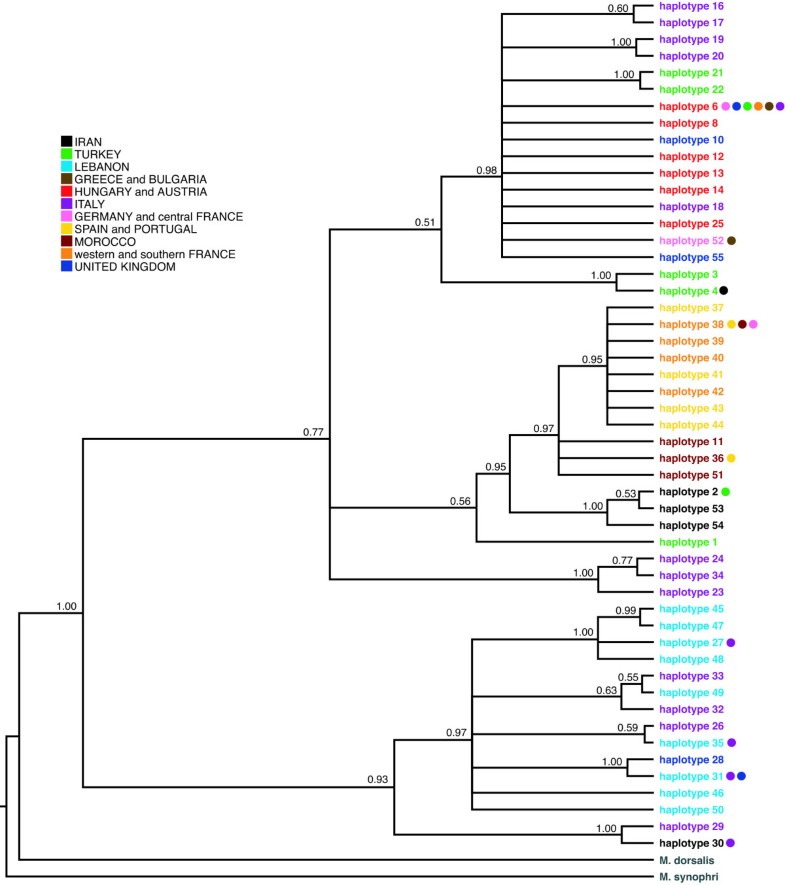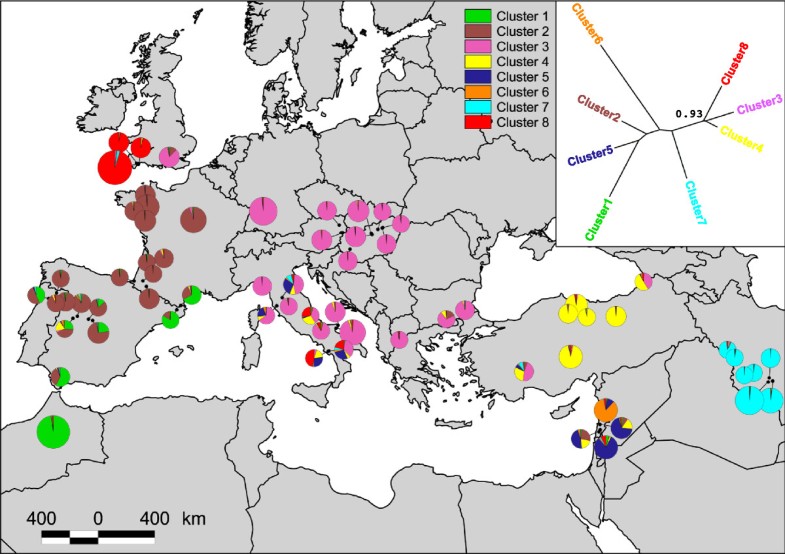 Origins of non-native M. stigmatizansin northern Europe
The molecular data show that all three hypothesised mechanisms have contributed to range expansion in M. stigmatizans. The Host Pursuit Hypothesis is supported by assignment of cyt b sequences from Britain, France and Germany to the European lineage (Figure 2), and the observation that European microsatellite genotypes dominate populations in Germany and south-eastern Britain (cluster 3 in Figure 4). While Italy could potentially have been the source of these European genotypes, none of the other microsatellite clusters that are present at high frequency in Italy (clusters 4, 5 and 8) occurred further north in continental Europe, indicating that these northern M. stigmatizans populations are derived from the remainder of the refugial distribution of cluster 3 in the Balkans, as is the case with their hosts. Notably, European lineage mitochondrial haplotypes were more widespread than microsatellite genotypes from the same origin, occurring through all but southern-most France and throughout southern Britain. Genetic diversity within the European mitochondrial lineage declined with distance from the Balkan origin (only five European lineage cyt b haplotypes were observed in northern Europe compared to 10 in the Balkan peninsula), and haplotype 6 was particularly widespread and abundant (found in 54% of European lineage individuals and occurring throughout the lineage's geographic range).
The Host Shift Hypothesis was supported by the presence of Iberian lineage cyt b haplotypes in central and northern France (Figure 2), and widespread occurrence of cluster 2 microsatellite genotypes across France into south-eastern Britain (site 70; Figure 4). As with the European mitochondrial lineage, northern populations showed reduced diversity with haplotype 38 dominant; however, some individuals sampled from central France, northern France and Britain that were assigned to the Iberian microsatellite cluster 2 had European lineage mitochondrial haplotypes (see Additional file 2).
The Introduction Hypothesis was supported for both Britain and Italy by inclusion of cyt b haplotypes from these regions in the Lebanese lineage (Figure 2). Cluster 8 in the microsatellite data also showed the same disjunct distribution, at high frequency in Britain and some Italian populations, and low but significant frequency in some Middle Eastern populations (Figure 4; Additional file 2). Neither the mitochondrial Lebanese clade nor the microsatellite cluster 8 occurred in geographically intervening regions, thus excluding the possibility that any natural range expansion event could have given rise to this pattern. The dominance of microsatellite cluster 8 in south-western Britain is striking, with all but one microsatellite genotype from sites 67-69 allocated to this cluster; the final genotype showed admixture with another eastern population, the Iranian cluster 7. Equally striking is the lack of nuclear admixture between south-western British populations and the microsatellite genotypes found in south-eastern Britain and neighbouring continental Europe; however, European lineage mitochondrial haplotypes were sampled from south-western individuals (see Additional file 2). These patterns strongly support the Introduction Hypothesis for British M. stigmatizans, with no subsequent cross-Channel genetic exchange with mainland Europe other than in the south-east.
The Introduction Hypothesis also explained microsatellite genotype patterns seen in Italy. These populations are genetically diverse, with contributions from central Europe (cluster 3) and multiple eastern populations (clusters 4, 5, 7 and 8). However, in contrast to British populations, more than a third of Italian individuals showed a strong signature of genetic admixture between these sources (see Additional file
2
). The distribution of alleles shared by Britain or Italy and other populations underlines support for the Introduction Hypothesis. Nineteen alleles were shared only by Britain or Italy and either Lebanon or Turkey (Figure
5
). Other than five alleles shared between Italy and central Europe (a pattern expected given the evidence grouping these populations) no other region shared alleles exclusively with Britain or Italy, supporting a process of introduction from these eastern source populations.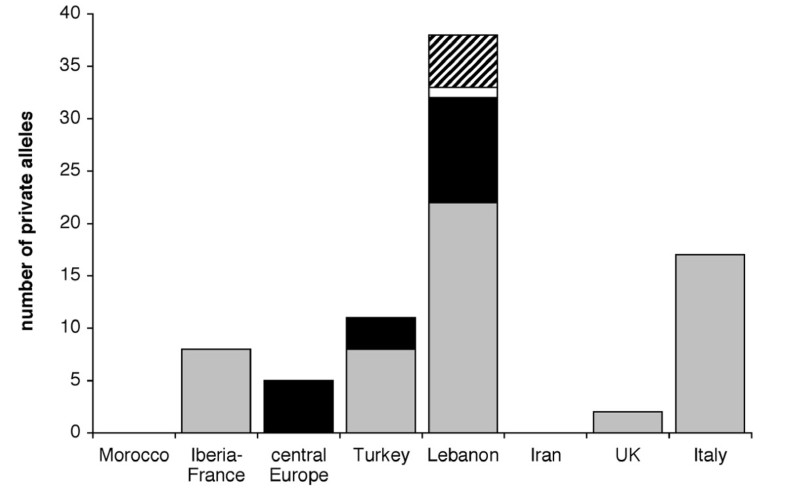 Conclusions
In conclusion, this study highlights the major role for ecological sorting processes in the recent assembly of complex communities in response to anthropogenic disturbance. Different trophic levels may face very different ecological constraints on range expansion, resulting in varying phylogeographic histories of species interacting within the same community. The multitude of origins of invading natural enemy populations in this study emphasises the diversity of mechanisms requiring consideration when trying to predict the consequences of human-mediated ecological perturbations such as biological invasions or the intentional release of biological control agents.
Declarations
Acknowledgements
We would like to thank R. Atkinson, A. Stojanova and S. Mutun for assistance in collecting some samples. The Edinburgh Genepool Sequencing Facility assisted with labwork. Funding was provided by NERC grant NE/B504406/1 to GNS and KS and NE/E014453/1 to GNS and JAN.
Authors' Affiliations
(1)
Institute of Evolutionary Biology, University of Edinburgh, Ashworth Labs, Edinburgh, UK
(2)
Department of Zoology, University of Oxford, Oxford, UK
(3)
Pest Diagnostic Laboratory, Plant Protection & Soil Conservation Directorate of County Vas, Tanakajd, Hungary
(4)
Hungarian Forest Research Institute, Mátrafüred Research Station, Mátrafüred, Hungary
(5)
Departamento de Biodiversidad y Biología Evolutiva, Museo Nacional de Ciencias Naturales (CSIC), Madrid, Spain
(6)
Universitat de Barcelona, Facultat de Biologia, Departament de Biologia Animal, Barcelona, Spain
(7)
Lorestan Agricultural and Natural Resources Research Center, Khorramabad, Lorestan, Iran
(8)
CEH Wallingford, Maclean Building, Benson Lane, Crowmarsh Gifford, Wallingford, UK
Copyright
© Nicholls et al; licensee BioMed Central Ltd. 2010
This article is published under license to BioMed Central Ltd. This is an Open Access article distributed under the terms of the Creative Commons Attribution License (http://creativecommons.org/licenses/by/2.0), which permits unrestricted use, distribution, and reproduction in any medium, provided the original work is properly cited.