Research article

Open Access
Molecular phylogeny of pearl oysters and their relatives (Mollusca, Bivalvia, Pterioidea)
BMC Evolutionary Biology
2010
10:342
Received: 15 July 2010
Accepted: 8 November 2010
Published: 8 November 2010
Abstract
Background
The superfamily Pterioidea is a morphologically and ecologically diverse lineage of epifaunal marine bivalves distributed throughout the tropical and subtropical continental shelf regions. This group includes commercially important pearl culture species and model organisms used for medical studies of biomineralization. Recent morphological treatment of selected pterioideans and molecular phylogenetic analyses of higher-level relationships in Bivalvia have challenged the traditional view that pterioidean families are monophyletic. This issue is examined here in light of molecular data sets composed of DNA sequences for nuclear and mitochondrial loci, and a published character data set of anatomical and shell morphological characters.
Results
The present study is the first comprehensive species-level analysis of the Pterioidea to produce a well-resolved, robust phylogenetic hypothesis for nearly all extant taxa. The data were analyzed for potential biases due to taxon and character sampling, and idiosyncracies of different molecular evolutionary processes. The congruence and contribution of different partitions were quantified, and the sensitivity of clade stability to alignment parameters was explored.
Conclusions
Four primary conclusions were reached: (1) the results strongly supported the monophyly of the Pterioidea; (2) none of the previously defined families (except for the monotypic Pulvinitidae) were monophyletic; (3) the arrangement of the genera was novel and unanticipated, however strongly supported and robust to changes in alignment parameters; and (4) optimizing key morphological characters onto topologies derived from the analysis of molecular data revealed many instances of homoplasy and uncovered synapomorphies for major nodes. Additionally, a complete species-level sampling of the genus Pinctada provided further insights into the on-going controversy regarding the taxonomic identity of major pearl culture species.
Keywords
Pearl Oyster
Hinge Line
Alignment Parameter
Outgroup Taxon
Doubly Uniparental Inheritance
Background
Since the lower Middle Ordovician some 470 million years ago, pterioidean bivalves have inhabited a remarkable diversity of marine epifaunal and semi-infaunal environments around the globe, typically confined to cryptic habitats and forming byssal attachments to various substrata. For a much shorter part of their history-from the dawn of human culture-they have become the primary source of pearls and nacre [1–3]. Pearl fishing based on natural populations of pterioidean bivalves had expanded into a growing global industry with a current value of approximately half a billion US dollars per annum [4]. In pursuit of pearls, commercial introductions and accidental transport of pterioideans beyond their native distribution ranges have greatly affected population dynamics of some species endangering local indigenous biotas (e.g., [5–8]). A recent interest in physical properties of mother-of-pearl made pterioidean bivalves a model system for elucidating molecular mechanisms of biomineralization with medical applications for bone regeneration (e.g., [9, 10]). Given the long and many-sided history of pterioideans and humans, and the current economic and ecological significance of these bivalves, surprisingly little is known about the standing alpha-diversity, distribution, and evolutionary history of the group.
The present-day diversity of the superfamily Pterioidea Gray, 1847 [11] encompasses four families traditionally defined by shell shape and ligament structure: Pteriidae, Isognomonidae, Malleidae, and Pulvinitidae [12–15]. Pteriids are distinguished by an obliquely ovate shell shape, an enlarged posteriorly projecting auricle, and a deep byssal notch. Many pteriid species, particularly of genera Pteria and Electroma, evolved specialized associations with hydroid, scleractinian, and alcyonarian substrata. Most species of Pinctada (pearl oysters) inhabit sandy and hard bottoms, some living in association with commensal fishes and crustaceans. Several species of Pteria and Pinctada are cultured for commercial pearl production. Most species of a malleid genus Malleus are irregularly shaped to conform to narrow crevices in hard coral and rocky substrata, and develop elongated extensions of the hinge for stabilization in soft sediment. Species of the second malleid genus, Vulsella, are adapted for living within sponges. Isognomonids are characterized by the distinct morphology of the ligament that contains multiple grooves (resilifers) for ligamental attachments arranged sequentially along the hinge line (multivincular ligament). Species of the genus Isognomon often co-occur with species of Malleus in crevices and on soft muddy bottoms, but also are gregarious on mangrove roots, whereas species of Crenatula, the second isognomonid genus, live inside sponges (as the malleid Vulsella). Similarly to isognomonids, pulvinitids possess multivincular ligament, but are distinguished from isognomonids by the presence of the foramen, an opening in the right valve through which the byssus is protruded. Living pulvinitids are represented by the genus Pulvinites, the sole extant species of which, Pulvinites exempla, lives byssally attached to vertical hard substrata at 200-400 m depths.
Previous studies aimed at resolving higher-level phylogeny within Bivalvia agreed on the monophyly of the Pterioidea and its placement within the subclass Autolamellibranchiata. However, most aspects of relationships within the superfamily and the identity of its immediate sister group remain uncertain. In a pioneering study on the evolution and ontogeny of the bivalve shell, Jackson (1890) proposed the derivation of major pterioidean groups from a Pteria¬-like Paleozoic ancestor [16]. In his scheme, several autolamellibranchiate lineages, including common oysters of the family Ostreidae and several extinct families, evolved from Isognomon, the latter ultimately arising from the Pteria stem lineage. Jackson also provisionally recognized close relatedness of Malleus and Vulsella.
Despite the implication of Jackson's work for pterioidean systematics, the notion of the monophyly and taxonomic composition of pterioidean families persisted for over a century. Molecular studies aimed at establishing relationships within the subclass Autolamellibranchiata or the entire Bivalvia suggested that several widely accepted pterioidean taxa possibly did not constitute natural groups. The minimum evolution tree based on the analysis of the mitochondrial cytochrome oxydase I (COI) sequences did not resolve the relationships among
Pteria
,
Pinctada
, and
Isognomon
(Figure
1a
) [
17
]. Thus, this analysis failed to provide support for the monophyly of Pteriidae but supported the monophyly of
Pinctada
and
Isognomon
. A study with more extensive sampling and based on parsimony analysis of sequence data for the nuclear small ribosomal subunit (18S rDNA) likewise failed to recover the monophyly of Pteriidae, but also that of Malleidae (Figure
1b
) [
18
]. In that study,
Isognomon
was monophyletic,
Pteria
was paraphyletic, and
Pinctada
was polyphyletic. The pteriid
Electroma
was a sister taxon to the malleid
Vulsella
. The maximum likelihood analysis of the same data produced a similar, but more resolved, topology recovering monophyletic
Pinctada
(Figure
1c
) [
18
]. In a more extensive in character-but not taxonomic-sampling analysis of combined 18S and the large ribosomal subunit sequence (28S rDNA) data, the families Pteriidae and Malleidae, and the genus
Pteria
were non-monophyletic (Figure
1d
) [
19
]. When these data were combined with the nuclear histone H3 gene and the mitochondrial COI gene sequences, the analysis produced a polytomy for all representatives of the Pterioidea except for the
Isognomon
and
Electroma
/
Vulsella
clades (Figure
1e
) [
19
].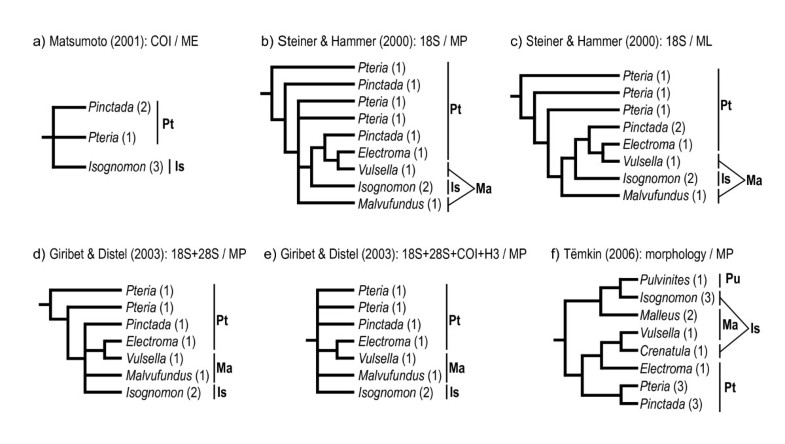 In summary, molecular studies, varying greatly in sampling and analytical techniques, produced inconsistent hypotheses of pterioidean relationships with low resolution and support. These findings, however, agreed on the monophyly of the superfamily and suggested that the families Pteriidae and Malleidae were not monophyletic. The results were conflicting with regard to the monophyly of the genera Pteria and Pinctada, whereas Isognomon was invariably monophyletic. The monophyly of the family Isognomonidae and the genera Electroma and Malleus were not tested, and representatives of the family Pulvinitidae and the genus Crenatula were not included in the analyses. The only study that focused exclusively on the Pterioidea was based on morphological characters and included representatives of all four families and nine genera (Figure 1f) [15]. It supported the monophyly of the Pterioidea and non-monophyly of three families (Pulvinitidae remains untested being represented by a single extant species). All the genera that were represented by multiple species (Pteria, Pinctada, Isognomon, and Malleus) were recovered monophyletic. Species-level sampling in that study was insufficient to test the assumption of monophyly of the remaining genera and did not include type species for most nominal supraspecific taxa. Despite these recent challenges on both molecular and morphological grounds, no consensus on pterioidean relationships was reached and no revision of the existing classification was proposed.
The identity of the pterioidean sister group remains uncertain, favoring the oysters (Ostreoidea), pen shells (Pinnoidea), or a clade composed of these two groups, currently classified together with the Pterioidea in the order Pterioida. Most analyses based on morphological data for extinct, extant, or both kinds of taxa, have suggested a sister relationship of the Pterioidea and Pinnoidea [20–24], except for one, which instead suggested a closer relationship of the Pterioidea and Ostreoidea [15]. Likewise, molecular analyses were divided in favoring either Pinnoidea [25] or Ostreoidea [18, 19, 26] as a sister group of the Pterioidea. In other studies, either Pinnoidea and Ostreoidea formed a clade sister to the Pterioidea [17, 19], or the relationships among the three superfamilies were unresolved [25, 27]. The only explicitly combined analysis of morphological and molecular data resolved the Pinnoidea basal to the Pterioidea/Ostreoidea clade [24]. The unsettled question of the pterioidean sister group is pertinent to the recent debates on the origin of oysters in paleontological literature [28–30].
The present analysis is the first study to produce a nearly comprehensive species-level phylogeny for the Pterioidea based on DNA sequence data. The principal specific goals of this study include (1) testing the monophyly of the Pterioidea, and all its families and genera; (2) reviewing the consequences of these results for the homology of important morphological characters; and (3) resolving species-level phylogenetic relationships within the commercially important pearl oyster genus Pinctada.
Conclusions
The most significant conclusion from the phylogenetic analyses presented here is that the state of pterioidean systematics is no longer in chaos. The present results establish a solid-however unconventional- framework for the higher-level taxonomy of the group, focusing future revisionary systematic effort and providing a better grasp of standing alpha-diversity. The phylogeny is crucial for understanding processes and patterns of diversification and morphological evolution of the Pterioidea through time. To this end, the major future challenge lies in integrating the knowledge on the Recent pterioideans with information on the extensive, well-documented fossil record of the group. As throughout their history, pterioideans remain a globally distributed, relatively common group of bivalves found in most warm, shallow marine environments around the globe, and are likely to display patterns of diversity typical of other marine benthic macrofauna. Therefore, the insights gained from the phylogenetically-informed studies of pterioidean bivalves might be broadly applicable across marine invertebrates.
Declarations
Acknowledgements
I would like to thank friends and colleagues around the world who donated or loaned specimens: R. Bieler [Field Museum of Natural History, Chicago, U.S.A. (FMNH)], A.J. Baldinger [Museum of Comparative Zoology, Harvard University, Boston, U.S.A. (MCZ)], P. Bouchet [Muséum National d'Histoire Naturelle, Paris, France (MNHN)], J. Gerber (FMNH), G. Giribet (MCZ), L. Groves [Los Angeles County Museum, Los Angeles, U.S.A. (LACM)], M.G. Harasewych [National Museum of Natural History, Smithsonian Institution, Washington, D.C., U.S.A. (USNM)], D. Herbert (Natal Museum, Pietermaritzburg, South Africa), K. Holmes [American Museum of Natural History, New York, U.S.A. (AMNH)], Japan Pearl Exporters, M. Knapp (University of Vienna, Austria), K.V. Ramana Murty (Andhra University, India), E. Kools (California Academy of Sciences, San Francisco, U.S.A.), P. Maestrati (MNHN), B. Marshall (Museum of New Zealand Te Papa Tongarewa, Wellington, New Zealand), P.G. Oliver (National Museum of Wales, Cardiff), C.J.M. Lodeiros Seijo (Instituto Oceanográfico de Venezuela, Universidad de Oriente, Venezuela), R. Shearer (Florida, U.S.A.), L.R. Simone (Museu de Zoologia da Universidade de São Paulo, Brazil), A. Tommasi (Porto Santo Stefano, Italy), K. Umadevi (Andhra University, India), Á. Valdés (LACM), N. Voss (Rosenstiel School of Marine and Atmospheric Science, University of Miami, Florida, U.S.A.), and R.C. Willan (Museum and Art Gallery of the Northern Territories, Darwin, Australia). G. Steiner (University of Vienna, Austria) and T. Masaoka (National Research Institute of Aquaculture, Japan) provided information on specimens, sequences of which were deposited in GenBank. I am indebted to E. Arizmendi Castillo (Perlas del Mar de Cortés, Mexico) for providing assistance during my visit of Guaymas, Mexico in 2003. R. Rorandelli, F. Bartolini, M. Fusi, M. Vannini (all then at Università degli Studi di Firenze, Florence, Italy), and M. Gomei (IUCN Centre for Mediterranean Cooperation, Malaga, Spain) have provided invaluable help during fieldwork in the Tyrranean Sea in Summer 2005. I would like to thank all participants of the Second International Marine Bivalve workshop (Chantaburi, Thailand, 21 August-04 September 2005) and C. Printrakoon (Mahidol University, Bangkok, Thailand) in particular for partnership during the workshop and continuing collaboration. R. DeSalle (AMNH) generously made available molecular laboratory resources at the Sackler Institute for Comparative Genomics. W.C. Wheeler (AMNH) granted access and logistical support for using the parallel computing cluster. M. Leslie (AMNH) provided invaluable help for the laboratory component of the project. M. Coppolino and S. Watson assisted with the American Museum of Natural History mollusk collection. Y. Iwasaki (AMNH) had assisted with translations from Japanese. F. Almeida, A. Varón, M. Weksler (all AMNH), and X. Xia (University of Ottawa, Canada) made technical suggestions. P.M. Mikkelsen (Paleontological Research Institution, Ithaca, U.S.A.), E. Strong (USNM), J. Hammock (USNM), and three anonymous reviewers provided critical suggestions for improving the manuscript. Partial funding toward completion of this work was provided by NSF-PEET Marine Bivalve Project DEB-9978119 (to R. Bieler and P.M. Mikkelsen), NSF Dissertation Improvement Grant DEB-0508311, AMNH Annette Kade Graduate Fellowship, The Conchologists of America Grant, and NSF-AToL Bivalve Tree of Life Project DEB-0732854/0732903/0732860 (to R. Bieler, G. Giribet, and P.M. Mikkelsen).
Authors' Affiliations
(1)
Department of Invertebrate Zoology, National Museum of Natural History, Washington, USA
Copyright
© Tëmkin; licensee BioMed Central Ltd. 2010
This article is published under license to BioMed Central Ltd. This is an Open Access article distributed under the terms of the Creative Commons Attribution License (http://creativecommons.org/licenses/by/2.0), which permits unrestricted use, distribution, and reproduction in any medium, provided the original work is properly cited.