Research article
Open Access
Molecular pedomorphism underlies craniofacial skeletal evolution in Antarctic notothenioid fishes
BMC Evolutionary Biology
2010
10:4
Received: 14 August 2009
Accepted: 6 January 2010
Published: 6 January 2010
Abstract
Background
Pedomorphism is the retention of ancestrally juvenile traits by adults in a descendant taxon. Despite its importance for evolutionary change, there are few examples of a molecular basis for this phenomenon. Notothenioids represent one of the best described species flocks among marine fishes, but their diversity is currently threatened by the rapidly changing Antarctic climate. Notothenioid evolutionary history is characterized by parallel radiations from a benthic ancestor to pelagic predators, which was accompanied by the appearance of several pedomorphic traits, including the reduction of skeletal mineralization that resulted in increased buoyancy.
Results
We compared craniofacial skeletal development in two pelagic notothenioids, Chaenocephalus aceratus and Pleuragramma antarcticum, to that in a benthic species, Notothenia coriiceps, and two outgroups, the threespine stickleback and the zebrafish. Relative to these other species, pelagic notothenioids exhibited a delay in pharyngeal bone development, which was associated with discrete heterochronic shifts in skeletal gene expression that were consistent with persistence of the chondrogenic program and a delay in the osteogenic program during larval development. Morphological analysis also revealed a bias toward the development of anterior and ventral elements of the notothenioid pharyngeal skeleton relative to dorsal and posterior elements.
Conclusions
Our data support the hypothesis that early shifts in the relative timing of craniofacial skeletal gene expression may have had a significant impact on the adaptive radiation of Antarctic notothenioids into pelagic habitats.
Keywords
Pterygoid ProcessCraniofacial SkeletonCranial Neural Crest CellPharyngeal EndodermPharyngeal Bone
Background
Antarctic notothenioids are endemic to the Southern Ocean and probably evolved in situ from a sluggish, benthic perciform species beginning 40-60 Mya in the then temperate waters of the Antarctic continental shelf [1]. With the opening of the Drake Passage (~34-30 Mya), the establishment of the Antarctic Circumpolar Current, and a sharp drop in atmospheric carbon dioxide levels, the Southern Ocean became thermally isolated, began to cool, and attained its present frigid temperatures (-2 to +2°C) by the mid-Miocene (14-10 Mya) [1–8]. The rich, shallow-water, temperate fish fauna characteristic of the late Eocene (38 Mya) became largely extinct due to habitat destruction and changes in trophic structure, thus freeing ecological niches into which the notothenioids radiated [4].
The hallmark of the Antarctic notothenioid radiation is the evolution of secondary pelagicism, which is prominent in the family Nototheniidae [1] and common in the family Channichthyidae [9, 10]. About 50% of notothenioid species now either live in or actively exploit pelagic habitats [11]. A significant obstacle facing notothenioids as they radiated into pelagic habitats was the ancestral absence of a swim bladder, the gas-filled chamber that most teleosts use to maintain buoyancy. In pelagic notothenioids, natural selection favored compensatory changes in the musculoskeletal system to achieve neutral buoyancy, including the replacement of densely mineralized bone with cartilage and connective tissue, decreased bone mineralization, and the accumulation of lipid deposits in muscle and connective tissues.
Changes in habitat were also accompanied by the evolution of distinct oral jaw morphologies and body shapes that accommodate shifts in diet and foraging behavior [12, 13]. Trophic evolution among notothenioids resulted in two distinct pelagic ecotypes: true pelagics and benthopelagics [13]. True pelagics spend most of their time in the water column where they feed on microinvertebrates. They possess relatively short, protractile jaws for suction feeding and have few, large oral teeth arranged along a single tooth row (e.g., the Antarctic silverfish, Pleuragramma antarcticum). In contrast, benthopelagics spend much of their time on or close to the ocean floor but venture into the pelagic zone to forage on schools of small fish and macroinvertebrates. Most benthopelagic notothenioids have non-protractile, elongate jaws, a wide gape, and many, small oral teeth (e.g., the blackfin icefish, Chaenocephalus aceratus). This morphology enables benthopelagics to feed efficiently on krill and schools of small fishes by expanding their buccal cavity, and overtaking and sifting large mouthfuls of prey (e.g., ram feeding). Extant benthic notothenioids preserve the ancestral condition, exhibiting robust skeletons and heavily fortified jaws bearing several rows of large teeth (e.g., the yellowbelly rockcod,Notothenia coriiceps).
Notothenioids achieved secondary pelagicism by pedomorphism, the retention of ancestrally juvenile traits by adults in a descendant taxon [11]. Pedomorphism arises from heterochronic processes that alter the schedule of developmental events [14]. Striking examples of pedomorphic characters in pelagic and benthopelagic notothenioids include delayed and reduced skeletal ossification, retention of the notochord, reduced numbers of teeth and tooth rows, and reduction of the pterygoid process of the palatoquadrate [13, 15–17].
As a first step toward understanding the molecular mechanisms that underlie skeletal reduction and morphological change in this group, we characterized early craniofacial development in a true pelagic species, P. antarcticum (family Nototheniidae), and a benthopelagic species, C. aceratus (family Channichthyidae). We describe shared derived aspects of craniofacial development in pelagic notothenioids that differ significantly from those observed in a benthic notothenioid species, N. coriiceps (family Nototheniidae), another percomorph species, Gasterosteus aculeatus (threespine stickleback, family Gasterosteidae), and a more distantly related outgroup, Danio rerio (zebrafish, family Cyprinidae). We found that pelagic notothenioid larvae exhibit a delay in osteogenic development, and that this heterochronic shift is associated with altered gene expression, including delayed expression of the osteogenic markers, col1a1 and col10a1, and prolonged expression of the cartilage differentiation gene, col2a1. These data provide a discrete molecular inroad into the mechanisms that underlie the evolution of this pedomorphic character. We also show that other changes in the patterning of the notothenioid trophic apparatus are due to apparent shifts in the relative timing of development of particular skeletal elements. These data are consistent with the hypothesis that heterochronic shifts in early craniofacial skeletal development have played significant roles in the adaptive diversification of Antarctic notothenioids.
Conclusions
Notothenioids dominate the near-shore habitat of Antarctica and are an important example of an adaptive radiation in marine fishes [
1
,
5
,
46
]. While the ecological and environmental shifts that have precipitated these events are well understood, virtually nothing is known about the molecular and developmental changes that underlie adaptive variation in notothenioid feeding architecture. We propose that salient aspects of the evolution of the notothenioid craniofacial skeleton can be explained by discrete shifts in early developmental genetic scheduling (Fig.
6
).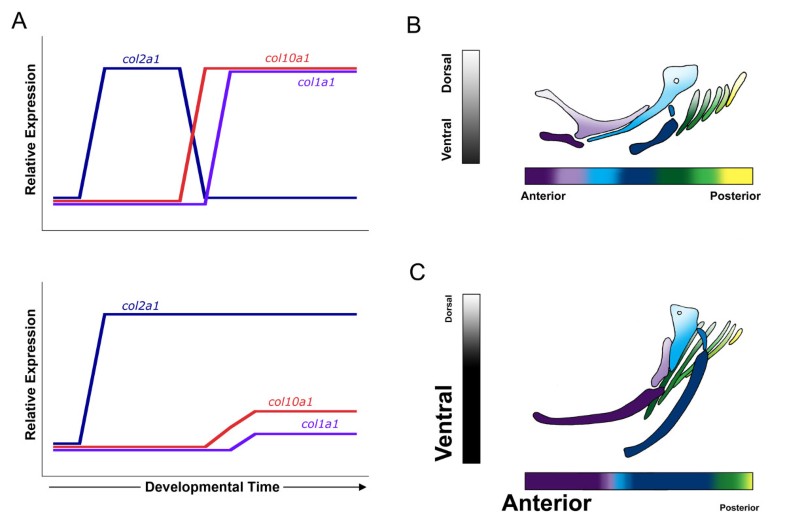 A small but growing number of studies have described heterochrony at the molecular level. The evolution and development of the vertebrate limb, for example, provides several examples of developmental genetic heterochrony. Shifts in the relative timing of expression of Shh in the zone of polarizing activity are correlated with decreased digit number in lizards [47], while prolonged Fgf8 expression in the apical ectodermal ridge is correlated with the development of extra phalangeal elements in dolphins [48]. Excellent opportunities to study genetic heterochrony are also provided by naturally occurring wing color mutations in butterflies [49], and by induced mutations in C. elegans that affect developmental timing [50]. Genetic heterochrony may also explain differential expression of cone opsin genes in cichlid fishes, providing a potentially potent mechanism through which visual sensitivities can evolve in this group [51]. In spite of these putative exemplars the number of described molecular mechanisms that underlie evolutionary change by heterochrony are disproportionately small given the prominence of this process in discussions of morphological evolution [14]. Here we show that the evolution of bone loss in Antarctic notothenioids can be explained in part by the prolongation of the early chondrogenic developmental pathway through extended periods of larval development. These data offer a molecular inroad into the larger signaling cascades that modulate bone density, a trait that is linked to the adaptive radiation of Antarctic notothenioids [1, 52]. In addition to the evolutionary implications, understanding these mechanisms could provide insights into the development of human osteopenia and suggest effective therapies to prevent and/or treat this disease [53].
Declarations
Acknowledgements
We thank the NSF Office of Polar Programs the support staff at Palmer Station, Antarctica, and the captains and crews of the ARSV Laurence M. Gould for the logistic support provided to this project. We also thank RB Miller and XJ He for expert histological assistance and JT Streelman and WJ Cooper for their insightful comments on earlier drafts of this manuscript. This manuscript was much improved by to the detailed comments of two anonymous reviewers. Special thanks also to CB Kimmel for advice on fish osteology and anatomical nomenclature. This work was supported by NIH grant R01AG031922 from the National Institute on Aging (J.H.P., H.W.D., R.C.A., and P.C.Y.), by NSF grants OPP-0336932 and ANT-0635470 (H.W.D.), and by PNRA (E.P., and M.V.).
Authors' Affiliations
(1)
Department of Biology, Syracuse University, Syracuse, USA
(2)
Institute of Neuroscience, 1254 University of Oregon, Eugene, USA
(3)
Dipartimento di Biologia, Università di Genova, Genova, Italy
(4)
ICRAM, c/o Museo Nazionale dell'Antartide (MNA), Università di Genova, Genova, Italy
(5)
Department of Oral and Maxillofacial Pathology, Tufts University, Boston, USA
(6)
Department of Biology, 134 Mugar Hall, Northeastern University, Boston, USA
Copyright
© Albertson et al; licensee BioMed Central Ltd. 2010
This article is published under license to BioMed Central Ltd. This is an Open Access article distributed under the terms of the Creative Commons Attribution License (http://creativecommons.org/licenses/by/2.0), which permits unrestricted use, distribution, and reproduction in any medium, provided the original work is properly cited.