Research article

Open Access
Evolution of the MAGUK protein gene family in premetazoan lineages
BMC Evolutionary Biology
2010
10:93
Received: 24 August 2009
Accepted: 1 April 2010
Published: 1 April 2010
Abstract
Background
Cell-to-cell communication is a key process in multicellular organisms. In multicellular animals, scaffolding proteins belonging to the family of membrane-associated guanylate kinases (MAGUK) are involved in the regulation and formation of cell junctions. These MAGUK proteins were believed to be exclusive to Metazoa. However, a MAGUK gene was recently identified in an EST survey of Capsaspora owczarzaki, an unicellular organism that branches off near the metazoan clade. To further investigate the evolutionary history of MAGUK, we have undertook a broader search for this gene family using available genomic sequences of different opisthokont taxa.
Results
Our survey and phylogenetic analyses show that MAGUK proteins are present not only in Metazoa, but also in the choanoflagellate Monosiga brevicollis and in the protist Capsaspora owczarzaki. However, MAGUKs are absent from fungi, amoebozoans or any other eukaryote. The repertoire of MAGUKs in Placozoa and eumetazoan taxa (Cnidaria + Bilateria) is quite similar, except for one class that is missing in Trichoplax, while Porifera have a simpler MAGUK repertoire. However, Vertebrata have undergone several independent duplications and exhibit two exclusive MAGUK classes. Three different MAGUK types are found in both M. brevicollis and C. owczarzaki: DLG, MPP and MAGI. Furthermore, M. brevicollis has suffered a lineage-specific diversification.
Conclusions
The diversification of the MAGUK protein gene family occurred, most probably, prior to the divergence between Metazoa+choanoflagellates and the Capsaspora+Ministeria clade. A MAGI-like, a DLG-like, and a MPP-like ancestral genes were already present in the unicellular ancestor of Metazoa, and new gene members have been incorporated through metazoan evolution within two major periods, one before the sponge-eumetazoan split and another within the vertebrate lineage. Moreover, choanoflagellates have suffered an independent MAGUK diversification. This study highlights the importance of generating enough genome data from the broadest possible taxonomic sampling, in order to fully understand the evolutionary history of major protein gene families.
Keywords
Lateral Gene TransferGuanylate KinaseZona OccludensProtein Domain ArchitectureMAGUK Protein
Background
The emergence of multicellular animals from their protist ancestors brought evolutionary novelties together with some significant genetic challenges. For example, it is believed that the genes involved in cell-cell communication, cell adhesion and cell differentiation probably arose before or concomitantly with the origins of multicellularity [1]. One of the protein families involved in cell-to-cell communication in Metazoa is the family of scaffolding proteins known as membrane-associated guanylate kinases (MAGUKs), which organize protein complexes at cell or synaptic junctions (for a review see [2]). The MAGUKs have a wide variety of biological roles, such as regulating cell polarity [3], connecting transmembrane proteins (or actin filaments) with the cytoskeleton in tight junctions [4–6], and regulating synapse formation and plasticity [7–9]. Therefore, MAGUKs are of critical importance to the development of multicellular animals.
The MAGUK family have been divided into different classes or groups, according to phylogenetic position and protein domain architecture (see for example [
2
] and [
10
], and Figure
1
for our own MAGUK classification). These MAGUKs classes are known as calcium/calmodulin-dependent proteins kinase (CASK), palmitoylated membrane protein (MPP), zona occludens (ZO), caspase recruitment domain family (CARMA), Disc Large Homolog (DLG), Calcium channel β subunit (CACNB), and membrane-associated guanylate kinase with an inverted repeat (MAGI). All classes contain the following: one or several PDZ domains (except CACNB), a catalytically inactive guanylate kinase (GUK) domain with homology to yeast guanylate kinase and a Src Homology 3 (SH3) domain (except for MAGI) (Figure
1
). Members of the MAGI class, on the other hand, have two WW (conserved Trp residue) domains instead of the SH3 domain. These WW domains are situated downstream of the GUK domain (unlike all other MAGUKs). All of these modular motifs in MAGUK mediate protein-protein interactions.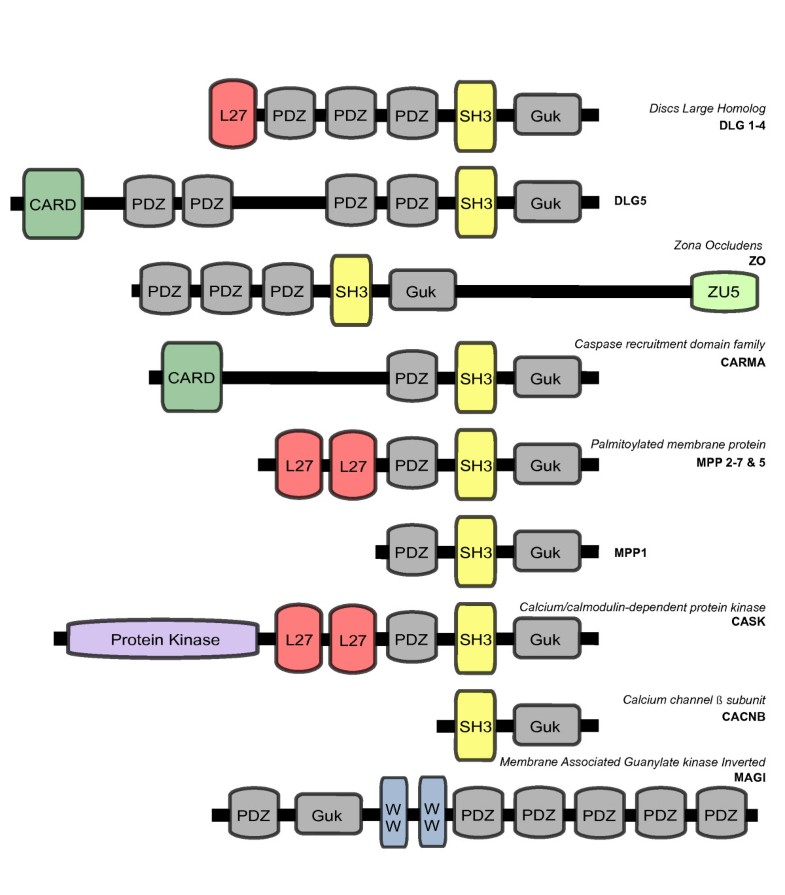 The MAGUK protein gene family had been considered to be exclusive to Metazoa [10, 11] and, hence, a key gene family for determining metazoan origins. However, a recent EST survey showed that an homolog of MAGI is present in the protist C. owczarzaki [12], which seems to be the sister-group to the Choanoflagellata+Metazoa clade. This finding led to new questions, such as whether other MAGUKs were already present in the ancestor of Metazoa, the time of divergence of this gene family, and whether choanoflagellates also had MAGUK homologs. To answer these questions we have undertaken a taxon-wide search of the MAGUK family in eukaryotes. Our search included the complete genome sequence of the choanoflagellate M. brevicollis and the genome trace sequence data of C. owczarzaki, from which we have completed the full gene annotation by RACE PCR. Our data reveals that the MAGUK protein gene family already diverged in premetazoan lineages.
Discussion
Reconstruction of MAGUK diversity in the metazoan ancestor
Our survey of MAGUK proteins shows that three canonical MAGUKs are present in both the protist
C. owczarzaki
and the choanoflagellate
M. brevicollis
(Figure
5
). Both organisms have homologs of the metazoan DLG and MPP super classes. Additionally,
C. owczarzaki
has a MAGI homolog as previously stated [
12
], whereas
M. brevicollis
has two putative MAGI-like homologs, although with divergent and unique protein domain architecture (Additional file
1
). Since
C. owczarzaki
is most likely the sister-group of choanoflagellates and Metazoa [
12
,
14
–
16
], our results suggest that the common ancestor of Metazoa,
C. owczarzaki
, and choanoflagellates already had three types of MAGUK: a DLG-like, an MPP-like and a MAGI-like protein (Figure
5
). A canonical MAGI was, thus, either lost or drastically diverged in the choanoflagellate lineage. Alternatively, the
Capsaspora
-MAGI may represent an independent acquisition of the PDZ-GUK-WW-WW domain architecture. Additional genomic data from other choanoflagellates will be needed to draw definitive conclusions. Although in theory one can not rule out the possibility than one or several lateral gene transfer (LGT) events may have occurred from metazoans to choanoflagellates and
C. owczarzaki
, we favour the hypothesis that the MAGUK protein family appeared prior to the divergence between
C. owczarzaki
and choanoflagellates. In fact, the neighbour-net analysis shows that the homologs of
C. owczarzaki
and
M. brevicollis
do not have a clear relationship with any of the metazoan MAGUK types, as we would expect if LGT between metazoans and those protists had taken place (see Additional file
4
).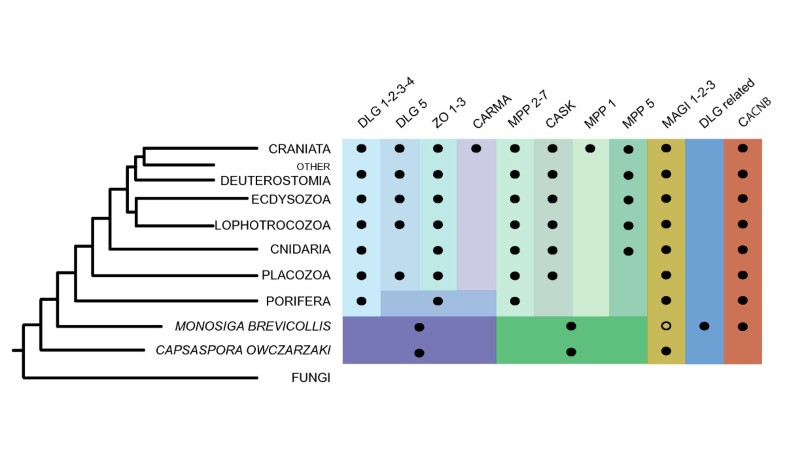 Interestingly, we have also identified three unique MAGUK-like proteins in M. brevicollis. Two of them present the canonical PDZ-SH3-GUK domains of MAGUK, but with several consecutive PDZ domains at both the N-terminal and C-terminal ends. One of those M. brevicollis MAGUK proteins homolog has several GUK duplications, and the third one has an additional protein domain: a phosphatase kinase (see Figure 4). All these MAGUK-like proteins constitute novel domain architectures that had not been found in any other organism up to now. Novel protein domain arrangements that include several consecutive copies of a domain have already been found in M. brevicollis [17]. Whether these MAGUK-like protein domain arrangements are also present in other choanoflagellates or in other opisthokont protists remains unclear. In any case, our data shows that choanoflagellates, or at least M. brevicollis, underwent an independent lineage-specific diversification of the MAGUK protein gene family. Functional analysis on these genes may clarify what roles the different genes are playing in M. brevicollis.
In fact, the role of MAGUK proteins in these premetazoan taxa remains an open question. In the sponge A. queenslandica both the DLG and MAGI homologs are specifically expressed only in epithelia-like tissue [18]. Moreover, it has been shown that A. queenslandica has and expresses several other components of the synaptic junction [18]. Interestingly, those components are expressed in the flask cells and the epidermis. It is therefore possible that the interaction between MAGUKs and the complex protein scaffolds found in eumetazoan post-synaptic scaffolds or in tight-junctions, was already present in sponge. To which components M. brevicollis or C. owczarzaki MAGUKs interact is unknown. Answering this is beyond the scope of this manuscript. Such information, however, may be crucial to decipher the role of MAGUKs in unicellular taxa. Moreover, additional data from colonial choanoflagellates or ichthyosporeans should yield important insights into this question, since they may harbor some scaffolding assemblages that enable the different cells in the colony to communicate.
Evolutionary history of MAGUK
Our data show that although the MAGUK family most probably originated within choanozoans (i.e. unicellular lineages that are most closely related to Metazoa), it clearly expanded within metazoans. In fact, it seems that the expansion of MAGUKs in metazoans occurred at least in two distinctive periods in the course of evolution, as observed in many other protein families [19]. The first expansion occurred at the very early metazoan evolution before the divergence between sponges (or placozoans) and the rest of metazoans. The second expansion is likely to have happened at the early evolution of vertebrates. Accordingly, both Porifera and Placozoa have several extra MAGUKs classes, and Vertebrata has two exclusive classes, CARMA and MPP1, that were most probably generated by independent duplications in the vertebrate lineage.
The analysis of the protein domain organization mapped onto our phylogenetic analysis sheds some light on the evolutionary history of MAGUKs. For example, a duplication of a protein kinase domain followed by its recruitment in the N-terminal site of one MPP protein brought about a new type of MAGUK, the CASK class. This event probably took place either in the common ancestor of Placozoa and Eumetazoa, or at the origin of Metazoa followed by the loss of this MAGUK type in Porifera (Figure 5). Moreover, the vertebrate-specific MPP1 class seems to have derived from CASK, most probably by an additional duplication of the CASK homolog in vertebrates followed by the loss of the protein kinase domain and the two L27 domains. Vertebrates have the largest repertoire of MAGUKs. Not only do they have the vertebrate-specific MAGUK classes such as CARMA and MPP1, but they also have several genes that appear to have diverged in the early vertebrate evolution (e.g. in the DLG1-4, MAGI and ZO classes, vertebrates have three or four such genes). Although the sponge A. queenslandica has a MAGUK with the typical CARMA domain architecture (a CARD domain, a PDZ domain, an SH3 domain and a GUK domain), it branches as the sister-group to the entire DLG5, CARMA and ZO group. We hypothesize this A. queenslandica gene represents the ancestral form of this whole group. In fact, DLG5 and ZO are already present both in the placozoan T. adhaerens and in all other eumetazoans, except for the cnidarian N. vectensis which does not have a DLG5 homolog. The class CASK is also present both in T. adhaerens and in other eumetazoans. This indicates that CASK, DLG5 and ZO arose prior to the divergence between placozoans and the rest of eumetazoans.
It is worth mentioning that the interpretation of these results needs additional data, since the phylogenetic position of the basal metazoans is still under debate (see [20–24]). If the placozoan T. adhaerens is indeed the sister-group of cnidarians and Bilateria [20, 24], then CASK, DLG5, and ZO appeared in the common ancestor of both placozoans and eumetazoans; and the DLG5 homolog was lost in the cnidarian lineage. However, if placozoans are indeed the most basal metazoans or sister-group to sponges [21, 22], then the lineage leading to sponges (or A. queenslandica) did lose their ZO, CASK and DLG5 representatives. Finally, and even though the topology of the MAGUK tree remain the same with whatever method used, some of the nodes of our tree do not have high bootstrap values. Thus, some of the implications regarding the evolutionary history of MAGUK within metazoans may need to be revisited with additional data.
Conclusions
In this study we have identified several MAGUK and MAGUK-like homologs in premetazoan taxa. Overall, our data show that the MAGUK protein gene family is not exclusive to Metazoa. This gene family most probably diversified within the opisthokonts before the divergence between Capsaspora and the Choanoflagellata + Metazoa clade. Thus, DLG, MPP and MAGI were already present in the last common ancestor of the Metazoa, choanoflagellates and Capsaspora+Ministeria (Filasterea) clade. The family further diversified within metazoans, most probably in two major episodes (early metazoan and early vertebrate evolution) and up to ten different MAGUK types evolved with different roles.
The choanoflagellate M. brevicollis has, independently of Metazoa, undergone a lineage-specific diversification of MAGUK-like proteins that have unique domain architectures. This represents a diversification independent from the one occurred in Metazoa. Additional genomic data from other choanoflagellate taxa will help elucidate whether this diversification is specific to choanoflagellates or just to the M. brevicollis species. Moreover, M. brevicollis has different and unique MAGI-like homologs, not found in Metazoa. Functional analyses will be needed to better understand the roles of MAGUKs in the unicellular relatives of Metazoa.
Declarations
Acknowledgements
Preliminary sequence data were obtained from the Department of Energy Joint Genome Institute, the Broad Institute, and NCBI websites. Genome sequencing of Capsaspora owczarzaki is being undertaken at the Broad Institute under the auspices of the National Human Genome Research Institute (NHGRI) and within the UNICORN initiative. We thank both the JGI and the Broad Institute for making data publicly available. We thank Bernard Degnan for accession to the Amphimedon proteome data. We also thank Andrew J. Roger, Arnau Sebé, Jordi Paps, and Romain Derelle for helpful insights. This work was supported by an ICREA contract, an ERC Starting Grant (206883), and a grant (BFU2008-02839/BMC) from MICINN to IR-T. AdM's salary was supported by a pre-graduate grant from MICINN, and HS's salary by an ERC Starting Grant to IR-T and by a Marie Curie Intra European Fellowship to HS.
Authors' Affiliations
(1)
Departament de Genètica & Institut de Recerca en Biodiversitat (Irbio), Universitat de Barcelona, Barcelona, Spain
(2)
Institució Catalana per a la Recerca i Estudis Avançats (ICREA); Parc Científic de Barcelona, Barcelona, Spain
Copyright
© de Mendoza et al; licensee BioMed Central Ltd. 2010
This article is published under license to BioMed Central Ltd. This is an Open Access article distributed under the terms of the Creative Commons Attribution License (http://creativecommons.org/licenses/by/2.0), which permits unrestricted use, distribution, and reproduction in any medium, provided the original work is properly cited.