Research article
Open Access
Fossil gaps inferred from phylogenies alter the apparent nature of diversification in dragonflies and their relatives
BMC Evolutionary Biology
2011
11:252
Received: 8 April 2011
Accepted: 14 September 2011
Published: 14 September 2011
Abstract
Background
The fossil record has suggested that clade growth may differ in marine and terrestrial taxa, supporting equilibrial models in the former and expansionist models in the latter. However, incomplete sampling may bias findings based on fossil data alone. To attempt to correct for such bias, we assemble phylogenetic supertrees on one of the oldest clades of insects, the Odonatoidea (dragonflies, damselflies and their extinct relatives), using MRP and MRC. We use the trees to determine when, and in what clades, changes in taxonomic richness have occurred. We then test whether equilibrial or expansionist models are supported by fossil data alone, and whether findings differ when phylogenetic information is used to infer gaps in the fossil record.
Results
There is broad agreement in family-level relationships between both supertrees, though with some uncertainty along the backbone of the tree regarding dragonflies (Anisoptera). "Anisozygoptera" are shown to be paraphyletic when fossil information is taken into account. In both trees, decreases in net diversification are associated with species-poor extant families (Neopetaliidae, Hemiphlebiidae), and an upshift is associated with Calopterygidae + Polythoridae. When ghost ranges are inferred from the fossil record, many families are shown to have much earlier origination dates. In a phylogenetic context, the number of family-level lineages is shown to be up to twice as high as the fossil record alone suggests through the Cretaceous and Cenozoic, and a logistic increase in richness is detected in contrast to an exponential increase indicated by fossils alone.
Conclusions
Our analysis supports the notion that taxa, which appear to have diversified exponentially using fossil data, may in fact have diversified more logistically. This in turn suggests that one of the major apparent differences between the marine and terrestrial fossil record may simply be an artifact of incomplete sampling. Our results also support previous notions that adult colouration plays an important role in odonate radiation, and that Anisozygoptera should be grouped in a single inclusive taxon with Anisoptera, separate from Zygoptera.
Keywords
Fossil RecordPhylogenetic InformationTaxonomic RichnessInput TreeCrown Group
Background
Understanding past changes in biodiversity is a fundamental part of predicting the future of the Earth's ecosystems [1, 2]. Phylogenies and the fossil record provide two complementary windows on temporal variation in biodiversity. The most traditional, palaeontological approach is to document the gain and loss of taxa in the fossil record without recourse to phylogenetic information [3–6]. Although the fossil record provides a direct timescale for observations and contains explicit information about extinction, it is incomplete, and more robust at higher taxonomic levels. A more recent, neontological approach is to analyse the shape of phylogenetic trees of extant taxa, revealing heterogeneity in the net rate of cladogenesis across taxa or through time [7, 8]. This allows researchers to compare like with like through identifying sister taxa, but relies on the fossil record to provide a direct timescale, and does not contain explicit information about extinction. Combining fossil with phylogenetic information provides the potential therefore to combine the advantages of both to make more robust inferences about macroevolution [9, 10]. In this paper we first summarise phylogenetic information for a long-lived clade of insects, the Odonatoidea (dragonflies and their relatives) and then combine it with fossil information to infer temporal changes in their diversification.
Identifying changes in the rate of diversification is central to understanding macroevolutionary processes. The simplest model of clade growth is an exponential one, where the rate of increase of taxa is constant through time [11, 12]. The next simplest alternative is logistic growth, an equilibrium model with the growth of the clade declining as richness rises, through competition. Establishing whether or not clade growth follows expansionist or equilibrial models can therefore contribute towards establishing whether biotic interactions are important in macroevolution, as implied by the Red Queen paradigm [1, 13]. Rates of speciation and extinction are also commonly variable across clades [7]. Identifying which evolutionary branches have experienced shifts in their macroevolutionary rates is therefore a first step towards establishing which evolutionary or ecological events might be responsible.
The insects comprise the majority of extant described species. Previous work on insect macroevolution [14] began with the traditional taxic approach from palaeontology [4, 15], to which was added the neontological phylogenetic approach [16–19] which has identified a number of evolutionary and ecological processes that have shaped insect diversity [14]. Data have suggested that overall rise in taxonomic richness may be declining modestly towards the present [4], although not strongly so [15], and not in many recent radiations [14]. This is consistent with the generally exponential increase in taxa in the terrestrial fossil record [5, 11, 12, 15] in comparison to the marine record [6]. However the relative incompleteness of the insect record may provide a source of bias, because the true originations of clades likely occurred prior to their first appearance in the fossil record. Using phylogenies to infer ghost ranges, Davis et al. [19] showed that a number of insect orders likely originated prior to their first fossil appearance, making the increase in orders through time look more logistic. The analysis of order-level trends however raises problems; there is a greater risk of paraphyly, complicating the estimation of ghost ranges, and changes in order richness do not necessarily reflect changes at lower taxonomic levels [20]. It would therefore be useful to examine patterns of diversification at a lower taxonomic level, in a clade of insects of equivalent age to the whole class, which previous studies have only achieved using the traditional taxic palaeontological approach.
Despite being less speciose than many other insect orders, the Odonatoidea (Odonata plus the extinct Protodonata) (= Holodonata [21], = Neodonatoptera [22]) are among the most ancient of all living continental fauna, with a fossil record extending back 320 million years, surviving several mass-extinction events [21]. Their accessibility as study systems has informed on many questions in ecology, evolution, and conservation biology [23]. This study aims to summarise existing phylogenetic information on the Odonatoidea by constructing a supertree at the family level. We first apply a neontological approach to the tree to detect where shifts in the net rate of diversification have occurred, and then combine the phylogenetic information with fossil record data to observe patterns of family-lineage richness over time.
Results
Phylogeny
Both the MRP and the MRC phylogenies (see Figure
1
) show the divergence of the Zygoptera (damselflies) and Anisoptera (true dragonflies) + "Anisozygoptera" into two robustly supported monophyletic groups (V scores: Zygoptera, +0.280; Anisoptera + "Anisozygoptera", +0.714). The Anisoptera are nested within a paraphyletic assemblage of "anisozygopteran" families, comprising five main lineages, including the extant family Epiophlebiidae belonging to its own exclusive lineage. The whole crown group of extant odonate families nests within a paraphyletic assemblage of fossil protodonate and odonate families. The backbone of the tree as a whole in both MRP and MRC analyses is robustly supported with primarily positive V scores for clades. The only clade receiving a negative V score is crown group Odonata (V = -0.111), though there is some uncertainty regarding the backbone in Anisoptera, where some clades are not found in all equally optimal trees and there are differences in the most commonly found relationships between MRP and MRC analyses. However, the MRP and MRC trees are largely similar at lower levels (Figure
1
). For V and V+ scores of individual clades see additional file
5
.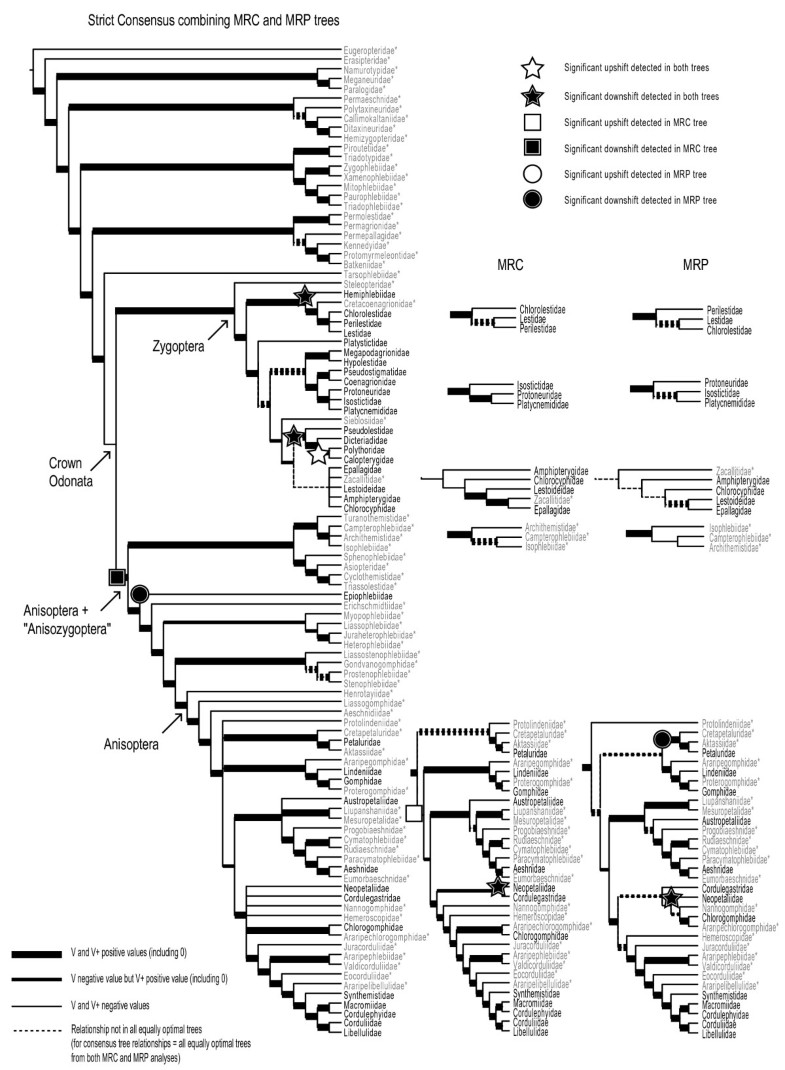 Diversification
Both the MRP and MRC majority rule supertrees show significant shifts in net rates of diversification (Figure 1). Both show downshifts in the single family lineages Hemiphlebiidae (Zygoptera) and Neopetaliidae (Anisoptera), and a downshift in the lineage leading to Pseudolestidae + Dicteriadidae + Polythoridae + Calopterygidae (Zygoptera), before a subsequent positive shift in the lineage leading to Polythoridae + Calopterygidae. All shifts except that involving Neopetaliidae occur at the base of clades obtaining positive V scores, and in the case of Neopetaliidae, a significant downshift is detected despite differing placement in the two trees. Other upshifts and downshifts detected are shown in just one tree or the other. These shifts are detected in the region of uncertainty regarding the backbone of the Anisoptera clade - a downshift in the Petaluridae lineage (MRP), or a downshift in a clade comprising Epiophlebiidae + Petaluridae + Lindeniidae + Gomphidae + Austropetaliidae + Aeshnidae + Neopetaliidae + Cordulegastridae + Synthemistidae + Macromiidae + Libellulidae + Corduliidae, then a subsequent upshift in this clade to the exclusion of Epiophlebiidae and Petaluridae (MRC). See additional file 6 for sister group species richness comparisons in full.
Family richness, originations and extinctions
Aside from family extinctions at the end of the Permian and Triassic, a lineage through time plot based on fossil information only (Figure
2
) shows an increase in the number of family-level lineages leading up to the Jurassic-Cretaceous boundary. The increase in richness is interrupted by extinctions and origination events throughout the Cretaceous, including a significant extinction at the Lower-Upper Cretaceous boundary, before a sharp rise in richness to the present.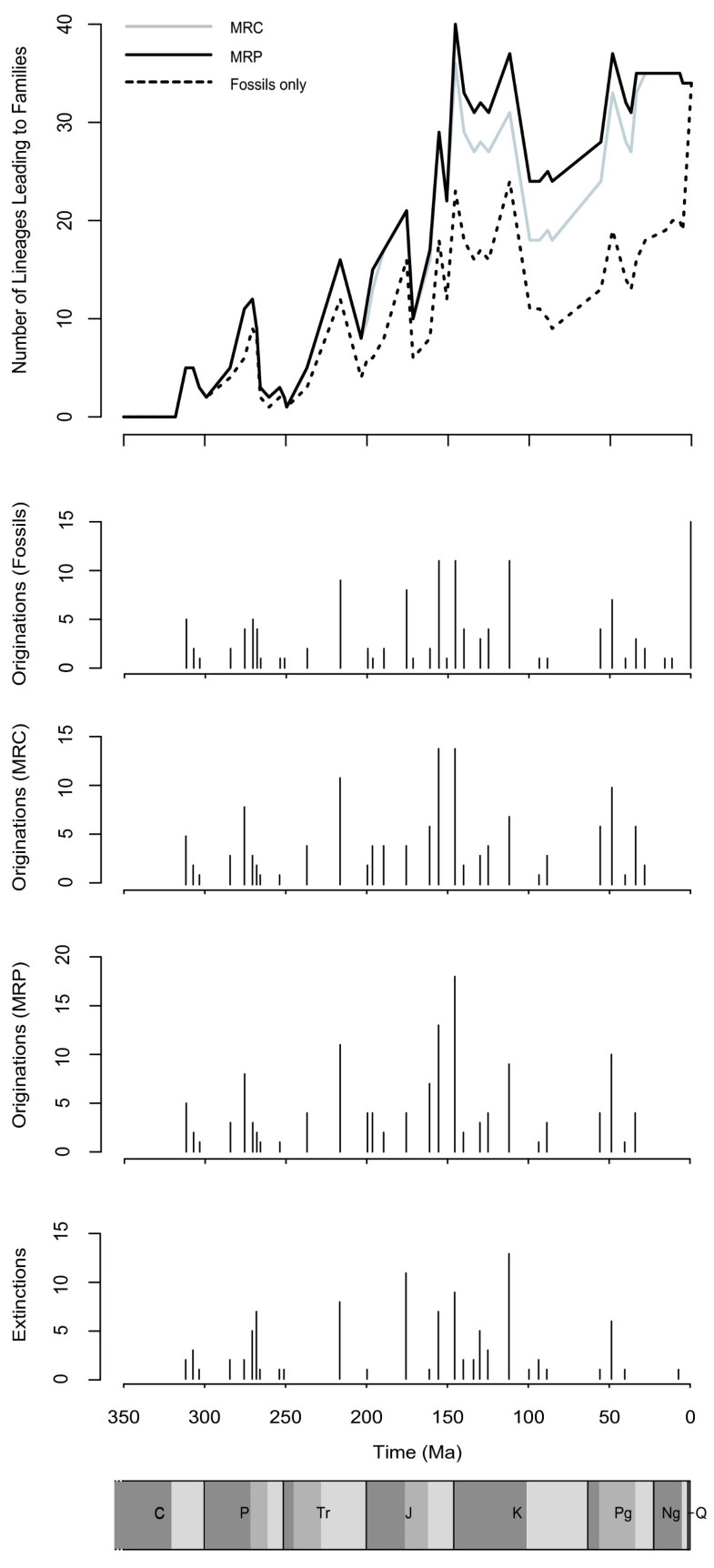 The inclusion of ghost range information shows a slightly different scenario. Both MRP and MRC-based analyses give similar pictures. As expected with ghost ranges inferred, earlier originations occur in the phylogeny-adjusted models, and richness is higher (see Figure 2). With ghost ranges inferred, between 46 (MRC) and 50 (MRP) families have their fossil ranges extended (see additional file 4 for details), with the most dramatic extension for Epiophlebiidae (0 to 196.5 my). Although the same extinction events are apparent, the rise in family-level lineages is slightly sharper in the Triassic and rises dramatically during the Jurassic. The ultimate impact of this is that richness calculated using fossil information alone is only 57-64% of that calculated using phylogenetic information by the end of the Jurassic. Patterns of origination and extinction are similar in all scenarios through the Cretaceous, and while higher richness is evident in the Cenozoic with ghost ranges inferred, the level of richness is stable, compared to the rapid rise in richness found based only on fossil data.
Generalized least squares, accounting for temporal autocorrelation in the residuals, supports the inclusion of a quadratic (i.e. curvilinear) temporal component to log richness for both the MRC supertree (t = -2.65, df = 43, p = 0.011) and the MRP supertree (t = -3.12, df = 43, p = 0.0032). However, for the fossil data alone inclusion of the quadratic term is not well-supported (including extant richness t = -1.49, df = 43, p = 0.144; not including extant richness t = -1.93, df = 42, p = 0.06).
Discussion
Odonata phylogeny
Two alternative supertree analyses, representing the largest family-level phylogenetic analysis of Odonatoidea to date, converge on a very similar topology, with overall positive support, indicating general agreement between input trees regarding many relationships within the tree (Figure 1). Therefore based on primary studies from which input trees have been acquired, we can summarise the following consensus regarding relationships within Odonatoidea, following supertree analysis. Importantly, Zygoptera are a monophyletic suborder, separate to Anisoptera (+ "Anisozygoptera"), which refutes previous hypotheses suggesting Zygoptera could be a paraphyletic grade towards Anisoptera [50, 51]. "Anisozygoptera", although considered a modern suborder, and regarded as such in recent phylogenetic analyses [e.g. [52]] based on the single extant family Epiophlebiidae, should not be given official taxonomic status. As can be seen, with inclusion of fossil taxa, "Anisozygoptera" is a paraphyletic assemblage with Anisoptera nested within.
It is important that the backbone of the tree receives mostly positive V support, and provides a solid framework to analyse evolutionary questions at a high level in Odonatoidea, though there are some areas of the tree which do remain problematic. The negative support (representing much conflict in the constituent input trees) at the node representing crown Odonata is initially concerning. However, there is much agreement for monophyletic Zygoptera and Anisoptera + "Anisozygoptera" and the negative support for the crown group as a whole represents uncertainty relating to the placement of the fossil family Tarsophlebiidae (i.e. is it included in the crown group or not?). In both supertrees Tarsophlebiidae sits outside the crown group, yet it is represented both within [53, 54] and outside [55] of the crown group in input trees, and Bybee et al. [56] show these alternative scenarios in different analyses. Input trees do not concur well over the position of this taxon, and though the debate rolls on, recent fossil evidence supports the more basal position for Tarsophlebiidae that we find here [57].
The most important phylogenetic uncertainty to target in future work must be along the backbone of the Anisoptera clade with most topological differences between the two supertree methods occurring here, and this does affect the result of diversification analyses (see below). However, below the suborder level there is much agreement in relationships. The supertree presented here should be regarded as a work in progress since taxonomic revisions, discovery of new fossil forms, and new molecular data for the order are now commonly reported. Furthermore, the inclusion of more fossil families may help resolve the tree further, but many are yet to be included in phylogenetic analyses.
Significant shifts in diversification and potential morphological innovations
Previous work by Misof [58] identified two major characteristics within Anisoptera families that are positively correlated with species richness: the evolution of elaborate colour patterns and the evolution of sexual dimorphism in colouration (sexual dimorphism in body size is common in all Anisoptera [59]), features often linked to the process of sexual selection and its role in speciation.
Downshifts in net diversification are inferred from the low extant richness of Hemiphlebiidae, Neopetaliidae (both significant downshifts in both trees), Epiophlebiidae, Petaluridae (both significant downshifts in the MRP tree) and a clade containing Pseudolestidae (significant in both trees, preceding a later upshift in Polythoridae and Calopterygidae). All these families have simple body colouration patterns [60], consistent with Misof [58]. In addition the families Polythoridae and Calopterygidae both show dramatic bright and sexually dimorphic colouration and are associated with a robust diversification upshift in both trees. Our results therefore combine well with Misof's findings by demonstrating where identifiable radiations and restrictions have likely occurred. In addition to these features, Epiophlebiidae also has long larval stages (5-6 y), which could feasibly increase extinction risk or hinder speciation [14]. The Neopetaliidae has extremely specialised niches (riverside caves) possibly restricting its diversification. In the latter two cases though, such characteristics might just be those of surviving species rather than the families as a whole, so caution is required. A fuller determination of the causes of any shifts would benefit from an analysis at finer taxonomic resolutions. The use of simple topology-based statistics in the absence of fossil data and extinct taxa likely limits the inferences that can be made on diversification shifts, and may induce biases [see [61, 62]]. Hence the findings presented here should be revisited as the opportunity to incorporate new data and more complex, and potentially realistic, diversification models presents itself.
Family richness through time
Fossil record-only analysis follows some similar short term variation to the phylogeny-based analyses, but phylogeny-based analyses show some noticeably higher increases in family-level lineage richness through the Triassic and Jurassic, and we show that richness was likely much higher through the Cretaceous and then consequently the Cenozoic than can be shown by using the fossil record alone (Figure 2). It is most probable that the extensions of fossil ranges we infer are quite conservative [63], but the impact of including such information is evident in our analyses. The divergence between the fossil and phylogenetic richness curves (Figure 2) accumulates gradually throughout the timeline, and is notable towards the end of the Jurassic, suggesting that many lineages with much later first fossils are rather first found here. This may of course partly represent an abundance of suitable fossil-bearing strata instead of, or as well as, a genuine set of first originations. It therefore remains possible that the taxa involved actually have still earlier origination dates. If true however, this would only strengthen our findings by making the true richness curve appear even more logistic. Using fossil data alone there is a suggestion of a slow-down in the net rate of origination that is not significant, mirroring the insect fossil record as a whole [4]. Both the phylogenetic analyses however alter the fossil-based curve to a more logistic model, with a sudden increase in family richness through the Jurassic being the most noticeable difference. There has been debate in the past over whether the fossil record for all organisms exhibits logistic growth, or whether it has been exponential but punctuated with mass extinctions that limit the level of taxonomic diversity [64]. However, given that an approximately exponential increase in richness can turn to a logistic one after accounting for gaps in the fossil record, our results suggest that caution should be applied to other such cases, particularly in the terrestrial record where the evidence for logistic growth has so far been thinner [11, 12, 15].
After accounting for the general trend in taxonomic richness, variation around this trend remains. Some of this coincides with well-documented mass-extinctions and recoveries, including here the end-Permian, but in other cases, such as the end-Cretaceous, no effect is seen [see also 65]. In the fossil record as a whole, fluctuations are known to correlate with a number of environmental and geophysical variables [66, 67]. The sudden increase in richness in the Jurassic coincides with an icehouse climate mode [68], as is the case for the initial radiation of Odonatoidea in the Carboniferous, consistent with the findings of Mayhew et al. [66]. Also, notable changes to freshwater ecosystems occurred in the Jurassic with the radiation of aquatic Diptera and other animal taxa that are today important food sources for Odonata [69]. Though the environmental correlates of Odonata richness through time requires a fuller study, our results suggest that such studies could benefit from incorporation of phylogenetic information.
Conclusions
Phylogenetic information provides one way to adjust for the imperfections and biases inherent in analyses of fossil data. When such information is used to address family-level richness in an ancient clade of insects, different models of macroevolution are supported. The more logistic pattern of diversification we observe when phylogenetic information is included in such a study is in contrast to the exponential pattern of increases in odonate richness suggested by the fossil record alone, and the terrestrial record more generally. These results therefore imply that some of the major differences between the marine and terrestrial records are artifacts of incomplete sampling. Our supertrees provide a baseline for further macroevolutionary, comparative and phylogenetic studies of Odonata and Protodonata.
Declarations
Acknowledgements
RBD was supported by a BBSRC studentship. RBD was also supported by targeted financing project SF0180122s08 and by the European Union through the European Regional Development Fund (Center of Excellence FIBIR).
Authors' Affiliations
(1)
Department of Biology, University of York, York, UK
(2)
Department of Zoology, University of Tartu, Tartu, Estonia
(3)
Department of Palaeontology, The Natural History Museum, London, UK
(4)
National Museums of Scotland, Department of Natural Sciences, Edinburgh, UK
Copyright
© Davis et al; licensee BioMed Central Ltd. 2011
This article is published under license to BioMed Central Ltd. This is an Open Access article distributed under the terms of the Creative Commons Attribution License (http://creativecommons.org/licenses/by/2.0), which permits unrestricted use, distribution, and reproduction in any medium, provided the original work is properly cited.