Research article
Open Access
RT-qPCR reveals opsin gene upregulation associated with age and sex in guppies (Poecilia reticulata) - a species with color-based sexual selection and 11 visual-opsin genes
BMC Evolutionary Biology
2011
11:81
Received: 2 November 2010
Accepted: 29 March 2011
Published: 29 March 2011
Abstract
Background
PCR-based surveys have shown that guppies (Poecilia reticulata) have an unusually large visual-opsin gene repertoire. This has led to speculation that opsin duplication and divergence has enhanced the evolution of elaborate male coloration because it improves spectral sensitivity and/or discrimination in females. However, this conjecture on evolutionary connections between opsin repertoire, vision, mate choice, and male coloration was generated with little data on gene expression. Here, we used RT-qPCR to survey visual-opsin gene expression in the eyes of males, females, and juveniles in order to further understand color-based sexual selection from the perspective of the visual system.
Results
Juvenile and adult (male and female) guppies express 10 visual opsins at varying levels in the eye. Two opsin genes in juveniles, SWS2B and RH2-2, accounted for >85% of all visual-opsin transcripts in the eye, excluding RH1. This relative abundance (RA) value dropped to about 65% in adults, as LWS-A180 expression increased from approximately 3% to 20% RA. The juvenile-to-female transition also showed LWS-S180 upregulation from about 1.5% to 7% RA. Finally, we found that expression in guppies' SWS2-LWS gene cluster is negatively correlated with distance from a candidate locus control region (LCR).
Conclusions
Selective pressures influencing visual-opsin gene expression appear to differ among age and sex. LWS upregulation in females is implicated in augmenting spectral discrimination of male coloration and courtship displays. In males, enhanced discrimination of carotenoid-rich food and possibly rival males are strong candidate selective pressures driving LWS upregulation. These developmental changes in expression suggest that adults possess better wavelength discrimination than juveniles. Opsin expression within the SWS2-LWS gene cluster appears to be regulated, in part, by a common LCR. Finally, by comparing our RT-qPCR data to MSP data, we were able to propose the first opsin-to-λmax assignments for all photoreceptor types in the cone mosaic.
Keywords
Opsin GeneLocus Control RegionMale ColorationCone OpsinOpsin Expression
Background
For the better part of a century, guppies (Poecilia reticulata) have served as a model organism for the study of male coloration, courtship displays, female mate-choice, and visual-pigment evolution [1–8]. Within these, and in other aspects of guppy life-history, a large number of sex- and population-specific morphological and behavioral characteristics have been described [3, 9–14], with the most salient of this variation being guppies' pronounced sexual dimorphism. For example, the Cumaná guppy studied here, from a human perspective, exhibits polymorphic black, red, orange, yellow, and iridescent color patterns in males, while females are green, yellow, and iridescent. In areas of low-predation, such as that of Cumaná guppies, male coloration increases and serves as an indicator of fitness to females, while under high predation pressure this coloration is subdued [15, 16]. Thus, conspicuous male coloration is a trade-off as it attracts both females and predators [16]. These observations suggest that color vision, at least in females, plays an important role in mate choice and, therefore, in the evolution of variation in male coloration.
Vision is mediated by membrane-bound photoreceptors encoded by opsin genes. The opsin family has been broadly sorted into three subfamilies: photoisomerases, rhabdomeric opsins (r-opsins), and ciliary opsins (c-opsins) (reviewed by Lamb et al. [17, 18]). Although r-opsins are used for vision in protostomes the term 'visual opsin' has been used to describe the c-opsins expressed in vertebrate rods and cones. Visual opsins have been categorized into five spectral classes: LWS, SWS1, SWS2, RH2, and RH1 [19]. The first four of these opsin classes facilitate cone-based photopic (bright light) vision and color perception, while RH1, the most recently evolved of the five spectral classes [20, 21], facilitates rod-based scotopic (low light) vision. Visual-opsin gene loss and duplication and divergence have generated extensive repertoire variation among vertebrates that, in many cases, correlates to spectral environment (see reviews [22, 23]).
Remarkably, the Cumaná guppy genome encodes at least 11 visual opsins. This repertoire includes one RH1 gene, three short wavelength-sensitive genes (SWS1, SWS2A, and SWS2B), two middle wavelength-sensitive genes (RH2-1 and RH2-2), and four long wavelength-sensitive (LWS) genes: A180, P180, S180, and S180r. The eleventh gene is a hybrid locus (A180 with a P180 3' end) that has not been detected in other guppy populations [6–8, 24]. The observation that amino acid substitutions have occurred at key sites, even among recent duplicates (e.g., A180 and S180) [8] suggests that much, if not all, of this diversity is a product of selection.
Long before the guppy opsin gene repertoire was characterized, microspectrophotometry (MSP) data indicated that guppies had several distinct classes of retinal photoreceptor cells (hereafter referred to as, 'photoreceptors'). These include ultraviolet (UV), short- and middle-wavelength sensitive cones with maximal absorption (λmax) at 359/389, 410, and 465 nm, respectively, as well as one or more of three LWS cones with λmax values clustering at 533, 543, and 572 nm. Rod λmax was also characterized at about 503 nm [25–27]. Collectively, these findings implicate photoreceptor-level expression of at least six of the 11 visual-opsin genes found in guppies, though it has not been possible, until now, to associate each λmax to a specific opsin and photoreceptor morphology (or 'type').
In several fish species a large visual-opsin gene repertoire appears to play an important role in the tuning of vision for particular environments (see reviews [28, 29]). While these examples of vision tuning deal with wavelength sensitivity, evidence of increased color discrimination by means of an expanded opsin gene repertoire has recently been shown in non-teleost species. Transgenic mice expressing three instead of two LWS opsins exhibited enhanced discrimination of red and orange wavelengths of light [30]. Similarly, Mancuso et al. [31] demonstrated that it was possible to treat adult squirrel monkey (Saimiri sciureus) congenital red-green color blindness using LWS-recombinant adeno-associated virus (rAAV) gene therapy. The intriguing implication of these studies is that retinal circuitry and higher order neuronal processes are either sufficient or adapt to mediate this augmentation to congenital vision. Thus, the potential for guppies to have increased color sensitivity and/or discrimination seemingly hinges on if, and to what extent, these 'extra opsins' are expressed in the retina.
Although all 10 non-hybrid visual opsins are expressed at the mRNA level in Cumaná guppy eyes [8, 24], little is known about the relative abundance of each opsin. Ward et al. [8] indicated that LWS expression is predominated (>97%) by A180 transcripts; however, only three adult fish were surveyed. Here we used reverse transcription quantitative PCR (RT-qPCR) to characterize expression levels of all non-hybrid visual opsins. We surveyed males, females, and juveniles in order to test the hypothesis that sexual selection influences color vision in guppies. As adults, males exhibit elaborate red, orange, and yellow colorations that strongly influence female mate choice [2–4, 8, 32–34]. Since embryos and juveniles do not show these characteristic colors, and by definition are not sexually active, we predicted that if opsin gene expression plays a role in color-based sexual selection, then LWS upregulation will coincide with sexual maturity. Finally, the recent discovery that SWS2 and LWS occur in a tandem array in Cumaná guppies [35] allowed us to test the hypothesis that distance from a candidate LCR influences opsin expression in guppies, as is the case for human LWS/MWS [36, 37] and zebrafish (Danio rerio) RH2s [38].
Results
Guppies express all 10 non-hybrid visual opsins in the eye at varying levels depending on age and sex (Figure
1
). In juveniles, two genes (
SWS2B
and
RH2-2
) accounted for >85% of visual opsin transcripts in the eye, excluding
RH1
(Figure
2A
). In adults, the relative abundance (RA) of
SWS2B
and
RH2-2
transcripts decreased to about 65%, apparently making room for the increase in
A180
transcripts from approximately 3% to 20%, while the juvenile-to-female transition showed
S180
upregulation from about 1.5% to 7% (Figure
2A-B
). In all samples,
A180
was the predominant
LWS
expressed (Figure
2A
). Data from our secondary survey showed a statistically significant (p < 0.004) increase in female
S180
expression and a small but statistically significant (p < 0.005) increase in female
A180
expression relative to males (based on independent student's unpaired
t
-tests for each gene; statistical significance was set at: p < 0.05) (Figure
2C
). We also detected a small amount of variation (0.32%, p < 0.0001) between left and right eye expression (based on two-way ANOVA of all left and right eye values); however, no significant difference (p = 0.6136) was seen between left and right eye expression overall (student's unpaired
t
-test; statistical significance was set at: p < 0.05). Mean expression across cDNA samples for each opsin gene within the
SWS2-LWS
cluster was higher for genes closest to the candidate LCR, while
S180r
, unlinked to the other
LWS
[
41
], showed the least expression.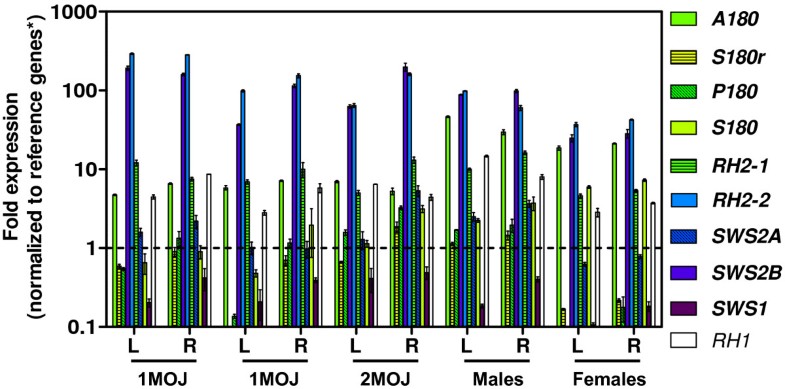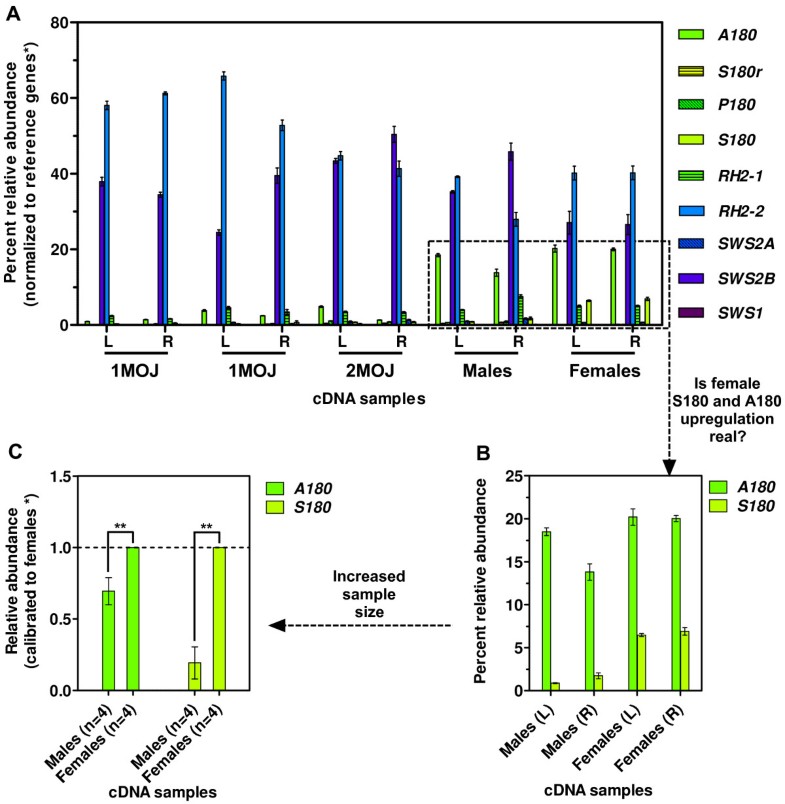 Discussion
The recent discovery that Cumaná guppies (P. reticulata) express 10 of their 11 visual-opsin genes in adult eyes [6, 8, 24], suggested that this species possesses enhanced wavelength sensitivity and/or discrimination. Characterization of this repertoire was particularly exciting given the wealth of data on color-based sexual selection in this species. However, RT-qPCR data reported here indicates that the guppy eye might not be the irradiance detector we had initially envisioned.
Conclusion
Our RT-qPCR analysis of visual-opsin gene expression in juvenile and adult guppies has enabled us to propose the first opsin-to-λmax assignments for all photoreceptors in the cone mosaic. Where SWS1 (λmax ≈ 359 nm) is expressed in SCs, SWS2B (λmax ≈ 408 nm) is expressed in LCs, RH2-2 (λmax ≈ 465 nm) is expressed in the accessory member of DCs, and LWS opsins (A180, λmax ≈ 540 nm, predominating in Cumaná guppies) are expressed in the principle member of DCs, LWS ventral twin-DCs, and ventral LCs. Variation in λmax of LWS cones among guppies appears to be a result of individual and/or population level differences, which likely explains the low-abundance LWS transcripts detected in the present study. Although our results indicate that Cumaná guppy juveniles, males, and females are at least di-, tri-, and tetra-chromatic, respectively, it is important to keep in mind that opsin coexpression and differential spatial-temporal expression may enable low-abundance opsins to be visually relevant. in situ hybridization experiments will be carried out to test this hypothesis.
Marked LWS (A180 and to lesser extent S180) upregulation in adults coincides with males donning orange and red spots, whose area and color saturation positively correlate with reproductive fitness and carotenoid-rich food ingestion. Given this, and that behavioral studies suggest that adults may have greater discriminatory abilities at longer wavelengths light than juveniles, LWS upregulation in adults is implicated in enhancing spectral discrimination of male coloration and carotenoid-rich foods, with the former seeming to have arisen from a sensory bias of the latter.
In the SWS2-LWS gene cluster, genes closest to the candidate LCR, SWS2B and A180, exhibited the highest expression. However, locus distance to a LCR does not always negatively correlate with expression in other teleosts, indicating that additional regulatory factors are present. This may account for the differences in LWS-cone λmax among guppy populations and individuals.
Declarations
Acknowledgements
The authors thank Felix Breden, Corey Watson, and Ben Sandkam of Simon Fraser University for helpful comments and discussions, as well as for sharing unpublished sequence and MSP data, and special thanks to Anna von Rossum of Simon Fraser University for editing the manuscript. Additional thanks to researchers from the University of Victoria: Roderick Haesevoets from the Centre for Biomedical Research DNA Sequencing Facility, Caren Helbing for aid in developing a qPCR buffer, Brad Anholt for use of his Stratagene® Mx4000® Multiplex Quantitative PCR machine, and Nigel Livingston for use of his Ocean Optics Inc USB2000 spectrophotometer. This work was supported by the Natural Sciences and Engineering Research Council of Canada.
Authors' Affiliations
(1)
Department of Biology, University of Victoria, Victoria, Canada
Copyright
© Laver and Taylor; licensee BioMed Central Ltd. 2011
This article is published under license to BioMed Central Ltd. This is an Open Access article distributed under the terms of the Creative Commons Attribution License (http://creativecommons.org/licenses/by/2.0), which permits unrestricted use, distribution, and reproduction in any medium, provided the original work is properly cited.