Research article

Open Access
Morphology and function in the Cambrian Burgess Shale megacheiran arthropod Leanchoilia superlata and the application of a descriptive matrix
BMC Evolutionary Biology
2012
12:162
Received: 26 May 2012
Accepted: 17 August 2012
Published: 30 August 2012
Abstract
Background
Leanchoilia superlata is one of the best known arthropods from the middle Cambrian Burgess Shale of British Columbia. Here we re-describe the morphology of L. superlata and discuss its possible autecology. The re-description follows a standardized scheme, the descriptive matrix approach, designed to provide a template for descriptions of other megacheiran species.
Results
Our findings differ in several respects from previous interpretations. Examples include a more slender body; a possible hypostome; a small specialised second appendage, bringing the number of pairs of head appendages to four; a further sub-division of the great appendage, making it more similar to that of other megacheirans; and a complex joint of the exopod reflecting the arthropod's swimming capabilities.
Conclusions
Different aspects of the morphology, for example, the morphology of the great appendage and the presence of a basipod with strong median armature on the biramous appendages indicate that L. superlata was an active and agile necto-benthic predator (not a scavenger or deposit feeder as previously interpreted).
Keywords
MegacheiraGreat-appendage arthropodsChelicerata sensu latoDescriptive matrixActive predator
Background
The description of species is fundamental to the science of zoology, including taxonomy, phylogenetic systematics, functional morphology and ultimately evolutionary biology and ecology. But living organisms can never be completely described at every level of detail down to cellular morphology. It is easier to describe fossil species entirely, but only because much less detail is available. However, many descriptions of fossils are inadequate to allow them to be used directly to prepare cladistic matrices for phylogenetic analyses. This is usually because authors concentrate on morphological features that differentiate new species from those previously described. Thus, the focus is on structures that are unique even though cladistic matrices require structures that are shared with other species. As a consequence, morphological details in many phylogenetic matrices have to be (re-)interpreted, often without the benefit of a comprehensive description. While every character and character state should be carefully reviewed prior to analysis [1–4], it is also essential to provide explicit explanations of the basis for coding.
The so-called short great-appendage arthropods have been incorporated into many recent arthropod phylogenies. Short great-appendage arthropods, which, together with Chelicerata sensu stricto, form Megacheira [5], have only been reported from Cambrian strata. The characteristic short great appendage is the first appendage on the head. In their redescription of Yohoia tenuis Walcott, 1912, one of these arthropods from the middle Cambrian Burgess Shale biota of British Columbia, Haug JT et al. [5] noted that previous phylogenetic analyses of the short great-appendage arthropods included incomplete and/or controversial codings. The present paper represents a further step in addressing this problem: a redescription of Leanchoilia superlata Walcott, 1912, one of the most abundant short great-appendage arthropods.
Leanchoilia superlata is a relatively common megacheiran arthropod (more than a thousand specimens) from the Burgess Shale. García-Bellido and Collins [6] redescribed it and resurrected the species L. persephone Simonetta, 1970, which had been synonymized with L. superlata by Bruton and Whittington [7], a view supported by Briggs and Robison [8]. García-Bellido and Collins [6] also indicated that the material synonymized with L. superlata by Bruton and Whittington [7] might include other valid species. One of these, L. protogonia Simonetta, 1970, was subsequently resurrected by Briggs et al. [9].
Our reconsideration of L. superlata here is prompted by a number of factors. García-Bellido and Collins [6] focused on characters useful for distinguishing L. superlata from other species of Leanchoilia present in the Burgess Shale. Here we pay equal attention to other morphological details that might be important in determining the phylogenetic position or autecology of Leanchoilia. New information on Leanchoilia illecebrosa (Hou, 1987) from the lower Cambrian Chengjiang lagerstätte of China, published by Liu et al. [10], was not available to García-Bellido and Collins [6]. A direct comparison of these two species is desirable as L. illecebrosa has been identified as the sister species of L. superlata[4] and the morphology of one might illuminate that of the other. García-Bellido and Collins [6] discussed the relationships of Leanchoilia superlata in the context of the arachnomorph concept [11, 12]. We reconsider its affinities in the light of increasing evidence that megacheirans are derivatives of the evolutionary lineage leading to modern chelicerates, representing a monophyletic group together with Chelicerata sensu stricto[5, 13, 14].
The redescription of Leanchoilia superlata here provides a template for future investigations of other megacheirans; comparable details of other taxa would allow more robust phylogenetic and evolutionary interpretations.
Methods
Material
Specimens in the collections of the Royal Ontario Museum, Toronto (ROM), previously identified as representatives of Leanchoilia, were inspected: a total of 1,253 slabs, very few with more than one specimen. These specimens were the basis for the study by García-Bellido and Collins [6], who provided details of the material and geological setting. 170 specimens preserved sufficient detail to merit being photographed (see below). Only specimens attributed to L. superlata are discussed here. A comparison with other species of Leanchoilia will be the topic of a separate paper.
Documentation and image processing
All specimens were inspected dry with a Nikon SMZ 1500 stereomicroscope under cross-polarized light. Specimens were photographed dry under cross-polarized light. Only in very rare cases did wetting specimens and photographing them under reflected light (high angle) without polarizers provide better contrast. Images were taken with a Canon Rebel T3i camera, equipped with either an EF-S 18-55 mm lens or a MP-E 65 mm macro lens. Lighting was provided by a MeiKe FC 100 LED macro ring flash and additional fiber light sources. Images were often recorded as a stack at different focal planes, especially for close-ups. Stacks were fused with CombineZM or CombineZP. Overview images, in particular, were taken as several photographs in different x- and y-positions and then stitched together with Adobe Photoshop CS3 or Microsoft Image Composite Editor (for details on composite imaging see [15]). Images were color- and contrast-optimized in Adobe Photoshop CS3 or GIMP 3.0. Unsharp mask filters were applied in Adobe Photoshop CS3. The 3D computer model was reconstructed using Blender.
New terminology
The great appendage has been interpreted as being homologous to the chelicera of Chelicerata
sensu stricto
([
4
,
5
,
14
] but see, for example, [
16
]). The distal two elements of a chelicera form a chela with a proximal fixed finger (digitus fixus) and a distal movable finger (digitus mobilis) (Figure
1
A). The megacheiran great appendage comprises several functional chelae, in which an element forms a movable finger against the one proximal to it, while forming a fixed finger in relation to the one distal to it (Figure
1
B). Thus the normal terminology for chelicerae is inadequate. We refer to this type of claw with more than two fingers as a 'multi-chela'. This term is applicable not only to the great appendage of megacheirans but also, for example, to the pedipalps of thelyphonid uropygids.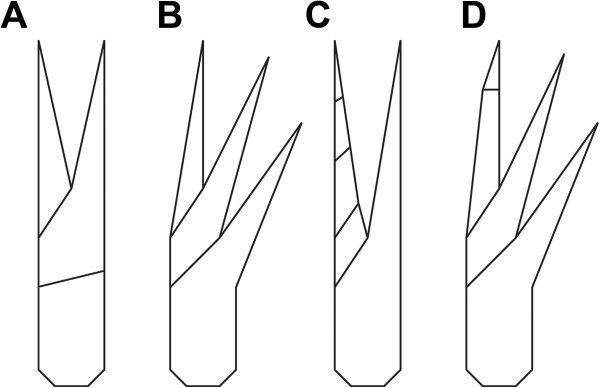 The movable finger in the great appendage is usually a single element, i.e., a spine arising from the next distal element, but it may include more than one. Such an arrangement occurs not only in Leanchoilia, but also, e.g., in different (sub-)chelate appendages in various crustaceans and insects (Figure 1C) and in the first appendage in Amplectobelua[17]. The different functional chelae of a multi-chela can be described independently: that in Leanchoilia superlata, for example, is composed of a proximal chela with a movable finger including a single element (the movable finger is the spine arising from the next distal element) and a distal chela where the movable finger includes two elements (Figure 1D).
Standardized descriptions
In order to allow direct comparison of structures in different megacheirans, we propose a standardized description. Clearly if an interesting structure is discovered in one species, it is necessary to check for its occurrence in others (Hennig's principal of reciprocal illumination). Even if a structure were present in closely related species, it may not have been considered sufficiently important to warrant a mention. A morphological re-interpretation is usually triggered in this way - with the discovery of a new detail in a related species.
New discoveries and new interpretations often make it necessary to re-work species descriptions [2]. However, this process should not be restricted to supplementing or modifying data matrices, new interpretations of morphological characters should be properly explained and justified. This could be achieved by handling descriptions in a similar way to matrices, with a systematic treatment of character states and presence/absence information. Comparable approaches have been used in database projects like DELTA (DEscription Language for TAxonomy; [18]) although this program is neither readily accessible nor appropriate in its recent form.
Here we follow a simple 'descriptive matrix' approach, compiling the description in an xls.-file in OpenOffice with appropriate rows and columns (see Additional file 1). Following this approach will ensure that subsequently described species will be checked for all characters. When new characters come to light they can be added, but need to be checked on all species. The application of such an approach will result in a comparable set of descriptions that can be converted easily into a cladistic matrix (some characters may be dependent or reciprocal, and therefore omitted). Yet, the whole process must remain an iterative one: with the addition of each new species, new characters will be introduced, which then will have to be described in already named species. The descriptive matrix approach is established here for the short great-appendage arthropods, a small group of morphologically similar species. Expanding this approach to a larger group such as Megacheira will require a clear discussion of assumed character homologies. Even though such a process will be labor-intensive, the descriptive matrix provides a tool to make the enterprise transparent and comprehensible.
The descriptive matrix approach generates a data set that can be readily converted to a "plain language" description of the species (term from DELTA) which is easily compared to other descriptions using the same matrix. We will use the re-description of Leanchoilia superlata generated in this way here as a basis for preparing descriptions of other leanchoiliid species. Although it is straightforward to generate text directly from the matrix, we provide such a description here, but shortened to avoid repetitions.
Results
General remarks
The studied specimens of Leanchoilia superlata range in size from ca 24 mm to 70 mm. It was not possible to distinguish ontogenetic stages on the basis of measurements, nor did changes in morphology occur within this size range. Where structures vary in morphology, e.g., the number of setae on the exopods, such changes do not correlate with size and may reflect differences in preservation. Where the limitations of preservation resulted in uncertainties (e.g., in the posterior appendages) these are indicated with queries in the description (see below). For the purposes of reconstruction such missing information was inferred from the adjacent appendage(s) assuming serial similarity.
Discussion
Our description of Leanchoilia superlata differs significantly from earlier interpretations.
Conclusions
Our interpretation of the morphology and autecology of Leanchoilia superlata differs in important respects from earlier versions. Our study, like some other recent reinvestigations [5, 25, 37] took advantage of new investigation techniques (polarized light, composite imaging) and the availability of more taxa for comparison. Paleoecological reconstructions of the Burgess Shale biota depend on autecological interpretations of individual organisms and will be refined by future reinvestigations of other organisms.
Similarly, current phylogenetic analyses of the Burgess Shale arthropods will be improved by new morphological investigations (for a more extensive discussion, see [5, 25]). Future application of a descriptive matrix approach such as that used here will facilitate comparisons between taxa and the construction of new data matrices.
Declarations
Acknowledgements
We are very grateful to Jean-Bernard Caron and Peter Fenton (Royal Ontario Museum: ROM, Toronto) who supplied us with specimens over several weeks. Brian Iwama (ROM) helped us with technical equipment. We acknowledge those who programmed the freely available software used in this study, such as OpenOffice, CombineZM/ZP, Microsoft Image Composite Editor, GIMP 3.0, and Blender. The research was carried out while JTH and CH were based at Yale. JTH was supported by a Feodor Lynen postdoctoral research fellowship from the Alexander von Humboldt-Foundation (AvH) and by Yale University. He is currently funded by AvH with a Feodor Lynen return fellowship. CH is supported by the German Academic Exchange Service (DAAD) with a return fellowship. JTH and CH are grateful to their current host Steffen Harzsch, University of Greifswald, for his support. Greg Edgecombe, Natural History Museum London, and Matthew Wills, University of Bath, made helpful suggestions on the manuscript.
Authors' Affiliations
(1)
Zoological Institute and Museum, Department of Cytology and Evolutionary Biology, University of Greifswald, Greifswald, Germany
(2)
Department of Geology and Geophysics, Yale University, New Haven, USA
(3)
Yale Peabody Museum of Natural History, Yale University, New Haven, USA
Copyright
© Haug et al.; licensee BioMed Central Ltd. 2012
This article is published under license to BioMed Central Ltd. This is an Open Access article distributed under the terms of the Creative Commons Attribution License (http://creativecommons.org/licenses/by/2.0), which permits unrestricted use, distribution, and reproduction in any medium, provided the original work is properly cited.