Research article
Open Access
Balancing selection and genetic drift at major histocompatibility complex class II genes in isolated populations of golden snub-nosed monkey (Rhinopithecus roxellana)
BMC Evolutionary Biology
2012
12:207
Received: 28 February 2012
Accepted: 5 October 2012
Published: 19 October 2012
Abstract
Background
Small, isolated populations often experience loss of genetic variation due to random genetic drift. Unlike neutral or nearly neutral markers (such as mitochondrial genes or microsatellites), major histocompatibility complex (MHC) genes in these populations may retain high levels of polymorphism due to balancing selection. The relative roles of balancing selection and genetic drift in either small isolated or bottlenecked populations remain controversial. In this study, we examined the mechanisms maintaining polymorphisms of MHC genes in small isolated populations of the endangered golden snub-nosed monkey (Rhinopithecus roxellana) by comparing genetic variation found in MHC and microsatellite loci. There are few studies of this kind conducted on highly endangered primate species.
Results
Two MHC genes were sequenced and sixteen microsatellite loci were genotyped from samples representing three isolated populations. We isolated nine DQA1 alleles and sixteen DQB1 alleles and validated expression of the alleles. Lowest genetic variation for both MHC and microsatellites was found in the Shennongjia (SNJ) population. Historical balancing selection was revealed at both the DQA1 and DQB1 loci, as revealed by excess non-synonymous substitutions at antigen binding sites (ABS) and maximum-likelihood-based random-site models. Patterns of microsatellite variation revealed population structure. FST outlier analysis showed that population differentiation at the two MHC loci was similar to the microsatellite loci.
Conclusions
MHC genes and microsatellite loci showed the same allelic richness pattern with the lowest genetic variation occurring in SNJ, suggesting that genetic drift played a prominent role in these isolated populations. As MHC genes are subject to selective pressures, the maintenance of genetic variation is of particular interest in small, long-isolated populations. The results of this study may contribute to captive breeding and translocation programs for endangered species.
Keywords
Balancing selectionConservation geneticsGene driftMHC Rhinopithecus roxellana
Background
Understanding how levels of genetic variation influence the survival of threatened species is of fundamental interest to evolutionary and conservation biologists because many natural populations are threatened by intense reduction and fragmentation of habitat, leading to isolation, declining populations, and decreasing genetic diversity [1, 2]. Loss of genetic diversity may increase the risk of extinction due to decreased reproductive fitness, decreased adaptive flexibility, and increased disease susceptibility [3]. Clarifying the mechanism that determines genetic variation in small, isolated populations is therefore essential for their conservation [4]. An important assumption in conservation genetics is that small, isolated populations are more sensitive to genetic drift and inbreeding [5, 6]. Genetic drift is the random fluctuation of allele frequencies over time; thus, adaptive alleles may be lost and deleterious alleles could be fixed in the population. The small population size and fixation of deleterious alleles leads to inbreeding depression and reduction of individual fitness, which decreases viability and compromises a population's evolutionary adaptive potential [6].
However, some functionally important genes that are maintained by balancing selection, such as major histocompatibility complex (MHC) genes, may have a different evolutionary pattern compared with neutral markers. The multi-gene MHC family is found in vertebrates, codes for cell surface glycoproteins, and is important in animal conservation due to its role in resisting pathogens [7]. Compared to nearly neutral markers such as microsatellite loci or mitochondrial DNA, which are informative for phylogenetic and phylogeographic reconstructions [8], MHC variability is believed to determine the capability of individuals to resist continuously evolving pathogens and parasites. Consequently, MHC variability is a reflection of the processes that are related to adaptive evolution within and between populations [9]. Thus, most variation at MHC loci reflects the effects of balancing selection [10], which is the main mechanism for retaining high MHC genetic diversity. Balancing selection includes frequency-dependent selection, overdominance and diversifying selection and promotes long evolutionary persistence of individual alleles and strongly differentiated allelic lineages in mammals [2]. Besides balancing selection, intragenic recombination has also been suggested as one evolutionary mechanism for generation of MHC sequence diversity [11, 12]. Still, several significant questions remain. Current results conflict or are unclear with regard to the relative roles of balancing selection and genetic drift in maintaining MHC polymorphism in small, isolated, or severely bottlenecked populations [13, 14]. Studies of guppies, Mexican wolves and Namibian leopards found that even when genetic diversity at neutral markers was poor, polymorphisms in MHC were still maintained by balancing selection [13–17]. In contrast, other research has found low levels of detectable polymorphisms for MHC genes in populations with lower diversity in neutral markers, including studies on fallow deer (Cervus dama) [18], northern elephant seals (Mirounga angustirostris) [19], great crested newt (Triturus cristatus) [20], and the black-footed rock-wallaby (Petrogale lateralis lateralis) [21]. These results suggest that compared to genetic drift balancing selection is relatively weak in small populations, leading to reduced variation at some MHC loci [22]. To elucidate the role of balancing selection and genetic drift in populations, FST outlier analysis [23] is widely used because demographic processes affect neutral loci and lead to population differentiation (measured by FST) [24]. The FST values are computed for all genes to distinguish the genes under selection from those non-selective genes [25].
We studied MHC and neutral genetic variation in the golden snub-nosed monkey (
Rhinopithecus roxellana
), an endangered primate endemic to China where it inhabits three isolated areas: Sichuan and Gansu provinces (SG); the Qinling Mountains, Shaanxi province (QL) and the Shennongjia Forestry District, Hubei province (SNJ) (Figure
1
). Current census data suggest that fewer than 22,000 individuals remain (about 15,000 individuals in SG, 5500 individuals in QL and 1000 individuals in SNJ) [
26
], and mitochondrial DNA and microsatellite studies indicate that the genetically distinct SNJ population has very low genetic variation [
27
,
28
]. The current effective population size (
N
e) in SNJ is approximately 80 individuals [
29
]. The small size and isolation that typically characterize local populations make the golden snub-nosed monkey particularly susceptible to loss of genetic variation through inbreeding and genetic drift [
30
,
31
]. In this study, we 1) investigated population structure and polymorphism levels of 16 microsatellite loci and 2 MHC II genes, 2) tested for both selection at the MHC loci and patterns of between population differentiations, and 3) evaluated the role of balancing selection and genetic drift in populations.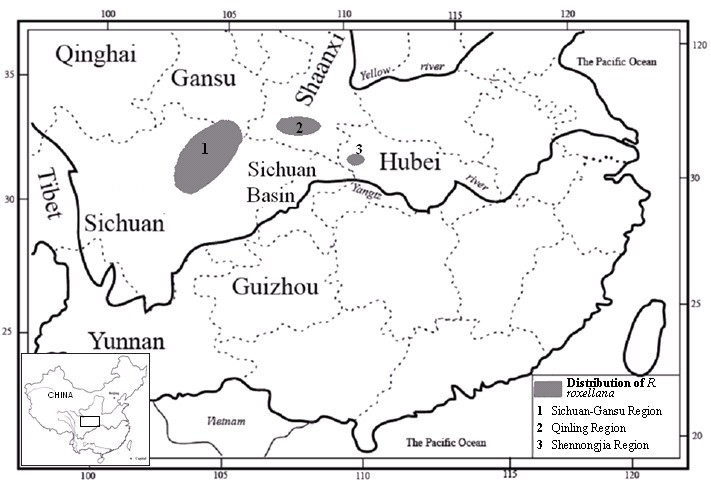 Discussion
Habitat isolation generates barriers to gene flow among populations that often result in loss of genetic diversity through genetic drift and inbreeding [2]. For vertebrates, genetic variation is of special importance in MHC genes due to the significant role they play in immune functions [35]. MHC diversity is presumed to improve parasite resistance, reproductive success, and population viability [36], and has been studied in species such as western gorilla (Gorilla gorilla) [37], brown bear (Ursus arctos) [38], Ethiopian wolf (Canis simensis) [39], European bison (Bison bonasus) [40], Bengal tiger (Panthera tigris tigris) [41], and Namibian leopard (Panthera pardus pardus) [17]. In this study, a relatively high level of MHC variation was found in the golden snub-nosed monkey, with 9 DQA1 and 16 DQB1 alleles found in 64 individuals. However, we found lower MHC variation in the SNJ population, which also showed lower genetic diversity in microsatellites and mitochondrial genes [27, 34]. Small sample size cannot account for the reduced variability, because sample collected across the entire distribution of the SNJ population showed similar patterns of genetic diversity [29].
For each MHC locus, regardless of how many clones were sequenced from an individual, no more than 2 alleles were observed in an individual, a strong indicator that we amplified single loci in all cases. We assumed that all alleles were from a single functional gene. The assumption that our sequences were from functional genes was supported by three findings: 1) sites inferred to have been exposed to significant selection, most of which were ABS sites, indicating historical selection at functional genes; 2) no reading frame or stop codon disruptions found in any alleles; and 3) the sequences identified from cDNA were parts of or included sequences obtained from DNA.
Historical balancing selection
Golden snub-nosed monkey MHC genes reflect historical balancing selection in that an excess of non-synonymous substitutions was mainly concentrated in the ABS (Table 3, Additional file 4: Table S3, Additional file 5: Table S4). According to neutrality theory [42], the synonymous nucleotide substitution rate is larger than the non-synonymous substitution rate because a change in amino acid sequence has a greater possibility of being deleterious. The elevated rate of non-synonymous substitutions at the ABS provided clear evidence of positive selection [43, 44] shaping genetic variation [45]. The p-value was not significant at DQA1 ABS may due to a weaker recombination within DQA1 as a lower recombination rate has been shown before. Without higher recombination and stronger selection, some DQA1 alleles might be lost when population size decreased. The sharing of MHC alleles among populations also indicates that MHC alleles may have been conserved by selection [19]. Second, random site models analysis proved the existence of historical selection based on the maximum likelihood method, which revealed that, for MHC genes, the models including selection (M2a, M3, and M8) match MHC alleles better than models without selection (Table 4,and 5). Under the M2a and M8 models, some sites of the 2 MHC loci were under significant selection pressure. Furthermore, trans-species evolution of the MHC alleles revealed historical balancing selection. Under balancing selection, some MHC alleles or allelic lineages are reported in other species, which indicates that they are ancestral alleles [46].
Genes vary in terms of the level of selection, and both DQA1 and DQB1 revealed different patterns of selection. Each population had unique DQB1 alleles, while not every population had unique DQA1 alleles (Table 2). Population divergence, measured as pairwise F ST , was larger in DQB1 than in DQA1 except for that between SG and QL (Figure 3). Similar results were reported in water vole, where balancing selection pressure was different at MHC genes in continuous populations [47]. MHC genes are assumed to be closely linked [48]. In our study, however, linkage disequilibrium between DQA1 and DQB1 was only observed in the SG population. This weak linkage disequilibrium and the different selection pressures on these loci could be a result of recombination, which is common at the MHC genes [49, 50]. The higher recombination rate that was found in DQB1 genes may explain their larger allelic richness compared to DQA1 genes. Recombinants maintained by selection may counteract the linkage of closely linked genes [51] and play an important adaptive role in DQB1 evolution. In the present study, historical selection was found, but this does not conclusively indicate that balancing selection is acting on current populations. First, an excess of non-synonymous mutations requires a long time to accumulate [47]. Once present, this pattern would take a long time to vanish after the disappearance of selection [10]. Hence, we investigated whether selection continues to play a major role at present.
Patterns of selection and drift
Although selection historically maintained MHC diversity, recent population isolation and fragmentation has increased the role of genetic drift in shaping patterns of MHC variation in snub-nosed monkeys. First, compared with neutral forces, balancing selection is supposed to diminish population differentiation as measured by conventional pairwise FST[22, 52]. Thus, the population structure of genes under balancing selection should not be pronounced [53]. However, in the present study, half of the pairwise FST values were greater than 0.05, and two FST values at DQB were even greater than those at microsatellites (Figure 3). Second, FST outlier analysis showed that the structure in the MHC loci was within the neutrality level for all populations and for each population. Considering all populations, one microsatellite (D14S306) showed a FST value that was lower than the neutral level, indicating its linkage with other genes under selection [22]. Lastly, a positive correlation was found between allelic richness in MHC and microsatellites. The QL population had the highest allelic richness in microsatellites and MHC, while SNJ had the lowest. This positive correlation indicates that genetic drift plays a significant role in maintaining MHC diversity for snub-nosed monkeys [25]. Maintenance of MHC variation through balancing selection may be hampered in small, isolated populations because of their lower effective recombination rate [54]. In all, our results indicate that even though selection acts on MHC, it is overwhelmed by genetic drift in small, isolated populations.
The positive correlation in the allelic richness of MHC and microsatellites, together with other evidence, indicates that genetic drift has a great influence on the maintenance of MHC variations in small, isolated populations of snub-nosed monkeys [7, 25, 55]. No evidence showed that MHC polymorphism had increased in populations that contained low neutral variation [27, 42]. Under neutral evolution theory [56], alleles are expected to be neutral when s < 1/2 Ne (s = selection coefficient, Ne = effective population size). Therefore, the smaller Ne becomes, the greater the likelihood of genetic drift [57]. The SNJ population is subject to more genetic drift than the other two populations as found in a previous study [29]. Other animals whose patterns of MHC polymorphism have been contributed to drift over selection include the great crested newt (Triturus cristatus) [19], black-footed rock-wallaby (Petrogale lateralis lateralis) [20], tuatara (Sphenodon spp.) [7], and the Egyptian vulture (Neophron percnopterus) [58]. These results suggest that selection on MHC is not strong enough to counteract drift that results from population fragmentation, isolation and bottleneck.
Conclusion
Variation at MHC loci is widely accepted as being maintained by balancing selection (reviewed in 2), even with a low level of neutral variability in some species [29, 59]. This shows the importance of balancing selection for maintaining variation in the field and exposes the problem of using neutral genes as substitutes for variation in fitness-related genes [32]. However, in small, isolated populations or bottlenecked populations, balancing selection is overwhelmed by drift [21]. In this study, we found the same genetic variation pattern both at neutral and MHC markers, suggesting that genetic drift was stronger than selection, thus leading to a reduction in MHC diversity in the most isolated populations. Such findings may contribute to the conservation of endangered species such as snub-nosed monkeys both in captive breeding and translocation programs. Though the relationships between MHC with mate choice and pregnancy outcomes still remain controversial [60], it could be helpful to examine MHC variation in captive individuals that are involved in mating programs. In the field, translocation of individuals from demographically and genetically healthy populations to populations that suffer from reduced genetic diversity can improve the chances of genetic recovery [61, 62]. Recently, researchers have found that inbred populations could thrive with the import of migrants as part of a conservation management program [63–65]. Further, the introduction of individuals from western populations of golden snub-nosed monkeys could restore genetic diversity to the relatively homogenous SNJ groups, reducing the likelihood of inbreeding depression.
Declarations
Acknowledgements
This project was funded by National Key Technology R&D Program (Key technology research on germplasm resources conservation of Shennongjia golden snub-nosed monkey), Natural Science Foundation of China (31130061, 30970427), and Project of Public Benefit (201104073). Thanks to B.P. Ren, Z.F. Chang, B.H. Yang, B.S. Wang, L. Zhang, and L.F. Zhu for advice and lab assistance. Thanks to Edanz Group China and Alicia Krzton for English editing. Special thanks to the editor and two innominate reviewers for their kind suggestions for improving this paper.
Authors' Affiliations
(1)
Key laboratory of Animal Ecology and Conservation Biology, Institute of Zoology, Chinese Academy of Sciences, Chaoyang, China
(2)
Key Laboratory of Vegetation and Environmental Change, Institute of Botany, Chinese Academy of Sciences, Beijing, China
(3)
Graduate School of the Chinese Academy of Sciences, Beijing, China
(4)
College of Nature Conservation, Beijing Forestry University, Beijing, China
Copyright
© Luo et al.; licensee BioMed Central Ltd. 2012
This article is published under license to BioMed Central Ltd. This is an Open Access article distributed under the terms of the Creative Commons Attribution License (http://creativecommons.org/licenses/by/2.0), which permits unrestricted use, distribution, and reproduction in any medium, provided the original work is properly cited.