Research article
Open Access
Delimiting genetic units in Neotropical toads under incomplete lineage sorting and hybridization
BMC Evolutionary Biology
2012
12:242
Received: 13 July 2012
Accepted: 4 December 2012
Published: 11 December 2012
Abstract
Background
Delimiting genetic units is useful to enhance taxonomic discovery and is often the first step toward understanding evolutionary mechanisms generating diversification. The six species within the Rhinella crucifer group of toads were defined under morphological criteria alone. Previous data suggest limited correspondence of these species to mitochondrial lineages, and morphological intergradation at transitions between forms suggests hybridization. Here we extensively sampled populations throughout the geographic distribution of the group and analyzed mitochondrial and nuclear sequence data to delimit genetic units using tree–based and allele frequency–based approaches.
Results
These approaches yielded complementary results, with allele frequency-based methods performing unexpectedly well given the limited number of loci examined. Both mitochondrial and nuclear markers supported a genetic structure of five units within the group, with three of the inferred units distributed within its main range, while two other units occur in separate isolates. The inferred units are mostly discordant with currently described forms: unequivocal association exists for only two of the six species in the group. Genetic evidence for hybridization exists for two pairs of units, with clear cyto–nuclear allele mixing observed in one case.
Conclusions
Our results confirmed that current taxonomy does not represent evolutionary units in the Rhinella crucifer group. Correspondence between genetically distinguishable units and the currently recognized species is only possible for Rhinella henseli and R. inopina. The recognition of other species relies on the reassessment of the geographic range of R. crucifer, the examination of the type series of R. ornata for hybrids, and on the use of additional markers to verify the genetic distinctiveness of R. abei. We state that R. pombali should not remain a valid species since its description appears to be based on hybrids, and that the name R. pombali should be considered a synonym of both R. crucifer and R. ornata. The fifth inferred but undescribed genetic unit may represent a new species. Our results underscore the potential of the R. crucifer species group to contribute to a better understanding of diversification processes and hybridization patterns in the Neotropics, and provide the basis for future evolutionary and taxonomic studies.
Keywords
Rhinella crucifer groupSpecies complexBufonidaeTaxonomy
Background
Molecular data in taxonomic studies has profoundly impacted the field by bringing fresh perspectives on discussions about species concepts and delimitation [1, 2] harnessing the power of barcoding for biodiversity discovery [3, 4], and leading to a more representative taxonomy [5–7]. Early efforts of genetic delimitation of Evolutionary Significant Units [8] for conservation purposes [9] met with controversy, primarily because of the criteria applied [10]. At the core of these discussions is the recognition of species as segments of population lineages against a view of species as operational units of a taxonomic rank [11]. Regardless of the adopted view, most biodiversity researchers agree that delimitation of genetic units is i) a useful proxy for enhancing the rate of taxonomic discovery and ii) the first step towards understanding evolutionary mechanisms contributing to diversification of closely related organisms, two measures that are specially relevant for conservation planning of taxa in threatened environments [12, 13].
Using genetic criteria for unit delimitation has prompted a recent change of paradigm in systematics [14]. Newly available computational tools based on multilocus methods are now applied to 'species' delimitation [15], inference of the relationships among previously defined species [16–18], or both [19, 20]. However, the delimitation of genetic units with tree–based methods is not straightforward because it often requires previous assignment of individuals to hypothetical species. In addition, the absence of horizontal gene flow is an assumption for most of these methods [21]. Alternatively, analyses of allele frequencies at multilocus markers can jointly explore genetic structure and infer levels of migration without a priori information [22], and have been used to delimit closely related species that potentially hybridize [23–27]. These methods have disadvantages over species-tree methods, such as limited phylogenetic signal, potential sensitivity to very recent genetic isolation [15], and a tradeoff between the costs of population–level sampling and the number of markers required to detect genetic structure, especially when the efficiency of the markers [28] is not known a priori.
The
Rhinella crucifer
species group is a widespread group of toads that occurs throughout the Brazilian Atlantic Forest, a highly endangered biome [
29
] distributed along 30 lat degrees along the eastern coastline of South America. This widespread distribution includes high morphological variation, both within and among populations [
30
], which has led to a confused taxonomic history for the group [
31
]. In a taxonomic review, Baldissera et al. [
30
] recognized five species based on morphological and morphometric variation:
Rhinella crucifer
occurs from the State of Ceará to northern State of Espírito Santo;
R. pombali
is restricted to the State of Minas Gerais with isolated records in the state of Rio de Janeiro;
R. ornata
occurs from southern State of Espírito Santo to northern state of Paraná;
R. abei
is distributed from the State of Paraná to the State of Santa Catarina; and
R. henseli
occurs from southern State of Santa Catarina to the State of Rio Grande do Sul, with isolated records in the state of Paraná [
30
–
33
]. More recently, Vaz–Silva et al. [
34
] described the sixth species in the group,
Rhinella inopina
, with an allopatric distribution in forest enclaves within the Cerrado biome in the limits of the States of Goiás, Tocantins and Bahia [
34
] (Figure
1
). A broad scale phylogeographical survey revealed that mitochondrial clades do not fully correspond to the current taxonomy [
35
].
Rhinella henseli
corresponds to a highly divergent mitochondrial clade at the southern limit of the species' range; a northern clade includes
R. crucifer
and part of
R. pombali
, and a central clade includes remaining populations of
R. pombali
, along with
R. ornata
and
R. abei
.
Rhinella pombali
is found along an east–west axis where the northern and central clades meet, ranging from the coast throughout the inland plateau. Its morphology is intermediate between
R. crucifer
and
R. ornata
[
30
], which taken together with the mitochondrial DNA is suggestive of a hybrid origin
.
Hybridization between the morphospecies
R. abei
and
R. henseli
is also possible as individuals occur in syntopy, and are thus likely to interbreed. Nuclear sequence data from this study showed only evidence of incomplete lineage sorting [
35
].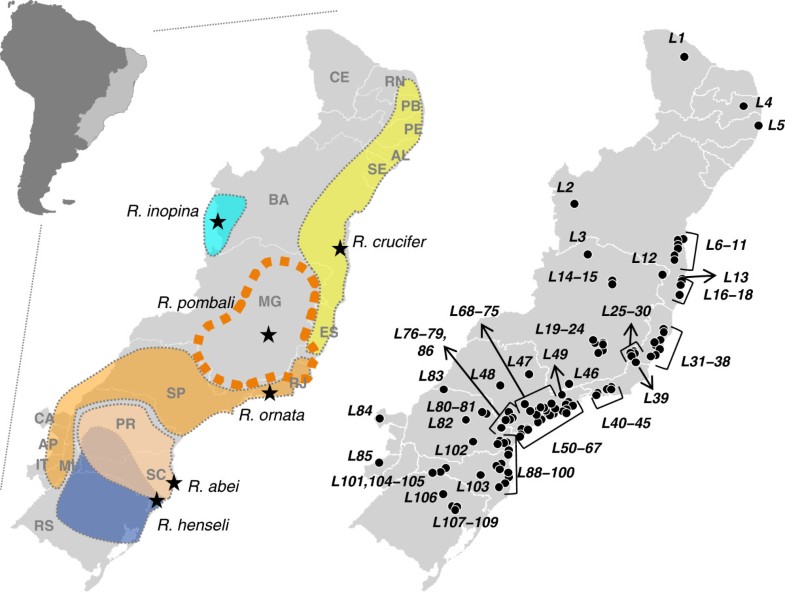 The lack of fine-scale sampling in Thomé et al. [35] prevented both detailed mapping of mtDNA lineages and description of geographic patterns of nuclear allele frequencies, resulting in an incomplete description of the spatial genetic structure in the Rhinella crucifer group. Here we greatly increase both the geographic and population sampling and use sequence data from a set of three mitochondrial and three nuclear genes to delimit genetic units in the Rhinella crucifer group. Given the widespread distribution of the group, and evidence of recent divergences and hybridization, we employ a combination of tree and allele frequency–based methods. We discuss the results in the context of available information on the taxonomy and history of the group, and provide a perspective on the potential for future evolutionary studies.
Results
Mitochondrial DNA genetic lineages
We obtained 386, 401, and 398 sequences for control region, ND1, and ND2 fragments, respectively. After concatenation we found 305 unique haplotypes among the 404 sampled individuals. The topology of the mitochondrial tree (Figure
2
) recovers the monophyly of the
Rhinella crucifer
group with high support. Two divergent clades within the group are located at the latitudinal extremes of the groups' distribution (Figure
3
); the clade '
S
' is restricted to the southern region of the AF, states of Rio Grande do Sul, Santa Catarina and Paraná (L100−109), and the northernmost clade '
G
' is only found at the sampled locality of Guaramiranga, state of Ceará (L1). Haplotypes from the geographic region in between these two extremes form a main clade that contains most of the sampled haplotypes, ranging from the state of Santa Catarina to Paraíba (L2–101), which is itself structured with clades '
N
', '
P
', and '
C
'. Clade
N
has a northerly distribution (Figure
3
) ranging from the state of Paraíba to the state of Rio de Janeiro, including the eastern and northeastern regions of the inland state of Minas Gerais (L4–20, 26, 29, 31–38, 45). This clade showed deep substructure with several well-supported subclades distributed sequentially from north to south, overlapping only at geographic transitions. Clade
P
is geographically restricted to two western localities in the states of Minas Gerais and Bahia (L2 and L3) (Figure
3
). Clade
C
covers the central AF ranging from the state of Espírito Santo to the state of Santa Catarina, including most of the interior regions of the AF (western limits of the states of Minas Gerais and Bahia to Paraguay) (Figure
3
). Substructure in this clade is evident, with several well-supported subclades including a derived subclade restricted to eastern localities of the states of Paraná and Santa Catarina (subclade
c1
). Other subclades showed partially or completely overlapping distributions mainly across the state of São Paulo and surroundings. Genetic distances (
Da
) based on the ND2 fragment ranged from 0.7% to 6.3% (Figure
2
).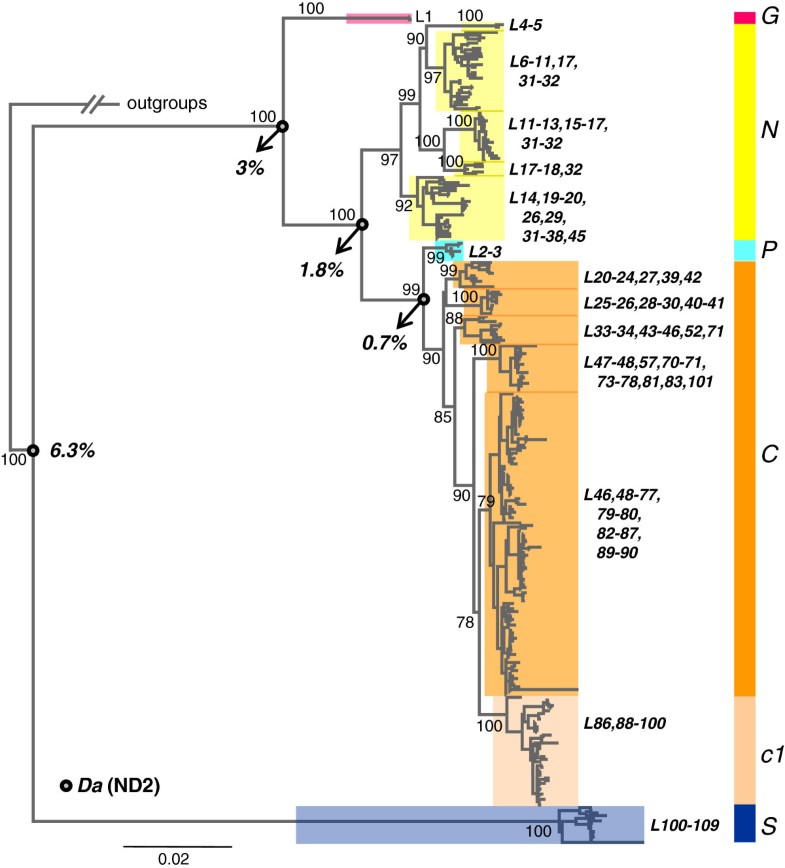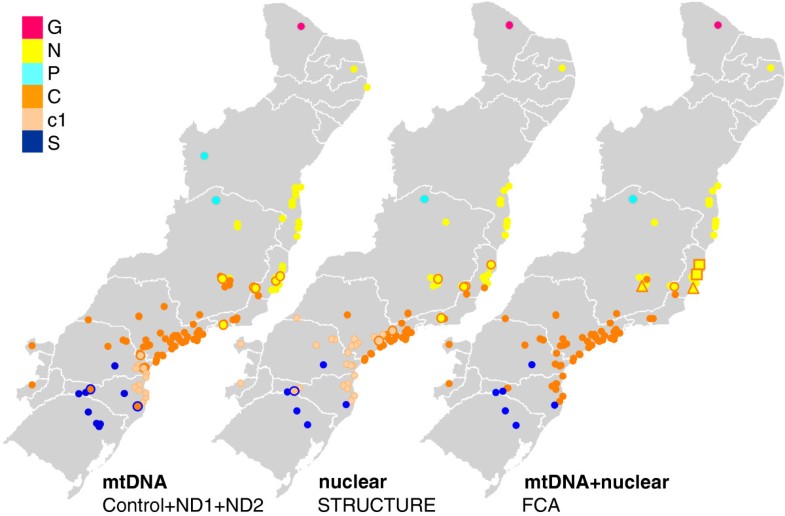 Nuclear DNA
Among the 394 sampled individuals, we recovered 562 nuclear haplotypes for crystallin, 664 for rhodopsin, and 688 for alpha polypeptide, after phasing. The number of unique alleles for each gene was 25, 161, and 61, respectively. No recombination was detected by the DDS method or by permutation tests for the rhodopsin (D'=−0.15, p=0.08; G4=−0.12, p=0.11), crystallin (D='−0.02, p=0.17; G4=−0.02, p=0.19), or alpha polypeptide (D'=−0.03, p=0.14; G4=−0.05, p=0.08). The structure of allele trees shows poorly supported clades and polytomies across all genes (Additional file 1). Sharing of alleles among localities was frequent for the rhodopsin and alpha polypeptide, but less common for the crystallin marker (see Additional file 2 for allele lists).
A complete dataset for the three nuclear fragments was available for 196 individuals from 83 localities. STRUCTURE results were evaluated according to the distribution of Ln Pr (
X
/
K
) and ΔK. Following these criteria, the values of K that best describe the structure of the nuclear data range from K=2 to K=6 (Figures
4
and
5
). Five genetic breaks were consistently recovered indicating the clustering of individuals in six distinct geographical demes: deme '
G
' with individuals from the locality of Guaramiranga, state of Ceará (L1), deme '
P
' containing individuals restricted to western Bahia (L3), deme '
N
' clustering individuals from the state of Paraíba to the state of Rio de Janeiro including northern and eastern Minas Gerais (L4, 6, 8, 10–11, 13–14, 16–23, 26, 28–29, 31–39, 41), deme '
C1
' with individuals from the states of Espírito Santo, Rio de Janeiro, southern Minas Gerais, and the eastern region of the state of São Paulo (L23, 26, 28, 31, 37, 39, 43, 46, 48–63, 65–68, 70–71, 73), deme '
C2
' with individuals from the inland part of the state of São Paulo, states of Paraná and Santa Catarina (L71, 73, 74–86, 88–90, 93–97, 99, 101), and deme '
S
' with individuals from the states of Rio Grande do Sul, Santa Catarina and southern Paraná (L100, 102, 104–106, 109) (Figures
2
and
5
). There are individuals from demes
N
,
C
and
S
with relatively high assignment values to deme
G
, which is explained by sharing alleles 1 and 2 of the rhodopsin locus (Additional file
2
).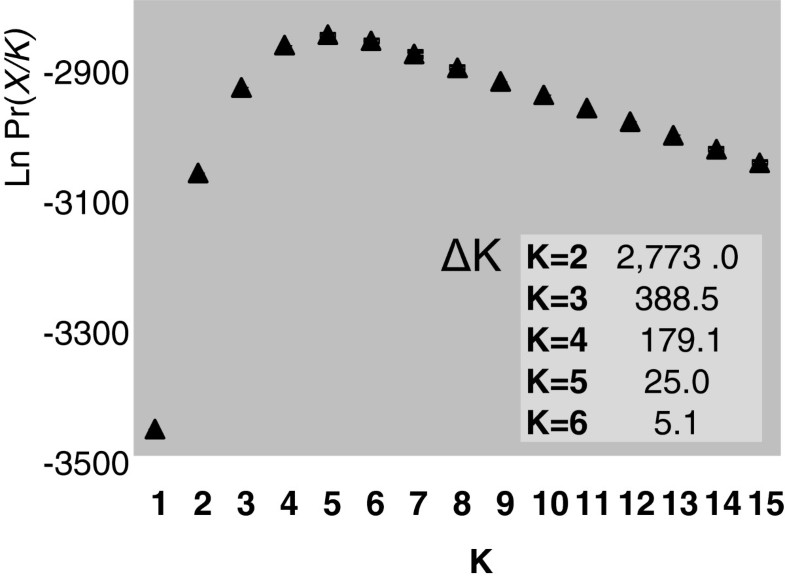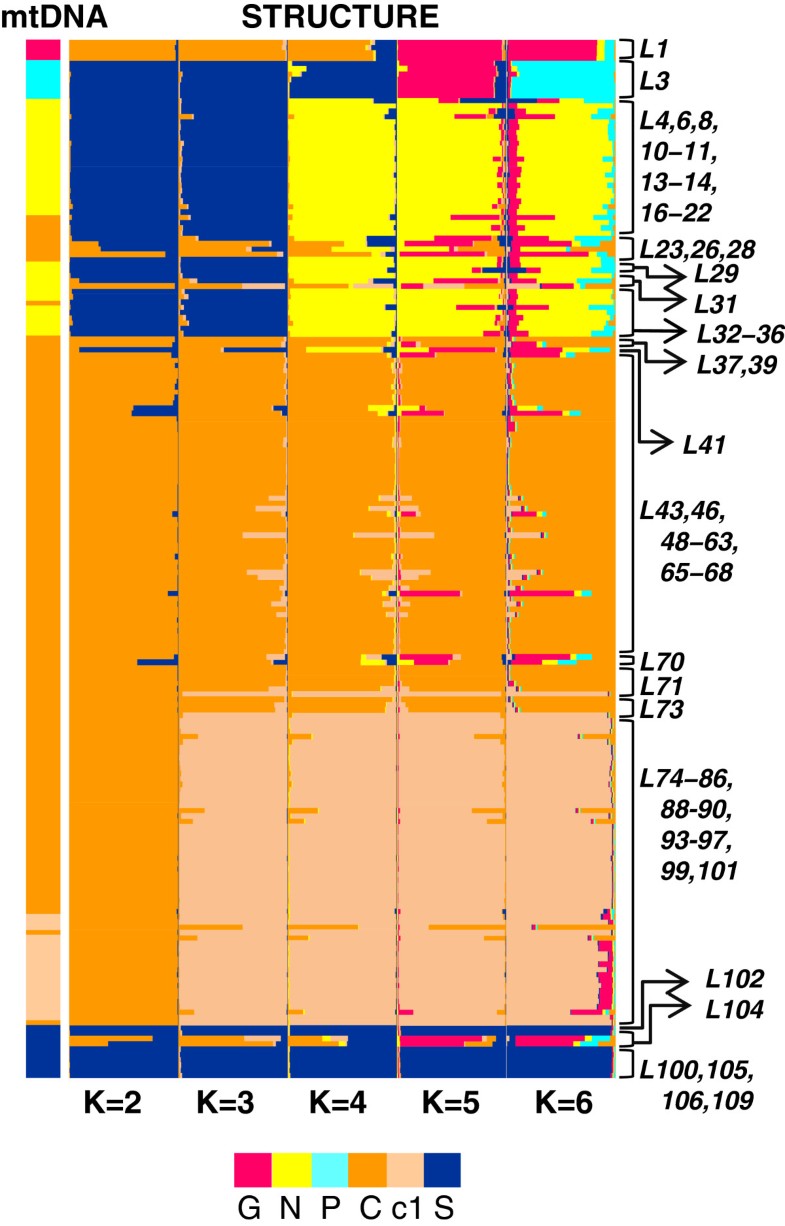 Genetic units inferred from combined data
The FCA performed with the complete nuclear dataset plus mitochondrial information showed individuals clustering in three groups corresponding to geographic regions: a group containing individuals from Rio Grande do Sul, Santa Catarina and Paraná states (group '
S'
, L100, 102, 104–106, 109), a group with individuals from western Bahia (group '
P
', L3), and a group containing the rest of the individuals. After the removal of groups
S
and
P
, the subsequent analysis shows the clustering of a third group with individuals from Guaramiranga (group '
G
', L1). In the analysis with the remaining individuals no more isolated groups were found. Instead, we found two partially overlapping groups, the first with individuals from the state of Paraíba to the state of Bahia (group '
N
', L4, 6, 8, 10–11, 13–14, 16–21, 28–29, 31–36) at one geographic extreme, and the second with individuals from the state of São Paulo to the state of Santa Catarina (group '
C
', L23, 26, 28, 39, 41, 43, 46, 48–63, 65–68, 70–71, 73–86, 88–90, 93–97, 99, 101) at the opposite geographic extreme of the population distribution. Individuals distributed in the intersection of both groups were from localities in the states of Espírito Santo and Minas Gerais (L22, 31, 33, 37) (Figure
6
). Two individuals from group
S
show an intermediate position with group
C
+
N
, which is again explained by allele sharing at the rhodopsin locus (see above).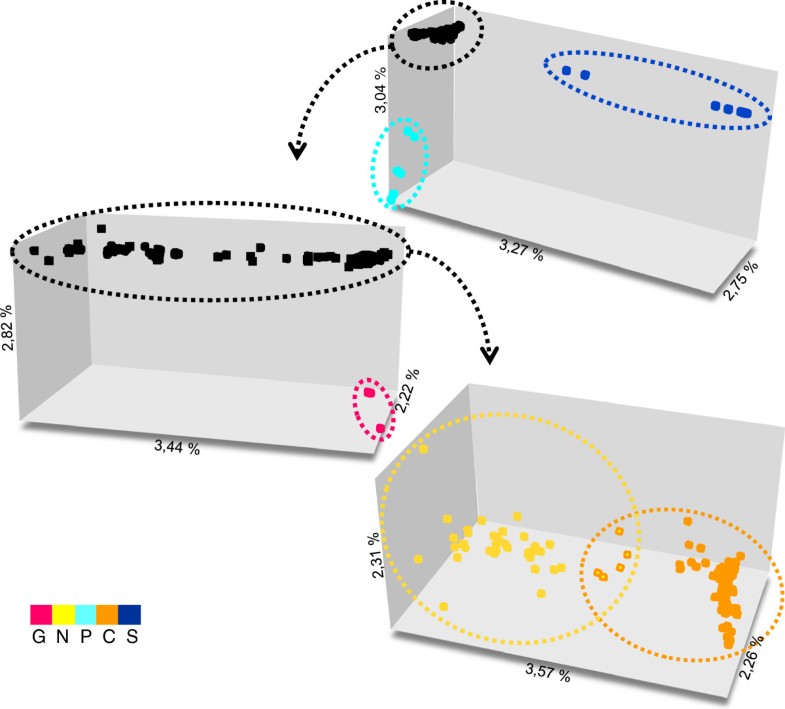 Taking together the results of the three analyses we delimited five genetic units: G (corresponding to the main clade G, deme G and group G), P (containing the subclade P, deme P and group P), N (with the main clade N, deme N and group N), S (corresponding to the main clade S, deme S and group S) and C (including the main clade C, demes C1 and C2, and group C). Considering the analyses individually, uncertainty of limits occurred at boundary zones: i) we found overlaps between the mitochondrial clades N and C at L20, 26, 29, 33–34, 45, and C and S at L100 and 101; ii) localities with individuals assigned to more than one deme and individuals showing low coefficients of membership (q<0.85 considering K=2 to K=6) were more frequent at the boundary between demes N and C1 (L20, 22–23, 26, 28, 31, 33, 37, 41, 43); individuals distributed at the intersection of FCA groups also occurred at this region (L22, 31, 33, 37). Discordance between results of distinct analyses also occurred at boundary zones. We found individuals with relatively high average membership coefficients (q≥0.85 considering K=2 to K=6) in the STRUCTURE analyses that pertained to conflicting mtDNA clades at localities L21–22 and L28–29.
Discussion
Analyses of the genetic structure of mitochondrial and nuclear markers in the Rhinella crucifer species group revealed five distinct genetic units, three corresponding to the core geographic area of the group (N, C, and S), and two units with more isolated distributions (G and P). Overlap occurs between units N and C and between C and S, with evidence of some degree of admixture between those pairs. The concordance of genetic units with currently recognized species boundaries is very limited; the morphospecies with clear correspondence to the recovered genetic units are R. henseli, which is fully represented by unit S, and R. inopina, represented by unit P. Although we did find some correspondence between R. crucifer and unit N, and R. ornata and unit C, their distributions are not completely coincident. The distribution of R. pombali within the putative hybrid zone between N and C explains its intermediate morphology and corroborates that it does not have a distinct evolutionary history from neighboring units. Rhinella abei corresponds to a mtDNA sub-clade, but its correspondence to a genetic group in combined marker analyses is not well-supported and might depend on the inclusion of more markers. Finally, the morphological distinctiveness of populations in genetic units G remains to be tested.
Conclusions
The existence of five genetic units within the Rhinella crucifer species group is supported by mitochondrial and nuclear data, with three units composing the core geographic distribution of the group and two units located at extremes of the range. Evidence for hybridization was found between two pairs of units although cyto–nuclear mixing was restricted to only the less divergent pair. The concordance between inferred genetic units and previously recognized species was limited and sets more accurate distribution limits for R. crucifer and R. ornata. Our data indicate that R. pombali is not a valid species, and underscore the need for examining hybridization in the type series of R. ornata. The recognition of R. abei as an independent unit will rely on more markers, while the morphological distinctiveness of genetic unit G indicates that more genetic units may still await formal taxonomic recognition. Our results clarify the genetic structure within the R. crucifer complex and set the framework for further work on the mechanisms of evolutionary diversification, hybridization and biological conservation in the endangered Atlantic Forest.
Methods
Sampling and molecular protocols
We pooled sequences from 339 newly collected individuals (GenBank Accession numbers KC198085–KC199966) with previously published sequences from 65 individuals (GenBank Accession numbers GU907122–GU907480) [35] for a total of 404 individuals from 109 localities (Additional file 2), encompassing most of the distribution of this species group (Figure 1). We included fragments from 3 previously characterized mitochondrial and 2 nuclear genes [35] and one additional nuclear fragment. The sequenced mitochondrial fragments included i) the control region and a short segment of the adjacent cytochrome b gene (referred to as the control region, 935 bp), ii) a fragment including 50 base pairs of the 16S gene, the complete tRNALeu, the complete NADH dehydrogenase subunit 1, the tRNAIle and part of the tRNAGln genes (referred to as the ND1, 1350 bp), and iii) a partial sequence of the NADH dehydrogenase subunit 2 (referred to as the ND2, 906 bp). The nuclear fragments were segments of i) exons 1 and 4 of the rhodopsin gene (referred to as the rhodopsin, 279 bp), ii) the β-crystallin gene (referred to as the crystallin, 357 bp), and iii) the intron 1 of the A alpha polypeptide (referred to as the alpha polypeptide, 707 bp, [62]).
We digested tissue samples and extracted whole genomic DNA using QIA Quick DNEasy kits following the manufacturer's protocol (Qiagen Inc.). We amplified target fragments with polymerase chain reactions (PCR) using one microliter of the eluted extract (~ 1–10 ng DNA) as template. Amplification conditions included an initial denaturation step at 94°C (5 min) followed by 35 cycles consisting of denaturation at 94°C (1 min), annealing at 48.3–60.2°C (1 min), extension at 72°C (1 min), and a final extension step at 75°C (5 min). Amplicons were purified with 10 units of Exonuclease I (Exo I) and one unit of shrimp alkaline phosphatase (SAP) as template for sequencing reactions. We used the same amplification primers for sequencing using Big Dye termination sequencing chemistry (Applied Biosystems). We purified sequencing products using Sephadex G-50 columns and electrophoresed on ABI PRISM 3100 or 3730 Genetic Analyzers (Applied Biosystems). We checked electropherograms for errors, heterozygotic positions, and indels in the assembled contiguous sequences. A subset of the nuclear fragments (108 individuals for the crystallin and 11 for the alpha polypeptide) containing either multiple heterozygotic positions or insertions/deletions were cloned using the pGEM-T Vector System (Promega Corporation) and transformed into One Shot TOPO10 competent Escherichia coli (Invitrogen Corporation). After cloning we amplified the desired fragments directly from transformed colonies and sequenced as described above. Potential cloning errors were eliminated by comparing the heterozygotic sites of cloned sequences with those of the original sequences. We aligned all contigs with ClustalW [63] and checked alignments by eye.
Delimitation of genetic units
We used three methods to assess genetic structure and identify clusters of individuals corresponding to evolutionary units: we i) constructed phylogenetic trees, ii) performed population assignment analyses based on allele frequencies, and iii) checked for correspondence between genotypes. Final evaluation of species limits was achieved by comparing the clusters detected by the different methods.
For the mitochondrial data we constructed a haplotype tree by concatenating the three fragments and including Anaxyrus americanus, Rhinella icterica, R. rubescens, R. granulosa, R. schneideri and R. marina as outgroups, based on molecular and morphological data [64–66]. We used maximum likelihood in the program RAxML [67] with the GTR model and CAT approximation of rate heterogeneity [68] and ran 10 replicates 1,000 bootstrap repetitions to infer nodal support. We divided the alignment in 8 partitions as follows: control region, first, second and third codon positions of the coding region of the ND1 fragment, remaining regions of the ND1 fragment, and the first, second and third codon positions of the ND2. We also estimated net sequence divergences (Da) [69] between major clades in DNAsp 5.10.01 [70].
For the nuclear dataset we first resolved heterozygotic positions using the coalescent-based Bayesian method PHASE 2.1 [71] implemented in DNAsp 5.10.01 [70], setting the number of interactions to 1,000, burnin to 1,000, and thinning interval to 01. We manually excluded from further analyses the sequences phased with a posterior probability inferior to 0.9. We then tested the three markers for intragenic recombination by checking the correlation between linkage disequilibrium (LD) and physical distance using two permutation tests: D−prime (D', [72]) and the four−gamete test (G4, [73]). Both tests were performed in the OmegaMap 0.5 program [74] using 100,000 permutations. We also used the Difference of Sums of Squares (DSS) test implemented in TOPALi v. 2.5 [75]. This program slides two windows along the alignment (a left−hand and right−hand window) and calculates the sum−of−squares (SS) between observed genetic distances and distances based on an estimated tree. By comparing the SS of the left window to the right window the program infers putative recombination breakpoints. We included all sequences using a window size of 93 bp, steps ten bp long, and 100 bootstrap repetitions.
We used allele trees and population assignment analyses to assess genetic structure in the nuclear sequence data. We constructed trees for each nuclear marker using maximum likelihood with the same parameters applied to the mtDNA data. For population assignment analysis we used the algorithm implemented in the program STRUCTURE 2.3 [21] coding phased sequences as alleles, including only individuals with a complete nuclear dataset (3 nuclear fragments). We used the admixture model with independent allele frequencies keeping lambda = 0.7 after preliminary tests. We discarded 1,000,000 iterations as burnin and counted the next 3,000,000 iterations as our run. We considered 1 to 15 as a plausible range of putative populations (K) and performed 20 replicates for each K value, using CLUMPP 1.1.2 [76] to find the optimal match of runs with the Greedy and LargeKGreedy algorithms and 1,000,000-200,000 random input orders tested. Because of the small number of nuclear loci, we avoided making inferences on optimal clustering. Instead, we observed the genetic breaks that appeared repeatedly over suitable values of K. To identify the most suitable values of K we plotted the average log likelihood values [Ln Pr (X/K)] for each K, calculated ΔK values [77] with Structure Harvester v0.6. [78] and checked for biologically meaningful population clusters.
We combined phased nuclear sequences and the mitochondrial data (a total of 4 loci) in a three-dimensional factorial correspondence analyses (FCA, [79]) using GENETIX 4.05 [80]. FCA uses correspondence among genotypes to graphically plot individuals in a three-dimensional hyperspace based on their allele frequencies, thus permitting combined analysis of all markers to identify genetic structure with no a priori information. Because of low levels of haplotype sharing in the mitochondrial data, we coded well-supported major clades as alleles (clades 'S', 'G', 'N', 'P', and 'C', see results). We performed hierarchal FCA runs, starting with the complete dataset and removing individuals forming divergent groups systematically until groups were no longer separable.
Declarations
Acknowledgements
We thank Miguel Trefaut Rodrigues, Glaucia Pontes, Luciana Nascimento, Francisco Brusquetti Estrada, Marcio B. Martins and José Pombal Jr. for access to tissues under their care; Victor G. D. Orrico, Tuliana Brunes, Elaine M. Lucas, Luis M. Giassom, Igor J. Roberto, Paula H. Valdujo, Bianca Berneck and Magno Segalla for sample collections; and the Instituto Chico Mendes (ICMBio) for collecting and export permits (#13110-1 and 103420). Funding was provided by FAPESP – Fundação de Amparo à Pesquisa do Estado de São Paulo (Jovem Pesquisador Proc. 2005/52727-5 to J.A.; Projeto Temático Proc. 2008/50928-1 to C.F.B.H. ; Bolsa de Doutorado Proc. 07/52136-2 to M.T.C.T.; Bolsa Jovem Pesquisador Proc. 06/56938-3 to J.A.), a National Science Foundation Biotic Survey and Inventory Grant (to K.Z.), a travel award from the Society of Systematic Biologists for scientists from developing countries (to M.T.C.T.), and a fellowship from the Conselho Nacional de Desenvolvimento Científico e Tecnológico (to C.F.B.H.). Sequence data were generated in the Evolutionary Genetics Core Facility and Biotechnology Resource Center at Cornell University, and analyses benefited from resources at Cornell's Computational Biology Service Unit, which is partially funded by Microsoft Corporation.
Authors' Affiliations
(1)
Departamento de Zoologia, Instituto de Biociências, UNESP - Univ Estadual Paulista, Rio Claro, Brazil
(2)
Department of Ecology and Evolutionary Biology, Cornell University, Ithaca, USA
(3)
Departamento de Ciências Biológicas, UNIFESP - Univ Federal de São Paulo, Campus Diadema, Diadema, Brazil
Copyright
© Thomé et al.; licensee BioMed Central Ltd. 2012
This article is published under license to BioMed Central Ltd. This is an Open Access article distributed under the terms of the Creative Commons Attribution License (http://creativecommons.org/licenses/by/2.0), which permits unrestricted use, distribution, and reproduction in any medium, provided the original work is properly cited.