Research article

Open Access
Mitogenomic sequences and evidence from unique gene rearrangements corroborate evolutionary relationships of myctophiformes (Neoteleostei)
BMC Evolutionary Biology
2013
13:111
Received: 17 February 2012
Accepted: 20 May 2013
Published: 3 June 2013
Abstract
Background
A skewed assemblage of two epi-, meso- and bathypelagic fish families makes up the order Myctophiformes – the blackchins Neoscopelidae and the lanternfishes Myctophidae. The six rare neoscopelids show few morphological specializations whereas the divergent myctophids have evolved into about 250 species, of which many show massive abundances and wide distributions. In fact, Myctophidae is by far the most abundant fish family in the world, with plausible estimates of more than half of the oceans combined fish biomass. Myctophids possess a unique communication system of species-specific photophore patterns and traditional intrafamilial classification has been established to reflect arrangements of photophores. Myctophids present the most diverse array of larval body forms found in fishes although this attribute has both corroborated and confounded phylogenetic hypotheses based on adult morphology. No molecular phylogeny is available for Myctophiformes, despite their importance within all ocean trophic cycles, open-ocean speciation and as an important part of neoteleost divergence. This study attempts to resolve major myctophiform phylogenies from both mitogenomic sequences and corroborating evidence in the form of unique mitochondrial gene order rearrangements.
Results
Mitogenomic evidence from DNA sequences and unique gene orders are highly congruent concerning phylogenetic resolution on several myctophiform classification levels, corroborating evidence from osteology, larval ontogeny and photophore patterns, although the lack of larval morphological characters within the subfamily Lampanyctinae stands out. Neoscopelidae is resolved as the sister family to myctophids with Solivomer arenidens positioned as a sister taxon to the remaining neoscopelids. The enigmatic Notolychnus valdiviae is placed as a sister taxon to all other myctophids and exhibits an unusual second copy of the tRNA-Met gene – a gene order rearrangement reminiscent of that found in the tribe Diaphini although our analyses show it to be independently derived. Most tribes are resolved in accordance with adult morphology although Gonichthyini is found within a subclade of the tribe Myctophini consisting of ctenoid scaled species. Mitogenomic sequence data from this study recognize 10 reciprocally monophyletic lineages within Myctophidae, with five of these clades delimited from additional rearranged gene orders or intergenic non-coding sequences.
Conclusions
Mitogenomic results from DNA sequences and unique gene orders corroborate morphology in phylogeny reconstruction and provide a likely scenario for the phylogenetic history of Myctophiformes. The extent of gene order rearrangements found within the mitochondrial genomes of myctophids is unique for phylogenetic purposes.
Keywords
MyctophiformesMyctophidaeNeoscopelidaePhylogenyMitogenomicsGene rearrangementsNon-coding sequence
Background
Lanternfishes (Myctophidae) and blackchins (Neoscopelidae) comprise the only two families in the order Myctophiformes, superorder Scopelomorpha [1], a group currently including some 250 species [2]. The 32 genera of Myctophidae contain about 98% of the species diversity, and morphological characters have clearly shown Myctophidae more derived compared to the more generalized Neoscopelidae [3–6]. Myctophids are exclusively marine and pelagic, occupying depths from surface waters down to the upper 1000 meters of the bathypelagic layer (1000–4000 meters). The group as a whole constitutes fairly small fishes ranging in size from 20 to 300 millimeters, with larger members being confined to the bathypelagic realm. They are ubiquitous in the World's oceans and exhibit extremely high abundances with one estimate as high as 65% of all pelagic deep-sea fish biomass [7].
The most striking feature of myctophids is their often species-specific patterns of photophores (light-organs), which have earned them their popular name lanternfishes. Photophores are named according to specific patterns present in various degrees throughout different myctophid lineages (Figure
1
), making photophore patterns important when reconstructing the evolution of myctophids. It is generally believed that species-specific flash communication underpins the evolution of photophore patterns although myctophids are also macrosmatic, i.e. possessing large olfactory organs, indicating a complicated communication system not fully understood [
8
]. Myctophid fishes are believed to communicate in a firefly-like manner by using duration- and intensity-variable flashes of light produced by species-specific and sexually dimorphic patterned photophores [
3
,
9
]. One argument against flash communication is the almost identical photophore patterns observed between some species, making it virtually impossible to discriminate between flashes except within very close range [
10
]. Although bioluminescence has evolved multiple times across open-ocean organisms [
11
], the possibility of using this feature in tracing the natural history of an entire clade is, however, unique within open-ocean and deep-sea animals. The mechanism behind myctophid bioluminescence has caused some debate since bioluminescent bacteria of the strain
Vibrio
were found by Foran [
12
] using hybridization probes and later challenged by Haygood et al. [
13
] who confidently excluded both symbiotic bacteria and bacterial luciferase as the light source. It is now generally accepted that a coelenterazine system is responsible for myctophid bioluminescence [
11
,
14
], contrary to e.g. the famous deep-sea anglerfishes that possess family-specific symbiotic photobacterial strains of
Vibrio
in the esca [
15
,
16
]. Most myctophids that have been examined concerning their visual spectrum show a tendency towards longer wavelengths for absorption and emission, resulting in a dim blue bioluminescence as typically found in deep-sea fishes [
17
]. The latter study found a relatively confined spectral range of absorption in myctophids compared to other mesopelagic fishes. However, Hasegawa et al. [
18
] found that
Myctophum nitidulum
also possessed longer wavelength retinal pigments enabling them to detect a broader spectrum of wavelengths produced by other animals, and/or their own light emission and down-welling sunlight. Extended spectral range is familiar from loose-jaw dragonfishes well-known for emitting long-wavelength red light from orbital photophores, enabling them to communicate or detect prey at wavelengths invisible to other deep-sea organisms [
19
]. Turner et al. [
17
] note that possession of a relatively limited spectral range could be the result of a shared evolutionary history more than multiple instances of visual adaptation to the mesopelagic environment.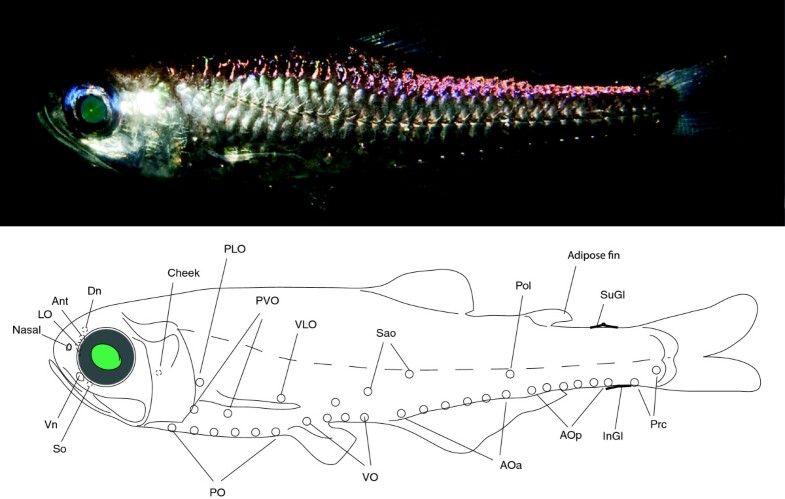 Diel vertical migration (DVM) is a prominent feature of myctophids although not all myctophid species engage in this activity [20]. DVM prompted the famous "false bottom" (or the deep scattering layer) discovery, turning out to be massive occurrences of the swimbladder-possessing myctophid Ceratoscopelus maderensis among other deep-sea animals [21]. DVM is common across many animal groups and is generally believed to involve feeding and/or reduced predation risk associated with reduced light intensity [22]. Herring [23] notes that if populations are biased towards horizontal layers, as is often the case with myctophids, DVM might be an effective way to channel intra-specific encounters and could be important in mate recognition. A phylogenetic component in DVM has not been explored although DVM is clearly more pronounced in some groups of myctophids than others, e.g. the slendertails of the tribe Gonichthyini including the genera Gonichthys, Centrobranchus, Tarletonbeania and Loweina.
Stiassny [
5
] and Yamaguchi [
24
] have most recently reviewed myctophiform synapomorphies and there is little doubt that the order constitutes a monophyletic assemblage. Intrarelationships of Neoscopelidae (3 genera and 6 species) are not well resolved [
5
] with generic relationships within Myctophidae better understood bearing on the classification initially by Bolin [
6
], subsequently Fraser-Brunner [
4
], and finally Paxton [
3
]. They classified the order into two families, divided the myctophids into two subfamilies that together include six tribes, based on osteology and photophore patterns (Figure
2
A). This classification is still in use today, except for the lineage Electronini also being recognized as a distinct tribe as originally designated by Wisner [
25
]. Additional corroborating evidence for this classification has been presented partly from urodermal bones [
26
] and notably a broad range of larval body forms [
27
–
30
] (Figure
2
B-D). Myctophid larvae show some of the most diverse forms within any teleost order and characters associated with early ontogeny have proven valuable in phylogenetics [
30
]. Stiassny [
5
] added new data and reviewed existing characters, resulting in a topology little resolved below subfamily level (Figure
2
E). Yamaguchi [
24
] carried out the most recent analysis using the characters provided by the previous studies, which again resulted in an unresolved topology (Figure
2
F). Morphological work on photophore patterns, adult osteology and larval ontogeny have clearly established their utility in myctophid phylogenetics, although missing larval characters in the subfamily Lampanyctinae have been a significant source of discrepancy between morphological hypotheses [
29
]. Larval characters corroborate parts of adult phylogenetic reconstruction (Figure
2
) although the larvae of the large genus
Diaphus
have proven exceptionally difficult to identify [
30
]. The most persistent issue concerning myctophid phylogenetics has been the placement of
Notolychnus valdiviae
, a monotypic, diminuitive, putatively plesiomorphic myctophid showing dorsally located photophores, weak ossification and several characters difficult to assess even on subfamily level [
3
]. Recent cladistic analyses of morphological characters have converged on
Notolychnus
as sister taxon to the remaining lampanyctines (Figure
2
) as initially suggested by Paxton [
3
].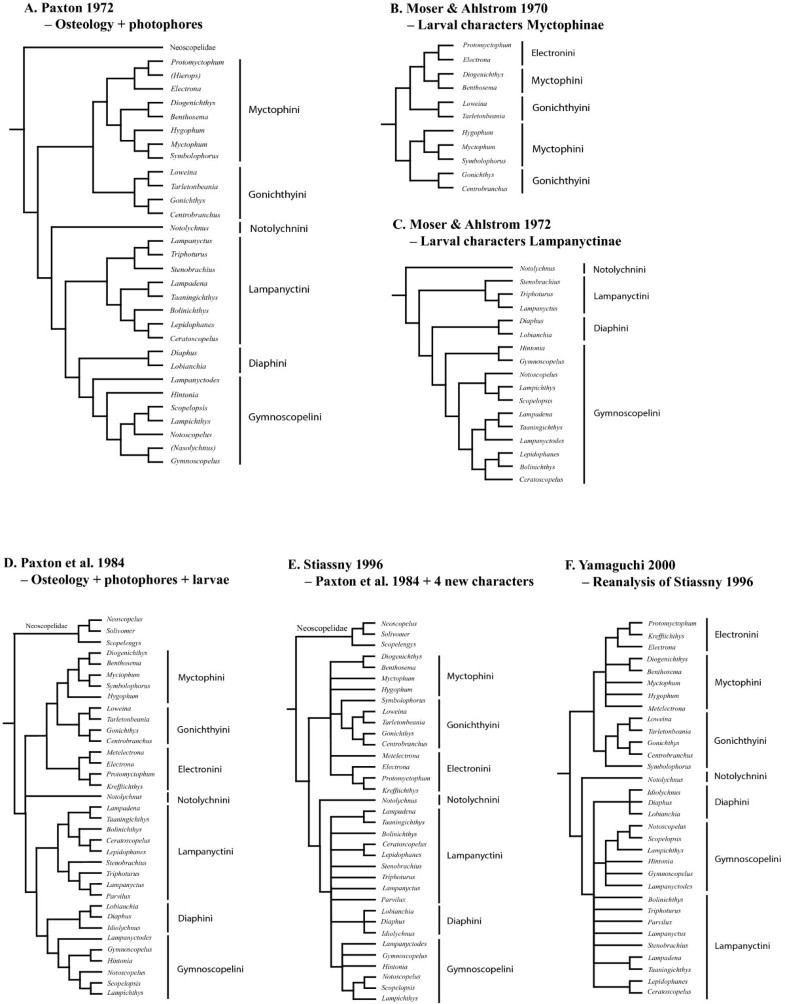 Surprisingly little molecular work has been carried out on Myctophiformes considering their abundance and at times problematic species identification. Yamaguchi et al. [31] tested photophore patterns, biogeographical distributions and diverse larval eye morphology within Hygophum in a phylogenetic context. The results indicated all three attributes as somewhat informative concerning speciation pattern, although clear conclusions were hard to extract due to few characters (partial 16S rRNA gene sequences) and incomplete taxon sampling. However, with an increasing understanding of myctophiform phylogeny, this type of study will become highly valuable in terms of assessing open-ocean speciation patterns in myctophids as well as other open-ocean fish components [32].
Miya et al. [33] produced the first mitochondrial (mt) genome mapping of myctophiform fishes, showing that the two myctophids Diaphus splendidus and Myctophum affine possess non-typical vertebrate mt gene arrangements, whereas the neoscopelid fish Neoscopelus microchir exhibits the typical gene arrangement for vertebrates [34]. Their findings indicated that mt gene arrangements of myctophid fishes have the potential to provide evidence concerning clade delimitation at various levels. Clade-specific gene orders are considered strong evidence for monophyly since the process of gene duplication and subsequent deletions are considered random and rare events [35–39]. However, accumulating evidence shows positive selection on some rearranged mt gene orders [40] to be much more common than initially expected [41]. Intergenic non-coding (INC) regions are likewise believed to provide evidence for phylogenetic history, although this group of markers has been poorly explored mainly because of insufficient taxon sampling.
This study is the first to use mitogenomic DNA sequences combined with additional information from extensively rearranged gene orders and INC-sequences to explore myctophiform phylogeny.
Conclusions
Mitogenomes from myctophiform fishes provide a unique empirical case of mt DNA sequences and gene order rearrangements that corroborate evolutionary history. Future mitogenomic determination of the 200+ remaining species within Myctophidae will most certaninly increase our knowledge concerning issues associated with gene order rearrangement events and their utility as phylogenetic markers. Multiple different gene orders found throughout the mt genome, utility as phylogenetic markers and the unknown causes and mechanisms associated with gene duplication and subsequent retention and/or removal of sequences, calls for the determination of complete mt genomes over single genes. Our results support the use of osteology and photophores in phylogeny of Myctophiformes, the latter being a very unique feature of any deep-sea group of organisms. Larval ontogeny is also informative albeit difficult to use on higher phylogenetic levels and particularly within the subfamily Lampanyctinae.
Declarations
Acknowledgements
No ethical issues
The authors declare that no ethical issues were present for this study.
JYP thanks K. Mabuchi, T. Kon, Y. Yamanoue, M. Nakatani, M. Seimiya, M. Yorifuji, S. Hayeun, M. Takada, M. Kawaguchi, T. Shuto, M. Kato, A. Kinjo, T. Nagasaki, (AORI), K. Sünksen, N. Hammeken, S. Hvass, H. Lund (GN-Pinngortitaleriffik) and all crew onboard R/V Pâmiut.
For providing tissue and access to vouchers we thank Center for Molecular Biodiversity Research (NSMT), M. Moku (AORI), H.J. Walker (SIO), S.W. Knudsen, M. Kragh, T. Menne, P. Møller, J. Nielsen (ZMUC), K. Hartel (MCZ), A.C. Bentley (KU), C. Kenealey (WU), A. Graham (CSIRO), G. Herrera, L. Rodriguez-Grana, (Chile & Uruguay, respectively), J. Paxton, A. Hay (AUS), K-T. Shao, L.Y-C. Liao, P-L. Lin (ASIZP), N.V. Gordeeva (IOGEN). A big thanks goes to H. Endo and N. Nakayama (BSKU) for onboard sampling for this study.
For general logistics we thank G. Langhelle, L. Emdal (ZMUB), L. Lindblom, K. Meland (UIB) and Rudolf Svendsen for contributing UW-photograph.
Two anonymous reviewers and editor provided highly constructive reviews of this manuscript before publication. Funding was provided by JSPS Research grants (17207007, 19207007, and 22370035) and Bergen University Museum Ph.D.- and travel grants for JYP.
Authors' Affiliations
(1)
Natural History Collections, University Museum of Bergen, University of Bergen, Bergen, Norway
(2)
Department of Marine Bioscience, Atmosphere and Ocean Research Institute, The University of Tokyo, Kashiwa-shi, Japan
(3)
National Museum of Nature and Science, Tsukuba, Japan
(4)
Department of Zoology, Natural History Museum and Institute, Chuo-ku, ChibaJapan
Copyright
© Poulsen et al.; licensee BioMed Central Ltd. 2013
This article is published under license to BioMed Central Ltd. This is an Open Access article distributed under the terms of the Creative Commons Attribution License (http://creativecommons.org/licenses/by/2.0), which permits unrestricted use, distribution, and reproduction in any medium, provided the original work is properly cited.