Research article

Open Access
Evolution of the myosin heavy chain gene MYH14 and its intronic microRNA miR-499: muscle-specific miR-499 expression persists in the absence of the ancestral host gene
BMC Evolutionary Biology
2013
13:142
Received: 27 November 2012
Accepted: 13 June 2013
Published: 6 July 2013
Abstract
Background
A novel sarcomeric myosin heavy chain gene, MYH14, was identified following the completion of the human genome project. MYH14 contains an intronic microRNA, miR-499, which is expressed in a slow/cardiac muscle specific manner along with its host gene; it plays a key role in muscle fiber-type specification in mammals. Interestingly, teleost fish genomes contain multiple MYH14 and miR-499 paralogs. However, the evolutionary history of MYH14 and miR-499 has not been studied in detail. In the present study, we identified MYH14/miR-499 loci on various teleost fish genomes and examined their evolutionary history by sequence and expression analyses.
Results
Synteny and phylogenetic analyses depict the evolutionary history of MYH14/miR-499 loci where teleost specific duplication and several subsequent rounds of species-specific gene loss events took place. Interestingly, miR-499 was not located in the MYH14 introns of certain teleost fish. An MYH14 paralog, lacking miR-499, exhibited an accelerated rate of evolution compared with those containing miR-499, suggesting a putative functional relationship between MYH14 and miR-499. In medaka, Oryzias latipes, miR-499 is present where MYH14 is completely absent in the genome. Furthermore, by using in situ hybridization and small RNA sequencing, miR-499 was expressed in the notochord at the medaka embryonic stage and slow/cardiac muscle at the larval and adult stages. Comparing the flanking sequences of MYH14/miR-499 loci between torafugu Takifugu rubripes, zebrafish Danio rerio, and medaka revealed some highly conserved regions, suggesting that cis-regulatory elements have been functionally conserved in medaka miR-499 despite the loss of its host gene.
Conclusions
This study reveals the evolutionary history of the MYH14/miRNA-499 locus in teleost fish, indicating divergent distribution and expression of MYH14 and miR-499 genes in different teleost fish lineages. We also found that medaka miR-499 was even expressed in the absence of its host gene. To our knowledge, this is the first report that shows the conversion of intronic into non-intronic miRNA during the evolution of a teleost fish lineage.
Keywords
Myosin heavy chainMYH14 (MYH7b)microRNAmiR-499MuscleMuscle fiber-typeTeleostei
Background
To meet the constantly changing functional demands, the physiological properties of skeletal muscle are highly adjustable and are achieved through a process of switching muscle fiber-types, such as slow and fast muscle fibers, in response to internal and external stimuli, a process termed muscle fiber-type plasticity [1]. Myosin heavy chains (MYHs) form a large gene family that includes sarcomeric MYHs, major contractile proteins of striated muscles that are expressed in a spatio-temporal manner defining the functional properties of different muscle fiber subtypes [1]. In humans, sarcomeric MYHs form two clusters on the genome where skeletal and cardiac MYHs are arrayed in tandem on chromosome Chr17 and Chr14, respectively [2–5]. Upon completion of the human genome project, a novel MYH named MYH14 (MYH7b) was identified on Chr20 [6], recently, there has been increasing interest in its direct involvement in muscle fiber-type plasticity. Mammalian MYH14 has a microRNA, miR-499, in its 19th intron that suppresses the expression of genes involved in muscle fiber-type specification [7–11]; thus, miR-499 seemingly acts to support normal slow-muscle formation in mammals.
Our previous studies revealed that teleost fish also have MYH14 in their genomes [12, 13]. Expression analysis in torafugu Takifugu rubripes Abe 1949 and zebrafish Danio rerio Hamilton 1822 revealed that MYH14 is one of the major components of the MYH repertoire expressed in the slow and cardiac muscles of teleost fish [14, 15], suggesting its role in teleost muscle formation. Consistent with functional conservation with mammals, Wang et al. [16] showed that the transcriptional network of Sox6/MYH14/miR-499 plays an essential role in maintaining slow muscle lineage in larval zebrafish muscle. Our previous study also showed that teleost fish contain a higher number of MYHs in their genomes than do their mammalian counterparts [12, 13, 17, 18]. Two MYH14 paralogs, MYH M3383 and MYH M5 , were identified in the torafugu genome by phylogenetic and syntenic analyses [13]. Moreover, we have also previously found that medaka Oryzias latipes lacks MYH14 in the syntenic region [15]. These lines of evidence allowed us to speculate on the existence of a highly varied distribution and function of MYH14 and miR-499 in teleost fish.
The aim of this study was to elucidate the evolutionary history of MYH14/miR-499 in fish. MYH14 and miR-499 genes were screened from available vertebrate genome databases, and their evolutionary history was examined by synteny and phylogenetic analyses. In this study, we confirm the conversion of intronic into intergenic miRNA during fish evolution.
Discussion
Figure
5
shows the putative evolutionary history of the
MYH14
/miR-499 locus in teleost fish. It has been proven that after two rounds of whole genome duplication (WGD) in a common ancestor of vertebrates, a third WGD occurred in the fish lineage [
24
–
28
]. This fish-specific WGD occurred at the base of the Teleostei lineage, after diverging from ancient fish groups such as Polypteriformes, Acipenseriformes, and Lepisosteidae [
29
]. Our phylogenetic analysis clearly shows duplication of the
MYH14
/miR-499 locus after the divergence of spotted gar, indicating that the teleostei-specific WGD provided present-day
MYH14
/miR-499 paralogs in teleost fish.
TRPC4AP
and
SULF2
genes located next to
MYH14
, were also duplicated in the fish-specific WGD. However, information on Osteoglossomorpha, Elopomorpha, Clupeomorpha, and Protacanthopterygii, which are important fish groups comprised of neoteleostei, was not reviewed in this study. Therefore, further analysis is required to fully reveal
MYH14
/miR-499 evolution in fish.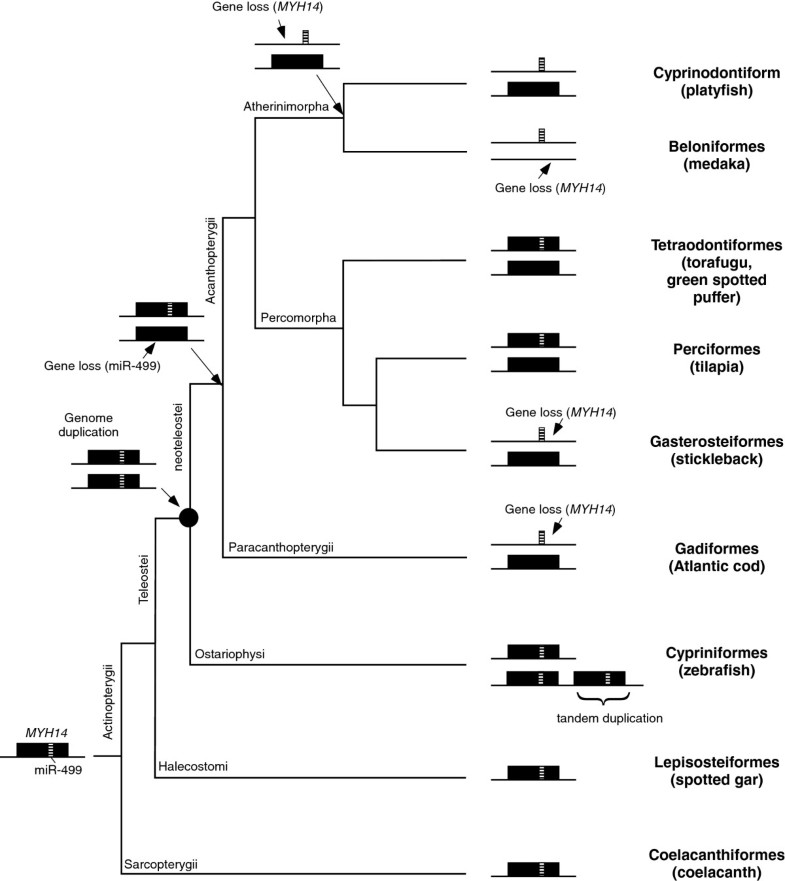 The existence of multiple MYH14 and miR-499 genes in various teleost fish suggests their expressional and functional versatilities. Torafugu MYH14-1 (MYH M5 ) expression was observed in both slow and cardiac muscles in the developmental and adult stages, whereas MYH14-2 (MYH M3383 ) expression was restricted to adult slow muscle [13, 14]. Zebrafish MYH14-1 was expressed in both slow and cardiac muscles in the early developmental stages and in slow and intermediate muscles in the adult stage [15]. Furthermore, our present study demonstrates that medaka miR-499 expression differed from the above-mentioned MYH14expression patterns (see Figure 3). It would be interesting to determine whether such differences in MYH14 and miR-499 are related to physiological and ecological variations among teleost fish species. Fish are the most diverse vertebrate group consisting of over 22,000 species. In response to the wide range of environmental and physiological conditions they encounter, the characteristics of fish musculature, including muscle fiber-type composition, are also highly diverse. Medaka makes a particularly interesting subject because of the complete elimination of MYH14 from its genome. Although muscle fiber-type composition has not been well characterized in medaka, Ono et al. [30] reported an MYH gene specifically expressed in slow muscle fibers at the horizontal myoseptum. Such MYH expression has never been reported in other teleost fish species. In contrast, medaka fast muscle exhibits high plasticity to adapt to temperature fluctuations by changing MYH expression [18, 31]. Further comparative analyses of MYH14 and miR-499 may shed light on the mechanisms involved in the formation of species-specific musculature evolution.
The loss of the intronic miRNA in the ancestor of cod and the Acanthopterygii might be explained by functional redundancy. The loss of intronic miRNA from the host gene is possible if mutations are introduced into an intron without any effect on the function and expression of the host gene. Stickleback, medaka, and Atlantic cod display the opposite pattern with the intronic miRNA lacking its host gene. Intronic miRNAs are transcribed with their host genes, and thus, coordinated expression between an intronic miRNA and its host gene is frequently observed [32]. In the present study, however, medaka miR-499 was actually expressed in various tissues despite the absence of MYH14 (see Figure 3). How does intronic miRNA remain after the loss of its host gene? We speculate that miR-499 is a canonical intronic miRNA produced by drosha cropping (see Figure 4B). Recent studies have revealed that splicing and pre-miRNA cropping by drosha are independent processes, indicating that splicing is not essential for intronic miRNA production [33]. In other words, severe mutations of the host gene may not affect the production of intronic miRNAs in the presence of the host gene transcriptional system. Interestingly, sequence comparison analysis showed highly conserved 5′-flanking regions between torafugu MYH M5 and medaka miR-499 (see Figure 5A). The spatio-temporal expression of the major skeletal MYHs in teleost fish is regulated by small regions scattered throughout the 5′-flanking sequence [18, 30, 34, 35]. Recently, Yeung et al. [36] reported promoter activity in a 6.2-kb upstream sequence of mouse MYH14 that mimics endogenous MYH14 and miR-499 expression. Therefore, these conserved regions in the 5′-flanking sequence may act as a promoter for the spatio-temporal expression of MYH14, and the regulatory sequences are conserved in medaka miR-499 despite the loss of the MYH14 gene. We could also speculate that miR-499 has its own promoter as do some intronic miRNAs. In fact, Matthew et al. [37] reported uncoupled MYH14 and miRNA-499 expression in mice, suggesting the independent transcriptional regulation of miR-499 from MYH14. Isik et al. [38] found a conserved region immediately upstream of some intronic miRNAs in C. elegans and demonstrated in promoter activity the conserved region. An intronic sequence immediately downstream of miR-499 is conserved among zebrafish, torafugu, and medaka, as shown in Figure 4A, which could be the miR-499 promoter. These findings can potentially explain why miR-499 has remained despite the loss of MYH14 in some teleost fish genomes. To our knowledge, this is the first report that describes the conversion of intronic into non-intronic miRNA during evolution. Comparative analysis of transcriptional regulation between intronic and intergenic miR-499s will provide new insights into miRNA evolution.
Declarations
Acknowledgment
This study was partly supported by a Grant-in Aid for Scientific research from the Japan Society for the Promotion of Science.
Authors' Affiliations
(1)
Department of Aquatic Bioscience, Graduate School of Agricultural and Life Sciences, The University of Tokyo, Bunkyo, Japan
(2)
School of Marine Bioscience, Kitasato University, Minami, Sagamihara, Japan
Copyright
© Bhuiyan et al.; licensee BioMed Central Ltd. 2013
This article is published under license to BioMed Central Ltd. This is an Open Access article distributed under the terms of the Creative Commons Attribution License (http://creativecommons.org/licenses/by/2.0), which permits unrestricted use, distribution, and reproduction in any medium, provided the original work is properly cited.