Research article

Open Access
Sharing the slope: depth partitioning of agariciid corals and associated Symbiodiniumacross shallow and mesophotic habitats (2-60 m) on a Caribbean reef
BMC Evolutionary Biology
2013
13:205
Received: 15 June 2012
Accepted: 14 August 2013
Published: 23 September 2013
Abstract
Background
Scleractinian corals and their algal endosymbionts (genus Symbiodinium) exhibit distinct bathymetric distributions on coral reefs. Yet, few studies have assessed the evolutionary context of these ecological distributions by exploring the genetic diversity of closely related coral species and their associated Symbiodinium over large depth ranges. Here we assess the distribution and genetic diversity of five agariciid coral species (Agaricia humilis, A. agaricites, A. lamarcki, A. grahamae, and Helioseris cucullata) and their algal endosymbionts (Symbiodinium) across a large depth gradient (2-60 m) covering shallow to mesophotic depths on a Caribbean reef.
Results
The five agariciid species exhibited distinct depth distributions, and dominant Symbiodinium associations were found to be species-specific, with each of the agariciid species harbouring a distinct ITS2-DGGE profile (except for a shared profile between A. lamarcki and A. grahamae). Only A. lamarcki harboured different Symbiodinium types across its depth distribution (i.e. exhibited symbiont zonation). Phylogenetic analysis (atp6) of the coral hosts demonstrated a division of the Agaricia genus into two major lineages that correspond to their bathymetric distribution ("shallow": A. humilis / A. agaricites and "deep": A. lamarcki / A. grahamae), highlighting the role of depth-related factors in the diversification of these congeneric agariciid species. The divergence between "shallow" and "deep" host species was reflected in the relatedness of the associated Symbiodinium (with A. lamarcki and A. grahamae sharing an identical Symbiodinium profile, and A. humilis and A. agaricites harbouring a related ITS2 sequence in their Symbiodinium profiles), corroborating the notion that brooding corals and their Symbiodinium are engaged in coevolutionary processes.
Conclusions
Our findings support the hypothesis that the depth-related environmental gradient on reefs has played an important role in the diversification of the genus Agaricia and their associated Symbiodinium, resulting in a genetic segregation between coral host-symbiont communities at shallow and mesophotic depths.
Keywords
Niche partitioning
Species diversification
Mesophotic
Deep reef
Agariciidae
Symbiodinium
Background
Historically, coral species were thought to be extremely ecologically and morphologically plastic, because of the broad variation observed "within species" [1]. Advances in coral taxonomy and ecology have demonstrated that this variation often reflects sibling species occupying distinct ecological niches [2]. The recent advent of molecular approaches has exposed a further wealth of cryptic diversity in scleractinian corals [3–5] often in relation to particular environments, highlighting the role of niche partitioning [6–9] in addition to ecophenotypic plasticity [10, 11]. Likewise, the algal endosymbionts that associate with reef-building corals and allow them to exploit light as an energy source in oligotrophic conditions, were originally thought to consist of a single algal symbiont, Symbiodinium microadriaticum[12]. By now, we know that Symbiodinium diversity in tropical scleractinian corals consists of several different phylogenetic clades [13–15], species [16, 17] and hundreds of different subclades based on the ITS2 region of the ribosomal DNA [14, 16]. These different Symbiodinium genotypes often represent physiologically distinct entities that can be strongly partitioned across host species, geographic regions and particular reef environments [18–23]. Although ecological niche partitioning across environmental gradients (e.g. light, temperature, turbidity) appears fundamental to maintaining the diversity of both scleractinian corals and their endosymbiotic dinoflagellates, the evolutionary context of this host-symbiont niche partitioning remains poorly understood.
Despite the great diversity of Symbiodinium types found in reef invertebrates, many coral host species appear to associate with a specific genetic lineage (or group) of Symbiodinium[16]. Particularly in brooding corals, where the onset of symbiosis occurs through the vertical transmission of Symbiodinium from the maternal colony to the larvae, high levels of host-symbiont specificity have been observed [8, 24–27]. Molecular studies targeting both symbiotic partners have identified tightly coupled host-symbiont associations in brooding corals at the family [20], genus [9] and species level [8, 9, 26]. As such, natural selection may be acting on the level of the coral holobiont (i.e., host and symbiont combined) in species with a vertical symbiont acquisition mode, resulting in coevolution of both symbiotic partners. Incongruence between the phylogenies of corals and their associated Symbiodinium indicates that recombination of host-symbiont associations does occur over the course of evolution [13, 16, 28, 29], however the occurrences of such events may be less likely over ecological timescales. It is therefore important to study the evolutionary origin and implications of such host-symbiont specificity, particularly in light of the environmental change predicted over the next decades [30].
The evolutionary context of coral host-symbiont niche partitioning is also important in the context of reef connectivity between distinct environments and more specifically the ability of reef habitats that offer some kind of protection against certain disturbances, such as deep reefs, to act as a "protected" local source of propagules [31, 32]. Although the association of a coral species with different Symbiodinium types may facilitate its distribution across distinct reef environments [20, 33–35], larval connectivity between these alternative environments may be hampered if symbiotic associations are constrained through vertical symbiont transmission and recruits are not able to adopt symbiont types better-suited to their "new" environment [26]. Along those same lines, host populations may be locally adapted to opposing environments and distinct symbiont populations may in fact reflect genetic differentiation of both symbiotic partners [31]. Such genetic partitioning of host and symbiont populations has been observed across shallow and deep populations of the pocilloporid coral species Madracis pharensis in the Caribbean [9] and Seriatopora hystrix on the Great Barrier Reef [8, 26, 32]. To gain a better understanding of the ability of mesophotic reefs to act as refugia (for species that occur over large depth ranges) and a subsequent source of reproduction for degraded shallow reefs it is important to determine the overlap in genetic diversity of host and symbiont communities in shallow and deep reef environments. Given the prevalence of a brooding reproductive mode (>65%) and therefore vertical symbiont transmission on Caribbean reefs [31, 36], there is a potential for strong genetic differentiation between host-symbiont associations in shallow and mesophotic communities in this region [27]. However, this hypothesis remains largely untested, primarily as molecular data from mesophotic coral communities are limited.
Mesophotic reef communities in the Caribbean are commonly dominated by members of the Agariciidae [37–39], and in particular by the species Agaricia lamarcki and Agaricia grahamae[31, 40]. The plating growth forms, such as those of Agariciidae, are thought to be particularly well suited to maximize light capture in these low-light environments [41]. Nonetheless, species of the genus Agaricia can be abundant throughout the entire depth range of Caribbean reefs and A. humilis, for example, occurs only in very shallow sections of reefs [42]. Species of Agaricia can exhibit high linear growth rates [43] and these brooding species are major contributors to the pool of coral recruits on Caribbean reefs [38, 42, 44, 45]. Data on the phylogenetic affiliation of Symbiodinium associated with Western-Atlantic agariciids is limited, however records so far demonstrate association with Symbiodinium from clade C and occasionally clade D [16, 46–50]. It remains unclear whether the brooding reproductive mode of Western-Atlantic agariciids has resulted in host-symbiont specificity and to what extent the associated Symbiodinium diversity allows this genus to be abundant across large depth gradients.
Here, we assessed Symbiodinium genetic diversity for the five most common agariciid corals in Curaçao over a large depth range (2-60 m) encompassing both shallow and mesophotic depths. We addressed the level of specificity between the different coral species and their dominant Symbiodinium (i.e. the algal type(s) that are most abundantly present in the coral tissue), and evaluated whether these host-symbiont associations are partitioned over depth. Additionally, sequencing of a host mitochondrial region disclosed agariciid evolutionary patterns, and allowed evaluation of further genetic structuring of the coral host in relation to symbiont and depth. Results are discussed in light of extensive previous work on the brooding species of the coral genus Madracis[9, 21, 34, 51] to address common patterns of genetic diversity over depth, and explore potential processes of codiversification in brooding Caribbean corals and their algal symbionts. Overall, the potential role of depth-related processes in the evolution of brooding corals and their associated Symbiodinium is discussed, as are the implications with regards to larval connectivity between shallow and deep coral reef habitats.
Results
Species abundances over depth
The species abundances at Buoy Zero/One differed among depths and revealed different distribution ranges for the five agariciid species (Figure 1c). At the shallowest depths (2-5 m), A. humilis is the most dominant species, with A. agaricites starting to occur at 5 m. At 10-15 m, A. agaricites becomes the most dominant species, with colonies of A. humilis and A. lamarcki being present in lower abundances. At 25 m depth A. agaricites and A. lamarcki occur in roughly equal abundances, but A. lamarcki takes over as the dominant species beyond this depth. From 40 m onwards, A. grahamae starts occurring, although in low numbers. H. cucullata was observed from 10-60 m, but always in relatively lower abundances.
Symbiont diversity across host species and depth
Across the five different host species, a total of six distinct ITS2-DGGE profiles were distinguished (Figure
2
; see Additional file
1
for DGGE profiles). A distinct profile was observed for
A
.
humilis
(P1, n = 71),
A
.
agaricites
(P2, n = 113), and
H
.
cucullata
(P5, n = 16). Three different profiles (P3, n = 34; P4, n = 69; P4*, n = 2) were observed for
A
.
lamarcki
, of which one (P4) was shared with the species
A
.
grahamae
(n = 20) (Figure
2
). Given that five of the six profiles contained at least three co-dominant ITS2 sequences, we decided to assign a number to the DGGE profiles (P1, P2, P3, P4, P4* and P5) rather than referring to individual
Symbiodinium
types. Although these co-dominant sequences likely represent intra-genomic variants within the rDNA of a single symbiont lineage (little variation in relative band intensity was observed) [
66
], it cannot be excluded that some of the profiles may represent a mix of distinct
Symbiodinium
types. Additionally, other
Symbiodium
types may be present at background levels that cannot be detected due to the limitations of ITS2-DGGE [
57
,
58
].
All the ITS2-DGGE fingerprint profiles for
Agaricia
spp. contained the
Symbiodinium
C3 sequence, in combination with 2-3 sequences that were all closely related to C3 (Figure
3
). All of these sequences were novel (GenBank Accession Numbers KF551185-KF551192), except for C3b in
A
.
humilis
, C3d in
A
.
lamarcki
, and C11 in
A
.
lamarcki
/
grahamae
. Novel sequences are identified (in this manuscript) by a nomenclature that specifies the sequence to which they are most related, followed by a capital N (indicating novel sequence) and an arbitrary number in italics (e.g. C3b
N1
). Except for the shared C3 sequence, all profiles contained distinct
Symbiodinium
sequences (i.e. no overlap between profiles) indicating that each of these profiles contain (a) different
Symbiodinium
type(s). However, one
Symbiodinium
ITS2 profile (P4*) was observed in only 2 colonies of
A
.
lamarcki
(at 25 m) and was identical to the P4 profile but with an extra band that corresponded with the C1 sequence. The several
Agaricia
morphs that could not be unambiguously identified (
Agaricia
sp.) all contained the P4 profile (n = 10). For
H
.
cucullata
we could only obtain a single recoverable ITS2 sequence (C
N8
), which represented a more distant, novel
Symbiodinium
type (GenBank Accession Number KF551192) (Figure
3
).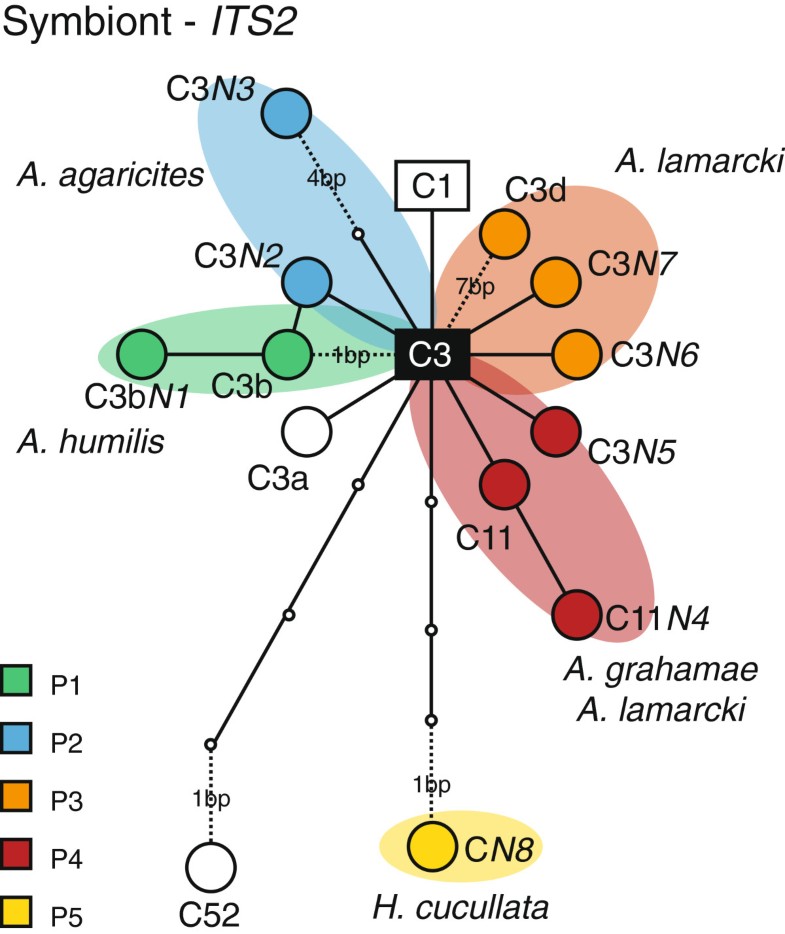 A. humilis, A. agaricites, A. grahamae and H. cucullata all harboured a single symbiont profile across the entire depth range across which they were sampled. A. lamarcki, the only species observed to harbour multiple symbiont profiles, showed a marked zonation, with colonies at 10 and 25 m depth harbouring either P3 (n = 34) or P4 (n = 36), whereas colonies (>40 m) exclusively harboured P4 (n = 33). Colonies hosting a mix of P3 and P4 profiles were not observed. There were no significant differences (Two-Way ANOSIM; depth nested within sampling year) between sampling years. The pairwise comparisons between the different depths confirmed that the symbiont community associated with A. lamarcki at 40 m was significantly different from 10 and 25 m (One-Way ANOSIM; not taking into account sampling year; respectively R = 0.15; p < 0.01 and R = 0.082; p < 0.05).
Host genetic structure across taxonomic species and depth
Seven different mtDNA haplotypes were identified across the 93 specimens for which the
atp6
region (1260 bp including indels) was sequenced (Figure
4
; GenBank Accession Numbers KF551193-KF551199). A single haplotype was observed for
H
.
cucullata
(n = 10), and indels were only observed when
Agaricia
sequences were aligned with those of
H
.
cucullata
. The remaining haplotypes were observed for
Agaricia
specimens and the number of substitutions between these sequences ranged from 0 to 16. The
Agaricia
haplotype network consists of two clades and four main haplotypes (i.e. subclades), with the majority of
A
.
lamarcki
and all
A
.
grahamae
specimens belonging to clade 2 (respectively 90 and 100%), most
A
.
agaricites
belonging to subclade 1a (86%), and
A
.
humilis
belonging to subclades 1b and 1c (69%). The
Agaricia
sp. specimens that were sequenced (n = 9 of 10) were found across the two main clades. Under the AMOVA framework (including only identified
Agaricia
specimens), 60% of molecular variance (Φ
SPP-TOT
 = 0.599; P < 0.001) was explained by morphotaxonomic species designation. No significant contributions of
Symbiodinium
type (2%; Φ
SYM-SPP
 = 0.058; P = 0.232) and depth (0%; Φ
DEP-SPP
 = -0.059; P = 0.668) could be detected, when nested within taxonomic species.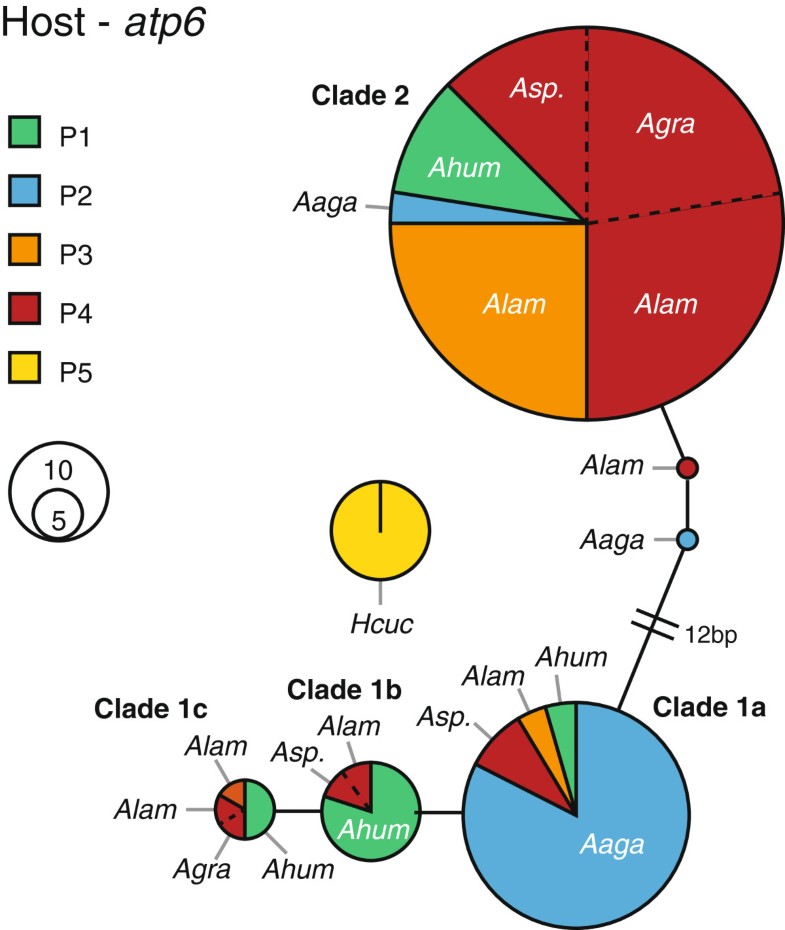 Phylogenetic analyses (ML, MP and BAY) of the
atp6
region of the
Agaricia
specimens (Figure
5
), using
H
.
cucullata
and
Pavona clavus
as outgroups, supported the monophyly of the genus
Agaricia
and subdivision of the genus into two main lineages (with bootstrap values across phylogenetic methods higher than 97), with sequences of the two lineages largely corresponding with
A
.
lamarcki
/
A
.
grahamae
and
A
.
humilis
/
A
.
agaricites
specimens respectively. The latter lineage is further subdivided into two lineages largely corresponding with
A
.
humilis
and
A
.
agaricites
(ML/MP/BAY: 94/69/93). Despite the mostly invariant host sequences among conspecifics, a small number of specimens belonging to different species were observed within each lineage. However, in all these cases the symbiont type hosted by these specimens confirmed the taxonomic identity (see Figure
4
). Specimens that could not be identified (
Agaricia
sp.) were found to belong to the three different groups, although all hosting
Symbiodinium
profile P4, with 5 specimens from 25-40 m in the
A
.
lamarcki
/
grahamae
group, 2 specimens from 50 m in the
A
.
agaricites
group, and 2 specimens from 60 m in the
A
.
humilis
group.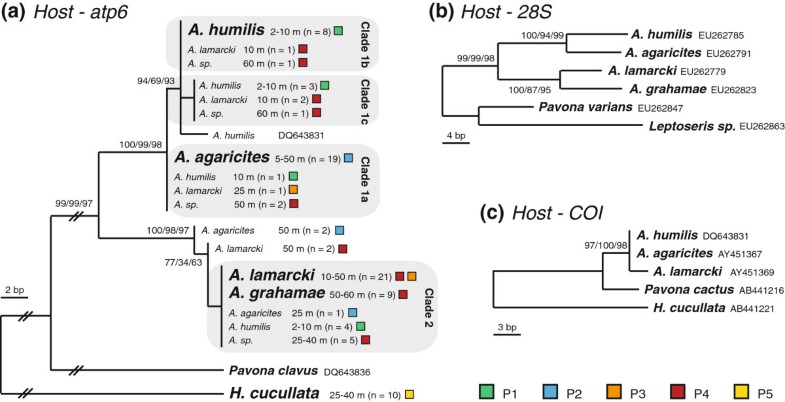 Analyses of COI and 28S sequences for the same Agaricia spp. [60–63], using Pavona spp. and respectively Leptoseris sp. and H. cucullata as outgroups, corroborate the phylogenetic pattern revealed through the atp6 region (Figure 5b, c). However, where COI shows no differentiation between A. humilis and A. agaricites, the 28S region differentiates between A. lamarcki and A. grahamae specimens. As such, the 28S region supports the subdivision of the Agaricia genus into two main lineages, corresponding to shallow (A. humilis and A. agaricites) and deeper species (A. lamarcki and A. grahamae).
Despite this cladal division into shallow and deep Agaricia species, no clear genetic subdivision was observed within species over depth (Figure 5), or in the case of A. lamarcki in relation to symbiont type (Figure 4). Nonetheless, several shallow specimens of A. lamarcki were found within the A. humilis (n = 3; 10 m) and A. agaricites groups (n = 1; 25 m). Additionally, several specimens of A. agaricites from 25 (n = 1) and 50 m (n = 2) depth were observed in the A. lamarcki/grahamae lineage.
Discussion
This study assessed the depth distribution and genetic variation of five agariciid coral species and their associated Symbiodinium across a large depth gradient (2-60 m) on a single reef. Overall, we found a tight coupling between coral species and their dominant Symbiodinium at the study location, and strong evidence for depth-related niche partitioning of these associations. Depth-related parameters appear to have played a major role in the diversification of the coral genus Agaricia and its dominant algal endosymbionts, resulting in a clear genetic partitioning between coral host-symbiont communities across shallow and mesophotic depths.
Conclusions
The findings in this study highlight that depth-related parameters have played a major role in the diversification of brooding corals and their associated Symbiodinium, and corroborate the notion that brooding corals and their Symbiodinium are engaged in processes of coevolution. Further studies should investigate whether any adaptive differentiation of these species has occurred at the population level, and whether the high levels of specificity observed here are also prevalent in other brooding coral genera. Overall, we need a better understanding of the actual mechanisms through which the depth-related environmental gradients have led to population/species divergence on coral reefs and how this evolutionary history affects the current day and future interconnectedness of shallow and deep reef systems.
Declarations
Acknowledgements
The authors thank Floris de Jongh, John Crocker, Dennis Hamro-Drotz, and other students that have helped over the years with the collection of coral specimens. We thank Judith Bakker and Joshua Boldt for their support during deep dives, Carlos "No joh" Winterdaal for tremendous support in the field, Harry Witte and Linda Tonk for their assistance in the lab, and Maria Bongaerts for providing input on manuscript figures. This study was funded by the Australian Research Council (ARC) Centre of Excellence for Coral Reef Studies, Pacific Blue Foundation, Schure-Beijerinck-Popping fund (KNAW), and supported by the CARMABI Research Station.
Authors' Affiliations
(1)
School of Biological Sciences, The University of Queensland, St Lucia, Australia
(2)
Global Change Institute, The University of Queensland, St Lucia, Australia
(3)
ARC Centre of Excellence for Coral Reef Studies, The University of Queensland, St Lucia, Australia
(4)
CARMABI, Willemstad, Curaçao
(5)
Department of Marine Biology, University of Vienna, Vienna, Austria
(6)
Netherlands Institute for Sea Research, Den Burg, The Netherlands
(7)
Heron Island Research Station, The University of Queensland, Heron Island, Australia
(8)
Aquatic Microbiology, Institute for Biodiversity and Ecosystem Dynamics, University of Amsterdam, Amsterdam, The Netherlands
Copyright
© Bongaerts et al.; licensee BioMed Central Ltd. 2013
This article is published under license to BioMed Central Ltd. This is an Open Access article distributed under the terms of the Creative Commons Attribution License (http://creativecommons.org/licenses/by/2.0), which permits unrestricted use, distribution, and reproduction in any medium, provided the original work is properly cited.