Research article

Open Access
Inferring the evolutionary histories of divergences in Hylobates and Nomascus gibbons through multilocus sequence data
BMC Evolutionary Biology
2013
13:82
Received: 17 January 2013
Accepted: 8 April 2013
Published: 12 April 2013
Abstract
Background
Gibbons (Hylobatidae) are the most diverse group of living apes. They exist as geographically-contiguous species which diverged more rapidly than did their close relatives, the great apes (Hominidae). Of the four extant gibbon genera, the evolutionary histories of two polyspecific genera, Hylobates and Nomascus, have been the particular focus of research but the DNA sequence data used was largely derived from the maternally inherited mitochondrial DNA (mtDNA) locus.
Results
To investigate the evolutionary relationships and divergence processes of gibbon species, particularly those of the Hylobates genus, we produced and analyzed a total of 11.5 kb DNA of sequence at 14 biparentally inherited autosomal loci. We find that on average gibbon genera have a high average sequence diversity but a lower degree of genetic differentiation as compared to great ape genera. Our multilocus species tree features H. pileatus in a basal position and a grouping of the four Sundaic island species (H. agilis, H. klossii, H. moloch and H. muelleri). We conducted pairwise comparisons based on an isolation-with-migration (IM) model and detect signals of asymmetric gene flow between H. lar and H. moloch, between H. agilis and H. muelleri, and between N. leucogenys and N. siki.
Conclusions
Our multilocus analyses provide inferences of gibbon evolutionary histories complementary to those based on single gene data. The results of IM analyses suggest that the divergence processes of gibbons may be accompanied by gene flow. Future studies using analyses of multi-population model with samples of known provenance for Hylobates and Nomascus species would expand the understanding of histories of gene flow during divergences for these two gibbon genera.
Keywords
Species tree
Isolation with migration
Gene flow
Autosomal loci
Phylogenetic relationships
Hylobates
Nomascus
Divergence process
Background
Gibbons are a family (Hylobatidae) of ape species endemic to the rainforests of the mainland and islands of Southeast Asia, including the Malay Peninsula, Sumatra, Borneo, Java and Mentawai Islands (Figure 
1
). They are the closest relatives of the great ape family (Hominidae) to which humans belong, and offer an interesting opportunity for comparisons. Like present-day great apes, the extant gibbons comprise four genera, which feature strikingly different numbers of chromosomes and extensive rearrangement of chromosomes [
1
–
6
]. Some 14 to 19 gibbon species have been recognized and classified into the genera
Hylobates
,
Hoolock
,
Nomascus
, and
Symphalangus
, indicating that gibbons consist of many more species than the seven species comprising the current day great apes [
1
,
7
–
13
]. In contrast to the geographically-discontinuous distribution of current-day great apes, gibbons now or recently live in close geographic proximity to one another. Moreover, the divergence of the four extant great ape genera (
Homo
,
Gorilla
,
Pan
and
Pongo
) apparently occurred over a time span of more than five million years [
14
–
16
], whereas the radiation of the four gibbon genera may have occurred within less than two million years [
10
,
17
]. Due to their close relationship to great apes, high taxonomic diversity and rapid diversification, gibbons have increasingly been the subject of molecular genetic analyses (e.g. [
10
,
17
–
23
]).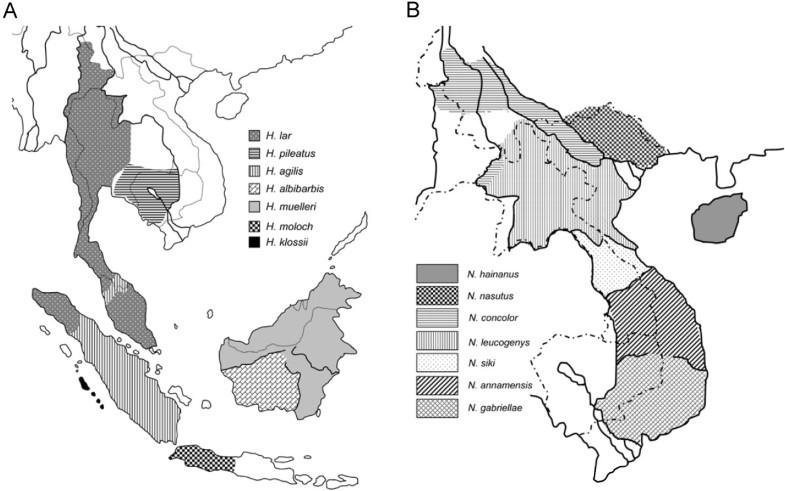 Analyses of chromosomal number and structure and sequences of mitochondrial DNA (mtDNA) and nuclear loci consistently find that all four gibbon genera are monophyletic [
3
,
10
,
17
–
21
,
24
–
26
], although the exact phylogenetic relationships among the genera are still debated. Different phylogenetic trees have been proposed, and a basal position of
Nomascus
was indicated based on sequences of mtDNA control region and cytochrome b gene [
10
,
20
,
23
] but this result conflicts with the basal placement of the genus
Hoolock
in studies based on sequences of mtDNA ND3-ND4 genes [
24
], the concatenated sequences of mtDNA, Y-linked and X-linked loci [
17
], sequences of autosomal and X chromosomal regions [
22
] and chromosomal analysis [
3
], as well as with the basal position of the
Symphalangus
genus in an
Alu
-based phylogeny of gibbons [
27
]. Moreover, the evolutionary relationships within the two polyspecific genera,
Hylobates
and
Nomascus
, have been the particular focus of research using sequence data from the mtDNA and nuclear loci (e.g. [
10
,
12
,
17
–
19
,
25
,
28
,
29
]). MtDNA cytochrome b gene sequence analyses suggested that the divergences among
Nomascus
species accompanied a successive migration from north to south in which the two northernmost species
N. hainanus
and
N. nasutus
diverged first, followed by
N. concolor
and the two groups of southern species (the species
N. leucogenys
and
N. siki
and the two southernmost species
N. annamensis
and
N. gabriellae
) diverged last (Figure 
1
B; [
10
,
12
]). In contrast to the pattern found in the genus
Nomascus
, the biogeographic scenario for the dispersal of
Hylobates
species is still in question [
10
,
17
,
20
,
25
]. Nonetheless, the phylogenetic tree inferences from several datasets of mtDNA sequences (Figure 
2
B; [
24
,
25
]) and the concatenated sequences of the mtDNA, Y-linked and X-linked loci [
17
] suggest that the two northernmost mainland species (
H. lar
and
H. pileatus
) may have branched off earlier than other
Hylobates
gibbons, although the tree inferences from other sequence datasets of mtDNA cytochrome b gene and Y chromosome placed
H. klossii
[
10
],
H. moloch
[
20
] or
H. muelleri
(Figure 
2
C [
19
]) as basal species in
Hylobates
phylogeny Figure 
2
.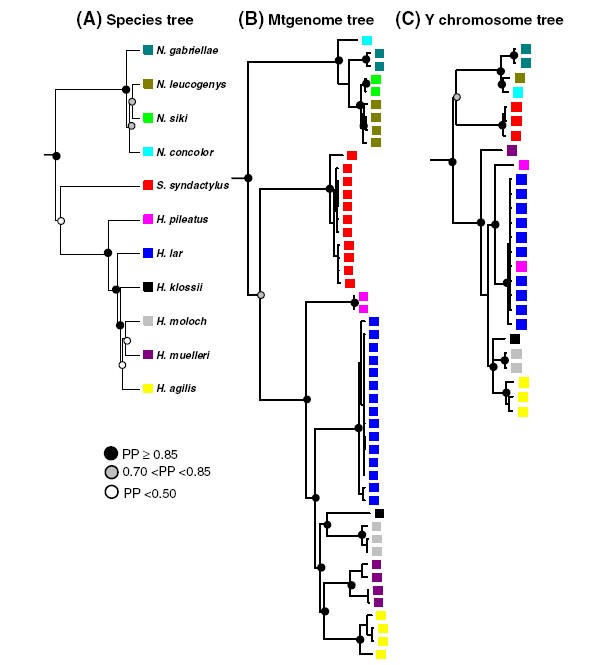 Although sequence data have thus been utilized to elucidate the phylogenetic relationships of Hylobates and Nomascus gibbons, most of these data were derived from single uniparentally inherited loci such as the maternally-inherited mtDNA [10, 12, 18, 20, 24, 25, 29] or the Y chromosome [28]. While mtDNA in particular provides useful information due to its rapid rate of evolution, DNA sequence data from multiple autosomal loci are needed to provide more comprehensive insights into the evolutionary relationships of species [30–32]. Recent advances in sequencing technologies have facilitated the gathering of multilocus sequence data from multiple individuals with extreme efficiency and thereby it has been feasible to acquire such data to explore evolutionary questions on species or population levels, even for non-model species [33, 34]. A number of analytical approaches have been developed that process multilocus data to estimate parameters in a coalescent framework with use of the Bayesian Markov chain Monte Carlo (MCMC) method, which enables multilocus species tree inference in contrast to the trees inferred from single genes or concatenated sequences of multiple genes (e.g. [35–41]). In addition, multilocus data are suitable for the investigation of whether the divergence of closely related species was accompanied by gene flow (e.g. [39, 40, 42–51]).
These coalescent-based approaches provide an opportunity to use multilocus sequence data to re-examine the phylogenetic relationships of Hylobates species and Nomascus species through reconstruction of species trees as well as to investigate the role of gene flow in the evolutionary histories of these gibbons. Among the Hylobates species, three areas of sympatry with natural hybridization have been documented between species through the observations of wild populations: H. agilis and H. lar in the north-western part of peninsular Malaysia, H. lar and H. pileatus in eastern central Thailand and, H. muelleri and H. albibarbis in central Borneo, respectively [52–54]. Also, small areas of sympatry between N. concolor and N. leucogenys in regions of northern Vietnam, northwestern Laos and southern China have been reported and possible hybrid individuals between N. concolor and N. leucogenys have been identified [9, 53, 55]. A recent study of a large amount of nuclear sequence data (16 nuclear loci with a total length of ~40 kb) from a limited number of individuals detected a signal of gene flow between N. gabriellae and N. leucogenys[22]. These findings highlighted the possibility that gene flow may occur between other pairs of co-generic gibbon species during their divergences as well.
In this study, we generated multilocus autosomal DNA sequence data to investigate the evolutionary histories of gibbons. Specifically, we sequenced 14 autosomal noncoding loci, which in previous studies were useful for elucidating evolutionary histories of great apes, from each of 44 gibbon individuals. We examined the levels of genetic variation and differentiation among the gibbon taxa, and further compare levels of genetic variation and patterns of genetic diversity between the gibbon and great ape families. We reconstructed evolutionary relationships among the sampled gibbon taxa using coalescent species tree analysis employed in the program *BEAST and we further applied the isolation-with-migration (IM) model implemented in the program IMa2 to assess the possibility of gene flow between closely related species.
Conclusions
Our analyses of sequence data of 14 autosomal loci, coupled with two coalescent-based analyses (*BEAST and IMa2), provide inferences of species trees and the extent and patterns of gene flow among gibbon taxa. Our tree (Figure 2A), like those based upon mtDNA sequences or the concatenated sequences of mtDNA, Y-linked and X-linked loci, shows H. pileatus as the basal Hylobates taxon and groups the four Sundaic species (Figure 2B; [17, 24, 25]). We find evidence for unidirectional gene flow between some gibbon species; namely between H. lar and H. moloch, between H. agilis and H. muelleri and between N. leucogenys and N. siki. Further insights will require the use of multi-population analyses investigating historical gene flow involving ancestral populations [49, 64] by use of a larger dataset of more loci as well as a larger set of samples of known geographic origin.
Abbreviations
IM:

Isolation with migration
mtDNA:

Mitochondrial DNA
MCMC:

Markov chain Monte Carlo
mtgenome:

Mitochondrial genome
HPD:

Highest posterior density
MYA:

Million years ago
WGA:

Whole genome amplification
PCR:

Polymerase chain reaction
BWA:

Burrows-Wheeler Aligner
ESS:

Effective sample sizes
AIC:

Akaike information criterion.
Declarations
Acknowledgements
We are grateful to the following colleagues, zoos and institutions for providing valuable gibbon materials: the late Osamu Takenaka of Kyoto University, Akiko Takenaka of Nagoya Bunri University, Bambang Suryobroto of Bogor Agricultural University, Suchinda Malaivijitnond of Chulalongkorn University, Bristol Zoo, Duisburg Zoo, Krefeld Zoo, Leipzig Zoo, Nuremberg Zoo, Rostock Zoo, Twycross Zoo, London Zoo, Wuppertal Zoo, Chiang Mai Zoo, Dusit Zoo, Ragunan Zoo, Taipei Zoo, Primate Research Institute of Kyoto University, Japan Monkey Centre, and Pingtung Rescue Center of Endangered Wild Animals. This work was supported by a grant from the Leakey Foundation (L.V.), a fellowship of the Deutscher Akademischer Austausch Dienst (Y.-C.C.) and the Max Planck Society.
Authors' Affiliations
(1)
Department of Primatology, Max-Planck Institute for Evolutionary Anthropology, Leipzig, Germany
(2)
Gene Bank of Primates and Primate Genetics Laboratory, German Primate Center, Göttingen, Germany
(3)
Wildlife Research Center, Kyoto University, Sakyo-ku, Japan
(4)
Graduate School of Science, Kyoto University, Sakyo-ku, Japan
(5)
Animal Division, Taipei Zoo, Taipei City, Taiwan
(6)
Institute of Wildlife Conservation, National Pingtung University of Science and Technology, Neipu Township, Pingtung County, Taiwan
Copyright
© Chan et al.; licensee BioMed Central Ltd. 2013
This article is published under license to BioMed Central Ltd. This is an Open Access article distributed under the terms of the Creative Commons Attribution License (http://creativecommons.org/licenses/by/2.0), which permits unrestricted use, distribution, and reproduction in any medium, provided the original work is properly cited.