Research article

Open Access
A molecular timescale of eukaryote evolution and the rise of complex multicellular life
BMC Evolutionary Biology
2004
4:2
Received: 10 November 2003
Accepted: 28 January 2004
Published: 28 January 2004
Abstract
Background
The pattern and timing of the rise in complex multicellular life during Earth's history has not been established. Great disparity persists between the pattern suggested by the fossil record and that estimated by molecular clocks, especially for plants, animals, fungi, and the deepest branches of the eukaryote tree. Here, we used all available protein sequence data and molecular clock methods to place constraints on the increase in complexity through time.
Results
Our phylogenetic analyses revealed that (i) animals are more closely related to fungi than to plants, (ii) red algae are closer to plants than to animals or fungi, (iii) choanoflagellates are closer to animals than to fungi or plants, (iv) diplomonads, euglenozoans, and alveolates each are basal to plants+animals+fungi, and (v) diplomonads are basal to other eukaryotes (including alveolates and euglenozoans). Divergence times were estimated from global and local clock methods using 20–188 proteins per node, with data treated separately (multigene) and concatenated (supergene). Different time estimation methods yielded similar results (within 5%): vertebrate-arthropod (964 million years ago, Ma), Cnidaria-Bilateria (1,298 Ma), Porifera-Eumetozoa (1,351 Ma), Pyrenomycetes-Plectomycetes (551 Ma), Candida-Saccharomyces (723 Ma), Hemiascomycetes-filamentous Ascomycota (982 Ma), Basidiomycota-Ascomycota (968 Ma), Mucorales-Basidiomycota (947 Ma), Fungi-Animalia (1,513 Ma), mosses-vascular plants (707 Ma), Chlorophyta-Tracheophyta (968 Ma), Rhodophyta-Chlorophyta+Embryophyta (1,428 Ma), Plantae-Animalia (1,609 Ma), Alveolata-plants+animals+fungi (1,973 Ma), Euglenozoa-plants+animals+fungi (1,961 Ma), and Giardia-plants+animals+fungi (2,309 Ma). By extrapolation, mitochondria arose approximately 2300-1800 Ma and plastids arose 1600-1500 Ma. Estimates of the maximum number of cell types of common ancestors, combined with divergence times, showed an increase from two cell types at 2500 Ma to ~10 types at 1500 Ma and 50 cell types at ~1000 Ma.
Conclusions
The results suggest that oxygen levels in the environment, and the ability of eukaryotes to extract energy from oxygen, as well as produce oxygen, were key factors in the rise of complex multicellular life. Mitochondria and organisms with more than 2–3 cell types appeared soon after the initial increase in oxygen levels at 2300 Ma. The addition of plastids at 1500 Ma, allowing eukaryotes to produce oxygen, preceded the major rise in complexity.
Keywords
Molecular ClockProtein Sequence DataFossil CalibrationPrimary CalibrationSecondary Calibration
Background
Organismal complexity can be defined in many ways, although the most common measure is the number of cell types [1–4]. Prokaryotes and many unicellular eukaryotes have only one or a few cell types, but vertebrates have more than 100 [1]. If cell types provide a tracer of complex life, it is of interest to know the general pattern of increase over the history of life. For example, a literal interpretation of the Cambrian explosion (520 million years ago, Ma), when many animal phyla first appeared in the fossil record, would be that a rapid increase in complexity occurred during the last one-ninth of the history of the planet. This apparent delay in the evolution of complex life on Earth has contributed to the argument that complex life may be rare in the universe [5]. Molecular clocks have yielded earlier times for the origin of animal phyla [6–9], but the methods have received criticism [10, 11]. At the same time, recent fossil discoveries have pushed back the origins of some groups of eukaryotes [12, 13], although a great discordance remains between most molecular clock results and the fossil record.
In this study, we have estimated a contour for the rise in complex life using a phylogeny and timescale derived from currently available protein sequence data. Ancestral numbers of cell types were estimated using the resulting phylogenetic and temporal framework. We have taken care to address criticisms of past molecular clock studies and have used all available timing methods applicable to protein sequence data, including global (constant rate) and local (variable rate) methods. The methods include those based on least-squares analysis [14], Bayesian inference [15], and penalized likelihood [16]. To avoid any potential artifacts arising from analysis of multiple alignments [17, 18], we have also used concatenated datasets [19]. We have tested our calibrations for reciprocity [20] and have used both vertebrate and non-vertebrate fossil calibrations and constraints. The results support a deep history for complex multicellular eukaryotes, and implicate oxygen as a possible trigger for the rise in complex life.
Discussion
Until the late Proterozoic (~600 Ma), oxygen levels remained low [
29
], probably limiting the size of eukaryotes, except in photosynthetic algae. However, such algae would not have occurred prior to the origin of plastids (approximately 1600-1500 Ma; Fig.
2
) unless they acquired photosynthetic abilities through independent symbiotic events. This would argue against the interpretation of the older (>1600 Ma) fossils of "
Grypania
" as photosynthetic eukaryotic algae [
30
] and supports their interpretation as colonial prokaryotes [
31
].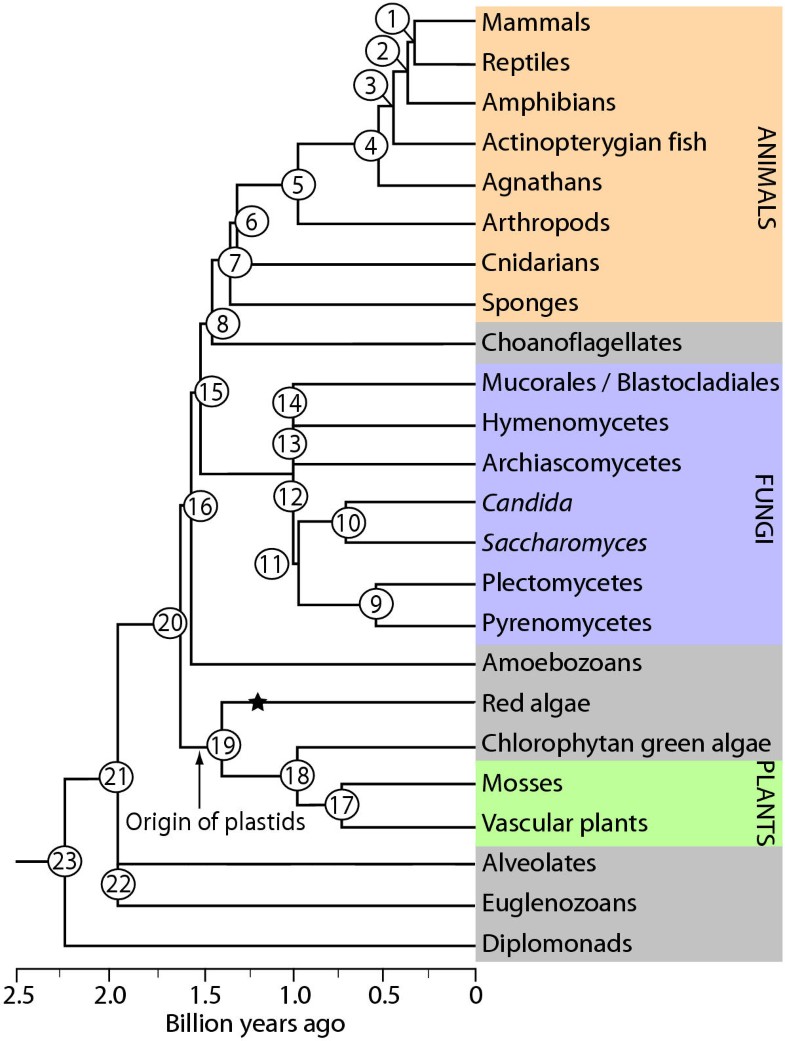 The most frequently used measure of organismal complexity has been the number of cell types [
1
,
2
,
32
]. Other possible measures were not deemed useful (e.g., organism size, genome size) or do not yet have sufficient data available from a diversity of eukaryotes (e.g., number of genes, proteins, transcription factors, introns/exons) for this analysis [
32
,
33
]. With a refined timescale of eukaryote evolution it is possible to compare the increase in cell types through time with events in biotic and Earth history (Fig.
3
). Although the specific pattern depends on the method of reconstructing character change, some general features are evident. Organisms with more than 2–3 cell types (the maximum in prokaryotes) appeared relatively early (~2000 Ma), soon after the surface environment became oxygenated at 2300 Ma (Great Oxidation Event; [
34
]). Later, cell types increased again, from 10 to at least 50 on the animal lineage (1500-1000 Ma). By the early Phanerozoic (500 Ma), organisms with more than 50 cell types had evolved. Complexity increased independently in fungi and plants, although at lower absolute levels than in animals.

There is less confidence in ancestral cell type estimates in the period of initial increase (~2000 Ma) and better support for later estimates (1500-1000 Ma) because of knowledge of gene and structural homology among different groups of animals. For example, it is possible that the last common ancestor of alveolates and higher eukaryotes possessed only one or two cell types rather than the 7–8 predicted in this analysis (Fig. 3; 1973 ± 78 Ma), especially if the rise in complexity was delayed for some reason (e.g., origin of plastids). On the other hand, regardless of when the last common ancestor of protostomes and deuterostomes lived (976 ± 97 Ma in this analysis), there is no doubt that it was a relatively complex (not unicellular) organism with many cell types.
Some early branching eukaryotes (diplomonads) lack mitochondria, although it is debated as to whether they are primitively or secondarily amitochondriate [28]. However, the last common ancestor of mitochondriate eukaryotes, at 1967 ± 65 Ma (Fig. 2), must have possessed a mitochondrion. A molecular clock study of prokaryote and eukaryote genomes [35] arrived at a similar date (1840 ± 200 Ma) for the symbiotic event leading to the mitochondrion, using different data, methods, and approach. This may have been a key event in the rise of complex life, providing eukaryotes with 18 times more energy (over glycolysis alone) for cell signaling and other energy-requiring activities.
Conclusions
Prior to 2300 Ma, oxygen would not have been widely available for use as an energy source, even if mitochondria existed at that time. Therefore, the initial increase in complexity may have been a response to both energy availability (oxygen) and the ability to extract it (mitochondria). The second and more substantial increase in cell types (1500-1000 Ma) occurred immediately following the acquisition of the plastid (1600-1500 Ma) (Fig. 3), again suggesting a relationship with oxygen. Plastids provided eukaryotes with the ability to generate their own oxygen, benefiting those species (e.g., initially algae and alveolates) directly and their ecosystem partners (e.g., early animals and fungi) indirectly.
Declarations
Acknowledgements
We thank D. Boone, B. Eidell, J. Hughes, M. Lyons-Weiler, L. Poling, P. Shah, and H. Stone for assistance in the laboratory; J. Hines for artwork; and D. Pisani and J. L. Thorne for discussion. JLS was supported by the Beckman Scholars Program. Other funding was provided by grants to SBH from the National Aeronautics and Space Administration (Astrobiology Institute; NCC2-1057 and NNA04CC06A) and National Science Foundation (DBI-0112670).
Authors' Affiliations
(1)
NASA Astrobiology Institute and Department of Biology, The Pennsylvania State University, USA
(2)
Harvard School of Dental Medicine, Boston, USA
Copyright
© Hedges et al; licensee BioMed Central Ltd. 2004
This article is published under license to BioMed Central Ltd. This is an Open Access article: verbatim copying and redistribution of this article are permitted in all media for any purpose, provided this notice is preserved along with the article's original URL.