Research article
Open Access
An enigmatic fourth runt domain gene in the fugu genome: ancestral gene loss versus accelerated evolution
BMC Evolutionary Biology
2004
4:43
Received: 07 September 2004
Accepted: 04 November 2004
Published: 04 November 2004
Abstract
Background
The runt domain transcription factors are key regulators of developmental processes in bilaterians, involved both in cell proliferation and differentiation, and their disruption usually leads to disease. Three runt domain genes have been described in each vertebrate genome (the RUNX gene family), but only one in other chordates. Therefore, the common ancestor of vertebrates has been thought to have had a single runt domain gene.
Results
Analysis of the genome draft of the fugu pufferfish (Takifugu rubripes) reveals the existence of a fourth runt domain gene, FrRUNT, in addition to the orthologs of human RUNX1, RUNX2 and RUNX3. The tiny FrRUNT packs six exons and two putative promoters in just 3 kb of genomic sequence. The first exon is located within an intron of FrSUPT3H, the ortholog of human SUPT3H, and the first exon of FrSUPT3H resides within the first intron of FrRUNT. The two gene structures are therefore "interlocked". In the human genome, SUPT3H is instead interlocked with RUNX2. FrRUNT has no detectable ortholog in the genomes of mammals, birds or amphibians. We consider alternative explanations for an apparent contradiction between the phylogenetic data and the comparison of the genomic neighborhoods of human and fugu runt domain genes. We hypothesize that an ancient RUNT locus was lost in the tetrapod lineage, together with FrFSTL6, a member of a novel family of follistatin-like genes.
Conclusions
Our results suggest that the runt domain family may have started expanding in chordates much earlier than previously thought, and exemplify the importance of detailed analysis of whole-genome draft sequence to provide new insights into gene evolution.
Keywords
Genome DraftFuguRUNX GeneTakifugu RubripesRunt Domain
Background
Since the initial description of the Drosophila segmentation gene runt over a decade ago [1], a small family of runt domain (RD) genes has been described and extensively analyzed in several species. The 130 amino acid long runt domain is very highly conserved and is readily identifiable computationally. RD transcription factors are developmental regulators involved both in cell proliferation and differentiation, and their disruption usually leads to disease [2].
In humans, three different RD genes were identified [3] and named according to various schemes, currently standardized by the human gene symbols RUNX1, RUNX2 and RUNX3. RUNX genes have two promoters (P1 and P2, also called distal and proximal, respectively) [4–7] separated by a long intron; the proximal promoter (P2) is always located within a large CpG island [8]. Extensive alternative splicing giving rise to many isoforms has been described for all RUNX genes [9–11].
Orthologs of all three human RUNX genes were identified in mouse. A single RD gene was described in Xenopus, presumed to be orthologous to RUNX1 [12]. An experimental search for RD genes in fugu showed the existence of a fugu ortholog of human RUNX2, and suggested the existence of a single additional RD gene in fugu [13], while a computational search of the fugu genomic sequence revealed three RUNX genes [14]. Four RD genes were identified in Drosophila [14, 15], while a single RD gene exists in C. elegans [16], sea urchin and amphioxus [17]. Based on these data, current thought on the evolution of the RD gene family posits that a single RD gene was present in the common ancestor of chordates [17], and this ancestral gene triplicated during early vertebrate evolution, giving rise to the modern RUNX gene complement. The proposed mechanism of expansion involved large-scale genomic duplications, identifiable today as large paralogous segments [18]. The proper identification of true orthology relationships is often helpful for inferring gene function and translating knowledge between model organisms and more complex species. Under the current model, simple orthology relationships should be expected among vertebrate RUNX genes, but their functional relationship to the ancestral RD gene is unknown. The single known RD gene in C. elegans has been shown to be required for the formation of a functional gut; this role has been claimed to be conserved with mouse Runx3 [19].
The current availability of genome drafts for several vertebrate species, including Homo sapiens, Mus musculus, Rattus norvegicus, Canis familiaris, Gallus gallus, Takifugu rubripes, Tetraodon nigroviridis, Danio rerio and Xenopus tropicalis, allows us to explore a comprehensive set of vertebrate RD genes and characterize their genomic environments, shedding light on the structure and evolution of this important gene family.
Discussion
We have taken advantage of the availability of genomic drafts for several vertebrate species, including the finished human genome, to identify the orthologs of all currently known runt-domain (RD) genes, as well as a novel member of this small gene family. Both pufferfish species (Takifugu rubripes and Tetraodon nigroviridis) have four RD genes; since these genomes are only available as draft assemblies, additional RD genes might be found when the finished genomic sequences are made available.
The function of the novel FrRUNT/TnRUNT gene is currently unknown. Based on the phylogenetic analysis, this novel gene appears to represent an ancestral form of the RD family in vertebrates, subsequently lost in the tetrapod lineage. It is therefore surprising that its gene structure, and not that of RUNX2 as in humans, is interlocked with the SUPT3H gene. Based on the comparative genomics analysis alone, one could hypothesize that FrRUNT is simply a derivative form of RUNX2, i.e. the ortholog of zebrafish RUNX2A. In this case, though, one would expect FrRUNT to be more similar to FrRUNX2 than it is to either FrRUNX1 or FrRUNX3, but in terms of amino acid sequence similarity, it appears to be equidistant from the three RUNX genes. This discrepancy might be explained by invoking accelerated evolution of the pufferfish RUNT genes, perhaps as a lineage-specific adaptation. Typically, nucleotide sequences diverge much faster than amino acid sequences, and the first exons of RD genes are significantly less conserved than the runt domain itself, on which we based our phylogenetic analysis. Therefore, we find it hard to sustain that, while the first exon of FrRUNT maintains its nucleotide similarity to the first exon of RUNX2, the amino acid sequence of the (normally highly conserved) runt domain itself has diverged at such an accelerated pace. Furthermore, we found this not to be an artifact of mutational saturation [26]. A similar situation is observed for the neighboring FSTL6 gene: parsimony considerations could lead one to assume that FSTL6 is a fish-specific duplicate of FSTL1, though contradicting the phylogenetic reconstruction of the evolution of this gene family (Fig. 6). This situation could again be explained by assuming accelerated evolution of FSTL6, but we consider this to be a remarkable coincidence.
The conundrum is whether
FrRUNT
is an ancestral form, or is derived from
RUNX2
. Both hypotheses contradict part of the available data. We propose here a third hypothesis, in the form of an evolutionary history (see Fig.
7
): An ancestral RD gene duplicated in chordates, after divergence from sea urchin, which has a single RD gene [
17
]. One of the two resulting RD genes became the
RUNX
family founder, which expanded by triplication, and one of the three
RUNX
genes (namely
RUNX2
) became interlocked with
SUPT3H
. After the teleost/tetrapod divergence, a regional duplication in teleosts created a second copy of
RUNX2
and its neighboring genes. In the tetrapod lineage, the ancestral
RUNT
gene was lost, in conjunction with
FSTL6
. In the pufferfish lineage, the
RUNT
gene replaced most of
RUNX2A
, perhaps by recombination (Fig.
8
). This is supported by the clear similarity between the first exons of
FrRUNT
and
RUNX2
. The copy of
SUPT3H
interlocked with
RUNX2B
, apparently superfluous, is being lost by gradual degradation, and only small fragments of it remain [
13
]. This scenario is compatible with all the data observed. While it posits a small number of additional evolutionary events, it does not involve highly improbable events like the accelerated evolution of a normally highly conserved protein structural domain. Interestingly, the first duplication event could correspond to the first round of vertebrate genome tetraploidization [
28
]. A second round of tetraploidization in the ancestral vertebrate could have produced a set of four paralogous runt domain genes, and a hypothetical gene conversion event may have led to the current complement of three RUNX genes (Fig.
7
inset). Conversion between paralogous copies of genes derived from tetraploidization events has been demonstrated [
29
].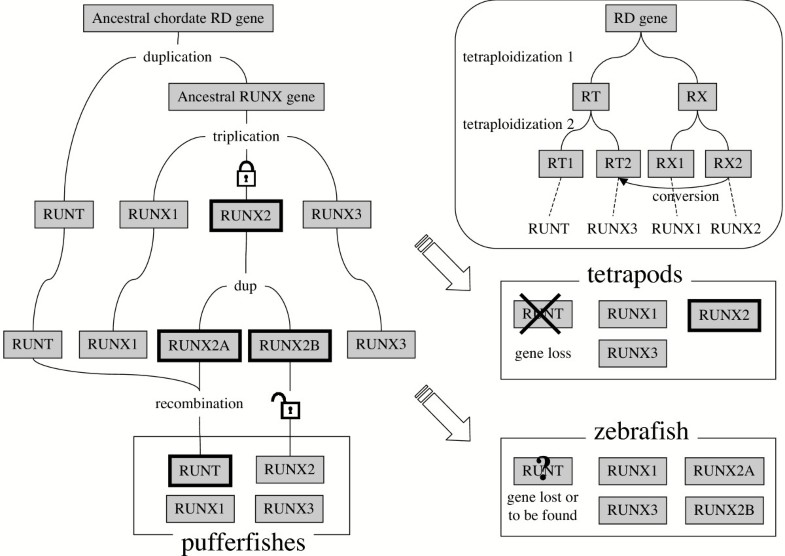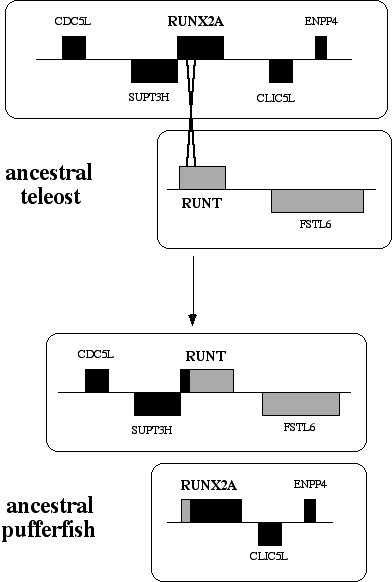 Under the proposed scenario, none of the three extant RUNX genes in mammals represents the ancestral vertebrate RD form. Rather, these derivative genes coexisted with an additional RUNT gene and still do so in teleost genomes. The single known RD gene in amphioxus is more similar to the vertebrate RUNX genes than it is to FrRUNT. It is possible, therefore, that cephalochordates (including amphioxus) have a second RD gene, short and divergent enough to escape experimental detection by DNA hybridization [17]. Why was one of the ancestral RD genes lost in the tetrapod lineage? The three RUNX genes bind to the same DNA motif and modify the expression of target genes through recruitment of transcriptional modulators, which are also shared [30]; functional differences between the three RUNX genes are attained by way of tightly regulated spatiotemporal expression patterns. We hypothesize that the ancestral RUNT gene became inessential to amniotes by functional reprogramming of the remaining three RUNX genes. Its loss would therefore represent an example of evolution by reduction in complexity. In pufferfishes, the hypothesized recombination event would have placed the RUNT gene under the regulatory control of the former RUNX2A promoter. The viability of such a sudden regulatory change would in turn suggest a significant level of functional redundancy among the RD genes.
Conclusions
We identified a fourth runt domain gene in the fugu genome, which appears to represent either a pufferfish-specific, fast-evolving derivative of RUNX2, or a direct descendant of the ancestral chordate RUNT gene. We find the latter hypothesis more reasonable. This novel gene evolved in parallel with the vertebrate RUNX genes, and while it has been preserved in pufferfishes, it appears to have been lost entirely in tetrapods. This suggests that the ancestral vertebrate was more complex than previously suspected.
By studying a very limited set of fugu genomic regions, namely the scaffolds related to RD genes, we have identified seven apparently functional fugu genes that are absent from the human genome (Fig. 5), and were probably lost early in tetrapod history. In the process of identifying relevant homologs for one of these genes (FrFSTL6), we have identified a new family of follistatin-like genes in the human genome. Phylogenetic analysis of the RD protein sequences led to results that contradict those derived from comparative genomics, but we showed that the two could be reconciled into a coherent evolutionary model. These results underscore the importance of obtaining complete genomic sequences of strongly divergent vertebrates, and the value to be derived by performing detailed and integrated analyses of their gene complements.
Methods
Search for RD genes
We used the human RUNX1, RUNX2 and RUNX3 proteins (SwissProt entries Q01196, Q13950 and Q13761, respectively) as queries in a TFASTY [31] search into the Takifugu rubripes "assembly3" genome draft [32] released after publication of the fugu genome [33]. These data have been provided freely by the Fugu Genome Consortium for use in this publication only. This search resulted in the unambiguous identification of four complete RD genes in scaffolds 183, 260, 682 and 835. Scaffold 25789 is nearly identical with range 115299–115845 of scaffold 183, partially overlapping the last exon of FrRUNX3. No further evidence was found for an additional RUNX3 gene: we conclude that scaffold 25789 is an assembly artifact. We similarly searched the genome drafts for Tetraodon nigroviridis produced by the Whitehead Institute and the Genoscope [23], and Danio rerio (Zv1/06 assembly, which was produced by the Zebrafish Sequencing Group at the Sanger Institute [24]. We analyzed, visualized and annotated all resulting genomic sequences using the GESTALT Workbench [20, 34], and produced a detailed gene model for each RD gene. Lacking cDNA or EST data, we reconstructed the putative gene structures by maximizing similarity to known RD proteins. Genomic sequence data have been submitted to GenBank with accessions AY739093-AY739096; the predicted sequences for fugu RD proteins have accessions AAU14190-AAU14193.
In a second round of analysis, we used the newly identified RD genes as queries for renewed TFASTY searches of the genome drafts of human (July 03), mouse (February 03), Xenopus [35] (December 03 assembly) and Ciona intestinalis [36]. We also used BLAT to search into the updated "freezes" of human (May 04), chimp (November 03), mouse (May 04), rat (June 03), dog (July 04), and chicken (Feb 04).
Sequence finishing
Large insert clones spanning the gaps in scaffolds from the version 3 assembly were identified by BLAST searches against the BAC/cosmid database in the v.3.0 JGI website [37]. Cosmids (cloned in Lawrist4) were grown in LB media with kanamycin at 37 ° C for 14 hrs, and DNA was prepared on the Autogen 740 DNA Isolation system in accordance with the manufacturer's instructions. BACs (cloned in pBeloBAC 11) were similarly prepared by growing in media with chloramphenicol. Primers were designed in both directions, across all gaps. Oligonucleotide-directed sequencing from clones and Polymerase Chain Reaction (PCR) methods were used to fill the gaps. PCR amplification was performed on spanning BAC/cosmid or genomic DNA of Takifugu rubripes, generously provided by Dr. Greg Elgar. PCR products were purified with sephacryl (Amersham Pharmacia) and sequenced directly using Applied Biosystems Big dye terminator kit reagents. Whenever necessary, additional pairs of primers were designed for oligonucleotide-directed sequencing to close gaps. Shotgun sequencing data was obtained from the BAC clone OML73850 (b193C08) for part of scaffold 682. OML73850 was fragmented by sonication, end-repaired and electrophoresed to select insert size of 2–5 kb. Insert was ligated into pUC18 vector, transformed and plasmid DNA was made using Eppendorf – 5 Prime PERFECTprep robot and sequenced from both ends. Assembly was carried out using Phrap [38]. Analysis of the resulting sequence shows that OML73850 spans the first 97413 bp of scaffold 682, and links it to scaffold 4260. The additional sequence data generated in-house were combined with the consensus sequences of the scaffolds produced by the JGI WGS assembly v.3 for the purpose of producing a contiguous sequence for each scaffold.
Phylogenetic reconstruction
The sequences were aligned using ClustalW [39]. Phylogenetic trees were built using the neighbor-joining algorithm [40] and tested with 1000 rounds of bootstrapping. Graphics were produced with TreeView [41]. Since full-length protein sequences cannot be reliably aligned for extremely divergent RD genes, we used only the runt domain to reconstruct the relationship between the pufferfish RUNT, human RUNX1, RUNX2 and RUNX3 (NP_00175, NP_033950 and NP_004341, respectively), ciona (C. intestinalis) RUNT, Oikopleura dioica RUNT (AAS21356), amphioxus (B. floridae) RUNT (AY146617), sea urchin S. purpuratus RUNT (NP_999779) and the four Drosophila melanogaster RD sequences (NP_523424, NP_511099, NP_572693 and NP_608398). The tree was rooted using the C. elegans RUN protein (AB027412) as outgroup. We further excluded the first thirteen amino acids of the runt domain, to avoid the topological distortion expected in this region from the highly divergent pufferfish RUNT sequences. For the separate phylogenetic trees of the three RUNX genes, we used the complete protein sequences, with gap opening and extension penalties of 5 and 0.1, respectively. ASaturA analyses were performed using PAM250, Kimura's correction and a cutoff value of 9, with 1000 rounds of bootstrap. The first exons of human and fugu runt domain genes were compared at the nucleotide level. For each exon, we selected the range from 30 nucleotides upstream of the ATG codon, to 15 downstream of the splicing donor site, i.e. 103 nucleotides for each RUNX gene and 94 nucleotides for FrRUNT.
Declarations
Acknowledgments
We wish to thank Yoram Groner, Jared Roach, Irit Rubin, Arian Smit and Raafat El-Gewely for helpful discussions and support, Sydney Brenner for organizing the Pufferfish Finishing Consortium, the Joint Genome Institute for their public release of fugu assembly v.3 and for providing BAC and cosmid libraries, and the Institute for Molecular and Cell Biology at Singapore for funding fugu sequencing in our laboratory.
Authors' Affiliations
(1)
Institute for Systems Biology, Seattle, USA
Copyright
© Glusman et al; licensee BioMed Central Ltd. 2004
This article is published under license to BioMed Central Ltd. This is an Open Access article distributed under the terms of the Creative Commons Attribution License (http://creativecommons.org/licenses/by/2.0), which permits unrestricted use, distribution, and reproduction in any medium, provided the original work is properly cited.