Research article
Open Access
Widespread presence of "bacterial-like" PPP phosphatases in eukaryotes
BMC Evolutionary Biology
2004
4:47
Received: 25 August 2004
Accepted: 19 November 2004
Published: 19 November 2004
Abstract
Background
In eukaryotes, PPP (p rotein p hosphatase P) family is one of the two known protein phosphatase families specific for Ser and Thr. The role of PPP phosphatases in multiple signaling pathways in eukaryotic cell has been extensively studied. Unlike eukaryotic PPP phosphatases, bacterial members of the family have broad substrate specificity or may even be Tyr-specific. Moreover, one group of bacterial PPPs are diadenosine tetraphosphatases, indicating that bacterial PPP phosphatases may not necessarily function as protein phosphatases.
Results
We describe the presence in eukaryotes of three groups of expressed genes encoding "non-conventional" phosphatases of the PPP family. These enzymes are more closely related to bacterial PPP phosphatases than to the known eukaryotic members of the family. One group, found exclusively in land plants, is most closely related to PPP phosphatases from some α-Proteobacteria, including Rhizobiales, Rhodobacterales and Rhodospirillaceae. This group is therefore termed Rhi zobiales / Rh odobacterales / Rh odospirillaceae-l ike ph osphatases, or Rhilphs. Phosphatases of the other group are found in Viridiplantae, Rhodophyta, Trypanosomatidae, Plasmodium and some fungi. They are structurally related to phosphatases from psychrophilic bacteria Shewanella and Colwellia, and are termed She wanella-l ike ph osphatases, or Shelphs. Phosphatases of the third group are distantly related to ApaH, bacterial diadenosine tetraphosphatases, and are termed A paH-l ike ph osphatases, or Alphs. Patchy distribution of Alphs in animals, plants, fungi, diatoms and kinetoplasts suggests that these phosphatases were present in the common ancestor of eukaryotes but were independently lost in many lineages. Rhilphs, Shelphs and Alphs form PPP clades, as divergent from "conventional" eukaryotic PPP phosphatases as they are from each other and from major bacterial clades. In addition, comparison of primary structures revealed a previously unrecognised (I/L/V)D(S/T)G motif, conserved in all bacterial and "bacterial-like" eukaryotic PPPs, but not in "conventional" eukaryotic and archaeal PPPs.
Conclusions
Our findings demonstrate that many eukaryotes possess diverse "bacterial-like" PPP phosphatases, the enzymatic characteristics, physiological roles and precise evolutionary history of which have yet to be determined.
Keywords
Catalytic CentreTBlastN SearchPurple Photosynthetic BacteriumProtein Phosphatase FamilyBacterial Phosphatase
Background
Reversible phosphorylation of proteins is a ubiquitous mechanism, indispensable for regulation of virtually any cellular function. Therefore, protein kinases and phosphatases are of paramount importance for normal functioning of all metabolic and signalling pathways. In eukaryotes, PPP family is one of the two known protein phosphatase families specific for Ser and Thr [1–4]. Unlike eukaryotic (and archaeal [5]) PPP phosphatases, bacterial members of the family have broad substrate specificity [6] or may even be Tyr-specific [7–9]. Moreover, one group of bacterial PPPs are diadenosine tetraphosphatases [10, 11]. Unlike eukaryotes, in prokaryotes PPP phosphatases appear to be facultative, since entirely sequenced genomes of some bacteria and archaea do not encode them [5, 12]. Nevertheless, when present, they appear to play essential roles [13–15].
Three motifs (GDXHG, GDXXDRG and GNH(E/D)), highly conserved in the N-terminal subdomains of the catalytic domains of all PPP phosphatases [10, 11], contain most residues which coordinate metal ions in the active centre [16] and are considered as the signature of the PPP family.
In a previous work [17] we identified an unusual cDNA fragment from a moss Physcomitrella patens, showing no similarities to the known PPP phosphatases beyond the presence of the GDXHG and GDXXDRG motifs. Detection of homologous cDNA sequences from Arabidopsis and rice suggested the presence of an unknown PPP group in plants, distinct from "conventional" eukaryotic PPP phosphatases [17].
We have now taken advantage of a much greater representation (as compared to 1999) of sequence databases for various species to further explore this initial observation. We present the evidence for the existence in eukaryotes of three "non-conventional" branches of the PPP family. We also identify a previously unrecognised conserved motif in the PPP catalytic domain, which can be used as a signature of "bacterial"-type PPP phosphatases.
Discussion
In this report, we have documented the presence in different eukaryotic lineages of the genes that encode PPP phosphatases resembling those of bacterial origin, rather than "conventional" eukaryotic members of the family. Catalytic domains of these "bacterial-like" phosphatases are characterised by relatively conserved structure of the N-terminal subdomains, but very diverse organisation of the C-terminal subdomains, where conserved motifs and residues forming the active centre are separated by sequences of various length that share little or no similarity between different clades (Figure
6
). In most cases, corresponding EST sequences could be detected, which confirms that these genes are expressed.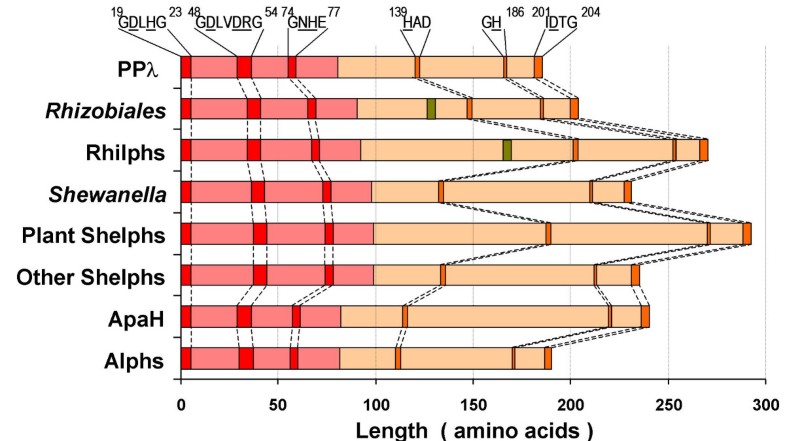 The most conspicuous presence of "bacterial-like" PPPs has been detected in plants. Plants possess phosphatases from all three novel groups described in this work. Rhilphs are most closely related to PPP phosphatases from a number of α-proteobacteria, including purple photosynthetic bacteria and Rhizobiales. The absence of related sequences in eukaryotes other than land plants suggests that Rhilphs may have been acquired after plants started colonising land. Although bacterial lineage that could be the source for plant Rhilphs could not be unambiguously identified by phylogenetic reconstruction, Rhizobiales (or purple photosynthetic bacteria from which Rhizobiales are thought to have originated [33, 34]) appear to be likely candidates. Indeed, Rhizobiales have transmissible chromosomal elements and some, like Agrobacterium, are able to integrate their plasmid genes into plant genome [35] or even transform animal cells [36], a situation that would be ideally suited for a horizontal gene transfer to occur. Interestingly, the presence of genes of rhizobial origin has been detected in plant parasitic nematodes [37]. Possible origin of plant Rhilphs from α-proteobacterial phosphatases is also supported by the presence in the enzymes of both groups of characteristic inserts in similar positions, which share some sequence similarity (see Results).
Phosphatases of another group, designated as Shelphs, are found in green plants, in a red alga, in Apicomplexa, Trypanosomatidae, as well as in some fungi. The similarity between proteins from Apicomplexa and Trypanosomatidae and those from plants is well documented. Trypanosomatidae are related to photosynthetic euglenoids and are thought to have lost plastids secondarily [38]. Apicomplexan parasites have a relict plastid, originated from the engulfment of a red alga [39]. Thus, the presence of phosphatases shared by plants, red algae, Apicomplexa and Trypanosomatidae is not surprising and probably reflects the presence of Shelphs in a common ancestor of photosynthetic eukaryotes. The presence of chloroplast targeting sequence in SLP1 suggests a possible origin of Shelphs from a bacterial precursor of the chloroplast (however it should be noted that Shelphs are absent from cyanobacteria); alternatively, this sequence may have appeared secondarily. Protein Ser/Thr phosphorylation / dephosphorylation is essential for regulation of photosynthesis, and unidentified okadaic acid-insensitive protein phosphatases in chloroplasts have been reported [40, 41]. SLP1 appears to be a good candidate for such a phosphatase.
The origin of fungal Shelphs is unclear. Curiously, they are found in basidiomycetes and in an ascomycete S. pombe, but not in a number of other ascomycetes, whose genomes have been completed. Current data do not permit to discriminate between (i) the presence of Shelphs in a common ancestor of eukaryotes and their loss in such lineages as animals and many fungi, and (ii) independent acquisition of Shelphs from bacteria by an ancestor of photosynthetic eukaryotes and by fungi. Further sequencing of eukaryotic genomes may shed light on the evolutionary history of this PPP group.
The third group of "bacterial-like" phosphatases detected in eukaryotes, designated here as Alphs, appears to be distantly related to bacterial diadenosine tetraphosphatases ApaH. Patchy distribution in several eukaryotic kingdoms suggests that Alphs were probably present in the common ancestor of eukaryotes, but were independently lost in many lineages, including insects, vertebrates and flowering plants. A characteristic modification of the conserved GDXXDRG motif shared only with ApaH further supports a suggestion that Alphs may represent a divergent branch of diadenosine tetraphosphatases, rather than protein phosphatases. However, relatedness of eukaryotic Alphs to bacterial diadenosine tetraphosphatases remains hypothetical, since Alph sequences are too divergent from ApaH, as well as from each other, to permit a reliable phylogenetic reconstruction.
Diadenosine oligophosphates are considered as emerging signalling molecules in both intra- and intercellular signalling in eukaryotes [42, 43]. In particular, human diadenosine oligophosphate hydrolase FHIT has been identified as a tumor suppressor [44]. It seems plausible that appearance of eukaryotic diadenosine oligophosphate hydrolases (structurally unrelated to the PPP phosphatases) may have made bacterial-type diadenosine tetraphosphatases redundant, leading to their loss in many eukaryotic lineages. It would be interesting to test experimentally whether Alphs are indeed diadenosine oligophosphatases.
More generally, an important implication of our findings is that many eukaryotes possess PPP phosphatases with yet undetermined substrate specificity. Eukaryotic PPP phosphatases are generally considered as Ser/Thr specific in vivo, although they may be able to dephosphorylate phosphoTyr-containing substrates in vitro (e.g. [45, 46]). This is probably true for archaeal PPPs as well [5]. However, Ser/Thr specificity is not a feature of bacterial PPP phosphatases [7–9, 13, 47–49]. Thus, it would not be possible to predict substrate specificity of uncharacterised "bacterial-like" PPP phosphatases without experimental evidence. In particular, since Shewanella PPI is Tyr-specific [8], it would be interesting to determine substrate specificity of eukaryotic Shelphs. It is also worth noting that interest in tyrosine phosphorylation in plants has recently been stimulated by identification of plant Tyr phosphatase genes and by the finding that Tyr phosphorylation is involved in the regulation of stomatal movement (reviewed by Luan [50]).
Three motifs, GDXHG, GDXXDRG and GNH(E/D) form the diagnostic signature of all PPP phosphatases [10, 11]. We detected a (I/L/V)D(S/T)G motif, which appears to be a characteristic signature of "bacterial"-type PPPs. The existence of such a motif is striking per se, taking into account extreme structural diversity of bacterial PPP phosphatases. It indicates that (I/L/V)D(S/T)G was probably present as the fourth "universal" signature motif in the common ancestor of PPP phosphatases, and was lost in the common lineage of archaeal and "conventional" eukaryotic PPPs. An alternative possibility could be that the (I/L/V)D(S/T)G motif was acquired by a bacterium and propagated by lateral gene transfer, replacing the ancestral SAPNY-related motif. However this scenario seems less likely, since the (I/L/V)D(S/T)G motif is present, with minor variations, in virtually all bacterial phosphatases, despite their great diversity, and is replaced by SAPNY-related sequences only in archaeal and "conventional" eukaryotic PPPs.
The Asp residue in the 2nd position of (I/L/V)D(S/T)G is highly conserved and can only be replaced by Glu, indicating that the negative charge is essential. The presence of a highly conserved Gly in the 4th position indicates that flexibility of the polypeptide chain is likely to be important. The crystal structure of bacteriophage λ phosphatase (PPλ; [19]) shows that the Asp residue of (I/L/V)D(S/T)G (Asp202) is just downstream of the β9 strand, which corresponds to the β12 strand in mammalian PP1. In PPλ, Asp202 is hydrogen bonded to a water molecule coordinated to one of the metal ions in the catalytic centre, which probably accounts for its conservation. In eukaryotic or archaeal PPPs, corresponding position is occupied by neutral residues (see Figure 5).
It would be tempting to speculate that this difference in the region just downstream of the β9 (β12) may be responsible for a feature that is common to all "bacterial"-type but not to eukaryotic / archaeal PPPs. One such feature is the Ser/Thr specificity of the latter group. The Tyr residue of the SAPNY motif has been suggested to provide a bulky phenol ring in the β12-β13 loop, sufficient to sterically block access of phosphoTyr-containing substrates to the active site [32]. However this is unlikely to be the sole determinant of Ser/Thr specificity, since residues containing bulky aromatic rings (Tyr, Phe or Trp) are found in the same or adjacent positions in many bacterial phosphatases (Figure 5). Since the (I/L/V)D(S/T)G motif, absent in eukaryotic and archaeal PPPs, is involved in organisation of the catalytic centre [19], it is possible that this difference in the catalytic centre organisation may be one of the determinants of broad substrate specificity vs. Ser/Thr specificity.
Conclusions
So far, eukaryotic PPP phosphatases were considered as a well-defined monophyletic group of enzymes, specifically dephosphorylating phosphoSer and phosphoThr, while a much more structurally and enzymatically diverse PPP phosphatases were known to be present in prokaryotes. Our findings demonstrate that, in addition to "conventional" eukaryotic PPP Ser/Thr-specific protein phosphatases, many eukaryotes possess very diverse "bacterial-like" PPP phosphatases. Enzymatic characteristics, physiological roles and evolutionary history of these phosphatases have yet to be revealed.
Methods
Detection of PPP phosphatase-coding sequences
Sequence similarity searches were conducted using BlastP or TBlastN [51] at NCBI [52] in the following databases: "non-redundant" (NR), "expressed sequence tags" (EST), "genomic sequence survey" (GSS) and "high-throughput genomic sequences" (HTGS). Additional Blast searches of the following databases were performed: finished and unfinished genomes of eukaryotes at the NCBI [53]; fungal genomes at the Broad Institute [54]; plant genomes at The Arabidopsis Information Resource (TAIR) [55]; Gene Index databases of tentative consensus sequences (EST assemblies) at The Institute for Genomic Research (TIGR) [56]; Chlamydomonas reinhardtii draft genome [57]. In all cases, reciprocal searches were used, i.e. hits retrieved by Blast searches were in their turn used as queries in the following Blast searches. Accuracy of gene prediction was examined by comparison of the retrieved sequences with translations of corresponding EST entries. In the absence of available ESTs, closely related sequences from other species were used. Taxonomy of the species from which the phosphatase sequences is given according to the NCBI taxonomy web site [58].
Phylogenetic analysis
Multiple alignments were generated using CLUSTAL W [59] at Kyoto University Bioinformatics Centre [60] and edited manually. During manual editing, particular attention was paid to correct alignment of the PPP family signature motifs and other conserved residues known to constitute the catalytic site of PPP phosphatases. Phylogenetic tree construction by the neighbor-joining method [61] and bootstrap analysis were performed using the PHYLIP package, version 3.573 [26]. Maximum likelihood analysis was performed using TreePuzzle [28]. Possible alternative neighbor-joining based phylogenies were visualised using Neighbor-Net [29] as implemented in SplitsTree, version 4.β10 [62]
Abbreviations
EST:

expressed sequence tag, Alph, ApaH – like phosphatase
PPP:

protein phosphatases of the P family
Rhilph (RLP):

Rhizobiales / Rhodobacterales / Rhodospirillaceae – like phosphatase
Shelph (SLP):

Shewanella – like phosphatase.
Authors' Affiliations
(1)
Research School of Biological and Molecular Sciences, Oxford Brookes University, Headington, UK
(2)
Present address: University of Illinois, College of Medicine, Department of Pharmacology, Chicago, USA
Copyright
© Andreeva and Kutuzov; licensee BioMed Central Ltd. 2004
This article is published under license to BioMed Central Ltd. This is an Open Access article distributed under the terms of the Creative Commons Attribution License (http://creativecommons.org/licenses/by/2.0), which permits unrestricted use, distribution, and reproduction in any medium, provided the original work is properly cited.