Research article

Open Access
Insights on the evolution of trehalose biosynthesis
BMC Evolutionary Biology
2006
6:109
Received: 27 April 2006
Accepted: 19 December 2006
Published: 19 December 2006
Abstract
Background
The compatible solute trehalose is a non-reducing disaccharide, which accumulates upon heat, cold or osmotic stress. It was commonly accepted that trehalose is only present in extremophiles or cryptobiotic organisms. However, in recent years it has been shown that although higher plants do not accumulate trehalose at significant levels they have actively transcribed genes encoding the corresponding biosynthetic enzymes.
Results
In this study we show that trehalose biosynthesis ability is present in eubacteria, archaea, plants, fungi and animals. In bacteria there are five different biosynthetic routes, whereas in fungi, plants and animals there is only one. We present phylogenetic analyses of the trehalose-6-phosphate synthase (TPS) and trehalose-phosphatase (TPP) domains and show that there is a close evolutionary relationship between these domains in proteins from diverse organisms. In bacteria TPS and TPP genes are clustered, whereas in eukaryotes these domains are fused in a single protein.
Conclusion
We have demonstrated that trehalose biosynthesis pathways are widely distributed in nature. Interestingly, several eubacterial species have multiple pathways, while eukaryotes have only the TPS/TPP pathway. Vertebrates lack trehalose biosynthetic capacity but can catabolise it. TPS and TPP domains have evolved mainly in parallel and it is likely that they have experienced several instances of gene duplication and lateral gene transfer.
Keywords
TrehaloseLateral Gene TransferLateral Gene Transfer EventTrehalose BiosynthesisTrehalose Phosphorylase
Background
One of the fundamental challenges for an organism is to survive changes in the physical environment-mainly extreme temperatures, salinity, or dehydration. This problem was to be solved very early in evolution since the first cells inhabited the primitive seas [1, 2]. Organisms evolved two different strategies to contend with abiotic stress. In certain species that live in extreme environments, for instance strict thermophiles and halophiles, the metabolic capabilities were modified, such that the optimal enzymatic activity or membrane stability are at high temperature or salinity, respectively [3]. Other organisms when exposed to extreme conditions have a drastically different adaptation to contend with stress. They evolved biosynthetic pathways for osmotically active compounds, cryoprotectants or thermoprotectants, thus enabling survival until conditions are favourable again. Among these compounds are polyols such as mannitol, sorbitol, some amino acids (proline and glutamic acid); quaternary ammonium salts, for instance glycine betaine; and disaccharides, for example sucrose and trehalose [4]. This latter compound is a non-reducing disaccharide formed by two glucose molecules linked by a 1α-1α bond which is present in several organisms and common foodstuffs such as bread, wine, beer, vinegar, and honey [5].
Many functions have been described for trehalose-for instance in prokaryotes trehalose is frequently used as a compatible solute to contend with osmotic stress and can be used as an external carbon source [6–8]. In bacteria of the genera Mycobacteria, Nocardia, Rhodococcus and Corynebacterium, trehalose is present in the cell wall glycolipids [8–10]. In yeast, trehalose can be used as a reserve compound [11, 12] and for the adaptive response to different types of abiotic stress [8, 13–16]. Also, it has been shown that in yeast trehalose 6-phosphate, the trehalose biosynthesis intermediate is a regulator of the glucose metabolic flux during glycolysis [17–20].
In several organisms trehalose is capable of stabilising and protect membranes and proteins, allowing anhydrobiotic organisms to survive cycles of dehydration-rehydration [21, 22]. In insects trehalose is the most abundant sugar in the haemolymph (80–90%) and in thorax muscles, were it is consumed during flight [10, 23]. Until recently, it was thought that in plants trehalose was only synthesised in the so-called "resurrection" plants such as Selaginella lepidophylla and Myrothammus flabellifolius, where it is the key molecule to protect against stress, especially drought. However, a large number of studies with transgenic plants, along with the sequencing information available for many plant genomes, suggest that trehalose can be synthesised in several other plants. Furthermore, in Arabidopsis thaliana it has been demonstrated that trehalose has a fundamental role in embryo development [24], and in abscisic acid and sugar signalling [25].
There are at least five biosynthetic pathways known for trehalose (Figure
1
). The first pathway was discovered about 50 years ago [
26
], is the most widely distributed, and it has been reported in eubacteria, archaea, fungi, insects, and plants. It involves two enzymatic steps catalyzed by trehalose-6-phosphate synthase (TPS) and trehalose-phosphatase (TPP). TPS catalyzes the transfer of glucose from UDP-glucose to glucose 6-phosphate forming trehalose 6-phosphate (T6P) and UDP, while TPP dephosphorylates T6P to trehalose and inorganic phosphate [
5
,
9
] (Figure
1A
). In the second biosynthetic pathway, the enzyme trehalose synthase (TS) isomerises the α1-α4 bond of maltose to a α1-α1 bond, forming trehalose [
5
,
27
]. This enzyme was first reported in
Pimelobacter sp
. and orthologs of this protein have been found in other eubacteria (Figure
1B
). The third pathway involves the conversion of maltodextrines (maltooligosaccharides, glycogen and starch) to trehalose. This pathway was reported in thermophilic archaea of the genus
Sulfolobus
. These organisms synthesize trehalose in two enzymatic steps catalyzed by maltooligosyl trehalose synthase (TreY), coded by the
treY
gene, which promotes the transglycosylation of the last glucose moiety at the reduced end of maltodextrins from a α1-α4 to a α1-α1 bond leading to maltooligosyltrehalose, which contains a trehalose moiety at the end of the polymer. Next, maltooligosyl trehalose trehalohydrolase (TreZ), coded by the
treZ
gene, catalyses the hydrolytic release of trehalose (Figure
1C
) [
5
,
28
]. In the fourth pathway, trehalose phosphorylase (TreP), present in some fungi, catalyses the reversible hydrolysis of trehalose in the presence of inorganic phosphate. The transfer of a glucose molecule to a phosphate generates glucose 1-phosphate and releases the other glucose residue. There is uncertainty about the participation of the TreP enzyme in the synthesis or degradation of trehalose, since the biosynthetic reaction has only been shown
in vitro
[
29
,
30
] (Figure
1D
). A new biosynthetic pathway for trehalose was found in the hyperthermophilic archaeon
Thermococcus litoralis
, and involves the trehalose glycosyltransferring synthase (TreT), which catalyses the reversible formation of trehalose from ADP-glucose and glucose [
31
,
32
]. It can also use UDP-glucose and GDP-glucose, although it is less efficient with these substrates. The TreT enzyme transfers the glucose moiety from ADP-glucose, and joins it at position 1 of another glucose molecule to form trehalose (Figure
1E
). Trehalose is degraded by trehalase (TreH) into two glucose molecules (Fig.
1F
).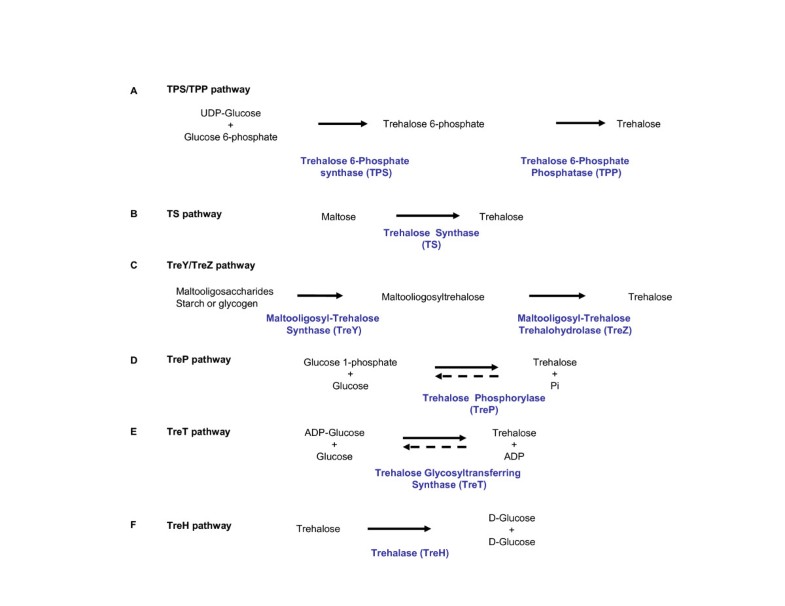 In this work, the presence in the completely sequenced genomes of genes coding for the trehalose biosynthetic enzymes was analysed. We found that these enzymes are widely distributed in the three domains of life and moreover, many organisms have more than one, and sometimes several pathways for trehalose synthesis. Also, we inferred the phylogenetic relationships of TPS and TPP enzymes. Interestingly, we found that they have significantly coevolved. This is supported by the fact that in prokaryotes the genes coding for these enzymes are generally organised as a single operon, while in eukaryotes there are multigene families, generally each member coding for a fused polypeptide with TPS and TPP domains. The functionality of many of these genes is supported by the observation that the catalytically relevant residues for both TPS and TPP are highly conserved.
Conclusion
We have demonstrated that trehalose biosynthetic pathways are widely distributed in nature. From the five known pathways to synthesize trehalose, the TPS/TPP route is the most conserved. Interestingly, several eubacterial species have multiple pathways, while eukaryotes have only the TPS/TPP pathway. Vertebrates have lost the capacity to synthesise trehalose but can break it down to glucose with trehalase. TPS and TPP domains have mainly evolved in parallel and it is likely that they have experienced several gene duplication and lateral gene transfer events. Some TPS and TPP sequences studied here lack functional relevant active site residues. The rate of non-synonymous to synonymous substitution of these proteins indicates that they are under selective pressure and therefore they must have a function although it is not necessarily osmoprotection. The expression pattern of the 11 AtTPS genes in Arabidopsis shows that they are expressed in a developmentally programmed and tissue-specific manner, implying a relevant function in cell metabolism.
Methods
Databases
The nucleotide and protein sequences of 205 completely sequenced genomes were obtained from NCBI and were explored through their online services.
Preparation of the queries
The strategy to search for related sequences, consisted of selecting protein sequences from each one of the trehalose pathways and identify their orthologs in the completely sequenced genomes. The TPS and TPP domain sequences were identified and aligned using CLUSTAL_X [52]. The alignment was manually edited to maintain only conserved regions and deleting non-homologous sequences. The alignment edition was performed with Seaview program [53].
Blast search
To detect homologous protein sequences from each biosynthetic pathway, we used previously reported known sequences: E. coli TPS [GenBank:16129848], E. coli TPP [GenBank:16129849], S. avermitilis TS [GenBank:29829345], S. coelicolor TreY [GenBank:21224410], R. palustris TreZ [GenBank:39936708], P. furiosus TreT [GenBank:18978114] and P. acnes TreP [GenBank:50842587]. The BLASTP program was used and sequences with a minimum E value of 0.0001 without filter recovered.
To identify trehalose biosynthetic genes with high accuracy in these organisms we performed BLASTP searches using the BLOSUM62 matrix, selecting only complete sequences with E- values lower than 10-9.
Phylogenetic tree construction
To estimate the phylogenetic relationships of the sequences we performed distant based, parsimony, and maximum likelihood analyses using the Neighbour Joining, Protpars and PHYML programs as implemented in CLUSTAL_X [52], PHYLIP [68], and PHYML [69] packages, respectively. For each method we performed bootstrapping with 1000 repetitions. The three methods gave similar clustering. Bootstrapping with 1000 resampling analyses and the corresponding consensus trees were obtained using the SEQBOOT and CONSENSE programs of the PHYLIP package [68].
Gene neighbourhood
To determine the neighbourhood of the genes encoding TPS and TPP domains, we used the Gene Context Tool [48].
Rate of codon substitutions
To calculate the rate of codon substitutions, the amino acid sequences of TPS and TPP alignments were reverse translated to their DNA sequence using the program JEMBOS 2.7.1 from EMBOS package, afterwards the SLAC from Datamonkey server and the PAML CODEML program [46] were used to determine the dN-dS values for each position.
Microarray gene expression analysis
The expression patterns of AtTPS genes were determined using the Meta-Analizer program from Genevestigator program [61].
Abbreviations
T6P:

trehalose 6-phosphate
TPP:

trehalose-phosphatase
TPS:

trehalose-6-phosphate synthase
TreP:

trehalose phosphorylase
TreT:

trehalose glicosyltransferring synthase
TreZ:

maltooligosyl trehalose synthase
TreY:

maltooligosyl trehalose trehalohydrolase
TS:

trehalose synthase
Declarations
Acknowledgements
This work was supported by the Instituto de Biotecnología-UNAM, and by the Centro de Investigación en Biotecnología-UAEM. The authors would like to thank Dr Lorenzo Segovia for his helpful advice and R. Ciria, Roberto Rodríguez and Jérôme Verleyen for technical support.
Authors' Affiliations
(1)
Centro de Investigación en Biotecnología-UAEM, Col. Chamilpa, Cuernavaca, Mexico
(2)
Instituto de Biotecnología-UNAM, Col. Chamilpa, Cuernavaca, Mexico
Copyright
© Avonce et al; licensee BioMed Central Ltd. 2006
This article is published under license to BioMed Central Ltd. This is an Open Access article distributed under the terms of the Creative Commons Attribution License (http://creativecommons.org/licenses/by/2.0), which permits unrestricted use, distribution, and reproduction in any medium, provided the original work is properly cited.