Research article

Open Access
The monosaccharide transporter gene family in land plants is ancient and shows differential subfamily expression and expansion across lineages
BMC Evolutionary Biology
2006
6:64
Received: 04 May 2006
Accepted: 21 August 2006
Published: 21 August 2006
Abstract
Background
In plants, tandem, segmental and whole-genome duplications are prevalent, resulting in large numbers of duplicate loci. Recent studies suggest that duplicate genes diverge predominantly through the partitioning of expression and that breadth of gene expression is related to the rate of gene duplication and protein sequence evolution.
Here, we utilize expressed sequence tag (EST) data to study gene duplication and expression patterns in the monosaccharide transporter (MST) gene family across the land plants. In Arabidopsis, there are 53 MST genes that form seven distinct subfamilies. We created profile hidden Markov models of each subfamily and searched EST databases representing diverse land plant lineages to address the following questions: 1) Are homologs of each Arabidopsis subfamily present in the earliest land plants? 2) Do expression patterns among subfamilies and individual genes within subfamilies differ across lineages? 3) Has gene duplication within each lineage resulted in lineage-specific expansion patterns? We also looked for correlations between relative EST database representation in Arabidopsis and similarity to orthologs in early lineages.
Results
Homologs of all seven MST subfamilies were present in land plants at least 400 million years ago. Subfamily expression levels vary across lineages with greater relative expression of the STP, ERD6-like, INT and PLT subfamilies in the vascular plants. In the large EST databases of the moss, gymnosperm, monocot and eudicot lineages, EST contig construction reveals that MST subfamilies have experienced lineage-specific expansions. Large subfamily expansions appear to be due to multiple gene duplications arising from single ancestral genes. In Arabidopsis, one or a few genes within most subfamilies have much higher EST database representation than others. Most highly represented (broadly expressed) genes in Arabidopsis have best match orthologs in early divergent lineages.
Conclusion
The seven subfamilies of the Arabidopsis MST gene family are ancient in land plants and show differential subfamily expression and lineage-specific subfamily expansions. Patterns of gene expression in Arabidopsis and correlation of highly represented genes with best match homologs in early lineages suggests that broadly expressed genes are often highly conserved, and that most genes have more limited expression.
Keywords
Profile Hide Markov ModelMonosaccharide TransporterProfile HMMsEarly Land PlantMultiple Gene Duplication
Background
Large proportions of genes within genomes are members of hierarchical gene families and superfamilies. Gene families appear to evolve through a combination of tandem, segmental and whole genome duplication (polyploidy) events. A number of researchers in the first half of the twentieth century observed relationships between chromosome duplications and morphological variation [1]. In 1970, Ohno [2] argued that, because natural selection is inherently conservative, major genetic novelty can arise only through gene duplication events where purifying selection is relaxed on one of the duplicates. The classical model of the fates of duplicate genes [2–4] predicts that most gene duplicates are lost due to deleterious mutations and that new function arises only with rare beneficial mutations resulting from neutral processes.
More recent theoretical and empirical work suggests that gene duplicates are retained more frequently than the classical model permits and that new function or expression arises through the processes of neo- and subfunctionalization [5, 6]. In subfunctionalization, expression or function present in a progenitor gene is partitioned between daughter genes through complementary mutations to regulatory or coding regions [7]. In neofunctionalization, related or novel function may arise in one of the duplicates through initial relaxation of purifying selection with accumulation of mutations conferring new function under either neutral or positive selection. Partitioning of expression appears to be the most common fate of a fixed gene duplicate [8, 9] and it appears to happen relatively rapidly after duplication [9]. However, many gene duplicate pairs appear to evolve slowly, suggesting that buffering of crucial functions may be important after gene duplication events [10].
Plant genomes contain large fractions of duplicate loci due to the frequent occurrence of segmental duplications and polyploidy events. Following a polyploidy event, there is a rapid loss of duplicate loci in the transition to functional diploidy and the remaining duplicate loci undergo rapid functional divergence [11]. Recent genome-scale studies indicate that some types of duplicate genes are retained at higher frequencies than others [12–14], that highly conserved genes are duplicated and retained more frequently than more rapidly evolving genes [15], and that rates of protein evolution may be related to expression levels [16, 17] and patterns, with genes expressed in multiple tissues under stronger purifying selection [18, 19].
In this study, we investigate the monosaccharide transporter (MST) gene family in land plants. MSTs are found in all three domains of life, have fundamental importance in carbohydrate flux and are highly conserved across lineages. All MST proteins are characterized by 12 hydrophobic membrane-spanning domains separated by interconnecting cytoplasmic and extracellular loops, with cytoplasmic N- and C-terminal domains [20]. This highly conserved protein structure provides a strong signature for identification of putative MSTs in translated DNA sequence data, such as ESTs. Most plant MST genes characterized to date show expression in sink tissues and are thought to function in the uptake of simple sugars from the apoplast after phloem-unloading and hydrolysis of sucrose by co-expressed cell wall invertases [21, 22]. Most have been shown to be H+-sugar symporters localized in the plasma membrane (see references below).
Previous analysis of the
Arabidopsis thaliana
genome reveals 53 MST genes that cluster into seven subfamilies on phylogenetic analysis (Figure
1
) [
23
]. To date, less than a dozen of these 53 genes have been characterized as to function and/or expression. The STP subfamily is the best studied, with published reports on seven of the 14 genes [
24
–
30
]. Only a handful of genes in the other subfamilies,
AtERD6
[
31
],
AtSFP1
[
32
],
AtpGlcT
[
33
],
AtPLT5
[
34
], and
AtINT4
[
35
] have been studied. However, a number of MSTs in green algae [
36
] and other higher plants [
20
,
33
,
37
–
40
] have been investigated, contributing to our understanding of the functional diversity of this gene family in the green plants as a whole. Because some of these proteins have been documented to transport sugar alcohols, this gene family is named the MST(-like) gene family on the TAIR website [
41
]. For simplicity, we will refer to all genes in the MST(-like) family as MST genes.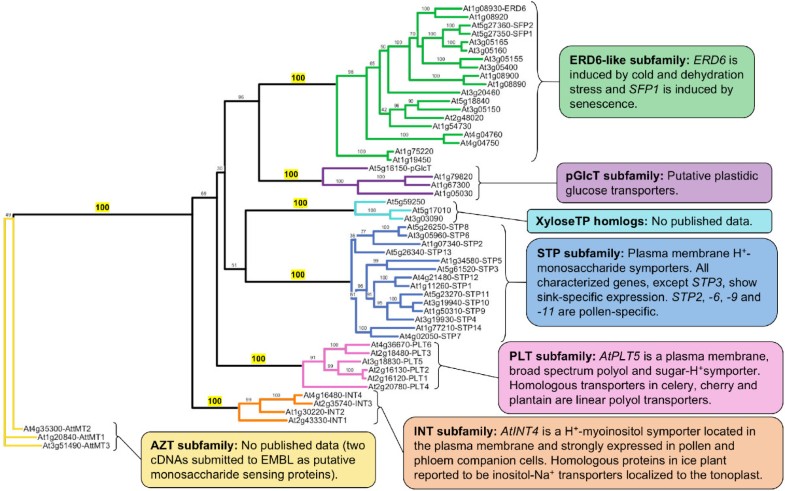 The great diversity of land plants on Earth today is strongly supported as a monophyletic clade [42, 43]. As such, it presents an opportunity to study gene family evolution in major lineages that differ greatly in structural complexity and life histories. Land plants consist broadly of primitive nonvascular and more complex vascular plants. The small, structurally simple nonvascular plants are composed of three major groups, the liverworts, mosses, and hornworts, collectively known as "the bryophytes." In bryophytes, the small diploid sporophyte is epiphytic on the dominant, leafy haploid gametophyte. Lycophytes are the earliest divergent vascular plants represented today by only a few extant lineages, the club mosses (Lycopodiaceae), spike mosses (Selaginellaceae), and quillworts (Isoetaceae). The pteridophytes are composed of three lineages of ferns (Ophioglossaceae, Marattiales, and Polypodiales), the horsetails (Equisetum) and whisk ferns (Psilotaceae) that form a monophyletic group which is sister to the seed plants [44]. Seed plants are composed of four groups of gymnosperms (conifers, cycads, ginkgos and gnetophytes) and the angiosperms (flowering plants). All land plants exhibit alternation of generations, the formation of a multicellular body in both the haploid and diploid phase of the life cycle. However, in contrast to the non-vascular bryophytes, all vascular plant lineages are characterized by life histories in which the diploid sporophyte is dominant and the haploid gametophyte is much reduced in size. In the seed plants (especially the flowering plants), the gametophytes are most reduced in size and nutritionally dependent upon the sporophyte.
Because the common ancestor of land plants is inferred to have had a haploid-dominant life cycle [42, 45, 46], hypotheses regarding gene expression in the simple gametophyte versus the complex sporophyte have focused around the idea that sporophyte genes were 'recruited' from the haploid gametophyte genome in the early evolution of land plants, resulting in overlapping expression of identical genes in both generations [47–49]. Hypotheses that integrate the potentially significant role of gene duplication and divergence in the early evolution of the complex sporophyte have begun to be developed and tested [45, 50]. The study of specific gene families in the earliest land plant lineages with dominant or independent gametophytes may help to answer these questions.
Analyzing a complete genome sequence is the only method whereby all members of a gene family can be identified with certainty. At the time of this study, complete plant genome sequences are available for Arabidopsis thaliana and Oryza sativa (rice). However, large EST databases (>100,000 ESTs) derived from multiple tissues, developmental stages and experimental conditions represent a resource for studying the genomes of species with unsequenced genomes through their transcriptomes. Large EST databases are available for many important crop plants across the monocot and eudicot flowering plants. However, only two large EST databases are available for earlier divergent land plants: the moss Physcomitrella patens [49] and the gymnosperm Pinus taeda (loblolly pine) [51]. Small EST databases exist for several species belonging to other major early land plant lineages including a liverwort, Marchantia polymorpha, a lycophyte, Selaginella lepidophylla, and the fern Ceratopteris richardii. Each of these small databases is derived from limited tissue types, the Marchantia library constructed from sex organ tissues (gametophyte), the Selaginella database from dessicated frond (sporophyte), and the Ceratopteris library from germinating spores (gametophyte). We searched the large EST databases of Zea mays (corn), Lycopersicon esculentum (tomato), Pinus taeda, Physcomitrella patens and Arabidopsis thaliana. We also searched the small Marchantia, Selaginella and Ceratopteris EST databases described above.
To search these databases, we constructed profile hidden Markov models (HMMs) of each MST subfamily. Profile HMMs are probabilistic models representing an alignment of multiple amino acid sequences that are very effective at identifying related sequences [52]. To build a profile HMM of a particular protein family, a multiple sequence alignment containing sequences from as diverse an assembly of species as possible is created in order to properly represent both the conserved and divergent regions across the protein family. The resulting profile HMMs (or consensus protein sequences created from them) can be used to search EST databases with software such as the Wise2 package [53].
Given that MSTs are ubiquitous across all three domains of life and that homologs of each of the seven Arabidopsis subfamilies have been found in many vascular plant species as well as the green alga Chlorella kessleri, we hypothesize that the seven subfamilies of MST genes identified in Arabidopsis are ancient, with ancestral homologs of each subfamily likely present in the earliest land plants. Second, given the prevalence of individual gene, segmental chromosome and whole genome duplications within the land plants, the MST subfamilies are likely to have unique expansion patterns within lineages. Third, if partitioning of expression is the most prevalent fate of duplicate genes, then we would expect to find unique patterns of MST gene expression across lineages. Last, if broadly expressed genes are more conserved than narrowly expressed genes, then Arabidopsis genes with broad expression should be most similar to orthologs in the earliest lineages. We infer breadth of expression of Arabidopsis MST genes based on their relative representation, within subfamily, in the combined EST database along with an evaluation of microarray data.
To investigate these questions, our study consisted of the following analyses: (1) construction of a statistically robust phylogenetic tree of Arabidopsis MST proteins; (2) mapping of each Arabidopsis MST gene to determine segmental and tandem gene duplications; (3) construction of profile HMMs and consensus protein sequences for each MST subfamily; (4) a search of the large Arabidopsis EST database to determine relative representation of each MST gene (and to provide a comparison for evaluating the effectiveness of our profile HMMs at identifying ESTs in other species); (5) a search of EST databases of other major land plant lineages (described above) for ESTs belonging to each MST subfamily; (6) creation of EST contigs to infer the number of expressed MST loci present in each large EST database; and (7) correlation of Arabidopsis MST genes with high EST database representation with best match homologs in early divergent lineages.
Conclusion
The subfamilies of MST genes present in Arabidopsis are ancient, with six of the seven subfamilies (STP, AZT, ERD6-like, pGlcT, INT and XyloseTP homologs) found in the moss lineage, which diverged from its common ancestor with the vascular plants >410 million years ago. Among the EST databases that we searched, the earliest lineage in which a homolog of the PLT subfamily was identified was the fern lineage, which diverged from its common ancestor with the vascular plants about 400 million years ago. The PLT subfamily may be present in earlier lineages but developmental or environmental conditions under which these transporters are expressed may not be present in the EST databases.
The MST subfamilies also show lineage-specific subfamily expansion patterns. Subfamily expansion in the vascular plants often appears to be due to multiple gene duplications arising from a single ancestral gene (likely tandem duplications) within a subfamily. In Arabidopsis, the large expansion of the ERD6-like subfamily is due to four clusters of tandem duplications involving 68% of subfamily genes.
Relative subfamily expression levels, inferred from EST data, vary across lineages. There is greater expression of the STP and ERD6-like subfamilies in the gymnosperm and flowering plant lineages, with relatively high expression of the AZT and pGlcT subfamilies in the nonvascular moss lineage. These differences may reflect increased roles of the STP and ERD6-like subfamilies in the long-distance transport of sugars in vascular plants.
EST database representation of individual Arabidopsis genes indicates that one or a few genes within a subfamily often have much higher representation than others. These patterns are consistent with models of gene duplicate divergence in which a gene duplicate assumes a portion of the function and/or expression of a progenitor gene having broad function and/or expression. However, the largest Arabidopsis subfamily, the ERD6-like subfamily, does not fit this pattern, with a large number of tandem gene duplicates having more equitable EST database representation.
Correlation of Arabidopsis genes with high EST database representation with the presence of orthologs in early lineages reveals that 11 of 13 highly represented genes (85%) have best match homologs. This is consistent with hypotheses that genes with high and/or broad expression are more conserved than genes with narrow expression. Of the five Arabidopsis genes with little or no representation in the database that also had best match homologs in early lineages, three had microarray expression profiles consistent with broad expression and two had more narrow expression patterns, including expression in pollen (male gametophyte). These genes expressed in the haploid phase may be conserved descendants of ancestral genes expressed in the dominant or independent haploid phase of early land plants and, in the absence of another allele, are likely to be under strong purifying selection.
Declarations
Acknowledgements
The authors thank Mitch Day, Marjorie Matocq, and Scot Kelchner for comments that improved an early version of the manuscript and three anonymous reviewers for comments and suggestions that improved the final version. We thank Luobin Yang for writing Perl scripts to automate data acquisition and for technical assistance in setting up and executing workflows. Workflows were performed on the Apple Xserve cluster in the Evolutionary Genomics Group Laboratory in the Department of Biological Sciences at Idaho State University. DAJ and MAT were supported by NIH grant #P20 RR16454 from the INBRE Program of the National Center for Research Resources at the National Institutions of Health. MAT was also supported by a PhrMA Foundation award in Informatics. The contents of this project are solely the responsibility of the authors and do not necessarily represent the official view of the NIH.
Authors' Affiliations
(1)
Department of Biological Sciences, Idaho State University, Pocatello, USA
Copyright
© Johnson et al; licensee BioMed Central Ltd. 2006
This article is published under license to BioMed Central Ltd. This is an Open Access article distributed under the terms of the Creative Commons Attribution License (http://creativecommons.org/licenses/by/2.0), which permits unrestricted use, distribution, and reproduction in any medium, provided the original work is properly cited.