Research article

Open Access
Mortality selection during the 2003 European heat wave in three-spined sticklebacks: effects of parasites and MHC genotype
BMC Evolutionary Biology
2008
8:124
Received: 27 January 2008
Accepted: 30 April 2008
Published: 30 April 2008
Abstract
Background
Ecological interaction strength may increase under environmental stress including temperature. How such stress enhances and interacts with parasite selection is almost unknown. We studied the importance of resistance genes of the major histocompatibility complex (MHC) class II in 14 families of three-spined sticklebacks Gasterosteus aculeatus exposed to their natural macroparasites in field enclosures in the extreme summer of 2003.
Results
After a mass die-off during the 2003-European heat wave killing 78% of 277 experimental fish, we found strong differences in survival among and within families. In families with higher average parasite load fewer individuals survived. Multivariate analysis revealed that the composition of the infecting parasite fauna was family specific. Within families, individuals with an intermediate number of MHC class IIB sequence variants survived best and had the lowest parasite load among survivors, suggesting a direct functional link between MHC diversity and fitness. The within family MHC effects were, however, small compared to between family effects, suggesting that other genetic components or non-genetic effects were also important.
Conclusion
The correlation between parasite load and mortality that we found at both individual and family level might have appeared only in the extraordinary heatwave of 2003. Due to global warming the frequency of extreme climatic events is predicted to increase, which might intensify costs of parasitism and enhance selection on immune genes.
Keywords
Major Histocompatibility ComplexMajor Histocompatibility Complex ClassParasite SpeciesParasite LoadInfection Intensity
Background
Most organisms are infected by a multitude of parasites species [1]. The associated fitness costs for hosts are often profound [2], rendering the host-parasite relationship as one of the most intense ecological interactions. The selection pressure on the host to overcome infection might result in an evolutionary arms race between parasite and host. One consequence of such host-parasite co-evolution is the maintenance of genetic diversity in defense genes resulting in marked fitness differences among host genotypes [3, 4]. The identification of variable genetic loci that determine specific resistance and thereby enhance host fitness is of prime importance in ecological and evolutionary research [5]. The most striking example of genetic polymorphism that is maintained by parasites is the vertebrate major histocompatibility complex (MHC). MHC molecules activate T-cells by presenting parasite-derived peptides, if the host's individual collection of MHC molecules includes those that can bind to a peptide of the actual infectious agent. Otherwise the infection escapes a T cell response. This suggests that pathogens are the ultimate cause driving MHC diversification [6] and several studies found associations between resistance and presence of single MHC alleles or MHC haplotypes (reviewed in [7–11]).
This applies to three-spined sticklebacks Gasterosteus aculeatus L. MHC class II loci that were shown to influence parasite load [12–14] and female mate choice [15, 16]. Interestingly, these studies, along with findings from sparrows [17], turkeys [18] and pythons [19] demonstrate that an intermediate number of MHC sequence variants may be favored by selection, as has been predicted by an optimality model [20]. The crucial evidence that is missing thus far is the link between an intermediate number of MHC alleles and maximal Darwinian fitness, under natural, yet still controlled settings. Hence, we wanted to combine advantages of a field study with the knowledge from earlier experimental studies [13, 14] by using enclosures in the field. Enclosures were stocked with 14 lab reared, parasite free fish families.
Based on previous laboratory studies [13, 14], we predicted that genotypes with an intermediate number of MHC class IIB sequence variants are least infected under more natural field conditions and thus may have higher survival rates. Such a result would reveal the still missing direct link between the number of MHC sequence variants and fitness under almost natural conditions.
Recent studies suggested that a habitat specific MHC genotype cannot fully account for local adaptation to the sympatrically prevalent parasite fauna. The family specific genetic background still explained a large proportion of parasite load [21]. Since parasite load is dependent on individual MHC diversity in sticklebacks [13, 12] a true genetic family background effect can best be assessed in families that lack variation in individual MHC diversity. Therefore, we wanted to test the relative importance of MHC genotypes compared to other genetic components by using two kinds of families: one group of families with variable MHC genotypes of the same kind used in previous studies (i.e. segregating families [22, 13, 23] and one where families only showed a single MHC genotype (non-segregating families). The latter kind results from a cross of parents, which are homozygous at their MHC loci, while segregation of MHC genotypes results from at least some loci being heterozygous. A comparison of both types of families can separate effects attributable to variation in individual MHC diversity in segregating families from effects only dependent on the family genetic background in non-segregating families. If individual MHC diversity is responsible for determining parasite load within-family variation as well as among family variation should be larger for segregating families.
It has been shown recently that the expression of virulence in coupled genetic interactions between hosts and parasites depend on abiotic factors like temperature [24–27]. The strength of selection on MHC diversification might be amplified by additional environmental stress [28]. In which direction expression of virulence is modified is however hard to predict [26]. Hence, phenomena associated with global climate change such as heat waves or precipitation extremes will alter the impact of parasitism, ultimately selecting for increased genetic variability at immune defense loci such as the MHC. On a larger geographic scale MHC diversity was already shown to covary with temperature and bacterial diversity in the water body among Canadian populations of salmon [29]. Our study conducted in 2003 coincided with a period of exceptionally high temperature in central and northern Europe that may be viewed as precursor of future climate extremes [30]. High water temperatures led to substantial mortality in our experimental population. We explore here whether parasitism was a likely cause of mortality selection, and whether this is linked to MHC diversity on a local scale as well.
Results
Among families: Parasite load
We found a wide range of parasite infection intensities for each of the twelve macro-parasite species surveyed in the surviving fish. The parasite species included were the nematodes
Anguillicola crassus
,
Contracaecum
spec.,
Camallanus lacustris
and
Raphidascaris acus
, the digenean trematodes
Diplostomum
spec.,
Apatemon cobiditis
,
Tylodelphis clavata
,
Cyathocotyle prussica
and
Echinochasmus
spec., the cestodes
Valipora campylancristrota
and
Proteocephalus filicollis
, as well as the crustacean
Ergasilus
spec These parasite species infect various tissues of sticklebacks ranging from inner organs like eyes and muscles, over the digestive tract (gut and gall bladder) to gills and skin [
34
]. Except for one fish, which did not get infected at all, all other fish got infected by at least 3 different parasite species. This resulted in simultaneous infection of different organs and most likely affected performance of the fish in several ways [
34
]. The infection patterns of the parasite species formed communities specific to fish families as indicated by the linear discriminant analysis, which could predict fish family with an overall accuracy of 67% (Fig.
1
). This proportion of explained variance was significant in Monte Carlo simulations (P = 0.036, 1000 permutations) as well as in conventional MANOVA analysis using the Pillai-Bartlett statistic (Pillai 2.206, approximate F
96,328
= 1.301, P = 0.048). The within-family prediction accuracy ranged from 0.333 in family 9 to 1 in family 13. Neither prediction accuracy (χ
2
d.f. = 1
= 0.195, P = 0.889) nor ordination distance to the respective family mean families (F
1,52
= 0.084, P = 0.773) differed significantly between segregating and non-segregating, indicating that variation within segregating families depended only to a minor proportion on different MHC genotypes. Segregating families showed however significantly higher distances from the origin of the ordination (Fig.
1
, F
1,52
= 4.760, P = 0.034) indicating that the parasite fauna found within segregating families deviated more strongly from the population mean than in non-segregating families. The differences among families observed from the multivariate analysis were also reflected in univariate analysis for each parasite species. Significant differences among families in infection intensities could be detected for five out of the twelve species after sequential Bonferroni correction (Fig.
2
). These parasite species also gave the highest canonical weights for the lda ordination (Fig.
1
), indicating that family specific infection patterns were mainly driven by these five parasite species.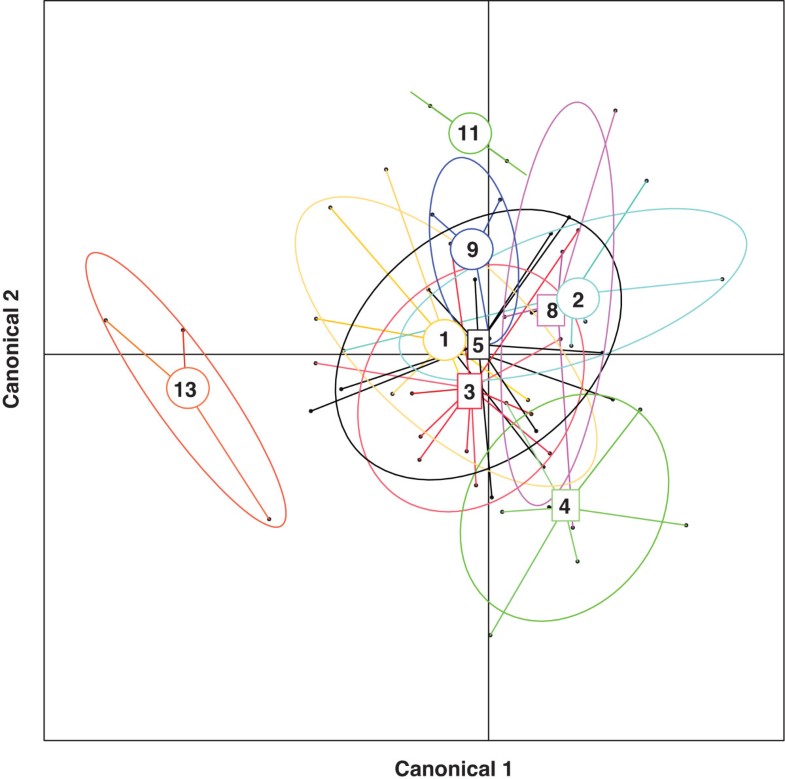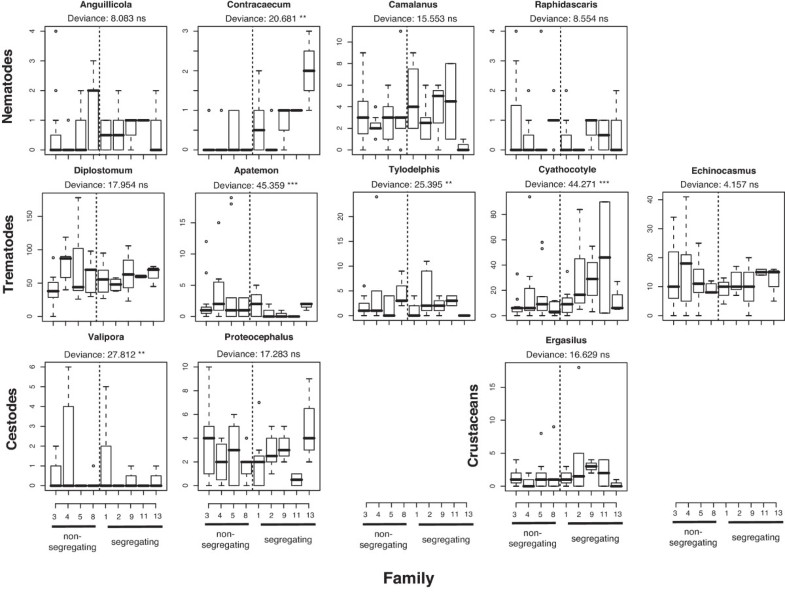 Since most fish were infected by at least three parasite species we were also interested on potential fitness effects of the total parasite load. Total parasite load was negatively correlated to the growth of the fish. Growth was calculated as ln (length at dissection) – ln (length at start). Fish that had a higher total parasite load grew more slowly (R2 = 0.355, F1,38 = 7.836, P = 0.008). This effect that was independent of initial length indicating that we actually observed an effect of the parasite and not just preferential infection of smaller fish. When comparing families with segregating and non-segregating MHC genotypes, the mean total parasite load of non-segregating families was not significantly different (F1,52 = 0.506, P = 0.480). We also found no significant difference in within-family variation supporting the observations from the multivariate data.
Among families: Survival
There were considerable differences in the proportion of survivors among the families used (Tab.
1
, χ
2
(d.f. = 1, n = 277)
= 42.7,
P
< 0.001). Numbers of survivors ranged from 11 (= 55%) in family 3 to 0 (= 0%) in family 6. Differences in survival were not correlated to differences in family age (
R
2
= 0.031,
F
1,12
= 0.348,
P
= 0.567), indicating that age related mortality could be neglected. Among families with at least two survivors there was a negative relationship between proportion of survivors and the overall parasite load averaged over family (Fig.
3
, weighted least square regression,
R
2
= 0.674,
F
1,7
= 14.442,
P
= 0.007), which could together with the negative correlation to growth rate reflect the increased fitness cost in families with higher average parasite loads. This strong pattern mainly arose out of the combination of all parasite species. While nine out of the twelve parasite species correlated negatively with survival in weighted regressions, only the one for the gill infecting trematode
Echinochasmu
s spec. was actually significant (F
1,8
= 5.759, P = 0.043), probably representing its role in interfering with oxygen uptake.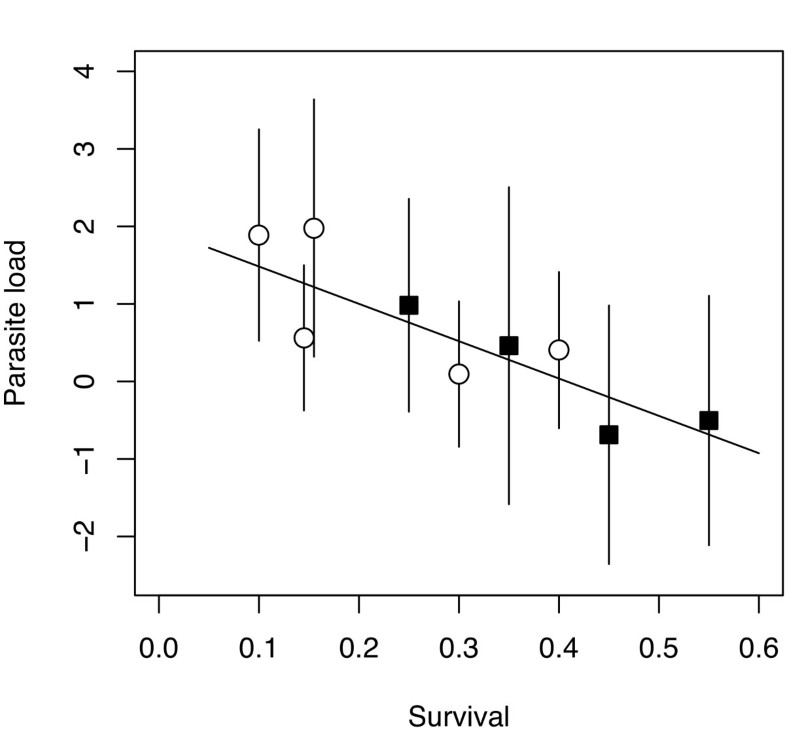 Within families
Since we were mainly interested in partitioning the within family variance according to different MHC genotypes the analyses presented here only include fish from segregating families and focuses on the number of MHC sequence variants within these families.
Within families: Parasite load
MHC optimality has so far been demonstrated in terms of parasite resistance among different genotypes of segregating families [
13
]. In the present study, parasite load could only be estimated in surviving fish. Of 61 survivors only 28 came from segregating families, leaving a very small sample size to analyze patterns of infection across different families. Nevertheless, fish from segregating families with an intermediate number of MHC class IIB sequence variants (i.e. 5–6) tended to have the lowest total parasite load when considering mean values (polynomial regression,
R
2
= 0.960,
F
2,2
= 23.894, P = 0.040, minimal parasitation at 6.14 MHC class IIB sequence variants, Fig.
4
).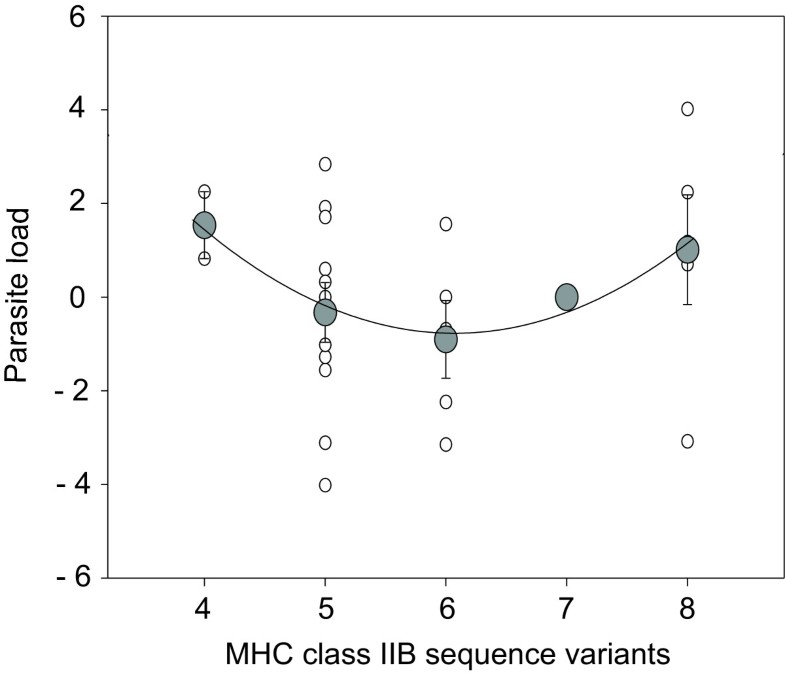 Within families: Survival
The survival probability of each MHC genotype centered by the family mean followed a quadratic polynomial relationship (Fig.
5
, survival = -0.560 + 0.190 * N
sequence variants
- 0.016 * N
sequence variants
2
,
R
2
= 0.364,
F
2,30
= 8.601,
P
= 0.001). Separating the parameters of the polynomial reveals that only the quadratic term was significantly different from 0 (t = -3.98,
P
< 0.001) while the intercept and the linear term were not (t
intercept
= -0.45,
P
= 0.658; t
linear
= 1.00,
P
= 0.327). Maximum survival described by this function can be found at 6.086 sequence variants. Since the analysis included all segregating families except family 6 (no survivors), this result may have been biased by inclusion of families that only consisted of a single surviving fish. When these families were excluded from the analysis the result changed only little (
R
2
= 0.487,
F
2,15
= 7.116,
P
= 0.007). The same applied to the predicted number of MHC class II variants associated with maximum survival (i.e. 6.18 sequence variants).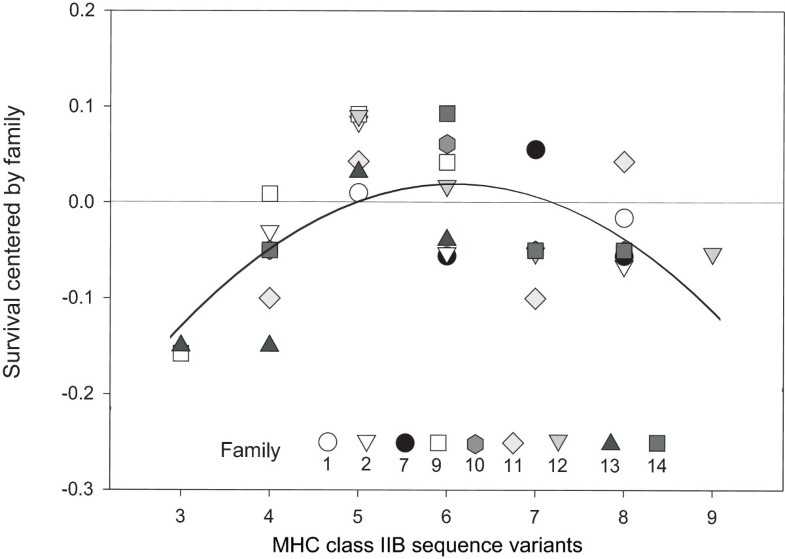 Discussion
This study aimed at disentangling the interaction between parasite-induced mortality selection and individual MHC diversity in a semi-natural setting using outdoor enclosures. Exposing parasite free fish in the field enabled us to evaluate the selective impact of the whole parasite fauna and its relation to individual MHC genotypes (Fig. 4). Furthermore, we were able to identify that mortality selection within families was directly related to the MHC genotype, extending previous studies that found effects on mate choice [15, 16] and parasite loads [12–14]. MHC-dependent survival was highest when individuals carried an optimal, i.e. intermediate, number of MHC class IIB sequence variants (Fig. 5).
MHC genotype has been linked to survival in several studies, which measured survival directly [42] or identified protective alleles against fatal forms of disease using fish model systems [43–45]. Similar results have been found in ruminants, where MHC alleles were positively correlated with survival but negatively correlated to intestinal nematode burden [46]. In the light of these studies, a selective role of parasites in determining survival as a result of the MHC genotype of fish hosts seems plausible.
We can only assume infection intensities among those fish that died before sampling the experiment. An extrapolation of parasite load from the survivors to the dead fish (Fig. 4) is justifiable because previous laboratory studies under benign conditions showed similar patterns of parasite infection [13, 14]. Under these assumed infection intensities, higher mortality found in sub- and super-optimal MHC genotypes may at least partly be attributed to higher parasite burden. We can however indirectly assess fitness costs in the surviving fish where growth rate negatively correlated with total parasite load. This pattern was independent of length before stocking and therefore only reflects impeded growth in the enclosures. Slowed growth rate of fish with high parasite burden did therefore not result from low growth rates before parasite exposure and the observed change in growth rates may be attributed directly to higher parasite burdens.
By using within family comparisons, we minimized the effect of genetic factors other than those associated with the MHC class IIB region, because the genetic background characteristic for each family cancels out in this analysis. In between-family comparisons, these family background effects turned out to be quite strong and explained a major proportion of variation in survival as well as parasite infection patterns (Fig. 1, Fig. 2). Family background is also the most likely explanation why non-segregating families showed lower mortality than segregating families. We can however not be sure that these family effects are really truly genetic. They could also represent maternal, epigenetic or environmental effects, which have previously been linked to parasite infection in fish [47]. The unknown nature of these family effects strengthens the observed within-family MHC effect, because this is linked to the MHC genotype. The within family MHC effect was however outweighed by the between family effects as no differences in overall parasite load between segregating and non-segregating families could be detected. The different MHC genotypes within segregating families did also not lead to an increased variance in infection intensities in these families, which might be attributed low sample sizes per genotype due to the high mortality in these families. Parasite infection patterns of segregating families deviated stronger from the population mean (Fig. 1, Fig. 2), which might indicate that the higher segregational variance allows escape from the most prevalent parasites representing the population mean.
Conclusion
Our data from 2003, a year with extreme summer temperatures, suggests that mortality selection can be strong. The correlation between parasite load and survival in both within and among family comparisons indicates that parasites might indeed have played a role for the high mortality rates. Compared to wild caught fish from the same area infection [34] intensities here were much higher in the majority of parasite species observed in this study. Also pilot studies using the same experimental set-up did show reduced parasite burdens as well as lower mortality rates (M. Kalbe, unpublished data). High infection intensities in 2003 may have been a consequence of bad fish condition, increased exposure to parasites [27], or altered expression of virulence resulting from genotype × genotype × environment interactions (G × G × E) [24–26]. Either way, the high parasite infection intensities might be a result of environmental stress, and will further increase selection on MHC and other immune genes. A similar pattern on a larger geographical scale was previously observed for Atlantic salmon in Canada, where allelic richness and selection on antigen binding regions of MHC class II genes increased with increasing temperature and pathogen richness [29]. Here, we can now not only show that within families a link between individual MHC diversity and mortality exists but that also other family specific factors apart from the MHC will play an important role under extreme environmental conditions. Extreme climatic events as the singular event of the 2003 heat wave are predicted to increase [30]. In light of the family specific parasite loads and mortality under such conditions, the interaction of abiotic environmental stress and parasitism [26] will become an increasingly interesting field for addressing questions of natural selection in the context of global warming.
Declarations
Acknowledgements
We would like to thank Anja Hasselmeyer, Sybille Liedtke for help with genotyping, Gisep Rauch for statistical support, Lisa N.S. Shama and three anonymous referees for valuable comments, Gerhard Augustin, Dietmar Lemcke and Monika Wulf for taking care of the fish and Helga Luttmann for screening of gill parasites.
Authors' Affiliations
(1)
Department of Integrative Biology (IBZ), Experimental Ecology, ETH Zürich, Zürich, Switzerland
(2)
Department of Evolutionary Ecology, Max-Planck-Institute for Evolutionary Biology, Plön, Germany
(3)
Institute for Evolution and Biodiversity, Evolutionary Ecology, Westfälische Wilhelms-Universität, Münster, Germany
Copyright
© Wegner et al; licensee BioMed Central Ltd. 2008
This article is published under license to BioMed Central Ltd. This is an Open Access article distributed under the terms of the Creative Commons Attribution License (http://creativecommons.org/licenses/by/2.0), which permits unrestricted use, distribution, and reproduction in any medium, provided the original work is properly cited.