Research article
Open Access
Estimating the phylogeny and divergence times of primates using a supermatrix approach
BMC Evolutionary Biology
2009
9:259
Received: 8 April 2009
Accepted: 27 October 2009
Published: 27 October 2009
Abstract
Background
The primates are among the most broadly studied mammalian orders, with the published literature containing extensive analyses of their behavior, physiology, genetics and ecology. The importance of this group in medical and biological research is well appreciated, and explains the numerous molecular phylogenies that have been proposed for most primate families and genera. Composite estimates for the entire order have been infrequently attempted, with the last phylogenetic reconstruction spanning the full range of primate evolutionary relationships having been conducted over a decade ago.
Results
To estimate the structure and tempo of primate evolutionary history, we employed Bayesian phylogenetic methods to analyze data supermatrices comprising 7 mitochondrial genes (6,138 nucleotides) from 219 species across 67 genera and 3 nuclear genes (2,157 nucleotides) from 26 genera. Many taxa were only partially represented, with an average of 3.95 and 5.43 mitochondrial genes per species and per genus, respectively, and 2.23 nuclear genes per genus. Our analyses of mitochondrial DNA place Tarsiiformes as the sister group of Strepsirrhini. Within Haplorrhini, we find support for the primary divergence of Pitheciidae in Platyrrhini, and our results suggest a sister grouping of African and non-African colobines within Colobinae and of Cercopithecini and Papionini within Cercopthecinae. Date estimates for nodes within each family and genus are presented, with estimates for key splits including: Strepsirrhini-Haplorrhini 64 million years ago (MYA), Lemuriformes-Lorisiformes 52 MYA, Platyrrhini-Catarrhini 43 MYA and Cercopithecoidea-Hominoidea 29 MYA.
Conclusion
We present an up-to-date, comprehensive estimate of the structure and tempo of primate evolutionary history. Although considerable gaps remain in our knowledge of the primate phylogeny, increased data sampling, particularly from nuclear loci, will be able to provide further resolution.
Keywords
Date EstimateHigh Posterior DensityCodon SiteWoolly MonkeyBayesian Information Criterion Score
Background
The evolutionary relationships of our own order, Primates, have been of central interest since the birth of phylogenetic analysis. There has been consistent attention towards the relationships of primates to other mammals, with molecular and (more recently) morphological evidence providing strong support for the placement of Primates in the superorder Euarchontoglires [1–3]. Within Primates, the relationships within and between various families and genera continue to cause debate, despite the numerous molecular estimates of the phylogeny that have been presented over the past 10 to 15 years [4]. With increasing concerns over the extinction risks facing many primates, along with the recent publication of complete nuclear genomes from the chimpanzee [5] and rhesus macaque [6], there has been a resurgence of interest in resolving the evolutionary relationships amongst these diverse taxa [4, 7].
In modern classifications, the order Primates comprises two suborders: Strepsirrhini (wet-nosed primates) and Haplorrhini (dry-nosed primates). This has not always been the case. One of the foremost debates in primate systematics has long concerned the position of tarsiers. Traditionally viewed as being more closely associated with lemurs and lorises, tarsiers were placed within a suborder Prosimii, under the gradistic view of primate taxonomy [8]. Modern taxonomic schemes generally recognize their closer affiliation with monkeys and apes, grouping them with Haplorrhini [9]. The majority of molecular evidence supports the latter grouping [4, 10–13], although a large number of molecular studies still provide support for the Prosimii concept [14–18]. The question is succinctly reviewed by Yoder [19] and is further examined by Eizirik et al. [18]. There is now general agreement on the higher-level relationships within the two suborders [20], with Strepsirrhini comprising Lorisiformes (galagos and lorises) and the sister-pairing of the monophyletic Lemuriformes (lemurs) and Chiromyiformes (the aye-aye), and with Haplorrhini consisting of Platyrrhini (New World monkeys) and Catarrhini (apes and Old World monkeys). Within these groups, however, there are numerous disagreements over interfamilial relationships. Molecular evidence has sometimes favored Cheirogaleidae as sister group to Lemuridae, although current evidence suggests that the four lemuriform families (Lemuridae, Cheirogaleidae, Lepilemuridae and Indriidae) represent a four-way split, which may be real or may simply reflect a lack of resolution [4, 21, 22]. Within Haplorrhini, controversial taxonomic issues remain. The paraphyly of an all-encompassing Cebidae with respect to the tamarins and marmosets is widely recognized now [9, 23, 24], but the branching order of the major lineages is still questionable. Among the Old World monkeys, particularly within Colobinae, intergeneric relationships are still unclear.
The timescale of primate evolution has also been the subject of numerous molecular analyses over the past few decades [4, 11, 18, 20, 21, 23–32]. Typically, divergence time estimates made using molecular phylogenetic approaches have supported a much more protracted timeframe for primate evolution than that suggested by the fossil record [27, 33]. Inferring the age of the most recent common ancestor of all primates using molecular data has been of particular interest, owing to the poor understanding of early primate fossils and the contested affinity of Plesiadapiformes. The oldest unambiguous primate fossil is dated at 55 million years [34, 35], whereas molecular estimates often place the common primate ancestor in excess of 80 million years ago (MYA) [4, 18]. Estimates have varied with the reconstruction method employed and genetic loci used. In some instances this has resulted in considerably different date estimates; for example, Raaum et al. [29] recently dated the Cercopithecoidea-Hominoidea split at 23 MYA, whilst Yoder and Yang [27] and Steiper and Young [26] favored an older date of 30-40 MYA. This is further exemplified by Kumar et al. [36], who showed that both sampling method and calibration dates affect the confidence limits of the estimated timing of the human-chimpanzee divergence (calculated at 4.86 - 7.02 MYA, depending on the preferred date of the split between apes and Old World monkeys). Furthermore, previous estimates have been limited by the number and range of primate species, genera and families included in phylogenetic analyses, leaving certain groups (such as Tarsiidae and Daubentoniidae) in need of further study.
The task of estimating primate divergence times has been complicated by the presence of pronounced substitution rate heterogeneity among lineages, a phenomenon that has been of long-standing interest. For example, Goodman's 'hominoid slowdown' hypothesis was proposed in the early 1960s [37, 38], and has recently been strongly supported by genomic studies [39, 40]. Detailed analyses of primate sequences have revealed extensive departures from rate constancy in several other parts of the tree [4, 18, 27], calling for the employment of relaxed-clock methods that can explicitly accommodate rate heterogeneity among lineages [41, 42].
While there may be consensus regarding relationships across the main primate clades, there is continued disagreement at the species, genus and even family levels. One of the primary challenges in primate molecular phylogenetics remains the issue that different markers support conflicting trees. Introgression between congeneric species, occasionally even between species in different (if closely related) genera, is an ever-present possibility, as is the origin of whole species by hybridization. The macaque example, as analyzed by Tosi et al. [43, 44], serves as a warning.
Previous attempts to reconstruct the phylogeny of whole orders, even classes, have often used a "supertree" approach [11, 30]. This method has a number of important weaknesses [45, 46]; we also point out below that, in Primates, equating trees of different quality has produced some extremely misleading results. In this study, we draw together data from a number of mitochondrial and nuclear genes to construct data supermatrices, with a view to developing a consensus tree and estimating dates for key divergence events.
Results and Discussion
This study represents a comprehensive phylogenetic study of the Order Primates, with regard to both taxonomic and gene coverage. This enables previous phylogenetic assessments of the order, which have been performed at smaller scales, to be placed into context. Previous estimates of rate heterogeneity and divergence dates, which have been raised in a piecemeal fashion for various primate clades, can now be examined on a wider scale. Below, we present and discuss the results obtained by Bayesian and maximum-likelihood analysis of three DNA data supermatrices (mitochondrial species-level, mitochondrial genus-level, and nuclear genus-level).
BEAST analysis of mitochondrial sequence data
The results of our analyses using the Bayesian phylogenetic software
BEAST
[
47
], which is able to estimate the tree topology and divergence times in a relaxed-clock framework, are in agreement with those of previous studies regarding infra-ordinal relationships across the primates (Figure
1
) [
4
,
11
,
30
]. The mean date estimate for the basal primate split, Strepsirrhini and Haplorrhini at 63.7 MYA (Additional file
1
), is broadly in agreement with other estimates such as that of Goodman
et al
. [
25
] at 63 MYA, but younger than those of Steiper and Young [
26
] at 77.5 MYA and Janecka
et al
. [
48
] at 79.6 MYA.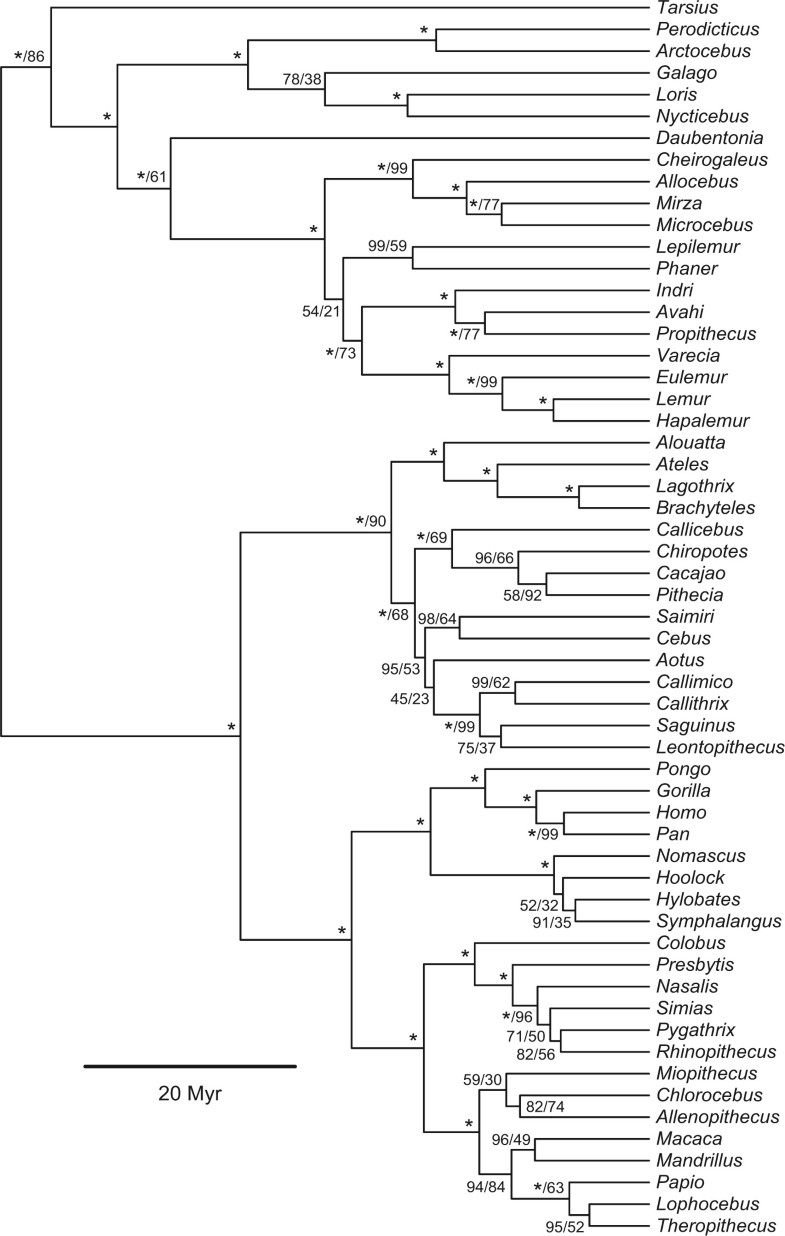 MrBayesAnalysis of Mitochondrial Sequence Data
Comparison of the BEAST results against those produced by MrBayes shows that there is considerable congruence between the two forms of Bayesian phylogenetic analysis, at a number of taxonomic levels (Additional files 2 and 3). The trees estimated from the mitochondrial data are in general agreement, although inconsistencies can be seen at species-level within Lemuriformes, Platyrrhini and Cercopithecidae. However, these relate to nodes with relatively low support.
Maximum-likelihood Analysis of Mitochondrial Sequence Data
Maximum-likelihood support for the Bayesian maximum-clade-credibility trees was estimated using 1,000 bootstrap replicates. For most nodes in the mitochondrial trees, the level of maximum-likelihood bootstrap support was lower than the posterior probability obtained using Bayesian analysis. For a small number of nodes, notably within Pitheciidae, there was no maximum-likelihood support for the nodes estimated using Bayesian analysis. However, these conflicts were limited to nodes with low posterior probabilities. Within Strepsirrhines, the inferred phylogenetic relationships received strong support under both methodological frameworks.
Analyses of Nuclear Sequence Data
Taxonomic coverage of nuclear genes across the order was very poor, with almost no nuclear sequence data for strepsirrhines. Consequently it would not have been possible to combine the mitochondrial and nuclear sequences into a single supermatrix. Instead, a separate analysis of a nuclear data supermatrix, comprising three genes, was performed for haplorrhines. As indicated by the limited availability of nuclear sequence data on GenBank, there have been relatively few studies assessing primate phylogenetic interrelationships using nuclear DNA sequences and no large scale cross-taxic studies, as attempted here. The results of our study (Figure
6
) agree with the mitochondrial analysis presented here, with the main inter-generic relationships remaining the same in both trees. Likewise the
MrBayes
analysis of the nuclear data (Additional file
4
) is congruent with the
BEAST
nuclear and mitochondrial genus-level analyses, whereas maximum-likelihood bootstrap support was relatively low for most nodes. We conclude that, at the level of analysis we have been able to achieve, there has been little or no indication of the sort of discrepancy between mitochondrial and nuclear DNA that might imply the origin of any clade by hybridisation.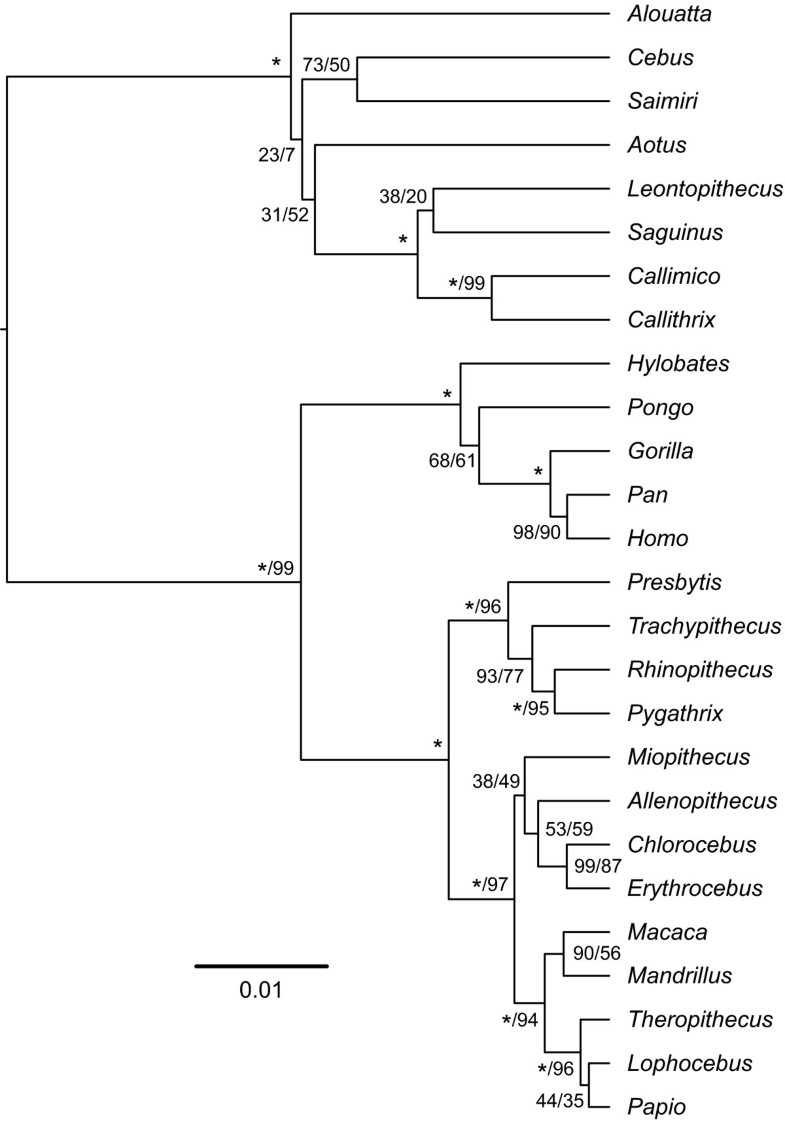 Substitution Rate Heterogeneity
Analysis using the uncorrelated relaxed-clock model in BEAST provided insights into several characteristics of substitution rate heterogeneity among lineages. In the species-level analysis of mitochondrial data, the coefficient of variation of rates was 0.265 with a 95% highest posterior density (HPD) interval of 0.233 - 0.303. This excludes 0, which is the expected value under the assumption of a global molecular clock. In the genus-level mitochondrial analysis, the coefficient of variation of rates was 0.297 (95% HPD interval: 0.245 - 0.353), again rejecting the assumption of a strict molecular clock. In contrast, a strict clock could not be rejected for the nuclear data.
Divergence Date Estimates
Estimates of divergence dates across the main splits and nodes were similar using the strict- and relaxed-clock models in BEAST. The framework provided by this program was the most appealing because of its ability to incorporate various sources of error, due to the co-estimation of phylogeny and divergence times using a relaxed-clock. Estimating the tree topology in the presence of significant rate heterogeneity among lineages can be problematic, because the assumed model of rate variation can change the posterior probabilities of different trees [41]. The aforementioned characteristics of BEAST, along with its ability to assign separate substitution models to different data partitions, offer a substantial advantage over alternative dating methods such as those available in the software r8s [88]. Additional file 1 provides divergence date estimates obtained using the Bayesian relaxed clock in BEAST, with a sample of comparative estimates derived from previous studies, chosen on the basis that they present the widest coverage of species and splits, shown in Additional file 5.
Conclusion
We present a comprehensive estimate of primate phylogeny using mitochondrial data; a similar nuclear analysis is not possible at present due to lack of sequence data. The multi-gene approach adopted in this study has afforded the opportunity to investigate phylogenetic inter-relationships amongst primates at a variety of taxonomic levels from species through to infraorders. Furthermore, the combined data and methods employed have provided a novel opportunity to tackle phylogenetic reconstruction, divergence date estimation and substitution rate heterogeneity.
This study offers a novel reconstruction of phylogenetic relationships across the whole of the Order Primates down to species level and significantly builds upon previous whole-order phylogenies. It provides substantial support for previous studies in a number of key areas including: the primary divergence of Lorisiformes within Strepsirrhini, the primary divergence of Pitheciidae in Platyrrhini, a sister grouping of African and non-African colobines within Colobinae and of Cercopithecini and Papionini within Cercopthecinae. Other advances include a better understanding of species-level relationships within the lemurs, macaques and gibbons, and estimates of divergence dates across the whole tree.
In contrast to many molecular studies, but in support of others, our analysis has grouped Tarsius with the Strepsirrhini. Whilst the majority of evidence supports a haplorrhine grouping for these taxa, the incongruence of some data demonstrates the uniqueness of these primates and the value of continued efforts to reassess phylogeny as new evidence and novel techniques become available. There are still significant gaps in our understanding of phylogenetic relationships within Lorisiformes and Platyrrhini; crucially a range of molecular sequence data is required for various species within these groups before a convincing resolution can be reached.
The use of data supermatrices in the present study offers several advantages over a supertree approach. Chief among these is the ability to co-estimate the phylogeny and divergence times. In a supertree framework, the estimation of divergence times is performed indirectly. In contrast, in a Bayesian relaxed-clock framework, all divergence dates are estimated from the primary sequence data. This leads to a more realistic assessment of the uncertainty associated with date estimates, particularly when the analysis is performed using a relaxed-clock model with multiple calibrations. In turn, knowledge of branch-specific substitution rates and calibration bounds can inform phylogenetic reconstruction [41]. Other disadvantages of supertree methods, as discussed by Bininda-Emonds [46], also apply to the present study.
A few apparent inconsistencies are present in the inferred tree, including the failure to achieve reciprocal monophyly for some recently diverged clades. In the case of the mitochondrial sequence data, this could be due to the use of an effectively single locus, which heightens the risk of incomplete lineage sorting, a situation in which a gene tree is incongruent with the species phylogeny. The paucity of nuclear sequence data should be surmounted in the near future, with the increasing availability of sequences for multiple loci and even complete genomes [7]. Nuclear sequences, which evolve more slowly than the mitochondrial genome, could also increase the signal to noise ratio, leading to an improvement in the resolution of deeper primate relationships including final agreement regarding the placement of tarsiers.
Methods
Data Set
Published nucleotide sequences for seven mitochondrial genes (12s rRNA, 16s rRNA, COII, CYTB, NADH3, NADH4L, and NDH4) and three nuclear genes (CXCR4, SRY, and TSPY) were obtained from GenBank. These loci were chosen on the basis of taxonomic coverage; other candidate loci were discarded because of poor representation. In instances where a subspecies had recently been elevated to species level (such as within Hylobatidae) the most recent names were adopted and for the most part the taxonomy presented by Groves [9] was followed. The choice of outgroup, a flying lemur (Cynocephalus variegatus), was made in reference to previous studies into the placental mammal phylogeny [1, 4].
Two approaches were employed to minimize the presence of nuclear copies of mitochondrial genes (numts) in the data. First, all of the protein-coding mitochondrial genes were translated into amino acids to check for the presence of stop codons. This measure has the potential to identify pseudogenes, but might not detect younger numts that have accumulated few mutations. Second, a neighbor-joining tree was constructed from each of the mitochondrial genes to identify any sequences that displayed unusual phylogenetic placements (e.g. sequences placed outside their expected infraorders). Despite their complete linkage, different mitochondrial genes can support mutually incompatible trees (for recent mammalian examples, see [89, 90]), making it difficult to infer the presence of numts from phylogenetic incongruence. Thus, we cannot entirely discount the possibility that undetected numts have been included in the mitochondrial supermatrix.
Three data sets were assembled from the sequences available in GenBank: (i) species-level mitochondrial supermatrix; (ii) genus-level mitochondrial supermatrix; and (iii) genus-level nuclear supermatrix. These supermatrices are described below, and further details are given in Supplementary Information.
Sequences of each mitochondrial gene were first aligned using ClustalW 2.0.0 [91], then manually revised to remove poorly aligned regions of ambiguous homology. On average, the sequences of 3.95 mitochondrial genes were available for each species, with only 42 species being represented by all 7 mitochondrial genes analysed in this study. The gene alignments were concatenated to form a data matrix of 6,138 sites from 219 species (Additional file 6). The alignment was divided into four partitions: (i) first and second codon sites of protein-coding genes; (ii) third codon sites of protein-coding genes; (iii) stem regions of RNA genes; and (iv) loop regions of RNA genes. The stem and loop regions were determined with reference to the secondary structural models for Homo sapiens on the SILVA RNA database [92]. Substitution model selection was conducted for each of the four data partitions by comparison of Bayesian information criterion scores.
A second mitochondrial supermatrix was constructed, in which there was only a single representative of each genus. For some genera, a chimaeric sequence was formed by concatenating sequences from two congeneric species (Additional file 6). The purpose of this was to increase the completeness of the data supermatrix, and was only done for genera with unambiguous monophyly (based on the analysis of the species-level data supermatrix). Genera with uncertain monophyly were omitted from the analysis. In the resulting supermatrix, each genus was represented by an average of 5.43 mitochondrial genes. Data partitions were the same as for the mitochondrial species-level supermatrix.
The nuclear sequences were aligned manually and concatenated to form a data supermatrix of 2,157 sites from 26 genera. For some genera, a chimaeric sequence was formed by concatenating sequences from two congeneric species (Additional file 6). On average, each genus was represented by 2.23 nuclear genes. The alignment was divided into four partitions: (i) first codon sites of protein-coding genes; (ii) second codon sites of protein-coding genes; (iii) third codon sites of protein-coding genes; and (iv) introns. Substitution model selection was conducted for each partition by comparison of Bayesian information criterion scores.
Phylogenetic Analysis
Bayesian phylogenetic analysis was performed on the mitochondrial species-level supermatrix using two different approaches. In the first approach, the phylogeny was estimated using the unconstrained Felsenstein model implemented by MrBayes 3.1 [93]. In the second approach, the phylogeny and divergence times were co-estimated using the software BEAST 1.4.7 [47].
In the MrBayes analysis, substitution model parameters were unlinked across the four data partitions. Posterior distributions of parameters, including the tree, were approximated using Markov chain Monte Carlo (MCMC) sampling. Two independent MCMC analyses were run, each with one cold chain and three heated chains. Samples from the posterior were drawn every 10,000 steps over a total of 10,000,000 steps per MCMC run, following a discarded burn-in of 1,000,000 steps. The results of the two analyses were combined and checked using Tracer 1.4 [94]. Convergence was assessed by comparison of the two runs, while the adequacy of mixing was investigated by checking whether the effective sample sizes of parameters exceeded 200. The maximum-clade-credibility tree was identified using TreeLogAnalyser in the BEAST software package.
In the BEAST analysis, a separate substitution model was assumed for each of the four data partitions. By using the uncorrelated lognormal relaxed-clock model [41], rates were allowed to vary among branches without the a priori assumption of autocorrelation between adjacent branches [95]. This model allows sampling of the coefficient of variation of rates, which reflects the degree of departure from a global clock. For the sake of comparison, the analysis was repeated with the assumption of a global molecular clock. In both cases, a Yule (pure-birth process) prior was placed on the tree. Posterior distributions of parameters, including the tree, were approximated by sampling from two independent MCMC analyses. Samples from the posterior were drawn every 10,000 steps over a total of 10,000,000 steps per MCMC run, following a discarded burn-in of 1,000,000 steps. The results of the two analyses were combined, with acceptable mixing and convergence to the stationary distribution checked using Tracer. Using TreeLogAnalyser in the BEAST software package, the maximum-clade-credibility tree topology identified and given mean node heights calculated from the posterior distribution of trees.
In order to calibrate the age estimates of evolutionary divergence events, it is necessary to import some form of information about absolute times. This can come in the form of paleontological or biogeographic information, independent molecular date estimates, or known ages of ancient DNA sequences (for a recent review, see [96]). In the present analysis, the fossil record was used to inform the specification of 11 minimum age constraints. Two further constraints were placed on the age of the root, which was given a minimum bound of 64 MYA and a maximum bound of 110 MYA. In addition, two calibrations were given as exponential priors on nodal ages, which appear to represent an appropriate reflection of paleontological uncertainty [35, 96, 97]. Fossil ages were taken from Hartwig [98]. Details of these calibrations and associated fossil evidence are given in Additional file 7.
The mitochondrial and nuclear genus-level supermatrices were also analyzed using the two Bayesian methods described above. The details of the analyses are the same as for the mitochondrial supermatrix, but divergence time estimation was not attempted using the nuclear data because of poor taxonomic representation and phylogenetic resolution.
Maximum-likelihood support was calculated for the trees inferred from the three data supermatrices. To estimate the level of support, 1,000 bootstrap replicates were analysed using RaXML [99]. The alignment was partitioned as for Bayesian analyses described above, but a GTR+I+G substitution model was applied to each partition. This model was found to provide a significantly better fit to the data than a GTR+G model. Levels of bootstrap support were mapped on to the maximum-clade-credibility trees obtained using the Bayesian approach implemented in BEAST.
Declarations
Acknowledgements
We are extremely grateful to Rachel Shore who undertook initial data collation and analysis in the early stages of this project. SYWH was funded by the Australian Research Council.
Authors' Affiliations
(1)
Research Department of Genetics, Evolution and Environment, University College London, London, UK
(2)
Department of Zoology, University of Oxford, Oxford, UK
(3)
Centre for Macroevolution and Macroecology, Research School of Biology, Australian National University, Canberra, Australia
(4)
School of Biological Sciences, Royal Holloway University of London, Egham, UK
(5)
School of Archaeology and Anthropology, Australian National University, Canberra, Australia
Copyright
© Chatterjee et al; licensee BioMed Central Ltd. 2009
This article is published under license to BioMed Central Ltd. This is an Open Access article distributed under the terms of the Creative Commons Attribution License (http://creativecommons.org/licenses/by/2.0), which permits unrestricted use, distribution, and reproduction in any medium, provided the original work is properly cited.