Research article
Open Access
Systematics and historical biogeography of the old world butterfly subtribe Mycalesina (Lepidoptera: Nymphalidae: Satyrinae)
BMC Evolutionary Biology
2015
15:167
Received: 3 June 2015
Accepted: 6 August 2015
Published: 20 August 2015
Abstract
Background
Butterflies of the subtribe Mycalesina have radiated successfully in almost all habitat types in Africa, Madagascar, the Indian subcontinent, Indo-China and Australasia. Studies aimed at understanding the reasons behind the evolutionary success of this spectacular Old World butterfly radiation have been hampered by the lack of a stable phylogeny for the group. Here, we have reconstructed a robust phylogenetic framework for the subtribe using 10 genes from 195 exemplar taxa.
Results
We recovered seven well supported clades within the subtribe corresponding to the five traditional genera (Lohora, Heteropsis, Hallelesis, Bicyclus, Mycalesis), one as recently revised (Mydosama) and one newly revised genus (Culapa). The phylogenetic relationships of these mycalesine genera have been robustly established for the first time. Within the proposed phylogenetic framework, we estimated the crown age of the subtribe to be 40 Million years ago (Mya) and inferred its ultimate origin to be in Asia. Our results reveal both vicariance and dispersal as factors responsible for the current widespread distribution of the group in the Old World tropics. We inferred that the African continent has been colonized at least twice by Asian mycalesines within the last 26 and 23 Mya. In one possible scenario, an Asian ancestor gave rise to Heteropsis on continental Africa, which later dispersed into Madagascar and most likely back colonised Asia. The second colonization of Africa by Asian ancestors resulted in Hallelesis and Bicyclus on continental Africa, the descendants of which did not colonise other regions but rather diversified only in continental Africa. The genera Lohora and Mydosama are derivatives of ancestors from continental Asia.
Conclusion
Our proposed time-calibrated phylogeny now provides a solid framework within which we can implement mechanistic studies aimed at unravelling the ecological and evolutionary processes that culminated in the spectacular radiation of mycalesines in the Old World tropics.
Keywords
Markov Chain Monte CarloType SpeciesHigh Posterior DensityWorld TropicAsian Clade
Background
As a subtribe, Mycalesina Reuter, 1896 is considered to be one of the most spectacular evolutionary radiations of butterflies in the world [1]. Butterflies of this subtribe, referred to as mycalesines, are arguably the most cosmopolitan and abundant group of butterflies restricted to the Old World tropics. Consequently, they are used extensively in ecological (e.g. [2–5]) and evolutionary (e.g. [6–9]) research. There are at least 300 currently recognised species belonging to Mycalesina occurring in almost all terrestrial habitat types across all the major paleotropical regions (Africa, Madagascar, Asia and Australasia). However, the factors leading to the evolutionary success of this species-rich paleotropical butterfly group in the World Old tropics are not yet fully understood. Knowledge on where and when important divergences have occurred within the group is vital to our understanding of this spectacular Old World radiation. This primarily requires a robust phylogenetic framework for the entire subtribe, which is currently lacking.
The alpha-taxonomy of this butterfly group is currently fairly well-known and relatively stable (perhaps less so in the group in Asia), compared to at least other species-rich paleotropical groups such as Ypthimina, in the region. However, the higher level taxonomy of Mycalesina is not yet adequately resolved. The current generic circumscriptions of mycalesines have been based on a few morphological characters such as the presence or absence of hairy eyes (interommatidial setae), forewing venation and androconial structures [10–15], which have been considered by some authors (e.g. [16, 17]) as parochial and an inadequate character sets for resolving their systematics. The higher level taxonomic uncertainty is partly attributable to earlier authors dividing the subtribe into African, Malagasy and Asian mycalesines. Although reasons for this geographic division have not been explicit, except perhaps to assume that large water gaps could delimit the hierarchy of nature, subsequent authors have followed the trend of studying the mycalesine fauna at regional levels.
The bulk of the continental African species were separated from all other mycalesines by Condamin [15]. Apart from two species he considered particularly distinct that he placed in the genus Hallelesis Condamin, 1961, the rest were placed in Bicyclus Kirby, 1871. Although Condamin first introduced Hallelesis in 1960, he omitted to assign a type species and so rectified this mistake a year later. Condamin's revisionary work spanned more than a decade and his comprehensive revision of Bicyclus was summarized in an extensive monograph [10]. The genera Hallelesis and Bicyclus (with two and about 90 currently recognised species, respectively) are distributed almost exclusively on sub-Saharan continental Africa with a single species (B. anynana) extending its distributional range to the Comoros and Socotra Islands, both in the Indian Ocean [16, 17]. The Socotran subspecies (B. anynana socotrana) was originally placed in the Asian genus Calysisme Moore, 1880 despite limited morphological similarities, demonstrating further the entrenched and parochial approach employed by earlier authors in delineating mycalesine groups geographically.
Nearly two and half decades after the publication of Condamin's work, Lees [13] undertook a similar revisionary treatment of the mycalesines on Madagascar, and arranged them under five pre-existing generic names: Admiratio Hemming, 1964, Masoura Hemming, 1964, Henotesia Butler 1879, Heteropsis Westwood, [1850] and Houlbertia Oberthür, 1916. However, a subsequent phylogenetic study [18] based on two mitochondrial markers found that most of the Malagasy mycalesine genera were not monophyletic, prompting taxonomic changes of the group on the island. Lees and colleagues [19] followed up and radically revised the taxonomy of mycalesines on the island; synonymising the genus Houlbertia and downgrading four pre-existing genera to the status of subgenera under a single genus, Heteropsis Westwood, [1850]. At the moment, there are about 75 Heteropsis taxa recognised in the Malagasy region, of which about a third are still undescribed [13]. Heteropsis occurs on continental Africa as well, with all 13 currently recognised species belonging to the (sub) genus Henotesia [20, 21].
The Oriental and Australasian mycalesines have gone through several regional taxonomic revisions. The first major treatment of the group as a whole was made by Moore [12] who divided all Asian mycalesines into 23 genera based primarily on androconial configurations and wing venation. As many as 10 of these new genera were described as monotypic, and this rather extreme splitting was later criticised by other authors (e.g. [22, 23]). Fruhstorfer returned all species to Mycalesis, using only two subgenera, but retained Orsotriaena Wallengren, 1958 (that had previously been given equal status as all the other genera created by Moore), separate from all other species that were now merged again as subgenus Mycalesis. Unfortunately, Fruhstorfer's work seems to have been somewhat neglected since Moore's numerous genera remained in use in mainly English texts until they were again demoted by Evans [24] who, just like Fruhstorfer, considered Orsotriaena separate, but gave both of Fruhstorfer's subgenera full generic status. Orsotriaena has subsequently been shown in recent molecular studies not be closely related to Mycalesina [25, 26].
Following the taxonomic revision of the group by Evans [24], Moore's genera [12] were treated as subgenera in some later works. The most important later taxonomic modifications of the Asian Mycalesina were the inclusion of the odd mimetic species M. drusillodes (originally described as Hamadryopsis drusillodes Oberthür, 1894 with the female in the same work as Drusillopsis dohertyi) into Mycalesis [27], and the separation of 19 mycalesine species confined to the Sulawesi and Sula islands [14, 28, 29] . These last endemic taxa were treated separately as the genera Nirvanopsis, Vane-Wright, 2003 and Lohora Moore, 1880, with two and 17 recognised species, respectively. However, a recent molecular study found the two Nirvanopsis taxa nested within Lohora and thus the former was subsumed within the latter to reflect phylogeny [30]. Kodandaramaiah and colleagues [30] also split the genus Mycalesis into two genera, with the clade containing the type species of the genus (Papilio francisca) classified as Mycalesis sensu stricto, while the other well supported clade was placed under the genus Mydosama Moore, 1880 (with Dasyomma fuscum Felder & Felder, 1860 as the type species).
The rather turbulent taxonomic history of mycalesines at generic and subgeneric levels has allowed very little progress in our understanding of the interrelationships between the main groups on the different continents. To date, there is no robust phylogenetic framework establishing with appreciable confidence the interrelationships among the six current genera and the many species groups of mycalesines distributed in the different regions of the Old World tropics. Such a framework is crucial to facilitate further studies from the species level to entire radiations, and also to form a stable basis for the higher-level taxonomy of the subtribe. In this study, we have used 10 genes and about 200 exemplar taxa to infer the phylogenetic relationships of species across the entire subtribe Mycalesina. Within the proposed phylogenetic framework, we have estimated times and places of major divergences, and related these with external factors that may have contributed to the success of this subtribe of palaeotropical butterflies.
Results
Systematics
The final molecular data matrix comprised 195 taxa representing 185 mycalesine species and 10 related taxa as outgroups. More than 75 % of the sampled exemplar taxa had at least half of the total gene coverage, with the average coverage per taxon being ca. 70 % (Additional file 1: Table S1). The resultant alignment consisted of 7735 base pairs of which 46 % and 35 % were variable and parsimony informative sites, respectively. The best partitioning schemes and the optimal evolutionary models for each of the partitioned dataset for the RaxML analyse are listed in Additional file 2: Table S2. The Effective Sample Sizes (ESS) for all the parameters of the different independent Markov Chain Monte Carlo (MCMC) runs in the Bayesian analysis were higher than 200. The Combined ESS for the parameters of the three independent BEAST runs are presented in Additional file 3: Table S3.
Our results revealed seven well supported higher clades within Mycalesina (Fig.
1
, Additional file
4
: Figure S1). Both the Maximum Likelihood (ML) and Bayesian Inference (BI) methods recovered the subtribe Mycalesina as monophyletic with high posterior probabilities (PP) and strong bootstrap supports (BS). Likewise the monophyly of four of the six currently circumscribed genera (
Bicyclus
,
Hallelesis, Mycalesis
and
Lohora
) within Mycalesina were well supported in all the analyses. The Asian mycalesine taxa were recovered as four distinct clades in all the phylogenetic reconstruction methods. One of the Asian clades which for convenience is referred to here as the "Asian
Heteropsis
clade", includes
Mycalesis oculus, M. adolphei, M. sangaica, M. malsara, M. inopia, M. nicotia/misenus, M. mamerta
and
M. janardana
. This clade was nested within the Afro-Malagasy
Heteropsis
clade with high support in both ML (BS = 95) and BI (PP = 1) methods. The two major Asian clades (
Mycalesis
and
Mydosama
) grouped together but with moderate to high support (PP = 0.99, BS = 56). The topologies were congruent between the different phylogenetic analyses.
Mycalesis
included as its members the type species of the currently circumscribed genus
Mycalesis
,
M. francisca
, and taxa such as
M. sudra
,
M. visala
,
M. gotama, M. patnia, M. mineus, M. oroatis
(see Fig.
1
for full list). Most species of
Mycalesis
were found to be distributed largely on mainland Asia, with the exception being
M. perseus
, which extends its distributional range to the Sundaland, Moluccas and Australasian regions.
Mydosama,
however, comprised taxa such as
M. fuscum, M. sara, M. discobolus, M. itys, M. mucia
and 30 others, which are predominantly distributed on the islands of South-east Asia and Australasia. The last distinct clade comprised of two taxa,
M. mnasicles
and
M. amoena
(Fig.
1
, Additional file
4
: Figure S1).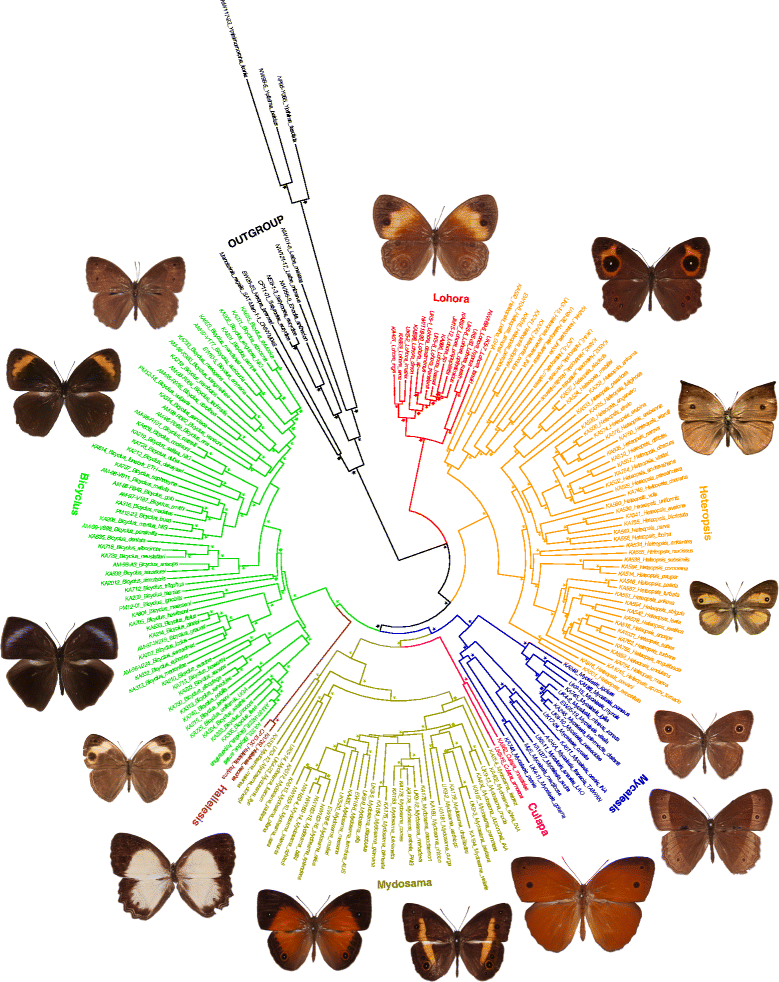 The evolutionary relationships between the seven identified higher clades within Mycalesina were largely congruent among the different phylogenetic analyses with moderate to high support (Fig. 1). Lohora (together with Nirvanopsis) was recovered as the sister clade to all other mycalesines. The two African genera, Bicyclus and Hallelesis, clustered with high to moderate support values (PP = 0.99, BS = 61 %) as sister clades in all analyses. The Bicyclus + Hallelesis clade grouped with the two Asian mycalesine clades as sister groups, but this relationship was weakly supported in the ML tree. The Heteropsis lineages of the different geographic regions were recovered as well supported monophyletic groups, with the Africa and Asian clades being more closely related than either is to their congenerics on Madagascar. Together, the three continental clades constituted a well-supported Heteropsis clade (PP = 1, BS = 100 %) which was sister to other mycalesines, except Lohora.
Diversification times
Our divergence time analyses indicate that the common ancestors of the subtribes Mycalesina and Lethina diverged from each other in the Eocene, about 39.8 Mya, with 95 % highest posterior densities (HPD) of 34.2-45.0 Mya (Fig.
2
). However, the first major divergence within Mycalesina was not observed until 12 Mya after the Mycalesina-Lethina split. This basal cladogenesis in the mid Oligocene (28 Mya; HPD, 23.8-32.3 Mya) gave rise to the Sulawesi endemic genus,
Lohora.
Subsequent to the split of
Lohora
, the follow-up basal divergences within Mycalesina have been rapid and in tandem, such that by early the Miocene (around 20 Mya), all the currently circumscribed genera had been established. The divergence between the two endemic African genera
Bicyclus
and
Hallelesis
was observed to have occurred around the Oligocene and Miocene boundary, roughly at the same time as the split between the two large Asian clades,
Mycalesis
and
Mydosama
, is suggested to have occurred. Earlier,
Heteropsis
(including the lineages in Africa, Madagascar and Asia) had diverged from the other mycalesines in the Oligocene, around 26 Mya (HPD, 23.4-29.8 Mya). However, the two important divergences within the genus giving rise to the extant lineages on the different continents we estimate to have occurred in the mid Miocene. The Malagasy clade was the first to diverge at around 21 Mya (HPD, 17.2-23.3 Mya). The continental African and the Asian
Heteropsis
clades split about 2.3 Mya later. The onsets of diversifications within most of the genera or higher clades appear to have occurred in the mid Miocene between 20-10 Mya, with the exception of
Lohora
and
Hallelesis. Lohora
as a genus only started diversifying around 11 Mya, despite being the first mycalesine lineage to diverge around 28 Mya. The only two extant species of
Hallelesis
(
H. halyma
and
H. asochis
) are estimated to have diverged only recently, around 1.6 Mya (HPD, 0.9-2.5 Mya).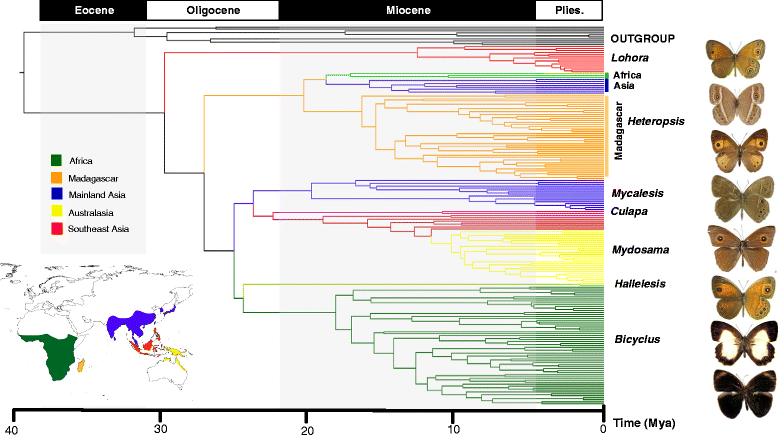 Historical biogeography of the subtribe Mycalesina
Our ancestral area reconstruction analyses suggest that the common ancestors of the subtribes Mycalesina and Lethina were most likely distributed in present-day Asia, making Asia the ultimate origin of the subtribe Mycalesina. Both reconstruction methods identified multiple events of vicariance and dispersal in the historical biogeography of mycalesines. We infer from our results the following scenario. Africa has been colonized at least twice by Asian ancestors. The first observed dispersal event from Asia to Africa resulted in the
Heteropsis
clades on mainland Africa and Madagascar. The second colonisation of Africa by Asian ancestors gave rise to the two currently circumscribed endemic African genera,
Hallelesis
and
Bicyclus
. The split between
Hallelesis
and
Bicyclus
most likely occurred in Africa. The mycalesine fauna of the Wallacean and Australasian regions (
Lohora
and
Mydosama
) were derived from ancestors from mainland Asia (Fig.
3
).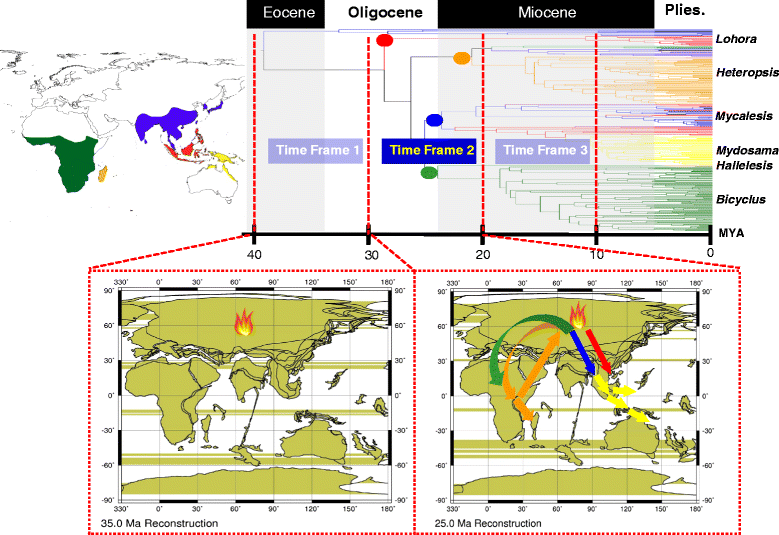 Conclusion
The current study presents the most extensive molecular phylogenetic species-level analysis of mycalesines to date. We have substantially clarified the taxonomy of the group in this study and laid the path towards stabilising the frequent higher-level taxonomic changes associated with the group. Asia is identified as the ultimate area of origin of the subtribe Mycalesina and the crown age of the group is estimated as 40 Mya. We have also established, with strong support, the phylogenetic relationships of the different mycalesine groups across the Old World tropics and proposed the most robust narrative of the biogeographic history of the group to date. The current study paves the way for studies aimed at understanding the fundamental evolutionary mechanisms that operate on large temporal and spatial scales in species radiations. Thus, our time-calibrated tree sets the stage for comparative analyses of the tempo and mode of diversification of the different parallel radiations within the subtribe. Our proposed phylogeny serves as a guide for future studies aiming to extrapolate the numerous population level studies within the model species, Bicyclus anynana to closely related taxa. Researchers are now in the position to unravel the causes of the spectacular adaptive radiation of mycalesines in the Old World tropics.
Based largely on the molecular evidence provided in this study and some morphological evidence we recommend the following generic classification within the subtribe Mycalesina Reuter, 1896.
Genus Lohora Moore 1880. Type species, by original designation: Mycalesis dexamenus Hewitson, 1862.
Genus Heteropsis Westwood, 1850. Type species, by original designation: Heteropsis drepana Westwood, [1850].
Genus Mycalesis Hübner, [1818]. Type species, designation: Papilio francisca Stoll, [1780].
Genus Mydosama Moore, 1880. Type species (replacement name of Dasyomma C. & R. Felder, 1860, preocc): Dasyomma fuscum C. & R. Felder, 1860.
Genus Culapa Moore, 1878. Type species, by original designation: Mycalesis mnasicles Hewitson, [1864].
Genus Bicyclus Kirby, 1871. Type species (replacement name for Idiomorphus Doumet, 1861, preocc.): Idiomorphus hewitsoni Doumet, 1861.
Genus Hallelesis Condamin, 1961. Type species, by original designation: Mycalesis asochis Hewitson, 1866.
Methods
Taxon sampling
A total of 185 samples representing all current genera and almost all species groups of Mycalesina across their distributional range were collected either by the authors during field expeditions between 2011 and 2014 or by numerous collaborators (see Acknowledgements). Noticeable exceptions are a few species that might well form monospecific groups but for which useful sequences could not be obtained (M. aramis, M. nala, M. suaveolens, and M unica). Samples for DNA extraction were usually one or two legs, and in a few cases, thoracic tissue of dried mounted vouchers or ethanol-preserved specimens. As outgroups, 10 exemplar taxa were carefully selected using the most recent comprehensive phylogeny of the family Nymphalidae [61]. Genomic DNA was extracted using the Qiagen DNEasy extraction kit, following the guided protocol by the manufacturer. A total of ten molecular markers; one mitochondrial (cytochrome c oxidase subunit I, CO1) and nine nuclear (carbamoylphosphate synthetase domain protein, CAD; Ribosomal Protein S5, RpS5; Ribosomal Protein S2, RpS2; wingless, wgl; cytosolic malate dehydrogenase, MDH; glyceraldehyde-3-phosphate dehydrogenase, GAPDH; Elongation factor 1 alpha, EF-1α; and Arginine Kinase, ArgKin and Isocitrate dehydrogenase, IDH) gene regions were amplified and sequenced for each of the exemplar taxa using primer-pairs obtained from Wahlberg and Wheat [62].
Successful amplicons were cleaned with EXO-SAPIT (Affymetrix) and sent to Macrogen Services (Amsterdam) for Sanger sequencing. DNA sequences and, where possible, aliquots of DNA extracts used in previous mycalesine studies (e.g. Monteiro and Pierce , Kodandaramaiah et al. [31]) were also obtained from the authors and included in the present study. Nucleotide sequence alignment was done by eye using Bioedit [65]. Sequences were then managed and datasets constructed using Voseq v1.7.4 [66]. The software MEGA v6 [67] was used to assess the properties of the sequences of individual genes and the multi-gene concatenated sequence matrix.
Phylogenetic inference
To minimise the effect of saturation and also improve phylogenetic resolution of our multi-gene dataset, PartitionFinder v1.1.1 [63] was employed to select the optimal gene partitioning schemes and the best-fit model of nucleotide substitution for each partitioned dataset, under the Bayesian Information Criterion (BIC). To check for the degree of congruence among the different markers, phylogenetic analyses were done first separately for each gene (producing gene trees) and later for all the ten genes combined, but partitioned by the optimal gene partitioning scheme suggested by PartitionFinder analyses. Phylogenetic inference analyses were carried out using both Maximum likelihood (ML) and Bayesian Inference (BI) methods.
Maximum likelihood phylogenetic inference analyses was implemented in RAxML-HPC2 v8.0.24, on the CIPRES Science Gateway v3.3 [64], using the partition scheme from the PartitionFinder analysis (Additional file 2: Table S2), under the GTRCAT model for the rapid bootstrapping phase, and GTRGAMMA for the final best scoring ML tree. For bootstrapping, we performed 1000 Maximum Likelihood (ML) pseudo-replicates analyses. Bootstrapping was performed under auto Majority Rule Criterion (autoMRE). BI was carried out using Markov Chain Monte Carlo (MCMC) randomisation in MrBayes v3.2 [65]. We used reversible-jump MCMC to allow for sampling across the entire substitution rate model opposed to specifying one substitution model suggested by PartitionFinder in this analysis. Two parallel runs of four chains (3 heated and 1 cold) were performed for 50 million generations, with sampling done at every 5000th generation. The software Tracer v1.6 [66] was used to inspect the sample sizes of the parameters used in the BI and also check for the convergences or otherwise of the parallel MCMC runs.
Estimating times of divergence
Times of divergence within Mycalesina were estimated using a Bayesian MCMC approach in BEAST 2, v2.1.2 [67]. Tree calibrations were done using two secondary age calibration points from Wahlberg et al. [61] and one fossil, Lethe corbieri, found in the Oligocene deposits of southeast France [37]. It is important to point out that these two approaches are not entirely independent as Wahlberg et al. [61] used Lethe corbieri and six other fossils in their divergence-time estimation. Based on Wahlberg et al. [61], the stem age of the subtribe Mycalesina was constrained to be 40 ± 5.5 Million Years Ago (Mya) with a normal distribution prior between the minimum and maximum age bounds. The second calibration point was the crown age of all mycalesines, excluding Lohora, and this was constrained to be 26.6 ± 4.5 Mya. It is worth noting that Wahlberg et al. [61] did not include an exemplar taxon of Lohora in their study. Lohora was recovered as sister to all other mycalesines in our estimate of phylogenetic relationships. Using the estimated age of the Lethe corbieri fossil, the minimum age (or offset) of the divergence between Lethe and its sister group was constrained at 25 Mya, under an exponential distribution prior.
We implemented a birth-death process with an uncorrelated log-normal distribution model for lineage substitution rate variation. The summarised tree produced using MrBayes was used as the starting tree in the XML file generated using BEAUTi (which is part of the BEAST package). The MCMC chain was run for 50 million generations, with 2 independent runs. The resultant BEAST log files were viewed in Tracer v1.6 [66] to inspect ESS of the parameters and points of convergence. With a threshold of 25 % burn-in, all post burn-in trees from the 4 independent runs were combined using the software LogCombiner v2.1.2 [67]. TreeAnnotator v2.1.2 [67] was used to summarise information (i.e., nodal posterior probabilities, posterior estimates and highest posterior density, HPD limits) from the individual post burn-in trees onto a single Maximum Clade Credibility (MCC) tree. The summarised information were visualised on the MCC tree using FigTree v1.4 (http://tree.bio.ed.ac.uk/software/figtree/). To assess the impact of different tree-shape and clock priors on our results [68], we repeated the analysis with yule and calibrated-yule models of speciation, under both normal and uniform distribution priors between the minimum and maximum age bounds calibration points. There was no significant difference among the results (Additional files 5: Table S4).
Ancestral range estimation or reconstruction
Ancestral range estimation or reconstruction analyses were done using 100 randomly selected ultrametric trees generated from the BEAST analyses. Ancestral state reconstruction or estimation was done using both as a dispersal-extinction-cladogenesis (DEC) analysis in LAGRANGE [69, 70] and S-DIVA [71]. Both analyses were implemented in RASP [72] and required ultrametric trees and the present distribution of the extant taxa as input files.
Following Proches and Ramdhani [73], the current distributional range of mycalesines was divided into five zoogeographical clusters: 1. Afrotropics (which denotes mainland Africa, south of the Sahara); 2. Malagasy Region (encompasses Madagascar and the surrounding Mascarene islands in the Indian Ocean); 3. Continental Asia (includes the Indian subcontinent, Indo-China); 4. Wallacea (archipelagic transitional zone between Indo-Malaysian, Australian Regions and New Guinea, which includes Sulawesi, Philippines and Moluccas). 5. Australasian Region (covers New Guinea, Solomon Islands archipelago, tropical Australia), Using the present distribution of the extant taxa, each exemplar taxon in the tree was categorised into one or more of the five defined zoogeographic regions.
DEC analyses were carried under two scenarios; (1) unconstrained (where dispersal among all possible pairwise geographic areas are permitted) and (2) constrained (where we defined, a priori, the dispersal probability and area-connectivity between geographic areas, using our knowledge of the system). The connectivity matrix for the DEC analyses are in Additional file 6: Table S5. Probabilities to disperse were set to 1 for pairs of areas separated by at least 400 km of water (e.g. Africa and Madagascar, Africa and Asia, Asian and Wallacea, Wallacea and Australasian Region), to 0.1 when two areas were separated by water of a distance less than 3000 km (e.g. Asia and Madagascar), 0.001 and 0.0000001 for long-distance dispersal and highly unlikely scenarios, respectively (e.g. Madagascar and Wallacea, Africa and New Guinea).
Ethical approval
The funders of the project, European Research Council (ERC) approved the ethics and methods employed in the conduct of the study.
Availability of supporting data
The data sets supporting the results of this article will be made available in the TreeBASE repository, in http://treebase.org/treebase-web/home.html. Sequences will be submitted to Genbank with accession numbers made available in the final manuscript.
Abbreviations
Mya:

Million years ago
ML:

Maximum likelihood
BI:

Bayesian Inference
PP:

Posterior probabilities
MCC:

Maximum Clade Credibility
HPD:

Highest posterior density
ESS:

Effective sample sizes
MCMC:

Markov Chain Monte Carlo
BIC:

Bayesian Information Criterion
Declarations
Acknowledgements
We are grateful for the numerous contributions from and assistance by the following persons and institutions; Steve Collins, African Butterfly Research Institute (ABRI) Nairobi, Chris Muller, Szabolcs Sáfián, David Lohman, Andrew Rawlins and K. Praveen Karanth. We thank Ghana Wildlife Division and Madagascar National Parks Association (PNM-ANGAP) for granting us permission to collect specimen in Ghana and Madagascar respectively. A few photos were taken by Harry Taylor (copyright courtesy of trustees of Natural History Museum). Financial support for this study was provided by an ERC-EMARES (#250325) grant awarded to PMB. NW thanks the Academy of Finland for support, and UK acknowledges support through the DST INSPIRE Faculty Award.
Open Access This article is distributed under the terms of the Creative Commons Attribution 4.0 International License (http://creativecommons.org/licenses/by/4.0/), which permits unrestricted use, distribution, and reproduction in any medium, provided you give appropriate credit to the original author(s) and the source, provide a link to the Creative Commons license, and indicate if changes were made. The Creative Commons Public Domain Dedication waiver (http://creativecommons.org/publicdomain/zero/1.0/) applies to the data made available in this article, unless otherwise stated.
Authors' Affiliations
(1)
Department of Zoology, Radiating Butterflies Group, University of Cambridge, Cambridge, UK
(2)
School of Biology, Indian Institute of Science Education and Research Thiruvananthapuram (IISER-TVM), CET campus, Sreekaryam, India
(3)
Department of Biology, NSG, Laboratory of Genetics, University of Turku, Turku, Finland