Research article
Open Access
Large scale patterns of genetic variation and differentiation in sugar maple from tropical Central America to temperate North America
BMC Evolutionary Biology
2015
15:257
Received: 18 February 2015
Accepted: 22 October 2015
Published: 19 November 2015
Abstract
Background
Geological events in the latter Cenozoic have influenced the distribution, abundance and genetic structure of tree populations in temperate and tropical North America. The biogeographical history of temperate vegetation that spans large ranges of latitude is complex, involving multiple latitudinal shifts that might have occurred via different migration routes. We determined the regional structuring of genetic variation of sugar maple (Acer saccharum subsp. saccharum) and its only subspecies in tropical America (Acer saccharum subsp. skutchii) using nuclear and chloroplast data. The studied populations span a geographic range from Maine, USA (46°N), to El Progreso, Guatemala (15°N). We examined genetic subdivisions, explored the locations of ancestral haplotypes, analyzed genetic data to explore the presence of a single or multiple glacial refugia, and tested whether genetic lineages are temporally consistent with a Pleistocene or older divergence.
Results
Nuclear and chloroplast data indicated that populations in midwestern USA and western Mexico were highly differentiated from populations in the rest of the sites. The time of the most recent common ancestor of the western Mexico haplotype lineage was dated to the Pliocene (5.9 Ma, 95 % HPD: 4.3–7.3 Ma). Splits during the Pleistocene separated the rest of the phylogroups. The most frequent and widespread haplotype occurred in half of the sites (Guatemala, eastern Mexico, southeastern USA, and Ohio). Our data also suggested that multiple Pleistocene refugia (tropics-southeastern USA, midwestern, and northeastern USA), but not western Mexico (Jalisco), contributed to post-glacial northward expansion of ranges. Current southern Mexican and Guatemalan populations have reduced population sizes, genetic bottlenecks and tend toward homozygosity, as indicated using nuclear and chloroplast markers.
Conclusions
The divergence of western Mexican populations from the rest of the sugar maples likely resulted from orographic and volcanic barriers to gene flow. Past connectivity among populations in the southeastern USA and eastern Mexico and Guatemala possible occurred through gene flow during the Pleistocene. The time to the most common ancestor values revealed that populations from the Midwest and Northeast USA represented different haplotype lineages, indicating major divergence of haplotypes lineages before the Last Glacial Maximum and suggesting the existence of multiple glacial refugia.
Keywords
Acer saccharum Cloud forestDivergence timeGene flowGenetic diversityLast glacial maximumMicrosatellitePhylogeographyPleistocenePlioceneRange edge
Background
Geological events have affected the distributions and levels of gene flow among populations of North American tree species. Repeated glacial and interglacial periods promoted range shifts of a number of tree species during late Pliocene and the Quaternary [1–4]. Studies indicate different genetic responses to range contraction and expansion [5, 6]. For instance, patterns of genetic diversity in temperate North American trees (e.g., Carya illinoinensis, Liquidambar styraciflua, Fagus grandifolia) include higher diversity in southern, never-glaciated areas, and lower diversity in northern areas where glaciated landmasses existed [7–11]. Furthermore, there is evidence of the impact of the Quaternary glaciations on the population genetic structure of species (e.g., Acer rubrum, A. saccharinum, Quercus rubra) that survived in multiple refugia closer to the ice margin [10–12]. Populations of temperate tree species in the subtropics (e.g., Pinus chiapensis, Picea chihuahuana, Pseudotsuga menziesii, Fagus grandifolia var. mexicana) also show genetic differentiation related to the history of migration and isolation during glacial and interglacial periods [13–16]. Additionally, the distributions of many North American temperate species include disjunct populations in cloud forests in Mexico and Central America. These isolated populations may have originated by ancient vicariant events or through range fluctuations. These fluctuations may have involved expansions into low elevation areas at low latitudes during glacial episodes, and contractions to high elevation refuges during warmer interglacial periods [17, 18].
Periods of connectivity and disjunction among North American and Central American refugial areas and their consequences on the genetic structure of the temperate tree populations are not known for most species. Limited geographical sampling reduces the capacity to reconstruct historical refugia and identify the spatial location of genetic breaks in temperate tree species at a continental level. Assessing large-scale relationships of populations should elucidate the importance of range expansions and contractions in producing the current distribution patterns of species, as well as generate hypotheses regarding the genetic structure and diversity of temperate tree lineages affected by glaciation in the latter part of the Cenozoic.
Acer saccharum (sugar maple) is a widespread temperate tree species. Study of the genetics of this species has the potential to elucidate a late Pliocene and Quaternary history that may be shared by other elements of the North America flora. The species has a continuous distribution from southern Quebec to the southeastern USA, and then is disjunct in distribution between the eastern USA, Mexico, and Guatemala [19]. Fossil pollen data suggest that A. saccharum underwent northward geographic expansions from a single continuous ice-free refugium in the Southern USA about 21,000 years B.P., around the beginning of the retreat of the Laurentide ice sheet [17]. The evidence of the existence and location of glacial refuges of sugar maple farther north than the Lower Mississippi Valley has been inconclusive [20]. Nonetheless, the pollen record of some temperate eastern taxa suggests the presence of small populations in the upper Midwest and in the Appalachian region during glaciations [21, 22]. In addition, according to genetic data, Acer rubrum likely existed north of their Pleistocene pollen-based range limits, but, it is not yet known if the same applies to A. saccharum [21]. Acer saccharum exhibits some genetic differentiation in southeastern Canada and northeastern USA, but less genetic variation than other temperate trees or shrubs [23]. In addition, some sugar maple populations in Canada possess limited genetic differentiation, possibly due to common ancestry or recent colonization after a glacial period [24, 25]. These genetic studies of sugar maple in North America were conducted near its northern range limit, preventing analysis of range expansions as a result of late Pliocene and Quaternary events. Furthermore, southern sugar maple populations with disjunct distributions from northern Mexico to Guatemala have not been considered in reconstructions of historical migration corridors.
We investigated patterns of genetic variation and structure in extant populations of sugar maples in the tropics and explored their genetic relationships with populations in the temperate United States. We used these data to infer their evolutionary history and large-scale connectivity. We quantified within- and among-population genetic variation across the species range using chloroplast sequences and microsatellite loci. We hypothesized that ancestral haplotypes have persisted in tropical populations in unglaciated areas that have changed little over long periods, and that these populations have harbored higher genetic diversity. Next, we estimated divergence times of haplotypes among populations and considered whether observed genetic subdivisions were temporally consistent with the late Pliocene and Quaternary geologic events. Finally, we tested the hypotheses of expanding/contracting populations and the presence of a single refugium versus multiple refugia during episodes of glaciation. Based on our study, we propose the location of more than one continuous ice-age refugium in North America, as well as potential migration routes in relation to the complex phylogeographical patterns of North and Central American hardwood forests.
Methods
Field and laboratory procedures
Sampling and DNA extraction
Sampling of Acer saccharum subsp. saccharum was conducted in old-growth forests of USA. Sites where the species identity was doubted by botanists were not sampled. Sampling in Mexico and Guatemala included all known populations where A. saccharum subsp. skutchii has been recorded [19]. These sugar maples belong to the series Saccharodendron (Rafinesque) Murray, section Acer, characterized by apetalous flowers and connate calyces. Acer saccharum subsp. skutchii represents the only member of the series distributed in Mexico and Guatemala [26]. Both subspecies are morphologically the most similar of the series [26].
The sampled populations of sugar maple spanned a geographic range from Maine, USA (46°N), to El Progreso, Guatemala (15°N). Fresh foliage was sampled from 233 adult individuals from 16 native populations (Fig.
1
, Additional file
1
). Twenty-five to 41 adult individuals (>40 cm diameter at breast height) per population, spaced a minimum of 50 m apart, were sampled in the USA and, where the density permitted, in Mexico. Because of low tree densities in Guatemala, all mature trees observed were sampled regardless of distances among them. The leaves were collected with permits granted by forest reserves. The first author performed the species identification. Leaves were immediately dried in silica gel. Dry leaf material (20–50 mg) was ground using a Mini Beadbeater 8 (BioSpec Products, Bartlesville, OK). The genomic DNA was extracted and purified using a DNeasy Plant Mini Kit (Qiagen, Valencia, CA).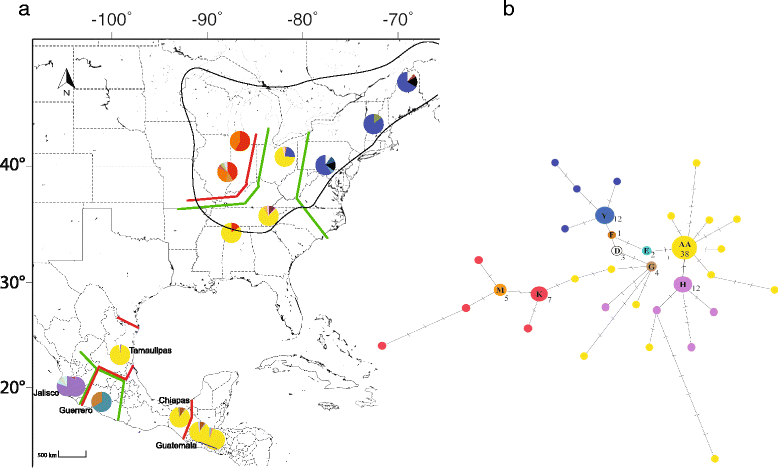 Genotyping microsatellites
Six microsatellite loci were amplified using primer pairs and polymerase chain reaction (PCR), the protocol described by Pandey et al. [27]. Six out of eight primers had been developed for Acer pseudoplatanus and showed high degree of cross-species amplification (MAP9, MAP10, MAP33, MAP34, MAP40, and MAP46). The forward primer was fluorescently labeled using 6-FAM or HEX for MAP10 (Applied Biosystems, Foster City, CA, USA) on the 5- end for detection on an ABI 3130XL (Applied Biosystems, USA).
PCR and fragment analysis were carried out as follows. PCR amplifications of 20 μL aliquots were performed using 20 ng of genomic DNA (quantified with a NanoDrop 2000, Thermo Scientific, Waltham, Massachusetts, USA), 0.2 mm dNTP, 10 μm of each primer, 1.5 mm MgCl2, and 1 U HotStarTaq polymerase (HotStarTaq Master Mix, Qiagen, USA). PCR programs consisted of an initial denaturation at 95 °C for 15 min, followed by 30 cycles of 45 s at 94 °C, 45 s at appropriate annealing temperature, and 45 s at 72 °C, and a final extension of 15 min at 72 °C. Annealing temperatures were determined using a gradient PCR and were as follows: 52 °C (MAP9 and MAP33), 55 °C (MAP10), 55.8 °C (MAP34), 58 °C (MAP40), 48 °C (MAP46). Two microliters of PCR product were added to 10.8 μL of Hi-Di Formamide (Applied Biosystems, USA) and 0.2 μL ROX 400 HD size standard and run on an ABI 3130XL automated sequencer. The allele size calling (size of fragments using decimal numbers) was done using GeneMapper v4.1 (Applied Biosystems, USA), and the binning (conversion of alleles into discrete units) was done with Autobin [28]. MICRO-CHECKER v2.2.3 was used to identify genotyping errors such as large allele dropout, stutter peaks, or null alleles [29].
Chloroplast DNA sequencing
The ndhF-rpl32R intergenic spacer in the small single-copy region and psbJ-petA intergenic spacer in the large single-copy region from the chloroplast were amplified [30]. Both regions are noted as highly variable and several haplotypes have been observed [30]. PCR was used to amplify the two regions following the protocol described in Shaw et al. [30] with some modifications. Each reaction (25 μL) consisted of 20 ng of genomic DNA, 10 μm of each primer, 0.2 mm dNTP, 1.5 mm MgCl2, and 1 U HotStarTaq polymerase (HotStarTaq Master Mix, Qiagen, USA). PCR programs consisted of an initial denaturation at 95 °C for 15 min, followed by 35 cycles of 1 min at 95 °C, annealing at 52 °C for 1 min, followed by a ramp of 0.3 °C/s to 65 °C, and 4 min at 65 °C, and a final extension of 10 min at 66 °C. PCR products were purified using the solid phase reversible immobilization technique and sequenced in both directions using BigDye Terminator v3.1 (Applied Biosystems, USA) on an ABI-PRISM 3730XL. Sequence chromatograms were visually inspected and edited in Sequencher v4.1 (Gene Codes Corp., Ann Arbor, MI, USA), alignment was done in MUSCLE [31] using the European Bioinformatics Institute web platform (http://www.ebi.ac.uk), and manually edited in McClade v4.08 [32] as needed. The sequences have been submitted to GenBank with the accession numbers KT933356–KT933397.
Discussion
Data on nuclear and chloroplast DNA of sugar maple collected from North and Central America recovered signatures of past connectivity, disjunctions, and genetic structure among populations. Populations in western Mexico (Jalisco) and the midwestern USA had the highest genetic differentiation; their haplotype lineages diverged, respectively, during the Pliocene and early Pleistocene. Further differentiation of northeastern USA haplotype lineages was dated to the pre-Illinoian glacial episode (Pleistocene). Population in the southeastern USA, eastern Mexico, and Guatemala displayed signals of past connectivity and lack genetic differentiation. In addition, most populations in the tropics had increased homozygosity and lower genetic diversity, possible as a result of bottlenecks lasting many generations. Haplotype data suggested the presence of multiple glacial refugia; the tropical populations likely acted as refugia during the Quaternary glacial and interglacial events, while two other refugia were maintained in the Midwest and north of the Appalachian Mountains.
Genetic diversity and geographic structure
Low levels of genetic diversity from nuclear DNA data were observed in all populations. A greater tendency toward homozygosity occurs in maples from western and southern Mexico compared to maples Vermont, Ohio, and Tennessee. The trend could be the result of a genetic bottleneck in southern Mexico. The reduced genetic variation is also present in the Guatemalan populations. The increased homozygosity in southern tropical populations indicates that populations at the most southern ends of the range of this species should be the most vulnerable to new selection pressures. Populations in southern Mexico and Guatemala are also the most threatened by anthropogenic disturbance [19]. Consistently, low values in nuclear markers with high mutation rates reflect fragmentation patterns and reductions in population sizes in recent times. Low to moderate diversity has also been observed in Acer saccharum in populations from Canada, possibly a result of genetic drift [23–25]. Nevertheless, genetic variation may be underestimated across species using the same markers, because microsatellites are subject to ascertainment bias [64]. In addition, a more accurate estimation of genetic diversity should be obtained by increasing the number of microsatellites.
Chloroplast gene diversity in most maple populations was variable. High levels of nucleotide and haplotype diversity were distributed in the southern and the midwestern regions of the USA. High nucleotide diversity (π) also was also observed in the southern population of Chiapas, Mexico. Nevertheless, populations in tropical regions contained the lowest haplotype diversity. Gunter et al. [65] found the greatest sugar maple genetic diversity in the southern region of Tennessee and the lowest in the northern area of Wisconsin. Latitude was suggested to be responsible for trends in genetic diversity [66]; no significant latitudinal pattern in genetic diversity was observed, however, when analyzing the chloroplast DNA [26]. Rates of chloroplast evolution are slow compared to nuclear microsatellites; thus, the chloroplast data could reflect past population sizes and past gene flow between southeastern USA and the easternmost tropical maples of Mexico and Guatemala.
The genetic structure recovered with nuclear and chloroplast DNA indicates general patterns of connectivity among populations. Nuclear data suggest current gene flow and larger effective population sizes in southeastern and northeast USA, whereas the opposite is true in the tropical populations, having disjunct and geographically fragmented populations. Chloroplast data indicate that very little gene flow has occurred among the midwestern sites and the rest of the populations in the USA since some distant time in the past.
Haplotypes from more southern regions may be considered ancestral, which is suggested by high frequency and distribution of haplotypes in southeastern USA and south Mexico and Guatemala. Haplotype lineages in western Mexico (Jalisco) were the first to diverge, during the Pliocene. Eastern Mexican and Guatemalan lineages had a time for the most common ancestor similar to the northeastern USA populations, dated to the pre-Illinoian glacial period. The haplotypes from the Midwest, supported as a lineage by Bayesian inference, have survived isolated since the early Pleistocene (when ice-sheets began to grow), with possible gene migrations from more central (Ohio) or southern (Alabama) ice-free areas. Samples from Iowa, Missouri, as well as sequences of other chloroplast regions, may help to clarify the routes of migration for the midwestern populations.
Patterns of genetic differentiation
The results from the STRUCTURE analysis suggested that the genotyped individuals fall into two general clusters. Thus, there is one cluster from the tropics, which also includes Alabama, and one cluster composed of USA sites, but excludes the Southeast USA. These results contrasted with Dest and F ST measures. Bayesian clustering analysis did not differentiate the western Mexico populations, whereas Dest and F ST gave strong support for these populations as a different group. Similarly, the population in Chiapas was assigned to the USA cluster with STRUCTURE, but it was differentiated using Dest and F ST. The Chiapas population might represent an outlier, possible due to the high levels of homozygosity and reduced population sizes. Caution is needed in making inferences, however, because the accuracy of the assignments in STRUCTURE is affected when there are insufficient microsatellite markers [45].
Populations in midwestern USA and western Mexico were highly differentiated from the rest of the sites under study. Dest and F ST supported differentiation for nuclear DNA and SAMOVA for chloroplast DNA. Their isolation thus appears to be old and is supported by the time for the most common ancestor estimates for haplotypes in this study. Our data further suggest very limited present gene flow (via pollen dispersal) from Alabama to the populations in the Midwest.
The nuclear DNA also indicates lack of gene flow at the present time between the northern Mexico and southern USA populations. Nonetheless, the signal of past connectivity among the Southeast USA, East Mexico, and Guatemalan populations is still present, as indicated by the low chloroplast differentiation among these populations. Similar signals of past connectivity have been identified between populations of Liquidambar styraciflua in the southeastern USA and Mexico [8]. Populations in Mexico also exhibit differentiation from each other as a result of geographic barriers and a highly fragmented landscape. Although geographically close, Guatemalan populations also displayed a lack of pollen flow. This suggests that in addition to a mountain barrier, the population sizes are small, pollen dispersion is limited, and there are no intermediate patches of maples that might increase connectivity at the present time. Similar degrees of reproductive isolation after the last glaciation and landscape fragmentation have been recorded for other temperate trees such as Fagus grandifolia and Pinus chiapensis in Mexico [13, 15].
Pliocene–Quaternary glacial and interglacial effects on populations
Conclusions
Reduced genetic variation currently is present in the most southern tropical maple populations, as indicated by nuclear and chloroplast data. Haplotype diversity and distribution indicate past connectivity among populations from the Southeast USA, East Mexico, and Guatemala. Thus, gene flow and species expansion through eastern–southern Mexico to Guatemala was likely favored during glacial periods of stable humidity during the Quaternary. Earlier, western Mexican (Jalisco) populations diverged from the rest of the sugar maples during the Pliocene. Volcanic activity during late Pliocene and Quaternary and topographic conditions in western Mexico probably promoted this early differentiation. The time for the most common ancestor estimates denote that midwestern USA populations have been different lineages since the early Pleistocene and that northeastern USA lineages diverged during the pre-Illinoian glaciation, long before the Last Glacial Maximum. Small maple refugia may have existed in the midwestern USA and north of the Appalachian Mountains, and expansion may have occurred from such refuges during interglacial periods. Thus, we suggest that geological events in the Pliocene were major determinants of the current genetic structure of sugar maple populations in the area of West Mexico, whereas the geological events that occurred during the Quaternary explain the genetic structure of sugar maples in East Mexico and the USA. This study supports the notion of multiple glacial refugia for temperate hardwood forests in North and Central America and highlights the importance of connectivity among temperate forests in the USA and those in Central America.
Availability of supporting data
The chloroplast DNA data set supporting the results of this article is available in GenBank, with the accession numbers KT933356–KT933397.
Abbreviations
SAMOVA:

spatial analysis of molecular variance
SMOGD:

software for the measurement of genetic diversity
Declarations
Acknowledgements
The Mohamed bin Zayed Species Conservation Fund provided significant financial support for most of the laboratory procedures. Fieldwork was conducted through two research grants (#52583 and #80437) and a scholarship (#161695) from CONACyT to YLVR. The Louisiana Department of Wildlife & Fisheries and LSU-BioGrads also provided financial support for field and laboratory work. We thank field assistants and collecting permits granted by forest reserves. LSU Genomics Facility helped with the fragment analysis. This material is based upon work supported by HPC@LSU computing resources. Dr. Jeremy Brown gave assistance for the use of HPC resources. Dr. Kyle Dexter, Dr. Vesna Karaman-Castro and anonymous reviewers provided valuable comments on this manuscript.
Open AccessThis article is distributed under the terms of the Creative Commons Attribution 4.0 International License (http://creativecommons.org/licenses/by/4.0/), which permits unrestricted use, distribution, and reproduction in any medium, provided you give appropriate credit to the original author(s) and the source, provide a link to the Creative Commons license, and indicate if changes were made. The Creative Commons Public Domain Dedication waiver (http://creativecommons.org/publicdomain/zero/1.0/) applies to the data made available in this article, unless otherwise stated.
Authors' Affiliations
(1)
Department of Biological Sciences, Louisiana State University, Baton Rouge, USA
Copyright
© Vargas-Rodriguez et al. 2015