Research article

Open Access
The genetic basis of discrete and quantitative colour variation in the polymorphic lizard, Ctenophorus decresii
BMC Evolutionary Biology
BMC series – open, inclusive and trusted
2016
16:179
Received: 12 May 2016
Accepted: 31 August 2016
Published: 6 September 2016
Abstract
Background
Colour polymorphic species provide invaluable insight into processes that generate and maintain intra-specific variation. Despite an increasing understanding of the genetic basis of discrete morphs, sources of colour variation within morphs remain poorly understood. Here we use the polymorphic tawny dragon lizard Ctenophorus decresii to test simple Mendelian models for the inheritance of discrete morphs, and to investigate the genetic basis of continuous variation among individuals across morphs. Males of this species express either orange, yellow, orange surrounded by yellow, or grey throats. Although four discrete morphs are recognised, the extent of orange and yellow varies greatly. We artificially elevated testosterone in F0 females and F1 juveniles to induce them to express the male throat colour polymorphism, and quantified colour variation across the pedigree.
Results
Inheritance of discrete morphs in C. decresii best fit a model whereby two autosomal loci with complete dominance respectively determine the presence of orange and yellow. However, a single locus model with three co-dominant alleles for orange, yellow and grey could not be definitively rejected. Additionally, quantitative expression of the proportion of orange and yellow on the throat was strongly heritable (orange: h2 = 0.84 ± 0.14; yellow: h2 = 0.67 ± 0.19), with some evidence for covariance between the two.
Conclusions
Our study supports the theoretical prediction that polymorphism should be governed by few genes of major effect, but implies broader genetic influence on variation in constituent morph traits.
Keywords
Colour polymorphismHeritabilityMendelianAnimal modelQuantitative traitTestosteroneMicrosatelliteImage analysis
Background
Colour polymorphic species are often used as model systems in evolutionary biology because they offer obvious visual markers of genetic variation (e.g. [1–3]). True colour polymorphism refers to the presence of multiple discrete and genetically-determined morphs within an interbreeding population, with the rarest too frequent to arise from recurrent mutation [4, 5]. In species for which the genetic basis of colour polymorphism has been studied, alternative morphs are often explainable by the simple Mendelian segregation of few alleles across limited loci (reviewed in [6, 7]). For example, Lank et al's classic study on ruffs (Philomachus pugnax) showed that male colouration/reproductive strategy is primarily controlled by a single autosomal locus with two alleles [8], see also [9]. Similarly, colour patterns in the Coqui frog (Eleutherodactylus coqui) are consistent with the segregation of five autosomes at a single locus: In this case all alleles code for striped patterns, and exhibit co-dominant effects on phenotypes, except for one recessive allele that produces un-striped morphs in homozygotes [10]. In the side blotched lizard, Uta stansburiana, males express a colour polymorphism again in association with reproductive strategy that appears to be controlled by a single autosomal locus with three co-dominant alleles o, b, y (orange, blue and yellow, respectively; [11, 12]). Such studies attest to how divergent phenotypes may result from somewhat simple regulatory mechanisms, as predicted by broader theory for polymorphism [13].
In colour-polymorphic species, alternative colour phenotypes are often associated with differences in morphology, behaviour, physiology and/or life-history [7, 13, 14]. Theory proposes that morph-specific trait combinations represent alternative peaks across the fitness landscape [15]. These trait combinations may be driven by pleiotropy, where a single gene influences multiple phenotypic traits. For example, genes involved in pigment production may also act on other tissue types [16–18] and/or the presence of a given morph within a population may influence social interactions and consequently morph fitness (e.g. [19]). Alternatively, or in addition, selection may favour phenotypes with particular trait combinations. Such correlational selection will result in the formation of linkage disequilibrium at loci governing morph-specific traits, which will be sustained in-turn by processes such as frequency-dependent selection [13, 20]. Selection of this nature is therefore expected to act upon genetic architecture (i.e., the G-matrix) to favour mechanisms of broad phenotypic effect [13]. This may be most likely when genes underlying trait combinations reside in regions of major effect, mediated via loci in close physical proximity and/or modifier loci which regulate multiple genes. The presence of such mechanisms, conceptualised as "supergenes" [21], is consistent with observations in exemplar systems such as ruffs [8] and side-blotched lizards [12, 14, 22]. Emerging evidence has provided further support across a range of systems, and identified mechanistic bases in gene regulation (e.g. Lake Malawi cichlids [23]), reviewed in ([24], Heliconius butterflies [25], reviewed in [26]) and chromosomal inversion (e.g. ruffs [9], white-throated sparrows [27]).
Although discrete colour morphs are expected to be governed by few genes of major effect, colour expression may vary substantially and/or continuously within morphs. For example, in ruffs, territorial-versus-satellite males have predominantly dark-versus-light ornamental plumage, but colouration within each category appears 'hypervariable' [9]. Within-morph variation of this nature is not easily explained by the segregation of alleles across one or two loci. Moreover, little is known about the relative contribution of polygenic, environmental and interactive effects upon such variation. Present insight derives largely from intensively-studied systems. In guppies (Poecilia reticulata), for example, variation among males in the size of different ornamental colour traits (e.g., orange, black & iridescent markings) is tightly controlled by Y-linked genes, yet more subtle variation such as the chroma of orange spots shows strong sensitivity to the environment [28]. Likewise, the contribution of phenotypic plasticity has been explored for polymorphic systems such as Hypolimnas butterflies [29]. However, despite enduring interest in the genetic regulation of colour polymorphism (reviewed in [6, 7, 9, 30]), few studies have explicitly addressed the genetic basis of quantitative variation within discretely-classified morphs (but see [31, 32] for notable exceptions in Heliconius).
The tawny dragon,
Ctenophorus decresii
, is a small, sexually dimorphic agamid lizard (mean snout-vent length 80 mm and 70 mm for males and females, respectively), comprising two genetically distinct lineages, both endemic to South Australia [
33
,
34
]. Males of the southern lineage are monomorphic for throat colour, while those from the northern lineage express one of four discrete throat colours (orange, yellow, grey or orange + yellow) at sexual maturity (approx. 18 months), which persists throughout their life [
33
,
35
–
37
]. Orange and yellow morph males have only orange or yellow on their throat respectively; orange + yellow morphs have an orange central patch surrounded by yellow; and the grey morph lacks any orange or yellow colouration [
37
]. Within each morph category, the size of the colour patch and patterning varies substantially among individuals (Fig.
1
; [
34
,
37
,
38
]). The colour morphs in Northern
C. decresii
correspond to different behavioural strategies [
39
]. Orange males are most aggressive, and grey least aggressive. Orange + yellow males behave similarly to yellow males, with aggression conditional on the intruder's throat colour: orange and yellow males are challenged more aggressively than grey males. In addition to being least aggressive, the grey morph also exhibits lower boldness towards a simulated predator than the other three morphs [
39
]. Although the morphs differ in behaviour and associated endocrine levels (Yewers, Jessop, Pryke, Stuart-Fox, unpublished data), there are no apparent differences in morphology, habitat preference or other traits which might otherwise affect colour expression [
37
,
39
]. Thus, as in other species with sex-limited colour polymorphism, colour forms are associated with differences in behaviour and correlated traits.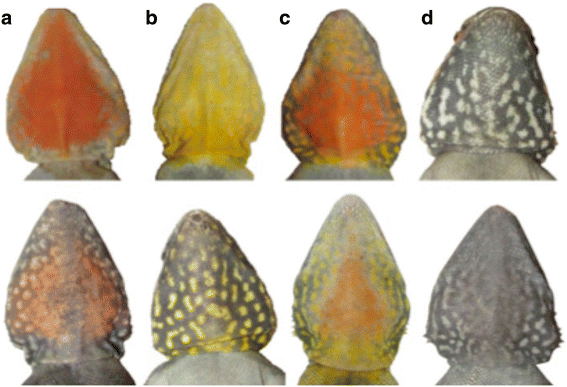 In this study, we investigate the genetic basis of throat colouration in the polymorphic northern lineage of C. decresii using captive-bred offspring from wild-caught parents over two breeding seasons. As with many colour polymorphic species, the tawny dragon is sexually dichromatic. Males express one of the four throat colours at sexual maturity, whereas females exhibit a cream coloured throat, sometimes with a flush of yellow and/or a yellow bib [37]. Juveniles of both sexes (<18 months of age) exhibit cream throats and the cryptic mottled brown dorsal colouration typical of mature females. Importantly, however, all four discrete male morphs can be expressed in females and juveniles using a simple testosterone treatment (see also [40]). We applied this treatment to a parent-offspring pedigree to investigate the genetic basis of both qualitative and quantitative colour variation. Our aims were (a) to assess whether/how variation at the level of discrete morph is accounted by alternative models based on simple Mendelian inheritance, and (b) to estimate the quantitative genetic basis of variation in key features (orange and yellow) within and between morphs.
Results
Confirmation of paternity
We analysed the genotypes of 70 unrelated wild-caught adults and found that six of the eight microsatellite loci were suitable for paternity assignment (Additional file 1: Table S2). Using our parameter settings, CERVUS assigned a sire to all 58 offspring for which we had candidate fathers, with 95 % confidence. We accepted assigned sires with mismatches of zero or one (to allow for mutations). These were confirmed as likely fathers based on breeding sire-dam pairings. We detected only one instance of sperm storage between clutches within years and none of sperm storage between years for the population, increasing our confidence in our paternal assignment.
Discrete models of morph inheritance
In several instances we were able to exclude either autosomal or sex-linked inheritance under a given model based on clear incompatibility with observed parent and offspring phenotypes (see below). However, autosomal inheritance for models 2 and 3 were potentially compatible with the data. For these models, we statistically tested observed offspring phenotype frequencies against those expected given parental phenotypes.
Model 1: one locus, four alleles
Under this model, colour morph is controlled by a single locus with four alleles corresponding to the four morphs. We can reasonably exclude a model with a single autosomal locus with four alleles because it requires that at least one of the parents must have the same morph as the offspring. For the 58 offspring for which the phenotype is known for the offspring and both parents, 17 do not have the same morph as either of their parents (29 %). We can also exclude sex-linked inheritance for this model because females would need to express the same morph as their father (due to the species' ZW sex chromosomes) and this is not the case for 17/23 (74 %) female offspring with known fathers.
Model 2: one locus, three co-dominant alleles
Under this model, colour morph is controlled by a single locus with three alleles, O, Y and G with co-dominant expression. We can exclude sex-linked inheritance for this model (i.e. locus on the Z chromosome) because sex-linked models predict that phenotypic frequencies in the heterogametic sex (females) represent allelic (rather than genotypic) frequencies. Females would inherit the Z with either the O or Y allele from their father, so could not be OY by definition under this model because OY is a heterozygote with co-dominant alleles. The fact that some females were classified as orange + yellow morph following testosterone implantation necessitates autosomal inheritance under Model 2.
Comparison of observed and expected offspring phenotypic frequencies under autosomal inheritance for Model 2 revealed that they differed significantly (Table
2
), regardless of assumptions underlying assignment of parental genotypic probabilities (i.e. 50:50; HWE and threshold assumptions). Autosomal inheritance for Model 2, however, provided the second best fit to the observed data (see below for best fitting model) when we assigned parental genotypes assuming threshold colour expression (homozygote above mean, heterozygote below mean colour expression), which is consistent with co-dominance.
Table 2
Likelihood ratio tests for observed and expected morph frequencies under different models of autosomal inheritance
Model of inheritance

Probability of O or Y parents being homozygous or heterozygous

Morph

Expected freq.

Observed freq.

G df = 3

P

One locus, 3 alleles

 Equal

O

18

21

13.47

0.004

Y

21

13

OY

14.63

12

G

4.38

12

 HWE

O

16.7

21

14.23

0.003

Y

23.22

13

OY

13.32

12

G

4.76

12

 Threshold

O

17.25

21

9.29

0.026

Y

19.75

13

OY

15.25

12

G

5.75

12

Two loci

 Equal

O

13.38

21

5.13

0.163

Y

15.63

13

OY

15.13

12

G

13.88

12

 HWE

O

12.31

21

10.76

0.013

Y

14.83

13

OY

21.35

12

G

9.51

12

 Threshold

O

11

21

14.42

0.002

Y

13.5

13

OY

23.5

12

G

10

12
Model 3: two loci, each with two alleles
Under this model, there are two loci - an 'orange' locus and a 'yellow' locus. In the case of sex-linkage for this model, a grey father must produce grey daughters, a yellow father could not produce daughters that express orange and an orange father could not produce daughters that express yellow. Of the 4 female offspring with a grey father, 3 were non-grey daughters; of the 7 female offspring with a yellow father, 3 were orange or orange + yellow and of the 3 female offspring with an orange father, one was yellow, totalling 7/14 (50 %) of offspring phenotypes that do not fit sex-linked inheritance under Model 3.
By contrast, observed offspring phenotypic frequencies did not differ significantly from those expected under autosomal inheritance for Model 3, but only under one of the three assumptions regarding parental genotypic probabilities; namely, when we assumed a 50:50 probability of phenotypically orange or yellow parents being homozygous or heterozygous for the orange and yellow locus respectively (Table 2). Observed and expected phenotypic frequencies differed significantly when allele frequencies were assumed to be in HWE or estimated based on a threshold of colour expression (Table 2).
Heritability of quantitative colour expression
Animal model analysis including all individuals (i.e. zero values estimated as a sparse term) indicated high and significantly > 0 heritability for the proportion of orange (0.84; 95 % CI 0.55 – 1.12; Table
3
) and the proportion of yellow (0.67; 95 % CI 0.30 – 1.04; Table
3
).
Table 3
Results of animal models estimating heritability for the proportion of orange and yellow throat colouration (design size, N = 102; see methods for details)
| Response variable | Animal variance | Residual variance | Phenotypic variance | Heritability h2 ± SE | 95 % confidence limits |
| --- | --- | --- | --- | --- | --- |
| Proportion orange | 10.80 | 2.11 | 12.91 | 0.84 ± 0.14 | 0.55 –1.12 |
| Proportion yellow | 8.20 | 4.05 | 12.25 | 0.67 ± 0.19 | 0.30 –1.04 |
Mid-parent-offspring regressions for individuals expressing orange or yellow (i.e. zero values excluded) indicated high heritability for each component of throat colour (Fig.
2
). Heritabilities for the expression of both orange and yellow were significant and comparable to those estimated from the animal model, being higher for the proportion of orange (h
2
 = 0.88 ± 0.17,
p =
 <0.001) than yellow (h
2
 = 0.60 ± 0.13,
p =
 0.002).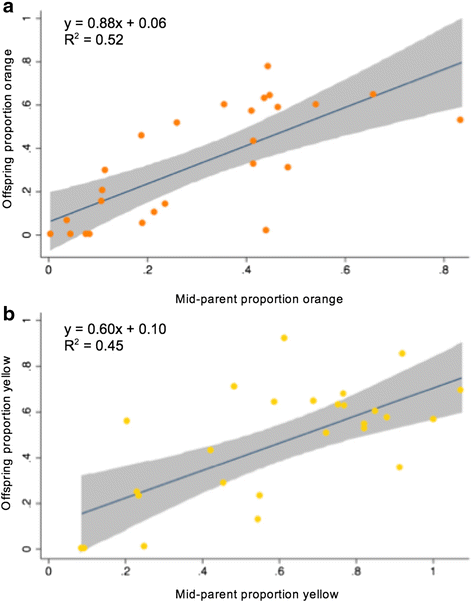 Despite the limited sample size, the proportion of orange was significantly heritable in sire-offspring regressions (h
2
 = 0.44 ± 0.13,
p =
 0.003; Fig.
3a
), as was the regression for the proportion of yellow (h
2
 = 0.29 ± 0.09,
p =
 0.005; Fig.
3b
; Table
4
). Similarly, heritability for the proportion of both orange and yellow was significant for dam-offspring regressions (h
2
 = 0.43 ± 0.17,
p =
 0.016, and h
2
 = 0.54 ± 0.16,
p =
 0.002 for orange and yellow, respectively; Fig.
3c, d
; Table
4
). Furthermore, there was no significant difference in slopes between sire-offspring and dam-offspring relationships for orange (ANCOVA: parent colour x parent sex interaction; F
1,50
 = 0.00;
p =
 0.97) and a marginally significant difference in slopes for yellow (F
1,50
 = 5.45;
p =
 0.024). This implies that maternal and paternal contributions were of comparable magnitude for orange but not yellow. Lastly, cross-correlations of orange and yellow were moderate but statistically significant (and positive) for all except yellow dam versus orange offspring (Table
4
).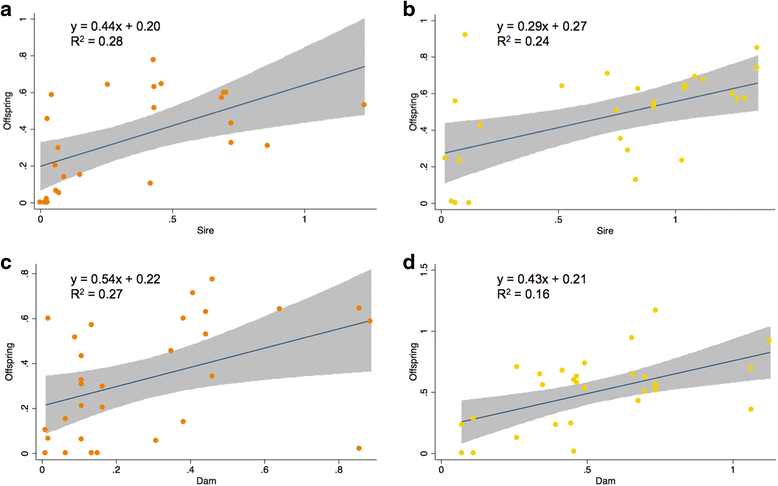 Table 4
Coefficient estimates from sire-offspring and dam-offspring regressions and cross correlation (reciprocal phenotypic regressions) of the proportion of orange and yellow components of throat colouration. Morph category was determined via segmentation analysis of digital photographs
| Offspring | Sire | Dam | Slope ± SE | R2 | P |
| --- | --- | --- | --- | --- | --- |
| Orange | Orange | - | 0.44 ± 0.13 | 0.28 | 0.003* |
| Orange | - | Orange | 0.43 ± 0.17 | 0.16 | 0.016* |
| Orange | Yellow | - | 0.31 ± 0.10 | 0.26 | 0.004* |
| Orange | - | Yellow | 0.25 ± 0.17 | 0.04 | 0.15 |
| Yellow | Yellow | - | 0.29 ± 0.09 | 0.24 | 0.005* |
| Yellow | - | Yellow | 0.54 ± 0.16 | 0.27 | 0.002* |
| Yellow | Orange | - | 0.35 ± 0.14 | 0.17 | 0.018* |
| Yellow | - | Orange | 0.42 ± 0.19 | 0.12 | 0.033* |
Discussion
Our results confirm that in Ctenophorus decresii, like many other colour polymorphic taxa (reviewed in [6]), discrete colour morphs are likely to be controlled by few genetic factors that segregate in a Mendelian fashion. Of the three models of inheritance we considered, a model positing two autosomal loci controlling the presence/absence of orange and yellow respectively provided the best fit. Quantitative expression of the proportion of orange and yellow within colour morphs indicated heritability estimates for orange (0.84; 95 % CI 0.55 – 1.12) being higher than for yellow (0.67; 95 % CI 0.30 – 1.04). Furthermore, cross-correlations (indicative of genetic covariance) between orange and yellow were significant and positive for all except yellow dam versus orange offspring, suggesting that their quantitative expression may be controlled by few or tightly linked loci. Thus, our study supports theoretical predictions that discrete colour morphs associated with distinct behavioural strategies should be governed by few genes of major effect (e.g. a supergene, [13, 61]) and provides evidence for heritability of quantitative colour expression among individuals with discrete colour morphs.
Colour polymorphism in a wide range of taxa is controlled by few or tightly linked loci, which may have a pleitropic effect on correlated traits (especially when they involve regulatory genes) or form part of a 'supergene' that limits effective recombination between constituent loci to form a single segregating unit [21]. For instance, regulatory genes have been implicated in control of the colour polymorphism in the swallowtail butterfly Papilio polytes (transcription factor doublesex (dsx), [25, 62]) and Lake Malawi cichlids (cis-regulatory mutation in the Pax7 gene; [23]); while the plumage colour polymorphism in white-throated sparrows (Zonotrichia albicollis) and ruffs (Philomachus pugnax) is associated with a supergene [9, 63]. Our data are similarly consistent with Mendelian inheritance of few alleles at limited loci. However, interactions among loci or between genes can make substantial contributions to trait variation and even covariation [64] so we cannot rule out more complex models involving multiple genes or epistatic interactions [13, 65, 66].
Based on our data, we can reject sex-linked inheritance of the potential for discrete polymorphism based on observed offspring phenotype frequencies. Furthermore, we can reject sex-linked inheritance of genes involved in quantitative expression of orange colouration, as there was no significant difference in the slopes of sire-offspring and dam-offspring regressions. The significant difference in slopes for sire-offspring and dam-offspring regressions for yellow colouration may be an artefact of limited testosterone-induced expression of yellow in adult females compared to juveniles, rather than indicative of sex-linkage. Even in species with sex-limited polymorphism (where the colour polymorphism is expressed only in in one sex), autosomal inheritance appears to be substantially more common than sex-linked inheritance (e.g. ruffs [8, 9], side-blotched lizard [12], damselflies [67], butterflies [68]), although there are exceptions (e.g. Gouldian finch [1] Ficedula flycatchers [69]). If conspicuous colouration benefits one sex (usually males) but disadvantages the other (usually females, which gain greater fitness from being cryptic), then autosomally inherited colour traits will be under sexually antagonistic selection. The resulting genetic conflict may be resolved through tight linkage with sex-determining genes (e.g. Lake Malawi cichlids; [23]), or alternatively, through the action of 'modifier' genes (e.g. endocrine-associated) that limit colour expression to one sex during development [23]. The latter case is likely in C. decresii as well as other species such as ruffs (Philomachus pugnax), side-blotched lizards (Uta stansburiana), painted dragons (Ctenophorus pictus), in which testosterone mediates colour morph expression [40, 70, 71]. Indeed testosterone-induced colour expression in females and juveniles further indicates that sex-specific endocrine cascades during development, rather than linkage with sex-determining genes, control the expression of throat colouration.
Lizards show remarkable convergence in male throat or ventral colour polymorphism (with orange, yellow and white/grey or blue morphs), which appears to have evolved independently in several families, including iguanids, lacertids and agamids [22, 72–77]. This is intriguing because it raises the possibility of a common underlying genetic mechanism. However, until now, there have been only two colour polymorphic lizard species for which the probable mode of inheritance for the colour polymorphism has been estimated: the side-blotched lizard, Uta stansburiana [12], and the painted dragon, Ctenophorus pictus [78]. Male throat colour polymorphism in the side-blotched lizard appears to be controlled by a single locus with three, co-dominant alleles (b, o and y), with both alleles expressed in heterozygotes [79]. Homozygous males have solid throat colours; blue (bb), orange (oo), or yellow (yy). Due to co-dominance, heterozygotes have intermediate phenotypes; blue-yellow (by) have alternating blue and yellow stripes, blue-orange (bo) have blue and orange stripes on the throat with light orange flanks, yellow-orange (yo) have yellow throats with blue stripes and pale orange flanks [79]. The colour morphs correspond to reproductive strategies with 'orange' oo, oy and ob males having an 'ultra-dominant' strategy (large territories), 'yellow' yy and yb males having a sneaker strategy and 'blue' bb males having a mate-guarding strategy [11, 22, 79]. In contrast to the side blotched lizard, in the painted dragon, data was inconclusive regarding the mode of inheritance for males' yellow, orange or red head colouration. For C. pictus, a single locus three-allele model could not be definitively rejected, though it was not strongly supported, and there was no support for polygenic inheritance or a simple two-allele co-dominance model. However, neither of these studies formally considered models of inheritance with more than one locus.
In C. decresii, the only model of inheritance consistent with observed offspring phenotype frequencies was one with two loci (and 'orange' locus and a 'yellow') locus, each with two alleles and with the allele coding for orange or yellow expression respectively being dominant ('two-locus model'). However, we could not reliably score genotype from phenotype for the models of inheritance we tested formally (in contrast to the side-blotched lizard, for which genotype can be scored from phenotype due to co-dominant allelic expression). Therefore, we estimated offspring phenotype frequencies according to three different assumptions regarding parental genotypic frequencies. Our data provided the strongest fit with the two-locus model when we assumed a 50:50 probability of sires and dams of a given phenotype being either heterozygous or homozygous. However, a model with a single autosomal locus and three co-dominant alleles (analogous to the side-blotched lizard), fit the observed offspring phenotype frequencies almost as well as the best model (when we assumed threshold colour expression, which is consistent with co-dominance). Additional data would be necessary to further test among these competing models.
In addition to suggesting Mendelian inheritance of the discrete polymorphism, our results show that the quantitative expression of orange and yellow is highly heritable, with heritability of orange expression greater than that of yellow. This is consistent with the mechanism of colour production in C. decresii. In this species, yellow colouration is produced by carotenoids (e.g. β-carotene, 3'-dehydrolutein and lutein/zeaxanthin), while orange is produced by the same carotenoids with the addition of the red pteridine, drosopterin, as well as other colourless pteridines (C.A. McLean, A. Lutz, K. Rankin and D. Stuart-Fox, unpublished data). This is similar to most other agamid and iguanid lizards studied to date, whereby yellow is generated primarily by carotenoids and orange is generated by the combination of carotenoids and drosopterin (e.g. [80, 81]). Carotenoids and pteridines are the two primary classes of pigment generating yellow to red colouration in reptiles but they have very different chemical structures and physiological roles and are produced in different ways [82]. Animals acquire carotenoids exclusively from the diet; therefore, carotenoid-based ornaments are widely viewed as condition-dependent, with colour expression depending on both environmental availability and allocation trade-offs (e.g. to ornamentation vs immune function; [83, 84]). By contrast, coloured pteridines comprise a subset of chemical compounds (sepiapterin, drosopterin and their derivatives) synthesised within specialised organelles (pterinosomes) within the pigment cells (xanthophores) from abundant precursors presumed to be non-limiting [82, 85]. Therefore, in sharp contrast to carotenoids, environmental influences on the expression of pteridine-based colours are thought to be minimal [86]. In guppies, variation among populations in drosopterin production is largely genetic and compensates for environmental variation in carotenoid availability [86, 87]. Thus, higher heritability of orange colouration in C. decresii is consistent with genetic control of drosopterin production contributing to the generation of orange.
Conclusions
Based on our results, we hypothesise hierarchical genetic control of colour expression in C. decresii. Two independently segregating loci may determine whether or not orange or yellow is expressed (i.e. pigment is produced or transported to the skin). If either (or both) of these 'genes' is 'switched on,' a physiological cascade influenced by multiple genes ensues (and potentially environmental effects and interactions), such that the ultimate extent of colour expression behaves in the manner of a quantitative trait. Furthermore, the potential genetic covariation between yellow and orange suggests that loci influencing quantitative expression influence both yellow and orange. The greater environmental component of variation in yellow (i.e. lower heritability) than orange is consistent with different mechanisms of colour production, although it is also possible that this reflects greater variation in testosterone-induced yellow colouration in females and juveniles. The relationship between genetic factors governing discrete morphs, mechanisms of colour production and quantitative colour expression is likely to be complex, and would require extensive pedigree data, linkage mapping and genomic analyses to fully elucidate. The evidence we present for heritability of both the discrete colour polymorphism and quantitative colour expression in C. decresii provides an important first step towards this endeavour.
Declarations
Acknowledgements
We thank Fiona McCandless and Madeleine Yewers for assistance with data collection and laboratory work. We are grateful to John A. Endler and Martin Stevens for access to custom MATLAB scripts, and to Raoul Mulder and Tim Jessop for advice regarding parentage assignment and hormone analyses respectively.
Funding
This work was supported by the Australian Research Council (grant number DP1092908) and a short-term fellowship from the Wissenschaftskolleg zu Berlin to DS-F.
Availability of data and material
Data have been lodged with the Dryad Repository [88]; doi:10.5061/dryad.pk5sg
Authors' contributions
KR: conducted all experiments and collected the data. DS-F: conceived, designed and funded the project. KR, CM, DK and DS-F contributed to data analysis and manuscript preparation. All authors read and approved the final manuscript.
Competing interests
The authors declare that they have no competing interests.
Ethics approval and consent to participate
The University of Melbourne Animal Ethics Committee approval (1011760), DEPI Scientific permit (10005980), DEPI Import permits (14087874, 14078381), DENR Export permits (E22641, E22520), DENR Collection permit (E25861), and South Australian Wildlife Ethics permits (18/2010, 18/2010-M1 and 35/2013).
Open AccessThis article is distributed under the terms of the Creative Commons Attribution 4.0 International License (http://creativecommons.org/licenses/by/4.0/), which permits unrestricted use, distribution, and reproduction in any medium, provided you give appropriate credit to the original author(s) and the source, provide a link to the Creative Commons license, and indicate if changes were made. The Creative Commons Public Domain Dedication waiver (http://creativecommons.org/publicdomain/zero/1.0/) applies to the data made available in this article, unless otherwise stated.
Authors' Affiliations
(1)
School of BioSciences, The University of Melbourne, Parkville, Australia
(2)
Department of Sciences, Museum Victoria, Carlton Gardens, Australia
(3)
Department of Biological Sciences, Macquarie University, North Ryde, Australia