Research article

Open Access
Discrete phenotypes are not underpinned by genome-wide genetic differentiation in the squat lobster Munida gregaria (Crustacea: Decapoda: Munididae): a multi-marker study covering the Patagonian shelf
BMC Evolutionary Biology
BMC series – open, inclusive and trusted
2016
16:258
Received: 17 August 2016
Accepted: 21 November 2016
Published: 1 December 2016
Abstract
Background
DNA barcoding has demonstrated that many discrete phenotypes are in fact genetically distinct (pseudo)cryptic species. Genetically identical, isogenic individuals, however, can also express similarly different phenotypes in response to a trigger condition, e.g. in the environment. This alternative explanation to cryptic speciation often remains untested because it requires considerable effort to reject the hypothesis that the observed underlying genetic homogeneity of the different phenotypes may be trivially caused by too slowly evolving molecular markers.
The widespread squat lobster Munida gregaria comprises two discrete ecotypes, gregaria s. str. and subrugosa, which were long regarded as different species due to marked differences in morphological, ecological and behavioral traits. We studied the morphometry and genetics of M. gregaria s. l. and tested (1) whether the phenotypic differences remain stable after continental-scale sampling and inclusion of different life stages, (2) and whether each phenotype is underpinned by a specific genotype.
Results
A total number of 219 gregaria s. str. and subrugosa individuals from 25 stations encompassing almost entire range in South America were included in morphological and genetic analyses using nine unlinked hypervariable microsatellites and new COI sequences. Results from the PCA and using discriminant functions demonstrated that the morphology of the two forms remains discrete. The mitochondrial data showed a shallow, star-like haplotype network and complete overlap of genetic distances within and among ecotypes. Coalescent-based species delimitation methods, PTP and GMYC, coherently suggested that haplotypes of both ecotypes forms a single species. Although all microsatellite markers possess sufficient genetic variation, AMOVA, PCoA and Bayesian clustering approaches revealed no genetic clusters corresponding to ecotypes or geographic units across the entire South-American distribution. No evidence of isolation-by-distance could be detected for this species in South America.
Conclusions
Despite their pronounced bimodal morphologies and different lifestyles, the gregaria s. str. and subrugosa ecotypes form a single, dimorphic species M. gregaria s. l.. Based on adequate geographic coverage and multiple independent polymorphic loci, there is no indication that each phenotype may have a unique genetic basis, leaving phenotypic plasticity or localized genomic islands of speciation as possible explanations.
Keywords
Phenotypic plasticity
Genetic homogeneity
Squat lobster
Microsatellites
Gene flow
Background
Different species have different morphologies and lifestyles, which is commonly taken (but not often tested) to reflect different underlying genotypes. The advent of affordable DNA sequencing and molecular barcoding have served to greatly intensify the crosstalk between molecular and taxonomic disciplines by uncovering a large number of previously overlooked genotypes [1–3], many of which could be shown to be associated with equally overlooked morphotypes that in retrospect were identified as (pseudo)cryptic species [4–6].
However, the popularity and large number of cryptic species currently being discovered have led to an under-appreciation of the notion that sharply distinct morphotypes are not always the consequence of genetic differences but can also be invoked from the same genotype, often called by environmental triggers. The differences between associated morphotypes and lifestyles of ecotypes within the same species can be surprisingly pronounced [7–11].
Proving polyphenism and rejecting cryptic speciation as an explanation is harder than sequencing a mitochondrial gene fragment, which may in part explain the relatively lower number of well-studied cases of polyphenism. Whilst consistent differences among different morphotypes in a single mitochondrial marker suffice to at least flag these clades as candidate cryptic species, the opposite observation (no consistent differences) is not a conclusive demonstration of the absence of genetic differentiation among ecotypes. In order to show that too slowly evolving markers or other artefacts (e.g. mito-nuclear discordance [12]) did not trivially cause the observed lack of differentiation, considerably more extensive molecular evidence including multiple unlinked nuclear loci with sufficiently high substitution rates is required. Such extensive a posteriori knowledge is rare (e.g. in the fully sequenced Daphnia pulex [13–15]), but numerous experimental studies in which the genetic identity of individuals is known a priori contribute greatly to our understanding of the importance of polyphenism and morphological plasticity, e.g. parthenogenetic aphids [16, 17], marbled crayfish [18], polyembryonic armadillos [19], inbred lines of Drosophila [20], cloned swine [21]. It is unclear if the small number of confirmed polyphenism resulting from similar or identical genetic backgrounds is a condition truly rare in nature or whether it reflects mostly a discovery and/or publication bias.
In this paper we investigate the dimorphic squat lobster,
Munida gregaria
sensu lato (Fabricius, 1793), which is currently considered to comprise the ecotypes
M. gregaria
sensu stricto Miers 1881 as well as its junior synonym
M. subrugosa
Dana, 1852 (see [
22
]). For clarity and brevity, hereafter we refer to them as
Munida gregaria
s.l. comprising the two ecotypes
gregaria
s.str. and
subrugosa
. In South America,
M. gregaria
s. l. occurs in shallow marine waters off Patagonia, including Tierra del Fuego and the Falkland Islands/Islas Malvinas, while in the southwestern Pacific
M. gregaria
s. l. are reported from off eastern New Zealand and Tasmania ([
22
,
23
] and references therein). The taxonomic status of
gregaria
s. str. and
subrugosa
ecotypes has been subject to conflicting interpretations. Both ecotypes were often regarded as different species because of morphological differences in adult specimen (Fig.
1
) as well as different behaviors at certain developmental stages [
24
–
27
]. Williams (1973) on the other hand interpreted
gregaria
s. str. as a transient, pelagic ontogenetic stage that would later in life gain the physical features of
subrugosa
upon adopting a permanently benthic lifestyle. Regardless of the taxonomic ramifications, g
regaria
s. str. is often found in huge pelagic swarms that
subrugosa
lacks [
23
,
28
]. These differences persist even where both ecotypes co-exist in the same habitat. Nevertheless, on the basis of a lack of mitochondrial DNA differentiation [
29
], these two ecotypes are currently treated as a single polymorphic species under the name of
M. gregaria
in the most recent taxonomic revision of the family [
22
]. But this evidence must be considered insufficient because the sampled region (Beagle Channel) represents a very small part of the species' distribution and the molecular evidence rest exclusively on two linked mitochondrial markers (COI and ND1), whereas the results of the only nuclear marker (ITS-1) had to be excluded from the final analysis of the only molecular study [
29
].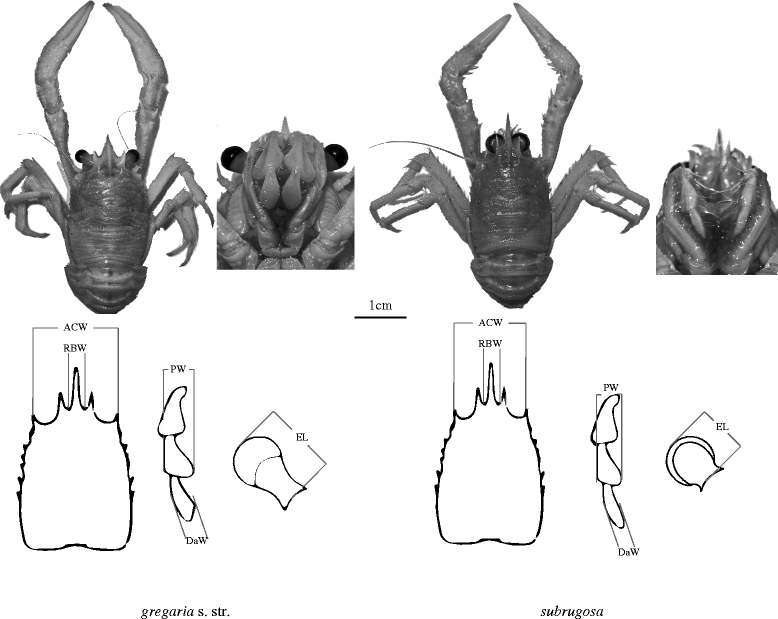 In order to test whether gregaria s. str. and subrugosa ecotypes correspond to different species of Munida or represent a single species with variable phenotypes, we employed multiple independent, fast-evolving nuclear microsatellite markers [30] and an expanded set of mtDNA sequences. The sampled area encompasses nearly the entire distribution of gregaria s. str. and subrugosa ecotypes in South America. In addition, we analyzed morphological differences of both ecotypes and different ontogenetic stages following the method of [27] in order to test if the more complete geographic sampling continues to support the discrete morphological clusters or if the boundaries between the two ecotypes vanish under more complete geographic coverage.
Discussion
Stability of morphological dimorphism in M. gregaria s. l.
In theory, populations belonging to a so-called 'ring species' might appear sharply distinct in an area of secondary overlap, but appear more gradually changing in morphology or genetics through areas of their distribution that have been more continuously inhabited (see [65, 66] and references therein). Inadvertently sampling only in the zone of secondary overlap might therefore create the incorrect impression of discrete morphotypes or genotypes when populations with intermediary morphotypes remain unsampled.
Increasing the sampling area from a single location in the Beagle Channel [29] to a continental scale, our data suggest that the boundary between two morphotypes (gregaria s. str. and subrugosa) is nonetheless not blurred across the South American shelf (Figs. 3 and 4).
The expanded morphometric analysis further suggests an ontogenetic dimension in the morphometry. It may be expected that the gap between adults and Northern Chilean Patagonia (NCP) juveniles in gregaria s. str. might be closed by inclusion of juveniles from other populations and reveal a continuous ontogenetic transition as can already be found in subrugosa (Fig. 3). The discreteness of the subrugosa and gregaria s. str. morphotypes, however, is not a sampling artefact and stable with respect to a more representative sampling scheme as well as inclusion of different life stages.
Phenotype-genotype relationship
Since the proposal that phenotype and genotype form two fundamental different levels of biological abstractions [67], untangling the relationship between phenotypes and the underlying genotypes has long been challenging and intriguing. The advent of molecular techniques has greatly fostered studies of phenotype-genotype interaction, especially in the wake of helped discovery of (pseudo)cryptic genetic divergence whereas corresponding phenotypes appeared identical. Such unexpected genetic diversity, which was later often corroborated by other independent evidences from morphology [68], breeding behavior [69] or multiple, independent and informative nuclear markers [70], has become an important supplement for the phenotypic identification of an organism to species or sub-species level in taxonomic practice [71–73].
In other cases, however, molecular marker-based examination found no genetic differentiation matching discrete phenotypes, which is exemplified by the present Munida gregaria case. Nonetheless, the lack of differentiation at a single marker is insufficient to extrapolate to the entire genome, especially in view of the different inheritance in the mitochondrial and nuclear genomes [74, 75]. A previous molecular study used only mitochondrial evidence and found no consistent genetic differentiation associated with each ecotype [29] but failed to demonstrate genetic homogeneity in the nuclear genome. The only nuclear locus (ITS 1) was excluded from the final analysis in [29] due to conflicting information and possible paralogy of sequences. The inference of genetic homogeneity in [29] thus rested exclusively on two fully linked mitochondrial markers, COI and ND1 (the third mitochondrial marker 16S yielded identical sequences among all individuals). In the absence of recombination, mitochondrial genes are vulnerable to introgressive hybridization, sex-biased dispersal, incomplete lineage sorting and heteroplasmy [12, 76–79]. The determination of a 'barcoding gap' (i.e., significant difference between inter- and intraspecific variation) may fail in case of close phylogenetic relationship or recent divergence [80–82].
However, the shortcomings of previous analyses [29] were addressed by our more expansive sampling and the inclusion of multiple unlinked microsatellites, thus suggesting that the distinct phenotypes in M. gregaria s. l. are not caused by different genotypes.
A case of phenotypic plasticity
A common caveat to marker-based population genetic studies in case of no differentiation detected among populations (i.e., different phenotypes in this case) is that there may be still unsampled isolated regions of differentiation within genome. Such 'genomic islands of differentiation' [83, 84] are usually associated with genes under divergent selection, whilst selectively neutral markers are not involved [85–87]. This alternative is hard to falsify and might be true for any marker-based study in organisms with incompletely known genomes. Adaptive divergence associated with certain selected genes has been demonstrated in the presence of gene flow [88–90]. The availability of genome-wide sequencing may help identify such individual genes, if they exist indeed, contributing to the phenotypic differentiation between the two ecotypes.
Except for the possibility of 'genomic islands' underpinning different phenotypes, the different ecotypes within M. gregaria s. l. are then strongly suggestive of phenotypic plasticity. The exact nature of a trigger that determines which of the morphotypes will be expressed is unknown at present. In similar examples from parthenogenetic Daphnia and aphids, sharply distinct morphotypes arise from the same genetic background [16, 17, 91] and in some examples the environmental triggers controlling which phenotype is preferentially expressed are known. The sex of offspring from the same clutch was found to be determined by temperature among various gonochoristic organisms (those having separate sexes), e.g. in invertebrates [92, 93], fishes [7, 94, 95], turtles [96] and crocodilians [97]. Dramatically different morphologies can be expressed in presence or absence of predators in Daphnia water fleas [98–100], barnacle Chthamalus fissus [9], whereas little genetic correspondence is involved in the predator-induced morphological changes [13, 14, 101].
Although genomic islands of speciation cannot be completely ruled out, some anecdotal evidence suggests that one or several as yet unknown environmental factors may be involved in the determination of Munida ecotypes. In its South American distribution, Munida gregaria s. l. occupies extensive latitudinal distribution along both coasts of Patagonia and wide bathymetry (from water surface down to 1137 m recorded for subrugosa [102, 103]), which involves a strong gradient of environmental conditions (temperature, salinity, oxygen concentration and food resources). In some species the feeding performance and diet composition during larval phases can induce development into different morphotypes or sex reversal [104, 105]. Since gregaria s. str. and subrugosa differ in feeding habit as deposit feeders and actively swimming planktonic feeder, respectively [106], changes in environmental food composition may affect the metamorphosis of M. gregaria s. l. in an adaptive fashion, favouring its development into one ecotype rather than the other. Long-term observations of the proportion of both gregaria s. str. and subrugosa ecotypes in the Beagle Channel and San Jorge Gulf demonstrate the existence of ecotypes is patchy and not stable over time (see [107] and references therein). Recent hydroacoustical evidence postulates that major pelagic swarms of gregaria s. str. on the Argentine continental shelf are associated with productive areas such as frontal zones that vary considerably in spatial and temporal scales [107], implying the availability of phytoplankton in frontal zones might favor the expression of gregaria s. str. ecotype.
Heterochrony, which is generally defined as a developmental change in relation to size and shape in the timing or rate of ontogenic events (see review in [108]), might be a possible mechanism involved in the observed plasticity in M. gregaria s. l.. Heterochronic process such as paedomorphic plasticity was postulated in a widespread squat lobster in the Pacific of South America, Pleuroncodes monodon [109]. A clear boundary exists in its distribution where to the north it is a smaller, pelagic form and to the south it is a larger, benthic form. Like gregaria s. str. and subrugosa, these two forms showed no mitochondrial DNA differentiation either. A similar developmental variation might be involved in M. gregaria s. l., since the population from San Jorge Gulf was shown to have faster growth rate and earlier reproductive investment in its early life history than the southern populations from Beagle Channel and Strait of Magellan [110].
Whether or not the two ecotypes spring from a genetically entirely homogenous background or whether small localized genomic islands associated with each exist, our data have made it abundantly clear that the simple, perhaps too simple, model of a genome-wide 1:1 relationship between the genotype and an associated phenotype (however ill equipped we may be to recognize the latter) does not apply to the Munida gregaria case.
A next-generation sequencing approach [111] with higher number of loci and vastly improved coverage of the genome is a promising way to determine if islands of genetic differentiation associated with the ecotypes are involved or if the trigger determining the expression of one or the other morphotype from identical genotypes may be independent of genetic differentiation and under the control of an extrinsic factor.
Conclusions
Based on extensive sampling of the species' distribution in South America and using nine independent polymorphic nuclear microsatellite loci in addition to new mitochondrial COI sequences, we were able to show that the lack of genetic differentiation between distinct gregaria s. str. and subrugosa ecotypes is not an artefact due to insufficient genomic and/or geographic sampling or slowly evolving markers. Instead they are likely expressed from a single underlying genotype although two largely identical genotypes with interspersed localized genomic islands of differentiation cannot be fully ruled out without a more complete coverage of the genome. Morphological tests affirmed the boundaries between the two ecotypes were not blurred with continental-scale geographic sampling, and remain stable despite an ontogenetic dimension in the data. These findings corroborate the current taxonomic view of M. gregaria s. l. (Fabricius, 1793) as a single, dimorphic species, thus demonstrating a pattern very unlike cryptic speciation commonly found in DNA taxonomy and DNA barcoding studies. Our study also emphasizes the necessity of incorporating complementary nuclear multi-locus markers in studies aiming at taxonomy and genotype-phenotype relationship, in view of the increasing numbers of reported discordance between mtDNA and nuclear DNA. M. gregaria is developing into a model affording deeper insights into the phenotype-genotype relationship, environmental control of ontogeny and ultimately into the process of speciation itself.
Declarations
Acknowledgments
We are very grateful to Erika Mutschke (Universidad de Magallanes, Punta Arenas), Felipe González (Reserva Añihue, Chile), Kareen Schnabel (NIWA, New Zealand) and Fernando L. Mantelatto (University of São Paulo, Brazil) for providing samples. We thank the Reserva Añihue for equipment support and their hospitality. We also thank Andrea Eschbach for technical assistance in the lab and Florian Leese for his help in the field.
Funding
C.W. was supported by the Chinese Scholarship Council (CSC grant Nr. 2009633009). This is publication no. 148 of Huinay Scientific Field Station. Munida around the Falklands/Malvinas were collected by C.H. during the ICEFISH expedition supported by NSF grant OPP 01–32032 to H. William Detrich (Northeastern University, Boston, USA).
Availability of data and materials
All DNA sequences from this study are available on GenBank, accession numbers KJ544249 - KJ544346. Alignment of COI sequences from individuals of both ecotypes is provided in Additional file 7: Data S1. Fragment lengths of nine microsatellite loci are provided in Additional file 8: Data S2.
Authors' contributions
CH and CW conceived and designed the study. The field work was carried out by CH, CW, JL and VH. CW carried out the experiments and the analyses. SA and CH provided guidance in data analysis. CW and CH wrote the manuscript, SA contributed helpful comments. All authors read and approved the final manuscript.
Competing interests
The authors declare that they have no competing interests.
Consent for publication
Not applicable.
Ethics approval and consent to participate
Not applicable.
Open AccessThis article is distributed under the terms of the Creative Commons Attribution 4.0 International License (http://creativecommons.org/licenses/by/4.0/), which permits unrestricted use, distribution, and reproduction in any medium, provided you give appropriate credit to the original author(s) and the source, provide a link to the Creative Commons license, and indicate if changes were made. The Creative Commons Public Domain Dedication waiver (http://creativecommons.org/publicdomain/zero/1.0/) applies to the data made available in this article, unless otherwise stated.
Authors' Affiliations
(1)
Alfred Wegener Institute, Helmholtz Center for Polar- and Marine Research, Bremerhaven, Germany
(2)
Universidad Católica de Valparaíso, Facultad de Recursos Naturales, Escuela de Ciencias del Mar, Valparaíso, Chile
(3)
Huinay Scientific Field Station, Huinay, Chile