Research article
Open Access
Digging up the roots of an insular hotspot of genetic diversity: decoupled mito-nuclear histories in the evolution of the Corsican-Sardinian endemic lizard Podarcis tiliguerta
BMC Evolutionary Biology
BMC series – open, inclusive and trusted
2017
17:63
Received: 28 August 2016
Accepted: 31 January 2017
Published: 2 March 2017
Abstract
Background
Mediterranean islands host a disproportionately high level of biodiversity and endemisms. Growing phylogeographic evidence on island endemics has unveiled unexpectedly complex patterns of intra-island diversification, which originated at diverse spatial and temporal scales. We investigated multilocus genetic variation of the Corsican-Sardinian endemic lizard Podarcis tiliguerta with the aim of shedding more light on the evolutionary processes underlying the origin of Mediterranean island biodiversity.
Results
We analysed DNA sequences of mitochondrial (12S and nd4) and nuclear (acm4 and mc1r) gene fragments in 174 individuals of P. tiliguerta from 81 localities across the full range of the species in a geographic and genealogical framework. We found surprisingly high genetic diversity both at mitochondrial and nuclear loci. Seventeen reciprocally monophyletic allopatric mitochondrial haplogroups were sharply divided into four main mitochondrial lineages (two in Corsica and two in Sardinia) of Miocene origin. In contrast, shallow divergence and shared diversity within and between islands was observed at the nuclear loci. We evaluated alternative biogeographic and evolutionary scenarios to explain such profound discordance in spatial and phylogenetic patterning between mitochondrial and nuclear genomes. While neutral models provided unparsimonious explanations for the observed pattern, the hypothesis of environmental selection driving mitochondrial divergence in the presence of nuclear gene flow is favoured.
Conclusions
Our study on the genetic variation of P. tiliguerta reveals surprising levels of diversity underlining a complex phylogeographic pattern with a striking example of mito-nuclear discordance. These findings have profound implications, not only for the taxonomy and conservation of P. tiliguerta. Growing evidence on deep mitochondrial breaks in absence of geographic barriers and of climatic factors associated to genetic variation of Corsican-Sardinian endemics warrants additional investigation on the potential role of environmental selection driving the evolution of diversity hotspots within Mediterranean islands.
Keywords
Cyto-nuclear discordanceEvolutionary historyGenetic diversityLocal adaptationMediterranean islandPhylogeography
Background
The Mediterranean Basin has long been recognised as one of the richest global biodiversity hotspots [1]. A large fraction of such diversity, and particularly endemic diversity, is hosted within the over 5,000 islands scattered throughout the Mediterranean Sea [2]. The level of diversity and endemism is especially high in large continental islands such as the Tyrrhenian islands Corsica and Sardinia, which are considered a regional biodiversity hotspot within the Mediterranean area [2–4].
These islands offer an ideal setting for investigating the evolutionary processes behind the origin and the structure of current patterns of insular biodiversity hotspots because: (i) they have a complex topography with a diversity of landscapes and microclimatic regions, spanning from Mediterranean to alpine climates [5, 6], which combined with the imprints of Plio-Pleistocene climatic oscillations [7–10] contribute to the diversification and persistence of old lineages [11–13]; (ii) the palaeogeographical evolution of the Corsican-Sardinian system within the Western Mediterranean is well established [14–18], thus providing a useful framework for biogeographic and molecular inferences [19]; and (iii) emerging phylogeographic and phylogenetic data on many endemics allow conclusions to be drawn within a comparative framework [see e.g. [19, 20].
In the last decade, Corsican-Sardinian species have been the subject of intensive phylogeographic surveys, especially regarding amphibians and reptiles [12, 13, 20–34], which have revealed how an essential component of the Tyrrhenian biodiversity hotspot is represented by the genetic variation held within and among populations of these endemic species. A significant realization of these studies is that the current patterns of genetic structure and diversity of these endemic species have been historically shaped by an unexpectedly diverse array of evolutionary and demographic processes acting across unrelated spatial and temporal scales [20]. In fact, essentially each phylogeographical reconstruction carried out so far on Corsican-Sardinian species suggested an idiosyncratic scenario for the evolution of the current geographical patterns of intraspecific genetic diversity [12, 19, 20, 30, 31]. This suggests that we are still far from either an exhaustive inventory or a deep understanding of the evolutionary processes underlying the origins and diversity of this biodiversity hotspot.
In regard to this, the Tyrrhenian wall lizard Podarcis tiliguerta offers an intriguing case study as previous genetic assessments uncovered extraordinarily high level of diversity with contrasting patterns between different genetic markers [21, 24]. This species is common and locally abundant across a variety of shrubby and open habitats [35] from the sea level (including tiny islets) up to 1800 m asl in the mountain regions [36]. Based on the current continuous distribution of P. tiliguerta within both Corsica and Sardinia [37, 38] and associated with the fact that these two islands were largely and persistently connected into a single landmass during the Pleistocene glaciations [18, 39], we may have expected low genetic differentiation between populations with most of the genetic diversity shared within and between the main islands. In contrast, preliminary mitochondrial datasets [24, 40, 41], based on a few individuals and short gene fragments, showed three highly divergent lineages, one in Corsica and two in Sardinia, with genetic distances between them exceeding those typically found between reptile species [24, 42]. On the other hand, allozyme data from 15 variable loci suggested a lower genetic distance between Corsican and Sardinian populations (with no alternatively fixed alleles) with a latitudinal clinal variation in allele frequencies at some loci and an overall isolation-by distance pattern suggesting reduced gene-flow between populations [21].
Therefore, while all previous studies found extraordinarily high genetic diversity and substantial differentiation between populations, mitochondrial data indicate that P. tiliguerta may be a species complex [24] whereas nuclear data depict P. tiliguerta as a single species geographically structured in local populations [21], suggesting a possible mito-nuclear discordance. Comparing the mitochondrial and nuclear patterns of diversity and levels of divergence found within P. tiliguerta by previous studies, and identifying the evolutionary processes underlying their formation, is difficult. Allozyme analyses lack a genealogical framework to understand the evolutionary relationships between alleles, and genetic diversity and divergence between populations may be underestimated due to the occurrence of iso-electrophoretic alleles (distinct alleles with equal electrophoretic mobility). On the other hand, mitochondrial assessments only account for a single genealogical realization and previous studies have likely underestimated the genetic diversity of P. tiliguerta due to the short gene fragment used, limited geographic sampling, and the low number of individuals analysed, as supported by the finding that new haplotypes and lineages were sampled as a few more individuals were added in each study [40, 41].
In this study, we investigated the phylogeographic structure and evolutionary history of P. tiliguerta based on mitochondrial and nuclear genealogies sampled across the entire geographic range of the species. We found an extraordinarily high level of genetic diversity which has deep roots in the mitochondrial genome whereas it shows minimal phylogenetic and geographic structure in the nuclear genome. We evaluated the role of biogeographic and evolutionary processes at different temporal and spatial scales to explain the origin of the striking pattern of genetic richness and mito-nuclear discordance found within P. tiliguerta and we discussed possible generalizations within the Tyrrhenian biodiversity hotspot.
Methods
Genetic data collection
We sampled 174 individuals of
P. tiliguerta
from 81 localities across the entire species range (Fig.
1
). Sampling design was informed by genetic analyses on a preliminary set of samples and refined during a four-year collection period (2009–2012). This was necessary to cover the high level of diversity found in
P. tiliguerta
. Individuals from additional 10
Podarcis
species from Portugal, Spain, Italy, Malta, Slovenia, and Greece were collected and used in phylogenetic analyses together with sequences obtained from GenBank. Detailed information regarding individual and locality codes, geographic coordinates of sampling locality and GenBank accession numbers for all sequences used in this study is reported in Table
1
. The source of data retrieved from GenBank is reported in Tables
2
and
3
.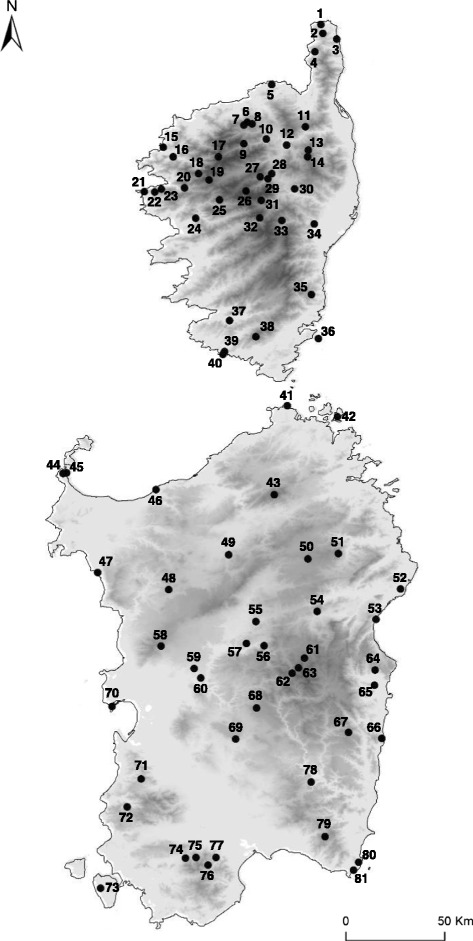 Table 1
Geographical location and codes for the studied populations and individuals of Podarcis tiliguerta. Genbank accession numbers of the sequences are provided for each gene
Locality Code

Specimen Code

Locality coordinates

Genbank accession numbers

12S

nd4

mc1r

acm4

1

C2.2

43.00 N 9.39 E

KY562009

KY562416

-

-

2

005

42.96 N 9.40 E

KY562010

KY562417

KY562320

-

3

C1.1

42.93 N 9.46 E

KY562011

KY562418

-

-

3

C1.2

KY562012

KY562419

-

-

4

C3.1

42.88 N 9.36 E

KY562013

KY562420

-

-

4

C3.2

KY562014

KY562421

-

-

5

C4.1

42.73 N 9.16 E

KY562015

KY562422

-

-

6

0018

42.55 N 9.05 E

KY562016

KY562423

-

-

7

0019

42.54 N 9.04 E

KY562017

KY562424

KY562412

-

8

394

42.55 N 9.07 E

KY562018

KY562425

KY562414

KY562281

9

383

42.46 N 9.04 E

KY562019

KY562426

KY562415

KY562282

10

380a

42.48 N 9.14 E

KY562020

KY562427

KY562299

KY562175

10

380b

KY562021

KY562428

KY562300

KY562176

10

380c

KY562022

KY562429

KY562301

KY562177

10

380d

KY562023

KY562430

KY562302

KY562178

11

0026

42.53 N 9.32 E

KY562024

KY562431

KY562303

-

12

0069a

42.45 N 9.23 E

KY562025

KY562432

-

-

12

0069b

KY562026

KY562433

-

-

13

395a

42.43 N 9.33 E

KY562027

KY562434

KY562304

KY562179

13

395b

KY562028

KY562435

KY562305

KY562180

14

0068a

42.40 N 9.33 E

KY562029

KY562436

-

-

14

0068b

KY562030

KY562437

-

-

15

C5.1

42.44 N 8.67 E

KY562031

KY562438

-

-

16

0081a

42.40 N 8.71 E

KY562032

KY562439

-

-

16

0081b

KY562033

KY562440

-

-

16

0081c

KY562034

KY562441

-

-

17

0060

42.40 N 8.92 E

KY562035

KY562442

-

-

17

388a

KY562036

KY562443

KY562291-2

KY562181

17

388b

KY562037

KY562444

KY562306

KY562182

17

388c

KY562038

KY562445

KY562307

-

18

0083a

42.32 N 8.83 E

KY562039

KY562446

KY562308

-

18

0083b

KY562040

KY562447

KY562309

-

18

0083c

KY562041

KY562448

-

-

19

387

42.29 N 8.88 E

KY562042

KY562449

KY562310

KY562183

20

0080a

42.26 N 8.77 E

KY562043

KY562450

KY562311

-

20

0080b

KY562044

KY562451

-

-

20

0080c

KY562045

KY562452

-

-

21

0075

42.24 N 8.58 E

KY562046

KY562453

-

-

21

S5A

KY562047

KY562454

KY562312

KY562184

21

S5B

KY562048

KY562455

KY562313

KY562185

22

C6.1

42.24 N 8.63 E

KY562049

KY562456

-

-

23

0076

42.25 N 8.66 E

KY562050

KY562457

-

-

24

0037

42.12 N 8.82 E

KY562051

KY562458

-

-

25

0072a

42.20 N 8.93 E

KY562052

KY562459

KY562314

-

25

0072b

KY562053

KY562460

-

-

25

0072c

KY562054

KY562461

-

-

26

RE1

42.24 N 9.05 E

KY562055

KY562462

KY562315

KY562186

26

RE2

KY562056

KY562463

KY562316

KY562187

26

RE3

KY562057

KY562464

KY562317

KY562188

26

RE4

KY562058

KY562465

KY562318

KY562189

27

0066a

42.31 N 9.11 E

KY562059

KY562466

-

-

27

0066b

KY562060

KY562467

KY562319

-

28

C7.1

42.32 N 9.16 E

KY562061

KY562468

-

-

29

0070

42.30 N 9.15 E

KY562062

KY562469

-

-

30

C8.1

42.25 N 9.27 E

KY562063

KY562470

-

-

31

0057a

42.20 N 9.12 E

KY562064

KY562471

KY562321

-

31

0057b

KY562065

KY562472

KY562322

-

32

0054

42.12 N 9.11 E

KY562066

KY562473

KY562323

-

32

377a

KY562067

KY562474

KY562324

KY562190

32

377b

KY562068

KY562475

KY562325

KY562191

33

373a

42.11 N 9.21 E

KY562069

KY562476

-

KY562192

33

373b

KY562070

KY562477

KY562326

-

33

373c

-

-

KY562327

KY562193

34

372

42.09 N 9.36 E

KY562071

KY562478

KY562328

KY562194

35

C9.1

41.77 N 9.35 E

KY562072

KY562479

-

-

36

CTg1

41.57 N 9.38 E

EF165024

KY562480

-

-

36

CTg2

EF165024

KY562481

-

-

36

CTg3

EF165024

KY562482

-

-

36

CTg4

EF165024

KY562483

-

-

37

369

41.65 N 8.97 E

KY562073

KY562484

KY562329

KY562195

38

401

41.58 N 9.09 E

KY562074

KY562485

KY562293-4

KY562200

38

367a

KY562075

KY562486

KY562330

KY562196

38

367b

KY562076

KY562487

KY562331

KY562197

38

367c

KY562077

KY562488

-

KY562198

38

367d

KY562078

KY562489

KY562332

KY562199

39

368a

41.51 N 8.95 E

KY562079

KY562490

KY562333

KY562201

39

368b

KY562080

KY562491

KY562334

KY562202

40

PEC1

41.49 N 8.94 E

KY562081

KY562492

KY562335

-

40

PEC2

KY562082

KY562493

KY562336

KY562203

40

PEC3

KY562083

KY562494

KY562337

KY562204

40

PEC4

KY562084

KY562495

KY562338

KY562205

40

PEC5

KY562085

KY562496

KY562339

-

41

PF1

41.26 N 9.24 E

KY562170

-

-

-

41

PF2

KY562086

KY562497

KY562340

KY562206

41

PF3

KY562087

KY562498

KY562341

KY562207

42

PET1

41.21 N 9.46 E

KY562088

KY562499

KY562342

KY562208

42

PET2

KY562089

KY562500

KY562343

KY562209

42

PET3

41.21 N 9.46 E

KY562090

KY562501

KY562344

KY562210

43

LIM1

40.85 N 9.17 E

KY562091

KY562502

KY562289-90

KY562211

43

LIM3

KY562092

KY562503

KY562345

KY562212

43

LIM4

KY562093

KY562504

KY562346

KY562213

43

LIM5

KY562094

KY562505

-

KY562214

44

db15006

40.95 N 8.21 E

KY562171

-

KY562347

KY562215

44

db15007

KY562172

-

KY562348

KY562216

45

STI

40.95 N 8.23 E

KY562173

-

KY562297-8

KY562217

46

db15424

40.88 N 8.64 E

KY562174

-

KY562349

KY562218

47

db1712

40.50 N 8.37 E

KY562095

KY562506

KY562350

KY562219

48

db15056

40.42 N 8.69 E

KY562154

-

KY562351

KY562220

49

db1708

40.58 N 8.97 E

KY562155

-

KY562352

-

50

db1706

40.56 N 9.33 E

KY562156

-

KY562353

-

50

db1707

KY562096

KY562507

KY562354

KY562221

51

db1704

40.58 N 9.47 E

KY562097

KY562508

KY562355

KY562222

51

db1705

KY562098

KY562509

KY562356

-

52

db1699

40.42 N 9.75 E

KY562099

KY562510

KY562357

KY562223

53

db1697

40.28 N 9.64 E

KY562100

KY562511

KY562358

KY562224

53

db1698

KY562101

KY562512

KY562359

KY562225

54

186a

40.32 N 9.37 E

KY562102

KY562513

KY562360

KY562226

54

186b

KY562157

-

KY562361

KY562227

54

186c

KY562103

KY562514

KY562362

-

54

db1693

KY562104

KY562515

KY562283-4

KY562228

54

db1694

KY562105

KY562516

KY562363

KY562229

55

db15259

40.27 N 9.09 E

KY562158

-

KY562364

KY562230

56

db15249

40.16 N 9.13 E

KY562159

-

KY562365

KY562231

57

db15255

40.17 N 9.05 E

KY562160

-

KY562366

KY562232

58

db15072

40.16 N 8.66 E

KY562161

-

KY562367

KY562233

58

db15084

KY562162

-

KY562368

KY562234

59

db15064

40.06 N 8.81 E

KY562163

-

KY562369

-

59

db15100

KY562164

-

KY562370

KY562235

60

db15053

40.02 N 8.84 E

KY562165

-

KY562371

KY562236

60

db15075

KY562166

-

KY562372

KY562237

61

db15143

40.11 N 9.31 E

KY562167

-

KY562373

KY562238

61

db15239

KY562168

-

KY562374

KY562239

62

328a

40.04 N 9.26 E

KY562106

KY562517

-

KY562240

62

328b

KY562107

-

KY562375

KY562241

63

185a

40.06 N 9.28 E

KY562108

KY562518

KY562376

KY562242

63

185b

KY562169

-

KY562377

KY562243

64

db15233

40.05 N 9.64 E

KY562109

KY562519

KY562378

-

64

db15234

KY562110

KY562520

KY562379

KY562244

65

db15228

39.98 N 9.63 E

KY562111

KY562521

KY562380

KY562245

65

db15229

KY562112

KY562522

KY562381

-

66

db15224

39.74 N 9.67 E

KY562113

KY562523

KY562382

KY562246

66

db15225

KY562114

KY562524

-

KY562247

67

db15188

39.77 N 9.51 E

KY562115

KY562525

KY562383

KY562248

67

db15194

KY562116

KY562526

KY562384

KY562249

68

184

39.88 N 9.09 E

KY562117

KY562527

KY562385

KY562250

69

183a

39.74 N 9.00 E

KY562118

KY562528

KY562386

KY562251

69

183c

KY562119

KY562529

KY562387

KY562252

69

183d

KY562120

KY562530

KY562295-6

KY562253

69

183e

KY562121

KY562531

KY562388

-

69

330a

KY562122

KY562532

KY562389

KY562254

69

330b

KY562123

KY562533

KY562390

KY562255

70

Ss

39.89 N 8.44 E

EF165022

KY562534

-

-

71

164a

39.55 N 8.57 E

KY562124

KY562535

KY562285-6

-

71

164b

KY562125

KY562536

KY562391

KY562256

72

166

39.43 N 8.50 E

KY562126

KY562537

KY562392

KY562257

73

170a

39.05 N 8.38 E

KY562127

KY562538

KY562393

KY562258

73

170b

KY562128

KY562539

KY562394

KY562259

74

171a

39.19 N 8.77 E

KY562129

KY562540

-

KY562260

74

171b

KY562130

KY562541

KY562395

KY562261

74

171c

KY562131

KY562542

KY562396

KY562262

74

171d

KY562132

KY562543

KY562397

KY562263

74

171e

KY562133

KY562544

KY562398

KY562264

75

350a

39.20 N 8.82 E

KY562134

KY562545

KY562399

KY562265

75

350b

KY562135

KY562546

KY562400

KY562266

76

342a

39.16 N 8.87 E

KY562136

KY562547

KY562287-8

KY562267

76

342b

KY562137

KY562548

KY562401

KY562268

76

342c

KY562138

KY562549

KY562402

KY562269

77

333

39.20 N 8.91 E

KY562139

KY562550

KY562403

KY562270

77

400

KY562140

KY562551

KY562404

KY562271

78

181a

39.54 N 9.34 E

KY562141

KY562552

KY562405

KY562272

78

181b

KY562142

KY562553

KY562406

KY562273

78

181c

KY562143

KY562554

KY562407

KY562274

78

181d

KY562144

KY562555

-

-

78

181e

KY562145

KY562556

KY562408

KY562275

79

345

39.29 N 9.41 E

KY562146

KY562557

KY562410

KY562278

79

172a

KY562147

KY562558

-

KY562276

79

172b

KY562148

KY562559

KY562409

-

79

172c

KY562149

KY562560

-

KY562277

79

7F1

KY562150

KY562561

-

-

79

7F2

KY562151

KY562562

KY562411

KY562279

80

175

39.17 N 9.56 E

KY562152

KY562563

-

KY562280

81

173

39.14 N 9.54 E

KY562153

KY562564

KY562413

-
Table 2
GenBank accession numbers of the sequences used in this study to build the phylogeny of the genus Podarcis. The references for the sequences obtained from GenBank are reported
| Species | 12S | nd4 |
| --- | --- | --- |
| Podarcis bocagei | DQ081064 [61] | DQ081153 [61] |
| Podarcis carbonelli | DQ081065 [61] | DQ081154 [61] |
| Podarcis cretensis | KY561996 a | KY562001 a |
| Podarcis filfolensis | KY561997 a | KJ027796 [58] |
| Podarcis gaigae | AF133444 [126] | KY562002 a |
| Podarcis hispanica | DQ081070 [61] | DQ081171 [61] |
| Podarcis guadarramae | AF469452 [61] | DQ081165 [61] |
| Podarcis lilfordi | KY561998 a | KY562003 a |
| Podarcis melisellensis | AF133448 [126] | KY562004 a |
| Podarcis milensis | AF133449 [126] | KY562005 a |
| Podarcis muralis | KX080575 [44] | KF372393 [60] |
| Podarcis peloponnesiaca | AF133451 [126] | KY562006 a |
| Podarcis pityusensis | KY561999 a | KY562007 a |
| Podarcis raffonei | KY562000 a | KJ027980 [58] |
| Podarcis sicula | KX080574 [44] | KF372035 [60] |
| Podarcis taurica | AF080279 [127] | KY562008 a |
| Podarcis tiliguerta lineage1 | KY562020 a | KY562427 a |
| Podarcis tiliguerta lineage2 | KY562081 a | KY562492 a |
| Podarcis tiliguerta lineage3 | KY562092 a | KY562503 a |
| Podarcis tiliguerta lineage4 | KY562146 a | KY562557 a |
| Podarcis vaucheri | HQ898229 [61] | HQ898028 [61] |
| Podarcis wagleriana | DQ017659 [40] | KJ027979 [58] |
| Scelarcis perspicillata | KX080591 [44] | KX081031 [44] |
| Teira dugesii | KX080595 [44] | KX081035 [44] |
Table 3
Genetic diversity estimates at nd4 and mc1r loci in Podarcis lizards
Species

Species range (km2)

nd4

mc1r

N

ns

S

h

Hd (SD)

π (SD)

K

N

ns

S

h

Hd (SD)

π (SD)

K

58387

22

661

18.0

18.0

0.978 (0.021)

0.00321 (0.00034)

2.1

12

583

5.0

3.0

0.621 (0.118)

0.00377 (0.00075)

2.2

4684

25

661

25.0

20.0

0.980 (0.017)

0.00607 (0.00058)

4.0

-

-

-

-

-

-

-

22

661

23.5

18.1

0.980

0.00610

4.0

P. filfolensis [58]

338

94

661

32.0

27.0

0.900 (0.020)

0.00471 (0.00040)

3.1

130

583

20.0

27.0

0.904 (0.012)

0.00535 (0.00024)

3.1

22

661

17.4

12.3

0.904

0.00473

3.1

12

583

9.8

7.7

0.899

0.00537

3.1

P. lilfordi [59]

<100

92

583

23.0

27.0

0.920 (0.015)

0.00520 (0.00037)

3.0

12

583

11.6

8.5

0.924

0.00532

3.1

P. muralis [60]

1830883

77

661

141.0

55.0

0.987 (0.005)

0.03089 (0.00112)

20.4

162

583

35.0

31.0

0.835 (0.017)

0.00308 (0.00025)

1.8

22

661

97.5

19.3

0.985

0.03096

20.5

12

583

6.7

6.2

0.832

0.00304

1.8

P. pityusensis [59]

741

44

583

10.0

14.0

0.897 (0.022)

0.00416 (0.00031)

2.4

12

583

7.0

7.4

0.900

0.00423

2.5

P. tiliguerta a

32898

148

661

220.0

104.0

0.9936 (0.0017)

0.09994 (0.00191)

65.8

250

583

92.0

148.0

0.9897 (0.0020)

0.00691 (0.00024)

4.0

22

661

190.2

20.7

0.994

0.10072

66.5

12

583

17.6

11.3

0.989

0.00685

4.0

305794

87

661

135.0

68.0

0.995 (0.003)

0.03492 (0.00166)

23.1

-

-

-

-

-

-

-

22

661

94.5

20.9

0.995

0.03558

23.5

P. wagleriana b

23914

101

661

30.0

28.0

0.828 (0.029)

0.00396 (0.00023)

2.6

186

583

13.0

16.0

0.790 (0.020)

0.00289 (0.00021)

1.7

22

661

12.8

9.9

0.833

0.00398

2.6

12

583

5.9

5.3

0.764

0.00276

1.6
Tissue samples were collected as tail tips and stored in ethanol; each individual was then released at the place of capture. Genomic DNA was extracted following standard high-salt protocols [43]. We amplified two mitochondrial gene fragments, 12S rRNA (12S) and NADH dehydrogenase subunit four with flanking tRNASer, tRNAHis, and tRNALeu (nd4), and two nuclear gene fragments, Melanocortin receptor 1 (mc1r) and acetylcholinergic receptor M4 (acm4), by polymerase chain reaction (PCR). Primers and PCR protocols used for the amplification of the molecular markers are described in [44].
Additionally, we cloned the mc1r PCR products of eight selected heterozygous individuals (showing 4–6 polymorphisms), because for this marker a pilot phasing analysis carried out on a preliminary subset of individuals (N = 35) showed high uncertainty of haplotypic phase estimate. PCR products were ligated into pGEM-T Easy Vector Systems kit (Promega) according to the manufacturer's instructions. The output of the ligation reaction was then transformed into Escherichia coli competent cells and grown on standard LB medium with ampicillin/IPTG/X-Gal. For each sample we randomly selected six colonies for sequencing in order to account for PCR/cloning errors resulting from misincorporation of individual nucleotides [45]. We used a conventional blue/white screening to select the 48 positive colonies which were then amplified using universal primers pUC/M13F and pUC/M13R. PCR reactions were carried out in 25 μL volumes containing 1X PCR buffer, MgCl2; 1 mM each dNTP, 2U of GoTaq DNA polymerase (Promega), 0.4 μM each primer and 2 μL of colony DNA. After verification of successful amplification, the inserts were sequenced from both strands with the same primers used for amplification. Purification and sequencing of PCR products and plasmid DNA from positive clones were carried out by Macrogen Inc.
Data analysis
We used GENEIOUS 6.0 (www.geneious.com) to check electropherograms, calculate consensus sequences, perform multiple sequence alignment, and to annotate both tRNAs in the nd4 fragment and codon positions in coding regions. Sequence divergence (uncorrected p-distance) was assessed using MEGA 6 [46]. Heterozygous sequences within the acm4 and mc1r fragments were phased using PHASE 2.1.1. [47]. Three independent runs were conducted using a model with recombination (−MR0 option), 1000 initial iterations discarded as burn-in, one as thinning interval, and 1000 post-burnin iterations. After monitoring the goodness of fit for each run according to the program's manual, we accepted haplotype reconstructions which yielded the same result in all of the three runs. Cloned mc1r sequences from each selected individual were used to determine the constituent alleles (haplotypes). Cloning-determined haplotypes of these individuals were first compared with corresponding haplotypes inferred by PHASE, in order to assess the inference accuracy, and then used as 'known phase' in a further PHASE analysis in order to improve haplotype estimation. For each nuclear gene dataset recombination detection was performed in RDP 4.77 [48] using five different algorithms: BootScan [49], GENECONV [50], MaxChi [51], RDP [52], and SiScan [53].
For each gene we estimated the following summary statistics of genetic diversity using DNASP 5 5.10.01 [54]: number of segregating sites (S), number of haplotypes (h), haplotype diversity (Hd), nucleotide diversity (π), and average number of pairwise differences (K) both overall and for clades defined within the species by phylogenetic analyses. Since DNASP removes entirely sites with missing data, in order to maximize the length of alignments used for diversity calculations we used fully phased haplotype datasets, we excluded sequences with more than 1.5% of missing data, and recoded the few remaining missing data with the most common nucleotide at that site (thus using the information of these sites while retaining the observed level of variation). In order to compare the degree of genetic diversity observed in P. tiliguerta with congeneric species, we compiled a synopsis of genetic diversity estimates for nd4 and mc1r loci for other Podarcis lizards based on data from previous phylogeographic studies which sampled fairly well each species range [55–62]. Haplotype phases for mc1r sequences downloaded from GenBank were resolved for each species separately, using PHASE (100 initial iterations). Retrieved datasets had different sizes, both in terms of number of sites and number of sequences, which may affect comparisons of diversity measures. Therefore, first we trimmed all alignments at the same number of sites, and then we also calculated genetic diversity statistics following the resampling approach described in [60]. Resampling was performed with the aid of a series of scripts written in Python 2.7.1 and taking advantage of DNASP "batch mode" calculations. Tajima's D [63] test were used to assess whether mtDNA and nucDNA sequences of P. tiliguerta fitted a neutral model of evolution. D values were estimated in DNASP and their significance was assessed through 10,000 coalescent simulations under the hypothesis of population equilibrium and selective neutrality.
We performed a Bayesian evolutionary analysis in BEAST 1.8.0 [64] to estimate phylogenetic relationships among mitochondrial haplotypes and associate a time/age at each node of the phylogeny. BEAST allows the incorporation of the uncertainty associated with phylogenetic estimates, calibration dates and among-lineage variation of substitution rates in a single analysis [64]. In addition BEAST allows sampling the root of the tree by using the molecular clock method [65] without the need of using an outgroup taxon. This is particularly desirable when outgroup rooting is problematic as for P. tiliguerta which shows deep branching of mitochondrial lineages with unresolved position within the Podarcis phylogeny [24]. One the other hand, for our dataset the choice of a proper tree prior among those available in BEAST is not straightforward as we have an intraspecific dataset where we expect a deep geographic structure [24]. Thus, both a simple coalescent prior [e.g. [66]] which assumes that the individuals analysed are drawn from a single panmictic population – and a multi-species coalescent prior [64, 67] which allows accounting for multiple divergent populations each one following a coalescent process but assume reproductive isolation between them – are not fully appropriate for our data. Therefore, while we acknowledged that available priors are a rough simplification of real situations, we explored the sensitivity of our phylogenetic and dating results to different prior choices and we ran multiple analyses using both priors. Simple coalescent models were implemented in BEAST using the skyline coalescent prior. The multi-species coalescent model was implemented in the *BEAST extension. For both analyses, we implemented the HKY model for the nd4 coding region and the HKY + G + I for non-coding region (tRNAs +12S) according to the best partition schemes and substitution models selected by PARTITION FINDER 1.1.1 [68] under the Bayesian Information Criterion (BIC). We implemented a relaxed uncorrelated lognormal clock model with the normal distribution N (0.0115, 0.00075) for the nd4 substitution rate prior (parameter ucld.mean). This rate was estimated by [58] for the same nd4 region used in this study in a calibrated phylogeny of Sicilian Podarcis based on the palaeogeographic events associated to the splits between P. filfolensis and P. wagleriana and between the latter and P. raffonei (for a full account on the specific calibration points and methods used see [58]). Similar estimate of substitution rates were previously obtained for Podarcis lizards for the same nd4 gene fragment [55]. BEAST and *BEAST were run twice, with 100 million iterations per run, sampling every 10000 steps. Convergence diagnostic and summary of posterior samples of parameters were assessed in TRACER 1.6 (available at http://beast.bio.ed.ac.uk/Tracer); sampled trees from independent runs were combined in LogCombiner; and Maximum Clade Credibility Trees and Bayesian Posterior Probabilities associated to nodes (BPP) were calculated in TreeAnnotator (burn-in = 25%). We verified consistency of results with different models through additional analyses using unlinked substitution models for the nd4 codon positions and strict clock models.
In order to identify the main phylogenetic discontinuities along terminal branches of the mitochondrial phylogeny we used the statistical parsimony network approach [69] implemented in the software TCS 1.21 [70]. Subnetworks obtained under the 95% probability criterion for a parsimonious connection have been successfully used as an objective way to identify significant genetic discontinuities in mitochondrial DNA sequence dataset [71].
A preliminary mitochondrial dataset [24] of about 700 base pairs (12S and cytb) showed two highly divergent mitochondrial lineages in P. tiliguerta (maximum cytb divergence = 15%) which neither form a monophyletic group nor have a resolved position in the Podarcis phylogeny. Therefore we used one representative of each P. tiliguerta lineage recovered from our BEAST analyses to infer their phylogenetic relationships within Podarcis. In doing so we sequenced 10 Podarcis species from the same two fragment used in this study and retrieved Genbank sequences from nine additional Podarcis species (Table 2). We designated Scelarcis perspicillata and Teira dugesii as outgroups based on the mitochondrial phylogeny of Lacertini [44]. We performed a Bayesian analysis in BEAST, using the same settings as in the BEAST analysis of the P. tiliguerta dataset but using a Yule process of speciation as tree prior. A Maximum Likelihood (ML) analysis was also performed in Raxml GUI 1.1.3 [72], a graphical front-end for RaxML 7.4.2 [73]. ML searches included 100 random addition replicates and 1000 nonparametric bootstrap replicates, applying the general time-reversible model with gamma model of rate heterogeneity (GTRGAMMA) for both the nd4 and 12S partition. To determine if the monophyly of P. tiliguerta lineages could be rejected, we used Mesquite 3.03 [74] to generate a tree enforcing the monophyly of P. tiliguerta lineages; we then estimated per-site log likelihood values of the best ML tree and the constrained tree in RAxMLGUI and we compared these values using the Shimodaira–Hasegawa (SH) [75] and the approximately unbiased (AU) [76] tests as implemented in CONSEL [77].
We inferred the genealogical relationships between the acm4 and mc1r haplotypes detected in P. tiliguerta using the statistical parsimony network approach implemented in TCS. This method is particularly appropriate when few characters for phylogenetic analysis are available due to shallow levels of divergence [78] as we observed in the acm4 and mc1r datasets. Networks were constructed under the 95% probability criterion for a parsimonious connection and represented graphically using the tool tcsBU [79]. Additionally, since mc1r sequences are available in GenBank for other Podarcis species, we combined them with sequence data from the present study to examine the phylogenetic relationships of mc1r haplotypes from different populations and species. For this phylogenetic analysis we used the same mc1r datasets used for genetic diversity comparisons plus a few mc1r sequences available for two additional species, P. carbonelli and P. sicula [57, 80].
To investigate the hierarchical structure of the genetic diversity both at mitochondrial and nuclear loci we used the approach implemented in SAMOVA v.2 [81]. This method is based on the analysis of molecular variance (AMOVA) [82] through a simulated annealing procedure and allows defining groups of populations that are genetically homogeneous and maximally differentiated from each other, without the prior assumption of group composition [81]. Samples represented by less than four sequences were not included in the analysis. The 17 mitochondrial monophyletic sublineages previously identified by the phylogenetic analyses were treated as populations in our SAMOVA analyses; accordingly mtDNA sequences from neighbouring localities belonging to the same sublineage were pooled and geographic coordinates for each population were calculated as the geographic centroid of member localities. We ran the analysis both enforcing the geographical homogeneity of groups and without constraint for the geographic composition of the groups in order to investigate both spatial and non-spatial structure of the genetic dataset. SAMOVA was run three times for each value of predefined number of groups (K) using the TN + G substitution model, 100 random initial conditions and 10,000 iterations. For each gene we tested genetic structures from K = 2 until increasing K generated genetic structures with non-significant fixation indexes. Additionally, we explored patterns of genetic differentiation exhibited by nuclear genes by performing AMOVA using mtDNA-defined partitions. These analyses were conducted using ARLEQUIN 3.5.2.2 [83].
In order to explore whether nuclear genetic divergence of populations correlate with geographic distances we carried out Mantel tests and reduced major axis (RMA) regression analyses using IBDWS 3.23 [84]. Genetic differentiation was calculated both as simple FST (based on haplotype frequencies only) and PhiST (also accounting for haplotype divergence estimated as K2P distance) and significance was assessed through 1000 random permutations.
Finally, in order to assess whether past habitat suitability may have impacted the geographic distribution of P. tiliguerta and its genetic diversification, we performed species distribution modeling (SDM) under current and Last Glacial Maximum (LGM; ~21 thousands years ago, 21 kya) bioclimatic envelops using the maximum-entropy algorithm implemented in MaxEnt 3.3.3e [85]. We collected 1075 presence data of P. tiliguerta from personal observations (including sampled localities), previous literature and public databases. In order to correct for potential sampling biases in the distribution records [86], we selected 480 points of species occurrence with a minimum distance of 3 Km. The bioclimatic layers were downloaded from the WorldClim database website (www.worldclim.org). For the LGM prediction we used data from two different general circulation models (CCSM and MIROC). We built the models with a set of five variables that were not strongly correlated with each other (Pearson's correlation coefficient, r2 < 0.80) and that we deemed as biologically significant for P. tiliguerta. Selected variables were: temperature seasonality (BIO4), temperature annual range (BIO7), mean temperature of the driest quarter (BIO9), annual precipitation (BIO12) and precipitation seasonality (BIO15). We ran Maxent with autofeatures, selecting at random 70% of the presence records as training data and 30% as test data for each species. We tested the quality of the models by calculating the area under the curve (AUC) of the receiver operated characteristics (ROC) plots [87]. We built models with an increasing regularization parameter β and between them we selected the model that best fit the data under the Akaike Information Criterion (AIC) with ENMTools 1.3 [88].
Results
The concatenated mitochondrial (mtDNA) dataset (12S + nd4) included 171 sequences and 1233 aligned positions (149 individuals sequenced for both fragments, 22 individuals sequenced only for the 12S). For three individuals we were only able to obtain nuclear sequences. The nuclear (nucDNA) datasets consisted of 250 (phased) sequences for mc1r (614 positions) and 216 for acm4 (401 positions) and had no missing data. Multiple sequence alignment did require four gap positions in the tRNAs and 12S regions; coding regions (nd4, acm4, and mc1r) did not require gap positions and their translation into amino acid sequences contained no stop codons. We obtained 43 mc1r sequences from the 48 positive colonies and within them we observed 57 instances of nucleotide misincorporation (0.21% of the total nucleotides) (Additional file 1: Table S1). When comparing mc1r haplotypes determined by cloning and inferred by PHASE they were identical at 33 of the 39 heterozygote sites (85%). The recombination tests applied in RDP did not find statistically significant evidence for recombination in any of the nuclear genes.
The overall level of sequence variation in the mitochondrial and nuclear loci was high (mtDNA: S = 285, h = 110, Hd = 0.995 ± 0.001, π = 0.07264 ± 0.00151, K = 82.442; acm4: S = 66, h = 105, Hd = 0.958 ± 0.008, π = 0.00818 ± 0.00037, K = 3.280; mc1r: S = 96, h = 157, Hd = 0.991 ± 0.002, π = 0.00688 ± 0.00023, K = 4.226). A summary of genetic diversity estimates and neutrality tests per locus for each lineage and island is given in the Additional file 2: Table S2. Genetic diversity estimated as S, H, and K, was higher in P. tiliguerta compared to congeneric species (Table 3). Significantly negative Tajima's D values (excess of rare alleles), indicative of population expansion, purifying selection, or genetic hitchhiking, were found in acm4 (D = −2.121, P < 0.001) and mc1r (D = −2.222, P < 0.001). Non-significant D were found overall in mtDNA (D = 1.999, P = 0.979) and in all mtDNA lineages.
Average genetic distance between mtDNA lineages of P. tiliguerta was 11.65% at the nd4 and 5.23% at the 12S fragment (ranging from 11.1 to 12.4% for nd4 and from 3 to 6.5% for 12S). Within lineages average genetic distance was 2.65% at the nd4 and 1.07% at the 12S fragment (nd4: 1–4.2%; 12S: 0.6–1.3%).
The 12S substitution rate estimated by BEAST based on the nd4 rate prior implemented was 0.53% (0.37–0.69 95% HPD) per million years which is in agreement with substitution rates calculated for lacertid lizards for the same 12S gene region (0.55% ± 0.13% SD) in [89], based on a phylogeny calibrated using seven biogeographic calibration points. This correspondence provides further justification for the nd4 rate used in our molecular clock model.
According to our mitochondrial clock model the main cladogenetic events within P. tiliguerta occurred during the Miocene. The time to the most recent common ancestor (TMRCA) of the main lineages was estimated in BEAST at 10.3 million years ago (mya) (Fig. 2a) with an associated 95% highest posterior density (95% HPD) interval of 7.9–13.2 mya. For the Corsican lineages (Lineage 1 and 2) the TMRCA was estimated at 8.9 mya (95% HPD: 6.5–11.5) and for the Sardinian lineages (Lineage 3 and 4) at 8.4 mya (95% HPD: 6.1–11.1 mya), although these nodes received low posterior probability. The TMRCAs estimated for each main lineage are placed from the Early Pliocene to Early Pleistocene (3.4–1.7 mya; 95% HPD intervals: 4.3–0.6 mya) and their diversification in 17 sub-lineages bounds the period from the Late Pliocene to Early Pleistocene (3.1–1.3 mya; 95% HPD intervals: 3.9–1.0 mya). TMRCA estimates of the main lineages and the time of splits of the 17 sub-lineages calculated in *BEAST under the multi-species coalescent model (results not shown) are virtually identically to those calculated in BEAST. On the other hand, the TMRCA of the main lineages estimated in *BEAST (8.4 mya; 95% HPD: 6.9–10.2) is more recent compared to estimates from the BEAST analysis reported above.
The four mitochondrial lineages of P.tiliguerta represent deep branches in the mitochondrial phylogeny of Podarcis and are included in a basal polytomy (Additional file 4: Figure S2), although the hypothesis that they are monophyletic cannot be rejected (SH-test, P = 0.291; AU-test, P = 0.279).
Phylogenetic relationships between mc1r haplotypes inferred from 946 phased sequences from nine Podarcis species show that, although separated by a few mutations, almost all haplotypes inferred (284, equal to 98.7% of the total) were species-specific (Additional file 5: Figure S3). Haplotypes carried by conspecific individuals tend to cluster together in the phylogenetic network, although a pattern of strict reciprocal monophyly between species was not observed. Four transpecific haplotypes (1.3% of the total) are shared between the species P. lilfordi, P. pityusensis and P. tiliguerta, and probably reflects a recent common history of these species.
Mantel tests and scatterplots of pairwise genetic and geographic distances between populations showed no support for a pattern of isolation by distance at nuclear loci (Additional file 7: Figure S4). At the acm4 locus the association between either FST or on Phi-ST genetic distance and geographic distance was non-significant (FST: Z = 2525111.7735, r = 0.0733, one-sided P = 0.144; PhiST: Z = 6740977.5934, r = 0.0754, one-sided P = 0.130). At the mc1r locus the association between FST and geographic distance was not significant (Z = 3915308.0029, r = 0.0847, one-sided P = 0.124) whereas PhiST and geographic distance showed a weak but significant association (Z = 11681710.8232, r = 0.2539, one-sided P < 0.001) explaining less than 1% of the genetic variance at this locus (R2 = 0.064). However, like the previously generated scatter plots, the plot of the mc1r Phi-ST distance versus geographic distance failed to reveal a positive and monotonic relationship, showing instead a wide degree of scatter of genetic distance values over all geographic distances values (Additional file 7: Figure S4).
Conclusions
Our study on the multilocus genetic variation of Podarcis tiliguerta reveals surprising levels of genetic diversity underlining a complex phylogeographic pattern with a striking example of mito-nuclear discordance. These findings have considerable implications for the taxonomy and conservation of P. tiliguerta as well as for our understanding of the processes involved in the evolution of biodiversity hotspots within Mediterranean islands. Neutral models based on long-term vicariance provide unparsimonious explanations for the deep phylogeographic breaks observed in mtDNA within and between islands, both in this species as well in other Corsican-Sardinian endemics. Growing empirical evidence suggests a possible role for local adaptation along a smooth environmental gradient underlying the origin and persistence of highly divergent, geographically localized, mitochondrial groups found in endemic amphibian and reptiles as well as of their geographic patterns of nuclear variation. These hypotheses could be thoroughly tested taking advantage of genomic resources. In this respect, this study represents one more step in our long-term aim to fully understand the evolutionary mechanisms underlying the rising of the Mediterranean diversity hotspot.
Abbreviations
acm4 :

acetylcholinergic receptor M4
BPP:

Bayesian Posterior Probabilities
BPP:

Bootstrap Support
mc1r :

Melanocortin receptor 1
ML:

Maximum Likelihood
nd4 :

NADH dehydrogenase subunit 4
Declarations
Acknowledgements
We are indebted with Miguel A. Carretero for his contribute to the conception of this study and his support in sample collection. We thank Pierluigi Bombi, Antigoni Kaliontzopoulou, João P.M.C. Maia, and Verónica Gomes for the help during fieldwork, Ana Perera for the help in laboratory work and Luis Machado for the help with species distribution modeling. Thanks to Daniele Canestrelli for fruitful discussion. Lizards were captured and handled under permits from the Italian Ministry of Environment (DPN-2009-0005106) and the Direction régionale de l'environnement, de l'aménagement et du logement (DREAL) de Corse.
Funding
This work was partially supported by FEDER through the COMPETE program, Portuguese national funds through the FCT (Fundação para a Ciência e a Tecnologia, Portugal) and by the project "Genomics and Evolutionary Biology" cofinanced by North Portugal Regional Operational Programme 2007/2013 (ON.2–O Novo Norte), under the National Strategic Reference Framework (NSRF-ERDF). DS, CP, and DJH, are supported by the FCT, Fundação para a Ciência e a Tecnologia (Portugal): DS, post-doctoral grant SFRH/BPD/105274/2014; CP, IF-contract IF/01597/2014; DJH, IF-contract IF/01627/2014. DS is currently supported by the program 'Rita Levi Montalcini' for the recruitment of young researchers at the University of L'Aquila.
Availability of data and materials
All sequence data generated in this study are publicly available in Genbank [Accession numbers KY561996-KY562564]. See also Tables 1, 2 and 3 for further details on sequence data used in this study.
Authors' contributions
Conceived and designed the study: DS, DJH; Fieldwork sample collection: DS, DJH; Laboratory data collection: DS. Data analysis: DS, CP. Drafted the manuscript: DS. All authors reviewed and approved the manuscript. Provided funding: CP, DJH.
Competing interests
The authors declare that they have no competing interests.
Consent for publication
Not applicable.
Ethics approval and consent to participate
Lizards were captured and handled under permits from the Italian Ministry of Environment (DPN-2009-0005106) and the Direction régionale de l'environnement, de l'aménagement et du logement (DREAL) de Corse.
Open AccessThis article is distributed under the terms of the Creative Commons Attribution 4.0 International License (http://creativecommons.org/licenses/by/4.0/), which permits unrestricted use, distribution, and reproduction in any medium, provided you give appropriate credit to the original author(s) and the source, provide a link to the Creative Commons license, and indicate if changes were made. The Creative Commons Public Domain Dedication waiver (http://creativecommons.org/publicdomain/zero/1.0/) applies to the data made available in this article, unless otherwise stated.
Authors' Affiliations
(1)
Department of Health, Life and Environmental Sciences, University of L'Aquila, L'Aquila, Italy
(2)
CIBIO-InBIO, Centro de Investigação em Biodiversidade e Recursos Genéticos, Vairão, Portugal