Research article

Open Access
Environmental isolation explains Iberian genetic diversity in the highly homozygous model grass Brachypodium distachyon
BMC Evolutionary Biology
BMC series – open, inclusive and trusted
2017
17:139
Received: 2 January 2017
Accepted: 8 June 2017
Published: 15 June 2017
Abstract
Background
Brachypodium distachyon (Poaceae), an annual Mediterranean Aluminum (Al)-sensitive grass, is currently being used as a model species to provide new information on cereals and biofuel crops. The plant has a short life cycle and one of the smallest genomes in the grasses being well suited to experimental manipulation. Its genome has been fully sequenced and several genomic resources are being developed to elucidate key traits and gene functions. A reliable germplasm collection that reflects the natural diversity of this species is therefore needed for all these genomic resources. However, despite being a model plant, we still know very little about its genetic diversity. As a first step to overcome this gap, we used nuclear Simple Sequence Repeats (nSSR) to study the patterns of genetic diversity and population structure of B. distachyon in 14 populations sampled across the Iberian Peninsula (Spain), one of its best known areas.
Results
We found very low levels of genetic diversity, allelic number and heterozygosity in B. distachyon, congruent with a highly selfing system. Our results indicate the existence of at least three genetic clusters providing additional evidence for the existence of a significant genetic structure in the Iberian Peninsula and supporting this geographical area as an important genetic reservoir. Several hotspots of genetic diversity were detected and populations growing on basic soils were significantly more diverse than those growing in acidic soils. A partial Mantel test confirmed a statistically significant Isolation-By-Distance (IBD) among all studied populations, as well as a statistically significant Isolation-By-Environment (IBE) revealing the presence of environmental-driven isolation as one explanation for the genetic patterns found in the Iberian Peninsula.
Conclusions
The finding of higher genetic diversity in eastern Iberian populations occurring in basic soils suggests that these populations can be better adapted than those occurring in western areas of the Iberian Peninsula where the soils are more acidic and accumulate toxic Al ions. This suggests that the western Iberian acidic soils might prevent the establishment of Al-sensitive B. distachyon populations, potentially causing the existence of more genetically depauperated individuals.
Keywords
Brachypodium Environmental isolationGenetic diversityHomozygosisSelfingSoil pH
Background
During the last decade Brachypodium distachyon (L.) P. Beauv. has become one of the most important model systems for functional genomic studies of temperate cereals and forage grasses and for bioenergy crops [1, 2]. The diploid Brachypodium distachyon shows a short generation time (annual life cycle), one of the smallest genomes among grass species (272 Mbp in five chromosomes) and it is a highly selfing plant that can easily be grown under controlled conditions [2]. The phylogenetic position of B. distachyon reinforces its importance as a model system since it is nested within tribe Brachypodieae (formed by exclusively by the genus Brachypodium P. Beauv.), and its sister relationship to the 'core pooids', a recently evolved lineage of subfamily Pooideae Benth. (Poaceae Barnhart), composed by the four grass tribes that encompass the vast majority of domesticated cool season cereal grain, forage, and turf crops [3, 4].
A high-quality reference genome of B. distachyon (based on the diploid inbred line Bd21) is already available [2] and significant investments have been further made in developing and using Brachypodium as a model system to learn the genetic mechanisms controlling relevant traits such as cell wall composition, biomass yield, abiotic and biotic stress tolerance, grain development and other features relevant to biomass crop development [3, 5–10]. For instance, candidate genes identified from C4 grasses that are emerging biomass crops (e.g., maize, sorghum) are being introduced into the temperate C3-plant B. distachyon with the aim of changing its photosynthetic characteristics since the C4 photosynthetic pathway is generally more efficient under hot and dry conditions [11].
An important key resource essential in any model system is the existence of germplasm collections and inbred lines that reflect traits of interest, as well as its natural genetic variation, which is considered to be the main resource for evolutionary change and for the adaptive potential of a species [3, 12–14]. For instance, in the model plant Arabidopsis thaliana, molecular analysis of its natural genetic variation has not only discovered a correlation between the allelic variation of known genes and the phenotypic variation of the species, but has also led to the discovery of novel genes [15]. However, despite all genomic progresses in B. distachyon and the fact that it is widely spread across the Mediterranean area [16–19], information about its natural genetic diversity remains scarce. For instance, the first large collection of inbred diploid B. distachyon lines was developed from samples collected across the same geographical area (Turkey) but revealed a considerable level of inter-population genetic diversity despite the predominance of homozygous individuals in most populations [20, 21]. A recent study using genotyping-by-sequencing (GBS) of 84 new accessions of B. distachyon plus its close relatives (three accessions of B. stacei Catalán, Joch. Müll., Mur & Langdon and seven of B. hybridum Catalán, Joch. Müll., Hasterok & Jenkins) across its wide circum-Mediterranean native geographic range (e. g., Albania, Armenia, Georgia, Italy, Spain and Turkey) revealed low levels of gene flow, confirming the highly selfing nature of this species and detecting three distinct genetic groups in B. distachyon across the Mediterranean populations sampled [22]. Unexpectedly, those genetic groups were not correlated with the geographical origin of the accessions but rather with differences in flowering time, according to the common garden experiment performed [22]. The finding of highly diverged genetic groups is intriguing since individuals clustering to different groups were collected in the same or nearby localities [22]. This would mean that individuals growing in the same locality and under the same environmental conditions could have strong differences in flowering times, creating a barrier to gene flow with their close neighboring individuals [3, 21]. Moreover, it clearly reflects that more studies are needed to understand the natural genetic diversity and genetic structure of B. distachyon populations. This information is also crucial to establish efficient germplasm collections and reference lines for the ongoing genomic studies that are being developed by the International Brachypodium Initiative (e.g., http://jgi.doe.gov/our-science/science-programs/plant-genomics/brachypodium/brachypodium-t-dna-collection/; http://archive.gramene.org/species/brachypodium/brachypodium_intro.html), especially because there is evidence that annual Brachypodium species are ecologically differentiated [12, 23]. The diploid B. distachyon usually grows in wet habitats with attenuated summer drought while the allotetraploid B. hybridum is generally found in dry habitats with a predictable summer drought period [23]; the allotetraploid is also more efficient in its water use than the close-related diploid B. distachyon [12]. Drought-escape strategy (i.e., early flowering) to cope with water stress was found to affect genetic diversity in the studied B. hybridum populations but not in B. distachyon [13]. However, the potential influence of other environmental factors on the genetic diversity of the annual Brachypodium species and populations is still unknown. For instance, soil pH seems to be related to the ecological adaptation of some annual Brachypodium populations to acidic substrates [24]. Under acidic conditions (pH < 5.0), the soils can accumulate solubilized Aluminum (Al) ion, mostly as a mononuclear cation (Al3+), which is phytotoxic to most herbaceous plants even at low concentration [24, 25]. Brachypodium distachyon is mostly an Al-sensitive plant in contrast to its derived allotetraploid species B. hybridum, which shows both Al-tolerant and Al-sensitive populations [24].
Here, we studied the natural genetic diversity of B. distachyon across 14 populations collected in the Iberian Peninsula to create and characterize a future diverse collection of inbred lines, available to Brachypodium researchers. This is the best studied Mediterranean area due to several previous works, which allowed us to correctly separate the diploid B. distachyon (2n = 10) from its close diploid relative B. stacei (2n = 20) and from their derived allotetraploid B. hybridum (2n = 30), which were until recently misinterpreted as a single complex species under B. distachyon [16–19, 23]. In this study we specifically asked: (1) Is genetic diversity uniform across the Iberian populations of B. distachyon? (2) Is homozygosis predominant within populations as expected in a highly selfing plant? (3) How are populations of B. distachyon structured genetically? (4) Is there a correlation between genetic diversity and climatic, geographic or other ecological factors such as soil pH?
Results
Genetic diversity and selfing
The total number of alleles per locus varied between 14 recorded in 6 of the 10 loci studied (
ALB022, ALB086, ALB087, ALB139, ALB181, ALB311
) and 19 alleles (
ALB050
) (Table
2
). Allelic richness per locus varied between 1.983 (
ALB181
) and 4.838 (
ALB050
). Null allele frequencies calculated with INEst were always very low with an average of 0.003 across loci (Table
2
) although MICROCHECKER did not detect any null alleles. Nei's observed heterozygosity per locus was recorded as 0 except in locus
ALB024
, which had a value of 0.024, while overall within population Nei's expected heterozygosity varied between 0 and 0.099 (Table
2
). However, the expected Nei's heterozygosity within the total population per locus exhibited generally a higher value, reaching an average of 0.507. According to the Nei's measure of genetic differentiation (G
st
), the estimated divergence of populations per locus varied from 0.819 (
ALB040
) to 1, in 6 of the 10 analyzed loci (Table
2
). The inbreeding coefficient F
IS
had an overall value of 0.922 although it was fixed at 1, in 9 of the 10 loci analyzed (all except locus
ALB040
). Similar values were retrieved when F
IS
was calculated in INEst though values were higher for locus
ALB040
(Table
2
). Results from Bayesian analyses implemented in INEst revealed that only inbreeding contributed to the excessive homozogosity since this model (DICnfb: 2578.593) was preferred over the model that included only null alleles (DICnb: 3683.439) based on the DIC criterion.
Table 2
Characteristics of the nSSRs markers used in the Iberian populations of Brachypodium distachyon
| Locus | Repeat motif | Allele size range (bp) | Na | pnull | AR | Ho | Hs | HT | Gst | FIS | FIS § |
| --- | --- | --- | --- | --- | --- | --- | --- | --- | --- | --- | --- |
| ALB006 | (GT)15 | 360–374 | 16 | 0.00399 | 3.318 | 0.000 | 0.051 | 0.614 | 0.917 | 1.000a | 1.000 |
| ALB022 | (CT)11 | 354–358 | 14 | 0.00464 | 2.909 | 0.000 | 0.000 | 0.520 | 1.000 | 1.000 | 1.000 |
| ALB040 | (CTT)8 | 176–182 | 15 | 0.00416 | 1.975 | 0.024 | 0.031 | 0.169 | 0.819 | 0.221a | 0.871 |
| ALB050 | (GT)15 | 217–231 | 19 | 0.00311 | 4.838 | 0.000 | 0.072 | 0.794 | 0.910 | 1.000a | 1.000 |
| ALB086 | (AAG)7 | 190–198 | 14 | 0.00434 | 2.909 | 0.000 | 0.000 | 0.520 | 1.000 | 1.000 | 1.000 |
| ALB087 | (AGC)7 | 192–202 | 14 | 0.00355 | 2.909 | 0.000 | 0.000 | 0.520 | 1.000 | 1.000 | 1.000 |
| ALB139 | (AGA)7 | 308–310 | 14 | 0.00495 | 1.999 | 0.000 | 0.000 | 0.459 | 1.000 | 1.000 | 1.000 |
| ALB165 | (ATA)12 | 173–201 | 18 | 0.00369 | 4.745 | 0.000 | 0.099 | 0.776 | 0.873 | 1.000a | 1.000 |
| ALB181 | (AC)9 | 234–238 | 14 | 0.00437 | 1.983 | 0.000 | 0.000 | 0.337 | 1.000 | 1.000 | 1.000 |
| ALB311 | (GA)6 | 244–250 | 14 | 0.00152 | 2.649 | 0.000 | 0.000 | 0.357 | 1.000 | 1.000 | 1.000 |
| Overall | - | - | 15 | 0.00383 | 3.023 | 0.002 | 0.025 | 0.507 | 0.952 | 0.922 | 0.987 |
Within populations, observed heterozygosity was recorded as 0, in 13 out of the 14 populations analyzed except the NE Iberian population of CAN where it had a value of 0.033, whereas mean expected heterozygosity varied between 0 and 0.104 also in CAN (Table 1). The average number of alleles per population was 11, being a maximum of 13 recorded in CAN, which also showed the maximum value of allelic richness (Table 1). Due to the very low levels of heterozygous individuals found, most populations had a FIS value of 1 (fixed homozygosis) except in the NE Iberian population of CAN where FIS was estimated as 0.711 (Table 1). Therefore, the average rate of self-fertilization estimated for B. distachyon was very high, reaching an average of 98% considering all the populations studied (Table 1).
Due to the high level of homozygosis (fixed alleles) observed in most populations, only 27 out of 137 genotyped individuals of
B. distachyon
(19.7%) exhibited a unique multi-locus genotype (Table
1
). A relatively high number of unique multi-locus genotypes were found in the NE population of CAN. From the 14 sampled populations of
B. distachyon
, only 33 alleles were found in the 137 individuals studied (Fig.
2
). Seven out of the 33 alleles were exclusively found in the southern Iberian populations, 7 only in the NW Iberian populations and 12 only in the NE Iberian populations. Only 7 alleles were shared between geographic regions: 3 between NW and NE Iberian populations, 1 between NW and S Iberian populations, 1 between NE and S Iberian populations, and 2 between the three regions (Fig.
2
).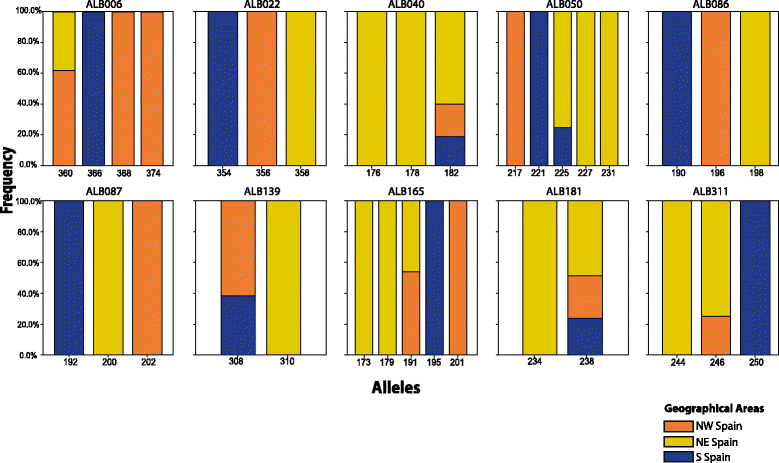 Population genetic structure and differentiation
The optimal number of genetic clusters was found to be two by the Bayesian clustering program STRUCTURE that differentiated all North Iberian populations from the South Iberian populations of B. distachyon (Fig. 1b; Additional file 3: Fig. S1). This result was partially supported by the Bayesian BAPS analysis that further separated the northern populations into two segregated groups, suggesting an optimal clustering of populations into three genetic groups (NE Iberian, NW Iberian and S Iberian: Fig. 1c). These two programs detected no evidence of genetic admixture between the genetic clusters.
The PCoA spatially separated all populations analyzed into three main groups that clustered NW, NE and S Iberian populations (Fig.
3
) being consistent with the genetic structure obtained from BAPS. NE Iberian and NW plus S Iberian populations clustered at both extremes of axis 1, which accumulated 56.1% of variance, while S Iberian populations separated from the NW populations at the negative extreme of axis 2, which accumulated 27.5% of variance (Fig.
3
). Due to the high level of fixed alleles within each population, only a very low number of individuals are seen in the PCoA since most individuals bear identical alleles within a population.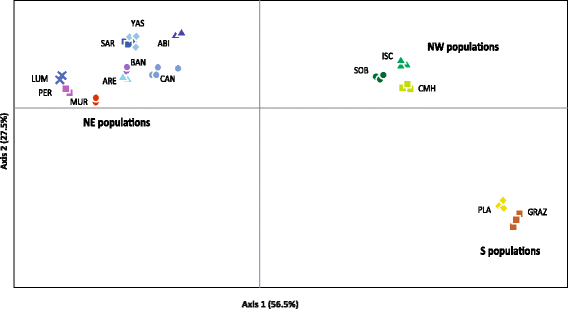 The NJ separated all NE Iberian populations, which were grouped in a highly supported clade (94% bootstrap support value, BS), from NW and S populations that clustered in a moderately supported group (65% BS; Fig.
4
). Within the last clade, the NW Iberian populations clustered in a group with 64% BS. The remaining sub-divisions found in the NJ tree correspond mainly to the populations sampled although BS values were always very low (<50%, Fig.
4
). As mentioned above, only a small number of individuals can be seen in the NJ tree since most individuals within each population share the same alleles.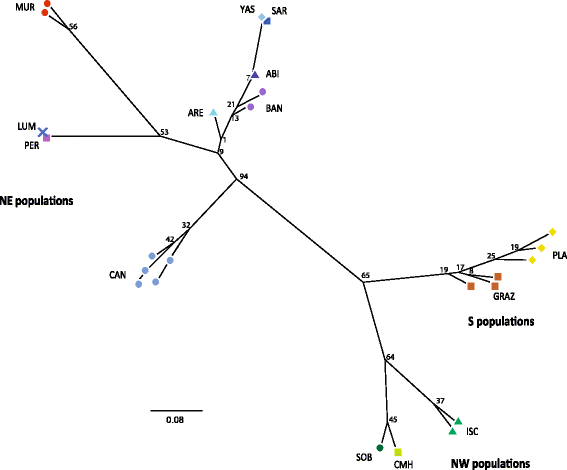 Genetic differentiation across all 14 populations was significantly high (AMOVA F
ST
= 0.956,
P
< 0.00001). Overall, 96.9% and 3.1% of the genetic variation was attributed to variation among and within populations, respectively (Table
4
). To further investigate the genetic differentiation between the geographical areas, a hierarchical AMOVA performed between N and S Iberian populations (matching the genetic boundary defined by STRUCTURE) attributed similar percentages of variation among groups (54%) and among populations within groups (43.7%;
P
< 0.00001, Table
3
; F
ST
= 0.942, F
SC
= 0.973 and F
CT
= 0.537). However, it was further exacerbated when performing the hierarchical AMOVA between the NE, NW and S Iberian populations (groups recovered by BAPS), which showed the highest partition of variance among groups (73.9%) and the lowest partition among populations within groups (24%,
P
< 0.00001, Table
4
; F
IT
= 0.869, F
SC
= 0.921, F
CT
= 0.739, F
IT
= 0.997). These values were similar to those obtained in a restricted hierarchical AMOVA conducted only with northern Iberian populations (NE vs NW), where 70% and 26.7% of the total variance was distributed among groups and among populations within groups, respectively (
P
< 0.00001, Table
3
; F
ST
= 0.894, F
SC
= 0.968 and F
CT
= 0.701).
Table 3
Analysis of molecular variance (AMOVA) for 14 populations of Brachypodium distachyon
Source of variance

d.f.

Variance components

% Variance

All populations

 Among populations

13

2.64

95.92

 Within populations

260

0.08

3.08

N vs. S populations

 Among groups

1

2.38

53.76

 Among populations within groups

12

1.93

43.57

 Within populations

260

0.11

2.67

NE vs. NW populations

 Among groups

1

2.74

70.18

 Among populations within groups

10

1.04

26.66

 Within populations

220

0.12

3.16

NE vs. NW vs S populations

 Among groups

2

2.99

73.91

 Among populations within groups

11

0.97

24.02

 Within populations

260

0.08

2.07
Table 4
Significance differences of the correlation analysis (corrected for multiple comparisons following the Bonferroni procedure) between geographical, soil pH and climatic factors and genetic diversity parameters: mean allelic richness (AR), mean observed heterozygosity (Ho) and expected heterozygosity (Hs) and inbreeding coefficient (FIS)
| Parameter | Latitude | Longitude | Altitude | pH | BIO3 | BIO8 | BIO9 |
| --- | --- | --- | --- | --- | --- | --- | --- |
| AR | −0.178 | 0.558* | −0.353 | 0.559* | −0.603* | 0.699* | −0.560* |
| Ho | 0.002 | 0.771 | −0.346 | 0.159 | −0.240 | 0.386 | −0.225 |
| Hs | −0.050 | 0.444 | −0.313 | 0.435 | −0.451 | 0.231 | −0.278 |
| Na | −0.178 | 0.558* | −0.353 | 0.549* | −0.529* | 0.612* | −0.566* |
| FIS | −0.278 | −0.062 | 0.349 | 0.023 | −0.603* | 0.699** | −0.560* |
Correlation between each of the three assayed pairwise genetic distance metrics and pairwise geographical distances revealed significant evidence of IBD between all 14 populations analyzed (DA/geography, r = 0.843, P < 0.001; ADS/geography, r = 0.543, P < 0.001; linearized FST values/geography, r = 0.637, P = 0.001). Genetic distances based on the IAM (Da) showed a clustering of populations more congruent with geography than those based on the SMM (ADS), or the linearized Fst values.
Association between genetic diversity and ecological variables
Two genetic diversity parameters (AR and Na) were significantly and negatively associated with the longitude indicating a decrease in genetic diversity towards West (Fig. 1a); no association was found for the remaining genetic diversity indices (Table 4). The level of pH was significantly and positively associated with AR and Na since a higher allelic richness and a higher number of alleles were generally found in populations occurring in basic soils (Fig. 1a), located in the East. Of the 11 climatic variables analyzed, two were significantly negatively associated with AR, Na and FIS (isothermality, BIO3; mean temperature of the driest quarter, BIO9) and one (mean temperature of the wettest quarter, BIO8) was positively associated with those genetic parameters (Table 4; Additional file 4: Fig. S2). Thus, the higher are the values of isothermality and temperature of the driest quarter, the lower is the genetic diversity measured in the populations sampled here; likewise, the higher the value of the temperature in the wettest quarter, the higher is the genetic diversity of the B. distachyon populations.
A partial Mantel test confirmed significant IBD among all studied populations (R = 0.15, P < 0.001), as well as significant IBE (R = 0.46, P < 0.05). This result indicates that by controlling geographical distance, pairwise differences in soil pH were positively associated to pairwise differences in genetic diversity, which could underlie an adaptive pattern to soil pH and, presumably, to Al sensitiveness. The level of significance in IBE was higher when performing correlation analyses between populations belonging to the NW genetic cluster versus populations from NE and S genetic clusters (R = 0.56, P < 0.001). No significant IBE was found when only the NE and S genetic cluster were analyzed (R = 0.38, P = 0.482).
Declarations
Acknowledgements
We thank Maria Luisa López-Herranz and Dimitry Feoktistov for laboratory assistance.
Funding
The study has been funded by two consecutive Spanish Ministry of Economy and Competitiveness grant projects (CGL2012–39953-C02–01, CGL2016–79790-P) and one Aragon Government and European Social Fund Bioflora grant to PC and IM. DL-A and VS were funded by a Spanish Ministry of Science and Innovation and a Tomsk State University PhD fellowship, respectively. DL-A was also supported by a Spanish Instituto de Estudios Altoaragoneses grant. IM received funding from the People Programme (Marie Curie Actions) of the European Union's Seventh Framework Programme (FP7/2007–2013) under REA grant agreement PIOF-GA-2011-301,257. PH was funded by Spanish Junta de Andalucia project AGR-0482.
Availability of data and materials
All data generated or analyzed during this study are included in this published article and its supplementary information files.
Authors' contributions
PC conceived and designed the experiments, IM, VS, PC analyzed the data, PC, DLA, contributed reagents/materials/analysis tools, IM, PC, AM, PH, MO wrote the paper, and all authors reviewed drafts of the paper. All authors read and approved the final manuscript.
Competing interests
The authors declare that they have no competing interests
Consent for publication
Not applicable.
Ethics approval and consent to participate
Not applicable.
Publisher's Note
Springer Nature remains neutral with regard to jurisdictional claims in published maps and institutional affiliations.
Open AccessThis article is distributed under the terms of the Creative Commons Attribution 4.0 International License (http://creativecommons.org/licenses/by/4.0/), which permits unrestricted use, distribution, and reproduction in any medium, provided you give appropriate credit to the original author(s) and the source, provide a link to the Creative Commons license, and indicate if changes were made. The Creative Commons Public Domain Dedication waiver (http://creativecommons.org/publicdomain/zero/1.0/) applies to the data made available in this article, unless otherwise stated.
Authors' Affiliations
(1)
Departamento de Ciencias Agrarias y del Medio Natural, Escuela Politécnica Superior de Huesca, Universidad de Zaragoza, Huesca, Spain
(2)
Department of Botany, Institute of Biology, Tomsk State University, Tomsk, Russia
(3)
Departamento de Biología Animal, Biología Vegetal y Ecología, Universidad de Jaén, Jaén, Spain
(4)
Instituto de Agricultura Sostenible (IAS-CSIC), Córdoba, Spain
(5)
Present address: Centro de Bioinformática y Biología Computacional de Colombia, BIOS, Parque los Yarumos, Manizales, Colombia