Research article

Open Access
From Africa to Europe and back: refugia and range shifts cause high genetic differentiation in the Marbled White butterfly Melanargia galathea
BMC Evolutionary Biology
2011
11:215
Received: 27 January 2011
Accepted: 21 July 2011
Published: 21 July 2011
Abstract
Background
The glacial-interglacial oscillations caused severe range modifications of biota. Thermophilic species became extinct in the North and survived in southern retreats, e.g. the Mediterranean Basin. These repeated extinction and (re)colonisation events led to long-term isolation and intermixing of populations and thus resulted in strong genetic imprints in many European species therefore being composed of several genetic lineages. To better understand these cycles of repeated expansion and retraction, we selected the Marbled White butterfly Melanargia galathea. Fourty-one populations scattered over Europe and the Maghreb and one population of the sibling taxon M. lachesis were analysed using allozyme electrophoresis.
Results
We obtained seven distinct lineages applying neighbour joining and STRUCTURE analyses: (i) Morocco, (ii) Tunisia, (iii) Sicily, (iv) Italy and southern France, (v) eastern Balkans extending to Central Europe, (vi) western Balkans with western Carpathian Basin as well as (vii) south-western Alps. The hierarchy of these splits is well matching the chronology of glacial and interglacial cycles since the Günz ice age starting with an initial split between the galathea group in North Africa and the lachesis group in Iberia. These genetic structures were compared with past distribution patterns during the last glacial stage calculated with distribution models.
Conclusions
Both methods suggest climatically suitable areas in the Maghreb and the southern European peninsulas with distinct refugia during the last glacial period and underpin strong range expansions to the North during the Postglacial. However, the allozyme patterns reveal biogeographical structures not detected by distribution modelling as two distinct refugia in the Maghreb, two or more distinct refugia at the Balkans and a close link between the eastern Maghreb and Sicily. Furthermore, the genetically highly diverse western Maghreb might have acted as source or speciation centre of this taxon, while the eastern, genetically impoverished Maghreb population might result from a relatively recent recolonisation from Europe via Sicily.
Keywords
climatic oscillations
barriers
phylogeography
Melanargia galathea
Melanargia lachesis
allozyme electrophoresis
climate envelope modelling
Background
The impacts of climatic oscillations on the earth's biota have been intensively studied [1]. In the western Palaearctic, thermophilic organisms went extinct over major parts of Central and North Europe during cold stages and survived in the lowlands of lower latitudes in often distinct refugia [2–6]. Molecular studies revealed that most of these taxa exclusively survived glacial periods south of the European high mountain chains in the Iberian, Italian and Balkan peninsulas, and some even in additional extra-Mediterranean refugia [7, 8]. The long-term isolation of populations in these retreats over many thousands of years resulted in genetic differentiation [5]. During the warmer interglacial periods, species expanded their distribution ranges northwards and extended their different genetic lineages over more northern areas [9, 10].
In contrast to the three more intensively studied Mediterranean refugia of southern Europe (Iberia, peninsular Italy and the Balkans), little is known about North African refugia and the biogeographical relation between the Maghreb and southern Europe separated by the two narrow sea straits of Gibraltar and Sicily. It has been shown that the Maghreb is often sub-structured following an east-west [e.g. [11–13]] or south-north differentiation pattern [e.g. [5, 14]]; in some cases, genetic continuity was demonstrated between the Maghreb and Sicily [e.g. [15, 16]]. Other studies underline the important role of Sicily as diversification centre for European taxa unravelling deep genetic splits between this island and peninsular Italy (e.g. Erinaceus europaeus: [17]; Pseudepidalea viridis: [18, 19]). Few molecular analyses also reveal the outstanding importance of North Africa as a refugium for thermophilic species during glacial periods [e.g. [12, 14, 20, 21]]. However, most studies focus either on the Maghreb or the southern European refugia and do not combine the distribution of species all over north-western Africa and throughout Europe.
To study the biogeographical importance of the Maghreb region and its connection with Europe, we selected the Marbled White butterfly species complex Melanargia galathea (Linnaeus, 1758) and Melanargia lachesis (Hübner, 1790) as a model system using two analytical tools (allozyme polymorphisms and distribution modelling). Today, M. galathea is widely distributed from the Maghreb region (mountain ranges of Morocco, Algeria and Tunisia) [22, 23] to the English Midlands [24], and from the Pyrenees [25] to the Baltic Sea in Poland [26]. On the Iberian Peninsula, M. galathea is replaced by its sibling species M. lachesis. Thus, the Italian peninsula is the only possible link between North Africa and Europe for M. galathea.
Previous molecular studies on these butterflies based on allozyme polymorphisms supported the sibling species status of both taxa and revealed two genetic groups in
M. galathea
, one western and one eastern group, indicating an Italian and a Balkan refugium [
27
], with further substructures in the Balkan region [
28
]. Preliminary data for the western Maghreb showed the highest known values of genetic variability in this region [
29
]. Based on these data, we hypothesized a Maghreb origin of the species and colonisation of Europe via Sicily and Italy. However, these previous studies lack populations from the eastern Maghreb, Sicily, Italy and southern France. In this article we combine an allozyme data set covering most of the recent distribution of the species with climate envelope models to test the previously postulated biogeographical scenario of refugia and barriers during the last ice ages until today, addressing the following questions:
(i)

Which refugia are of importance for the glacial survival of the M. galathea /lachesis species complex during the subsequent glacial periods?

(ii)

Is there any evidence of genetic structuring within the North African and Italian refugia?

(iii)

Which routes of expansion and retraction followed the butterfly throughout time?
Results
Phylogeographic analyses
All enzyme loci had banding patterns consistent with known quaternary structures. While most loci were inherited autosomally, 6PGDH and ME were located on the Z chromosome so that hemizygous females (but not males) had a single copy [27]. No general linkage disequilibrium was observed for any locus (all p > 0.05 after Bonferoni correction). A total of 13 analysed loci were polymorphic, but two loci (FUM, GPDH) were monomorphic throughout all samples. Allele frequencies for each enzyme and population are given in an additional file 1.
The genetic diversities among these genetic lineages showed significant differences (Table 2). Thus, the Morocco group showed the highest values achieved for A, He as well as Ho, and the means for P95 and Ptot were above average. On the other extreme, Tunisia had the lowest means for A, He and Ho, and the mean for P95 was well below average; the genetic diversities of Tunisia were lower (A, He, Ho, Ptot) or equal than in the otherwise rather similar populations from Sicily. The four groups from mainland Europe all have mostly intermediate genetic diversities scatted around the respective mean values.
Species distribution modelling
According to the classification of Swets [30], we received 'excellent' AUC values in our 100 models (average training AUC = 0.927, average test AUC = 0.902). On average, the 'temperature annual range' had the highest explanatory power (30.3%), followed by the 'minimum temperature of the coldest month' (16.8%), the 'precipitation of the warmest quarter' (14.8%), the 'annual precipitation' (10.2%), the 'maximum temperature of the warmest month' (8.2%) and the 'precipitation of the driest quarter' (7.2%). All other variables contributed less than 5% each. The average minimum training presence was 0.05, and the lowest 10 percentile training omission threshold was 0.36.
The current potential distribution suggested by the SDM is highly coincident with the butterfly's recent range. The recent climatic niche over North Africa is displayed as two separate areas, in the West and East. Under palaeoclimatic conditions assumed to have prevailed 21,000 y BP (CCSM scenario), the potential distribution may have been much more restricted in Europe: Major parts of Central Europe changed into climatically unsuitable areas for
M. galathea
during the glacial period, while the southern European peninsulas (Iberia, Italy and the Balkan) retained suitable climatic conditions. Major parts of the Maghreb had a suitable climate for the butterfly being geographically more extended than today (Figure
3
).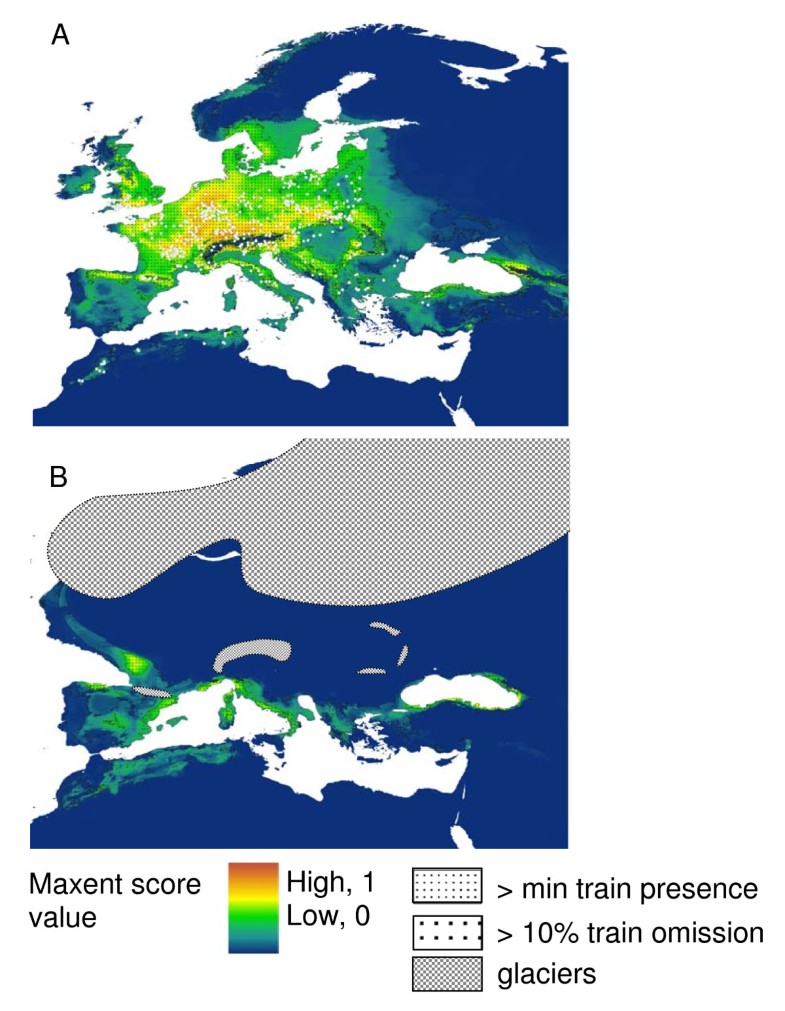 Discussion
The obtained allozyme data displayed in neighbour-joining phenograms, structure plots and hierarchical variance analyses indicate a profound genetic split between the two taxa, M. galathea and M. lachesis. Nazari et al. [31] supported this pattern by three lines of evidence: (i) differences of the male genitalia between M. lachesis and M. galathea, (ii) a stronger difference in wing patterns between these two taxa than between M. galathea population in Europe and the Maghreb and (iii) remarkable differences in DNA sequences of the nuclear wg gene between M. lachesis and M. galathea, but no major differentiation between M. galathea samples from Europe and the Maghreb. However, the sequences of the two mtDNA genes cox1 and 16S contradict the common pattern of allozymes, genital structures, wing patterns and nuclear DNA sequences: This marker is not well distinguishing M. galathea from Europe and M. lachesis, but shows remarkable differences between Europe and the Maghreb with this split being dated back to the Messinia Salinity Crises more than 5 My ago [31]. Having in mind the differentiation pattern in all known marker systems, we believe that these two mtDNA lineages in the entire species complex might have originated at that time horizon, but were distributed to different geographical regions only much later by lineage sorting, maybe hereby exemplifying one case of the often observed difference between mtDNA on the one hand and nuclear DNA sequences, morphological characteristics and allozyme pattern on the other [32].
Our allozyme data further show strong differentiation within M. galathea into two major groups with respective subgroups: (i) Sicily - Tunisia with (i-a) Sicily and (i-b) Tunisia as well as (ii) all other M. galathea with (ii-a) Morocco, (ii-b) Italy with parts of southern France, (ii-c) western Balkan including the western Carpathian Basin, (ii-d) eastern Balkans with Romania and Central Europe, and (ii-e) the south-western Alps.
Conclusion
The hierarchical structure of our allozyme data set on M. galathea and M. lachesis is consistent with the chronology of the last four glacial-interglacial cycles. Based on this consistency, we derive the following scenario, which in our opinion is the most likely one: (i) The beginning of the Günz ice age might have affected the vicariance between the two species. (ii) M. galathea might have crossed from Tunisia to Sicily at the transition from Mindel ice age to Holstein interglacial and (iii) subsequently spread all over Europe, but retreated in the Maghreb to the higher elevations of the Atlas mountains. (iv) The members of this species complex survived the coldest periods of the Riss glaciation only in southern Iberia, Morocco, Sicily and the southern Balkans (Peleponnesos). (v) At the transition from Riss ice age to Eem interglacial, Tunisia was recolonised from Sicily. (vi) The southern Balkan group might have colonised major parts of Europe during the Eem interglacial including Italy and Central Europe. (vii) Populations of this group survived the Würm ice age in Italy, the southern margin of the Alps, the western and eastern flank of the Balkan peninsula; members of other lineages survived in Sicily, Tunisia, Morocco and Iberia. (viii) During the Postglacial, only the eastern Balkan and the Italian lineage showed major northwards range expansion. (ix) Hybridisation between lineages most probably occurred in western Central Europe and southern Calabria.
Methods
Allozyme electrophoresis
We scored banding patterns of allozyme polymorphisms analysed for 1,463
M. galathea
specimens from 41 populations sampled across major parts of the Maghreb and Europe and one populations of
M. lachesis
(40 individuals) from the Spanish Pyrenees (see Figure
5
and Table
1
). In total we analysed 15 enzyme systems: 6PGDH, ACON, FUM, G6PDH, GAPDH, AAT2, GPDH, PGI, HBDH, IDH1, IDH2, MDH1, MDH2, ME, and PEP. The data of 26
M. galathea
populations and of
M. lachesis
were taken from Habel et al. [
27
,
28
] and Schmitt et al. [
29
]. Specimens were netted in the field from mid-May to the beginning of August between 2004 and 2010, frozen alive in liquid nitrogen or in a freezer and stored under these conditions until analysis. Standard procedures of allozyme electrophoresis were performed as described in Habel et al. [
27
].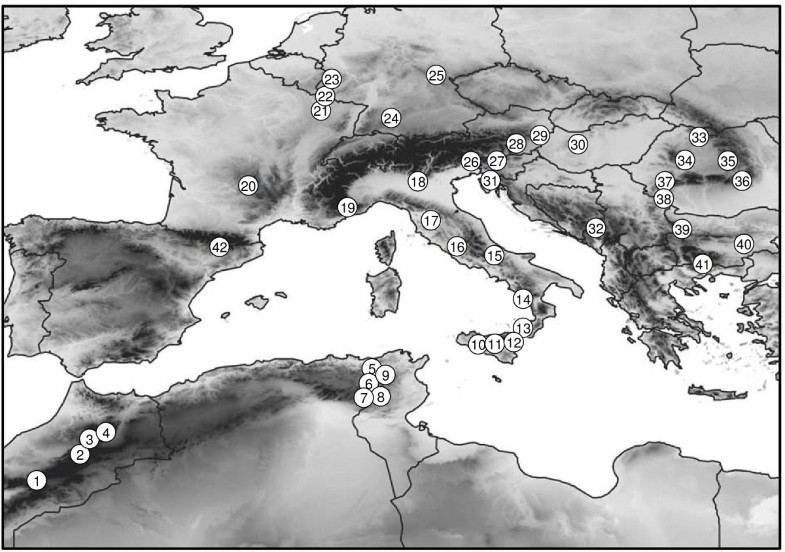 Statistics
Alleles were labelled according to their relative mobility, starting with "1" for the slowest. All laboratory results were stored on cellulose acetate plates. These banding patterns were (re)analysed by one person (JCH). Allele frequencies, Nei's standard genetic distances [56] and parameters of genetic diversity (i.e. mean number of alleles per locus, A, expected heterozygosity, He, and observed heterozygosity, Ho, total percentage of polymorphic loci, Ptot, and percentage of polymorphic loci with the most common allele not exceeding 95%, P95) were computed with G-Stat [57]. As sample sizes do not differ significantly, the calculation of allelic richness correcting for population sizes was not necessary. For detecting differences of means of genetic diversities among genetic lineages and sublineages, we calculated U-tests using STATISTICA. Conventional F statistics, AMOVAs, hierarchical genetic variance analysis, tests of Hardy-Weinberg equilibrium and linkage disequilibrium were calculated with ARLEQUIN 3.1 [58]. Phenograms using the neighbour joining algorithm [59] were constructed with PHYLIP [60], including bootstrap-values (calculated based on 1,000 iterations). To define individual based genetic clusters we performed STRUCTURE analyses [61]. As burn-in and simulation lengths we used 100,000 and 300,000 iterations per run based on the admixture model with correlated gene frequencies comparing different groupings (from K = 2 to K = 10).
Species Distribution Modelling
Over the last few decades, Geographic Information System (GIS) based Species Distribution Models (SDMs) have become vital tools used to predict the potential distribution of species under current conditions and climate change scenarios [62–64]. In combination with palaeoclimatological data, SDMs have been suggested as a mean of inferring species' past distributions [65, 66], especially when combined with phylogeographic techniques [67].
We compiled a set of 3,483 species records of M. galathea from online data bases (Global Biodiversity Information Facility - GBIF; http://www.gbif.org) and our own field surveys. The accuracy of all records was checked in DIVA-GIS 5.4 [68] and only those which could be unambiguously assigned to a single grid cell with a resolution of 2.5 arc min (ca. 4 km in the study area) were used for further processing. Since unequal spatial clumping of species records may cause problems when computing SDMs, the species records were filtered in geographic space, leaving only 1 record per 10 arc min. The final data set comprised 535 records (Figure 3a) scattered all over the known range of the species in Europe and North Africa.
We obtained information on current and past climate as describedby the Community Climate System Model (CCSM; http://www.ccsm.ucar.edu) with a spatial resolution of 2.5 arc min from the Worldclim data base ([69]; http://www.worldclim.org). Original palaeoclimatological data were previously processed as described by Peterson and Nyári (2007) [70]. A total of 19 BIOCLIM variables were previously suggested as suitable for SDM computation [71, 72]. However, inclusion of too many inter-correlated variables or biologically irrelevant predictors may hamper the transferability of SDMs through space and time [73–76]. Therefore, we first computed a pair-wise correlation matrix based on Pearson's correlation coefficients among all 19 predictor variables and excluded those with R 2 > 0.75. Subsequently, we chose a final set of eleven predictors describing biologically relevant climate conditions for the long-term persistence of M. galathea populations (i.e. annual mean temperature, maximum temperature of warmest month, minimum temperature of coldest month, temperature annual range, mean temperature of wettest quarter, mean temperature of driest quarter, annual precipitation, precipitation of wettest quarter, precipitation of driest quarter, precipitation of warmest quarter, precipitation of coldest quarter).
For SDM computation, Maxent 3.3.2 was applied [77, 78] using the default program settings. Random background records were automatically sampled by Maxent within the study area. Species records were split 100 times into 70% used for model training and 30% for model evaluation via the area under the receiver operating characteristic curve (AUC; [79]). Subsequently, the average predictions for current and past conditions of the logistic output of the 100 models were computed and transformed into presence/absence maps applying the average minimum training presence and average 10% training omission as thresholds.
Declarations
Acknowledgements
We acknowledge financial support by the German Academic Exchange Service (PostDoc Programme) and the Musée national d'histoire naturelle Luxembourg to JCH as well as from the Ministry of Education, Science, Youth and Culture of the Rhineland-Palatinate state of Germany to DR (project: 'Implications of global change for biological resources, law and standards'). We thank Claas Damken (Auckland, New Zealand) and Marc Meyer (Luxembourg) for field assistance. We thank the Fonds National de la Recherche Luxembourg for covering the publication fees.
Authors' Affiliations
(1)
Musée national d'histoire naturelle Luxembourg, Luxembourg, Luxembourg
(2)
Terrestrial Ecology Unit, Department of Biology, Gent University, Gent, Belgium
(3)
Department of Biogeography, Trier University, Trier, Germany
(4)
Zoologisches Forschungsmuseum Alexander Koenig, Bonn, Germany
Copyright
© Habel et al; licensee BioMed Central Ltd. 2011
This article is published under license to BioMed Central Ltd. This is an Open Access article distributed under the terms of the Creative Commons Attribution License (http://creativecommons.org/licenses/by/2.0), which permits unrestricted use, distribution, and reproduction in any medium, provided the original work is properly cited.