Research article

Open Access
Evolutionary diversification and characterization of the eubacterial gene family encoding DXR type II, an alternative isoprenoid biosynthetic enzyme
BMC Evolutionary Biology
2013
13:180
Received: 14 May 2013
Accepted: 16 August 2013
Published: 3 September 2013
Abstract
Background
Isoprenoids constitute a vast family of natural compounds performing diverse and essential functions in all domains of life. In most eubacteria, isoprenoids are synthesized through the methylerythritol 4-phosphate (MEP) pathway. The production of MEP is usually catalyzed by deoxyxylulose 5-phosphate reductoisomerase (DXR-I) but a few organisms use an alternative DXR-like enzyme (DXR-II).
Results
Searches through 1498 bacterial complete proteomes detected 130 sequences with similarity to DXR-II. Phylogenetic analysis identified three well-resolved clades: the DXR-II family (clustering 53 sequences including eleven experimentally verified as functional enzymes able to produce MEP), and two previously uncharacterized NAD(P)-dependent oxidoreductase families (designated DLO1 and DLO2 for DXR-II-like oxidoreductases 1 and 2). Our analyses identified amino acid changes critical for the acquisition of DXR-II biochemical function through type-I functional divergence, two of them mapping onto key residues for DXR-II activity. DXR-II showed a markedly discontinuous distribution, which was verified at several levels: taxonomic (being predominantly found in Alphaproteobacteria and Firmicutes), metabolic (being mostly found in bacteria with complete functional MEP pathways with or without DXR-I), and phenotypic (as no biological/phenotypic property was found to be preferentially distributed among DXR-II-containing strains, apart from pathogenicity in animals). By performing a thorough comparative sequence analysis of GC content, 3:1 dinucleotide frequencies, codon usage and codon adaptation indexes (CAI) between DXR-II sequences and their corresponding genomes, we examined the role of horizontal gene transfer (HGT), as opposed to an scenario of massive gene loss, in the evolutionary origin and diversification of the DXR-II subfamily in bacteria.
Conclusions
Our analyses support a single origin of the DXR-II family through functional divergence, in which constitutes an exceptional model of acquisition and maintenance of redundant gene functions between non-homologous genes as a result of convergent evolution. Subsequently, although old episodic events of HGT could not be excluded, the results supported a prevalent role of gene loss in explaining the distribution of DXR-II in specific pathogenic eubacteria. Our results highlight the importance of the functional characterization of evolutionary shortcuts in isoprenoid biosynthesis for screening specific antibacterial drugs and for regulating the production of isoprenoids of human interest.
Keywords
DXR-II
Isoprenoid metabolism
Horizontal gene transfer
Gene loss
Functional divergence
Background
Isoprenoids constitute the largest family of natural compounds both at a structural and functional level [
1
–
3
]. They are found in all the three domains of life (bacteria, archaea, and eukaryotes). Despite their diversity in structures and functions, all isoprenoids derive from the common five-carbon precursors isopentenyl diphosphate (IPP) and its isomer dimethylallyl diphosphate (DMAPP). IPP can be synthesized through two independent metabolic pathways, the mevalonate (MVA) pathway, or the more recently elucidated methylerythritol 4-phosphate (MEP) pathway [
4
] (Figure
1
). In most eubacteria, isoprenoids are synthesized through the MEP pathway, while a few species use the MVA pathway, both pathways, or none, the latter obtaining their isoprenoids from host cells [
5
–
8
]. Previous analysis suggested that eukaryotes have inherited MEP and MVA pathways genes from eubacteria and archaebacteria, respectively, as reflected by their phylogenetic distribution [
5
]. In plants, plastidial IPP and DMAPP are synthesized through the MEP pathway, whereas cytosolic and mitochondrial isoprenoids are synthesized through the MVA pathway [
4
,
9
]. Non-photosynthetic simpler plastid-bearing organisms, such as the apicomplexan protists, solely use the MEP pathway [
10
]. In contrast, in yeast and animals, all isoprenoids are synthesized through the MVA pathway [
11
]. The lack of MEP pathway enzymes in non-plastid bearing eukaryotes suggests that these genes were acquired through gene transfer to the nucleus from the eubacterial endosymbiotic ancestors that gave rise to plastids [
5
,
12
].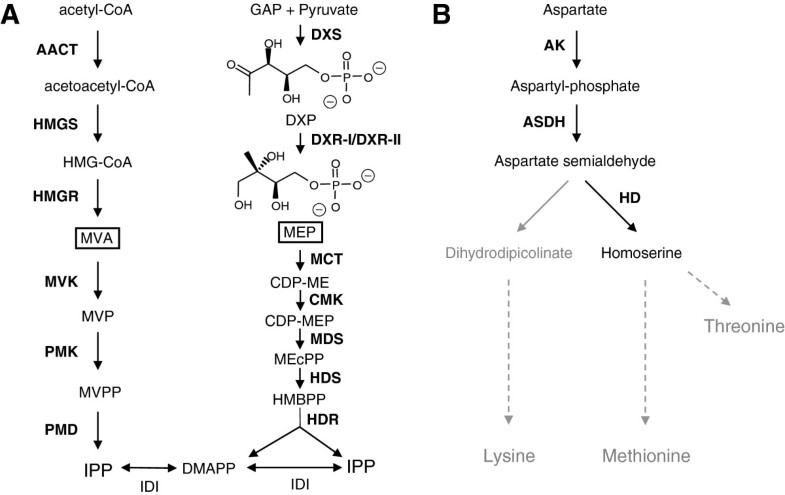 Isoprenoids are essential in all eubacteria in which they have been studied, playing key roles in several core cellular functions e.g. ubiquinones and menaquinones, which act as electron carriers of the aerobic and anaerobic respiratory chains respectively, and dolichols, which are required for cell wall peptidoglycan synthesis [13]. Because of the essential role of the MEP pathway in most eubacteria and its absence from animals, it has been proposed as a promising new target for the development of novel antibiotics [14, 15]. Besides that, many isoprenoids also have substantial industrial, pharmacological, and nutritional interest [16]. Therefore, understanding the biochemical and genetic plasticity of isoprenoid biosynthesis in bacteria is crucial to attempt its pharmacological block or to be used in biofactories for the production of isoprenoids of human interest.
The occurrence of alternative enzymes for isoprenoid biosynthesis in specific bacterial lineages has been previously reported [17]. The enzyme 3-hydroxy-3-methyl-glutaryl-CoA reductase (HMGR), which catalyzes the rate-limiting step of the MVA pathway, is structurally distant from its archaebacterial and eukaryotic homologs in most eubacteria [8, 18, 19]. Similarly, two different classes of isopentenyl diphosphate isomerase (IDI), the enzyme catalyzing the isomerization of IPP to produce DMAPP, have been identified in bacteria: type I IDI (similar to its animal, fungi and plant counterparts) and type II IDI, acquired from archaebacteria and apparently unrelated to the latter [20–22]. Although IDI activity is only essential in organisms dependent on the MVA pathway for IPP and isoprenoid biosynthesis, both types of IDI have been identified in bacterial strains dependent on the MEP pathway [7].
We recently reported the occurrence of a group of bacteria harbouring the entire set of enzymes of the MEP pathway with the exception of 1-deoxy-d-xylulose 5-phosphate (DXP) reductoisomerase (DXR), the enzyme catalyzing the NADPH-dependent production of MEP from DXP in the first committed step of the pathway. In these species, a novel family of previously uncharacterized oxidoreductases related to homoserine dehydrogenases (HD) involved in the common pathway (CP) of amino acid biosynthesis (Figure 1), was found to perform the DXR biochemical reaction [23]. This alternative enzyme, referred to as DXR-like (DRL) or DXR type II (DXR-II) to distinguish it from the canonical DXR (renamed DXR-I), displayed a markedly discontinuous distribution. DXR-II was found forming single or multigene families in bacterial strains from diverse taxonomic groups, independent of the presence or absence of a DXR-I sequence in their genome [23].
Different evolutionary scenarios might explain DXR-II emergence and evolutionary diversification. In this study we examined how the DXR-II family emerged through functional divergence from related oxidoreductase families and identified amino acid changes critical for the acquisition of its specific biochemical function. Furthermore, we assess the contrasting roles of horizontal gene transfer (HGT) and massive gene loss, major forces in microbial genome evolution known to affect other genes involved in IPP and isoprenoid biosynthesis [24], in the discontinuous distribution of DXR-II across eubacteria.
Discussion and conclusions
The structural and functional diversity of isoprenoids correlates with the existence of a wide biochemical and genetic plasticity for their biosynthesis [17]. In eubacteria, this is commonly achieved through the use of alternative metabolic pathways and enzymatic steps in specific lineages. Interesting examples are provided by HMGR and IDI, which are encoded by at least two distinct gene families in bacteria. In this paper we focus in DXR-II, recently characterized as an alternative family to DXR-I in performing the second step of the MEP pathway of isoprenoid biosynthesis in a selected group of eubacteria [23].
Apart from the NAD-binding domain with a core Rossmann-type fold found at the N-terminal region of all oxidoreductases, no significant similarity at the sequence level was observed between DXR-I and DXR-II to infer homology [23]. Correspondingly, the recent determination of the DXR-II crystal structure showed only slight structural relationship with DXR-I proteins and revealed a unique arrangement of the active site [26]. Examples of enzymes catalyzing identical reactions through the same catalytic mechanisms but showing structurally unrelated active sites are known outside the isoprenoid field [38–41]. In some of these though, key catalytic residues may be conserved between functionally redundant enzymes, as also reported for DXR-I and DXR-II [26]. DXR-I and DXR-II likely represent analogous genes that evolved redundant biochemical functions through mechanistic convergence.
Our results support the emergence of the DXR-II family through type I, but not type II, functional divergence from DLO1 and DLO2 families of previously uncharacterized oxidoreductases. These data suggest that DXR-II acquired additional structural and/or functional constraints rather than shifted constraints in amino acids that were already ancestrally constrained. Amino acid changes critical for functional divergence and acquisition of DXR-II biochemical activity were predicted, many of them corresponding to positions highly conserved in DXR-II, but otherwise variable in DLO1 and/or DLO2. Interestingly, two of these predicted amino acids, Thr229 and Arg320, had been previously identified for their role in fosmidomycin/substrate binding and in dimerization, respectively [26], suggesting that functional shifts in a limited number of amino acid positions could be at the origin of the acquisition of DXR-II biochemical activity.
It could be assumed that the MEP pathway is the ancestral route for IPP and isoprenoid biosynthesis in eubacteria, including the membrane-associated hopanoids, which are among the oldest known biomolecules [42]. The entire set of genes encoding for enzymes involved in the MEP pathway, including DXR-I, has been found widespread in all eubacterial taxonomic groups [5]. In a significant number of DXR-II-containing eubacterial genomes (31), including those from closely related strains, DXR-I has been lost. This raises the question of how DXR-II evolved in DXR-I containing strains, as acquisition of redundant biochemical activities should not be favoured by evolution. The DXR-II family could have emerged under an ecological context that conferred a selective advantage to the emergence and maintenance of a functionally redundant enzyme, e.g. when gene dosage is selectively advantageous. Due to the wide and diverse functions played by isoprenoids and their essential role for cell viability, critical situations in which their biosynthesis was absolutely required may have occurred multiple times throughout eubacterial evolution. Emergence of the DXR-II family should have occurred at an early time in evolution, as supported by the scattered distribution of DXR-II and related oxidoreductases from DLO1 and DLO2 families in distantly related lineages of eubacteria. After relaxation of that burst in selective constraints for isoprenoid biosynthesis, some strains could then have lost one redundant enzyme, commonly DXR-II, which shows less catalytic activity in vitro [26]. In addition, maintenance of DXR-II, which shows less sensitivity to inhibition by fosmidomycin than DXR-I [26], might have provided a selective advantage in bacterial strains sharing the same ecological niches as those naturally producing the antibiotic (e.g. Streptomyces species [43]).
The taxonomic distribution of DXR-II across eubacteria showed a marked discontinuity, which was also verified at the metabolic and phenotypic level. Although most genes encoding DXR-II were found in eubacteria with the MEP pathway, their occurrence was not linked to a unique pattern of distribution of enzymes of the MEP or MVA pathways. Similarly, HD, the oxidoreductase family that showed the highest level of similarity with DXR-II, was found in most DXR-II-containing bacterial strains, but not all. In addition, examination of the distribution of biological properties across DXR-II-containing strains showed maintenance of DXR-II in the genomes was not linked to a unique pattern of ecological or phenotypic traits. The only exception was 'pathogenic in animals', significantly enriched among DXR-II-containing strains, reflecting the occurrence of DXR-II among pathogenic strains of Brucella, Bartonella, Listeria and Clostridium[44–47].
The outstanding phylogenetic discontinuity in DXR-II distribution across eubacteria could be explained through two alternative, though not mutually exclusive, evolutionary mechanisms, i.e., gene gain through HGT or gene loss. HGT is known to have shaped the evolution of multiple metabolic pathways, including IPP and isoprenoid biosynthesis [8, 24, 48]. However, a unique event of HGT cannot properly explain DXR-II phylogeny. According to our phylogenetic analysis, such HGT events should instead have occurred at different time points throughout eubacterial evolution, e.g. between the Alphaproteobacteria and Firmicutes phyla, between the Alphaproteobacteria and Betaproteobacteria classes within the proteobacteria phylum, between Firmicutes and specific Chloroflexi strains or between Firmicutes and specific Fusobacteria. More recently, HGT should also have occurred between closely related Alphaproteobacteria or Firmicute strains. If this was the case, HGT events should have left a signature of atypical sequence features in DXR-II genes, provided they were recent enough and occurring between distantly taxonomically related donor and acceptor bacterial strains [34, 35]. Weak signatures of HGT were found only in Chloroflexi and the Fusobacterium S. termitidis ATCC 33386 at the level of GC content and CAI values. However, no biases in dinucleotide frequencies or codon usage were observed in any strain comparison. These results suggested that HGT events were not at the origin of all discontinuities, or were so ancient that DXR-II genes ameliorated their sequence to specific base composition and codon usage of the host genome, making them indistinguishable from ancestral sequences [34, 35].
Consequently, although old episodic events of HGT cannot be excluded, the alternative hypothesis of recurrent DXR-II (or eventually DXR-I) gene loss is more likely to explain DXR-II phylogeny. This mechanism has been traditionally considered less parsimonious, as it involves a complex ancestor and gene loss events occurring independently at multiple evolutionary lineages. However, recent works suggests that, on average, gene loss might be a more likely event than gene gain through HGT [49–51].
The DXR-I/DXR-II model constitutes an exceptional natural model to experimentally test the emergence and maintenance of redundant gene function between non-homologous genes as a result of convergent evolution, as opposed to their emergence from intragenomic duplicates, or paralogs. Furthermore, our results highlight the importance of the functional characterization of evolutionary shortcuts in isoprenoid biosynthesis for screening specific antibacterial drugs and for regulating the production of isoprenoids of human interest.
Methods
Sequence and phylogenetic analysis
Sequence databases from the whole sequenced genomes of 1489 bacterial strains were downloaded from the NCBI. Orthologs of enzymes from the MEP and MVA pathways for IPP biosynthesis, as well as for enzymes of the CP of amino acid biosynthesis (Figure 1), were defined as the best reciprocal hits resulting from all-against-all local BLASTP-searches with an E-value cutoff of 1E-5 and a bit score cutoff of 50 [52] using selected previously characterized sequences as queries (Additional file 6: Table S2). Only hits corresponding to full-length sequences were considered. Resulting hits were scanned for the presence of INTERPRO domains.
Phylogenetic analysis was performed on the basis of an alignment of protein sequences obtained using MUSCLE [53]. Maximum Likelihood (ML) phylogenetic reconstruction was carried out in PhyML v3.0 [54] using the LG protein evolution model [55] and heterogeneity of amino acid substitution rates corrected using a γ-distribution (G) with eight categories plus a proportion of invariant sites (I), selected by ProtTest v2.4 as the best-fitting amino acid substitution model according to the Akaike information criterion [56]. Starting phylogenetic trees were constructed using the modified program BIONJ. Tree topology searching was optimized using the subtree pruning and regrafting option. The statistical support of the retrieved topology was assessed using the Shimodaira-Hasegawa-like approximate likelihood ratio test (aLRT) [57].
Bayesian analysis was conducted in MrBayes v3.1.2 [58] using the WAG model [59] plus G with eight categories plus I. Searches were run using four Markov (MCMC) chains of length 1000000 generations sampling every 100th tree. Once stationary phase was reached (determined by the average standard deviation of split sequences approaching 0, which reflects convergence of independent tree samples), the first 2500 trees were discarded as burn-in, and a 50% majority-rule consensus tree was then constructed to evaluate Bayesian posterior probabilities on clades. Neighbor Joining phylogenetic analysis was performed in MEGA 5.0 [60]. The evolutionary distances for Neighbor Joining phylogenetic reconstruction were computed using the Poisson correction method. To obtain statistical support on the resulting clades, a bootstrap analysis with 1000 replicates was performed. Resulting trees were represented and edited using FigTree v1.3.1.
Analysis of functional divergence
The analysis of functional divergence was performed using DIVERGE v2.0 [61]. DIVERGE performs the ML estimation of the theta (θ) type-I and type-II coefficients of functional divergence, based on the occurrence of altered selective constraints or radical shifts of physicochemical properties, respectively [27, 28]. θ value indicates the extent of functional divergence, ranging from 0, no functional divergence to 1, representing maximum divergence. Functional divergence can be explicitly tested by comparing the fit of a model allowing for functional divergence versus a null model in which functional divergence is not permitted (θ = 0). A Likelihood Ratio Test (LRT) is then used to examine the significance of differences between the lnL values of the two nested models (calculated as 2ΔLnL -twice the difference between their lnL values) [62]. As the LRT asymptotically follows a χ2 distribution with a number of degrees of freedom equal to one, i.e. the differences in number of parameters between the models being compared (θ), a p-value for the fitting of the model accounting for functional divergence can be computed. DIVERGE also uses a site-specific profile to estimate the posterior probabilities (Qk) of individual amino acid sites to be critical for functional divergence.
G + C% content, dinucleotide frequencies, codon usage, and CAI analyses
The following sequence features i) GC% content at three codon positions and total (GC1, GC2, GC3 and GCt), ii) dinucleotide frequencies at 3:1 codon sites (third base and first base of the succeeding codon) and iii) the relative synonymous codon usages (RSCU) were extracted for individual DXR-II sequences and the rest of genes in the corresponding genomes through PERL and R scripts using cpan and bioperl modules. Codon Adaptation Indexes (CAI) [63] for individual genes and genomes were calculated using the method depicted in [64] as implemented in DAMBE software [65]. Comparative analyses of these sequence features between DXR-II genes and the rest of genes in the genome were performed and differences assessed using different statistical tests.
i) Differences in G and C nucleotides content were considered as significant when GC% deviated by two or more standard errors (SEs) regarding the respective means for all genes in the genome or deviations at first and third codon position were of the same sign and at least one was higher two or more SEs [35, 66].
averaged over all 16 dinucleotides [67]. Furthermore, pairwise covariation of the 3:1 dinucleotide differences were assessed using the Spearman's rank correlation coefficient ρ [68] and the Kendall's rank correlation coefficient τ [69]. Both are nonparametric statistics allowing testing for dependence between two variables.
For synonymous codon i of an n-fold degenerate amino acid, where X is the number of occurrences of codon i, and n the number of synonymous codons encoding for a given amino acid i.e. 1, 2, 3, 4, or 6. In the absence of any codon usage bias (i.e. all synonymous codons are used equally), the RSCU value would be 1. A codon that is used less or more frequently than expected will have an RSCU value < or > than 1, respectively. Start, stop and tryptophan codons were excluded from the analysis. To measure bias in synonymous codon usage between DXR-II and all genes in the genome, a χ2 test of RSCU with 41 degrees of freedom was implemented [34].
where CAIobs is the mean of the RSCUs for all codons in a particular gene, and CAImax is the mean of the RSCU for the most frequently used codons for an amino acid in a genome. CAI ranges from 0 to 1, being 1 if the gene only uses the most frequently used synonymous codons in the reference set. Differences in CAI between DXR-II and all genes in the genome were considered as significant if higher than 1.5 times the SE.
Availability of supporting data
Abbreviations
AK:

Aspartokinase
ASDH:

Aspartate semialdehyde dehydrogenase
CAI:

Codon adaptation index
CP:

Common pathway
HGT:

Horizontal gene transfer
DLO:

DXR-II-Like oxidoreductases
DXR:

DeoxyXylulose 5-phosphate reductoisomerase
DMAPP:

DiMethylAllyl diphosphate
DXR like:

DXR-II
HD:

Homoserine dehydrogenase
HMGR:

Hydroxy-3-Methyl-Glutaryl-CoA Reductase
IDI:

IPP isomerase
IPP:

Isopentenyl diphosphate
LRT:

Likelihood ratio test
MEP:

methylerythritol 4-phosphate
MVA:

Mevalonate
ML:

Maximum likelihood
RSCU:

Relative synonymous codon usage
UID:

(taxonomy) Unique Identifier.
Declarations
Acknowledgements
We thank all our laboratory members for stimulating discussions and suggestions. We thank Derek Taylor and Mario A Fares for critical reading of the manuscript and helpful comments. Financial support for this research was provided by the Spanish Ministerio de Ciencia e Innovación (grants BIO2011-23680 to MRC and BFU2011-25658 to FJS) and Generalitat de Catalunya (2009SGR-26 and XRB) to MRC.
Authors' Affiliations
(1)
Institute for Plant Molecular and Cell Biology - IBMCP (CSIC-UPV), Integrative Systems Biology Group, Valencia, Spain
(2)
Department of Biological Sciences, SUNY-University at Buffalo, Buffalo, USA
(3)
Centre for Research in Agricultural Genomics (CRAG), CSIC-IRTA-UAB-UB, Bellaterra, Spain
(4)
Department of Molecular Biology, Universidad de Cantabria and Instituto de Biomedicina y Biotecnología de Cantabria (IBBTEC), UC-CSIC-SODERCAN, Santander, Spain
Copyright
© Carretero-Paulet et al.; licensee BioMed Central Ltd. 2013
This article is published under license to BioMed Central Ltd. This is an Open Access article distributed under the terms of the Creative Commons Attribution License (http://creativecommons.org/licenses/by/2.0), which permits unrestricted use, distribution, and reproduction in any medium, provided the original work is properly cited.