Research article

Open Access
Delayed colonisation of Acacia by thrips and the timing of host-conservatism and behavioural specialisation
BMC Evolutionary Biology
2013
13:188
Received: 7 May 2013
Accepted: 3 September 2013
Published: 9 September 2013
Abstract
Background
Repeated colonisation of novel host-plants is believed to be an essential component of the evolutionary success of phytophagous insects. The relative timing between the origin of an insect lineage and the plant clade they eat or reproduce on is important for understanding how host-range expansion can lead to resource specialisation and speciation. Path and stepping-stone sampling are used in a Bayesian approach to test divergence timing between the origin of Acacia and colonisation by thrips. The evolution of host-plant conservatism and ecological specialisation is discussed.
Results
Results indicated very strong support for a model describing the origin of the common ancestor of Acacia thrips subsequent to that of Acacia. A current estimate puts the origin of Acacia at approximately 6 million years before the common ancestor of Acacia thrips, and 15 million years before the origin of a gall-inducing clade. The evolution of host conservatism and resource specialisation resulted in a phylogenetically under-dispersed pattern of host-use by several thrips lineages.
Conclusions
Thrips colonised a diversity of Acacia species over a protracted period as Australia experienced aridification. Host conservatism evolved on phenotypically and environmentally suitable host lineages. Ecological specialisation resulted from habitat selection and selection on thrips behavior that promoted primary and secondary host associations. These findings suggest that delayed and repeated colonisation is characterised by cycles of oligo- or poly-phagy. This results in a cumulation of lineages that each evolve host conservatism on different and potentially transient host-related traits, and facilitates both ecological and resource specialisation.
Keywords
Ecological Specialisation
Much Recent Common Ancestor
General Time Reversible
Secondary Association
Constraint Tree
Background
Host-plant specialisation is common and central to explanations for the enormous diversity of plant-feeding insects. Phytophagous insects vary in the taxonomic breadth of their respective host-plant range, but most still tend to use only a fraction of the plants available to them in their environment [1–5]. Generally, selection promoting both the broadening and reduction of host-plant resources must take place. Host-plant conservatism is not universal and selection for generalised host associations is expected to be persistent because of characteristics such as resource abundance variability or environmental predictability [6, 7]. Colonisation of a new plant taxon signifies the broadening of a species host range, and specialisation on traits of the host show a narrowing of resource use. Explaining mechanisms that cause expansions or contractions in host-ranges has been difficult especially for species rich interactions [8] because the vagaries of time tend to obscure complex patterns of association [9]. Here we investigate the timing of colonisation by a lineage that evolved diverse specialised modes of resource-use but remained relatively species depauperate.
The enormous diversity of phytophagous insects has been attributed to traits associated with the insect herbivore (diet tolerances for plants and oviposition preferences), the plants they parasitise (defense strategies against herbivores), the interaction itself ('coevolution'), ecological community interactions (predation & competition), or the environment (bottom-up forces). Conventional hypotheses posit 'reciprocal' or 'sequential' bitrophic interactions between traits of diversifying clades that drive insect and plant radiations [10–12]. Trade-offs in reproduction or diet, competition and predation, and tolerance to plant 'defensive' traits are central to these arguments [2, 13]. Alternative explanations argue host-plant conservatism can be driven by predictability [14], climate [15], life-history characteristics [16], geographical contexts [17], plasticity [18], genetic predispositions or ecological compatibilities suited to the use of a resource [19], and host-range ecology [20] or genetics [21]. To distinguish among these causal mechanisms it is necessary to study evolutionary periods that are meaningful to the association of interest. Transitions to specialisation on a novel host-plant resource are only meaningful for a finite period because a shift to a narrower set of resources can be transient or bidirectional [3, 8, 22]. Determining the period that separates the origin of the insect group and the host-plants they feed on is essential to unraveling hypotheses explaining the origin or loss of narrow host ranges.
Discerning between colonisation and becoming reproductively isolated on the novel resource requires understanding distinct processes. The first phase in the evolution of a conservative host-plant affiliation is colonisation. Colonisation signifies a potential prelude to adaptation to a novel resource [5]. Colonisation of a novel plant lineage is either a fundamental shift to a resource previously not utilised in the evolutionary past or a secondarily derived association with a lineage used in the past [8]. The phylogenetic distance and dispersion among terminal host taxa has been used to distinguish between these two possibilities [23, 24]. Furthermore, the relative time between the most recent common ancestor (MRCA) of the host lineage and inferred colonisation is expected to be indicative of the extent of the distance in resource space between natal and novel host [25]. This measure is informative because it describes the extent of niche-expansion, differences between alternative niches, and provides a framework for identifying trade-offs between them. The most direct means of testing this distance is to determine whether the common ancestors of insect and plant clades are contemporaneous or not. The second phase following initial contact leads to reproductive isolation on the new host that is assumed to ensue via disruptive selection in sympatry, or by gene flow disruption and drift in allopatric or parapatric isolation.
Acacia (sensu stricto) Mill. (Leguminosae, Mimosoideae) is broadly distributed over Australia with an estimated 1020 species. A fossil-calibrated molecular study has placed the origin of the legume subfamily Mimosoideae at approximately 42 Mya [26]. The fossil record indicates that species of subfamily Mimisoideae assignable to genera other than Acacia (sensu lato) [27] were present in the eastern Great Australian Bight approximately 37 Mya during the Oligocene. Australian Acacia is thus an immigrant taxon among a number of mimosoid genera and probably established in Australia during the Late Oligocene–Early Miocene [27]. The evidence suggests Acacia became a dominant part of sclerophyll communities in Australia during the Pliocene 7.0 – 1.5 Mya.
Thrips (Thysanoptera, Tubulifera, Phlaeothripinae) that parasitise Australian Acacia are uncharacteristic of the other 5500 estimated Thysanopteran species that mostly exhibit generalist relationships with plants [28]. Most of the Tubulifera species (ca. 60%, [29]) are fungivorous, some phytophagous, and fewer still are predators. Approximately 15% of the 2000 thrips species belonging to the Tubulifera are able to induce galls. Endemic northern tropical Australian thrips include species belonging to genera present in Southeast Asian in the wet tropics [30] suggesting thrips in Australia had an ancestral origin in a tropical environment. Thrips specialising on Acacia comprise several distinct behavioural suites that exhibit variation in host-specificity and oviposition strategies [31]. Acacia thrips, estimated to be in excess of 230 species [32], feed almost exclusively on sections Phyllodineae Pedley, Plurinerves Benth., and Juliflorae Benth. (ca. 397 spp., 216 spp., 255 spp. respectively, [33]). Of the 1020 Acacia species, approximately 950 develop phyllodes, the expanded petiole believed to be necessary for the radiation of thrips on Acacia. The most current molecular systematics of Thysanoptera supports the monophyly of this group [34]. The domicile-building Acacia thrips tie or glue phyllodes with silk to create a chamber. Kleptoparasitic thrips species invade and kill gall-inducing or domicile-building thrips on Acacia while opportunistic Acacia thrips species utilise the abandoned domiciles, galls, or similar constructions of other insect orders.
Here we construct the most comprehensive
Acacia
(
sensu stricto
) molecular phylogeny to date and compare it with the evolutionary history of
Acacia
thrips. We expect one of three possible scenarios (Figure
1
) explain the colonisation of
Acacia
by thrips, each with a distinct timing pattern. Phylogenetically contemporaneous common ancestors of insect and host plant are explained by insect lineages tracking the host with conserved host switching among related taxa. A pattern showing a considerably younger insect common ancestor compared to that of the host lineage is expected when a lineage that has not been used in its recent evolutionary past is colonised. An insect common ancestor that predates the host lineage requires invoking extinctions of insect lineages on other plant taxa or extinctions of distantly related ancestral host taxa. Specifically, we test the hypotheses that: i) the MRCA of
Acacia
thrips was contemporaneous with the MRCA of
Acacia
(rapid colonisation); ii) the MRCA of
Acacia
thrips postdates the origin of the MRCA of
Acacia
(delayed colonisation); or iii) predates the MRCA of
Acacia
(convergent colonisation and extinction). We interpret the results in terms of distinguishing between colonisation of
Acacia
, the evolution of host conservatism, and the evolution of ecological specialisation amongst thrips lineages with a focus on galling behaviour.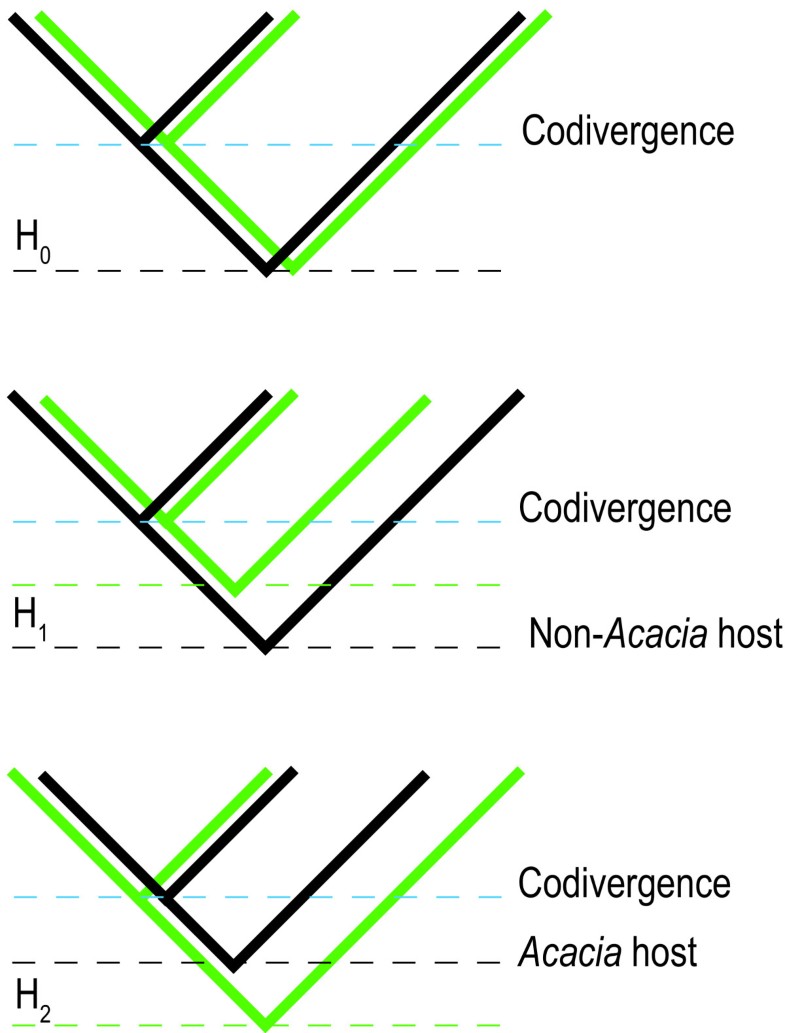 Results
Phylogenetic inference of Acacia
We inferred phylogenies using parsimony-based and probabilistic approaches to evaluate uncertainty in topology, test deviations from taxonomic classifications, and generate a distribution of phylograms to be used in divergence time estimation (see below). The reliability of the inferences between independent Bayesian analyses was evaluated using the standard deviation of split frequencies that was below 0.01 on all runs. The potential scale reduction factor (PSRF) ranged from 1.000 to 1.012 for all parameters in the separate 100 × 10
6
generations indicating consistent posterior parameters among runs. The Bayesian consensus tree indicated several poorly supported deeper nodes, but otherwise resolved the section clades (Figure
2
). Our consensus tree showed good general agreement with section classifications [
33
]. The topologies of the parsimony, maximum likelihood, and Bayesian inferences all indicated very similar polyphyletic groupings of species from all four sections (Additional file
1
, Additional file
2
, Additional file
3
, Additional file
4
, Additional file
5
and Additional file
6
). The SH-test for section monophyly indicated that 100 ML constraint trees generated using maximum liklehood were all significantly worse (
P
< 0.0001) than the topology of the Bayesian consensus phylogeny.

Considered together, species of sections Phyllodineae and Juliflorae cluster within the Plurinerves as do Plurinerves within the Juliflorae. Acacia colletioides (Plurinerves) groups within a clade that is otherwise comprised of section Botrycephalae. Section Botrycephalae is a derived clade of section Phyllodineae. Acacia elata and A. terminalis are paraphyletic with other Botrycephalae in section Phyllodineae. These topological associations are well supported in our Bayesian inference (Figure 2) and all other inferences (Additional file 4 and Additional file 5). Acacia brachystachya (Juliflorae) is well supported within section Phyllodineae in all inferences. Within Juliflorae, A. stenophylla (Plurinerves) is a well-supported sister-species of A. xiphophylla in all inferences. Acacia heteroclita and A. confluens (Plurinerves) also consistently grouped within the Juliflorae. Our inferences also show that section Plurinerves comprises A. verniciflua, A. howittii, A. aspera, A. flexifolia, A. lineata, A. genistifolia, and A. montana, which have all been classified as Phyllodineae species. These relationships were well-supported in the probabilistic inferences. Acacia verticilata (Juliflorae) grouped within the Plurinerves clade. Lineages that were not well resolved included A. cuthbersonii, A. coriacea, A. masliniana and A. havilandiorum, and the clade comprising A. floribunda, A. mucronata, A. longifolia, A. orites, and A. triptera.
Phylogenetic inference of Acaciathrips
Inferences of Acacia thrips phylogeny were undertaken using the same procedure as for Acacia. The standard deviation of split frequencies was below 0.01 on all runs. The potential scale reduction factor (PSRF) was 1.000 for all parameters in the 100 × 106 generations runs. The Bayesian consensus tree was largely concordant with that of previous work [32] and with our parsimony and likelihood inferences (Additional file 1, Additional file 2 and Additional file 3). An important difference in our topology arises due to the uncertain placement of Kladothrips antennatus in respect to the clade containing Kladothrips zygus. Previous phylogenetic inference [35] also shows poor support for this relationship despite more thorough testing of topology.
Acaciadivergence timing models
We inferred divergence time estimates using Bayesian and penalised likelihood (PL) approaches. The null molecular clock hypothesis of equal evolutionary rates was rejected (P < 0.0001). The estimated sample size (ESS) performance criteria (> 1000) indicated sufficient posterior parameter sampling. A total of n = 28 × 103Acacia phylograms were filtered according to the topological constraint inferred with MrBayes. Of these, n = 25 Acacia PL chronograms were identical to the constraint. As this sample was not sufficient (age estimates not normally distributed) to calculate confidence intervals, we used the geometric mean to summarise the ranges of node age estimates inferred using PL. The dates of the parallel divergence inferred from the Bayesian approach and the geometric mean of the chronograms inferred using PL were 5.6 and 7.4 millions of years, respectively.
Acaciathrips divergence timing models
We inferred timing estimates of Acacia thrips to generate and test relative divergence timing hypotheses (see below). The null molecular clock hypothesis was rejected (P < 0.0001). The ESS performance criteria (> 1000) indicated sufficient posterior parameter sampling. A total of n = 28 × 103Acacia thrips phylograms were filtered according to a topological constraint inferred with MrBayes. Of these n = 10 were identical to the constraint. After scaling node ages, the dates for the MRCA of Acacia thrips were 14.38 mya under the Bayesian consensus, and 25.32 mya as the geometric mean calculated from the PL inferences.
Testing between divergence timing models
The range of divergence timing estimates represented in our BEAST and r8s inferences were summarised as divergence timing models (Table
1
). The assumption of co-cladogenesis, contemporaneous MRCA's at 20 Mya, and the maximal r8s estimate of approximately 50 million years for the MRCA were also tested. Bayes factor testing (Table
2
) between divergence timing models using stepping-stone sampling of the log marginal likelihoods among our three hypotheses for the MRCA of
Acacia
thrips were: ln(H
14
) = −15934.63 and ln(H
20
) = −15934.94, (2*(ln(H
14
) – ln(H
20
)) = ln(BF
SS
) = 0.6); ln(H
25
) = −15936.31, (2*(ln(H
14
) – ln(H
25
)) = ln(BF
SS
) = 3.4); and ln(H
50
) = −15952.21, (2*(ln(H
14
) – ln(H
50
)) = ln(BF
SS
) = 35.2). The path sampling approach produced comparable results: ln(H
14
) = −15933.89 and ln(H
20
) = −15934.45, (2*(ln(H
14
) – ln(H
20
)) = ln(BF
PS
) = 1.16); ln(H
25
) = −15935.68, (2*(ln(H
14
) – ln(H
25
)) = ln(BF
PS
) = 3.6); and ln(H
50
) = −15952.00, (2*(ln(H
14
) – ln(H
50
)) = ln(BF
PS
) = 36.2). Both approaches indicate very strong support for the model where the MRCA of
Acacia
thrips occurred at approximately 14 Mya (Figure
3
). The harmonic mean estimator of the marginal likelihood is only decisive when the ln(BF) is > 4.6. Bayes factors below this threshold should be interpreted with caution. However, the strength of the model decreases with divergence estimates older than 14 Mya under both approaches, indicating preference for the most recent estimate.
Table 1
Date priors for colonisation hypotheses
| | Acacia MRCA | Parallel split | Explanation |
| --- | --- | --- | --- |
| H14 | 14.0 | 5.6 | Acacia thrips MRCA after Acacia MRCA. |
| H20 | 20.0 | 5.6 | Acacia thrips MRCA coincidental with Acacia MRCA. |
| H25 | 25.0 | 5.6 | Acacia thrips MRCA before Acacia MRCA. |
| H50 | 50.0 | 5.6 | Acacia thrips MRCA long before Acacia MRCA. |
Table 2
Bayes factor comparisons of timing models
| Hypothesis | Stepping-stone sampling | BF for H14 | Path sampling | BF for H14 |
| --- | --- | --- | --- | --- |
| ln(H14) | −15934.63 | NA | −15933.89 | NA |
| ln(H20) | −15934.94 | 0.6 | −15934.45 | 1.2 |
| ln(H25) | −15936.31 | 3.4 | −15935.68 | 3.6 |
| ln(H50) | −15952.21 | 35.2 | −15952.00 | 36.2 |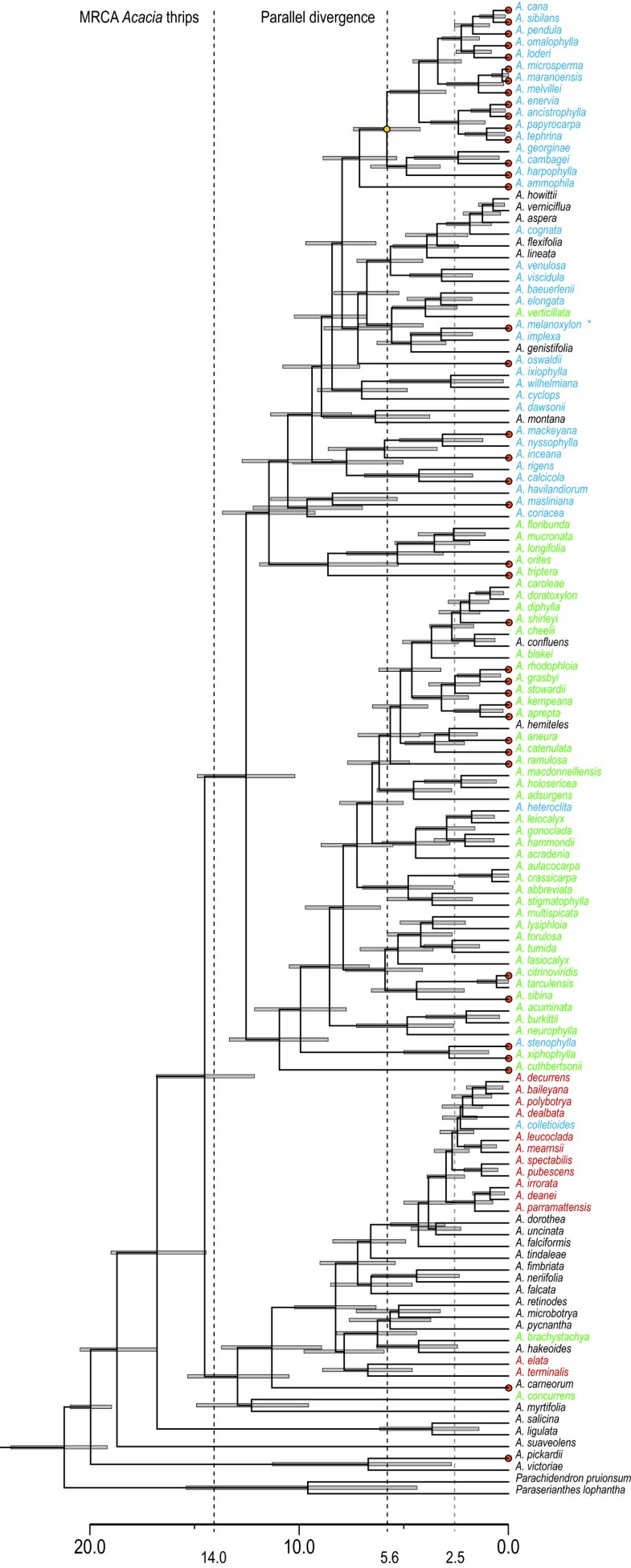 Discussion
Our findings indicate that the common ancestor of Acacia thrips postdates the common ancestor of Acacia. Putative absolute estimates of divergence timing indicate that thrips included Acacia in their host range approximately 14 Mya. We detected phylogenetic under-dispersion in host-species use that is consistent with i) cycles of oligophagy or polyphagy interspersed with repeated colonisations of Acacia over protracted periods before the evolution of resource specialisation; and ii) colonisation of host phenotypes that favour resource use in one environment over the other. Opportunistic and domicile-building thrips are polyphyletic groups whose common ancestors appeared between 5 and 10 Mya. The galling genus Kladothrips arose as recently as 6 Mya and represents the least uncertain shift to more stringent host-specificity by thrips and specialisation solely on Acacia. The common ancestors of the kleptoparasitic genus Koptothrips, and the gallers on whom they specialise, arose at approximately the same time. The putative date for the origin of the galling clade is of particular interest because several hypotheses posited for adopting this life history strategy can now be contextualised with the evolution of the Australian environment.
Conclusions
A considerably younger Acacia thrips common ancestor compared to that of Acacia is consistent with colonisation of a lineage that has not been used as a host in its recent evolutionary past. Presumably either oligophagous or polyphagous ancestral thrips populations were able to feed on and recognise Acacia subsequent to the evolution of host conservatism. We propose that colonisation of Acacia was initially characterised by either oligophagy or polyphagy and subsequent recolonisations by a number of ancestral lineages. Colonisation of phenotypically and environmentally suitable lineages occurred over a protracted period that resulted in phylogenetically under-dispersed pattern of host conservatism. The evolution of host conservatism on suitable Acacia lineages facilitated the evolution of ecological specialisation during a period that coincided with aridification and ecological disturbance in Australia. Our findings support the hypothesis that host conservatism is a process shaped by changing abiotic and biotic forces, and ecological specialisation an additive process imposed by changing selective pressures on habitat preference and behaviour.
Availability of supporting data
Complete sequences of the Acacia specimens have been submitted to Genbank (http://www.ncbi.nlm.nih.gov/genbank/) [accession numbers JF419907-JF420546]. Thrips sequences are available from GenBank [accession numbers AF448280-AF289019, AF386676-AF386737, AY827474-AY827481, AY920988-AY921000, AY921058-AY921069, and DQ246453-DQ246516].
Declarations
Acknowledgements
We appreciate Dr. Guy Baele providing the code used for the marginal likelihood sampling. Thank you to Pelin Kayaalp for technical assistance. We acknowledge the Hermon Slade Foundation and the Taxonomy Research and Information Network (TRIN) that is funded by the Australian Commonwealth Environment Research Facilities program for funding the Acacia phylogenetic research. We thank Kristy Lam, Ish Sharma, and Cathy Miller for DNA sequencing of Acacia.
Authors' Affiliations
(1)
Plant Geography Laboratory, Xishuangbanna Tropical Botanical Gardens, Chinese Academy and Sciences, Menglun, Mengla, China
(2)
Centre for Australian National Biodiversity Research, CSIRO Plant Industry, Canberra, Australia
(3)
CSIRO Ecosystems Sciences, Canberra, Australia
Copyright
© McLeish et al.; licensee BioMed Central Ltd. 2013
This article is published under license to BioMed Central Ltd. This is an Open Access article distributed under the terms of the Creative Commons Attribution License (http://creativecommons.org/licenses/by/2.0), which permits unrestricted use, distribution, and reproduction in any medium, provided the original work is properly cited. The Creative Commons Public Domain Dedication waiver (http://creativecommons.org/publicdomain/zero/1.0/) applies to the data made available in this article, unless otherwise stated.