Research article
Open Access
Upstream plasticity and downstream robustness in evolution of molecular networks
BMC Evolutionary Biology
2004
4:9
Received: 10 October 2003
Accepted: 08 March 2004
Published: 08 March 2004
Abstract
Background
Gene duplication followed by the functional divergence of the resulting pair of paralogous proteins is a major force shaping molecular networks in living organisms. Recent species-wide data for protein-protein interactions and transcriptional regulations allow us to assess the effect of gene duplication on robustness and plasticity of these molecular networks.
Results
We demonstrate that the transcriptional regulation of duplicated genes in baker's yeast Saccharomyces cerevisiae diverges fast so that on average they lose 3% of common transcription factors for every 1% divergence of their amino acid sequences. The set of protein-protein interaction partners of their protein products changes at a slower rate exhibiting a broad plateau for amino acid sequence similarity above 70%. The stability of functional roles of duplicated genes at such relatively low sequence similarity is further corroborated by their ability to substitute for each other in single gene knockout experiments in yeast and RNAi experiments in a nematode worm Caenorhabditis elegans. We also quantified the divergence rate of physical interaction neighborhoods of paralogous proteins in a bacterium Helicobacter pylori and a fly Drosophila melanogaster. However, in the absence of system-wide data on transcription factors' binding in these organisms we could not compare this rate to that of transcriptional regulation of duplicated genes.
Conclusions
For all molecular networks studied in this work we found that even the most distantly related paralogous proteins with amino acid sequence identities around 20% on average have more similar positions within a network than a randomly selected pair of proteins. For yeast we also found that the upstream regulation of genes evolves more rapidly than downstream functions of their protein products. This is in accordance with a view which puts regulatory changes as one of the main driving forces of the evolution. In this context a very important open question is to what extent our results obtained for homologous genes within a single species (paralogs) carries over to homologous proteins in different species (orthologs).
Keywords
Duplicate GeneAmino Acid Sequence IdentityMolecular NetworkYeast ProteinUpstream Regulatory Region
Background
Biological processes are rarely performed by single isolated molecules. Instead, they typically involve a coordinated activity of many molecules forming a neighborhood in biomolecular networks. Changes in these networks are thus coupled to the evolution of new functions and functional relationships in the organism. Gene duplication is an important source of raw material for the molecular evolution [1]. Immediately after a duplication event the pair of freshly duplicated genes is thought to be identical in both sequences and functional roles in the cell. However, with time their properties including their positions within molecular networks diverge. Here we quantify this divergence in the baker's yeast Saccharomyces cerevisiae using several recent system-wide data sets. To this end we measure: 1) The similarity of positions of duplicated genes in the transcription regulatory network [2] given by the number of transcription regulators that regulate both of them; 2) The similarity of the set of binding partners [3, 4] of their protein products, and their ability to substitute for each other in knock-out experiments [5]. These measures reflect, correspondingly, the upstream and downstream properties of molecular networks around duplicated genes. We then repeat this analysis using species-wide data on protein interaction networks in a bacterium Helicobacter pylori [6] and a fruit fly Drosophila melanogaster [7], as well as a systematic RNAi gene inactivation assay [8] in a nematode worm Caenorhabditis elegans.
Conclusions
The evolution of a biological organism modifies it on multiple levels ranging from sequences of individual molecules, to their coordinated activity in the cell (molecular networks), all the way up to the phenotype of the organism itself. While its manifestations both on the level of protein sequences and phenotypes are reasonably well documented, the data needed to quantify evolutionary changes taking place on the level of molecular networks have appeared only very recently. Systematic experiments such as high-throughput two hybrid assays of protein-protein interactions [3, 4, 6, 7], chip-on-chip studies of whole-genome binding of a large number of transcription factors [2], and whole-genome assays of inactivations of single genes [5] or proteins [8] allowed us to go beyond describing particular cases of evolution of molecular networks and look at its large scale dynamics.
For all molecular networks studied in this work we found that even the most distantly related paralogous proteins with amino acid sequence identities around 20% on average have more similar positions within a network than a randomly selected pair of proteins. That means that some pairs of paralogous proteins at least partially retain their functional redundancy for extremely long time after the duplication event.
Our results also indicate that the genetic regulation of paralogous proteins changes faster than both their amino acid sequences and the set of their protein interactions partners. It is tempting to extend this observation to pairs of homologous proteins in different species (orthologs) that diverged from each other as a result of a speciation (as opposed to a gene duplication) event. This would help to explain how species with very similar gene contents can evolve novel properties on a relatively short timescale. However, such an inter-species comparison of molecular networks has to wait for the appearance of whole-genome data on molecular networks in closely related model organisms.
Methods
As a source of information about yeast duplicated genes we use the dataset consisting of 3909 pairs of paralogous yeast proteins. This set was obtained by blasting all yeast proteins against each other with a conservative E-value cutoff of 10
-10
and leaving only pairs in which the aligned region constituted at least 80% of the length of a longer protein. This prevented the appearance of pairs of multidomain proteins paralogous over only one of their domains. We further curated this dataset by removing 72 known [
17
] transposable elements and all their paralogs (108 proteins all together). That left us with 2299 paralogous pairs formed by 1596 yeast proteins (about 25% of the genome). These pairs are characterized by a broad and relatively uniform distribution of the percent identity (PID) of amino acid sequences ranging from 20% to 100% (See Fig.
6
) The histogram in the Fig.
6
is binned at 5% PID (as the data used to plot the Fig.
2B
), and one can see that even in the least represented bins there are over 40 paralogous pairs providing sufficient statistics for our analysis. Our set of all possible pairs of paralogous proteins contains some redundant information especially for large protein families. Indeed, a family of, say, 4 proteins would contribute (4·3)/2 = 6 paralogous pairs to our analysis, while it contains at most 3 true duplicated pairs. However, in the situation where the data describing molecular networks are incomplete and noisy such redundancy is rather beneficial by providing better statistics. We have verified that apart from somewhat larger errorbars all our quantitative findings remained virtually unchanged when we repeated our analysis of upstream regulations in yeast using only 938 pairs of putative duplicated proteins. These pairs were obtained from the full set of 2299 paralogous pairs by the detailed phylogenetic analysis of individual families. It is also worthwhile to note that while the average number
K
s
of silent substitutions per substitution site in a pair of duplicated genes is commonly used as a proxy of the time elapsed since the duplication event [
1
], the PID (or
K
a
– the number of non-silent substitutions per site – related to PID via PID = 100 exp(-2
K
a
)) is rather a crude estimate of the extent of their functional similarity. Hence, our analysis emphasizes function-dependent rather than time-dependent divergence between paralogous proteins.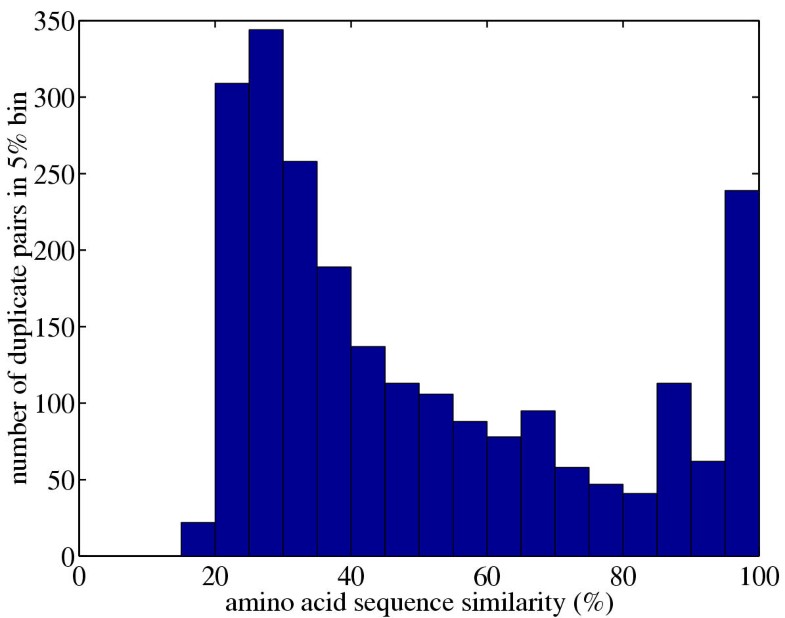 The system-wide data describing the transcription regulatory network of yeast was taken from the Ref. [2], which reports the so-called "chip-on-chip" study of in-vivo binding of 106 transcription factors to upstream regulatory regions of genes encoding all 6270 of yeast proteins. Since the number of transcriptional regulators in this dataset is quite large, the probability that by pure chance the same transcription factor would be incorrectly detected among upstream regulators of both duplicated genes is small (of order of 1%). Thus the contribution of false positives of the dataset of Ref. [2] to the regulatory overlap Ω reg is quite insignificant. This allowed us to use a P-value cutoff equal to 10-2 (12854 regulations) less conservative than the 10-3 cutoff (4418 regulations) of Lee et al. [2]. On the other hand, false positives (if present in the data) could significantly affect the average number of regulatory inputs of individual proteins used to normalize the regulatory overlap in Fig. 2B. However, we found that both the initial drop and the rate of exponential decay of the normalized regulatory remains virtually unchanged when Fig. 2B is repeated for different values of the P-value cutoff ranging from 10-2 to 10-4 (data not shown). In the same range of P-values the average number of regulations per gene changes six-fold (from 2 to 0.33)! This suggests that false positives are not a significant part of the experimental dataset of Ref. [2] at least up to 10-2, and validates the robust nature of parameters extracted from the Fig. 2B. In the analysis shown in Fig. 2 we have dropped 3 paralogous pairs sharing the same intergenic sequence since by design of the chip-on-chip experiment [2] such pairs would have 100% regulatory overlap. We also checked that Fig. 2A does not change significantly if one limits the analysis to genes without diverging promoters ensuring that a given intergenic could possibly regulate only one gene.
As a source of information about binding partners of yeast proteins we combined the data from two independent high-throughput two-hybrid experiments: the core dataset of Ito et al. [4] (806 interactions among 797 proteins) and the extended Uetz et al. dataset [3], downloaded from the website of this group (1446 interactions among 1340 proteins). The resulting network consists of 1734 proteins joined by 2111 non-redundant interactions. Using this combined dataset we found that even 100% identical proteins share on average only 30% of their binding partners. However, unlike for upstream regulation, the set of interaction partners of a protein is fully determined by its amino acid sequence. Therefore, an imperfect overlap in the set of binding partners of identical proteins has to be attributed to false positives/negatives inevitably present in high-throughput two-hybrid experiments. The relatively high rate of false negatives in genome-wide two-hybrid experiments is further corroborated by the fact that datasets used in our study coming from two independent experiments [3, 4] have only 141 interactions in common. The abundance of missing interactions makes the normalization of the interaction overlap impractical. That was the reason why unlike in Fig. 2B in Fig. 3A we used the raw (unnormalized) interaction overlap. To make sure that differences between Figs. 2B and 3A are not caused by differences in normalization we repeated them using various normalization schemes as well as altogether unnormalized (data not shown). We found that apart from the overall scale of the y-axis, changes in normalization do not affect exponential decay parameters of Figs 2B,3A.
The system-wide data on viability of S. cerevisiae null-mutants used in our study was obtained from Ref. [5] in which 1103 essential (non-viable null-mutants) and 4678 non-essential (viable null-mutants) yeast proteins were reported. The lists of viable and non-viable null-mutants as discovered in Ref. [5] were downloaded from the Saccharomyces Genome Database [17].
Our analysis of protective effects of paralogs in C. elegans is based on the set of 15587 viable and 1170 non-viable (embryonic or larval lethality or sterility) RNAi phenotypes reported in [8]. The information about worm paralogs is obtained from the EuGenes database [18] and consists of 30036 paralogous pairs involving 10071 worm proteins (blastp with 10-30 cutoff and no requirements on the length of aligned region). In Fig. 4 we used 13884 RNAi phenotypes for which we were able to uniquely map the genepair name to the worm protein name used in EuGenes.
The two-hybrid assay of protein-protein inetractions in H. pylori [6] used in Fig. 5A contains 1465 interactions between 732 proteins, while there are only 260 paralogous pairs involving 140 proteins. As in yeast this set was obtained by blasting all protein sequences found in the fully sequenced genome against each other with a conservative E-value cutoff of 10-10 and leaving only pairs in which the aligned region constituted at least 80% of the length of a longer protein.
Finally, our analysis of the interaction overlap between paralogous proteins in D. melanogaster is based on the full dataset of the high-throughput two-hybrid experiment [7]. It consists of 20671 protein-protein physical interactions involving 7002 of fly proteins obtained in. To generate Fig. 5B we also used the set of 16713 paralogous pairs involving 2827 fly proteins.
Authors Contributions
SM, KS, and KAE contributed to both the ideas and writing of the manuscript in close collaboration. Koon-Kiu Yan has generated blastp datasets for H. pylori, yeast, and fly, as well as performed the analysis of RNAi experiment shown in Fig. 4. All authors read and approved the manuscript.
Declarations
Acknowledgments
Work at Brookhaven National Laboratory was carried out under Contract No. DE-AC02-98CH10886, Division of Material Science, U.S. Department of Energy. Two of us (K.E and K.S.) thank the Institute for Strongly Correlated and Complex Systems at Brookhaven National Laboratory for hospitality and financial support during visits when part of this work was completed. S.M. and K.S. acknowledge the support of the NSF grant PHY99-07949 (work at the KITP, University of California at Santa Barbara). We thank John Little for critically reviewing the manuscript.
Authors' Affiliations
(1)
Department of Physics, Brookhaven National Laboratory, Upton, USA
(2)
Nordita, Copenhagen Ø, Denmark
(3)
Department of Theoretical Physics, Lund University, Lund, Sweden
(4)
Department of Physics and Astronomy, Stony Brook University, Stony Brook, USA
Copyright
© Maslov et al; licensee BioMed Central Ltd. 2004
This article is published under license to BioMed Central Ltd. This is an Open Access article: verbatim copying and redistribution of this article are permitted in all media for any purpose, provided this notice is preserved along with the article's original URL.