Research article
Open Access
A phyloclimatic study of Cyclamen
BMC Evolutionary Biology
2006
6:72
Received: 27 February 2006
Accepted: 20 September 2006
Published: 20 September 2006
Abstract
Background
The impact of global climate change on plant distribution, speciation and extinction is of current concern. Examining species climatic preferences via bioclimatic niche modelling is a key tool to study this impact. There is an established link between bioclimatic niche models and phylogenetic diversification. A next step is to examine future distribution predictions from a phylogenetic perspective. We present such a study using Cyclamen (Myrsinaceae), a group which demonstrates morphological and phenological adaptations to its seasonal Mediterranean-type climate. How will the predicted climate change affect future distribution of this popular genus of garden plants?
Results
We demonstrate phylogenetic structure for some climatic characteristics, and show that most Cyclamen have distinct climatic niches, with the exception of several wide-ranging, geographically expansive, species. We reconstruct climate preferences for hypothetical ancestral Cyclamen. The ancestral Cyclamen lineage has a preference for the seasonal Mediterranean climate characteristic of dry summers and wet winters.
Future bioclimatic niches, based on BIOCLIM and Maxent models, are examined with reference to a future climate scenario for the 2050s. Over the next 50 years we predict a northward shift in the area of climatic suitability, with many areas of current distribution becoming climatically unsuitable. The area of climatic suitability for every Cyclamen species is predicted to decrease. For many species, there may be no areas with a suitable climate regardless of dispersal ability, these species are considered to be at high risk of extinction. This risk is examined from a phylogenetic perspective.
Conclusion
Examining bioclimatic niches from a phylogenetic perspective permits novel interpretations of these models. In particular, reconstruction of ancestral niches can provide testable hypothesis about the historical development of lineages. In the future we can expect a northwards shift in climatic suitability for the genus Cyclamen. If this proves to be the case then dispersal is the best chance of survival, which seems highly unlikely for ant-dispersed Cyclamen. Human-assisted establishment of Cyclamen species well outside their native ranges offers hope and could provide the only means of dispersal to potentially suitable future environments. Even without human intervention the phylogenetic perspective demonstrates that major lineages could survive climate change even if many species are lost.
Keywords
Daily PrecipitationExtinction RiskFuture Climate ScenarioArea LossMaxent Model
Background
The prospect of global climate change has directed interest towards investigating the impact of the environment on floral and faunal distribution, speciation and extinction [1, 2]. One way to investigate species response to climate is through examination of climatic preferences by constructing bioclimatic niche models (these are also known as species distribution models or environmental niche models) [3–6]. These methods establish preferences of a given species, based on its known distribution, and provide a model of the climate parameters correlating with this. One of the earliest and simplest methods is BIOCLIM, which uses the minimum and maximum (or 95th percentiles) of observed values for each climate parameter to define the environmental niche [3, 7]. BIOCLIM's models are more conducive to interpretation than some more complicated methodologies [8], although many comparisons demonstrate that more complex algorithms such as Maxent can have greater predictive value under most conditions [4, 9]. Once built, the models can be used in conjunction with different climate scenarios and timeframes to estimate past [10–13], present [9, 14, 15] and future [2, 6, 16–18] distributions.
There is an established link between bioclimatic niche models and phylogenetic diversification. Peterson et al. [12] suggest that bioclimatic envelopes are heritable and are conserved across evolutionary time. Martinez-Meyer et al. [19] demonstrated this using bioclimatic niche models of Passerina birds to successfully predict the distribution of sister species. This is further supported by a wider link between climate and phylogenetic diversification [1]. Many researchers are now examining species' climatic preferences across phylogenetic trees [10, 20–23]. Of these studies, those concerned with distributions have focussed on present or past distributions [10, 20–23]. Yet bioclimatic niche models have also been used to predict future distributions, and their impact on extinction risk [2, 6, 24]. A clear next step is to examine future distribution predictions from a phylogenetic perspective.
The genus
Cyclamen
(Myrsinaceae) is a good candidate for such a study, having a well established phylogeny [
25
], good distribution data [
26
] and exhibiting adaptations to their seasonal climate [
27
].
Cyclamen
are popular garden flowers [
26
]. They have their own global society of followers in the
Cyclamen
society [
28
] who have mounted numerous well-documented collection and recording expeditions.
Cyclamen
are primarily distributed around the Mediterranean, but extend eastwards as far as the shore of the Caspian sea [
26
]. There is also a single isolated species (
C. somalense
) to be found in a small patch of Somalia [
29
]. Figure
1
shows a complete distribution map for
Cyclamen
based on the maps of Grey-Wilson [
26
]. Some
Cyclamen
, such as
C. somalense
and
C. libanoticum
have a very limited distribution, and are known from only a few locations. Others such as
C. hederifolium
are widely spread across Europe, even expanding their range into the Southern United Kingdom [
30
]. The limited dispersal capacity of
Cyclamen
arises from the dependence on ant dispersal of small numbers of large seeds [
27
], this places them at higher risk from climate change as they cannot disperse easily to newly appearing areas of suitable climate. They are a phenologically interesting group, with at least one species flowering in every month of the year [
28
], which is unusual for Mediterranean genera which usually show consistent seasonality. The seasonal Mediterranean climate, characterised by hot-dry summers and cooler-wetter winters, is a very important factor for
Cyclamen
. Most
Cyclamen
species remain dormant as tubers during the dry summer months [
27
]. Current distribution patterns within
Cyclamen
have also been linked to past climate change events [
31
], prompting the question how could the current predicted climate change affect the potential future distribution of this well-known genus?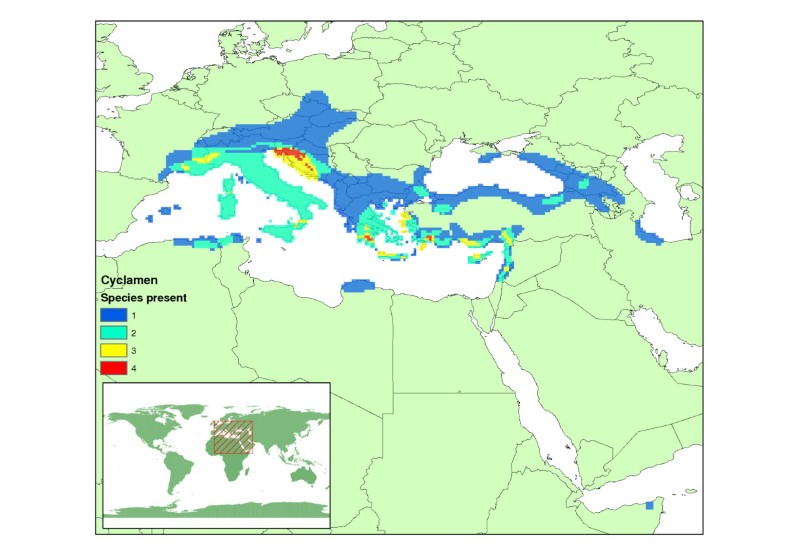 Distribution data were gathered for Cyclamen from herbarium specimens and distribution maps and these data were used to develop climate profiles for each species. The difference between direct observations and distribution maps was tested and shown to give similar results. BIOCLIM [7] bioclimatic niche models were produced using modelled present day climate data from the Climate Research Unit [32]. These models and underlying climatic parameters were examined from a phylogenetic perspective on the recent, complete species-level phylogeny of Compton et al. [25], and a reconstruction of the ancestral Cyclamen bioclimatic niche model was performed.
Each species' bioclimatic niche model was examined within a future climate scenario from the Intergovernmental Panel on Climate Change for the 2050s [33]. Future areas of climatic suitability were compared with present day suitable areas and actual distribution. Many species show no future area of climatic suitability and these are considered to be at high risk of extinction due to climate change. This extinction risk measure is examined from a phylogenetic perspective. For full details of methods see methods section below.
Results
The models built via the distribution (area) maps of Grey-Wilson [26] provide a good alternative to those built from direct (point) observations, they also provide the opportunity to study models for all 21 species of Cyclamen in a consistent fashion. If there is any bias, it is likely to be due to the distribution maps encompassing an area greater than the true range, which will have the affect of widening the bioclimatic envelope [16]. However, the high agreement of point and area data suggest this effect is minimal, and all subsequent analyses are performed using models built from distribution maps.
The substantial difference in winter minimum temperatures (-8 to +21°C) is indicative of the contrast between both inland vs. coastal distributions and latitudinal/altitudinal variation. C. somalense is substantially nearer the equator than any other species and experiences warm summers and winters, whilst C. purpurascens, the most northerly species, tolerates freezing winter temperatures for at least four months of the year. C. creticum, an island species with its climate controlled by proximity to the sea, experiences one of the lowest annual temperature ranges with a mean summer temperature of +25°C compared with +11°C in the coldest winter month. C. colchicum, a species growing in continental Asia, experiences one of the highest annual temperature ranges with a mean summer temperature of +18°C compared with -8°C in the coldest month.
Phylogenetic structure
We can examine which of the extant species of Cyclamen is closest in climatic preference to our model reconstruction. It is not possible to use the full interpredictivity measure to determine which of the present day Cyclamen is most like the ancestral lineage. However, in the area selected by the model you can find the species C. hederifolium, C. repandum, C. coum, C. graecum and C. intaminatum. No extant species has a distribution similar to this area (Kappa < 0.02 for all species). However, a crude measure of model similarity based on the sum of squares of the differences of means for each climate layer suggests C. balearicum is overall the most similar to our ancestral reconstruction.
Future area projections
The bioclimatic niche models, when examined within a future climate scenario for the 2050s, give an estimate of where each species' preferred climate will be. Figure
10
combines these predictions to repeat the
Cyclamen
diversity map (fig
5
) for the future climate scenario. The models with unrestricted dispersal demonstrate a northward shift in the area of climatic preference, which is particularly evident for the Maxent models (fig
10b
). The unrestricted dispersal scenario is highly unlikely without substantial human intervention, a more likely scenario is the restricted dispersal hypothesis demonstrated in Figure
11
. Here we see major reductions in suitable climate suggested by both algorithms, particularly in central Italy, the former Yugoslavia, Sicily, Southern Turkey and the far eastern extent. Overall, Greece & Turkey still show the most diversity, but the extent is greatly reduced. When we consider the models for each species in turn (Table
4
), we find that the area of climatic suitability for every
Cyclamen
has reduced for both modelling algorithms, the majority by more than 60%. Many of these species are considered to be at high risk of extinction due to climate change.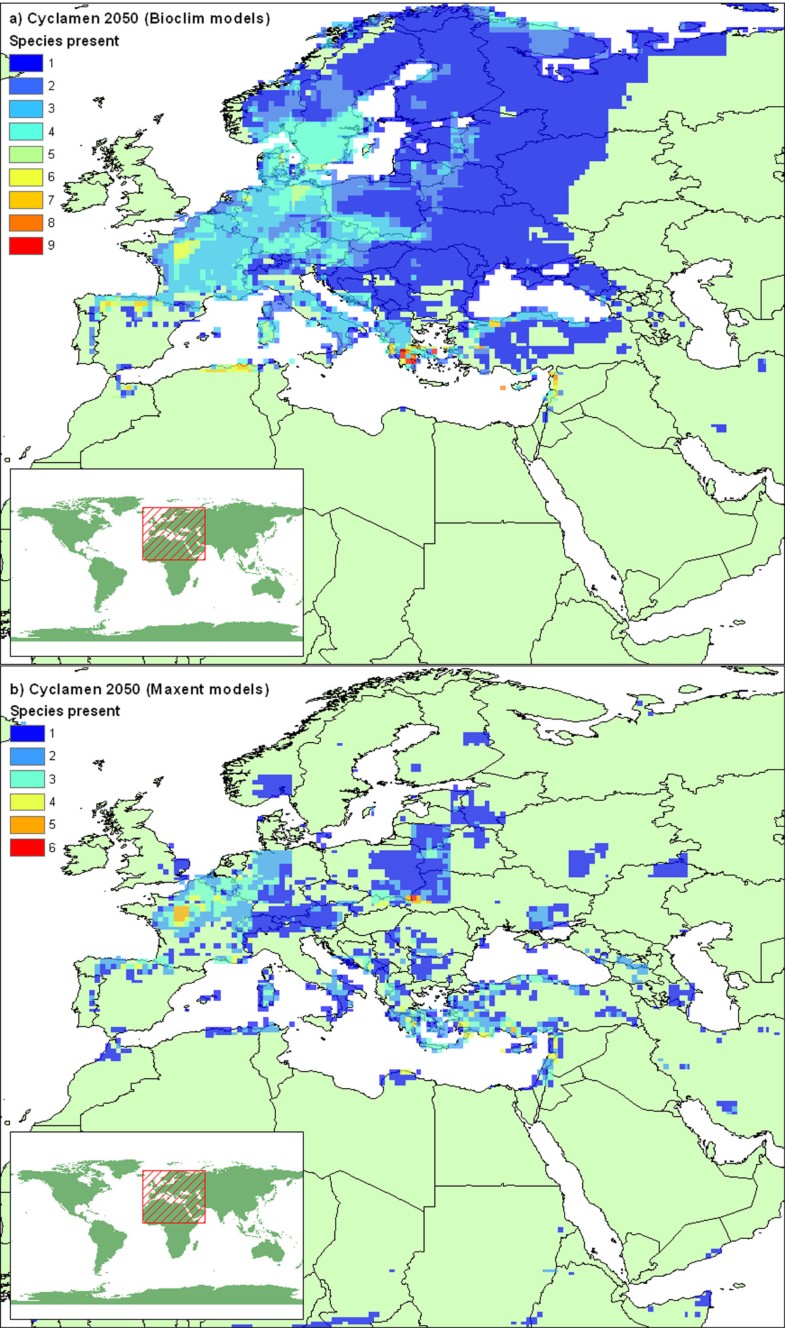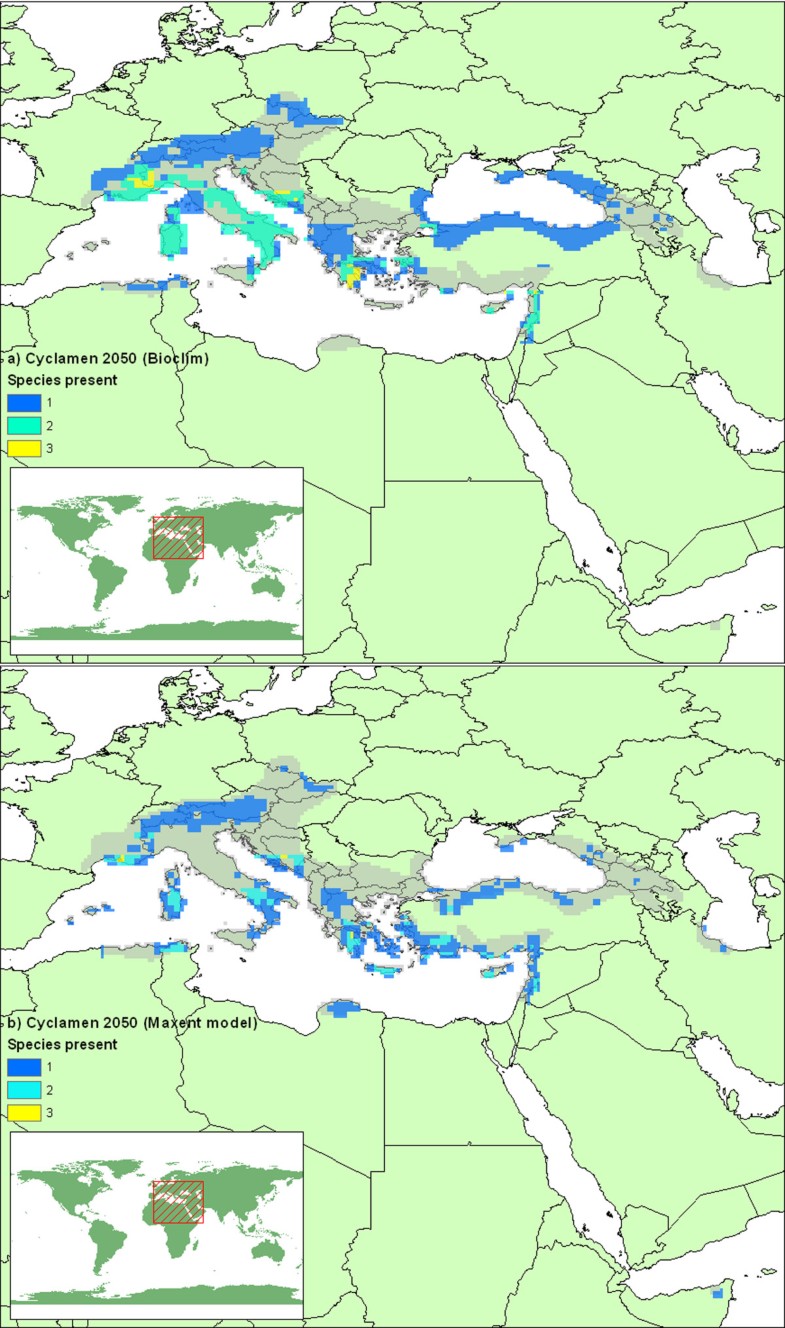 Table 4
Occupied and modelled range sizes and extinction risk estimates for Cyclamen. Range sizes based on Grey-Wilson's maps [26].
Present range

Bioclim 2050

Maxent 2050

Species

(km2)

(km2)

loss %

kappa

(km2)

loss %

kappa

C. africanum

53,365

622

99%

0.385

18,577

65%

0.493

C. balearicum

35,690

1,128

97%

0.227

10,503

71%

0.508

C. cilicium

59,724

1,873

97%

0.141

14,282

76%

0.545

C. colchicum

7,451

0

100%

0.897

1,731

77%

0.326

C. coum

453,333

291,502

36%

0.052

77,132

83%

0.352

C. creticum

18,936

0

100%

0.816

9,497

50%

0.566

C. cyprium

15,796

0

100%

0.518

8,233

48%

0.433

C. elegans

28,917

0

100%

0.211

3,692

87%

0.337

C. graecum

168,892

71,513

58%

0.222

85,270

50%

0.444

C. hederifolium

967,928

473,241

51%

0.321

183,213

81%

0.624

C. intaminatum

14,273

0

100%

0.875

2,379

83%

0.528

C. libanoticum

2,562

0

100%

0.667

0

100%

0.067

C. mirabile

15,321

0

100%

0.254

12,286

20%

0.585

C. parviflorum

11,742

0

100%

0.769

2,362

80%

0.437

C. persicum

157,919

71,234

55%

0.290

71,535

55%

0.526

C. pseudibericum

14,767

1,249

92%

0.226

12,336

16%

0.605

C. purpurascens

440,025

232,490

47%

0.255

150,037

66%

0.601

C. repandum

513,568

285,493

44%

0.255

67,739

87%

0.625

C. rohlfsianum

34,573

0

100%

0.717

22,218

36%

0.800

C. somalense

6,797

0

100%

0.720

5,292

22%

0.480

C. trochopteranthum

27,769

0

100%

0.204

22,836

18%

0.285

Total

3,049,350

1,430,346

53%

0.430

781,149

74%

0.484
Conclusion
Examining climate preference envelopes from a phylogenetic perspective brings new insight into this field. Ancestral climate envelope reconstruction can provide testable hypotheses about the development of lineages. In the case of Cyclamen, the ancestral lineage most probably developed in a Mediterranean type climate similar to parts of present day Greece and Turkey.
Climate parameters often show phylogenetic conservancy within Cyclamen. Despite this, the resulting bioclimatic envelopes show startling contrast between many sister species. The consequence is that while individual species are often at high risk, extinction is not predicted for most major lineages. The pattern of contrasting niches may not always be the case and it is likely that in groups demonstrating clearer patterns of niche conservatism it may be possible to assign risk of area loss due to a changing climate by phylogenetic proximity. This approach may be useful where data for full scale niche modelling is not available.
Many Cyclamen species are at high risk from the changing climate, and none will remain unaffected. Over the next fifty years we can expect a northwards shift in climatic suitability for the genus Cyclamen. Many species face the prospect of their local climate changing so much that their current distribution will be outside their current observed climate tolerance. If this proves to be the case then survival requires either adapting over a very short timeframe (implying exaptive changes or potentially suicidal rates of natural selection) or dispersing to new areas. The long distance migration option seems highly unlikely for ant-dispersed Cyclamen. This is worsened by the presence of many geographic barriers, the largest being the Mediterranean sea. Although all Cyclamen are listed in CITES, which protects them from trade exploitation from the wild, this does not per-se prevent their extinction though habitat loss by climate change. There are, however, still reasons for hope, the garden use of several Cyclamen species in more northern areas of Europe has facilitated the establishment of some Cyclamen species well outside the climatic zone of their native ranges. This suggests at least some climatic exaptation and the presence of a nucleus of plants in an area that will become climatically optimal for Cyclamen in the future. This provides a novel means of dispersal to, and colonization of, potentially suitable future environments.
Declarations
Acknowledgements
We wish to thank: BBSRC for grant 45/BEP17792 for Biodiversity World; The University of Reading for CY's studentship; The Cyclamen Society for financial support and access to extensive unpublished data; The Biodiversity World team; Chloe Lee for populating a database of Cyclamen Society collection details; Sue Rumsey for digitising Reading herbarium specimen labels; Ronald Rutherford for validating the identity of the specimens; and two anonymous reviewers for their helpful comments; Peter Brewer for assistance with Maxent models.
Authors' Affiliations
(1)
Centre for Plant Diversity and Systematics, Plant Science Laboratories, School of Biological Sciences, The University of Reading, England, UK
Copyright
© Yesson and Culham; licensee BioMed Central Ltd. 2006
This article is published under license to BioMed Central Ltd. This is an Open Access article distributed under the terms of the Creative Commons Attribution License (http://creativecommons.org/licenses/by/2.0), which permits unrestricted use, distribution, and reproduction in any medium, provided the original work is properly cited.