Research article
Open Access
Robustness promotes evolvability of thermotolerance in an RNA virus
BMC Evolutionary Biology
2008
8:231
Received: 03 June 2008
Accepted: 11 August 2008
Published: 11 August 2008
Abstract
Background
The ability for an evolving population to adapt to a novel environment is achieved through a balance of robustness and evolvability. Robustness is the invariance of phenotype in the face of perturbation and evolvability is the capacity to adapt in response to selection. Genetic robustness has been posited, depending on the underlying mechanism, to either decrease the efficacy of selection, or increase the possibility of future adaptation. However, the true effect of genetic robustness on evolvability in biological systems remains uncertain.
Results
Here we demonstrate that genetic robustness increases evolvability of thermotolerance in laboratory populations of the RNA virus φ6. We observed that populations founded by robust clones evolved greater resistance to heat shock, relative to populations founded by brittle (less-robust) clones. Thus, we provide empirical evidence for the idea that robustness can promote evolvability in this environment, and further suggest that evolvability can arise indirectly via selection for robustness, rather than through direct selective action.
Conclusion
Our data imply that greater tolerance of mutational change is associated with virus adaptability in a new niche, a finding generally relevant to evolutionary biology, and informative for elucidating how viruses might evolve to emerge in new habitats and/or overcome novel therapies.
Keywords
Elevated Mutation RateFitness AssayGenetic RobustnessRobust StrainFounding Virus
Background
Evolvability may be defined as the capacity to adapt in response to selection [1–3], or alternatively as the ability to access evolutionary innovations [4, 5]. These varied definitions echo the diverse opinions on how evolvability might be influenced by aspects of genetic architecture, especially genetic robustness – phenotypic constancy in the face of mutational change [6]. If robustness affects evolvability, it should impact the ability for organisms to access evolutionary innovations [4, 5]. Robustness more easily allows for the accumulation of mutations that are neutral in the current environment; should the habitat change, this robust genetic architecture may then promote access to a relatively greater number of mutations that are beneficial for adaptation [5]. For example, a robust population may be envisioned as residing in a region of a fitness landscape that is relatively flat, owing to the high proportion of resident genotypes in the population that are equal (neutral) in fitness [7]. This creates a large 'neutral network' of genotypes that can efficiently traverse the landscape through random drift, due to their high degree of network connectivity. If environmental change alters the fitness landscape, a robust population may experience an evolvability advantage because newly-arising mutations occur in a wider diversity of genetic backgrounds, creating more-varied epistatic combinations that may prove beneficial for adaptation [8].
Until recently, it was controversial whether biological populations could evolve genetic robustness as posed by theory [9]. However, empirical work confirms that robustness of RNA viruses can be altered through directional selection [10], and that elevated mutation rates in RNA viruses and viroids selects for fitness improvement via increased robustness despite concomitantly reduced replication rate [11, 12]. In contrast, the relationship between robustness and evolvability remains elusive; although the literature contains anecdotal accounts of their purported link [5, 13], these examples mostly derive from the molecular level of organization [5, 14]. Furthermore, these data are inconsistent, with some studies suggesting a positive relationship between robustness and evolvability [14, 15] and others implying a negative relationship [16–18]. To date there are no empirical data from biological systems which examine this relationship [5, 6]. An ideal approach would be to study the influence of robustness on evolvability, using an empirical system where relatively robust and brittle genotypes have been identified, and which is tractable for studying adaptation under strong selection in a novel habitat.
To test whether robustness promotes evolvability, we used a collection of genetically robust and brittle strains of the lytic RNA bacteriophage φ6. These strains originally came from an experimental evolution study [
10
,
19
], where replicate virus populations were selected on the bacterium
Pseudomonas syringae
pathovar
phaseolicola
, under low versus high levels of virus co-infection (Figure
1
). Three of the populations were cultured at a low multiplicity-of-infection (MOI; ratio of infecting viruses to bacterial cells) of 0.002, where ~99.9% of all infected cells should be infected by a single virus [
19
]. In contrast, the other three lineages were passaged at MOI = 5, where ~97% of infected cells should be infected by two to three viruses (the limit to co-infection in φ6; [
20
]). Co-infection was controlled by mixing viruses and bacteria at a given MOI, allowing sufficient time for cell adsorption, and then plating a dilution of the mixture onto agar with superabundant cells (Figure
1
). During overnight incubation, viruses formed distinct (non-overlapping) plaques, which result from infected cells that lyse and release viral progeny that infect neighboring cells. The passage cycle was repeated by harvesting plaques, removing the bacteria by filtration, and mixing viruses and naïve (non-coevolving) bacteria at the controlled MOI. A total of 60 passage cycles were conducted [
10
]. Because five generations occur during overnight plaque formation [
19
], co-infection level was manipulated every fifth generation and the lineages experienced roughly 300 generations of viral evolution (Figure
2
) [
10
]. Thus, the two treatments were equivalent, except that the high co-infection populations more often experienced an environment allowing intracellular virus interactions.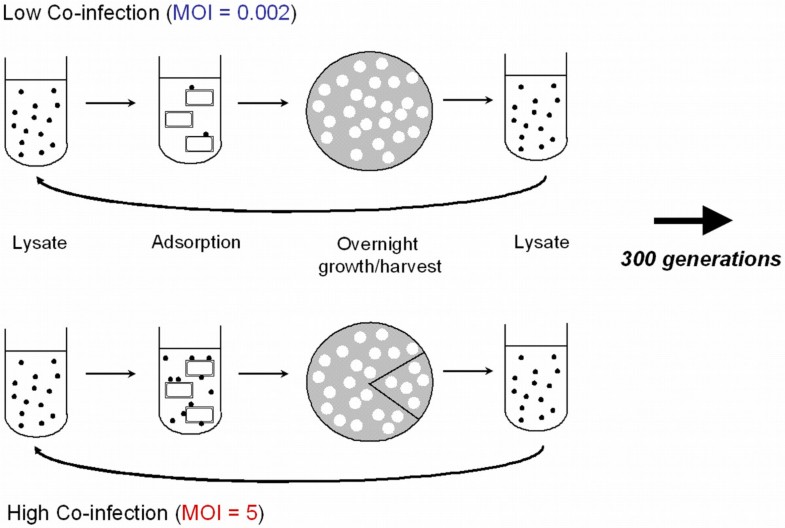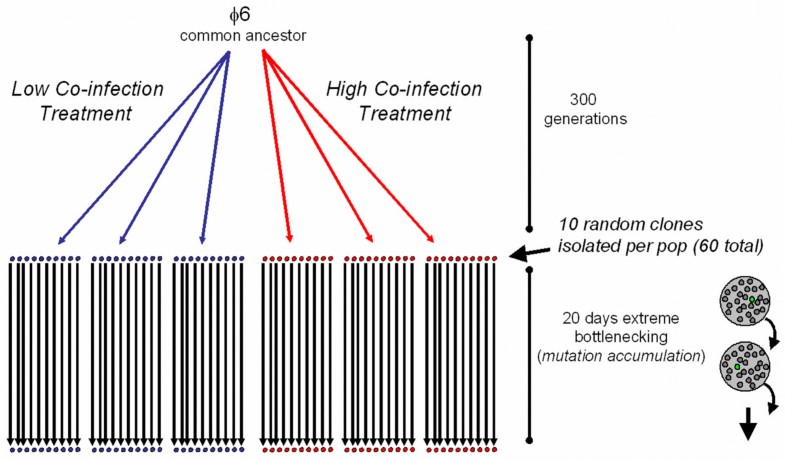 We previously showed that a key intracellular interaction in virus φ6 is genetic complementation [21], where the effects of harmful mutations can be masked by superior protein products provided in trans. Thus, the high co-infection lineages benefited from complementation as a 'built-in' robustness mechanism to buffer mutational effects. However, we predicted that this mechanism would lead to weakened selection for the high co-infection viruses to maintain individual-level robustness. The hypothesis was tested in a study where we randomly isolated 10 clones from each of the six previously evolved populations, and used each of these 60 clones to found a single lineage that was subjected to a mutation accumulation experiment [10] (Figure 2). Mutation accumulation was achieved by serially propagating the lineages in a new environment where they experienced extreme population bottlenecks consisting of single-virus passages (i.e. plaque-to-plaque transfers) on P. phaseolicola (Figure 2). [Mutation sampling in such experiments is nearly unbiased because genetic drift overwhelms natural selection during the extreme bottlenecks; without selection, all non-lethal mutations can fix with roughly equal probability, regardless of their deleterious, advantageous or neutral effects [22–24]. But because most mutations are deleterious, mutation accumulation experiments tend to cause reduced fitness [22–24].] Serial bottlenecking was imposed for 20 consecutive days, which should cause each lineage to fix roughly 1.3 random mutations of deleterious effect, on average (i.e., genomic mutation rate of virus φ6 is ~0.067 deleterious mutations per generation [24], and 0.067 × 20 bottleneck events ≅ 1.3 fixed mutations [10]). We compared the fitness consequences of mutation accumulation for lineages founded by viruses drawn from the two selection treatments, by measuring the mean magnitude and variance in fitness change that occurred as a result of bottlenecking. Results confirmed the hypothesis that viruses historically evolved under high co-infection were relatively less robust than those evolved under low co-infection, demonstrated by their greater mean magnitude and variance in fitness changes generated by addition of random non-lethal mutations [10]. In this way, we determined that viruses evolved under 300 generations of low co-infection can be defined as genetically robust, whereas those evolved under high co-infection can be considered genetically brittle (less-robust).
Here we tested the relationship between robustness and evolvability by examining a subset of the pre-mutation accumulation strains of virus φ6 (12 low co-infection evolved viruses, 12 high co-infection evolved viruses), and gauging their relative ability to adapt to a novel environment. To do so, we tested whether populations founded by genetically-robust viruses were more evolvable than lineages founded by genetically-brittle viruses, in an environment that imposes strong directional selection. In particular, we explored whether robust virus lineages had the capacity to evolve faster than brittle populations, when viruses must adapt by evolving thermotolerance – resistance to the deleterious consequences of periodic heat shock.
Discussion
Our results showed that variants of RNA virus φ6 that were previously determined to be advantaged in their relative genetic robustness [10], were also advantaged in terms of their relative evolvability: greater capacity to undergo adaptive change in a novel environment. These data provide empirical evidence that increased robustness can promote evolvability in a biological system, at least for an RNA virus challenged by growth under the heat-shock conditions we imposed.
Conclusion
Our empirical data are highly valuable for advancing general understanding of evolutionary biology, because we demonstrated that robustness and evolvability can be positively correlated in a biological system. Also, we cautiously suggest that our results may be broadly relevant to the evolution of RNA viruses in general. Attention is often focused on the medical importance of RNA viruses, and the ease with which these pathogens seem to emerge in humans. New or improved antiviral drugs are becoming increasingly crucial for controlling RNA viruses, because vaccines are often unavailable or ineffective in treating infections and disease. It is believed that some of these drugs are effective because they elevate RNA virus mutation rate within the host individual, perhaps owing to mutational meltdown that causes the virus population to go extinct [51]. Although such therapies can effectively decrease viral fitness, they also may strongly select for evolution of mechanisms allowing virus resistance [52]. One possible mode of resistance is reduced sensitivity to the deleterious effects of elevated mutation rates via increased robustness [11], as suggested in the evolution of HIV-1 populations [53]. However, the likelihood of such evolved mechanisms remains largely unexplored. Our study warns that increased resistance to mutational therapies may simultaneously select for RNA viruses that have a greater potential to adapt to future therapies, suggesting caution should be heeded when considering the usefulness of such interventions.
By suggesting that robustness may positively relate to evolvability, our study sheds light on a fundamental tension that exists in explaining how organisms persist in the face of environmental change. The ability to withstand change, while simultaneously adapting to future unknown perturbations are tasks whose simultaneous achievement have heretofore seemed incongruous. Our study hints that these seemingly incompatible tasks can be achieved in a biological system, and demonstrate how evolution itself has the potential to evolve.
Methods
Strains and Culture Conditions
Virus φ6 is a lytic bacteriophage which contains a ~13 kb double-stranded RNA genome divided into three segments per particle [54]. The current study used 24 clones of virus φ6 that were derived from six experimental lineages (4 clones per lineage) in a previous study examining the effects of low versus high co-infection on virus evolution (Figures 1, 2) [10, 19, 42, 43]. The 12 low co-infection-evolved clones were previously described as robust (L1.10, L1.2, L1.7, L1.9, L2.3, L2.4, L2.6, L2.8, L3.2, L3.4, L3.7, L3.8), and the 12 high co-infection-evolved clones as brittle (H1.1, H1.3, H1.6, H1.7, H2.10, H2.2, H2.4, H2.5, H3.1, H3.5, H3.6, H3.9), based on data amassed for experimental lineages founded by these clones in a separate mutation-accumulation study (Figure 2) [10]. Pseudomonas syringae pv.phaseolicola (American Type Culture collection #21781) was the host bacterium used in all experiments, and culture conditions are previously described [10, 55]. Bacterial stocks were stored in 4:6 glycerol/LC (v/v) at -80°C. Viruses were grown on lawns made from overnight bacterial cultures. Agar concentrations in plates were 1.5% and 0.7% for bottom and top LC agar, respectively. Plates contained 3 mL of top agar and a 200 μL bacterial lawn. Virus lysates were prepared by growing viruses on a P. phaseolicola lawn for 24 hr; plaques were then collected and filtered (0.22 μm filter, Durapore, Millipore) to remove bacteria. Virus lysates were stored at -20°C in 4:6 glycerol/LC (v/v).
Survival Assays
Temperature survival was assayed by placing 120 μl of a virus lysate (~108 particles) in a PCR tube, followed by immediate sampling onto a host lawn to confirm the initial virus titer (Ni). The lysate was then placed in a preheated Eppendorf thermocycler for 5 min incubation, followed by sampling onto a host lawn to measure final titer (Nf). Percent survival (%S) equaled (Nf/Ni) * 100. Thus, survival at a test temperature was gauged through plaque-forming units (pfu), the phage particles that were viable for growth at 25°C.
Heat-Shock Selection
Virus lineage adaptation to heat shock occurred through experimental evolution involving periodic exposure to high temperature (Figure 5). A lineage experienced the survival assay at 45°C, followed by sampling to create a dilution series on host lawns. After overnight incubation at 25°C, the dilution yielding ~103 pfu was harvested to obtain a new lysate. The survival assay and plating were then repeated using naïve (non-coevolved) bacteria. This propagation scheme was repeated for 10 consecutive days. Because the overnight plaque growth corresponded to 5 viral generations [10], the experiment lasted 50 generations, where heat shock occurred every fifth generation. A total of 24 virus lineages (12 robust, 12 brittle) experienced this evolution with periodic 45°C heat shock. Also, we conducted an otherwise identical control experiment, where a subset of the clones (6 robust, 6 brittle) were allowed to evolve using a periodic temperature challenge of the standard 25°C environment.
Fitness assay
Fitness assays consisted of paired-growth experiments [22], which compared 24 hr growth on P. phaseolicola of a test genotype (or population) relative to a common competitor of φ6 bearing a genetic marker. In some assays the marked competitor was a host-range mutant containing a substitution in gene P3 of the medium RNA segment, allowing infection of P. pseudoalcaligenes bacteria. In other assays the competitor was an engineered mutant bearing the alpha subunit of the Escherichia coli beta-galactosidase (β-gal) gene on the large RNA segment [21]; fitness comparisons among viruses were only conducted when the strains were competed against an identical common competitor. The test strain and common competitor were mixed at a 1:1 volumetric ratio, and then a dilution of this mixture containing ~400 viruses was plated on a P. phaseolicola lawn. Pre-adsorption to cells before plating was only allowed if the fitness assay examined impact of co-infection on relative fitness. After 24 hr incubation, the ~400 plaques were harvested and filtered to obtain a cell free lysate. When the common competitor was a host-range mutant, the ratios of competing genotypes in the starting mixture (R0) and in the harvested lysate (R1) were obtained by plating on mixed lawns of P. phaseolicola and P. pseudoalcaligenes (200:1 mixture), where ordinary and host-range genotypes form turbid and clear plaques, respectively. When the common competitor contained the β-gal gene insertion, ratios were tracked by plating on lawns of P. phaseolicola bacteria containing the beta subunit of the β-gal gene, allowing the marked competitor to produce blue plaques on agar containing X-gal (0.4% w/v). Fitness (W) was defined as the relative change in ratio of ordinary to marked virus, or W = R1/R0.
Mutant frequency estimates
We measured the frequency of spontaneous BHT-resistant mutants that occurred within virus populations grown in the absence of the chemical. A high-titer lysate (typically ~1010 viruses per mL) of a virus genotype was grown and titered on P. phaseolicola, and a sample of the lysate was then placed in 0.12 mM BHT for 5 min. Mutant frequency was calculated as the number of plaque-forming mutants per viruses in the inoculum following BHT exposure.
Sequencing
Genomic extraction was performed using QIAamp Viral RNA minikits (Qiagen). The dsRNA genome was reverse transcribed using random hexamer primers (Invitrogen, Carlsbad, CA) and resultant cDNA was used as PCR template (primers available on request). PCR products were purified using the QIAquick PCR Purification kit (Qiagen) or ExoSAP-It (US Biological, Swampscott, MA). Sequencing was performed using the BigDye Terminator reaction v3.1 on an ABI 3100. Sequence reads were curated by eye using Sequencher software (ver. 4.2.2, Gene Codes Corporation, Ann Arbor, MI) and compared using ClustalX http://bips.u-strasbg.fr/fr/Documentation/ClustalX/ and MacClade 4.06 (Sinauer Associates Inc., Sutherland, MA).
Declarations
Acknowledgements
We thank J. Draghi, S. Duffy, J. Knies, G. Wagner, D. Weinreich and members of our laboratory group for valuable comments and enlightening discussion. Two anonymous reviewers provided valuable feedback on the manuscript. S. Duffy, J. Dennehy and K. O'Keefe assisted in sequence collection and analysis. This work was supported by a grant to PET from the United States National Science Foundation (DEB-04-52163).
Authors' Affiliations
(1)
Department of Ecology and Evolutionary Biology, Yale University, New Haven, USA
Copyright
© McBride et al; licensee BioMed Central Ltd. 2008
This article is published under license to BioMed Central Ltd. This is an Open Access article distributed under the terms of the Creative Commons Attribution License (http://creativecommons.org/licenses/by/2.0), which permits unrestricted use, distribution, and reproduction in any medium, provided the original work is properly cited.