Research article

Open Access
An updated 18S rRNA phylogeny of tunicates based on mixture and secondary structure models
BMC Evolutionary Biology
2009
9:187
Received: 16 October 2008
Accepted: 5 August 2009
Published: 5 August 2009
Abstract
Background
Tunicates have been recently revealed to be the closest living relatives of vertebrates. Yet, with more than 2500 described species, details of their evolutionary history are still obscure. From a molecular point of view, tunicate phylogenetic relationships have been mostly studied based on analyses of 18S rRNA sequences, which indicate several major clades at odds with the traditional class-level arrangements. Nonetheless, substantial uncertainty remains about the phylogenetic relationships and taxonomic status of key groups such as the Aplousobranchia, Appendicularia, and Thaliacea.
Results
Thirty new complete 18S rRNA sequences were acquired from previously unsampled tunicate species, with special focus on groups presenting high evolutionary rate. The updated 18S rRNA dataset has been aligned with respect to the constraint on homology imposed by the rRNA secondary structure. A probabilistic framework of phylogenetic reconstruction was adopted to accommodate the particular evolutionary dynamics of this ribosomal marker. Detailed Bayesian analyses were conducted under the non-parametric CAT mixture model accounting for site-specific heterogeneity of the evolutionary process, and under RNA-specific doublet models accommodating the occurrence of compensatory substitutions in stem regions. Our results support the division of tunicates into three major clades: 1) Phlebobranchia + Thaliacea + Aplousobranchia, 2) Appendicularia, and 3) Stolidobranchia, but the position of Appendicularia could not be firmly resolved. Our study additionally reveals that most Aplousobranchia evolve at extremely high rates involving changes in secondary structure of their 18S rRNA, with the exception of the family Clavelinidae, which appears to be slowly evolving. This extreme rate heterogeneity precluded resolving with certainty the exact phylogenetic placement of Aplousobranchia. Finally, the best fitting secondary-structure and CAT-mixture models suggest a sister-group relationship between Salpida and Pyrosomatida within Thaliacea.
Conclusion
An updated phylogenetic framework for tunicates is provided based on phylogenetic analyses using the most realistic evolutionary models currently available for ribosomal molecules and an unprecedented taxonomic sampling. Detailed analyses of the 18S rRNA gene allowed a clear definition of the major tunicate groups and revealed contrasting evolutionary dynamics among major lineages. The resolving power of this gene nevertheless appears limited within the clades composed of Phlebobranchia + Thaliacea + Aplousobranchia and Pyuridae + Styelidae, which were delineated as spots of low resolution. These limitations underline the need to develop new nuclear markers in order to further resolve the phylogeny of this keystone group in chordate evolution.
Keywords
Doublet ModelBayesian Inference AnalysisBootstrap PercentageCompensatory SubstitutionAccelerate Evolutionary Rate
Background
For more than a century, it has been known that tunicates (or urochordates) belong to chordates [1]. Traditionally occupying a basal position within chordates, they quickly became model organisms in evolutionary developmental studies aimed at understanding the origins of chordates. The complete genome sequence of the ascidian Ciona intestinalis revealed the essential toolkit of vertebrate genes in a small and compact genome that had not undergone the round of vertebrate-specific genome duplication events [2, 3]. However, the Ciona intestinalis genome has also been evolving rapidly, with a number of lineage-specific innovations pointing to tunicates as a particularly interesting group for comparative genomic studies [4]. Meanwhile, recent phylogenomic analyses have refuted the classical view by demonstrating that tunicates, not cephalochordates, are the closest living relatives of vertebrates [5–9].
Despite their key position in the tree of life, our comprehension of the phylogenetic affinities within the tunicates is still limited. Traditionally, tunicates have been classified into three major classes – Ascidiacea, Appendicularia and Thaliacea – with distinct life-history traits and developmental modes. Among these classes, the Ascidiacea, commonly referred to as ascidians, is by far the most diversified group, with more than 2500 species classified on the basis of the structure of their branchial sac into three orders: Phlebobranchia, Aplousobranchia and Stolidobranchia [10–12]. Ascidians begin their lives as tadpole-like swimming larvae that later undergo a metamorphosis resulting in morphologically modified, sac-like sessile adults that can be either solitary or colonial. In contrast, the Thaliacea and Appendicularia classes consist of exclusively planktonic species. Appendicularia are peculiar in departing from the common developmental program of metamorphosis. They retain larval characteristics for their entire lifespan and are consequently of pivotal interest from an evolutionary developmental point of view [13].
Over the last decade, molecular phylogenetic analyses have been introduced to shed light on tunicate relationships. Following the pioneering study of Wada [14], the 18S rRNA gene had been the main marker used in reconstructing tunicate relationships at different taxonomic scales [15–19]. In all these studies, molecular phylogenies have contradicted the traditional classification, especially when higher taxonomic levels are considered. Molecular data refuted the division into the three classes (Ascidiacea, Thaliacea and Appendicularia), arguing instead for more complex evolutionary relationships among members of these morphologically distinct groups [20]. In overview, 18S rRNA data have clearly supported the paraphyletic nature of the class Ascidiacea by dividing the tunicates into the following three clades: Phlebobranchia + Thaliacea, Appendicularia, and Stolidobranchia, the last comprising Molgulidae and Pyuridae + Styelidae [15–19]. However, while this scheme is generally accepted, several major phylogenetic questions remain unanswered, among which at least three are prominent.
The first involves the long-standing question of the position of Appendicularia, which is crucial for understanding the evolution of body plans and developmental modes in tunicates [13]. One problem with positioning appendicularians in tunicate phylogeny is that the two 18S rRNA sequences from the genus Oikopleura, the only representatives currently sampled, evolved at an elevated rate [14]. This high evolutionary rate seems to be a genome-wide characteristic in Oikopleura dioica and leads to problematic long branches in inferred molecular phylogenies [6]. Consequently, in the majority of phylogenetic studies conducted so far, Appendicularia occupy a basal position in being the sister-group of all other tunicates [14, 17, 21]. This basal position, which might reflect a long-branch attraction artefact [17], has recently been challenged by analyses, including an improved taxon sampling, that instead favoured a sister-group relationship of Appendicularia with Stolidobranchia [19, 20].
The second irresolution concerns the placement of the ascidian order Aplousobranchia within the tunicates. All aplousobranch species are colonial and constituted by small zooids often embedded in a common tunic. In early 18S rRNA studies, it was proposed that Aplousobranchia form the sister-group of Appendicularia and that together they occupy the most basal position among tunicates [16]. Later on, phylogenies based on analyses of the mitochondrial cytochrome oxidase subunit I gene (cox1) suggested a close affinity of Aplousobranchia with Cionidae and Diazonidae (Phlebobranchia) [22], which is also supported by morphological characters [23]. Recently, it was shown that the spurious relationship of Aplousobranchia with Appendicularia [16] was an artefact due to the contamination of aplousobranch 18S rRNA sequences by protistan symbionts [18], and analyses of authentic 18S rRNA sequences clustered Aplousobranchia with Thaliacea [18]. However, the 18S rRNA sequences of Aplousobranchia seemed to evolve at extraordinarily high rates, yielding extremely long branches in the inferred phylogenetic trees [18]. This renders it particularity difficult to obtain a reliable placement of Aplousobranchia within the tunicates [19, 20].
The third uncertainty pertains to the phylogenetic relationships of the thaliaceans within the ascidians. Despite the fact that rRNA studies have always placed Thaliacea and Phlebobranchia together [17–20], the exact phylogenetic position of Thaliacea remains unclear. This is mainly due to poor taxonomic sampling, with only three representatives of Thaliacea included to date in 18S rRNA phylogenies. The high evolutionary rate of 18S rRNA sequences in Thaliacea also precluded firmly resolving the phylogenetic relationships among its three constitutive orders.
Most of our knowledge of tunicate molecular phylogeny comes from analyses of 18S rRNA sequences using standard models of nucleotide sequence evolution [18, 19]. Although among site-rate heterogeneity can be efficiently modelled by fitting a gamma-distribution [24] or by assuming a proportion of invariable sites [25], these standard models make several assumptions, such as the independent evolution of nucleotide sites, and the spatial homogeneity of the substitution process across sites. In this respect, it has been demonstrated that neglecting the co-evolving paired sites in stems affects the estimation of bootstrap values [26, 27] and also influences topological inference [28–30]. The spatial substitution pattern heterogeneity of sequence evolution may also produce misleading phylogenetic signals [31, 32] which can severely affect phylogenetic reconstruction in cases of high substitutional saturation [33]. Our aim was thus to establish an updated phylogenetic framework for tunicate evolution based on analyses of the 18S rRNA gene, using the most realistic models that account for secondary structure and across-site heterogeneities in the evolutionary process. Phylogenetic analyses of a dataset incorporating 30 new complete 18S rRNA tunicate sequences allowed us to compare for the first time the use of RNA-specific paired-site substitution models [29, 30, 34] and the CAT mixture model [31], relaxing the hypothesis of a uniform substitution process by letting patterns of substitution be distinct at different sites.
Results and discussion
Improved phylogenetic models and 18S rRNA evolution
Table
1
summarises the selected models and methods used for phylogenetic inference of the two assembled datasets: a 110-taxon dataset including all tunicate sequences and a reduced 88-taxon dataset excluding the highly divergent aplousobranch species (see Material and Methods). The tree-reconstruction approaches we followed can be divided into three categories based on the type of substitution models used: (1) standard independent-site DNA models (e. g. GTR+Γ +I); (2) doublet or paired-site substitution models (e. g. RNA6A+Γ+I); and (3) the CAT-GTR non-parametric mixture model.
Table 1
Phylogenetic approaches and best-fitting models.
Datasets

Phylogenetic Reconstruction Approaches

Maximum Likelihood

Bayesian Inference

Standard DNA model

Standard DNA model

Doublet model

Mixture model

Loops:

Stems:

Complete dataset

GTR + Γ + I

GTR + Γ + I

GTR + Γ + I

RNA6C + Γ + I

CAT-GTR+Γ

110 taxa

RNA7B + Γ

1326 sites

RNA16A + Γ + I

Loops:

Stems:

Reduced dataset

TN93 + Γ + I

GTR + Γ + I

TN93 + Γ + I

RNA6CA + Γ + I

CAT-GTR+Γ

88 taxa

RNA7B + Γ

1650 sites

RNA16A + Γ
Contrary to standard models which assume that all sites evolve independently, doublet or paired-site models include a wide range of substitution models developed to overcome this assumption in rRNA molecules [35]. Ribosomal RNAs are a mosaic of two main structural motifs: single-stranded domains (loops) and double-stranded helices (stems) formed by Watson-Crick base pairing between nucleotides. During rRNA evolution, compensatory substitutions occur regularly in stems in order to maintain the counterpart-paired nucleotides. Doublet models, by considering pairs of nucleotides as states in the substitution matrices, account for this dependence.
There are three classes of doublet models – 6, 7 and 16 state models – differing in their treatment of non-Watson-Crick pairs (mismatches) [35]. For determining the most adequate model, we first selected the best-fitting standard DNA model for the unpaired loop partition, which we subsequently kept fixed in likelihood estimations, varying only the model for the stem partition [see Additional file 1]. For each of the three classes of doublet models, we used the AIC criterion to determine the best-fitting substitution model (i.e., the number of parameters of the transition matrix). However, we could not test whether the 6, 7 or 16 state models were the most appropriate because there is currently little agreement on whether it is possible to compare models with different matrix dimensions. Trees obtained under the best fitting model were almost identical among the three model classes (data not shown). We therefore only discuss those reconstructed using 6-state RNA models, which offer the best compromise between the increase in likelihood and the lowest number of free parameters incorporated.
In the third reconstruction approach, we used a mixture-model analysis to relax the assumption of a homogeneous evolutionary process across sites of the 18S rRNA molecule. The non-parametric mixture model CAT-GTR [31] was chosen for two reasons. First, previous studies using the CAT mixture model showed that it handles the substitutional saturation of the data better than classical homogeneous models [31], hence alleviating phylogenetic artefacts [33]; and second, because in contrast to other mixture models [32], it does not specify the number of mixture components a priori. More precisely, the CAT-GTR model assumes an infinite mixture (based on a Dirichlet process) of GTR matrices that differ only in their equilibrium base frequencies. Thus, the CAT model assigns to each site a frequency vector or so called "profile", with the number of different profiles (K) being a free parameter.
In statistical analyses, the selection of the model that best fits the data is a prerequisite. Currently, there is no generally accepted way to evaluate with confidence which of the afore-mentioned strategies (standard homogenous model, doublet models or CAT model) offers the best statistical fit for a given dataset. An adequate evaluation would require calculating the Bayes factor between each pair of models using thermodynamic integration [36], but such a strategy is not currently affordable computationally. Nevertheless, several studies have shown that doublet models outperform standard DNA models in phylogenetic reconstructions based on rRNA data [28, 29, 34, 37].
With regards to the CAT-GTR mixture model versus standard site-homogeneous models, however, evaluations can be made directly from the posterior distribution of the number of profiles (
K
). If there is no heterogeneity across sites in the data, the CAT model will preferentially assign one single frequency vector for all sites [
31
]. In fact, the standard GTR model is nested within the CAT-GTR model, so that when the number of profiles is equal to one (
K
= 1), all sites evolve under a homogeneous GTR model. The distribution of the number of inferred profiles (
K
) for our two datasets shows that the frequency of the
K
= 1 class is zero in both cases (Figure
1
). This implies that the standard GTR model has not been visited through the MCMC runs for either dataset. This means by extension that the site-heterogeneous CAT-GTR mixture model is statistically better at explaining the data than the standard homogeneous GTR model. Furthermore, the minimum number of predicted profiles is always higher than 20 (Figure
1
), which suggests that 18S rRNA sequences are subject to more complex evolutionary pressures than those implied by the simple stem/loop partition.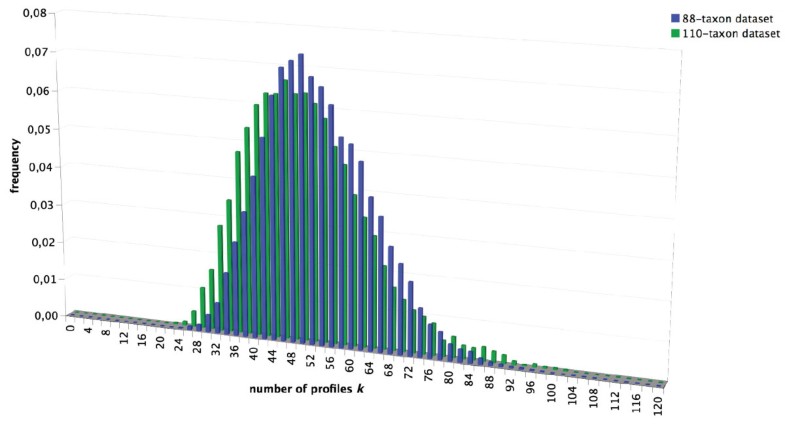 This observation seems biologically relevant considering that beyond the pairing of nucleotides in stems, the rRNA spatial conformation is also affected by the base composition outside of these regions [38]. In this context, the maintenance of other structural motifs (T-loops, hook turns, GNRA tetraloops, bulged-G motifs, k-turns and A-minor motifs) is likely to be selectively constrained. Indeed, these motifs play an essential role in the enzymatic activity of rRNA and in its interaction with ribosomal proteins. Obviously, even if doublet models allow us to capture a major part of the constraints acting on rRNA, they are still far from modelling the overall evolutionary complexity of these molecules.
Evolutionary shifts in 18S rRNA sequences and phylogenetic relationships of Aplousobranchia
From the phylogenetic point of view, the two slowly evolving Clavelinidae grouped together as a sister-group to the three divergent Aplousobranchia families in Bayesian analyses under the CAT mixture model and in Maximum Likelihood (ML) analyses, but with a lack of nodal support (Figure 4). This result is in agreement with what was recently proposed on the basis of the mitochondrial gene cox1 [22]. However, monophyly of Aplousobranchia, including Clavelinidae, was not obtained in Bayesian analyses under secondary-structure models or site-homogeneous DNA models. These models instead yielded a tree topology where the divergent aplousobranch families (Polyclinidae, Polycitoridae and Didemnidae) clustered within Thaliacea to the exclusion of the Clavelinidae species. More precisely, a sister-group relationship to species of the genus Doliolum was obtained, but also with poor support values (data not shown).
In conclusion, our results are consistent with the traditional view that the aplousobranch families Clavelinidae, Didemnidae, Polycitoridae and Polyclinidae form a monophyletic group which implies the occurrence within this order of drastic shifts in secondary structure, base composition, and evolutionary rate. Our phylogenetic analyses also provide firm support for their clustering with Phlebobranchia and Thaliacea species in a common clade. On the other hand, because of the peculiarities of 18S rRNA evolution in most species of Aplousobranchia, this gene does not allow establishing the phylogenetic relationships of this order with certitude. Also, the taxonomic sampling of 18S rRNA sequences is still insufficient within Aplousobranchia, because the diversity of this group is huge and may comprise more than the five families here included [23, 42]. Further work is needed for gaining an accurate picture of Aplousobranchia evolution within tunicates.
An updated 18S rRNA phylogenetic picture for tunicates
The growing interest in tunicates, along with the realisation that they are the sister-group of vertebrates [5–9], reinforces the importance of reconstructing a reliable phylogenetic framework for their evolutionary history. Previous molecular studies have revealed that tunicate phylogenetic relationships are difficult to resolve, mainly because of marked differences in evolutionary rates among lineages [16–19, 43]. Among others, Appendicularia, Aplousobranchia, and Thaliacea have been the typical examples of rapidly evolving groups. In this respect, we aimed at revisiting tunicate 18S-rRNA phylogeny by using a wider taxonomic sampling targeted at these crucial groups, and by applying a range of phylogenetic-reconstruction approaches in a probabilistic framework. Under this general scheme, we re-evaluated previously proposed relationships and the resulting evolutionary scenarios.
Conclusion
Our work has improved tunicate phylogeny based on 18S rRNA, in order to provide a reliable phylogenetic framework for the evolution of this key group of chordates. This was accomplished by a wider taxonomic sampling than in previous studies, yielding a more thorough representation of major tunicate lineages, and subdividing previously long branches. Our results showed that the non-parametric CAT-GTR mixture model has a better fit than standard DNA models on tunicate 18S rRNA data. The high number of site profiles inferred under the CAT-GTR model also suggested that the a priori partition of 18S rRNA data into stem and loop regions is likely an oversimplification of the complex evolutionary constraints acting on tunicate 18S rRNA sequences.
The 18S rRNA gene provided a clear view of the evolution of major tunicate lineages, but appeared less informative for relationships at lower taxonomic levels. This was reflected by the weak support values accorded to several nodes in the reconstructed trees, and by the unstable position of certain groups between phylogenies inferred using different reconstruction approaches. Among the spots of low resolution, the relationships at inter- and intra-familial levels within Phlebobranchia and within the Pyuridae – Styelidae group proved difficult to clarify. The development of new phylogenetic markers is thus necessary for the further comprehension of tunicate evolutionary history. An obvious candidate is the 28S rRNA gene, which is already available for some species and whose resolving power in combination with the 18S rRNA has been widely demonstrated [43, 56]. Finally, the increasing availability of genomic information for tunicates also constitutes a promising source of future nuclear protein-coding markers.
Declarations
Acknowledgements
We would like to thank: Corinna Dubischar, Camille Martinand-Mari and Gabriel Gorsky for their help in obtaining precious tissue samples; Nicolas Galtier and Hervé Philippe for their helpful comments on this work; and Naomi Paz for English editing. We especially thank Nicolas Lartillot for his guidance on the use of the CAT model for this work. We also like to thank four anonymous reviewers for helpful comments and detailed suggestions that greatly improved the manuscript. This study is part of a Research Networks Program in Bioinformatics funded by the High Council for Scientific and Technological Cooperation between France and Israel (Grant # 3-3449 to DH, EJPD and YL). The present work was carried out as part of the Galathea 3 expedition under the auspices of the Danish Expedition Foundation (Dansk Ekspeditionsfond). This is Galathea 3 contribution no. P42 and also contributes to the Census of Marine Zooplankton. This work benefited from the bioinformatics cluster of the Institut des Sciences de l'Evolution de Montpellier. This is contribution ISEM 2009-88 of the Institut des Sciences de l'Evolution de Montpellier (UMR 5554 – CNRS).
Authors' Affiliations
(1)
Université Montpellier 2, Institut des Sciences de l'Evolution (UMR 5554), Montpellier Cedex 05, France
(2)
CNRS, Institut des Sciences de l'Evolution (UMR 5554), Montpellier Cedex 05, France
(3)
Centre d'Estudis Avançats de Blanes (CEAB, CSIC), Blanes, Spain
(4)
Institute of Marine Science, University of Alaska Fairbanks, Fairbanks, USA
(5)
Department of Zoology, George S. Wise Faculty of Life Sciences, Tel Aviv University, Tel Aviv, Israel
(6)
Department of Biology, University of Washington, Seattle, USA
Copyright
© Tsagkogeorga et al; licensee BioMed Central Ltd. 2009
This article is published under license to BioMed Central Ltd. This is an Open Access article distributed under the terms of the Creative Commons Attribution License (http://creativecommons.org/licenses/by/2.0), which permits unrestricted use, distribution, and reproduction in any medium, provided the original work is properly cited.