Research article

Open Access
Form and function of damselfish skulls: rapid and repeated evolution into a limited number of trophic niches
BMC Evolutionary Biology
2009
9:24
Received: 19 August 2008
Accepted: 30 January 2009
Published: 30 January 2009
Abstract
Background
Damselfishes (Perciformes, Pomacentridae) are a major component of coral reef communities, and the functional diversity of their trophic anatomy is an important constituent of the ecological morphology of these systems. Using shape analyses, biomechanical modelling, and phylogenetically based comparative methods, we examined the anatomy of damselfish feeding among all genera and trophic groups. Coordinate based shape analyses of anatomical landmarks were used to describe patterns of morphological diversity and determine positions of functional groups in a skull morphospace. These landmarks define the lever and linkage structures of the damselfish feeding system, and biomechanical analyses of this data were performed using the software program JawsModel4 in order to calculate the simple mechanical advantage (MA) employed by different skull elements during feeding, and to compute kinematic transmission coefficients (KT) that describe the efficiency with which angular motion is transferred through the complex linkages of damselfish skulls.
Results
Our results indicate that pomacentrid planktivores are significantly different from other damselfishes, that biting MA values and protrusion KT ratios are correlated with pomacentrid trophic groups more tightly than KT scores associated with maxillary rotation and gape angle, and that the MAs employed by their three biting muscles have evolved independently. Most of the biomechanical parameters examined have experienced low levels of phylogenetic constraint, which suggests that they have evolved quickly.
Conclusion
Joint morphological and biomechanical analyses of the same anatomical data provided two reciprocally illuminating arrays of information. Both analyses showed that the evolution of planktivory has involved important changes in pomacentrid functional morphology, and that the mechanics of upper jaw kinesis have been of great importance to the evolution of damselfish feeding. Our data support a tight and biomechanically defined link between structure and the functional ecology of fish skulls, and indicate that certain mechanisms for transmitting motion through their jaw linkages may require particular anatomical configurations, a conclusion that contravenes the concept of "many-to-one mapping" for fish jaw mechanics. Damselfish trophic evolution is characterized by rapid and repeated shifts between a small number of eco-morphological states, an evolutionary pattern that we describe as reticulate adaptive radiation.
Keywords
Trophic GroupBiomechanical ParameterMechanical AdvantageRelative WarpPhylogenetic Comparative Analysis
Background
Studies of functional morphology permit us to describe the connection between anatomical and ecological diversity in terms of biomechanical ability [1, 2]. By examining the trophic anatomy of a lineage using both morphometric and biomechanical analyses, we can improve our understanding of how the diversification of head morphology is linked to ecological divergence via changes in feeding performance [3]. Further details about patterns of functional diversification can be obtained by performing these studies within a comparative, phylogenetic context [4, 5]. Such an approach can be used to indicate which aspects of trophic biomechanics tend to be correlated, whether they have evolved rapidly or exhibit evidence of constraint, and whether there are significant biomechanical differences between the related members of separate trophic groups.
The damselfishes represent one of the most successful radiations of coral reef fishes [6–9], containing nearly 300 species that are associated with coral communities [10]. Pomacentrids are ubiquitous on coral reefs [6], and they have been present within these ecosystems for at least 50 million years [9, 11]. Damselfishes are also widely distributed among the nearshore rocky reef communities of both tropical and temperate regions, although they play less dominant roles in these ecosystems [10]. By studying the functional morphology of the Pomacentridae we can describe the radiation of a successful vertebrate lineage in both anatomical and mechanical terms [12, 13], and such work has strong implications for understanding the evolutionary history of important ocean ecosystems, particularly coral reefs.
Here we describe damselfish head shape diversity in a manner that explicitly links morphology to ecology via biomechanics. The field of functional morphology has seen a recent increase in the number of studies that combine shape analyses with biomechanical analyses [e.g., [4, 5, 14–20]], and some of these authors have utilized the advantages that geometric, or coordinate based, morphometric techniques provide when engaging in this work [e.g., [15, 16, 18, 19]]. Coordinate based shape analyses require fewer assumptions regarding the relative importance of individual variables than do traditional (measurement based) shape analyses, they facilitate the detection of morphological patterns that are not specified a priori, and they permit the reliable removal of size and orientation differences from an anatomical dataset [15, 16, 18, 19, 21, 22].
We used a combination of geometric morphometrics, biomechanical computer models, and phylogenetic comparative techniques to examine patterns of trophic diversity among the Pomacentridae. The goals of this study were to: (1) perform dissections on the heads of specimens representing all damselfish genera and trophic classes, (2) collect coordinate data for anatomical landmarks of functional importance to damselfish feeding from digital images of these dissections, (3) use this data to describe and quantify the shape diversity of damselfish heads using geometric morphometric techniques, (4) use a computer model to predict the biomechanical potential of damselfish skulls based on the relative positions of these landmarks, and (5) use phylogenetic comparative techniques to examine patterns in the evolution of damselfish trophic biomechanics.
Methods
Damselfish specimens were primarily selected from the fish collection of the Field Museum of Natural History, and additional specimens were provided by the Australian Museum, the Scripps Institution of Oceanography and the United States National Museum of Natural History in the Smithsonian Institution. At least one species from each of the 28 damselfish genera (until recently 29) was examined [10, 23, 24], and in almost all cases we examined 3 specimens of each species (Additional file 1). Most of the specimens were collected by the authors and their collaborators during Field Museum expeditions to the Philippines, Australia and Cape Verde. Fishes were killed using spears and the ichthyocide rotenone in accordance with the permits issued by the governmental agencies of these countries.
Dissections were performed on the right side of fish heads in order to expose morphological landmarks of functional importance for fish feeding (Figure
1
). Except in the case of
Altrichthys curatus
, where only juveniles were available, all specimens were adults. Dissected heads were photographed in lateral view from a position directly perpendicular to the plane described by the landmarks on the side of each fish's head. Since identical positioning of moveable elements is necessary when performing geometric morphometric analyses, all fishes were photographed with their mouths closed and their operculae and hyoid arches adducted. A scale bar was included in each photograph. Most specimens were photographed using a Leica digital camera interfaced with a dissecting microscope. Larger species were photographed using a Nikon coolpix 4300 digital camera. Nineteen morphological landmarks (LM; Figure
1
) were plotted on each image using the software program tpsDig [
25
], which was also used to determine the Cartesian coordinates of each landmark and to establish the scale of all images.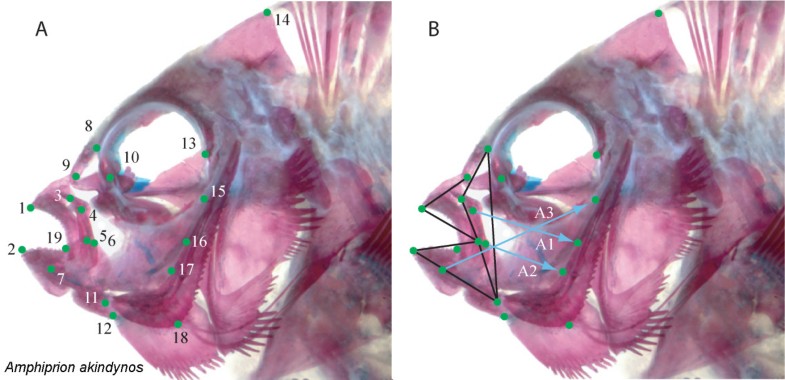 Results
Summary
The main results of this study are: (1) MANOVA, CV and RW analyses effectively distinguished between the cranial morphologies of primarily planktivorous damselfishes and those that consume algae (both herbivores and omnivores), while the skull and jaw muscle anatomy of herbivores and omnivores displayed a great deal of overlap; (2) damselfishes that are primarily planktivorous are strongly distinguished from other pomacentrids by their cranial biomenchanics; (3) damselfish cranial biomechanics have evolved under low levels of phylogenetic constraint; (4) the MA values employed by the three biting muscles have not evolved in a correlated manner, while there has been a considerable degree of correlated evolution among the KT values associated with damselfish jaw linkages; and (5) of the biomechanical parameters examined, the MA values and protrusion KT were associated with damselfish trophic groups to a greater degree than the remaining KT parameters.
Shape analyses
The results of the one-way MANOVA analyses that examined all species indicated the presence of significant trophic signal in the morphological data (Table
1
). Pairwise MANOVA results revealed that damselfish planktivores possess head shapes that are significantly different from both herbivores and omnivores, considered both separately and together (Table
1
). Members of these two later groups could not be reliably distinguished from each other by their head anatomy (Table
1
).
Table 1
One-way MANOVA results. The test statistics used in each case are listed.
Analyses of all data

Test statistic: Wilk's Lambda:

Lambda = 0.2011

chisq = 40.0954

df = 6

p < 0.0001

Test statistic: Goodall's F:

F = 6.2098

df (num.) = 68

df (denom.) = 884

p < 0.01

Pairwise comparisons of trophic groups (Goodall's F)

Omnivores vs. herbivores::

F = 1.21

df (num.) = 34

df (denom.) = 578

p = 0.19776

Planktivores vs. omnivores

F = 9.03

df (num.) = 34

df (denom.) = 714

p < 0.01

Planktivores vs. herbivores:

F = 7.75

df (num.) = 34

df (denom.) = 476

p < 0.01

Planktivores vs. (omnivores + herbivores)

F = 11.65

df (num.) = 34

df (denom.) = 918

p < 0.01
Only the first CV axis was found to significantly distinguish between damselfish trophic groups, and plotting the CV scores of the species examined onto CV axes 1 and 2 revealed that planktivores were strongly distinguished from both herbivores and omnivores by CV 1, but that some omnivores were more similar to planktivores than any of the herbivores (Figure
3
). There was strong overlap between the head shapes of herbivores and omnivores (Figure
3
). The vector and deformation plot in figure
3
demonstrates that CV1 describes differences in head length, head height, the length of the lower jaw, the length of the ascending process of the premaxilla, the size of the eyes, the size of all jaw adducting muscles, the height of the supraoccipital crest, and the anterior-posterior positioning of the posterior margin of this crest (Figure
3
). The use of jackknifing to assign individual species to trophic groups based on the CV axes resulted in the false classification of 3 of the 10 planktivorous species as omnivores, 4 of the 13 omnivores as herbivores, and 3 of the 6 herbivores as omnivores (65.52% accuracy). Planktivores were never classified as herbivores and
vice versa
.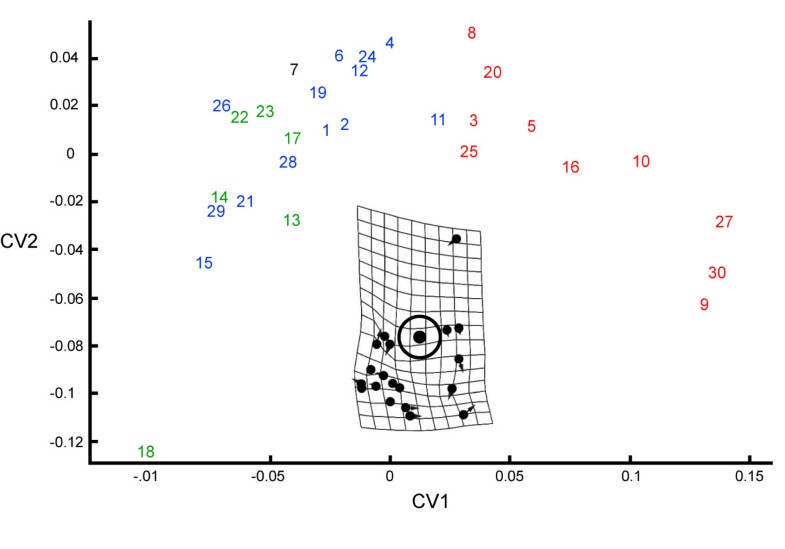 The first four RW axes accounted for a combined total of 71.74% of the variance in our coordinate data: RW1 (35.18%), RW2 (18.36%), RW3 (11.01%), RW4 (7.19%). The head shape differences associated with RW1 are nearly identical with those that are associated with CV1 (see above), and the groupings of the individual damselfish specimens from each species on this axis are therefore extremely similar to those found for the Procrustes mean of each species on CV1. The RW scores of specimens from all trophic groups overlap to a large degree on RW 2–4. RW2 describes variation in the vertical positions of the posterio-dorsal edge of the A1 and A3 muscles, as well as the vertical position of the eyes (Figure
4
). RW3 describes variation in the angle of the mouth relative to the long axis of the body (Figure
4
). It distinguishes between those fishes whose lower jaws are parallel with their main body axis when the mouth is closed, and those fishes with upturned mouths (i.e., fishes whose jaw lengths contribute relatively less to their overall body length). RW4 describes variation in the bluntness of the head profile (Figure
4
).

The RW1 vs. RW2 score plot displayed a distribution pattern that was nearly identical to that in the CV1 vs. CV2 score plot, and this RW information was therefore used to estimate the location of Cheiloprion labiatus in Figure 3. C. labiatus always fell within the herbivore/omnivore clusters on RW 1–4. Due to the redundancy between many of the CV and RW score plots, we do not present this information for the RW results. RW analyses do, however, permit the description of the major types of uncorrelated shape variation in morphological data, and are therefore useful for describing damselfish skull shape diversity. We therefore provide figure 4, which displays pictorial descriptions of the shape differences that are associated with each RW axis using pair-wise comparisons of pomacentrid species whose head shapes are strongly differentiated by one axis, but which are otherwise similar (i.e., they have similar scores on all other RW axes).
Biomechanics and phylogenetic comparative analyses
Pomacentrid planktivores were, in general, well distinguished from other damselfishes by their jaw mechanics. Azurina hirundo, Chromis punctipinnis, Lepidozygus tapeinosoma, Pristotis obtusirostris, and Teixeirichthys jordani had especially low A1MA and A2MA values combined with high protrusion KT values (Additional files 2 and 3), which indicates that they can bite quickly and protrude their upper jaws with a high degree of efficiency. These three parameters best distinguished between damselfish tropic groups (Additional files 4 and 5), and these five species also had some of the most distinct head shapes (Figure 3). Pomacentrid herbivores and omnivores, although possessing generally higher A1MA and A2MA values and lower protrusion KT values than most planktivores, did not show as high a degree of association between their scores for these three parameters (Additional files 2, 3, 4).
The results of the PIC analyses indicate that the evolution of each of the KT parameters examined has been correlated with that of at least two other biomechanical parameters (protrusion KT was significantly correlated with three), while none of the individual MA parameters exhibited evidence of correlated evolution with more than one other parameter, and there was no evidence for correlated evolution between jaw opening MA and any other parameters (Figure
5
). There was no evidence for correlated evolution between any of the three biting MA parameters examined (Figure
5
).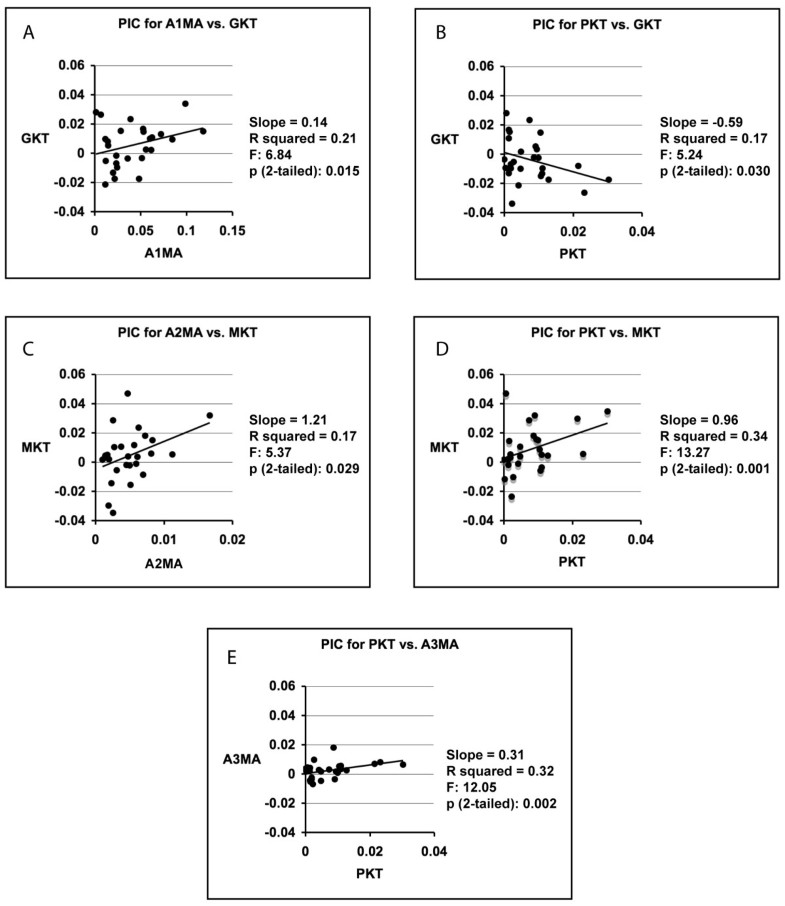 The PHYSIG results indicated that only one biomechanical parameter, gape KT, showed significantly more phylogenetic signal than would be expected from unconstrained evolution, but the Regressionv2.m results indicated that the fit of the gape KT data to the OLS and PGLS models was similar (Additional file 6). The Regressionv2.m results clearly support the fit of the data from the other six biomechanical parameters to an OLS model (i.e., no significant phylogenetic signal; Additional file 5). The ANOVA results generated by Regressionv2.m for phylogenetically corrected parameter values showed no significant differences between trophic groups for gape KT.
The ANOVA results (Additional file 4) showed significant differences between damselfish trophic groups for three of the four MA parameters (jaw opening MA, A1MA, and A2MA), and one KT parameter (protrusion KT). The results of Gabriel's test, the Studentized maximum modulus test, and Bonferroni t tests all concurred in their indications of which pairwise comparisons of trophic groups were significant for these parameters, and of the seven significant comparisons, six included planktivores (Additional file 4). The results of the stepwise discriminant function analysis indicated that the scores for the biomechanical parameters A1MA, A2MA and protrusion KT, tend to distinguish damselfish trophic groups from each other (Additional file 4).
Planktivorous damselfishes employ low mechanical advantages when using their A1 muscles to close their mouths, and they protrude their upper jaws (premaxillae) with high efficiency (Additional file 4). Omnivores have high MA values associated with their A2 muscles (Additional file 4). Herbivores are never distinguished from both omnivores and planktivores by any biomechanical parameter, but in comparison to planktivores they have higher MA scores for both jaw opening and the A1 muscle, and lower scores for the efficiency with which they protrude their premaxillae (Additional file 4). When compared to omnivores, they employ lower MA values when contracting the A2 (Additional file 4).
Some species have very different MA rankings for different biting muscles (Additional file 2). The planktivores Azurina hirundo, Teixeirichthys jordani and Lepidozygus tapeinosoma have low MA scores for the A1 and A2 muscles, while possessing high scores for the A3 (Additional file 2). A. hirundo has the highest A3MA score and the lowest A1MA score (Additional file 2). A different pattern is exhibited by the omnivores Abudefduf saxatilis and Similiparma hermani, which have the highest A1MA and A2MA scores, respectively, while possessing low A3MA scores (Additional file 2).
Although the minimum MA scores calculated for the three biting muscles were similar, their ranges and maximum values were very different. Approximately 80% of the species examined had A1MA values that were higher than both the maximum A2MA and A3MA values, and the maximum A1MA value was 4.6 times higher than the maximum A2MA score, and 6.1 times higher than the maximum A3MA score (Additional file 2). The single coral eating damselfish species examined, Cheiloprion labiatus, has high jaw opening MA and A2MA scores, but is not otherwise greatly distinguished from other damselfishes by its jaw biomechanics.
Two species have very different KT rankings for the rotation of different jaw linkage elements (Additional file 3). Teixeirichthys jordani has the lowest gape KT score, the highest protrusion KT score, and the second highest maxillary KT score (Additional file 3). Chromis punctipinnis has the second lowest maxillary KT score (along with Mecaenichthys immaculatus), the second lowest gape KT score (along with Similiparma hermani), and a high protrusion KT score (Additional file 3). Microspathodon dorsalis exhibits a pattern of consistently low KT values, and has the lowest maxillary KT score, the lowest protrusion KT score, and along with Amblypomacentrus clarus, it has the third lowest gape KT score (which is only marginally different from the second lowest score; Additional file 3).
Discussion
The results of both the morphological and biomechanical analyses clearly indicate that the evolution of planktivory has involved important changes in pomacentrid functional morphology. The shape differences that separate planktivores and non-planktivores account for the greatest degree of damselfish skull shape variation (Figure 3), and of those biomechanical parameters that most clearly distinguish between trophic groups, planktivores exhibit different values compared to non-planktivores in most cases (Additional files 2, 3, 4, 5). These aspects of damselfish trophic biomechanics have also experienced relatively high rates of evolution (i.e., they have experienced low levels of phylogenetic constraint; Additional file 6).
Damselfish planktivory can be described as particulate feeding in that they attack individual plankters that they select visually [38–40]. The possession of relatively large eyes should increase these fishes' ability to find and target planktonic prey (Figure 4), and the mechanical arrangements of their head anatomies should allow them to rapidly pick plankton from the water column. The longer jaws of pomacentrid planktivores increase the length of the outlever during jaw opening and closing (Figures 3 and 4), a configuration that lends itself to the production of fast mouth movements, and both the A1 and A2 biting muscles tend to have low MA values (Additional files 2 and 4), which further contribute to the generation of fast bites.
Compared to non-planktivorous damselfishes, pomacentrid planktivores can protrude their upper jaws greater distances with higher efficiency of movement (Figures 3, 4, 5; Additional files 3 and 4). The longer ascending processes on the premaxillae of planktivores (Figures 3 and 4) allows for a greater degree of jaw protrusion, an action that rapidly closes the distance between a fish and its prey during a feeding strike. The lower jaws of perciform fishes are indirectly linked to their premaxillae by means of a movable, toothless maxilla that does not form part of the bite [2, 30, 41]. When the lower jaw is abducted, the maxilla transfers this motion to the premaxilla in such a way that it is protruded, and the protrusion distance that can be achieved without the premaxilla becoming disassociated from the neurocranium is determined by the length of its ascending process. The importance of premaxillary protrusion for damselfish planktivory is supported by the efficiency with which they produce this movement (Additional files 3 and 4). Nearly all of the planktivorous species examined had high protrusion KT scores (Additional file 3), and this was the only KT parameter where the mean scores of individual species distinguished between damselfish tropic groups (Additional files 4 and 5).
Although herbivores are morphologically and biomechanically different from most planktivores, the differences between herbivores and omnivores are far less pronounced. Only the mechanical advantages employed by their A2 muscles significantly distinguish these two groups (Additional file 4), and there is a high degree of overlap in the types of head morphologies that they possess (Figure 3). The overlapping shape and functional distributions of herbivores and omnivores may indicate that there are certain requirements for damselfishes that take in benthic algae as an important component of their diet, regardless of whether or not they are highly herbivorous. Any algae that is consumed must be bitten through or scraped from the substrate, and the production of some minimal amount of force will be required in order to accomplish this.
Conclusion
The use of a single set of homologous coordinates to analyze both the anatomical and mechanical aspects of the functional morphology of damselfish feeding provided two useful and reciprocally illuminating arrays of information. The results of both types of analysis indicate that the morphological and biomechanical adaptations associated with damselfish planktivory represent a major component of their trophic diversification. Whereas plankton is estimated to form a large percentage of the diets of approximately one third of all pomacentrid species [10], the description of planktivorous damselfish head anatomy and biomechanics is of strong importance for understanding the ecology of both the Pomacentridae and the reefs that they occupy.
The independent evolution of the MA parameters associated with the different damselfish biting muscles, the finding that, in several damselfish species, these separate muscles employ very different MAs during jaw adduction, and the pattern of rapid divergence that is pervasive in history of damselfish trophic evolution, all suggest that the division of the single, ancestral adductor mandibulae has promoted functional diversification. Changes in jaw kinesis have likewise been of fundamental importance to the evolution of damselfish feeding, particularly those changes that are associated with the efficiency of jaw protrusion. We found a tight correspondence between skull morphology and jaw biomechanics, and no support for functional equivalence between multiple anatomical configurations among the Pomacentridae. It is our hope that further evolutionary studies of perciform bite mechanics will rigorously test the alternative hypotheses of "many-to-one mapping" and the functional uniqueness of different skull morphologies.
The trophic evolution of the damselfishes is characterized by rapid and repeated shifts between a small number of trophic niches, and we use the term reticulate adaptive radiation to describe this pattern. We suggest that the rapid eco-morphological evolution of a lineage need not be coupled with a rapid expansion into an increasingly greater number of niches. It is our belief that investigation into the factors that either link or decouple the rapid evolution of eco-morphological characters with/from the ecological expansion of a clade will be a productive area of future investigation.
The Pomacentridae represent only a small component of the tremendous perciform radiation, an incredibly diverse lineage of roughly twelve thousand species that dominates many of the worlds aquatic systems, and which represents one of the most successful branches of the vertebrata. The accumulation of knowledge about the functional morphology of feeding within this group has seen a dramatic increase in recent years [e.g., [4, 5, 12, 13, 20, 52, 76–84]], and broad patterns of evolution are beginning to emerge. Further work will allow us to determine which modes of evolution have been prevalent during the expansion of the Perciformes. Phylogenetic comparative analyses of morphological and biomechanical data constitute a powerful approach to studying evolution, and future endeavours that combine these techniques show great promise for determining the means by which specific anatomical changes have generated ecological diversity via functional divergence.
Declarations
Acknowledgements
We thank the curators and staff of the Australian Museum, the Scripps Institution of Oceanography and the United States National Museum of Natural History in the Smithsonian Institution for supplying pomacentrid specimens. Field work was aided by the Field Museum of Natural History, Lizard Island Research Station, Mark McGrouther, Tom Trinski, Jeff Williams, Kent Carpenter, Jennifer Fessler, Aaron Rice, and others on expeditions to coral reefs for specimen collection. Lydia Smith and Jennifer Fessler provided training and assistance with the genetic extraction, amplification, sequencing, and phylogenetic analyses that provided one of the foundations of this work. Miriam Zelditch provided valuable guidance with the morphometric analyses. Kevin Middleton provided considerable assistance with the software programs PHYSIG and Regressionv2.m. Craig Albertson, Aaron Rice and Tristan Stayton generously provided useful commentary on drafts of the manuscript. This research was funded by NSF grant DEB 0235307 to M. Westneat, NSF Doctoral Dissertation Improvement Grant IBN-0308977 to W. J. Cooper and M. Westneat, and a research expedition grant from the Comer Family Foundation. Support for analysis and publication was provided by John D. and Catherine T. MacArthur Foundation funding of the Encyclopedia of Life.
Authors' Affiliations
(1)
Department of Organismal Biology & Anatomy, University of Chicago, Chicago, USA
(2)
Department of Zoology, Field Museum of Natural History, Chicago, USA
(3)
Department of Biology, Syracuse University, Syracuse, USA
Copyright
© Cooper and Westneat; licensee BioMed Central Ltd. 2009
This article is published under license to BioMed Central Ltd. This is an Open Access article distributed under the terms of the Creative Commons Attribution License (http://creativecommons.org/licenses/by/2.0), which permits unrestricted use, distribution, and reproduction in any medium, provided the original work is properly cited.