Research article

Open Access
Characterization of fossilized relatives of the White Spot Syndrome Virus in genomes of decapod crustaceans
BMC Evolutionary Biology
2015
15:142
Received: 5 May 2015
Accepted: 13 May 2015
Published: 19 July 2015
Abstract
Background
The White Spot Syndrome Virus (WSSV) is an important pathogen that infects a variety of decapod species and causes a highly contagious disease in penaeid shrimps. Mass mortalities caused by WSSV have pronounced commercial impact on shrimp aquaculture. Until now WSSV is the only known member of the virus family Nimaviridae, a group with obscure phylogenetic affinities. Its isolated position makes WSSV studies challenging due to large number of genes without homology in other viruses or cellular organisms.
Results
Here we report the discovery of an unusually large amount of sequences with high similarity to WSSV in a genomic library from the Jamaican bromeliad crab Metopaulias depressus. De novo assembly of these sequences allowed for the partial reconstruction of the genome of this endogenized virus with total length of 200 kbp encompassed in three scaffolds. The genome includes at least 68 putative open reading frames with homology in WSSV, most of which are intact. Among these, twelve orthologs of WSSV genes coding for non-structural proteins and nine genes known to code for the major components of the WSSV virion were discovered. Together with reanalysis of two similar cases of WSSV-like sequences in penaeid shrimp genomic libraries, our data allowed comparison of gene composition and gene order between different lineages related to WSSV. Furthermore, screening of published sequence databases revealed sequences with highest similarity to WSSV and the newly described virus in genomic libraries of at least three further decapod species. Analysis of the viral sequences detected in decapods suggests that they are less a result of contemporary WSSV infection, but rather originate from ancestral infection events. Phylogenetic analyses suggest that genes were acquired repeatedly by divergent viruses or viral strains of the Nimaviridae.
Conclusions
Our results shed new light on the evolution of the Nimaviridae and point to a long association of this viral group with decapod crustaceans.
Keywords
Nimaviridae
WSSV
White Spot Syndrome Virus
Endogenized viruses
Paleovirology
Background
The White Spot Syndrome Virus (WSSV) is a widespread pathogen of several commercially important penaeid shrimp species which causes mass mortalities in aquaculture with high economic impact [1]. The virus is highly virulent, but can also induce latent and asymptomatic infections, which makes creation of virus-free penaeid stocks challenging [2]. Since its discovery in shrimp farms, the virus was detected in a number of other marine and even freshwater decapods: caridean shrimps, brachyuran crabs, anomurans, lobsters and freshwater crayfish [3–7].
WSSV has one of the largest genomes among the viruses that infect animals, with a single circular DNA molecule of about 300 kbp in size [8, 9]. Several lineages of WSSV were described from different geographic locations, with a considerable variation in certain genomic regions, including repeat number variation and deletions leading to differences in genome sizes [10]. Nevertheless, this variation affects only a small part of the genome, while 99.3 % remain identical [10]. Thus, all WSSV strains known to date belong to the same viral species, formally classified in the genus Whispovirus and a monotypic family – Nimaviridae [1, 10, 11]. This fact is especially noteworthy in the light of the isolated position of this group among DNA viruses as revealed by phylogenetic reconstructions based on DNA polymerase and protein kinase amino acid sequences [12, 13]. Moreover, among the approximately 180 genes identified in the large WSSV genome only a minor fraction shows similarities to already described proteins in other viruses or cellular organisms [1, 8, 9]. About one third of the gene products have been functionally characterized in direct experiments or homology-based bioinformatic approaches: proteins involved in cellular functions (e.g. DNA polymerase, helicase, protein kinases etc.), virion proteins, gene products with proposed roles in latency and early phase of infection and others [1, 8, 9, 14].
The description of new representatives of this phylogenetically distinct viral group is important to allow for evolutionary studies of the Nimaviridae and could advance the understanding of host-pathogen interactions in this system.
Here we report the discovery of a WSSV-like viral genome in a genomic library from the brachyuran crab Metopaulias depressus Rathbun, 1896 that is endemic to Jamaica and lives and breeds in water axils of bromeliads [15, 16]. Our results suggest that these viral sequences, together with fragments detected in systematic screenings of previously published decapod genomic libraries [17, 18], stem from several related viral species divergent from WSSV and provide valuable information on the evolutionary history of Nimaviridae.
Availability of supporting data
The sequences of the assembled viral scaffolds from M. depressus are available in NCBI GenBank (accession numbers KR820240-KR820242). The raw reads are accessible from the NCBI Sequence Read Archive (BioProject PRJNA283742).
Results
Viral sequences in the crab genomic library
WSSV-like sequences in the shrimp genomic libraries
Although the inventories of the WSSV-like genes were provided in the original publications [17, 18], we decided to perform a new analysis similar to the one performed for the M. depressus library, primarily to clarify gene boundaries and extract protein sequences. For the P. monodon repetitive families our BLASTx search yielded 76 hits (of which 48 were reported in the original study) to 48 different WSSV genes (see Additional file 1 : Table S3). Seven hits to seven WSSV genes were obtained for the P. japonicus BAC library, all of which were originally reported and numbered (genes 11, 13–18) (see Additional file 1 : Table S4).
Additionally, in both libraries single dUTPase ORFs and several IAP genes were confirmed in locations indicated in the original publications. All genes were represented by single continuous ORFs with the exception of one IAP gene from the P. japonicus BAC library, which we interpret as consisting of at least four exons. In contrast to Koyama and co-authors [17], we consider it separately from the IAP gene next to it and designate them as genes 06A and 06B respectively (see below).
WSSV-like sequences in EST libraries
A conservative search for WSSV-like sequences in all non-human and non-mouse EST libraries available in the NCBI EST database revealed 12 positive hits with similarity to WSSV on the protein level only. These hits were distributed among four species, all of which belong to decapod crustaceans (see Fig.
3
).

Cross-comparison of WSSV and WSSV-like genomes
Diversity and similarity of proteins with homology in WSSV
Out of the 48 unique WSSV homologs in the
P. monodon
library, 38 (79 %) were found in the
M. depressus
scaffolds (Fig.
4
, Additional file
3
). Under the hypothesis of a common ancestor with a genome composition identical to that of WSSV, the probability of obtaining at least this number of matches by chance from the set of 106 WSSV genes with known function or homology equals to 0.0017. Furthermore, if the gene set is expanded to the 180 genes currently hypothesized to be encoded by the WSSV genome [
1
,
8
] the probability decreases to 3.64 × 10
−12
. Of the seven genes with WSSV homology from the
P. japonicus
BAC clone all are identifiable in the other shrimp library and only one (wsv306) is missing from
M. depressus
(see Additional file 3). BLASTx searches revealed no genes shared by the shrimp repetitive sequences and crab scaffolds but absent from the WSSV genome, with the noticeable exception of IAPs (see below).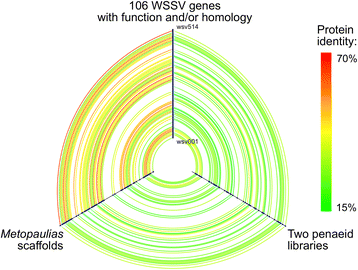 The proteins from the shrimp libraries appear significantly less similar to their homologs in the two other gene sets in comparison to identity values between WSSV and
M. depressus
with an average difference in
p
-distances of 0.2 (Fig.
4
, Table
4
). Nonetheless all three sets of pairwise distances are strongly correlated with each other (see Table
4
).
Table 4
Comparisons of p-distances between 38 proteins shared by the WSSV genome (W), M. depressus scaffolds (M) and penaeid libraries (P): summary statistics, correlation coefficients and results of Wilcoxon signed rank tests. Asterisks indicate significance levels after Holm's correction: * – p < 0.05, **** – p < 0.0001
Pearson's r \ Median difference

Mean

SD

PM

WM

WP

PM

0.714

0.0663

0.198****

−0.011*

WM

0.526

0.0899

0.805****

−0.201****

WP

0.720

0.0698

0.898****

0.726****
Many of the WSSV-homologs are found several times on different fragments in the P. monodon library. Due to the fact that many of them are represented by incomplete gene sequences, the exact number of genes with several WSSV paralogs could not be estimated. However, 22 pairs of overlapping fragments representing 19 unique genes could be determined (see Additional file 3) with the mean (±SD) p-distance of 0.687 ± 0.0728. No unambiguous cases of more than two overlapping paralogs were found. Twelve fragments from P. monodon could be compared to the seven WSSV homologs from the P. japonicus library with the resulting mean p-distance of 0.593 ± 0.2340.
Synteny between WSSV and M. depressus scaffolds
The gene order on the
Metopaulias
viral scaffolds was compared to the WSSV genome annotations (Fig.
5
). Overall, 14 syntenic blocks covering 43 genes were identified. Half of the blocks include just single pairs of neighboring genes, while the largest block spans eight genes (wsv306-wsv324). No cases of inversions were identified in individual blocks: neighboring genes show consistently the same orientations in both genomes.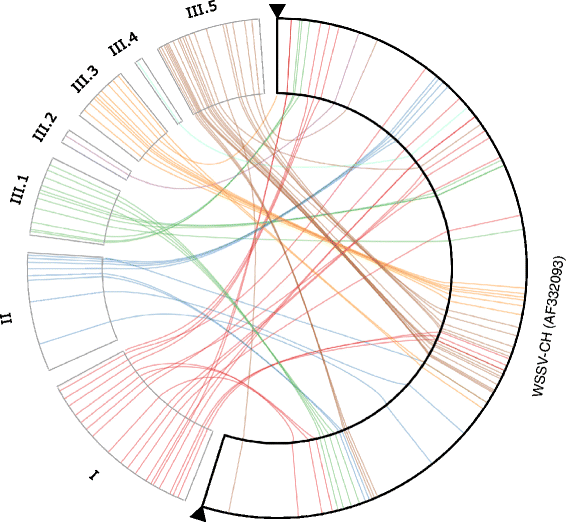 Analysis of breakpoints
In order to enable comparison of gene orders with the data from the shrimp libraries, we utilized a breakpoint-oriented approach. For the set involving WSSV, M. depressus scaffolds and P. monodon repeat families, 50 pairs of neighboring genes could be inspected for their presence/absence. Resulting breakpoint distances were nearly identical for all three pairs of viral genomes: WSSV genome vs. crab scaffolds – 28 breakpoints, WSSV genome vs. shrimp library – 28 breakpoints, crab scaffolds vs. shrimp library – 30 breakpoints (no statistical test performed). In total only seven neighboring gene pairs were shared by all three gene sets (the "-" sign denotes genes on the opposite strand): wsv023/wsv021, -wsv327/wsv332, wsv306/wsv308, wsv293a/wsv289, wsv139/wsv137, -wsv427/wsv433 and wsv433/wsv440. Due to the low number of genes n the fragment containing WSSV-like sequences from P. japonicus, its addition decreased the number of gene pairs amenable to the analysis to ten with only a single pair of neighbors shared by all four gene sets: -wsv327/wsv332, which was also the sole pair shared by P. japonicus and P. monodon.
Discussion
The White Spot Syndrome Virus (WSSV) is currently considered as the sole representative of an isolated viral group with unclear relationships to other viruses [1, 8]. In this study we describe a viral genome with high similarity to WSSV discovered in a genomic library of the Jamaican bromeliad crab Metopaulias depressus [19]. The genome is seemingly nearly complete given the fact that undamaged homologs of most of the WSSV non-structural proteins (including the DNA polymerase) and half of the major virion protein genes were identified. Nevertheless, we postulate that this virus is not independent, but endogenized in the genome of its host, because: 1) despite the high sequencing coverage we were not able to reconstruct a single circular molecule as known for WSSV, and no connection between the three reconstructed scaffolds could be detected with PCR, 2) some fragments of WSSV-like genes are clearly not functional, 3) several transposon-derived sequences are found in association with the WSSV-like sequences, 4) there is considerable intra-individual variation in the specimen chosen for sequencing, and 5) analogous variation is obtained in a test fragment sequenced for several other crab specimens from Jamaica. The unexpectedly high ratio of the viral to host DNA (1:10) and intact state of the genes with WSSV homology located on the scaffolds are mirrored by the two similar cases of WSSV-like sequences discovered in genomic libraries of penaeid shrimps [17, 18], that were reanalyzed for this study.
Conclusions
Our study gives the first detailed analysis of fossilized relatives of the White Spot Syndrome Virus, an important pest in penaeid shrimp aquaculture with obscure phylogenetic affinities. Genomic fragments of these viruses are found in several decapod species, but reflect independent endogenization events and are not directly related to the contemporary infection with WSSV. In this respect our study provides an important starting point for comparative studies of WSSV.
Declarations
Acknowledgements
This work would have been impossible without continuous support from the Department of Animal Ecology, Evolution and Biodiversity headed by Prof. Dr. Ralph Tollrian. P.B. was supported by the Germany Scholarship. 454 -sequencing was made possible through a student fellowship by the Crustacean Society to N.R. and departmental financial support by Prof. Jürgen Heinze (University of Regensburg). Collection of the material for the current paper by C.D.S. was supported by the German Research Foundation DFG (project Schu 1460/3). This project was supported in part by a grant of the Dinter-Foundation to F.L. and DFG project LE 2323/2.
Authors' Affiliations
(1)
Ruhr University Bochum, Department of Animal Ecology, Evolution and Biodiversity, Bochum, Germany
(2)
University of Regensburg, Department of Zoology and Evolutionary Biology, Regensburg, Germany
(3)
University of California, Davis, Department of Evolution and Ecology, Center for Population Biology, Davis, USA
Copyright
© Rozenberg et al. 2015
This is an Open Access article distributed under the terms of the Creative Commons Attribution License (http://creativecommons.org/licenses/by/4.0), which permits unrestricted use, distribution, and reproduction in any medium, provided the original work is properly credited. The Creative Commons Public Domain Dedication waiver (http://creativecommons.org/publicdomain/zero/1.0/) applies to the data made available in this article, unless otherwise stated.