Research article

Open Access
Genomic evidence of demographic fluctuations and lack of genetic structure across flyways in a long distance migrant, the European turtle dove
BMC Evolutionary Biology
BMC series – open, inclusive and trusted
2016
16:237
Received: 1 August 2016
Accepted: 28 October 2016
Published: 7 November 2016
Abstract
Background
Understanding how past climatic oscillations have affected organismic evolution will help predict the impact that current climate change has on living organisms. The European turtle dove, Streptopelia turtur, is a warm-temperature adapted species and a long distance migrant that uses multiple flyways to move between Europe and Africa. Despite being abundant, it is categorized as vulnerable because of a long-term demographic decline. We studied the demographic history and population genetic structure of the European turtle dove using genomic data and mitochondrial DNA sequences from individuals sampled across Europe, and performing paleoclimatic niche modelling simulations.
Results
Overall our data suggest that this species is panmictic across Europe, and is not genetically structured across flyways. We found the genetic signatures of demographic fluctuations, inferring an effective population size (Ne) expansion that occurred between the late Pleistocene and early Holocene, followed by a decrease in the Ne that started between the mid Holocene and the present. Our niche modelling analyses suggest that the variations in the Ne are coincident with recent changes in the availability of suitable habitat.
Conclusions
We argue that the European turtle dove is prone to undergo demographic fluctuations, a trait that makes it sensitive to anthropogenic impacts, especially when its numbers are decreasing. Also, considering the lack of genetic structure, we suggest all populations across Europe are equally relevant for conservation.
Keywords
Population genetic structureDemographyMigratory birdsGenomicsConservationPaleoclimatic niche modellingClimate change
Background
Climate oscillations during the Quaternary strongly affected organismic evolution worldwide (e.g. [1–3]). The responses of different species to these oscillations have been diverse, and dependent on their environmental requirements and adaptations [4, 5]. In Europe, for example, most species that are adapted to warm-temperate climates underwent southward range shifts and reductions in their abundance during glacial periods, recovering their northern distributions and numbers during interglacial periods [6–8]. Similarly, current global warming and human activities are also affecting the evolution and distribution of living organisms worldwide (e.g. [9, 10]). Long distance migratory bird species are particularly sensitive to global climate change; their migration routes and timing have shifted drastically during the past decades [11, 12], mainly as a consequence of phenological responses to the rising temperatures [13]. Moreover, long distance migrants have suffered stronger population declines than other bird species, because their survival depends on the quality of habitats that are often geographically distant (i.e. breeding, stopover and wintering territories) [11, 14, 15].
Around 2 billion birds migrate between Europe and Africa each year [16], crossing the Mediterranean Sea and the Sahara Desert. Even though migration of some species occurs broadly throughout the Mediterranean Sea, higher numbers of birds migrate over its eastern and western edges [17], thus reducing over-sea flying distances. As a consequence, alternative flyways have arisen in some species (e.g., White storks, Ciconia ciconia, [18]; Montagu's harrier, Circus pygargus, [19]. Similar strategies have been observed in other long distance migratory birds across the world (e.g. North American's Swainson's thrush, Catharus ustulatus, [20]; the Asian greenish warbler, Phylloscopus trochiloides, [21]). In some cases, such alternative flyways might be mirrored in the breeding grounds in the form of migratory divides, defined as narrow regions of contact between populations with different migratory pathways [22]. The presence of alternative flyways and migratory divides has been postulated as a mechanism promoting intraspecific genetic diversification [23].
The European turtle dove,
Streptopelia turtur
(hereafter turtle dove), is the only columbid that takes part in the African-European migration system [
16
]. The species is warm-climate adapted and requires patchy areas composed by shrubby woodlands and open grasslands to breed [
24
]. The turtle dove breeds across the western Palearctic and spends winters in the sub-Saharan African region, in latitudes between 10°N and 20°N [
25
]. Mark-recovery data suggests that turtle doves use three main flyways during their spring and autumn journeys [
26
]. Birds that breed in western Europe fly over the Iberian Peninsula, those breeding in central Europe fly through Italy and Malta, and eastern European breeders fly over Greece (Fig.
1a
). Despite being an abundant species, the turtle dove has been undergoing a long-term demographic decline, and as a result is considered a vulnerable species throughout its European distribution [
27
]. Both the role of the alternative migratory flyways on genetically structuring turtle dove populations, and how the long-term demographic decline has impacted the species' genetic diversity remain unknown.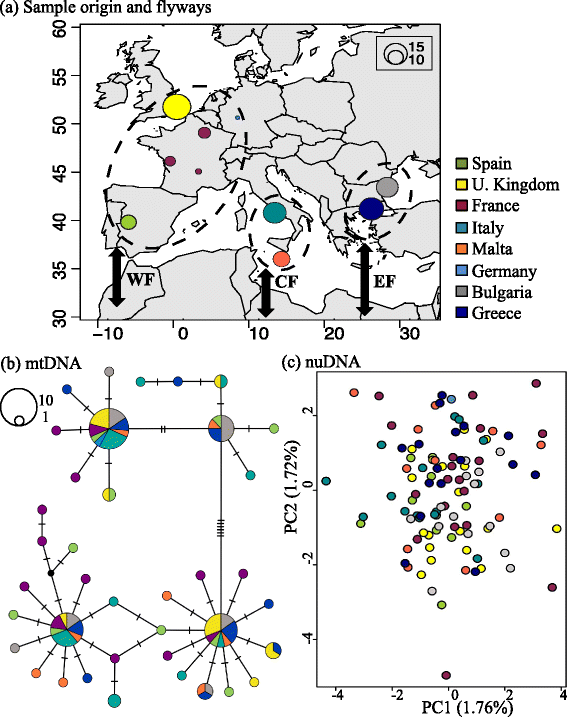 Here we studied the demographic history and population genetic structure of the turtle dove across Europe. We performed a genome wide scan using double digest restriction-site associated DNA sequencing (ddRADseq) and obtained mitochondrial DNA sequences (cytochrome b). Demographic history analyses were complemented with niche modelling analysis to test if variations in the effective population size are correlated with past changes in the availability of suitable habitat. Based on the ecological requirements of our focal species, we expected to find evidence of large effective population sizes during warm interglacial periods, followed by small effective sizes during cold glacial periods. We would expect to observe a similar trend in the availability of suitable habitat. We also hypothesized that the current demographic decline in the turtle dove would be strong enough to show the genetic signature of a decrease in its effective population size. Finally, we tested whether the alternative flyways described for the turtle dove actually correspond to migratory divides promoting intraspecific genetic diversification. In that case we expect to find three genetically differentiated groups associated to each flyway (i.e. East, Central and West).
Results
Summary statistics and population genetic structure
Cytochrome b sequences were highly polymorphic, with 73 segregating sites and 40 haplotypes found among 95 turtle dove individuals (haplotype diversity (Hd): 0.92; nucleotide diversity (π): 0.0075). Our median joining network suggested two main haplogroups, differentiated by six mutational steps (Fig. 1b). However, the observed haplogroups did not cluster samples by migration flyway or their geographic origin. Moreover, haplotypes from individuals sampled in the same locality appeared scattered across the network (Fig. 1b). Similarly, the AMOVA based on mtDNA sequences did not show evidence that migration flyways explain population genetic structure in the turtle doves. The highest percentage of the variance was explained by the components "among individuals, within population" and "within individuals" (Additional file 3).
SNP-based analyses with fastSTRUCTURE -using the simple prior- suggested that the number of components used to explain the genetic structure in our data (K * Øc) and the model complexity that maximizes the marginal likelihood (K * ε) were both 1. When the logistic prior was used, K * Øc was still 1, however K * ε = 3. Even though K = 3 was suggested with the latter prior, the greatest proportion of the ancestry of all individuals was explained by only one cluster (mean Q = 0.999) (shown in Additional file 4). Hence, K = 1 seems to be the most likely partition to explain genetic structure in our data (Additional file 4). The AMOVA result based on SNPs resembled the results obtained for the mtDNA sequences, with the "among groups" component explaining the lowest percentage of the variance when testing for the differences among flyways (Additional file 3). The PCA based on SNP data did not show any clustering of individuals (Fig. 1c). Finally, we did not find loci under selection in BayescanR (p > 0.05).
Demographic history and niche modelling
The mtDNA dataset showed signatures of a recent demographic expansion in the turtle dove population:
F
s
 = −20.95 (
p
 = 0.001) and
Tajima's D
 = −1.70 (
p
 = 0.02). The EBSP analysis that combined mtDNA sequences with 29 randomly selected nuDNA loci also supported a population expansion. Based on our assumption of molecular clock calibration for cytochrome
b
(2.1 per million years), this expansion started ~14,000 years before present (Fig.
3
).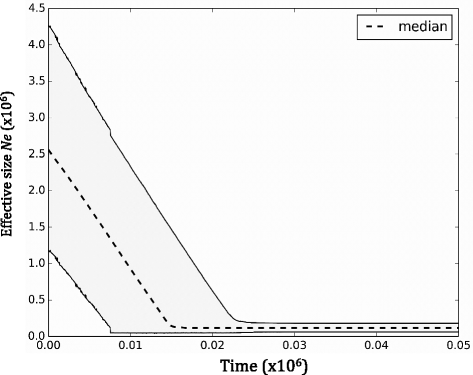 Our DIYABC analysis supported a compatible, yet more complex demographic scenario than that suggested by the EBSP. From the five simulated scenarios, scenario four (Fig.
2
) showed the best goodness-of-fit to the observed data (Additional file
5
) and had the highest posterior probability, 0.99 (CI 95 % = 0.97–1) when using the
direct estimation
method and 1 (CI 95 %–1–1) with the
logistic regression
method (Additional file
6
). Regardless of the method used, the confidence intervals estimated from the competing scenarios did not overlap. Scenario four assumes that the turtle dove population suffered two variations in its effective population size. The
Ne
during the mid-late Pleistocene (~78,300 ybp) was estimated to be ~84,400 individuals. Following a demographic expansion during the early-mid Holocene (~7,600 ybp), the population reached an estimated
Ne
of ~3,160,000 doves. Finally, we found evidence of a recent contraction that started between the mid-Holocene and the present, resulting in a current
Ne
estimate of ~172,000 individuals (see Table
1
for more details on the estimated parameters). It is possible that the recent contraction in the
Ne
was not detected by the EBSP analysis because of lack of statistical power in the smaller dataset (30 loci). None of our analyses recovered evidence of a large
Ne
during the last interglacial (~120–140,000 ybp).
Table 1
Demographic parameters inferred with DIYABC
| Parameters | Mean | Quantiles (0.025–0.975) |
| --- | --- | --- |
| Late Pleistocene (t2) | 78,300 | 37,100–99,300 |
| Mid Holocene (t1) | 7,600 | 3,600–9,920 |
| Late Pleistocene Ne (N2) | 84,400 | 53,800–122,000 |
| Mid Holocene Ne (N1) | 3,160,000 | 2,040,000–4,430,000 |
| Present Ne (N3) | 172,000 | 107,000–432,000 |
MaxEnt
models achieved a good fit to the data of the present distribution (AUC value of 0.71 ± 0.01 SD). Bio1 (Annual mean temperature) was identified as the most important parameter (Percent contribution, PC: 47.9), and also achieved the highest importance in the permutation test (Permutation importance, PI: 45.5). Other key parameters were Bio18 (Precipitation of Warmest Quarter, PC: 24.2, PI: 22.3) and Bio12 (Annual Precipitation, PC: 23.4, PI: 19.5). Bio8 (Mean Temperature of Wettest Quarter) was of minor importance (PC: 4.5, PI: 12.7). The 10
th
percentile training presence logistic threshold was 0.36 and this value was applied to map and calculate the suitable habitat. The resulting fits were extrapolated to the past climate. According to the global climate model MIROC-ESM, the potentially suitable habitat during the breeding season was found to be largest during the mid Holocene (41 % of the total land area covered in the analysis) and smallest during the Last Glacial Maximum (19 %) (Fig.
4
). Large surfaces of suitable habitat were also observed during the last interglacial (37 %) and present (39 %) (Fig.
4
). Results obtained with alternative climate models showed similar outputs and are provided in the additional files section (Additional file
7
).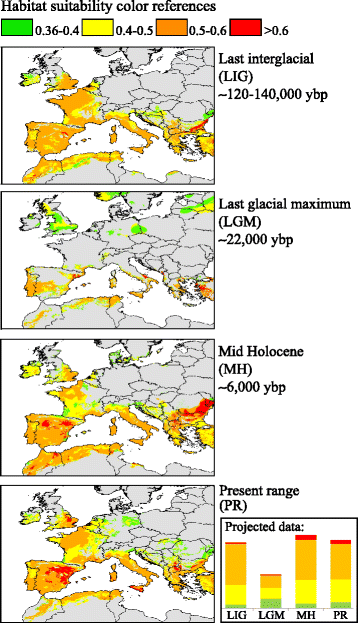 Discussion
We found genetic evidence of historical fluctuations in the effective population size of the turtle dove. As predicted, we inferred a drastic demographic expansion, estimated to have taken place during the early-mid Holocene. Our analyses also supported a relatively recent demographic contraction, which took place between the mid Holocene and the present. The demographic scenario supported by our genetic data is correlated with changes in the availability of suitable habitat for the turtle dove, as inferred by our ecological niche modelling results. We did not, however, detect evidence of population genetic structure associated to the alternative migratory flyways. Finally, we argue that the turtle dove's fluctuating demography along with its decreasing effective population size make it particularly sensitive to current anthropogenic threats.
A fluctuating demographic history
The turtle dove is a warm-climate adapted species, with specific breeding habitat requirements that include a mixture of grasslands and woodlands [24]. The climate oscillations that occurred during the Quaternary period strongly affected the distribution and abundance of this kind of environment [47]. Therefore, we expected to find changes in the turtle dove effective population size in response to those shifts.
The last interglacial (~140–120,000 ybp) was a warm period, with climate conditions that were similar to those of the Holocene [48]; therefore, we expected to observe a large Ne during that time. Although our niche modelling showed a large surface of suitable turtle dove habitat during this period (Fig. 4), the genetic data did not support our prediction or was not informative about this period in time. We also expected to observe a drastic demographic contraction during the late Pleistocene, when a cooling process started ~75,000 ybp and lasted until the last glacial maximum [49]. This cooling was coupled with shifts in precipitation patterns, creating an east–west gradient [5] and modifying habitat composition [5, 48]. The western Palearctic in general and the northwest Palearctic in particular, became dominated by dry and open-tundra like environments [47], unsuitable for most woodland dependent bird species. In agreement with the described scenario, we found a drastic reduction in the surface of available suitable habitat for the turtle dove (Fig. 4) and a very small estimated Ne (Table 1, Fig. 2). It is possible that this period represented a bottleneck for the species. If very few gene trees coalesce prior to the bottleneck, the demographic signal before the last glacial maximum would be erased. Such a bottleneck is a plausible explanation of why our data do not support models that predict a large Ne during the last interglacial.
The beginning of the Holocene is characterized by a rise in the average temperatures [50], which generated an increment in the suitable available habitat for most warm-temperature adapted species such as the turtle dove (Fig. 4, [51]). In agreement with this, our Tajima's D and Fs analysis suggest a scenario of a recent demographic expansion, which, according to the EBSP analysis started during the early Holocene and reached the highest Ne in the present (Fig. 3). Our DIYABC analysis, however, supports a scenario in which the turtle dove went through a strong demographic expansion during the early-mid Holocene and reached its highest Ne during the mid Holocene (Fig. 2 and Table 1). This analysis also inferred the occurrence of a recent contraction in the Ne, indicating that the current Ne for the turtle dove is relatively low and closer to that observed during the late Pleistocene (Table 1). This finding fits our predictions; because it is coherent with the long-term abundance decline reported for the turtle dove [27]. However, our estimate of when this Ne contraction started is imprecise and depends on several assumptions, including mutation rates, generation time and the parameters in our model. The observed contraction in the turtle dove effective size could have started at any point between the mid Holocene and the present (Table 1). Therefore, we are unable to assert that it is the strict consequence of modern human activities; moreover it also coincides with a slight reduction in the availability of suitable habitat for the species (projected data, Fig. 4).
Our analyses complement each other, and the observed differences are probably a consequence of the amount of genetic data each method is able to incorporate, its assumptions, and differences in the time scale at which mitochondrial and nuclear markers are able to provide resolution. Nonetheless, all our analyses coincide in showing a history of demographic fluctuations in the turtle dove. Overall, it is likely that this last contraction in the Ne is the outcome of the turtle dove's fluctuating demographic history responding to natural climatic changes, currently enhanced by anthropogenic actions.
Population genetic structure: different flyways, the same gene pool
We hypothesized that the alternative flyways used by migrating turtle doves between Europe and Africa, would generate genetic differentiation among populations, a phenomenon previously described for other long distance migratory bird species worldwide (e.g. [20, 21, 52]). However, we did not detect any evidence of population genetic structure (Fig. 1b, c and Additional file 4). The turtle doves' breeding range expands east of Bulgaria, through Russia, reaching China [27]. Therefore we cannot comment on the possibility of genetic structure beyond the three European flyways, that were the focus of our study.
We propose two possible explanations for not finding genetic structure associated to the migratory flyways. 1) The described flyways for the turtle dove are coupled with a weak migratory connectivity (as defined in [53]), meaning that individuals from the same breeding population do not share the same wintering ground and vice versa. Therefore, these flyways would not constitute a barrier to gene flow. 2) Migratory connectivity could be strong, as suggested by the very low probability of recapturing western breeders in the eastern flyway and vice versa [26]. If the latter held true, then flyways could generate genetic differentiation that we might not be able to detect, because divergence is too recent and individuals still share most of their alleles (i.e., high levels of incomplete lineage sorting). Our genetic data will not allow us to distinguish between these alternatives. However, the observation of one individual that was ringed as a western breeder but recaptured on eastern breeding grounds, together with the moderate probability of western and eastern breeders to be recaptured in the central flyway [26] would support the first explanation.
Implications for conservation
Our results suggest that the turtle dove's demography make it particularly vulnerable to anthropogenic threats. Firstly, we found that it is undergoing a phase of effective population size contraction (Fig. 2, Table 1). This is of particular interest because the turtle dove has been recently categorized as vulnerable by the IUCN Red List (http://www.iucnredlist.org/), as a consequence of a global abundance decline (30–49 % in 15 years, [27]). This trend has been particularly dramatic in the United Kingdom (97 % decline in 40 years, [54]). The reported decline is attributed to anthropogenic degradation of its breeding [55] and wintering territories [56], also game hunting and poaching [57, 58]. Even though we cannot attribute our finding of a recent Ne contraction to modern human actions alone (discussed above), this is still relevant to turtle dove's conservation. Many bird species that also suffered recent declines in abundance and are categorized as endangered (sensu IUCN Red List) show genomic signatures of long-term demographic declines that predate the appearance of modern anthropogenic threats [59]. We also found signatures of a demographic history of fluctuations for the turtle dove. It has been observed that in demographically stable wild species the ratio of the effective and census population size (Ne/Nc) is around 0.1 [60], however several factors can produce deviations from this ratio [61]. The estimated Nc for the turtle dove in Europe is between 6 and 12 million individuals [27] and our mean Ne estimate for the present is ~172,000 individuals (Table 1). Using the latter Nc and Ne parameters we observe a lower ratio than expected, Ne/Nc = 0.028–0.014, which is usually the result of drastic demographic fluctuations [62, 63]. Because factors such as sampling bias might affect the estimation of demographic parameters obtained using different analytical methods (e.g. [64]), we suggest to interpret our demographic parameters with caution and instead to focus on the general pattern. In this regard, species that exhibit the described drastic natural fluctuations could be particularly sensitive to anthropogenic threats, especially when they are going through a contraction phase (e.g. North American passenger pigeon, Ectopistes migratorius, [65], and Rocky Mountain grasshopper, Melanoplus spretus, [66]).
The described demographic scenario (i.e. long-term decline and drastic fluctuations) could increase species' vulnerability to the impacts of macroecological changes resulting from natural earth cycles, which are currently enhanced by anthropogenic activities [67, 68]. To further illustrate this, a paradigmatic case is the North American passenger pigeon; which went extinct almost a century ago, although it was considered one of the most abundant bird species in the world [69]. A genomic study of this species suggested that its naturally fluctuating demographic history, coupled with a downward trend in its Ne that coincided with the appearance of human threats were the main causes of its sudden extinction [65].
Conclusions
Our finding that the turtle dove shows the genomic signatures of a fluctuating demographic history coupled with a recent effective population size contraction, provides support for its vulnerable conservation status. Finally, because we found no evidence of population genetic structure, we prompt that all turtle dove populations across Europe (the portion of the range that was sampled) are equally relevant for conservation.
Declarations
Acknowledgements
Would like to thank Tanja Romeike, Steffen Koschkar and Fernando Spina for help in the field. We are indebted to the members of the Fuller Evolutionary Biology program, especially Dr. Irby Lovette and Dr. Bronwyn Butcher for access to the research facilities at the Cornell Lab of Ornithology and for providing valuable feedback for this project.
Funding
This study was supported by the Deutsche Forschungsgemeinschaft (DFG, Germany, Heisenberg grant to PQ, QU148/5), and also by a grant from the Research fund (Forschungsförderfonds) of the Justus Liebig University (Germany).
Authors' contributions
LuC carried out laboratory work to generate the cytochrome b and SNP datasets, also performed bioinformatics analyses on both datasets, and wrote the manuscript; LeC provided guidance and participated in laboratory work to generate the SNP dataset and performed bioinformatics analyses on that data, also collaborated in writing the manuscript; TW helped with project design, provided the facilities to generate the cytochrome b dataset and drafted the manuscript. LH, EC, DJ, RG, ZP, BDE, MB, CJG and MM conducted field work and provided blood and tissue samples for this work; they also drafted the manuscript. PQ designed and coordinated the project, participated in the field work, performed the niche modeling simulation analysis and helped write the manuscript. All authors gave their final approval for publication.
Competing interests
The authors declare that they have no competing interests.
Consent for publication
Not applicable.
Ethics approval approval and consent to participate
We used mist nets to catch individuals for blood sampling, under the licences obtained from the national authorities of each country. The birds were bled, ringed and released as fast as possible in order to reduce stress. Birds' wings hunted during migration were provided by hunting estates. No birds were hunted for the purpose of the present study.
Data accessibility
Data used in MaxEnt was downloaded from open access sources, namely: http://www.worldclim.org (climate data) and http://www.gbif.org (occurrence data). mtDNA sequences are available in GenBank (accession numbers for mtDNA: KU588290-KU588384) and Rad-seq data is available in DRYAD (doi:10.5061/dryad.p5cf4).
Open AccessThis article is distributed under the terms of the Creative Commons Attribution 4.0 International License (http://creativecommons.org/licenses/by/4.0/), which permits unrestricted use, distribution, and reproduction in any medium, provided you give appropriate credit to the original author(s) and the source, provide a link to the Creative Commons license, and indicate if changes were made. The Creative Commons Public Domain Dedication waiver (http://creativecommons.org/publicdomain/zero/1.0/) applies to the data made available in this article, unless otherwise stated.
Authors' Affiliations
(1)
Department of Animal Ecology & Systematics, Justus Liebig University Giessen, Giessen, Germany
(2)
Fuller Evolutionary Biology Program, Cornell Lab of Ornithology, Ithaca, USA
(3)
Department of Ecology and Evolutionary Biology, Cornell University, Ithaca, USA
(4)
Unité Avifaune Migratrice, Office National de la Chasse et de la Faune Sauvage, Villiers en Bois, France
(5)
School of Life Sciences, University of Lincoln, Joseph Banks Laboratories, Lincoln, UK
(6)
Department of Agro-forestry Engineering, University of Extremadura, Plasencia, Spain
(7)
Bulgarian Academy of Sciences, Institute of Biodiversity and Ecosystem Research, Sofia, Bulgaria
(8)
Aristotle University of Thessaloniki, School of Forestry and Natural Environment, Thessaloniki, Greece
(9)
Birdlife Malta, Triq Abate Rigord, Ta' Xbiex, Malta
(10)
Instituto Superiore per la Protezione e la Ricerca Ambientale, Ozzano Dell'Emilia, Italy