Research article

Open Access
Structural differences and differential expression among rhabdomeric opsins reveal functional change after gene duplication in the bay scallop, Argopecten irradians (Pectinidae)
BMC Evolutionary Biology
BMC series – open, inclusive and trusted
2016
16:250
Received: 24 February 2016
Accepted: 1 November 2016
Published: 17 November 2016
Abstract
Background
Opsins are the only class of proteins used for light perception in image-forming eyes. Gene duplication and subsequent functional divergence of opsins have played an important role in expanding photoreceptive capabilities of organisms by altering what wavelengths of light are absorbed by photoreceptors (spectral tuning). However, new opsin copies may also acquire novel function or subdivide ancestral functions through changes to temporal, spatial or the level of gene expression. Here, we test how opsin gene copies diversify in function and evolutionary fate by characterizing four rhabdomeric (Gq-protein coupled) opsins in the scallop, Argopecten irradians, identified from tissue-specific transcriptomes.
Results
Under a phylogenetic analysis, we recovered a pattern consistent with two rounds of duplication that generated the genetic diversity of scallop Gq-opsins. We found strong support for differential expression of paralogous Gq-opsins across ocular and extra-ocular photosensitive tissues, suggesting that scallop Gq-opsins are used in different biological contexts due to molecular alternations outside and within the protein-coding regions. Finally, we used available protein models to predict which amino acid residues interact with the light-absorbing chromophore. Variation in these residues suggests that the four Gq-opsin paralogs absorb different wavelengths of light.
Conclusions
Our results uncover novel genetic and functional diversity in the light-sensing structures of the scallop, demonstrating the complicated nature of Gq-opsin diversification after gene duplication. Our results highlight a change in the nearly ubiquitous shadow response in molluscs to a narrowed functional specificity for visual processes in the eyed scallop. Our findings provide a starting point to study how gene duplication may coincide with eye evolution, and more specifically, different ways neofunctionalization of Gq-opsins may occur.
Keywords
Rhabdomeric photoreceptorR-opsinGene duplicationMelanopsinRhodopsinVision
Background
Organisms detect environmental stimuli using an array of sensory receptors. Changes to the genetic basis of these sensory receptors has been shown to allow organisms to exploit new ecological niches [1] or alter signaling between conspecifics [2], which can affect individual fitness and, ultimately, have evolutionary consequences for the species. Duplication of the genes that code for the sensory receptor proteins is thought to play an important role in expanding the diversity of sensory systems by providing new genetic material for novel phenotypes [3–6]. If gene duplicates are retained, they can follow one of three evolutionary fates (first outlined by [7]; see also expanded models reviewed by [8–10]). First, if both paralogs have the exact same function or suite of functions, the existence of a second copy can increase production levels of encoded protein ("gene conservation" [11]). Under this scenario, the second copy provides functional redundancy that can buffer against neutral loss-of-function mutations over evolutionary time. However, more dramatic functional divergence may occur following the duplication event. In the second scenario, if the original gene managed a suite of functions, such as enzymatic activity and signal transduction, the duplicated copies could subdivide these tasks ("subfunctionalization" [12]). Subfunctionalization of paralogs may include changes in spatial or temporal expression patterns [13] and may release one gene copy from adaptive constraint ("escape from adaptive conflict" model [14]) so that both copies can be optimized for particular tasks [15]. Finally, one copy of the duplicated gene can acquire a novel function while the other copy retains the original, pre-duplication function ("neofunctionalization" [7]).
In photosensory systems, the ability of an animal to become sensitive to a broader range of wavelengths is most often mediated by an increase in the number of opsins [16–22]. Opsins encode a class of G-protein coupled receptors (GPCRs), proteins with seven alpha-helical domains that transverse the cell membrane (helix, H1-7) interspaced by loops that extend into the cytoplasm (cytoplasmic loops, CL1-3) and outside of the photoreceptive cell (extracellular loops, EC1-3). Opsins covalently bind a light-absorbing vitamin-A derived chromophore, such as 11-cis-retinal, using a lysine residue in H7. Together, the opsin protein and chromophore molecule form a photopigment sensitive to a specific portion of the light spectrum. Photopigments are often characterized by the wavelength at which the absorbance of light is the greatest (λmax). When 11-cis retinal absorbs a light photon, it isomerizes to an all-trans state. As a result, the opsin undergoes a conformational change and releases a complex of heterotrimeric guanine nucleotide-binding proteins (G-proteins), which are specific to that opsin (reviewed in [23]). The dissociated alpha-subunit of the G-protein activates the phototransduction cascade through second messenger molecules. Depending on the particular transduction pathway initiated by opsin, the photoreceptor cell may either hyperpolarize (e.g., Gt-protein coupled opsins in ciliary cells) or depolarize (e.g., Gq-protein coupled opsins in rhabdomeric cells) [24]. Opsin specificity to its G-protein partner is regulated by G-protein binding sites [25] and is associated with particular amino acid motifs in the fourth cytoplasmic loop [26]. Phylogenetically, opsins group into clades based, in part, by the G-protein partner and to a lesser extent by photoreceptor type (rhabdomeric versus ciliary cells) [27, 28].
Because a photopigment can only absorb a portion of the light spectrum, increasing the number and diversity of opsins through gene duplication and divergence allows an expansion of the photoresponse to new wavelengths of light. This may lead to color discrimination, if the photopigments have different light sensitivities. Under this neofunctionalization model, changes in the amino acid residues at positions that interact with the chromophore (e.g., "spectral tuning sites") shift the wavelength at which absorbance is the greatest (λmax) of the duplicated visual pigment. Thus, the potential advantages for organisms with multiple and genetically diverse photopigments include extending the range of spectral perception, new functionality under different light conditions, generation of wavelength-specific behaviors, or providing the molecular substrate in the retina for color vision (reviewed in [29]). Any of these phenotypes may allow an animal to occupy new or more heterogeneous photic niches [30, 31].
While it is well-documented that duplicated opsin genes most often attain a new λmax by neofunctionalization [32–40] it is less understood what other phenotypic outcomes may follow the duplication of opsin genes (but see [21]). Photoreceptors in invertebrates occur in multiple tissue types and in different life stages, and can function as both ocular and extra-ocular sensory receptors [41–46]. Thus, in invertebrates, neofunctionalization of opsins may include co-option between tissues, organs, or life stages after a gene duplication event. In order to distinguish among different evolutionary outcomes of opsin duplication and what effect gene duplication may have in the evolution of the photoreceptive cells and organs in a given system [47], it is necessary to first identify and then characterize the diversity of opsin proteins that are present.
Here, we assess the evolutionary history of Gq-opsins in scallop to examine the role of gene duplication in producing extant diversity. The molecular basis of photoreception in the scallop is complex. The mirror-type eyes of scallops contain at least two different phototransduction systems based on opsins that presumably couple with Go- and Gq-proteins [48]. Previously, we identified a duplication event of scallop Gq-protein coupled opsins that occurred over 230 Mya [49]. Because gene copies with identical gene function are unlikely to be maintained in the genome unless the new duplicate is advantageous [50], the long-term retention of these opsin duplicates in the scallop lineage suggests a fitness cost if the copies are not maintained. For these duplicates to persist over evolutionary time, opsin copies must have diverged phenotypically under one or more of the evolutionary fate models described above. To test this hypothesis, we determined the evolutionary fates of these duplicated scallop opsins. We first captured the genetic diversity of Gq-protein coupled opsin genes (herein opnGq for the gene or the coding region, and OPNGq for the protein) by generating transcriptomes of photosensitive tissues from adult animals and placed the genetic diversity of scallop Gq-opsins into an evolutionary framework by employing a phylogenetic analysis. We next asked how might these scallop OPNGq proteins interact with a chromophore. To do so, we capitalized on the x-ray crystallography data from the squid OPNGq ("squid rhodopsin") [51, 52] to model the tertiary structure of the scallop OPNGqs. Then, we examined if the protein characteristics of each paralog differ. As a first approximation to identify differences in λmax among scallop Gq-opsins, we leveraged existing computational models that estimate electrostatic interactions between the amino acids and the chromophore of squid OPNGq and applied them to the scallop data. Finally, we examined differences in gene expression of opnGq paralogs across both ocular and extra-ocular photoreceptive organs. From these lines of evidence, we show that scallop Gq-opsin paralogs differ in 1) the biochemical properties of amino acid residues interacting with the chromophore; 2) expression levels of the gene; and 3) spatial expression of the gene among light-sensitive tissues in the adult organisms.
Discussion
The duplication of opsin genes is considered to be an important mechanism for the expansion of light-sensing capabilities of photosensory systems by either enhancing wavelength discrimination or increasing the spatial expression. While some of the best studied examples of photosensitivity expansion are the separate origins of color vision in insects [
22
,
42
,
78
] and vertebrates [
17
,
79
,
80
], where shifts in absorbance spectra are attributed to nonsynonymous substitutions to the coding region of one opsin copy, post-duplication fates of opsins need not be limited to changes in the coding region. Functional divergence of opsin copies can also be driven by changes to the untranslated regions of the gene, which contain regulatory elements influencing gene expression and translation. This latter phenomenon has been less studied in post-duplicated opsins (but see [
81
]). While we did not directly investigate regulation of scallop G
q
-opsin, our discovery of tissue-specific expression of G
q
-opsin paralogs in the scallop,
Argopecten irradians
, not only provides circumstantial evidence that there may be differences in regulatory regions, but offers an opportunity to investigate how these gene copies diversified in function and evolutionary fates. One-to-one matches between transcript and genomic amplicons strongly support the presence of at least four G
q
-opsin paralogs in the
A. irradians
genome. All four genes were identified as G
q
-opsins by both sequence similarity and phylogenetic analysis, and are most likely the result of duplication events in a lineage that includes the orders Pectinoida and Limoida [
49
], either through whole genome duplication events [
82
] or duplication of small segments of the genome [
83
]. The specific timing of these events will require denser taxonomic sampling within the subclass Pteriomorphia, but if the phylogenetic pattern from our study holds, it would appear that
opnGq1
and
opnGq4
are derived from the first round of gene or genome duplication. Subsequently,
opnGq4
may have undergone a tandem duplication, and the paralog underwent a second round of duplication to create
opnGq2
and
opnGq3
(Fig.
5
).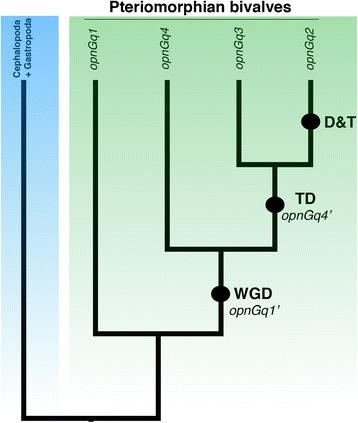 We present evidence that all four Air-opnGqs products, when reconstituted with the proper chromophore, could form photopigments. Each scallop Gq-opsin has the sequence motifs necessary for protein conformation and chromophore binding (Table 2). Tertiary structural models developed for each Air-OPNGq contain the expected protein domains and loops for a functional opsin protein. Interestingly, all four scallop protein models predict eighth and ninth cytoplasmic α-helices (Fig. 1), features unique to Gq-opsins [51]. In the Tpa-OPNGq1 crystal structure, the C-terminus of H9 interacts with the cytoplasmic extension of H6, that together with H5 form a rigid column projecting 25 Å from the membrane surface; however the rotational freedom of H9 is restricted by its interactions with H8. Thus, others have predicted that this four-domain cytoplasmic feature, in conjunction with the HKP motif in H8 [26], functions as the recognition mechanism for specific G-protein partners [51]. In summary, our bioinformatic analyses support that all four scallop Gq-opsins form photopigments that could be used to detect light. How might these gene copies have diverged after the duplication event? Molecular changes in paralogous scallop opsin genes appeared to have occurred both outside and within the protein-coding region.
We find differential gene expression across ocular and extra-ocular structures in the adult, suggesting there have been changes in the regulatory regions of scallop Gq-opsin paralogs. Specifically, while all Air-opnGqs are expressed in eyes, the level of expression is vastly different (ranging from a 38- to 5815-fold difference). In addition, only two of the four Gq-opsins, Air-opnGq1 and Air-opnGq2, are significantly expressed outside of the eye, and presumably they are used in a nonvisual context such as the "shadow response" [84]. Taken together, these data suggest that scallop opsin paralogs are used in different biological contexts. Some may preferentially be employed in eyes (Air-opnGq3 and Air-opnGq4), while others (Air-opnGq1 and Air-opnGq2) are used for both ocular and extra-ocular based functions.
Spatial patterning and expression level differences among the scallop Gq-opsin paralogs suggest they have undergone neofunctionalization since duplication. When we compare the scallop opsin expression data to the closest related bivalve with a sequenced genome, the Pacific oyster, Crassostrea gigas [73] we find a dramatic difference in the relative levels of gene expression and spatial patterning. From the oyster genome, we identified three Gq-opsins, but only one (Cgi-opnGq1) was phylogenetically similar to the scallop opsins (Fig. 2). This Cgi-opnGq1 is broadly expressed at low levels across the adult non-ocular tissues (e.g., 0.10 RPKM in mantle tissue to 0.29 RPKM in gonad) [73]. In contrast, the adult scallop has high levels of expression (up to 10,001.27 FPKM) of different Gq-opsin gene copies in eyes, and low or no expression of these opsins in non-ocular tissues (Fig. 4). Could an increase in opsin expression level and/or greater number of gene copies be related to the origin of eyes? Currently available opsin sequences from bivalve species represent a very restricted taxonomic sampling. But based on the nearly ubiquitous shadow response in Bivalvia and Gastropoda, the few instances of eyes in bivalves [85], and the results from our study, we anticipate that the ancestral state for Gq-opsin spatial expression in bivalves is across multiple tissue types while the derived condition of spatial expression is narrowed (limited) to eyes and may indicate functional specificity for visual processes. If one or both of the scallop opsin duplication events were concurrent with the origin of eyes, it would support the notion of neofunctionalization of the new Gq-opsin copies.
Do the differential levels of gene expression indicate an even finer spatial partitioning of Air-opnGqs? We anticipate this to be the case. Depending on the scallop species, an adult animal can have between 35 to over 200 eyes along the mantle margins lining both valves (Serb, unpublished) that can vary in size [86, 87]. Visual fields from adjacent eyes overlap such that, as a conservative estimate, at least five eyes would convey similar information from a given point in the environment (estimated from a 30-eyed animal [88]). One way to reduce functional redundancy would be to distribute Air-OPNGq proteins of dissimilar absorbance spectra across non-adjacent eyes. However, due to the limitations of library construction, which required the pooling of all 60 eyes from one light- and 60 eyes from one dark-treated animal, we are unable to determine if a single eye expresses all or a just subset of Air-opnGqs. Furthermore, the expression pattern of Air-opnGqs at the level of single photoreceptors also needs to be elucidated. Since Air-opnGqs are phylogenetically similar to the first reported scallop Gq-opsin in Mizuhopecten yessoensis, which is presumed to be co-expressed with Gq-protein in rhabdomeric photoreceptors of the proximal retina ("depolarizing layer") [48], we can predict that Air-OPNGqs will share a similar gross expression pattern. At a cellular level, it has been shown that more than one Gq-opsin can be expressed in a single photoreceptor cell [89–92] and this can lead to a broader spectral range for a given photoreceptor if opsins differ in λmax values. Thus, to understand how spatial partitioning may have changed as gene copies diversified phenotypically in the scallop, future work will require the development of probes specific to each Air-opnGq gene or protein.
Spectral sensitivity may differ among the scallop Gq-opsin photopigments. We identified changes in amino acid sequence at seven sites that are predicted to influence spectral tuning of Gq-opsins [66]. The electrostatic contribution of individual residues at these sites has been modeled previously on Tpa-OPNGq1 [66, 75]. Among the scallop Gq-opsins, residues at position 92 had the most dissimilar biochemical properties (nonpolar aliphatic/hydrophobic in Air-OPNGq1 and Air-OPNGq2; aromatic in Air-OPNG3; positive polar in Air-OPNGq4). Position 306 is also of interest because there is a difference in charge and a presence/absence of a hydroxyl group. Air-OPNGq1 and Air-OPNGq4 have a polar, hydroxyl-bearing Thr306 while Air-OPNGq2 and Air-OPNGq3 contain a non-polar Ala306. Evidence from previous studies [93–95] suggests that shifts in λmax values can be achieved via a change of charge (polar vs non-polar) or a gain/loss of a hydroxyl group that ultimately affects the electrostatic potential around the protonated Schiff base [66]. Based on our results, we hypothesize that the λmax may differ among some or all of the Air-OPNGqs. This hypothesis contradicts results from previous studies where only a single λmax value was measured for depolarizing rhabdomeric photoreceptors [96, 97]. While some of the earliest work on spectral sensitivity of scallops was based on behavior trials, and was unable to test specific visual pigments, photoreceptor cells, or account for extra-ocular photoreception (e.g., [98]), more sophisticated methods have been employed to record membrane potential changes of individual photoreceptor cells (e.g., [97, 99, 100]). Most recently, microspectrophotometry has been used on dark-adapted scallop retinas to measure λmax directly [96]. For rhabdomeric photoreceptors of A. irradians, both intracellular recordings [97] and microspectrophotometry results [96] recover a single spectral curve with a λmax value of ~500 nm. Though, with the limited number of photoreceptor cells examined (N = 4 versus N = 21 [96, 97]) and a 38- to 5815-fold higher expression level difference of Air-opnGq2 to other Air-opnGqs (this study), it is unlikely that all four Gq-opsins were sampled. An alternative approach will be needed to determine if there are any differences in λmax by targeting individual Air-OPNGqs. One approach would be to directly test λmax of each Air-OPNGq photopigment in vitro, but the well-known technical challenges of expressing Gq-opsin proteins in transient heterologous systems will need to be overcome [101, 102] or stable transfection of cell lines [103] or animals [104] will need to be employed.
Conclusions
Gene duplication and subsequent functional divergence of opsins have played an important role in expanding photoreceptive capabilities of organisms by altering what wavelengths of light are preferentially absorbed by photoreceptors (spectral tuning). However, new opsin copies may also acquire new or subdivide ancestral functions through changes to temporal, spatial or the level of gene expression. As the first molecular characterization of scallop Gq-opsins, our study highlights how opsin duplication and diversification may not only affect the evolution of the visual system, but also non-visual photoreception. Sequence variation among the scallop Gq-opsins suggests different biochemical properties of the proteins, which may translate into differences in light absorption and/or G protein affinity. Changes to spatial pattern and level of gene expression are illustrative of transitions between broad non-visual photoreception and eye-specific expression indicating neofunctionalization after opsin-duplication.
It is important to extend the taxonomic sampling of intraspecific opsin diversity in non-arthropod invertebrates in the future to understand diversification and plasticity of Gq-opsins. As such, molluscs are a rich system to study protein evolution, but have been underused due to a lack of basic information about their genic composition. Our work demonstrates the need for more studies looking at the visual evolution of molluscs to further their impact on the fields of molecular, sensory, and evolutionary biology.
Declarations
Acknowledgments
We thank Eric Milbrant and the staff at the Sanibel-Captiva Conservation Foundation for organizing live scallop collection and providing housing and research resources, Brad Fleming for assisting in scallop collection and dissection, and Srihari Radhakrishnan for providing Trinity line code for transcriptome assembly. We thank Dan Speiser for commenting on an earlier version of the manuscript. This work was supported by the National Science Foundation (DEB 1118884 to JMS); the Carl A. and Grace A. Bailey Research Career Development Award (to JMS); the Iowa Science Foundation (ISF 11–13 to JMS and ANP); Sigma Xi (to ANP); and the Malacological Society of London (to ANP).
Availability of data and materials
Datasets supporting the results of this article are available from Genbank (KT426908–KT426911).
Authors' contributions
JMS conceived the work; JMS, AJPK and ANP planned the research design; ANP collected samples; AJPK and ANP performed lab work; BSB, KS and DF performed protein modeling; ANP performed transcriptome assembly and phylogenetic analyses; all authors participated in manuscript preparation. All authors approve the final version of the manuscript.
Competing interests
The authors declare that they have no competing interests.
Consent for publication
Not applicable.
Ethics approval and consent to participate
Not applicable.
Open AccessThis article is distributed under the terms of the Creative Commons Attribution 4.0 International License (http://creativecommons.org/licenses/by/4.0/), which permits unrestricted use, distribution, and reproduction in any medium, provided you give appropriate credit to the original author(s) and the source, provide a link to the Creative Commons license, and indicate if changes were made. The Creative Commons Public Domain Dedication waiver (http://creativecommons.org/publicdomain/zero/1.0/) applies to the data made available in this article, unless otherwise stated.
Authors' Affiliations
(1)
Department of Ecology, Evolution, and Organismal Biology, Iowa State University, Ames, USA
(2)
Department of Genetics, Development, and Cell Biology, Iowa State University, Ames, USA
(3)
Department of Biochemistry, Biophysics, and Molecular Biology, Iowa State University, Ames, USA
(4)
Interdepartmental Graduate Program in Bioinformatics and Computational Biology, Iowa State University, Ames, USA