In silico evolution of the Drosophila gap gene regulatory sequence under elevated mutational pressure
BMC Evolutionary Biology
BMC series – open, inclusive and trusted
2017
17(Suppl 1):4
Published: 7 February 2017
Abstract
Background
Cis-regulatory sequences are often composed of many low-affinity transcription factor binding sites (TFBSs). Determining the evolutionary and functional importance of regulatory sequence composition is impeded without a detailed knowledge of the genotype-phenotype map.
Results
We simulate the evolution of regulatory sequences involved in Drosophila melanogaster embryo segmentation during early development. Natural selection evaluates gene expression dynamics produced by a computational model of the developmental network. We observe a dramatic decrease in the total number of transcription factor binding sites through the course of evolution. Despite a decrease in average sequence binding energies through time, the regulatory sequences tend towards organisations containing increased high affinity transcription factor binding sites. Additionally, the binding energies of separate sequence segments demonstrate ubiquitous mutual correlations through time. Fewer than 10% of initial TFBSs are maintained throughout the entire simulation, deemed 'core' sites. These sites have increased functional importance as assessed under wild-type conditions and their binding energy distributions are highly conserved. Furthermore, TFBSs within close proximity of core sites exhibit increased longevity, reflecting functional regulatory interactions with core sites.
Conclusion
In response to elevated mutational pressure, evolution tends to sample regulatory sequence organisations with fewer, albeit on average, stronger functional transcription factor binding sites. These organisations are also shaped by the regulatory interactions among core binding sites with sites in their local vicinity.
Keywords
Evolution
Regulatory sequence
Gap gene regulatory network
Thermodynamic expression model
Drosophila development
Background
Historically, the study of mathematical evolution was practiced as the study of the changes in gene frequencies, as a consequence of neutral and selective evolutionary forces. For the sake of simplicity, many of these early population genetic models analyzed these processes without considering the complications imposed by including genotype-phenotype mappings, such as descriptions of the genetic regulatory networks (GRNs) involved in development. Over the past several decades models of gene regulatory networks (of varying degrees of realism) have been developed and applied to fill this gap in evolutionary research [1–4]. Studies lacking highly detailed computational descriptions of relevant GRNs typically draw inferences based solely on sequence, and the direct properties thereof, potentially missing subtleties that can only be deduced from a systems-level approach. For instance, previous work suggests that the binding affinity of a transcription factor binding site (TFBS) only weakly predicts its phenotypic importance [5–8], contradicting the naive notion that binding site strength strongly predicts selective importance. Consistent with this view, we study the evolutionary dynamics of biological regulatory sequences employing a systems level approach. We simulate sequence evolution using an experimentally derived, computational model of a developmental network and genotype-phenotype mapping [6].
We simulate expression of four segmentation genes during early fruit fly development using a hybrid reaction-diffusion and thermodynamic computational model, fit to empirical expression patterns and to wild-type regulatory sequences. Given a sequence, TFBSs and their respective affinities are assigned, and gene product concentrations (mRNA and proteins) are calculated [6]. Both reaction-diffusion and 'gene-circuit' modelling approaches have been successfully applied to study gene network and enhancer evolution in Drosophila development [4, 9–14].
The cumulative binding energy, and thus the net impact, a regulatory sequence imposes on its target gene is a complex function of, minimally: DNA accessibility, TFBS presence and quantity, and transcription factor/TFBS affinity. As such, many different combinations of these variables, in principle, can precipitate similar, if not identical, regulatory effects. However, as the regulatory sequences are a consequence of gradual, neutral and selective evolutionary changes, subsets of these functionally-equivalent schemes may be more and less likely to emerge and more and less stable through evolutionary time, given specific historical, population, and mutational conditions. Therefore, the sets of acceptable regulatory schemes connected by either neutral or compensatory evolutionary changes are of particular interest to evolutionary biologists.
It is well documented and experimentally demonstrated that there is tremendous regulatory sequence variation and divergence among even closely related species, despite conservation of expression patterns and regulatory dynamics [15–19]. Presumably TFBS turnover and sequence divergence occurs mostly as populations traverse the set of equivalent regulatory schemes on a path connected by neutral changes. However, it is not immediately apparent what such evolutionary paths would look like, and how neutral and selective forces bias this search. Here we elaborate some of the consequences of high mutational pressure on sequence complexity.
Prior simulation studies have suggested that evolutionary paths tend to sample "complex" regulatory schemes (i.e. many, weaker TFBSs in contrast with fewer, stronger TFBSs), simply as a result of the relative frequencies of possible regulatory schemes [10]. It is further emphasized that patterns of seemingly nonrandom regulatory sequence complexity (measured in part by TFBS quantity) may simply be the result of non-adaptive processes [20, 21]. Furthermore, in order to predict the likelihood of evolutionary changes it may be helpful to catalogue both the functional importance of specific regulatory regions as well as the (in)visibility of regulatory regions (and sub-regions) to natural selection.
To add to this discussion, we study the evolutionary dynamics of a population of Drosophila melanogaster, characterized and assessed by the expression of its early developmental regulatory network under elevated mutational pressure, focusing our analysis on binding energy profile evolution. The developmental model employed suggests that the regulatory sequences under study are complex; composed of many weak (rather than a few strong) binding sites. As such, there is only a weak correlation between a binding site's affinity and its impact on gene expression. We emphasize a specific question: given the small correlation between sequence binding affinity and functional importance, how can the evolutionary significance (if any) of regulatory sequence reorganisation be assessed? We believe that a quantitative answer to this question will be generalizable to systems lacking such detailed computational genotype-phenotype models.
In this simulation, we observe a quick and dramatic drop in the total quantity of TFBSs in conjunction with a positive shift in the distribution of remaining regulatory binding energies through evolutionary time. This reorganisation is partially influenced by a sequence's binding affinity annotation specificity and redundancy. TFBSs determined to be functionally important (some with weak binding affinities) are shown to be conserved during evolution. Finally, TFBSs in close proximity to important binding sites are more likely to be maintained through evolutionary time.
Results
We estimate the phenotypic importance of an individual TFBS in the initial (wild-type) regulatory sequence by calculating the
rms
-difference between the model wild-type expression patterns, with and without a particular TFBS. We call this difference the regulatory
rms
-score of the binding site, and larger values of this score correspond to a stronger influence of the TFBS on expression, and vice versa [
6
]. Our model reveals only a small correlation between the binding affinity of a TFBS and its functional importance assessed via its
rms
-score (Fig.
1
; the Pearson correlation coefficient CC=0.30). In what follows, we investigate how this small correlation leads to the specific variability of the binding energy profile during the simulated evolution of the regulatory sequences.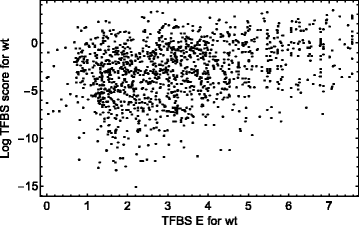 Discussion
In this study, we have provided an example of regulatory sequence change through evolutionary time. We pondered that given the large set of phenotypically and functionally equivalent regulatory schemes (when varying TFBS quantity, affinities, availability, etc.) that only a subset of these will be explored during evolution, and are contingent upon specific acting population, molecular, and historical forces. Previously, it was shown that high quantity TFBS sequences make up a relatively larger portion of acceptable sequence space and are consequently more likely to be frequented during evolution [10]. Mutational pressure seems to bias the evolutionary search of suitable regulatory sequences towards fewer TFBSs.
Under significant mutational pressure, our simulations demonstrate that the cumulative number of phenotypically important TFBSs diminishes in concert with an increase in average binding site affinities. This is likely a direct consequence of the mutation rate, as having fewer TFBS, and thus fewer functionally relevant nucleotides, minimizes the mutational target of the genome. Despite this constraint, the Drosophila gap gene network ably compensates by tweaking the binding energies of the remaining TFBSs. The observed change in low- and high-affinity binding sites is likely a result of compensatory actions. The tradeoff between TFBS frequency and affinity seems to be a general feature of regulatory networks [28]. This may also be consistent with claims that much of regulatory sequence organisation is predominantly shaped by neutral forces [20].
In this simulation, we do not only observe sequence drift, but we also notice qualitative changes in higher level descriptors of the regulatory network (such as binding energy). One might reasonably expect that wild-type regulatory sequences and higher-level network descriptors would already be optimized and at equilibrium, and that any of the observed qualitative changes here are a consequence of specific experimental conditions. This is seemingly a parsimonious explanation of our results and further reveals the specific influence of the mutation rate on the equilibrium values of higher-level network descriptors. If fewer TFBSs than are present in the wild-type sequence can achieve nearly identical expression patterns, is there a selective advantage to the wild-type regulatory strategy, or is it merely a consequence of neutral processes [10, 20, 21]? Our results showing slightly larger deviations of expression in derived populations could hint at the involvement of selective forces (overwhelmed in the present study). It is also important to note that our methodology focuses solely on several minutes of early development and our artificial version of selection is restricted to assessing brief spatiotemporal expression patterning, neglecting any extraneous potential functionality. Consequentially, a population at or near selective equillibrium, experimentally subjected to only a subset of selective criteria, may incorrectly appear to be unneccessarily complex.
One non-neutral possibility is that the more TFBSs involved in regulation, the more fine-tuned expression patterns can be. However, the increased control provided by additional TFBSs may diminish as a function of TFBS quantity. As such, the benefits provided by each additional fine-tuning site will eventually be outweighed by the cost of maintaining a larger mutational target. Although beyond the scope of the present study, these trade-offs, if necessary, may be better understood and predicted within the context of population genetic modeling. Future research can add mathematical clarity to the above speculations and further elaborate the connections among specific population parameters and network descriptor equilibriums. Originally developed within the context of RNA evolution and mutation, mathematical models that examine the tradeoffs among replicative fidelity of a sequence, sequence length, and mutation rates, may provide further insight [29].
Core TFBSs, TFBSs that remain throughout the entire evolutionary history of the simulation, are identified and shown to be extremely important towards maintaining wild-type expression patterns. In contrast, many sites with smaller phenotypic effects turnover often, and are suggested candidates responsible for observed sequence drift in actual biological populations. Another result of this simulation, consistent with previous work [5, 6], is the fairly weak correlation between TFBS energy and the impact of its removal on the entire system's dynamics. This further illustrates the necessity of realistic computational genotype-phenotype maps to assigning evolutionary functionality. The selective importance of many TFBSs can only be deeply understood within the context of the system it operates in, and not solely from local measurements.
We also note that TFBSs within close proximity of core sites are retained at a higher rate than other non-core TFBSs, despite sharing a similar perturbation distribution with other non-core, non-proximal binding sites. In accordance with our expectations of the influence of mutational pressure, this pattern may be a consequence of these non-core TFBSs sharing nucleotides with neighboring core TFBSs, and thus containing fewer mutable nucleotides. Others also observed increased longevity of overlapping binding sites [21]. Additionally, close core proximity TFBSs may be favorable due to cooperative interactions of these sites with the core sites.
The presented results have some limitations. We analyzed the results of a single evolutionary simulation with a fixed mutation rate. New simulations with varying parameter schemes are likely to clarify and refine our understanding of sequence evolution. In particular, the core TFBSs and other aspects may be different in other simulations, as evolution is a stochastic process. Despite the complexity of our model and its detailed focus on molecular mechanisms, it has mechanistic limitations as well. Only a subset of the known mechanistic details in regulation are simulated and, in particular, the 3D genome organisation, is presently neglected. Models that include these detials might disagree on the position of DNA and on the regulatory role of certain TFBSs, and potentially lead to different observations. Overcoming these modelling limitations is a desirable condition for future evolutionary studies.
Conclusions
Our simulations of genetic regulatory network evolution suggest that in response to elevated mutational pressure, the size of the functional regulatory sequence decreases to minimize risk. To compensate for this organisational constraint, TFBSs with, on average, stronger binding affinities are selectively maintained. The small correlation between TFBS affinity and functional importance means that gene network evolution tends towards sequence organisations having many weak TFBSs working in concert. This can make conclusions solely based on the analysis of the binding affinity landscape vague and incomplete. However, we show that core TFBSs, which form the regulatory backbone of the network, are highly conserved and can be identified at the level of binding energy dynamics. TFBSs that interact with these core binding sites also exhibit increased longevity. Despite the present study's focus on a specific system and parameter regime, its results will likely be relevant to more general studies of the TFBS evolutionary landscape, and its conclusions useful to systems lacking genotype-phenotype maps.
Declarations
Acknowledgements
We thank Ivan Kulakovskiy and Peter Ralph for helpful discussions.
Declarations
This article has been published as part of BMC Evolutionary Biology Vol 17 Suppl 1, 2017: Selected articles from BGRS ∖SB-2016: evolutionary biology. The full contents of the supplement are available online at https://bmcevolbiol.biomedcentral.com/articles/supplements/volume-17-supplement-1.
Funding
The work (including the publication costs) was supported by the Russian Science Foundation, grant numbers 14–14–00302 (analysis of regulatory sequences) and 16–16–00007 (development of the evolutionary algorithm; the publication costs), by the National Institute of Health, grant numbers U01 GM103804, RO1 GM098741 (development of the simulation program), and by the Russian Fund for Basic Research, grant number 14–04–01522a (development of the analysis tools).
Availability of data and materials
The datasets and programs used and/or analyzed during the current study available from the corresponding author on request.
Authors' contributions
Sergey V. Nuzhdin (SVN), Maria G. Samsonova (MGS), and Vitaly V. Gursky (VVG) conceived and designed the study. Joshua S. Schiffman (JSS), Aleksandra A. Chertkova (AAC), VVG, and Konstantin N. Kozlov (KNK) performed the calculations. AAC, JSS, VVG, KNK, SVN, and MGS analyzed the results. AAC, JSS, SVN, and VVG wrote the text. All authors read and approved the final manuscript.
Competing interests
The authors declare that they have no competing interests.
Consent for publication
Not applicable.
Ethics approval and consent to participate
Not applicable.
Open Access This article is distributed under the terms of the Creative Commons Attribution 4.0 International License (http://creativecommons.org/licenses/by/4.0/), which permits unrestricted use, distribution, and reproduction in any medium, provided you give appropriate credit to the original author(s) and the source, provide a link to the Creative Commons license, and indicate if changes were made. The Creative Commons Public Domain Dedication waiver (http://creativecommons.org/publicdomain/zero/1.0/) applies to the data made available in this article, unless otherwise stated.
Authors' Affiliations
(1)
Systems Biology and Bioinformatics Laboratory, Peter the Great St. Petersburg Polytechnic University, St. Petersburg, Russia
(2)
Molecular and Computational Biology, University of Southern California, Los Angeles, USA
(3)
Theoretical Department, Ioffe Institute, St. Petersburg, Russia