Research article

Open Access
Biogeography, phylogeny, and morphological evolution of central Texas cave and spring salamanders
BMC Evolutionary Biology
2013
13:201
Received: 3 April 2013
Accepted: 12 September 2013
Published: 17 September 2013
Abstract
Background
Subterranean faunal radiations can result in complex patterns of morphological divergence involving both convergent or parallel phenotypic evolution and cryptic species diversity. Salamanders of the genus Eurycea in central Texas provide a particularly challenging example with respect to phylogeny reconstruction, biogeography and taxonomy. These predominantly aquatic species inhabit karst limestone aquifers and spring outflows, and exhibit a wide range of morphological and genetic variation. We extensively sampled spring and cave populations of six Eurycea species within this group (eastern Blepsimolge clade), to reconstruct their phylogenetic and biogeographic history using mtDNA and examine patterns and origins of cave- and surface-associated morphological variation.
Results
Genetic divergence is generally low, and many populations share ancestral haplotypes and/or show evidence of introgression. This pattern likely indicates a recent radiation coupled with a complex history of intermittent connections within the aquatic karst system. Cave populations that exhibit the most extreme troglobitic morphologies show no or very low divergence from surface populations and are geographically interspersed among them, suggesting multiple instances of rapid, parallel phenotypic evolution. Morphological variation is diffuse among cave populations; this is in contrast to surface populations, which form a tight cluster in morphospace. Unexpectedly, our analyses reveal two distinct and previously unrecognized morphological groups encompassing multiple species that are not correlated with spring or cave habitat, phylogeny or geography, and may be due to developmental plasticity.
Conclusions
The evolutionary history of this group of spring- and cave-dwelling salamanders reflects patterns of intermittent isolation and gene flow influenced by complex hydrogeologic dynamics that are characteristic of karst regions. Shallow genetic divergences among several species, evidence of genetic exchange, and nested relationships across morphologically disparate cave and spring forms suggests that cave invasion was recent and many troglobitic morphologies arose independently. These patterns are consistent with an adaptive-shift hypothesis of divergence, which has been proposed to explain diversification in other karst fauna. While cave and surface forms often do not appear to be genetically isolated, morphological diversity within and among populations may be maintained by developmental plasticity, selection, or a combination thereof.
Keywords
Eurycea
Blepsimolge
Salamanders
Troglobites
Cave adaptation
Morphological evolution
Troglomorphism
Background
Radiations of karst limestone fauna are characterized by multiple invasions into cave systems that may result in convergent or parallel phenotypic evolution [1–4], genetically admixed populations [5], and alternating periods of isolation and gene flow between surface and cave populations [6]. These complex histories pose problems for phylogenetic and phylogeographic reconstruction, assessment of biodiversity [7], and inference of evolutionary transitions [8]. Because of the discontinuous and sensitive habitats that define karst systems, many are "hotspots" of threatened and endangered species. The Edwards Plateau of central Texas exemplifies this pattern and harbors diverse, endemic invertebrate and vertebrate species [9]. The Plateau is an uplifted Cretaceous limestone that has eroded to form a complex, highly subdivided aquifer system with numerous springs and water-filled caves. These karst habitats have been widely colonized by a group of lungless, primarily paedomorphic (retaining aquatic larval form while attaining reproductive maturity) spelerpine plethodontid salamanders of the genus Eurycea[10–14], of which thirteen species are recognized. Given that many populations of Eurycea in Texas are threatened by effects of urbanization, such as declining water quality and decreased water levels from pumping of the Edwards and Trinity aquifers [15, 16], a detailed understanding of genetic structure and diversity in the group is essential (particularly with regard to identification of species and their distributions). In addition, these salamanders exhibit extensive morphological variation associated with both cave (subterranean) and surface habitats, making them well suited for investigation of parallel evolution of morphological traits in similar environments (e.g., [17]).
The central Texas Eurycea have a complicated taxonomic history [10, 11, 14, 18–21], in part because convergence or parallelism in cave populations has confounded studies that relied solely on morphology or morphometrics (e.g., [22], but see [17]). Conversely, morphological conservatism (primarily among surface-dwellers) has also led to underestimation of species diversity [10, 20]. Where morphological data have failed, molecular phylogenetic studies have clarified higher-level, and in some cases species-level relationships within the group [10, 21]. Although members of this group belong to the genus Eurycea under a traditional Linnaean classification scheme, Hillis et al. [21] recognized additional well-supported clades under an unranked system (PhyloCode [23]). The deepest split (at least 15 Ma BP; [24]) corresponds to a clade occurring north of the Colorado River (Septentriomolge) and a clade south of the Colorado River (Notiomolge, consisting of clades Blepsimolge and Typhlomolge). The distribution of Blepsimolge includes caves and springs from the vicinity of Austin and San Marcos in the east and extending west to Val Verde County. Typhlomolge comprises exclusively subterranean species sister to and essentially sympatric with Blepsimolge along the southeastern periphery of the Edwards Plateau [10, 21]. Blepsimolge can further be divided into eastern and western groups, which appear to be geographically discontinuous and are well differentiated genetically [10, 20]. The western group is often termed the E. troglodytes complex [10, 20]. Here we focus on the clade Blepsimolge from the eastern region, which comprises populations assigned to six nominal species (E. latitans, E. pterophila, E. nana, E. neotenes, E. sosorum and E. tridentifera). Hereafter, we refer to these populations as the "eastern Blepsimolge". Relationships among many populations remain uncertain and the validity of some species in this group is questionable [10, 20].
Populations of central Texas Eurycea exhibit habitat-associated morphological variation. Surface populations, found in springs, spring outflows and low-order streams, are typically pigmented, with muscular limbs, elongated trunks, and well-developed eyes. Subterranean populations exhibit a continuum of variation ranging from surface-like to highly troglomorphic [22], with the most extreme examples being E. tridentifera (eastern Blepsimolge) and, at the furthest end of the "troglomorphic spectrum", E. rathbuni, E. robusta, and E. waterlooensis (Typhlomolge). These "extreme" species have vestigial eyes, long spindly limbs, shortened trunks, broad flattened snouts, and highly reduced skin pigmentation. Although morphological convergence between E. tridentifera and Typhlomolge has been established [17], the extent of morphological divergence (and parallelism) among other surface and subterranean populations of the eastern Blepsimolge has not been formally evaluated. Patterns of morphological variation within and among these populations are complex, as there may have been multiple independent invasions into cave systems, and because of the structural and hydrogeological complexity of cave and surface habitats. Here we provide a phylogenetic analysis of the eastern Blepsimolge based on mtDNA sequence data from extensive sampling of surface and subterranean sites, and we relate our phylogenetic hypothesis to new data on morphological variation within the group. Specifically, we characterize broad patterns of morphometric variation using multivariate analysis, evaluate the extent and phylogenetic distribution of cave-associated morphologies, and discuss evolutionary, developmental, and taxonomic implications.
Results
Phylogenetics
The length of the combined Cytb and ND2 alignment was 1729 bp. Thirty-four sequences were slightly shorter than the others; unsequenced regions were treated as missing data. The maximum number of missing bases (including both Cytb and ND2) was 91 for one specimen; the average value was 7. Including outgroup taxa, 380 sites were variable and 226 of these were parsimony-informative. Of 107 eastern Blepsimolge specimens, 47 haplotypes were recovered from 71 different springs and caves, for which 155 sites were variable and 72 were parsimony-informative. Genbank accession numbers are KC355860–KC355971 and KC355972–KC356083 for Cytb and ND2, respectively [see Additional file 1]. The model with the highest AICc score according to jModeltest was GTR + G for both Cytb and ND2 alignments. Branch length priors of exponential mean 1, 0.1 and 0.01 resulted in unrealistically long tree lengths; results from the smallest (exponential mean of 0.001) branch-length prior analysis are presented (mean tree length = 0.28, LCL = 0.26, UCL = 0.30), although there were no significant differences in tree topologies. Samples from the first 500,000 iterations were discarded as burn-in.
Phylogenetic results agree with those of previous studies regarding the deepest splits within
Eurycea
from the southern Edwards Plateau (exclusive of clade
Typhlomolge
, the outgroup), and the deep nodes are strongly supported. The most basal split is between the
E. troglodytes
complex (western
Blepsimolge
) and the eastern
Blepsimolge
[
10
,
21
]). Also consistent is the distinctiveness of a population that may represent an undescribed species, from Pedernales Springs [
10
].
Eurycea
sp. Pedernales is sister to the remaining eastern
Blepsimolge
, followed by
E. nana
from the type locality, San Marcos Springs (and individuals that appear to represent
E. sosorum
but possess
E. nana
-like haplotypes; collectively clade S/N) (Figure
1
).
Eurycea sosorum
(primary haplotype at Barton Springs, the type locality) is sister to the remaining clade, which includes populations representing
E. latitans
,
E. neotenes
,
E. pterophila
and
E. tridentifera
plus others that have not been assigned to species (Figure
1
). We refer to this clade as the
Eurycea neotenes
complex (after the first-described member of the group [
40
]; see Discussion), which is distributed throughout the Cibolo, Guadalupe and Blanco river watersheds (Trinity Aquifer), but also includes several populations that occur along the southeastern edge of the Edwards Plateau (Edwards Aquifer; Figure
2
).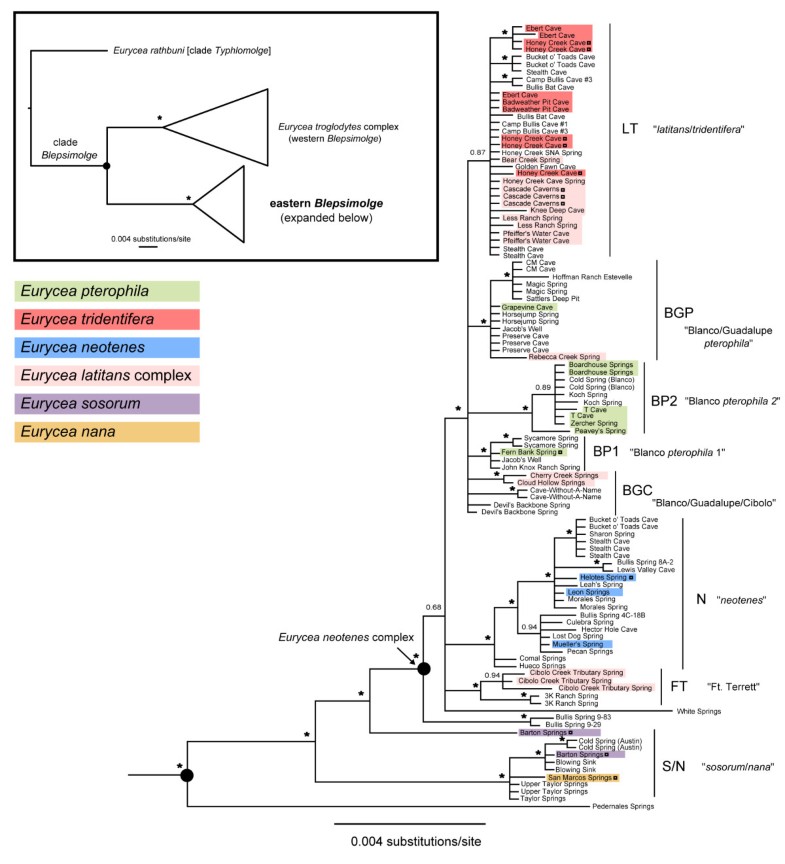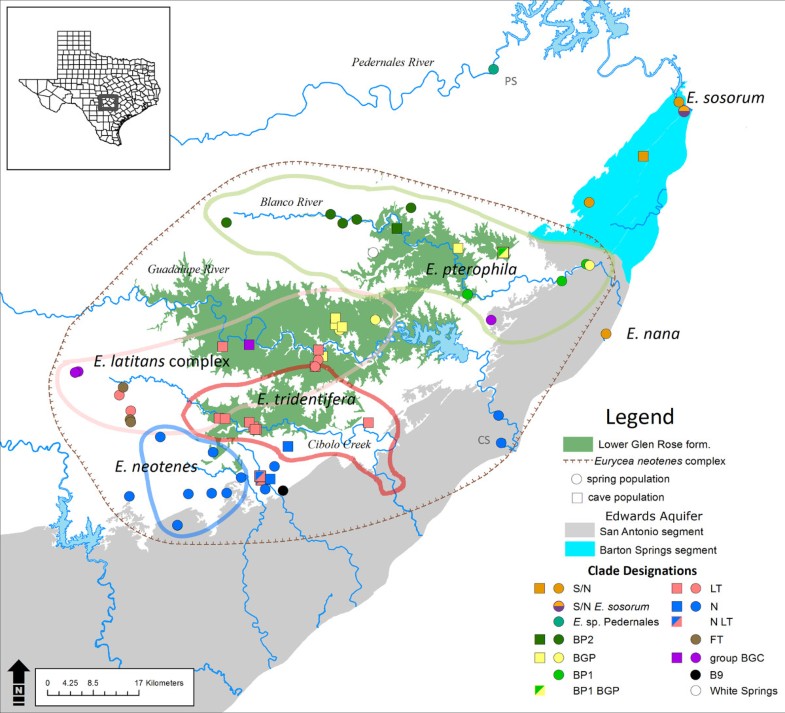 Although there are some highly supported clades within the
E. neotenes
complex, primarily comprising geographically proximate populations, these do not strictly correspond to currently recognized species boundaries (Figures
1
and
2
; [
10
]). Divergences among populations within this region are low (average uncorrected p-distance = 0.4%) and there is extensive inter- and sometimes intrapopulation morphological variation (e.g., Figure
3
). The weakly supported clade LT includes representatives (including topotypes) of both
E. latitans
and
E. tridentifera
(Figure
1
). Clades BP1, BP2 (Blanco River drainage populations of
E. pterophila
) and BGP (Blanco & Guadalupe River
E. pterophila
) each contain populations assigned to
E. pterophila
[
10
], but form a polytomy in the 50% majority-rule tree with clade LT and several other populations (Figure
1
). Group BGC contains four populations distributed across the Blanco, Guadalupe and Cibolo drainages that form a polytomy with BP1, BP2, BGP and LT. Collectively BP1, BP2, BGP, LT and BGC form a highly supported clade that includes most populations previously assigned to
E. latitans
,
E. tridentifera
and
E. pterophila
. Clade N includes populations assigned to
E. neotenes
as well as the population from Comal Springs (Figure
1
), which has been suggested to be a distinct species [
10
]. Clade FT includes populations previously assigned to
E. latitans
[
10
] that occur in or near the Fort Terrett limestone formation. Clades N, FT and the recently discovered population at White Springs form a polytomy, while the previously unsampled Bullis Springs 9–29 and 9–83 are weakly supported as sister to the rest of the
E. neotenes
complex. The latter three populations exhibit relatively high genetic divergences compared to the rest of the
Eurycea neotenes
complex [average uncorrected p-distances 1.2% (White Springs) and 0.7% (Bullis Springs 9–29 & 9–83)].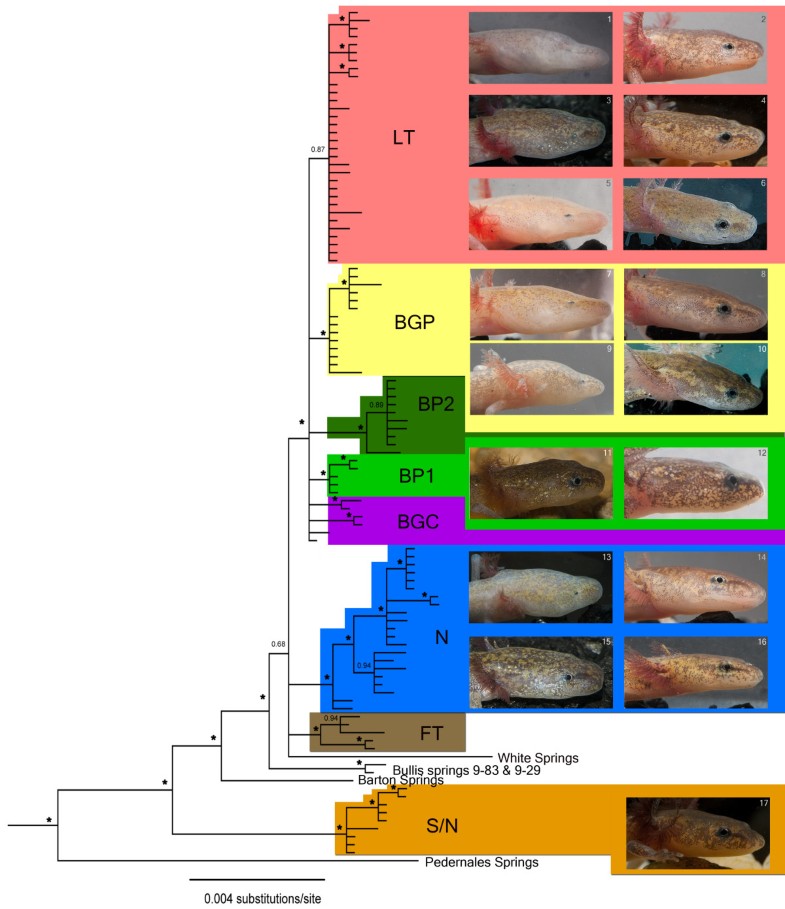 Patterns suggestive of mitochondrial introgression are also evident for several populations (Figure 1). Haplotypes from Jacob's Well (Blanco River drainage) occur in clades BP1 and BGP. Additionally, there is potential introgression and/or gene flow between adjacent populations of clades LT and N, as haplotypes from both clades are found in the Stealth Cave and Bucket o' Toads Cave populations. Our sample of E. sosorum (putatively endemic to Barton Springs) also contains two distinct mitochondrial haplotypes, one unique to Barton Springs at high frequency (approximately 70%; unpublished data, [41]) and one that groups with that of E. nana (San Marcos Springs) and other Barton Springs segment populations (Blowing Sink, Cold Spring and Taylor/Upper Taylor Springs; Figures 1 and 2).
Morphology
The first three principal components (PCs) account for 96.9% of the total variance in the morphological data set. The first PC (78.7% of total variance) has high positive factor loadings for all variables, although somewhat lower for ED, and reflects the overall positive correlations between individual measurements and body size (Table
2
). The second PC (9.5% of total variance) is structured primarily by the broad and diffuse variation exhibited by cave populations (Figure
4
a). Along this axis, surface populations form a cohesive cluster with primarily negative factor scores. The most extreme troglomorphs (i.e.,
Typhlomolge
) group together with high factor scores on both PC1 and PC2. Subterranean populations of the eastern
Blepsimolge
, particularly those assigned to
E. tridentifera
, overlap partially with
Typhlomolge
, but on average have slightly lower factor scores along PC1 and PC2. Thus, the combination of the first and second PCs, and particularly PC2, corresponds to a gradient from surface to cave morphologies, with surface specimens overlapping broadly in ordination space with cave specimens but not vice versa. PC2 was structured primarily by the inverse relationship between two sets of variables: AG and ED had high negative factor loadings while both HLL and IOD had high positive factor loadings. In summary, cave populations were characterized by small eye diameters and short axilla-groin lengths, and by long hind limbs and interocular distances.
Table 2
Factor loadings for variables, eigenvalues, and percent of total variance explained for principal components
| Measurement | PC 1 | PC 2 | PC 3 |
| --- | --- | --- | --- |
| AG | 0.741 | −0.315 | −0.583 |
| ALL | 0.965 | 0.150 | 0.065 |
| ED | 0.342 | −0.857 | 0.384 |
| HLA | 0.978 | −0.006 | 0.128 |
| HLB | 0.970 | 0.101 | 0.149 |
| HLC | 0.979 | 0.032 | 0.157 |
| HLL | 0.960 | 0.174 | 0.100 |
| HW | 0.963 | 0.067 | 0.093 |
| IOD | 0.945 | 0.158 | 0.076 |
| SL | 0.821 | −0.150 | −0.538 |
| Eigenvalue | 7.870 | 0.949 | 0.868 |
| % Variance Explained | 78.7 | 9.5 | 8.7 |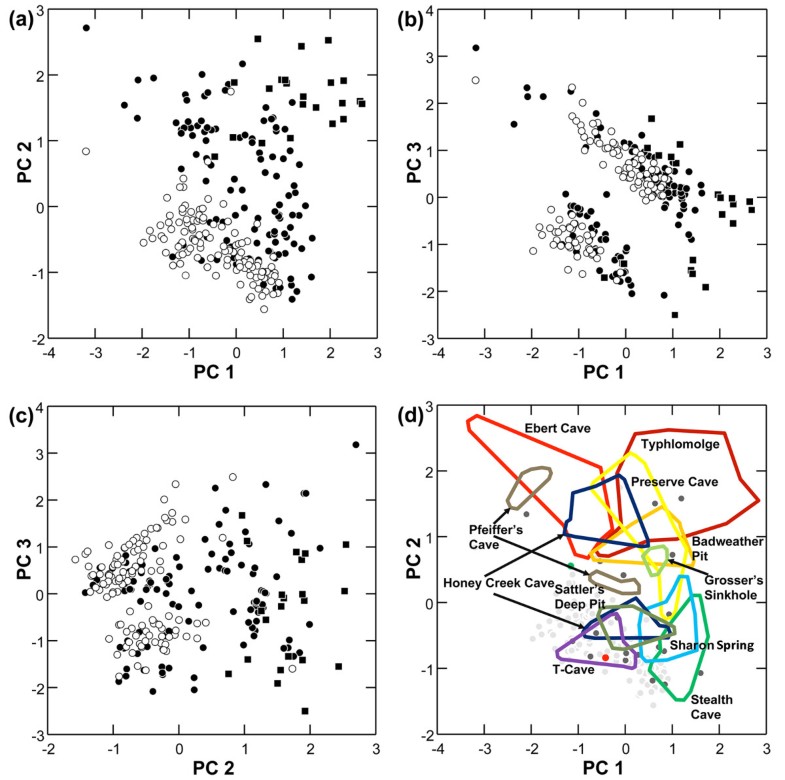 Morphological variation with respect to cave populations is complex (Figure 4). Some cave populations (e.g., Honey Creek Cave, Pfeiffer's Cave) separate into at least two discrete groups in ordination space. For Honey Creek Cave (the type locality of E. tridentifera), one group is extremely troglomorphic while the other seems to be intermediate between troglomorphic and surface forms. For Pfeiffer's Cave (near the type locality of E. latitans), both groups are well separated from each other, but also from the main cluster of surface forms. Only five cave populations (Preserve Cave, Honey Creek Cave, Badweather Pit, Camp Bullis Cave #1, and Camp Bullis Cave #3) overlapped partially in ordination space with the Typhlomolge specimens; thus, cave populations of eastern Blepsimolge were different from Typhlomolge in at least some aspects of morphology. Some of these populations exhibit distinctive troglomorphic variation, including Ebert Cave, Pfeiffer's Cave, and Grosser's Sinkhole. Yet other cave populations form relatively homogeneous clusters that were intermediate in ordination space between surface and extremely troglomorphic populations (e.g., Stealth Cave, Sharon Spring, and Sattler's Deep Pit). Finally, specimens from T-Cave form a cohesive cluster indistinguishable from the main group of surface specimens.
The ordination of PC1 and PC3 (8.7% of total variance) reveals an unexpected and novel pattern of morphological variation in central Texas
Eurycea
: the eastern
Blepsimolge
form two discrete groups, with specimens of
Typhlomolge
mostly peripheral to or separate from these groups (Figure
4
b). These distinct groups within eastern
Blepsimolge
do not correspond to geography, recognized species limits, phylogeographic structure, or habitat (unless at a scale finer than the cave/surface dichotomy used in this study). At the level of individual localities, cave and surface sites exhibited parallel patterns; some surface and cave populations include specimens from only one morphological group, while other populations are composed of specimens from both groups (Figure
5
). A scatterplot of factor scores from each group indicates a negative relationship between PC3 and PC1 for each group (Figure
4
b), which suggests that allometric differences influence group ordination. Although these groups are not structured on the basis of habitat designation, the variables that most strongly influence PC3 include measurements that were important in the gradient of surface-to-cave forms identified from PC2. The highest positive factor loading is for ED and the only negative loadings are for AG and SL (Table
2
). In contrast, both AG and ED weight negatively on PC2. Thus, PC3 represents primarily residual, uncorrelated variation in ED and AG, variables that otherwise show a strong positive correlation along the gradient of surface-to-cave morphologies.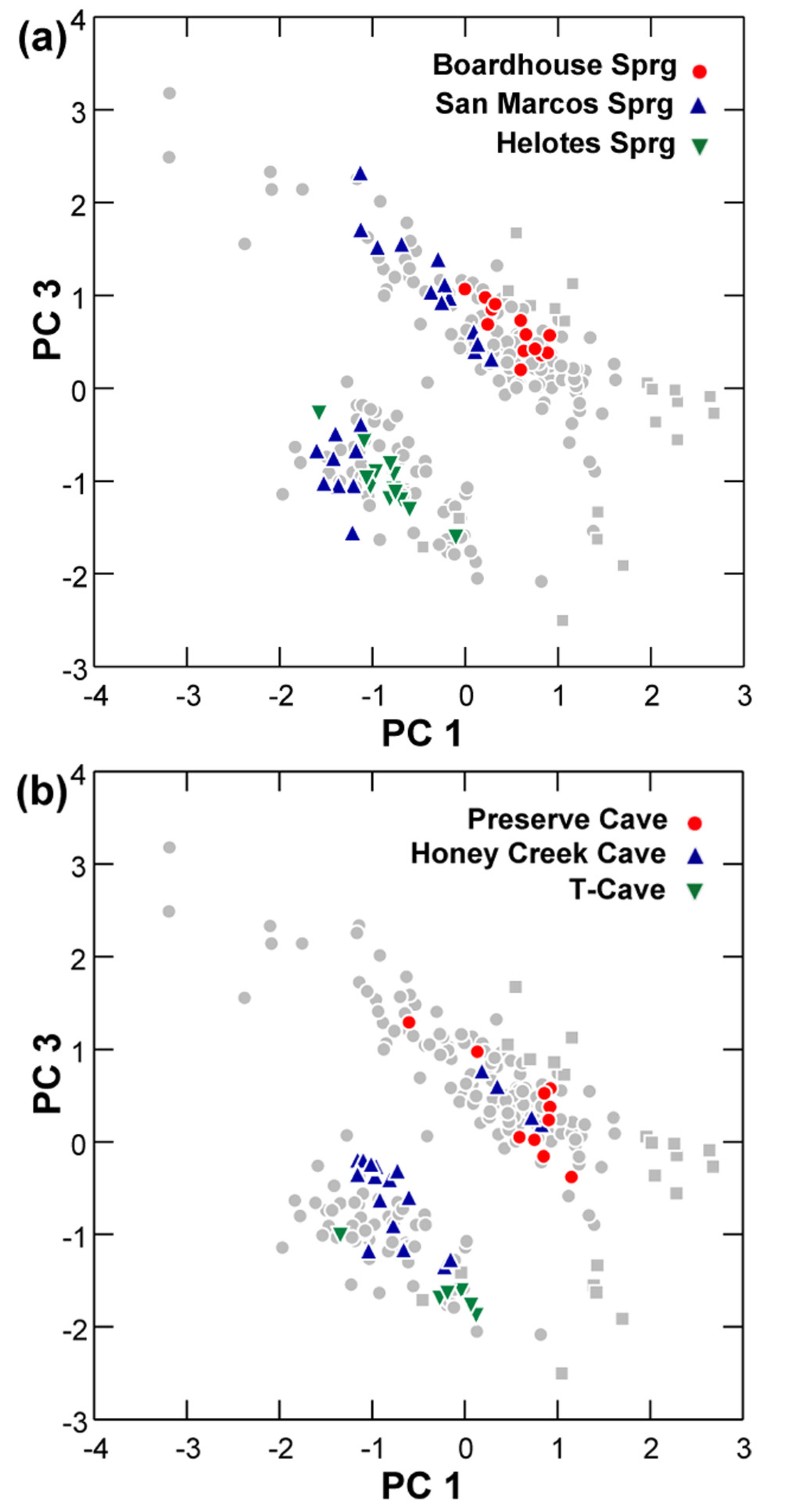 Conclusions
The mt-gene phylogeny of eastern Blepsimolge reveals patterns of intermittent isolation and gene flow, a reflection of the dynamic nature of karst aquifers. Shallow genetic divergences among several recognized species suggest that the E. neotenes complex may have been over-split by early workers due to an emphasis on phenotypic divergence, particularly between cave and surface populations. This is in contrast to considerable cryptic species diversity among spring-dwelling populations of central Texas Eurycea owing to morphological conservatism among spring-dwellers. Evidence of genetic exchange and nested relationships across morphologically disparate cave and spring forms within the E. neotenes complex suggests that cave invasion in this group was recent and many troglomorphic morphologies (of individuals typically assigned to E. tridentifera) arose independently. These patterns are consistent with an adaptive-shift hypothesis of diversification. In many cases cave and surface forms do not appear to be genetically isolated, and even occur in microsympatry (Figure 6), suggesting that troglomorphism is maintained by strong selection and/or developmental plasticity.
Availability of supporting data
Nucleotide sequence data supporting the results of this article are available in Genbank. Accession numbers are KC355860–KC355971 and KC355972–KC356083 for Cytb and ND2, respectively [see Additional file 1].
Declarations
Acknowledgements
Newly acquired specimens and samples were obtained under Texas Parks and Wildlife Permit SPR-0904-423 and U.S. Fish and Wildlife Permit TE081884-0. This work would not have been possible without assistance from the following individuals and institutions: Andy Price, James Reddell, George Veni, David Hillis, David Cannatella, Travis LaDuc, Brian Sullivan, Carl Franklin, Jean Krejca, Laurie Dries, Dee Ann Chamberlain, numerous landowners and field companions, University of Texas at Austin Texas Natural History Collections, University of Texas at Arlington Amphibian and Reptile Diversity Research Center, and University of California Berkeley Museum of Vertebrate Zoology. Jean Krejca (Zara Environmental) provided numerous salamander photographs. Funding was provided in part by the University of Texas at Arlington, Phi Sigma Biological Honor Society, Austin Community Foundation, City of Austin, Texas Parks and Wildlife Department, U.S. Fish and Wildlife Service and the National Science Foundation. Brian Fontenot and David Hillis provided helpful suggestions on an earlier draft of this manuscript. We also thank David Wake and three anonymous reviewers for their comments.
Authors' Affiliations
(1)
Department of Biology, University of Texas at Arlington, Arlington, USA
(2)
City of Austin, Watershed Protection Department, Austin, USA
(3)
Department of Biological Sciences, Tarleton State University, Stephenville, USA
(4)
Texas Parks and Wildlife Department, Austin, USA
Copyright
© Bendik et al.; licensee BioMed Central Ltd. 2013
This article is published under license to BioMed Central Ltd. This is an Open Access article distributed under the terms of the Creative Commons Attribution License (http://creativecommons.org/licenses/by/2.0), which permits unrestricted use, distribution, and reproduction in any medium, provided the original work is properly cited.