Research article

Open Access
The tiny Hairless protein from Apis mellifera: a potent antagonist of Notch signaling in Drosophila melanogaster
BMC Evolutionary Biology
2008
8:175
Received: 06 February 2008
Accepted: 17 June 2008
Published: 17 June 2008
Abstract
Background
The Notch signaling pathway is fundamental to the regulation of many cell fate decisions in eumetazoans. Not surprisingly, members of this pathway are highly conserved even between vertebrates and invertebrates. There is one notable exception, Hairless, which acts as a general Notch antagonist in Drosophila. Hairless silences Notch target genes by assembling a repressor complex together with Suppressor of Hairless [Su(H)] and the co-repressors Groucho (Gro) and C-terminal binding protein (CtBP). Now with the availability of genomic databases, presumptive Hairless homologues are predicted, however only in insect species. To further our understanding of Hairless structure and function, we have cloned the Hairless gene from Apis mellifera (A.m.H) and characterized its functional conservation in Drosophila.
Results
The Apis Hairless protein is only one third of the size of the Drosophila orthologue. Interestingly, the defined Suppressor of Hairless binding domain is interrupted by a nonconserved spacer sequence and the N-terminal motif is sufficient for binding. In contrast to Apis Hairless, the Drosophila orthologue contains a large acidic domain and we provide experimental evidence that this acidic domain is necessary to silence Hairless activity in vivo. Despite the dramatic size differences, Apis Hairless binds to the Drosophila Hairless interactors Su(H), Gro, CtBP and Pros26.4. Hence, Apis Hairless assembles a repressor complex with Drosophila components that may have a different topology. Nevertheless, Apis Hairless is sufficient to repress the Notch target gene vestigial in Drosophila. Moreover, it is able to rescue Hairless mutant phenotypes, providing in vivo evidence for its function as a bona fide Notch antagonist.
Conclusion
This is the first interspecies-complementation analysis of the Hairless gene. Guided by evolutionary comparisons, we hope to eventually identify all the relevant structural domains and cofactors of Hairless, thereby opening an avenue for further insights into the repressor-complexes that down-regulate Notch signaling also in other, higher eukaryotes.
Keywords
Notch SignalingNotch Signaling PathwayRepressor ActivityWing MarginWing Imaginal Disc
Background
Cell to cell communication is essential for development and cellular differentiation of metazoans. The communication is established by signaling pathways that allow information to be sent from one cell to a neighboring cell. This information enables the receiving cell to adopt a different cell fate. One of the best studied signaling pathways that coordinate developmental decisions is the Notch pathway [1–3]. It was first described in the process of lateral inhibition in Drosophila: within a cluster of equipotential cells destined to adopt the same cell fate, one cell gains the ability to inhibit adjacent cells to engage differentiation by means of activating Notch. Notch signaling also plays important roles in asymmetric cell divisions that result in differential cell fate decisions [4–6]. Moreover, local Notch activity can induce the formation of developmental boundaries as seen during wing margin formation in Drosophila [7–9].
It is not surprising that this fundamental pathway is highly conserved in eumetazoans and is crucial at many different developmental stages in a variety of different tissues [1, 2]. The pathway is initiated by the binding of the ligands, Delta or Serrate (Delta-like and Jagged in mammals), presented on one cell to the Notch receptor on the adjacent cells. As a consequence, the intracellular Notch domain is cleaved and migrates into the nucleus, where it forms a transcriptional activator complex by binding, together with co-activators, e.g. Mastermind (Mam), to the transcriptional regulator CSL (CSF or RBP-Jκ in mammals, Suppressor of Hairless (Su(H) in Drosophila and Lag-2 in Caenorhabditis) [3]. CSL belongs to the family of rel DNA binding molecules and allows for context specific transcriptional activation of target genes of the Notch signaling pathway [10]. In Drosophila, Hairless (H) acts as a general antagonist of this pathway. H binds to Su(H) and, by recruiting the co-repressors Groucho (Gro) and C-terminal binding protein (CtBP), converts Su(H) into a repressor of the Notch target genes [11–14]. In this complex H acts as molecular linker between Su(H) and the co-repressors. Since H retains repressor activity even in the absence of co-repressor binding, it is thought that it impedes formation of the Notch-Su(H)-Mam activator-complex on its own [12].
Given the high conservation of Notch signaling components, e.g. the human and fly CSL orthologues share approximately 80% identity over large parts [
15
], one might expect a H homologue to likewise antagonize Notch signaling in mammals. However all attempts from many groups including ours failed so far to identify a vertebrates
H
gene. With the rational that sequences mostly relevant for H function should be conserved over larger evolutionary distance, we started to search for
H
genes in further remote species. Our molecular analysis of the
H
orthologue from the distantly related
Drosophila hydei
species revealed that
H
is indeed a relatively fast evolving gene [
16
]. Hence, H functional domains may have evolved beyond recognition over time or may be present in different molecules in mammalian species. With more and more genome sequences available, we could identify
H
-like genes in several insect species. From the available genomic sequence projects, we characterized
H
orthologues and found that the
A. mellifera Hairless
gene (
A.m.H
) is a good candidate to investigate H structure and function in more detail. The phylogenetic distance from
Drosophila
to
Apis
is estimated at 250–300 million years and is considerably greater than to
Anopheles
(Fig.
1A
) [
17
]. In contrast to the
Anopheles H
gene, which is larger than the
Drosophila
orthologue
D.m.H
, the
Apis H
gene is much smaller. Moreover, the honeybee brain sequencing project confirmed that
A.m.H
is expressed in honeybee. We cloned the gene from an
Apis mellifera
cDNA library and tested
A.m.H
gene function in
D. melanogaster
. Notably, the orthologous proteins are only 54% identical, and A.m.H is only about 36% of the size of D.m.H. Despite the small size, A.m.H contains the characteristic interaction domains and is able to bind to the
Drosophila
proteins Su(H), Gro, CtBP and Pros26.4 as does D.m.H. Most surprisingly, A.m.H retains functional activity in the fly, where it can rescue
H
loss of function mutant phenotypes. Moreover, when overexpressed,
A.m.H
induces typical H gain of function phenotypes indicative of antagonizing Notch signaling in a variety of tissues and developmental processes. Considering the vast size difference, a repressor complex assembled by A.m.H might have a different topology than that of
Drosophila
. Nevertheless, A.m.H is sufficient to repress the Notch target gene
vestigial
during wing development of
Drosophila
. In contrast to A.m.H, the
Drosophila
H protein contains a large acidic domain and we provide experimental evidence that this acidic domain silences H activity
in vivo
. Finally, our work shows that the Su(H) binding domain previously defined in D.m.H can be separated into two distinct domains, and that the N-terminal domain is sufficient for Su(H) binding. In summary, our work provides evidence for the in vivo function of
Apis Hairless
as a bona fide antagonist of Notch signaling. This evolutionary comparison may help us to eventually identify all the relevant structural domains and cofactors of Hairless, thereby furthering our understanding of the repressor-complexes that down-regulate Notch signaling.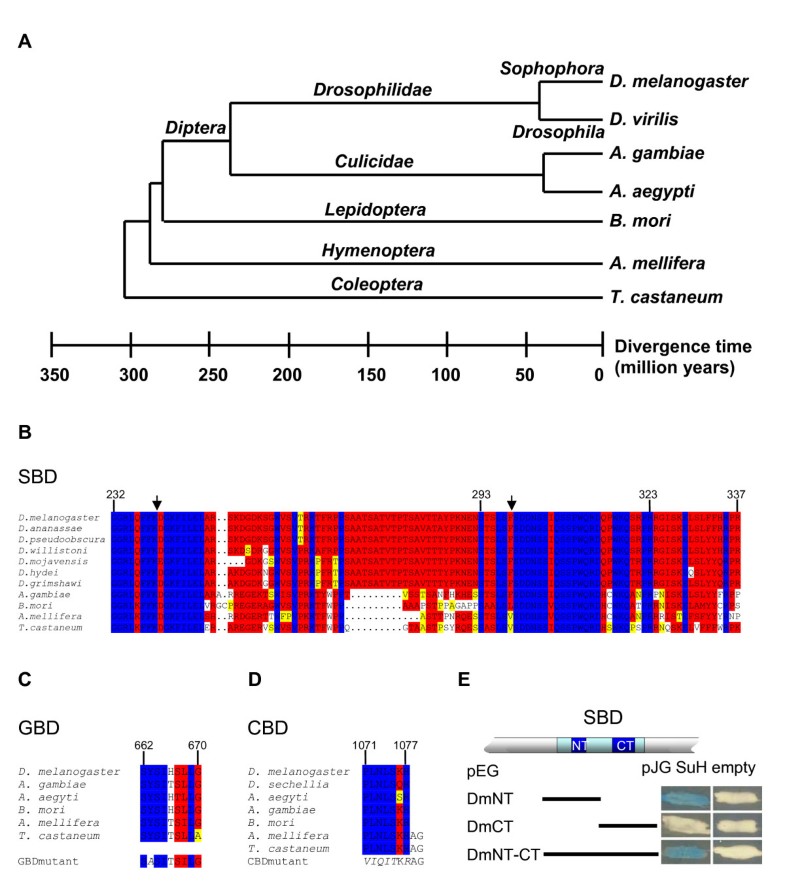 Conclusion
A vertebrate H homologue has not yet been identified based on sequence conservation, presumably due to a high degree of divergence. One experimental approach to eventually identify such a homologue is to analyze the H structure in detail and to characterize important functional domains. The H orthologue from the honeybee will help us in this process. We have shown that A.m.H functions as a bone fide Notch antagonist in the fly despite considerable divergence with regard to size and amino acid sequence.
Methods
PCR and cloning strategies
An Apis mellifera embryonic cDNA Uni-ZAP XR library [46] was screened with a PCR-probe (see Fig. 2A). Two positive clones were isolated and sequenced. Based on the sequence of the A.m. EST-clone # BB160014B20G05 [47], which covers the N-terminus of a predicted A.m.H transcript, our longest isolated cDNA clone was incomplete at its 5' end. The 22 lacking bases were extended using the ExSiteTM PCR-based Site-Directed Mutagenesis Kit (Stratagene). An additional base was added to the lower primer such that the Eco RI site provided by the pBluescript vector allowed subsequent in frame cloning in pEG- and pMAL-vectors, respectively. Primer sequences used in this study for in vitro mutagenesis and DNA amplification are available upon request, as are details on the cloning strategies.
Computer analysis of H orthologues
The Drosophila melanogaster gene and protein sequences were accessed in FlyBase [48]. The other Drosophila sequences as well as the sequences of Anopheles gambiae, Aedes aegypti, Culex pipiens, Bombyx mori, Tribolium castaneum, Apis mellifera, Nasonia vitripennis and Pediculus humanus corporis were screened with tblastn service of Flybase. In case of A. mellifera, screening was done also with the HUSAR TBlastN2 service of the DKFZ [49, 50]. For both databases, we used the D. melanogaster protein sequence as search sequences. Similarity and identity scores were calculated using BESTFIT. Because standard conditions only align the best conserved domains, we relaxed the parameters such that the entire protein sequence was aligned (gap weight 1, length weight 1, maximum penalty length 30). Whereas these changes have little influence on identity values of closely related sequences, they give higher scores with less conserved sequences. Multi-alignments were done with PRRN with gap extension penalty 1 and the gap open penalty 9. Further analyses were performed as previously described [39].
Generation of A.m.H and D.m.Hwild type and mutant constructs
Full length A.m.H cDNA was cloned into pUAST [33] generating UAS-AmH. Likewise, hs-AmH was cloned using pCaSpeR-hs RX8 vector [27]. Mutant constructs were generated with the Quick change XL Site directed mutagenesis kit (Stratagene) according to the manufacturer's protocol. AmHG*: Gro binding site was destroyed by mutating Y264 into A. AmHC*: CBD was modified from PLNLSKH to VIQITKR. AmHGC*: within the mutant construct AmHG*, wild type CBD was replaced by mutant CBD* (Fig. 2A). All changes were sequence verified. The mutant constructs were shuttled into pUAST and pEG vectors, respectively.
Construction of D. melanogaster Hairless C3 deletion (R355 to V564) was described earlier [27]; it was shuttled into pUAST to yield UAS-DmHΔC3. The AD deletion (E358 to E465) was generated by A. Bravo-Patiño. It was likewise shuttled into pUAST (UAS-DmHΔAD).
Generation and analysis of transgenic flies
All P-element constructs, hs-AmH, UAS-AmH, UAS-AmHG*, UAS-AmHC*, UAS-AmHGC*, UAS-DmHΔAD and UAS-DmHΔC3, were injected into y 1 w 1118 embryos according to standard protocols and several independent transgenic fly lines were each established; they behaved largely identical in subsequent tests. The results shown are from parallel experiments involving a minimum of three independent lines each and are representative for the respective construct. The obtained phenotypes were non-overlapping. The H P8 null mutant was described earlier [19, 51]. Heat shock was given for half hour at 39°C to third instar hs-AmH larvae and early pupae. Overexpression experiments with UAS-lines were performed at 18°C and 25°C, respectively. As driver lines, omb-Gal4, gmr-Gal4, pnr-Gal4, sca-Gal4, ap-Gal4, ey-Gal4 and ptc-Gal4 were used [48]. The vgBE-lacZ reporter line [29] was combined with omb-Gal4, and males crossed to UAS-AmH wild type or UAS-AmH mutant virgins. Wing discs of female larvae with the genotype omb-Gal4/X; vgBE-lacZ/UAS-AmH* were processed for antibody staining. Control animals were omb-Gal4/X; vgBE-lacZ.
Analysis of protein-protein interactions
Yeast two-hybrid protein interaction assays were performed as previously described using VP16-dCtBP, VP16-Gro, pEG-Gro, pJG-S4-I and pJG-Su(H) [12, 22, 31]. For bait, Apis mellifera constructs pEG-AmH, pEG-AmHG*, pEG-AmHC* and pEG-AmHGC* were used. In addition, the following pEG-constructs were generated: pEG-AmHGBD containing the Gro binding domain (codons S262 to D309), pEG-AmHGBD* (Y264 to A mutation, PCR-amplified from AmHG*) and pEG-AmH4-1 (deletion of 172 N-terminal codons). AmH4-1 is an incomplete cDNA clone; it starts with L173 and contains complete C-terminal coding sequences. The D. melanogaster Su(H)-binding domain (SBD) was subdivided into DmH-NT (codons L171 to S279) and DmH-CT (codons R267 to T362) and cloned into pEG vector, respectively. pEG NT-CT (L171 to T362) spans both parts. All constructs were sequence confirmed. Expression of the various pEG-constructs was examined with Western blots using the anti LexA antibody (Invitrogen).
Immuno-histochemistry and phenotypic analyses
A PCR construct spanning A.m.H codons N137 to P348 was cloned into pMAL-C expression vector (New England Biolabs). AmH-MBP fusion protein was expressed in E. coli and affinity purified using standard protocols. Polyclonal antisera were from Pineda ABservice (Berlin). Imaginal discs were stained as described before using rat anti-AmH (1:500) and mouse anti-beta-galactosidase (1:20) (developed by J.R. Sanes; obtained from Developmental Studies Hybridoma Bank [DSHB], Department of Biological Science, University of Iowa City, IA 52242). Pupal nota were dissected as described earlier [6, 28] and stained with rat anti-elav 7E8A10 and mouse anti-pros MR1A (each 1:10) (developed by G.M. Rubin and C.Q. Doe, respectively; obtained from DSHB).
Secondary antibodies coupled to fluorescein and Cy3 were purchased from Jackson Laboratory. Samples were mounted in Vectashield (Vector Lab) and analyzed on a Zeiss Axioskop linked to a Bio-Rad MRC1024 confocal microscope. Fly body parts were dehydrated in ethanol and mounted in Euparal or Hoyer's medium. Pictures were taken on a Zeiss Axiophot with Nomarsky optics. Pictures of adult flies were taken with a Pixera camera on a Wild 5M stereo-microscope using Pixera Viewfinder 2.0. They were assembled using Corel Photo Paint and Corel Draw software.
Accession numbers
The Apis mellifera Hairless sequence is available from the EMBL Nucleotide Sequence Database under the accession number: AM849041.
Declarations
Acknowledgements
We gratefully acknowledge U. Walldorf for the A. mellifera cDNA library and A. Bravo-Patiño for creating UAS-HΔAD transgenic lines. We thank the DSHB for antibodies. We greatly acknowledge W. Ulrich and W. Staiber for scanning electron micrographs and photography, and A.C. Nagel for critically reading of the manuscript.
Authors' Affiliations
(1)
Universität Hohenheim, Institut für Genetik (240), Stuttgart, Germany
Copyright
© Maier et al; licensee BioMed Central Ltd. 2008
This article is published under license to BioMed Central Ltd. This is an Open Access article distributed under the terms of the Creative Commons Attribution License (http://creativecommons.org/licenses/by/2.0), which permits unrestricted use, distribution, and reproduction in any medium, provided the original work is properly cited.