Research article
Open Access
Evolutionary origin of type IV classical cadherins in arthropods
BMC Evolutionary Biology
BMC series – open, inclusive and trusted
2017
17:142
Received: 15 April 2017
Accepted: 6 June 2017
Published: 17 June 2017
Abstract
Background
Classical cadherins are a metazoan-specific family of homophilic cell-cell adhesion molecules that regulate morphogenesis. Type I and type IV cadherins in this family function at adherens junctions in the major epithelial tissues of vertebrates and insects, respectively, but they have distinct, relatively simple domain organizations that are thought to have evolved by independent reductive changes from an ancestral type III cadherin, which is larger than derived paralogs and has a complicated domain organization. Although both type III and type IV cadherins have been identified in hexapods and branchiopods, the process by which the type IV cadherin evolved is still largely unclear.
Results
Through an analysis of arthropod genome sequences, we found that the only classical cadherin encoded in chelicerate genomes was the type III cadherin and that the two type III cadherin genes found in the spider Parasteatoda tepidariorum genome exhibited a complex yet ancestral exon-intron organization in arthropods. Genomic and transcriptomic data from branchiopod, copepod, isopod, amphipod, and decapod crustaceans led us to redefine the type IV cadherin category, which we separated into type IVa and type IVb, which displayed a similar domain organization, except type IVb cadherins have a larger number of extracellular cadherin (EC) domains than do type IVa cadherins (nine versus seven). We also showed that type IVa cadherin genes occurred in the hexapod, branchiopod, and copepod genomes whereas only type IVb cadherin genes were present in malacostracans. Furthermore, comparative characterization of the type IVb cadherins suggested that the presence of two extra EC domains in their N-terminal regions represented primitive characteristics. In addition, we identified an evolutionary loss of two highly conserved cysteine residues among the type IVa cadherins of insects.
Conclusions
We provide a genomic perspective of the evolution of classical cadherins among bilaterians, with a focus on the Arthropoda, and suggest that following the divergence of early arthropods, the precursor of the insect type IV cadherin evolved through stepwise reductive changes from the ancestral type III state. In addition, the complementary distributions of polarized genomic characters related to type IVa/IVb cadherins may have implications for our interpretations of pancrustacean phylogeny.
Keywords
CadherinCell adhesionAdherens junctionArthropodChelicerateCrustaceanInsectGenomeEvolutionPhylogeny
Background
Classical cadherins, a metazoan-specific subfamily of the cadherin superfamily [1–3], are homophilic cell-cell adhesion molecules that play key roles in metazoan morphogenesis [3–7], and as single-pass transmembrane proteins, their ectodomains contain repetitive extracellular cadherin (EC) domains that function to recognize and bind cells that express the same or similar cadherin molecules [8, 9]. The cytoplasmic domains of classical cadherins also bind to catenins [10], through which they interact with the actomyosin network [7] and potentially integrate actomyosin-generated physical forces into tissue-level tension, thereby regulating tissue homeostasis and morphogenesis [11–13].
Genes that encode classical cadherins have been identified in many bilaterian species, as well as in several non-bilaterian metazoans [2, 3, 14–19], and studies in both vertebrate and insect models have firmly established the role and mechanisms of classical cadherins in animal development [4, 5, 7]. However, despite the conservation of their functions, classical cadherins exhibit remarkable variation in the structure of their ectodomains [3], and members of the classical cadherin family have been categorized as types I, II, III, and IV, or otherwise, based on their phylogenetic grouping and domain organization [1, 3, 20].
Type I and type II cadherins each possess five tandem EC domains, and these cadherin types are common in vertebrates but have not been reported to occur in invertebrates, with the exception of urochordates [
14
,
21
]. Certain subtypes of type I and type II cadherins, including E-cadherin (type I) and cadherin-5 or VE-cadherin (type II), serve as components of adherens junctions in vertebrate epithelial tissues. However, type IV cadherins function as the key adhesion molecules of adherens junctions in insect epithelial tissues and include the
Drosophila melanogaster
E-cadherin, DE-cadherin (Fig.
1a
), which is the representative type IV cadherin [
22
–
24
]. Type IV cadherins are characterized by their shared domain organization, which includes seven EC domains, followed by the non-chordate classical cadherin (NC), cysteine-rich EGF-like (CE), and laminin-G (LG) domains [
25
], and they have been identified in insects, non-insect hexapods (e.g., collembolan) and branchiopod crustaceans [
15
]. Importantly, recent studies have revealed that the structural mechanisms responsible for homophilic binding of type I/II and type IV cadherins are quite different [
26
,
27
]. Moreover, type III cadherins are distributed among a wide range of bilaterian metazoans, including arthropods, echinoderms, and even vertebrates, but they have yet to be identified in non-bilaterian metazoans [
2
,
15
,
20
,
28
,
29
]. The representative type III cadherin is
D. melanogaster
neural cadherin, DN-cadherin (Fig.
1a
), the expression and function of which primarily occurs in non-epithelial tissues [
30
]. In contrast to type I, II, and IV cadherins, type III cadherin molecules contain 14 to 17 EC domains followed by the ectodomain, which includes one NC, three CE (CE1-CE3), and two LG (LG1 and LG2) domains with the following organization: NC-CE1-LG1-CE2-LG2-CE3. In addition, non-categorized/unconventional forms of classical cadherins have also been reported to occur in nematodes, hemichordates, and cephalochordates [
15
,
31
,
32
]. Although up to 17 EC domains have been observed in the classical cadherins of bilaterians, 25 or more have been reported in the classical cadherin-encoding genes of non-bilaterian metazoans [
2
,
17
].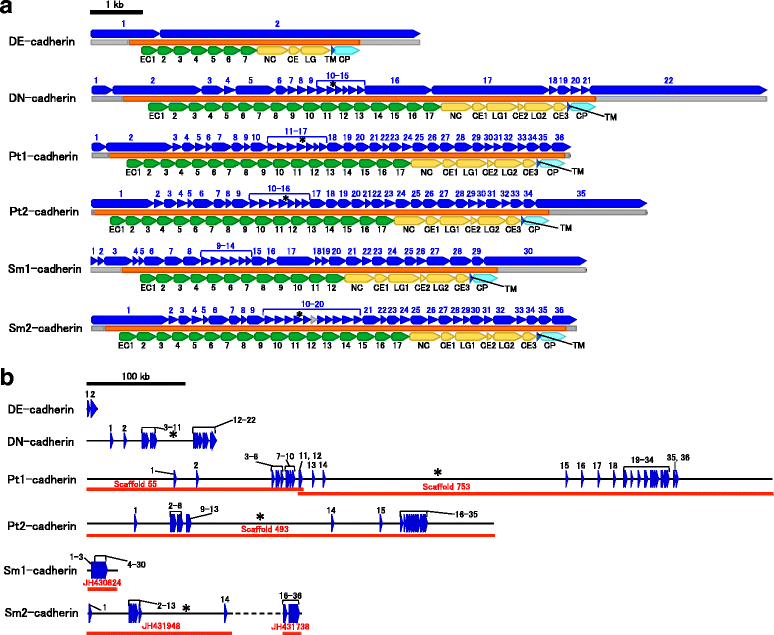 The structural variation of the ectodomains of classical cadherins is thought to have resulted from domain losses that occurred at critical points in metazoan or bilaterian evolution [2, 3, 15, 33]. This hypothesis is based on the conclusion that the type III form represents the last common precursor of all bilaterian classical cadherins, a conclusion that is supported by the widespread, albeit scattered, phylogenetic distribution of type III cadherin genes among bilaterians, detectable conservation throughout the amino acid sequences of type III cadherins, and the observation that all other forms of cadherins can be recognized as derived states of the type III form [15, 34]. However, it remains unclear whether the various forms of classical cadherins were present in the last common ancestors of the individual phyla, as well as whether the currently recognized derived states, i.e., the type I/II and type IV cadherins, evolved from the ancestral type III state during a distinct event or through progressive evolution. Efforts to answer these questions may contribute to a better understanding of how the structural mechanisms of classical cadherin-mediated adhesion evolved in metazoans and at what points of animal evolution the adhesion mechanisms were changed or modified.
To address these questions, we focused on the phylum Arthropoda, in which growing volumes of genomic and transcriptomic sequence resources are available for a broad range of species. We investigated both genomic and transcriptomic classical cadherin-encoding sequences from a wide range of arthropod and non-arthropod bilaterians, including chelicerates, a myriapod, and several non-branchiopod crustaceans, to determine whether type IV cadherin genes evolved from type III cadherin genes before, during, or after the early divergence of arthropods, and whether type IV cadherins arose from the type III state abruptly or through an intermediate state (or several intermediate states).
Conclusions
In the present study, we provided a genomic perspective of the evolution of classical cadherins among bilaterians, with a focus on the phylum Arthropoda. We demonstrated that the type III cadherin genes in the chelicerate P. tepidariorum were representative of the ancestral genomic organization of classical cadherins in arthropods, and suggested that the precursor of insect E-cadherin originated through stepwise reductive changes after the earliest divergence of extant arthropod groups. Future studies should investigate the structural mechanisms underlying the multistep transition from the arthropod ancestral type III cadherin to the more recent insect E-cadherin. The varied, polarized, and stable character states of classical cadherins could be widely applicable as indicators of deep phylogenetic relationships, as exemplified in the arthropod and chordate phyla.
Abbreviations
CE:

Cysteine-rich epidermal growth factor-like domain
CP:

Cytoplasmic domain
EC:

Extracellular cadherin domain
LG:

Laminin globular domain
ML:

Maximum likelihood
NC:

Non-chordate classical cadherin domain
PCR:

Polymerase chain reaction
RNA-seq:

RNA sequencing
TM:

Transmembrane domain
WGS:

Whole genome shotgun sequencing
Declarations
Acknowledgements
We thank Stephen Richards and the Baylor College of Medicine's Human Genome Sequencing Center i5k pilot project, Alistair McGregor and the Parasteatoda tepidariorum Genome Consortium, Carol E. Lee and the E. affinis Genome Consortium, and Helen C. Poynton and the H. azteca Genome Consortium for allowing us to use their pre-publication genome and transcript data from P. tepidariorum, E. affinis, and H. azteca; and Ryan Gott and the University of Maryland for allowing us to use their pre-publication RNA-seq data from H. azteca. We also thank Yasushi Hiromi for the pWA-GAL4; Akiko Noda for technical assistance; Nakatada Wachi for technical advice; Keiko Nakamura for encouragement; and other members of the JT Biohistory Research Hall for helpful discussions.
Funding
This work was supported in part by Japan Society for the Promotion of Science (JSPS) Grants-in-Aid for Scientific Research (KAKENHI) awards to HO (23,370,095, 15 K07139) and YA (24,870,035, 26,440,130).
Availability of data and materials
WGS and RNA-seq raw reads from P. tepidariorum (DRR054563–77), L. exotica (DRR054549–54), and C. multidentata (DRR054555–62), and their sequence assemblies (Sequence accessions: IACA01000000, IABY01000000, IABZ01000000, IABX01000000, BDMT010000000, and BDMR010000000) are available under the project accessions PRJDB4543-PRJDB4545 in the DDBJ/EMBL/GenBank International Nucleotide Sequence Databases, as well as at http://www.brh2.jp/. Other nucleotide sequences determined in the present study are also available under the nucleotide accessions LC110189–92 and LC159072–80. The annotated genomic sequences for the Pt1- and Pt2-cadherins were deposited as accessions BR001342 and BR001343, respectively. The nucleotide sequences of the hypothetical transcripts reconstructed in the present study and their predicted amino acid sequences are available in Additional file 12.
Authors' contributions
MS, YA, and HO conceived the project. HO and YA obtained sequence reads from P. tepidariorum, and MS obtained sequence reads from L. exotica and C. multidentata. YA processed all the sequence reads for depositing in public databases. MS and HO performed the experiments and data analyses and prepared all the Figures and Tables. MS and HO wrote the manuscript and incorporated input from YA. All authors read and approved the final manuscript.
Competing interests
The authors declare that they have no competing interests.
Consent for publication
Not applicable.
Ethics approval and consent to participate
Not applicable.
Publisher's Note
Springer Nature remains neutral with regard to jurisdictional claims in published maps and institutional affiliations.
Open AccessThis article is distributed under the terms of the Creative Commons Attribution 4.0 International License (http://creativecommons.org/licenses/by/4.0/), which permits unrestricted use, distribution, and reproduction in any medium, provided you give appropriate credit to the original author(s) and the source, provide a link to the Creative Commons license, and indicate if changes were made. The Creative Commons Public Domain Dedication waiver (http://creativecommons.org/publicdomain/zero/1.0/) applies to the data made available in this article, unless otherwise stated.
Authors' Affiliations
(1)
Laboratory of Evolutionary Cell and Developmental Biology, JT Biohistory Research Hall, Takatsuki, Japan
(2)
Department of Microbiology and Infection Control, Osaka Medical College, Takatsuki, Japan
(3)
Department of Biological Sciences, Graduate School of Science, Osaka University, Osaka, Japan
(4)
Current address: Department of Parasitology, Asahikawa Medical University, Asahikawa, Japan